Lake Tahoe has twelve ski resorts in the mountains surrounding the lake in the sky. They offer a range of luxe destination skiing to basic homegrown hills. The Sierras are a pretty young mountain range and so the terrain itself also ranges widely from craggy double black diamond chutes to easy breezy beginner hills.
And it's the latter that this article focuses on. If you are a novice skier, this guide will help you find the best ski resorts for beginners in Lake Tahoe.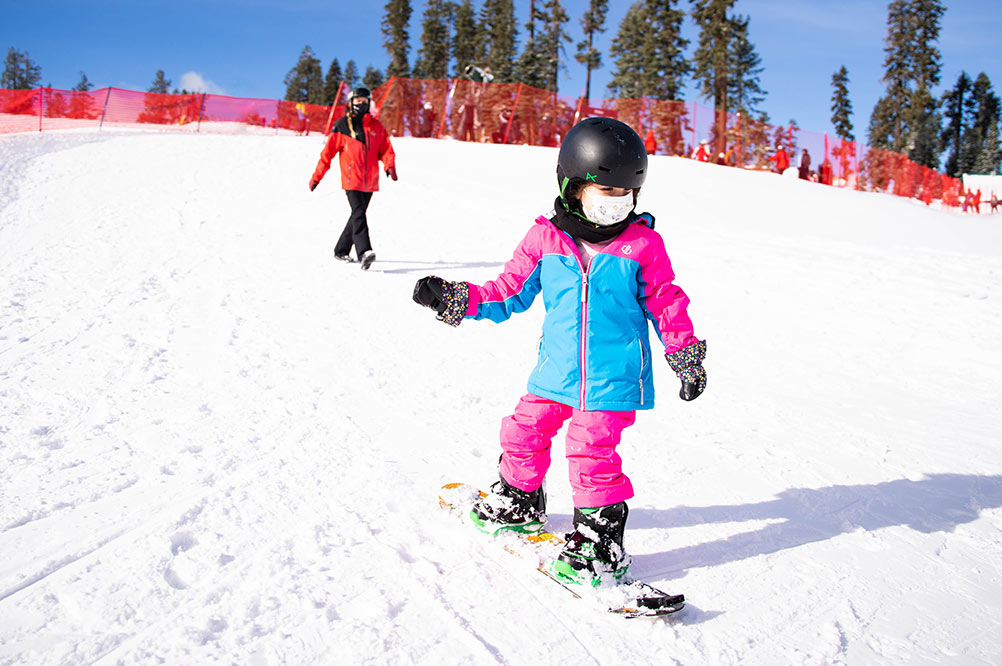 ** This article has been updated with the most recently available info as of 11/23.**
Criteria for the Best Ski Resorts for Beginners in Lake Tahoe
Finding a ski resort to suit you is a subjective process and there are many ski resorts in Tahoe to choose from. But while putting together these recommendations, we looked at some of the following criteria to come up with this list of 5 best spots for Tahoe beginner skiing:
At Least 10 Green Beginner Runs
This is important because once you get past the initial bunny hill at the base, you are going to want some variety of beginner terrain. You definitely don't want to wash-rinse-repeat the same run all day.
Many resorts present their mountain stats for beginner runs as a % of total. But this is misleading because several resorts fudge the math. For instance, they may state that 20% of their 100 runs are beginner (or 20 runs), when a simple glance at their trail map only shows 7 actual green runs.
Perhaps they are including lower-end blue runs in the total. But if you are truly a beginner Tahoe skier, you want those green runs. It doesn't matter if the resort has 100 runs if you can't ski most of them. What matters is that you can have fun on a variety of runs that suit your skill level.
So, all of the resorts on this list have at least 10 green runs.
Good Distribution of Green Runs
A great resort for Tahoe beginner skiing will have ideally have a mix of short and long beginner runs. They will also have runs "up mountain" so that not all of the skiing is at the base, which can sometimes have worn out snow. Better still, they will have a cluster of dedicated green runs that aren't being fed by too many expert runs. That way, beginners can have the freedom to do wide turns without getting startled when experts fly past them on the slopes.
A Discounted Lift Pass, Rentals and Lesson Package
Not all of the Tahoe resorts offer lesson, rental and lift pass bundles. You can stitch it together yourself, but you can always save money by purchasing a package. All of the resorts on this list offer discounted packages.
Did you know that there are over 700 ski runs in the Tahoe area? Learn more with these fun facts about Lake Tahoe.
Explore more of Tahoe This Winter
The 5 Top Tahoe Ski Resorts for Beginners
Here's some fine print. For the purposes of this article, beginner skiing and snowboarding are interchangeable. All of these resorts charge the same lesson package rates for both sports. Also note that pricing at the resorts is highly variable. Lessons, rentals and lift tickets all cost less during the week or if you purchase way in advance. They will cost more on weekends, holidays and last minute.
We are noting rough pricing below for comparative purposes, but you can expect to pay more (or maybe even less), depending upon which way the snow is blowing on the day that you book.
Also note that most resorts require or strongly encourage advance reservations for lessons and lift tickets.
Sierra at Tahoe
Total Lifts: 14
Lifts serving green runs: 7
Total runs: 46
Green runs: 17
Thankfully, after getting nailed by the Caldor fire a few years ago, Sierra at Tahoe is back!
Sierra at Tahoe isn't the region's largest resort, but they do offer a nice experience for beginners. In addition to the usual bunny hill runs, they have several very long green runs that cover most of the mountain. So, once you get skilled-up, you can take some nice long cruisers. Sierra at Tahoe also has special Adventure Zones for kids with fun signage and a special kid's trail map.
In addition, Sierra at Tahoe's creative lesson packages make it one of the best ski resorts for beginners in Lake Tahoe. They offer a discounted 2-hour "first timer" package that includes a lesson and equipment. They offer a cool 3-pack that includes rentals and day pass for all three days and lessons for two days. That way, the package grows with you as you gain skills and leave the lessons behind.
The three-pack is a great deal at $99/day. Regular lessons are ~$170-170 and a basic lift ticket is ~$93.
Check out their packages here. Please note that Sierra-at-Tahoe advises that you get to the resort early.
Where to stay near Sierra at Tahoe: If you want a vacation rental, choose something near Myers, like this family-friendly lux cabin with 4 bedrooms and all the toys. For hotels, the Hotel Azure is right near the lake, with a swimming pool and hot tub.
Mt. Rose
Total lifts: 8
Lifts serving green runs: 2
Total runs: 51
Green runs: 19
Mt. Rose is located on the Nevada side, north of Incline Village. They make our list of Tahoe beginner resorts because they have a lot of green runs and most are clustered together on one area of the mountain. Mount Rose also has the highest base elevation in Tahoe. This is meaningful because their lower elevation beginner runs will still have decent snow, even later in the season.
Mt. Rose has one of the least expensive lesson packages and lift tickets on this list and they also offer a 5-session kids program.
Adult packages are ~$99-169 (weekdays are much cheaper), kids packages are ~$99-199 and lift tickets are ~$90-$110.
Find lesson packages here.
Where to stay near Mt. Rose: The resort is equidistant between Reno and Incline Village. Reno will offer more well-rated budget choices, like the Springhill Suites. But for the full apres ski experience, you may want to look into the McCloud vacation rental, which has a hot tub and is only a few blocks from the lake.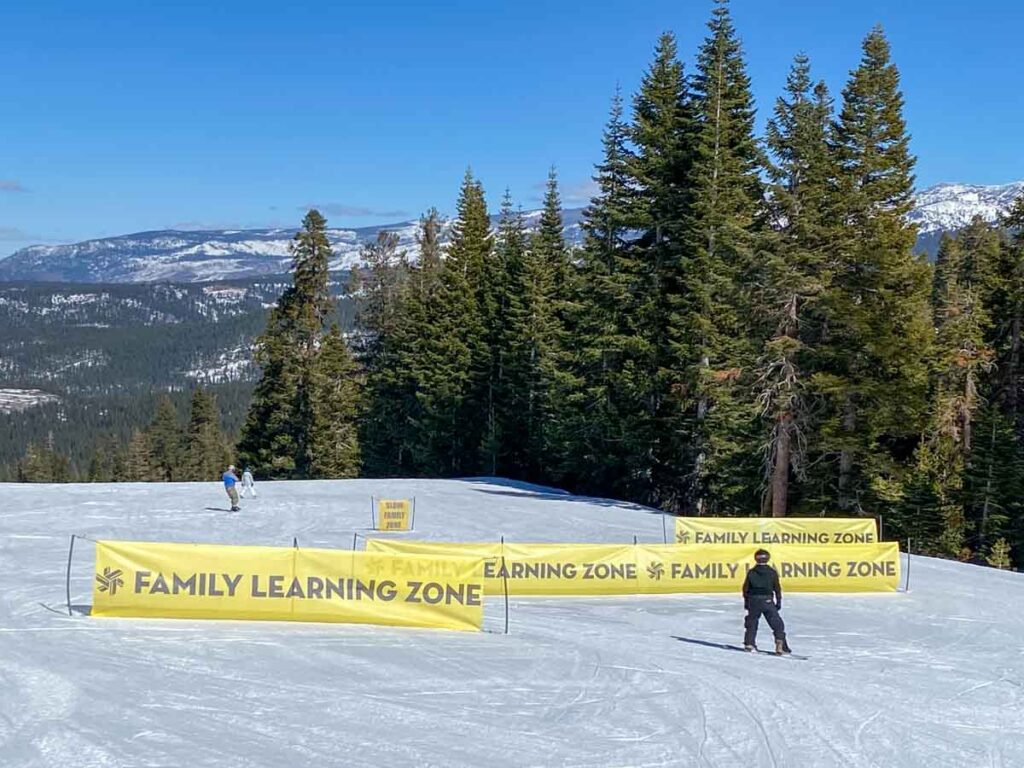 Northstar
Total lifts: 20
Lifts serving green runs: 4
Total runs: 168
Green runs: 15
Northstar is for the beginner who feels almost ready to graduate up to intermediate. They have some nice, long green runs in the "mellow yellow slow zone". Their Northwest Territory has designated lower-intermediate runs where you can work on upskilling.
Northstar is part of the Vail group, which also includes Heavenly and Kirkwood. So, if you have an Epic Pass, you can ski at Northstar. Although please note that Heavenly is really not geared toward beginners, having only a few short base runs. Kirkwood does have 7 beginner runs.
Northstar has half-day lesson packages starting at $240 and a day pass is ~$98. But you can bundle multiple days and also go to Heavenly and Kirkwood.
Find lesson packages here.
Where to stay near Northstar: If you want to just walk right onto the slopes, then splurge for the Ritz-Carlton which is located right in Northstar. For something less expensive and closer to the Truckee restaurant scene, try the Hampton Inn Truckee.
Palisades Tahoe
Total lifts: 39
Lifts serving green runs: 6
Total runs: 170
Green runs: 16
This resort was formerly called Squaw Valley. They have combined with Alpine Meadows and rebranded. The former "Squaw Valley" runs are now called Olympic Valley and Alpine Meadows is the same. The same ticket is good at both. Palisades has some of the steepest terrain in California and over half of their runs are black diamonds.
So, why are they on this list of the best Tahoe ski resorts for beginners? Because, the mountain is huge and they've made plenty of room for beginner skiers. They have a couple of nice long cruisers that feed from the Palisades base lodge and another cluster of runs fed from the Gold Coast lodge. The Alpine side is generally for more advanced skiers.
Palisades also has a full-on apres ski experience at the base village. So after your 2.5 hour lesson is done, you can keep skiing or put your feet up in the lodge and await your friends. The resort also offers tubing to keep the kids busy.
Lesson packages are $275-300 and a lift ticket starts at $179.
Find lesson packages here.
Where to stay near Palisades: AvantStay manages a bunch of vacation rentals like this one, which is ski-in ski-out. For something budget (and homey), try the Mother Nature's Inn in Tahoe City.
Sugar Bowl
Total lifts: 12
Lifts serving green runs: 5
Total runs: 100
Green runs: 13
Sugarbowl is one of the smaller beginner ski resorts in Tahoe. It's got a down-home feel and is far less crowded then some of the other resorts. Sugar Bowl is worth including because they have a nice offering for true beginners. Their base has a cluster of four starter runs (rather than the 1-2 that many resorts have). Once you've graduated from that, you can sample some of the longer beginner runs at mid-mountain.
Their packages start at $240 and a lift ticket is as low as ~$99.
Find lesson packages here.
Where to stay near Sugar Bowl: The rustic Donner Lake Inn offers B&B and a hot tub. For a high-end mountain feel with a touch of romance, try the Gravity House Sport Hotel.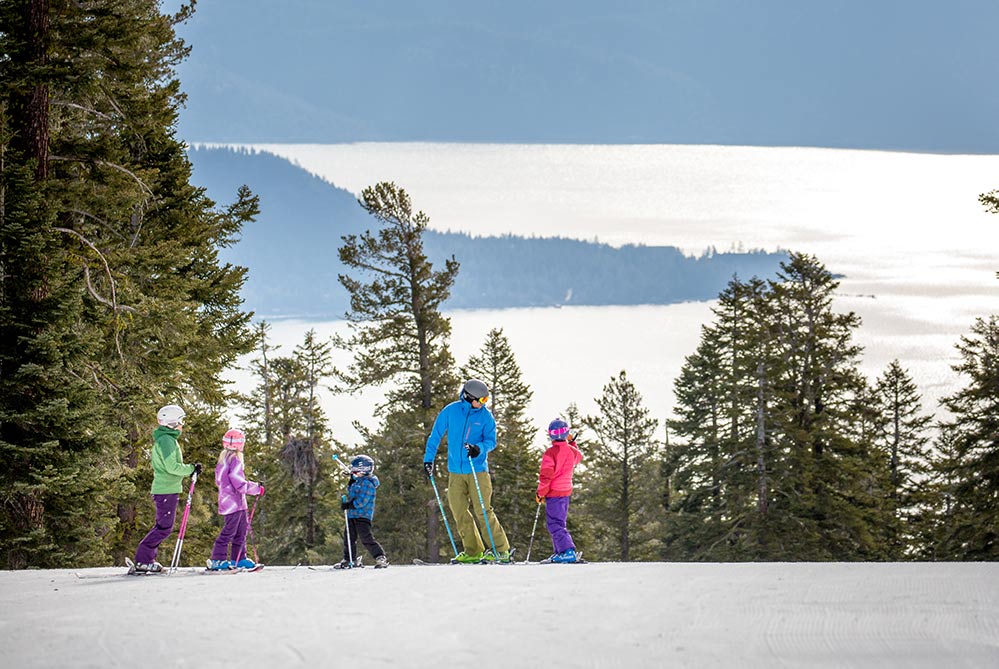 FOUR ODD BUT USEFUL THINGS FOR YOUR POCKETS
You can't exactly take a purse with you on the mountain so be sure to load up your pockets with practical items. Sunscreen bottles are bulky and impractical to carry, but if you forget to put it on before hitting the slopes, your skin is doomed. So stock your pockets with a few individual packets of sunscreen wipes.
You need water while skiing but if you carry a water bottle and then fall onto it (in a spectacular rookie move yard sale wipe out) you are going to crack a rib. So re-purpose a flexible plastic booze flask for your water. It will fit easily into your ski coat breast pocket.
If you want to baby your skis, or even worse, you have a popular brand that everyone else is using this year, then carry a cabled luggage lock. You can lock up your skis and don't worry about theft or mistaken identity.
Never, ever go anywhere without a bit of duct tape. You can use it to repair rips, tears and broken zippers while you are on the mountain. You can also use it to reseal snack bags and kill scorpions (true story, did that in Mexico).
In summary, these are the five best ski resorts for beginners in Lake Tahoe because they have a variety of green terrain, offer discounted lesson packages and they will help you get started skiing some of the best snow in the United States.
In the words of ski historian Dolores LaChapelle – "Snow skiing is not fun. It is life, fully lived, life lived in a blaze of reality."
Enjoy your time on the slopes.
Share these best Tahoe ski resorts with your friends on Pinterest: