This scenic Lake Tahoe Drive takes you on a slow tour of the lake's captivating charms. Use this guide to drive around Lake Tahoe and find the best spots for beaches, killer views and a slice of California history.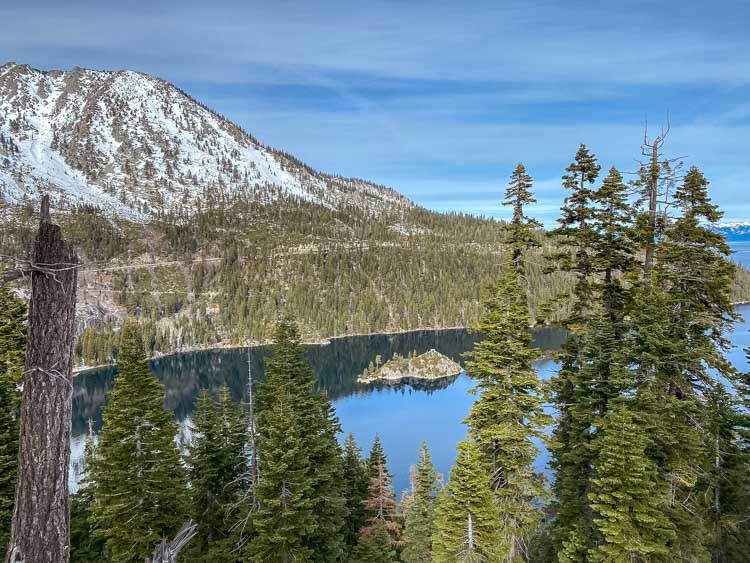 There's a lot do in Tahoe, so it's understandable for people to simply choose North or South Shore and hang around there. Both areas have multiple ski resorts, hiking for all abilities and watersports. However, the star of the show is the lake itself and it's worth setting aside to day to do a full circumnavigation. If you simply did the drive straight through, it would take about 2.5 hours. But, as the Ents say, don't be hasty. The Lake Tahoe scenic drive is something to be savored. So take a chill pill and go heavy on the brake pedal.
This Lake Tahoe drive guide will answer your key questions about the day trip. It includes 13 must-see stops along the drive and a map that shows you how to find the stops.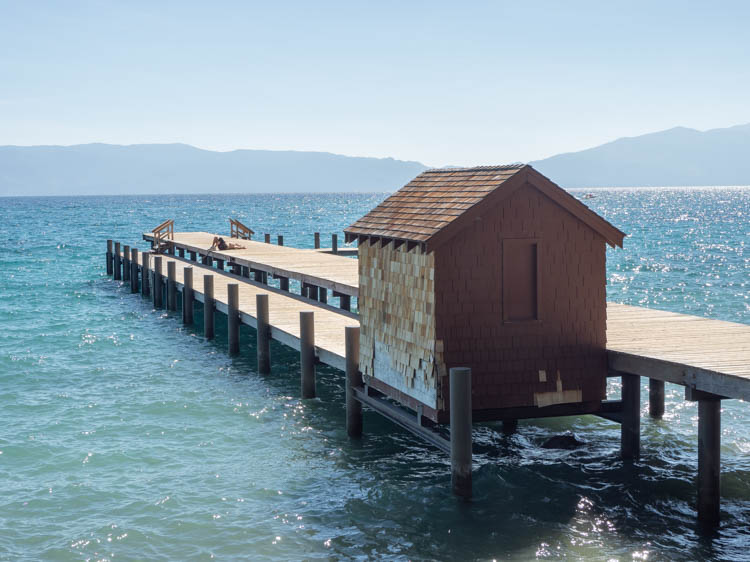 (This article contains affiliate links. This means that if you choose to purchase, I'll make a small commission.)
Scenic Lake Tahoe Drive FAQ
How Many Miles is it Around Lake Tahoe?
The distance around Lake Tahoe is 72 miles. This itinerary is a bit longer than that because it adds stops to go down to the state beaches or up to some lookouts.
How Long Does it Take to Drive Around Lake Tahoe?
If you drive it straight through, it will take approximately 2.5 hours. But you should stop frequently and plan to take the full day.
Can You Drive Around Lake Tahoe in the Winter?
Yes. In fact, you'll see in this article that I've shot both summer and winter pics of the drive and the lake is beautiful any time of the year. That said, if you do the drive in the winter, be mindful of road conditions.
The pass near Emerald Bay is sometimes closed due to snow. Also, car access to many of the beaches and state parks will be closed during the winter. But during winter months, it wouldn't be too difficult to get street parking and walk into Baldwin Beach, King Beach, Nevada Beach and Pope Beach.
For more info, check out this non-skiers guide to Tahoe winter activities and this one for the best ski resorts for beginners. And don't forget your Tahoe winter packing list.
Which Side of Lake Tahoe is More Scenic?
This route tops our list of the most scenic drives in California, it's all pretty scenic. That said, I prefer the west side of the lake. There are some gobsmacking views and easily accessible beaches.
Either Tahoe City (north) and South Lake Tahoe (south) make for a great base of operations, but the towns and beaches there get very busy. The east side also has lovely views but some of the shoreline on that end is a bit harder to access.
Do I Need a State Park Pass for the Tahoe Drive?
You will need to pay a day use fee or use your annual pass for many of the beaches. Most day use fees in the area are $10 per car. But you won't need that for the activities in downtown Tahoe City or South Lake Tahoe.
Here's a list of key beaches and their respective government jurisdiction:
California State Park beaches: D.L. Bliss, Sugar Pine, King Beach
Nevada State Park beaches: Sand Harbor, Lake Tahoe Nevada State Park beach
US Forest Service beaches: Baldwin Beach, Tallac historic site/Kiva Beach, Camp Richardson/Pope Beach, Meeks Bay, William Kent Beach, Secret Cove, Zephyr Cove, Nevada Beach
Nevada state park annual permits are $75 (more info here). The California state Poppy annual pass is $125 and worth it if you are going to visit the parks 13+ times in a year. But there are other discount passes as well, so use our guide to figure out which California state park pass is right for you. The Forest Service fee areas can be accessed using an $80 National Park Pass (more info here), good at over 2,000 national sites.
How do I Fly to Lake Tahoe and Rent a Car?
Use this guide for finding the best airport for Lake Tahoe. For most people, that will be Reno, but there are other options, depending upon where you are coming from. We suggest that you use Rentalcars.com to find a competitive car rental rate.
What's the Best Way for Me to Get to Lake Tahoe?
We have a whole article on that. Check out our guide for getting from San Francisco to Lake Tahoe. It offers two routing suggestions and 23 fun stops to take along the way.
Read More: Get the full downlow on all CA parks with our complete California State Parks list (with map).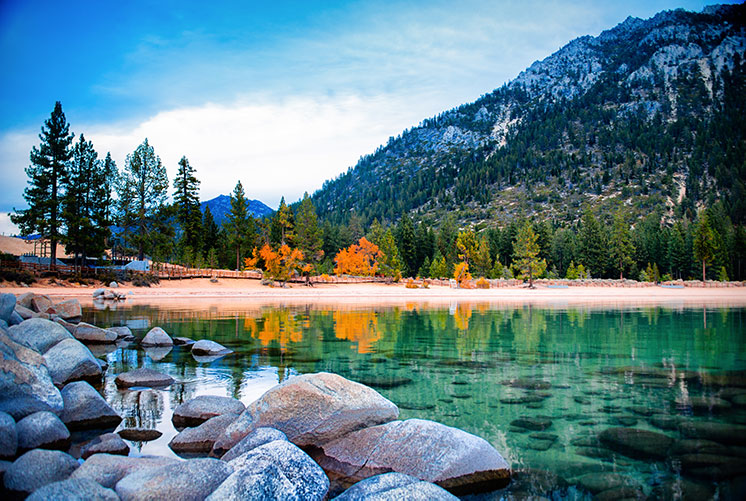 Map for the Drive Around Lake Tahoe
This map has 13 specific stops for the drive. This routing starts and ends in South Lake Tahoe. You can start it at any point, but I recommend doing the Lake Tahoe drive in a clockwise direction. It will make it easier for you to do quick pullouts at the overlooks.
13 Top Spots on the Lake Tahoe Scenic Drive
Some of these locations are quick pitstops or overlooks. But others deserve more time spent touring the historic buildings or hanging out on the lake. So, unless you get up very early, or stay out very late, 13 stops may be two much for a single drive around Lake Tahoe. I recommend picking 8-9 stops from this list and then play it by ear.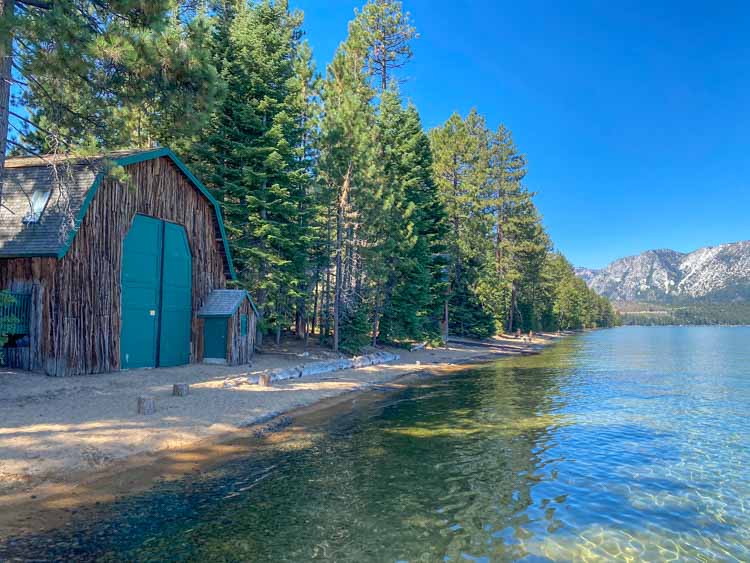 1. Camp Richardson & Pope Beach
In the late 1800's, the Tahoe Basin was transitioning from rough and ready mining operation into a recreation area. The historic Tallac Hotel was built in the 1920's and was modeled after the grand European summer resorts. The Camp Richardson area ran the hotel and nearby cabins until the late 1960's. Commercial pressures took their toll on Tahoe and lakefront properties became a hot commodity. In a generous gesture, the whole Camp Richardson property was transferred to the Forest Service and the area has been preserved for public use.
Camp Richardson has retained its homey feel. The site has a restaurant, cabins and a dock with watercraft rentals. If you walk just a bit north, you'll come to what's called the "Tallac Historic Site". It includes the historic Pope-Baldwin estate and you can take house tours and garden strolls.
2. Inspiration Point
This is the first of many "holy smokes" viewpoints that you'll find on the Lake Tahoe drive. Even if you don't do any other viewpoint, you should stop here. There are informational signs that explain the area's Native American Washoe history as well as the white settlement of Tahoe. There are also lovely views of Emerald Bay and Fannette Island.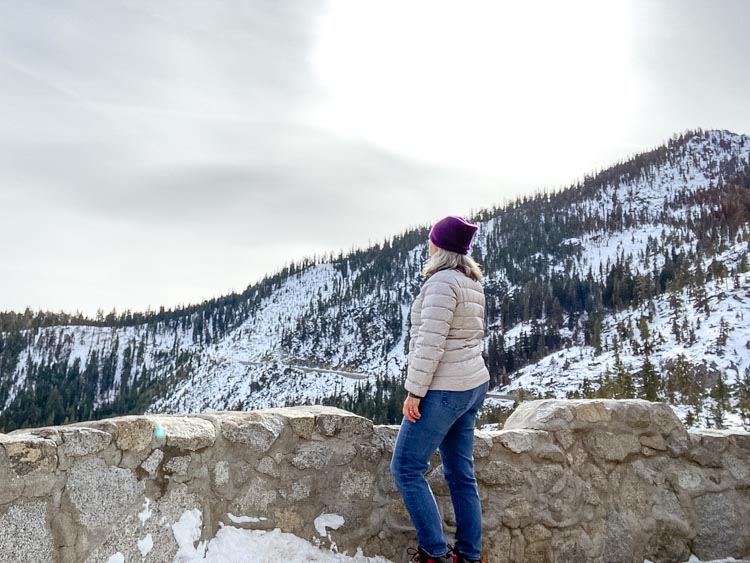 3. Emerald Bay Main View Point
Don't speed up too much because shortly after Inspiration Point is another overlook for Emerald Bay. This pullout lot has one of the trailheads for the historic Vikingsholm building (which you can tour). It's also a great spot for a selfie. Both of these viewpoints have small parking lots that fill up quickly, so get an early start.
4. DL Bliss State Park
Highlights at DL Bliss include a long stretch of nice beach, the Rubicon lighthouse and the Balancing Rock loop trail. There is also a long trail going south toward Emerald Bay if you want more than a quick leg stretcher.
Did you know the D.L. Bliss himself was the father of modern tourism at Lake Tahoe? Learn more about the area with these cool Lake Tahoe facts.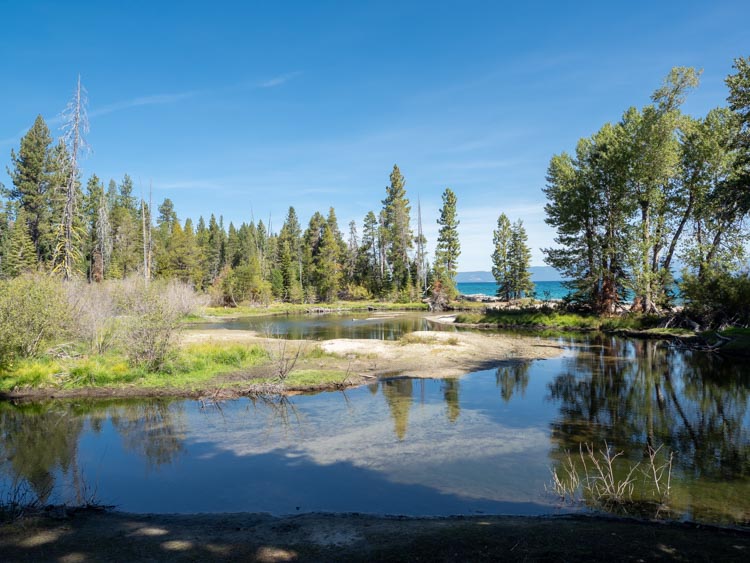 5. Ed Z'berg Sugar Pine Point State Park
Highlights at Sugar Pine include (yet more) lovely beaches as well as some interesting historical features. There is the graceful 11,000 square foot Eherman Mansion, which was built as a summer home and resort in 1909. The site includes other historic buildings, antique boats and activities for kids. I wouldn't recommend stopping at both DL Bliss and Sugar Pine, one or the other is fine. If you have a dog, do Sugar Pine, because DL Bliss isn't dog-friendly.
6. Watson Cabin Museum and Heritage Plaza
Carry on to the north shore of Lake Tahoe and drive into Tahoe City. Right downtown you'll find the old Watson Cabin museum and Heritage Park. The cabin is a historic structure from 1909. Just a quick visit will do as the cabin isn't very large. But, it sits right on Heritage Plaza, which also overlooks city beach. Along the Plaza, there are a number of info panels that tell the history of Tahoe City from its mining days through its railroad boom, the Olympics, up to modern day Tahoe City.
If you are keen about history, then you should definitely take the Donner Train Tunnels hike. It's an opportunity to literally walk through California's railroad history.
You'll get into Tahoe City around lunchtime. You can grab a bite in one many restaurants in town– there are quite a few with lakefront views just east of the Plaza. However, I recommend that you pick up some sandwiches at Rosie's Cafe or the nearby Safeway and then carry on to the next stop.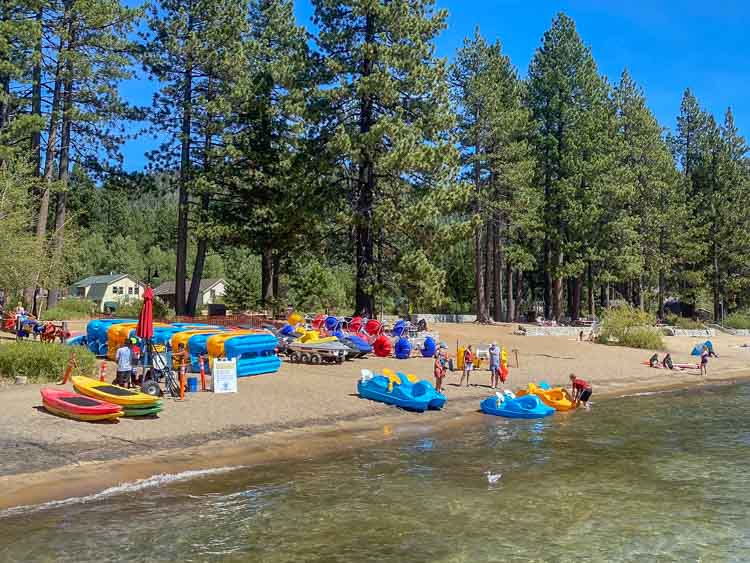 7. Kings Beach
Kings Beach sits just before the Nevada border and it's a great pit stop for lunch. The beach has shaded picnic tables and watersports rentals. You can also take a short walk along the beach and wander out onto the fishing pier.
8. Lake Tahoe Scenic Overlook
From King's Beach you quickly enter Nevada. If you have time, take a short detour to the Lake Tahoe Scenic overlook on Mount Rose. It's just a 15 minute drive inland and you'll be rewarded with high level views of the lake. Pay attention to the turnoff for the Mount Rose Highway because you don't get much warning.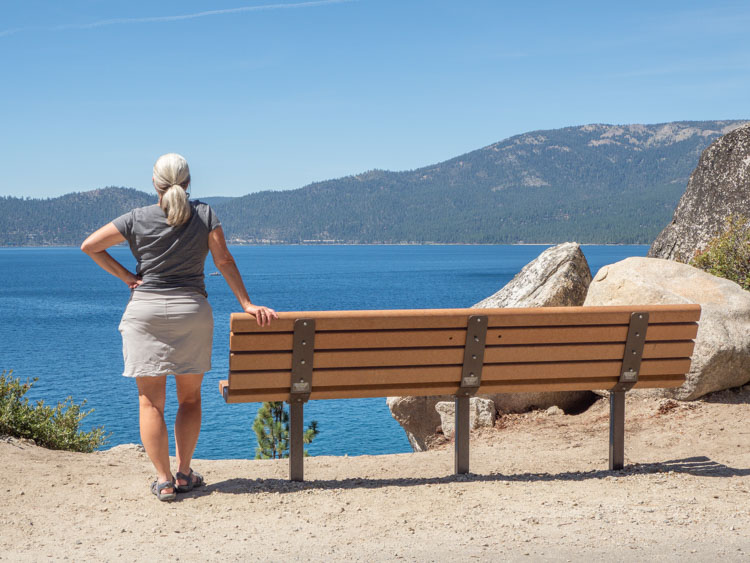 9. Memorial Point Scenic Overlook.
Like the Emerald Bay overlooks, this spot has vast views of Lake Tahoe. The overlook also sits right on the Tahoe East Shore trail, which is hike and bike trail that goes 2.6 miles between Tunnel Creek and Sand Harbor. The trail is dog-friendly but watch out for bikes.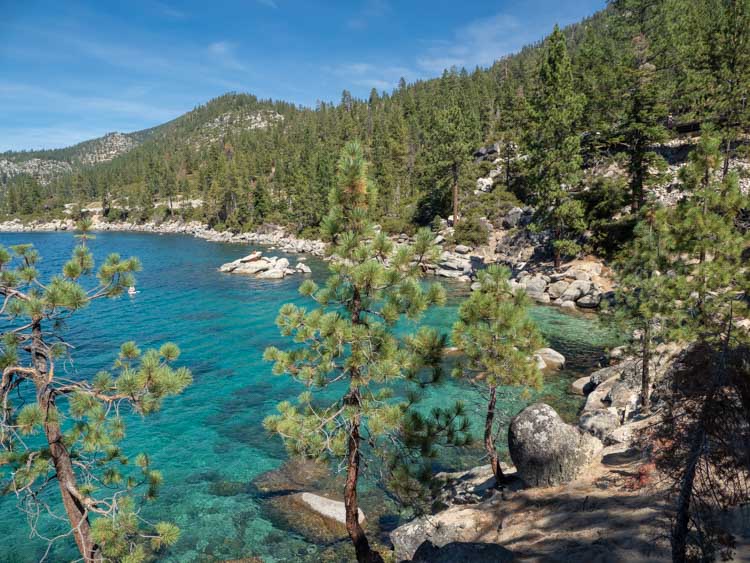 10. Emerald Cove
But wait, there's another overlook! This one is shortly down the road from from Memorial Point. It's worth the additional stop because it overlooks the lovely Emerald Cove. There's a short path that goes from the pullout down to the cove. This is a nice stop if you want a little bit of water action, but don't want to stop at Sand Harbor.
11. Sand Harbor
Sand Harbor is a full service beach destination. They have a shady day use area with picnic tables and barbeques. You can also rend stand up paddle boards, kayaks and hobie cats. You may want to reserve the gear in advance if you are driving Lake Tahoe on a busy weekend. Unfortunately, this beach park is not dog friendly.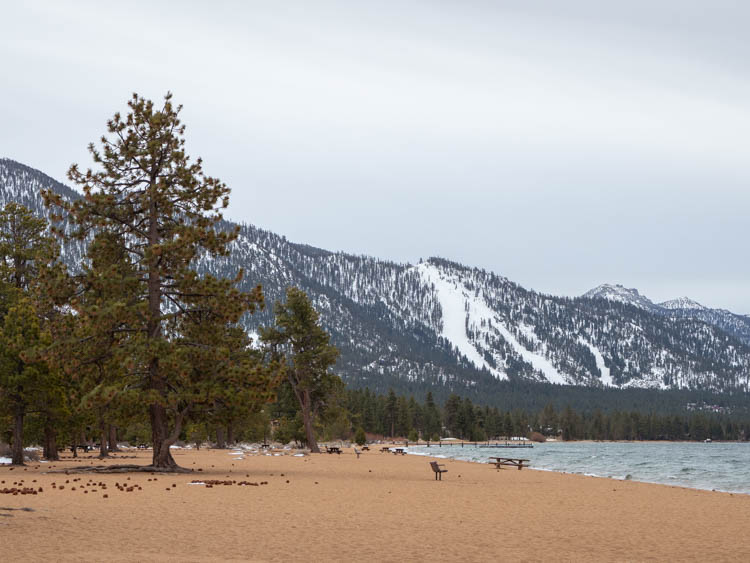 12. Nevada State Beach
Fortunately Nevada State Beach IS dog-friendly. This quiet spot is set in the woods and while they don't have watersport rentals, it's a great place for a nice long walk on the beach. There is also an inland loop trail through the nearby woods and grasslands.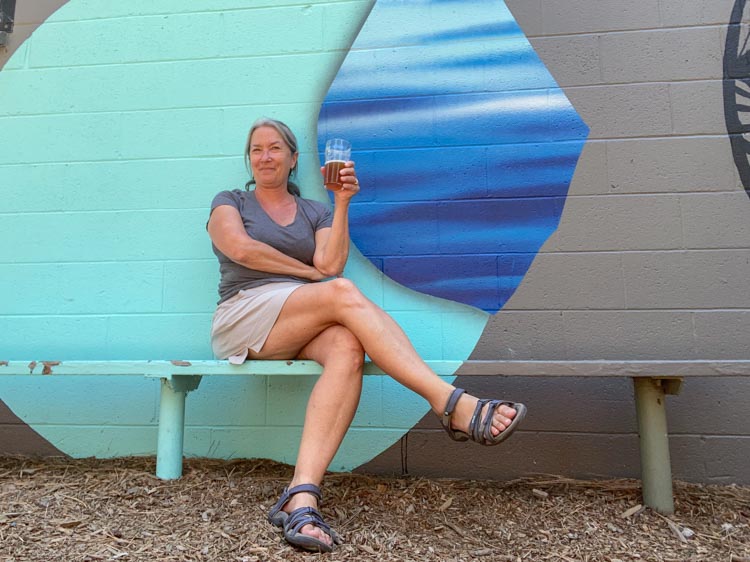 12. The Hanger Taproom and Bottle Shop
Now that you are done driving around Lake Tahoe, it's time for a beer. The Hanger is a perfect spot to chill out after a long day of sightseeing. It isn't a brewery, but they do carry 30 beers on tap, most of them local. Consider it a sampler tasting before heading out to one of the many Lake Tahoe breweries. They have a large grassy area (with tents and heaters for the cooler weather).
As you can see from this diverse list of beaches, historical sites, hiking spots and chillax locations that there is so much to do while driving around Lake Tahoe. It's so worth it to drive the full loop and take in all of the dramatic views from all four compass points of the lake. Enjoy the drive.
There are more ways to see Lake Tahoe than in your car. You can also take this amazing helicopter tour over the lake or take a private sunset cruise to Emerald Bay.
Check out our scenic Lake Tahoe drive web story.
Share this scenic Lake Tahoe Drive with your friends on Pinterest: