Learn more about one of California's most popular recreation destinations. Sure, we cover fun facts about Lake Tahoe itself, but we also answer your burning questions like; which famous American author set the forest on fire (and how many trees remain), which eccentric millionaire in Tahoe had a pet elephant, how many nicknames are there for Lake Tahoe, and why the local beer tastes like pine trees.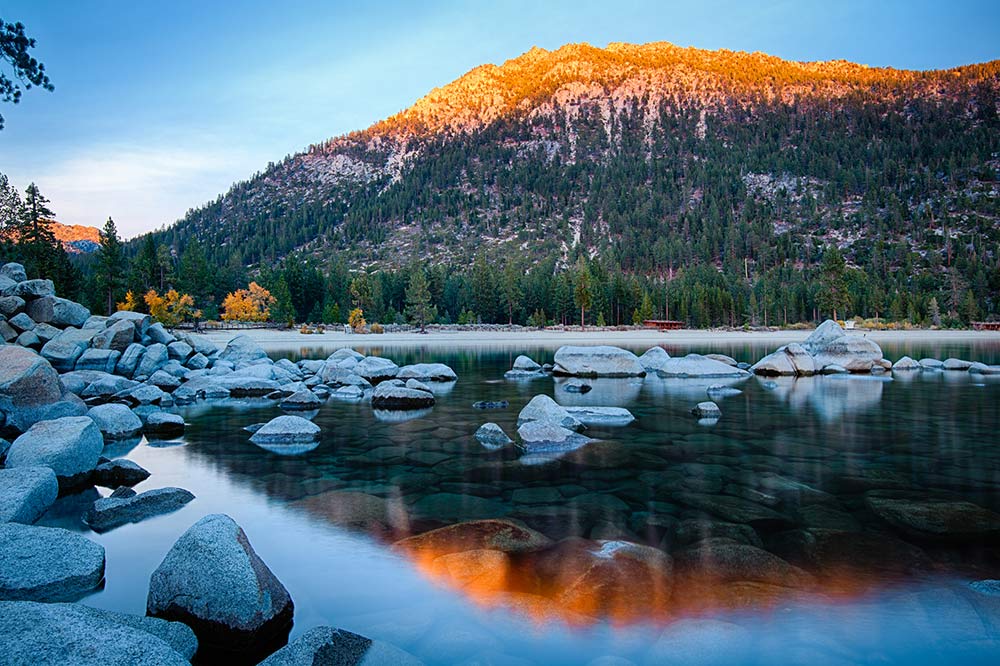 (This article contains affiliate links. This means that if you choose to purchase, I'll make a small commission.)
25 Fun Facts About Lake Tahoe
The Tahoe Basin is interesting for a myriad of reasons. It's an area of great natural beauty, with forests, lakes, skiing, hiking and biking. The region was a major thoroughfare during California's gold rush migrations. The area attracted some pretty eccentric rich people in the 1920's and 30's (and frankly, it still does). How have all of these things come together to make the Lake Tahoe of today? Well, read on to find out these 25 cool facts about Lake Tahoe.
Lake Tahoe is Over 2 Million Years Old
It's older than most other lakes in the world. Back when, a fault line on the continental and oceanic plates dropped like a freefall ride, creating the Lake Tahoe Basin and the surrounding Sierra Nevada and Carson Mountain ranges. More tectonic destruction took place when the glaciers scoured out the basin, then a volcano erupted, creating a natural dam for what is now the lake.
Lake Tahoe is Over a Mile High
They call Denver the Mile High city, but Lake Tahoe is even higher. The lake sits at 6,225 feet, which is 1.15 of a mile. The surrounding mountain peaks top out at nearly 11,000 feet.
Lake Tahoe is Deeper than the Empire State Building is Tall
Because of that 2 million year old routing, a very very deep lake was created in the basin. Lake Tahoe is 1,645 feet deep (compared to a height of 1,454 for the Empire State Building). The depth means that, despite the chill, the lake never completely freezes.
The Water is Pretty Dang Cold
Lake Tahoe is a popular summer destination but it's a true fact of Lake Tahoe that the water is very chilly. Surface temperatures on the lake can be as cold as the low 40's in the winter and it heats up to a blazing 65′ in the summer. To compare, the water temps around Iceland in the summer are 52′ and the Caribbean is always a balmy 80′.
Lake Tahoe Has an Outlet, But Most of the Water Evaporates
The Truckee river is Lake Tahoe's only outlet, flowing northeast to Pyramid Lake. But the Truckee river only drains about 1/3 of Tahoe's water, and the rest comes from surface evaporation. That evaporation accounts for 330 million gallons a day of water per day, which is enough to supply 3,900,000 households.
Lake Tahoe's Water is Super Pure
The water has been tested as 99.994% pure, which is cleaner than most commercially distilled water. In fact, water suppliers who draw from deep within the lake aren't even required to filter it before delivering the water to local customers. Take that, Evian.
The Lake Has an Insanely Beautiful Blue Color
The previous fact about Lake Tahoe is actually what contributes to it's lovely blue color. Water as pure as Tahoe will absorb red light on the color spectrum. When clear skies shine on the lake, the red is absorbed, leaving a clear blue color. That said, Emerald Bay (east side) and Emerald Cove (west side) are so named for a reason. The shallower water at the edges of the lake gives off an inviting green color when the sky is clear. You can see more of it if you hike Emerald Bay and take the Vikingsholm Castle tour.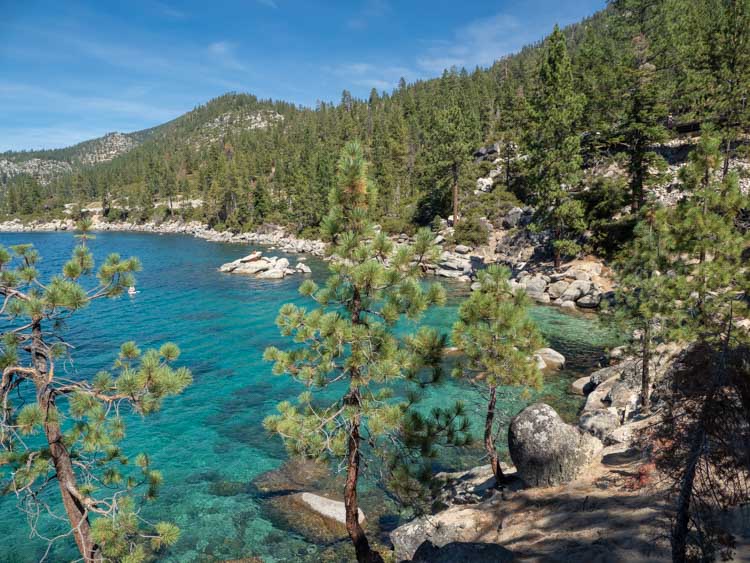 Lake Tahoe's Circumference is 72 Miles
Which is large, but not so large that you can't easily drive it on one day, using this guide for a scenic drive around Lake Tahoe.
The Lake Had Many Other Names Before the Official "Tahoe" Designation
Tahoe has had a crazy number of nicknames. For starters, Captain Fremont's westward expedition first spotted the lake in 1844, calling it Bonpland. However, Fremont's cartographer called it Mountain Lake. More confusion was sown when another map labeled it as Maheon and yet another called it Big Truckee Lake. By 1853, some were calling it Bigler, after an unpopular California Governor. There was an unsuccessful effort to re-label it Tua Tulia.
Finally, in 1862, Henry DeGroot suggested Ta-hoe. It's an anglicization of the Washoe term da ow a ga, which means Big Water or Water in a High Place. Lake Tahoe is of course, both of those things but the Bigler label hung on until 1945 when it was officially changed to its current name.
The Washoe Native Americans Were Here First
It's appropriate that the lake's name acknowledges the Washoe. For thousands of years, they used the lake as their sacred summering grounds. White settlement began in the 1850's and the discovery of gold in 1859 sped it up. The Washoe were ultimately pushed off their remaining land by 1862. There is however, still an active tribe in California and Nevada.
The Pony Express Ran Through These Here Parts…
…but only for 18 months. This fun historical fact about the Lake Tahoe region is seldom mentioned on these sorts of lists. But the when the Pony Express was established in April of 1860, it cut mail delivery time from an erratic 30-90 days down to 10. The trail ran through southern Lake Tahoe and roughly along what is now Highway 50. The Pony Express ceased running when the Transcontinental Telegraph was completed in 1861.
Tahoe's Deadly Donner Pass Spurred the Development of the Railroad
Many a pioneer perished trying to drive their wagon trains over Donner Pass. In 1846, 87 people tried to make the pass. However, they started too late in the season and they got snowed in, resulting in 42 deaths. Even in modern times, with snow plow equipment and a four lane highway, the pass can be tricky to navigate. Fatal accidents can and do happen at Donner Pass and its known to truckers as a tricky area to navigate in the winter.
The Transcontinental Railroad was Built at Donner in 1868
The railroad was a critical infrastructure investment that cut through the mountains, connecting California with the rest of the United States. It sped up the white settlement of California and fed the state with a massive migration of people during the Gold Rush.
If you like hiking and railroad history, check out this hike on the abandoned Donner Summit rail runnels.
The Tahoe Region is Quite Large
The greater Tahoe Basin encompasses two states (California and Nevada), five counties, 1 city and numerous smaller towns.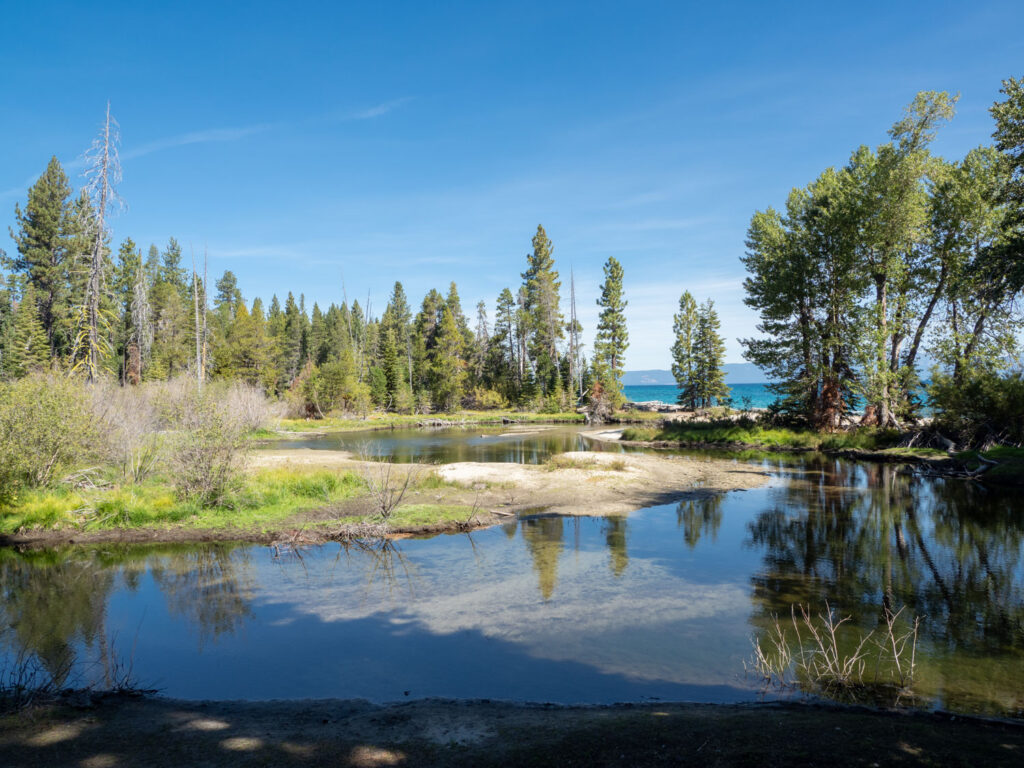 Lake Tahoe is Full of National Forest & State Parks
While there is private land in Tahoe, the US Forest Service and State Agencies manage almost 90% of the land area. There are three different forest service jurisdictions and 11 state parks in the region.
Read More: Get the full downlow on all CA parks with our complete California State Parks list (with map).
There are an Estimated 17 Million Trees in the Basin
Jeffrey pines are the predominant tree, but you can also find lodgepole pine, sugar pine, incense cedar, and white and red fir.
They Brew some Piney Beer in Tahoe
The brewers in Tahoe must be inspired by all of these trees, because several of them have brewed up ales with decidedly piney notes. The Brewery at Lake Tahoe has the Needle Peak Ale and the South Lake Brewing has the Trailblazer Pale Ale. Learn more about the beers with this guide to Lake Tahoe breweries.
D.L. Bliss was the Father of Tourism on North Shore
It's a historical fact about Lake Tahoe that lumber magnate Bliss single handedly help to spur tourism on north shore. In 1900, He built a narrow gauge railway that connected Truckee with Tahoe City, making it much easier for visitors to get from the main train station to the lake.
Tahoe Now Receives 15 Million Visitors a Year
D.L. Bliss got the ball rolling and over the past century, Tahoe has really taken off. To put those visitor numbers in perspective, the whole Tahoe Basin has only 55,000 year round residents.
The 1960 Winter Olympics Put Tahoe on the Map
Lake Tahoe was a popular summer destination as far back as the 1920's. Winter skiing started in 1949 at what is now Sierra at Tahoe. But it was the 1960 winter Olympics that put Lake Tahoe on the map as a winter destination. An entire tourism enterprise sprung up around the Olympics. As a result, Squaw Valley vaulted from one rustic run to today's 24 lifts and 170 runs.
There are 23 Ski Areas in Lake Tahoe
Another fun fact about Lake Tahoe is the sheer profusion of winter sports. The 12 downhill resorts offer 700 downhill ski runs and the 11 nordic ski areas have 480 miles of trails.
And even if you don't ski, there is a lot to do in Lake Tahoe for non-skiers, like ice skating, sledding, winter hiking and snow shoeing. And if you do ski, but are a beginner, check out our guide for beginner skiers in Tahoe. Don't forget your Lake Tahoe winter packing list!
Mark Twain Set Fire to the Forest
Fun fact about Lake Tahoe…Mark Twain was a total pyro. Samuel Clemens came west in the 1860's, ostensibly to help his brother serve the Territorial Governor of Nevada. But he was generally bumming around, trying on an assortment of failed get rich quick schemes while becoming a budding newspaperman. According to his account in Roughing It, he and a friend made an ill-prepared attempt to stake out a timber claim. But they got bored with the effort of fencing the claim. So, they left their campsite (and an unattended fire) to take a lark on the lake in a stolen rowboat. Their fire soon ranged up the hill but fortunately it burned itself out. Oops.
Thunderbird Lodge is a Massive Estate with a Secret Tunnel
The lodge was funded by millionaire George Whittel, Jr. In 1936, he had planned to develop it into a casino and ski resort but found that he enjoyed the natural landscape too much. So he kept the land in conservation, which is why there is far less development on the east side of the lake than there is on the west side. "The Captain" as he was called, was more than a bit eccentric. His lodge has lush features, like a card house, caretaker's cottage, and an elephant barn which housed his pet elephant, Mungo. There is also a secret tunnel which goes out to the boathouse and rumors of a dungeon and opium den.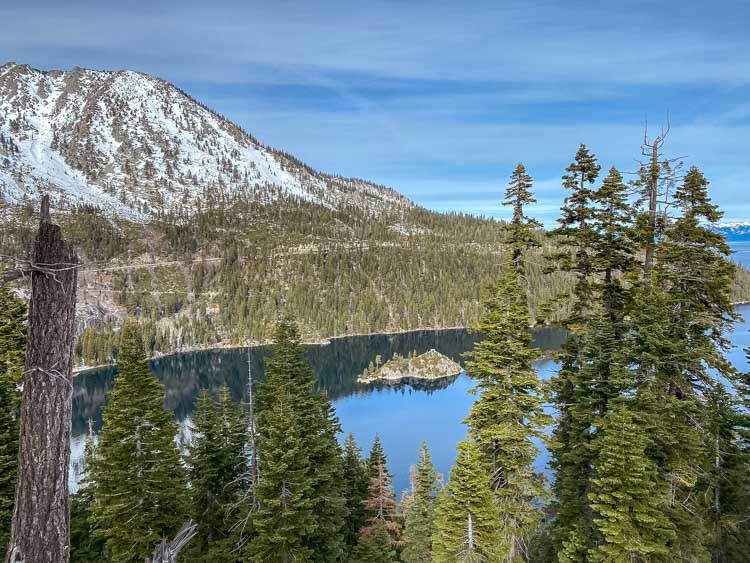 An 8-Toed Hermit Lived on an Island in the Lake
Eccentric caretaker Dick Barter was tasked with keeping an eye on a summer villa owned by Ben Holladay, Jr. He spent his winters hunkered down on Fannette Island, which is just 200 yards from the shore in Emerald Bay. On his way to the saloons in1870, his boat nearly capsized in a terrible storm. The resulting frostbite forced him to amputate two of his own toes.
Tahoe City has a Gigantic Bear Sculpture Make out of Pennies
Her name if Ursa Mater (Penny Bear). She was constructed for the 2017 Burning Man and she's made out of 200,000 American and Canadian pennies. We'll do that math for you— it's $2,000 in pennies (or maybe less, depending upon the Canadian currency exchange rate). The sculpture looms over Heritage Square on North Shore. It was originally meant as a temporary exhibition, but the town decided to pony up (or would that be penny up?) to purchase the sculpture and make Tahoe City her permanent home.
Famous People like Chillaxin' at Lake Tahoe
Perhaps Howard Hughes started the trend when he built his Summertide home on Crystal Bay. Back in the day, Frank Sinatra, Marilyn Monroe and Sammy Davis Jr. used to hang out in South Lake Tahoe.
More recently Larry Ellison, the founder of Oracle, has a large home on the Nevada side, where he is joined by David Cloverdale of Whitesnake and Mike Love of the Beach Boys. And both Jeremy Renner and Helen Mirren are known to have homes in Tahoe as well.
These celebrities, Mark Twain, D.L. Bliss and the 15 million annual visitors are onto something. They hang out in Tahoe because the area's natural beauty is the most important thing to know about Lake Tahoe. Fresh air, fresh water and four season recreation makes it one of the best places in California for a vacation.
Enjoy More of California
More Fun Facts
Learn more about California with these fun facts about the Golden Gate Bridge, SF's cable cars, Death Valley, Yosemite National Park and Joshua Tree National Park.
Share these fun facts about Lake Tahoe with your friends on Pinterest: