California has 281 state parks that range from beach parks, historic sites, wildlife reserves, redwood forest, waterways and off road vehicle parks. They are spread across over 163,000 square miles of California, sharing jurisdictions with counties, cities and even the Federal Government. There are a myriad of different ways to get discounted California State Parks passes and sorting through the options can be confusing.
This guide is designed to de-mystify our California park pass system and help you find the right pass to use for your adventures. We'll help you figure out if it's a better deal to simply buy a California parks day pass or whether it's worth it to get an annual pass.
California's discount pass offerings do change periodically and we've updated this article for 2023 offerings.
When you are finished reading this article, but sure to visit our complete guide to ALL California State Parks. It includes listings by county, FAQs, a map and links to our itineraries and guides which feature state parks.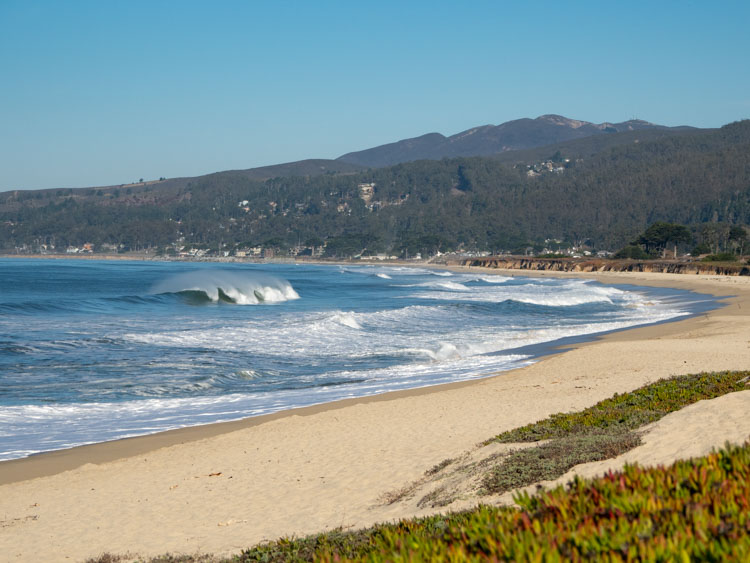 How Much Does it Cost to Visit a California State Park?
Most parks charge a vehicle day use fee of $8-10.
The parks service does not charge walk-ins or bicyclists. So, for instance, if you are staying in downtown Half Moon Bay and walk down to Francis Beach, you can simply walk through the beach park or along the beach for free.
Is it Worth It to Get an Annual California Parks Pass?
Let's do the math and assume that most of the parks that you want to visit have a $10 day fee and that you are interested in the most common California Poppy annual pass (which is $125). You would need to have 13 state park visits over the year to make the pass worth it.
But convenience also matters and having a pass dangling from your rear view means that you'll simply be waved into park sites, which will save you both time and hassle.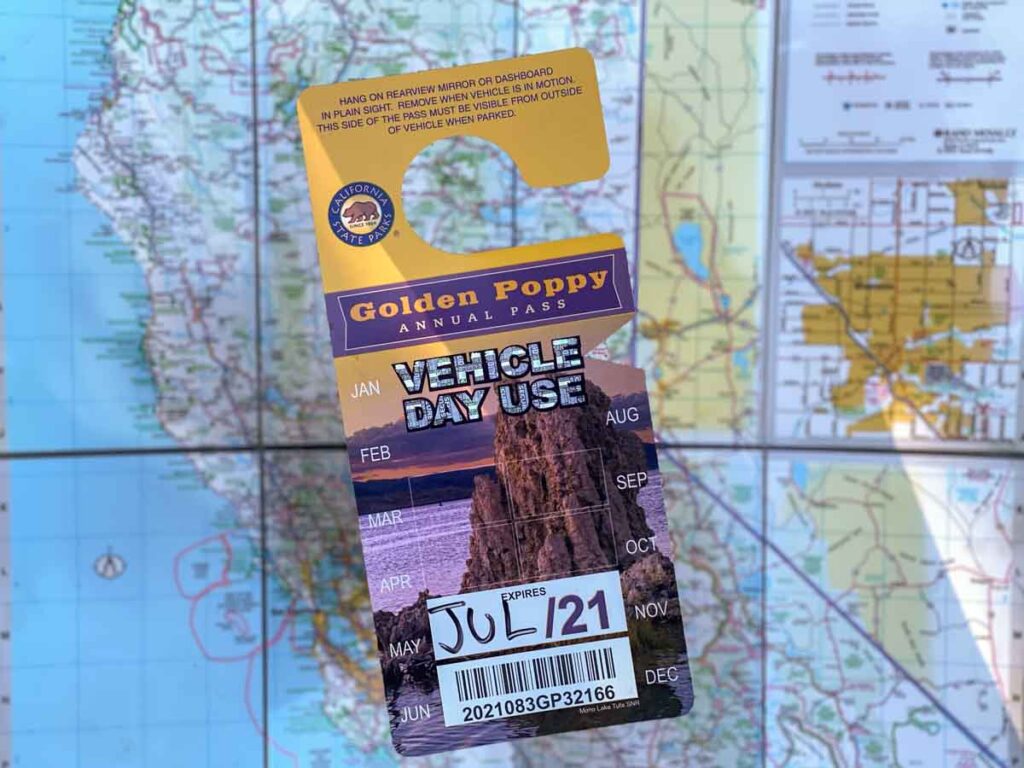 What are the Various California State Park Passes?
All of the California State park passes can be purchased online from parks department.
There are actually twelve different annual, seasonal and lifetime California State Park passes and several other programs offering free access. So it can be tricky to figure out which one is best for your circumstance. Here's the rundown:
Golden Poppy Annual Day Use Pass
Cost: $125
Best for: Most people who will be visiting 13+ parks per year (but who won't be visiting the excluded parks)
Format: Auto hangtag
This is the best California State Parks pass for most people. However, there are some places where this pass doesn't work.
The Poppy pass inexplicably excludes 20 parks. It does include all of the major redwood parks, Big Sur spots, Tahoe parks and most of the state's public beaches. But it excludes a few popular spots like Torrey Pines, Malibu Creek, Huntington and Carlsbad beaches. So, before buying this pass, check their list of included parks to make sure that the pass doesn't exclude somewhere that you visit frequently.
There are some state historic and cultural sites which charge a per-person fee to enter. So neither the Poppy Pass nor the Explorer Pass would be accepted. This includes: Bodie State Historic Park, California Mining and Mineral Museum, El Presidio de Santa Barbara (the Mission), Fort Tejon, State Indian Museum, Railtown 1897 and Sutter's Fort.
There are also a handful of state parks which are co-managed by local jurisdictions. So, you may find that your annual pass won't work there either. The more notable beaches include Santa Monica, Pacifica, Will Rogers and Corona del Mar.
California Explorer Annual Day Use Pass
Cost: $195
Best for: Households visiting 20+ parks per year who also frequently visit parks excluded from the Poppy Pass.
Format: Auto hangtag
This is the broadest, least restrictive pass. It's good for nearly all CA parks and the best option for someone who frequently visits the parks that are excluded from the Poppy Pass.
Discounted & Free CA State Parks Passes
There are a handful of discounts and free passes available for Veterans, the disabled, low-income households, seniors, school kids and library card holders.
The Adventure Pass
Cost: Free
Best for: 4th graders joined by up to three adults and kids. It includes free entry into 19 parks like: Anza-Borrego, Empire Mine State Historic Park, Calavaras Big Trees, Hendy Woods. Learn more about the pass here.
Format: Printed pass or scan for your phone.
The California State Libraries Parks Pass
Cost: Free
Best for: Anyone holding a CA library card who can plan ahead to go to the library to "borrow" the State Parks vehicle day pass. More info here.
Format: Hang tag
Disabled Discounted Lifetime Pass
Cost: $3.50 for the pass, 50% discount on day use and camping
Best for: People who meet the disabled pass criteria.
Format: Wallet card
Distinguished Veteran Lifetime Pass
Cost: Free
Best for: Honorably discharged Veterans with a 50% or greater service disability, former POWs and Medal of Honor recipients. Here is the criteria and info on how to apply.
Format: Wallet card
General Senior Citizen Discounts
Anyone 62+ can get a $1.00 discount on day use and a $2.00 discount on campsites. But you have to ask for it.
Annual Golden Bear Pass
Cost: $5.00
Best for: People who are receiving SSI benefits, CalWORKS benefits, or are low income seniors. Here are the pass requirements.
Format: Wallet card
Limited Use Golden Bear Pass
Cost: $20
Best for: Seniors of any income level. But not good from Memorial Day (May) through Labor Day (September). Here's where you can buy the pass.
Format: Wallet card
Niche Passes
These are a handful of passes that you can purchase for very specific interests.
Tahoe Regional Annual Day Use Pass
Cost: $75
Best for: People who live in or frequently visit the California side of Lake Tahoe.
Format: Hangtag
Historian Passport Day Use
Cost: $50
Best for: People who want to visit the state historic parks that are excluded from the Explorer and Poppy Passes, or who exclusively want to visit the historic parks, but not other parks.
Format: Wallet card
Boat Use Annual Sticker
Cost: $100
Best for: People bringing a boat 8 feet or larger into parks lands.
Format: A sticker that is added to an annual pass hang tag.
Oversize Vehicle Sticker
Cost: $75
Best for: People bringing large vehicles or RVs (over 25 feet) into the parks.
Format: A sticker that is added to an annual pass hang tag.
OHV Day Use Annual Pass
Cost: $50
Best for: Folks who like off-roading in the state OHV parks.
Format: Hang tag.
Sno-Park Seasonal Permits
Cost: $40
Best for: Cross country skiing, snow-mobiles and sledding.
Format: Dashboard pass
How to Use a National Parks Pass for California
In addition to the state park passes, you can also use National Parks passes at selected sites.
California boasts eight national parks, including the popular Yosemite, Death Valley and Joshua Tree parks. We also have an additional 25 national park sites. Not to mention the 19 million acres of publicly managed forest and most of it is under the jurisdiction of the the National Forest Service.
You can use your national parks annual pass to get into all of those national parks, the forests that charge day use fees, and even score discounts for camping spots on federal land. The annual pass costs $80, but there are discounted options for seniors, veterans and the disabled.
If you live in Southern California (or visit frequently) you could skip the national parks pass and get the Forest Service Adventure Pass for $30. It covers day use fees for the Angeles, Cleveland, Los Padres and San Bernardino forests.
Bytheway, both the Angeles and San Bernardino forests as well as a pile of other state and national parks are featured in our list of eyepopping scenic California drives.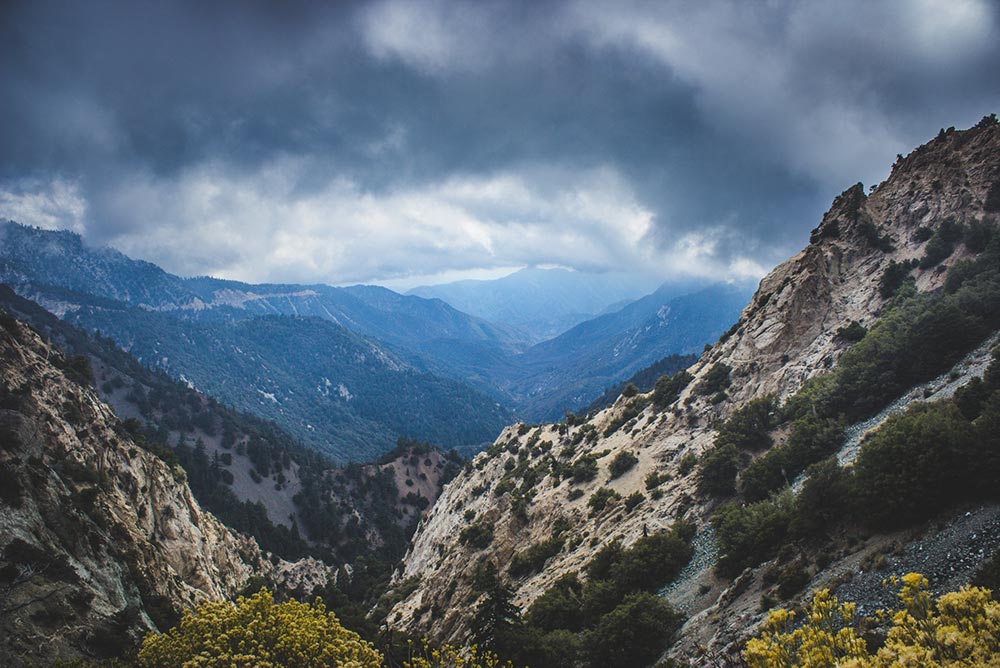 California Parks Pass FAQ
Here are some answers to commonly asked questions regarding whether and how to get a pass for California state parks.
Is There a Senior Pass for California State Parks?
There are two discounted senior passes, but they each have restrictions. The Golden Bear pass works for low-income seniors. The limited use Golden Bear pass works for any senior, regardless of income. But it's only valid in the low season between Memorial Day (September) and Labor Day (May).
How Much is a California State Parks Pass?
The most popular and useful pass is the Golden Poppy Annual pass, which costs $125.
Are National Parks Passes Good for California State Parks?
No. The CA state parks are a completely separate set of lands with their own jurisdiction.
The only exception to this are the Jedediah-Smith Redwoods and Prairie Creek Redwoods state parks. Both are in northern California and are managed in partnership with the National Parks service. So, both CA and federal passes work in those two parks.
Are State Parks in California Free?
Generally no. Most of the parks charge day use fees of $8-10.
However, some of the smaller beach parks (like Gray Whale Cove) are free. You also don't pay to visit some of the historic sites that are in urban settings– like Old Town San Diego, Monterey State Historic Park and Old Sacramento State Historic Park.
Where do I Purchase a State Park Pass?
You can purchase the state park passes using the online store. If you are planning to visit a park with a manned entry booth, then you can also purchase a pass from the on-site park ranger.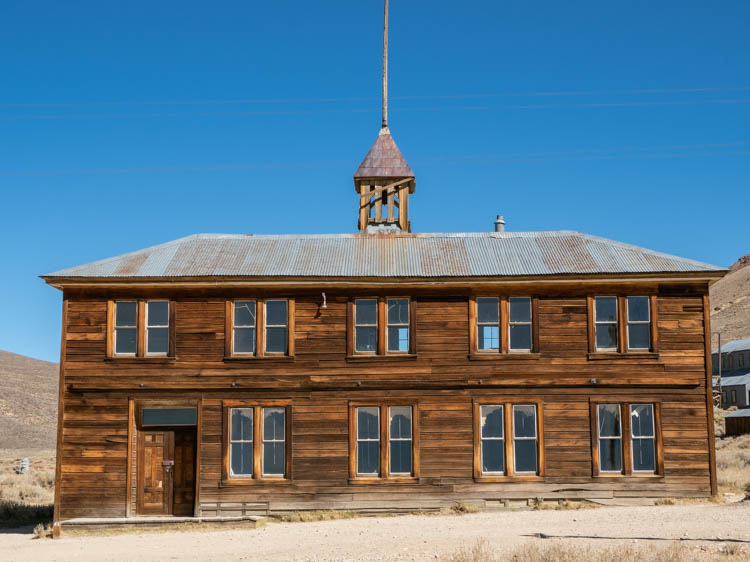 Explore More of California's Cool State Parks
(This article contains affiliate links. This means that if you choose to purchase, I'll make a small commission.)
Get a Map!
Google Maps is fine and all but sometimes an old school map is better for finding backroads and byways. We love the Benchmark California Road Atlas. It has a lot of detail, showing state parks and campsites as well as both paved and dirt roads.
Share these tips for the California state park passes on Pinterest: