Half Moon Bay State Beach Park is a beachcomber's delight with four miles of sandy beach spread over three locations. It's one of our favorite beaches in Half Moon Bay because if its convenient location and nice wide sand. This guide for Half Moon Bay beach will help you figure out where to go for a day trip, what to do while there and how to wrangle overnight camping.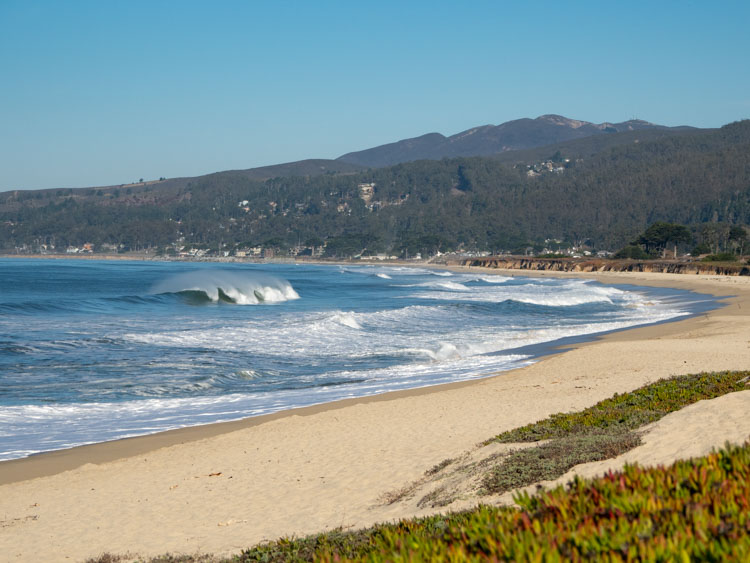 Half Moon Bay State Beach Park FAQ
Where is HMB State Beach Park?
Half Moon Bay State Beach Park is one large 4 mile beach with bluffs, dunes and a wide sandy beach.
The main entrance is at Francis Beach, which is located at the end of Kelly Ave off Highway One, about a half mile from downtown HMB. This is where you find the Half Moon Bay State beach campground and visitor center.
There are also two additional day use areas north of Francis Beach. You can find Venice Beach off Highway One at the end of Venice Boulevard. And Dunes Beach is at the end of Young Avenue.
What are the Amenities?
Francis Beach has a full set of amenities. For day use, that means a visitor's center, picnic tables and bathrooms. There are also 52 camp spots with picnic tables, some power and a dump station.
Venice Beach has picnic tables, outdoor showers and a bathroom.
Dunes Beach has bathrooms.
What are the Day Use Fees?
Day use fees for Half Moon Bay State Park are $10 per car. They accept the annual pass hangtag, which you can purchase on site. Use our guide to figure out which California parks annual pass is right for you. Francis Beach has a manned booth that takes the fees. Venice Beach and Dunes beach have unmanned booths and an honor system for paying day use fees. But the lots are patrolled by police.
All three beaches have fairly large day use parking lots, but they fill up very quickly on sunny weekends and holidays. At Francis Beach, you can find free street parking in the Alsace Lorraine neighborhood. But you can't park there overnight and please be respectful of the local residents.
Is Half Moon Bay Beach Park beach dog-friendly?
Half Moon Bay State Beaches are not dog friendly. Dogs are allowed in the campground, picnic areas and parking lots. Pups are also welcome to walk the paved pedway along the bluff. The HMB beaches are key nesting sites for the threatened snowy plover and unfortunately enthusiastic dogs and snowy plovers don't mix well.
However, your dog is welcome at Poplar Beach. This is a city beach park .8 miles south of Francis Beach and is accessed from the same pedway along the coastal bluff. Mavericks Beach in Pillar Point Harbor is also dog-friendly.
Can You Swim at Half Moon Bay State Beach?
Well, the surfers swim in the Half Moon Bay beaches, but we don't recommend it for mere mortals. The water is a very cold 50-60'F and the surfers are doing it in wetsuits. The state beach also has riptides. It's fine to play along the edges of the water on a calm day, but be very careful to keep an eye on the surf.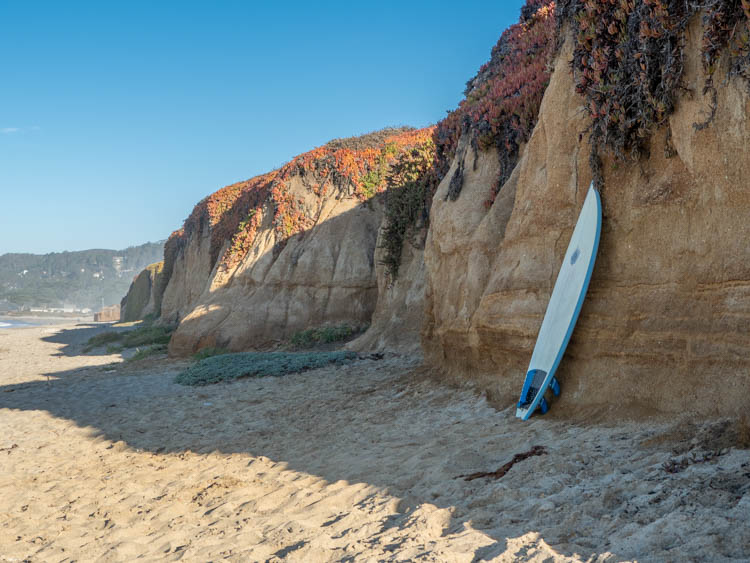 Fun Activities to Do at Half Moon Bay Beach
Go Beachcombing
Starting from Poplar Beach north to Miramar, you'll find three miles of nice wide beach, occasionally punctuated by flowing streams and jutting cliffs. At low tide, you just might be able to do the whole six mile round trip on the beach.
Go Hiking and Biking on the Bluff
North from Francis beach, you can take the paved pedway along the bluff. It goes 4.5 miles and ends at Pillar Point Harbor. Going south, you can take the paved pedway and then dirt trails south another 3 miles to Wavecrest Beach, where you can see the golf course for the Ritz Carlton. Both directions are dog and bike friendly. This stretch of Coastal trail features in our guide to Half Moon Bay trails.
Do Some Wildlife Spotting
Gray and humpback whales migrate along California's coastline in December and May. They don't usually come into the bay, but you will occasionally spot them. You can also see whales on the nearby Devil's Slide trail.
It's very common to see common dolphins and sea lions in the bay. There are also a lot of seabirds like gulls, pelicans and sanderlings. Just south of Francis, red-tailed hawks hunt gophers on the wide open space of the blufftop.
Beyond the beach and wildlife activities, be sure to check out our visitor's guide to Half Moon Bay to find more fun things to do and eat.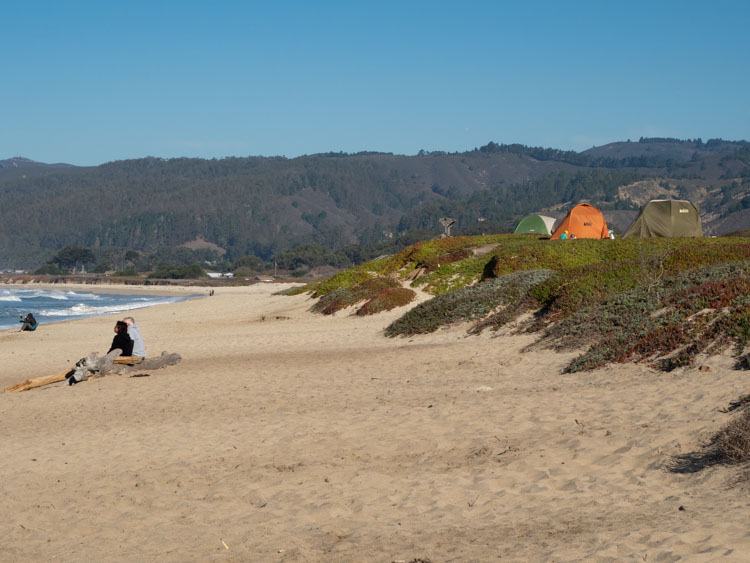 Read More: Get the full downlow on all CA parks with our complete California State Parks list (with map).
How to Snag Camping in Half Moon Bay State Beach Park
Francis Beach is a popular camp spot, largely because of its proximity to the greater bay area and those killer ocean views.
How Many and What Type of Camping Spots are at the Beach Park?
The beach park has 52 camp spots. 48 can accommodate tents or RVs (max 40 feet). Many, but not all, are electrified and none have water/sewer. But the park does have a dump site. Of the electrified sites, 10 are "premium" with ocean-front views. 5 spots are tent-only, which also have the premium views.
The beach park can also accommodate a number of campers in their hike & bike area. These are walk-in sites for thru-travelers, such as people doing a multi-day coastal ride. The Half Moon Bay State Beach Park group campsite is located between Dunes Beach and Venice Beach.
How Long Can you Camp at Francis Beach?
From May-October, you can stay for up to 7 days. For the rest of the year, the limit is 15 days.
How Do You Reserve A Camp Spot for Half Moon Bay Beach?
The best way to snag a camp spot is to reserve one six months in advance. The California State Parks opens up reservations on a rolling daily basis, six months in advance. For a popular spot like Francis Beach, get right on that at 8am. If you like to play it by ear, just check the calendar for the odd day here and there.
There are also spots that open up on the day of, because of last minute cancellations and no-shows. They open up every day at 2pm and you can call the kiosk to check- (650) 726-8820.
What Are the Francis Beach Camping Fees?
Tent-only spots and back-in tent/RV spots without electricity: $35 + $7.99 reservation fee.
RV spots with electricity: $50 + $7.99 reservation fee.
Premium RV spots with electricity and the best view ever: $65 + $7.99 reservation fee.
Other Nearby RV Camping in Half Moon Bay
Pillar Point RV also has killer ocean front views. It's near the harbor and right on the surfing beach. Full hookups for $75-100/ni. It's first come first served, but they allow long 28 day stays so call to get a realistic idea about availability.
Pelican Point RV Park is located near the Ritz Carlton. They have full hook-ups go for $84.
Half Moon Bay RV Park is located on the bluff, right behind Cameron's Pub. Email for rates.
If you don't want to camp out, check out this resource for finding a super cool beach rental for Half Moon Bay on Airbnb.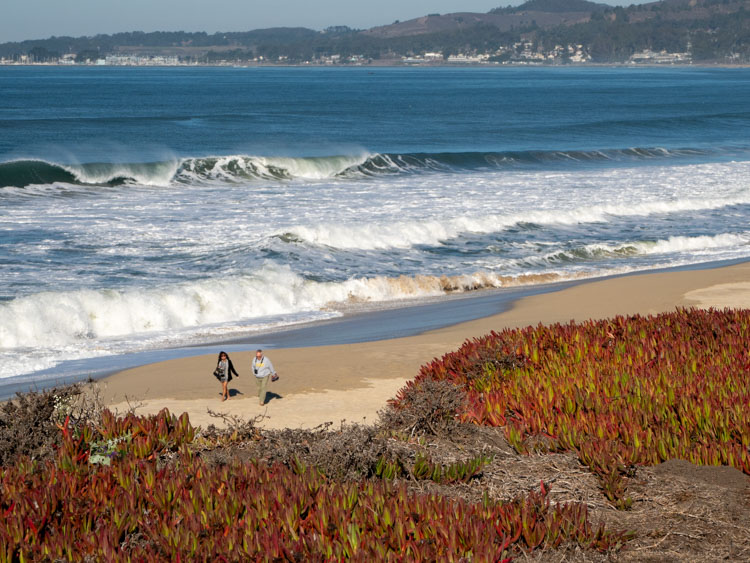 More Fun Things to Do in Half Moon Bay
More CA Campground Guides
Share these tips for day use and camping in Half Moon Bay State Beach with your friends on Pinterest: