There are ten Half Moon Bay pumpkin patches, so it's understandable if you are feeling a bit overwhelmed by choice. Don't worry, the Great Pumpkin and I have your back. This round-up of the pumpkin patches in HMB will help you figure out the best patch for the kind of experience you want to have. In addition, you'll get info on where to find the patches and strategies for avoiding crowds.
This article has been updated for the fall 2021 Half Moon Bay pumpkin season.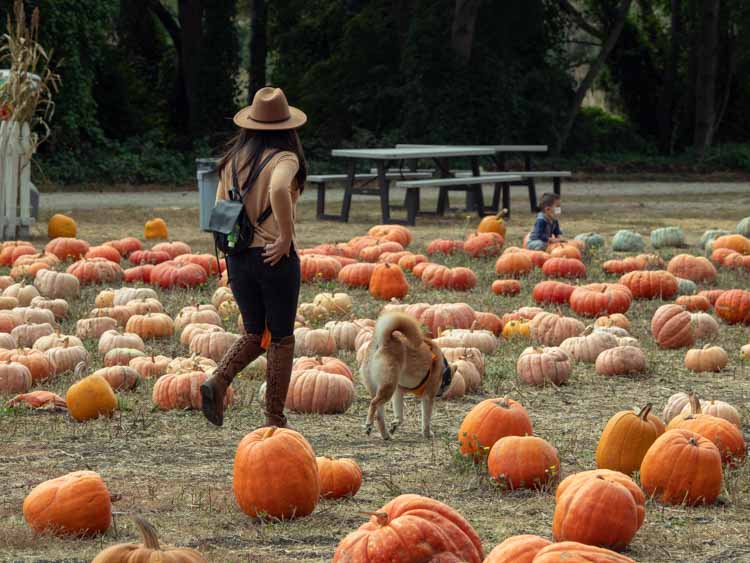 Why Visit the Half Moon Bay Pumpkin Patches?
San Mateo County has over 240 farms producing a variety of livestock and food crops. It's also an active harbor which pulls in over 7 million pounds of fish and seafood a year. (riveting crop report here if you'd like some light reading). Many of these foodstuffs come available in the fall, including crab, brussel sprouts and, of course pumpkins. With 167 acres of pumpkins growing on the ground, the Coastside has become a Halloween hotspot.
HMB has managed to leverage all of that pumpkin acreage and Halloween frenzy into a fall family festival that goes way beyond simply buying a gourd to set out on the front porch. There are pony rides and hay rides and mazes and gift shops and all manner of fun. So, whether you simply want to buy a pretty pumpkin or you want to have a big family outing, the Half Moon Bay pumpkin patches can fulfill your needs.
Tips for Visiting the Pumpkin Patches
These patches are popular and visiting them can become very crowded, especially on the weekend. Here are a few tips for beating the crowds:
Visit during Monday through Friday when the patches are far less busy.
For weekends, time your visit for right when they open, or go later in the afternoon closer to closing time. If they are busy, they sometimes stay open as much as an hour later to accommodate guests.
Avoid coming over Highway 92 from 280. On busy weekends, the road will back up to 280. If you are coming from the city, take the tunnel. If you are coming from the Peninsula, look at taking Tunitas Creek or going up to Skyline and routing through Pacifica.
Bring cash. Many of the patches take only cash or checks. Only a few take credit cards or Venmo.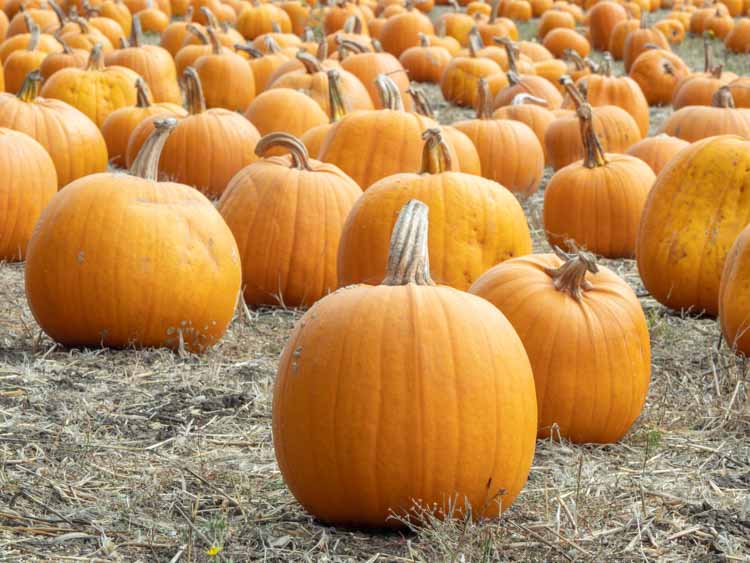 What follows are the ten best pumpkin patches in Half Moon Bay. Some have the full fall festival thing going on with ponies and hay rides. Others are simply a place to select your perfect pumpkin. I'm listing them in order with the "fall festival" farms first and the perfect pumpkin farms lower down. So, think about your strategy and choose the patch that's right for you.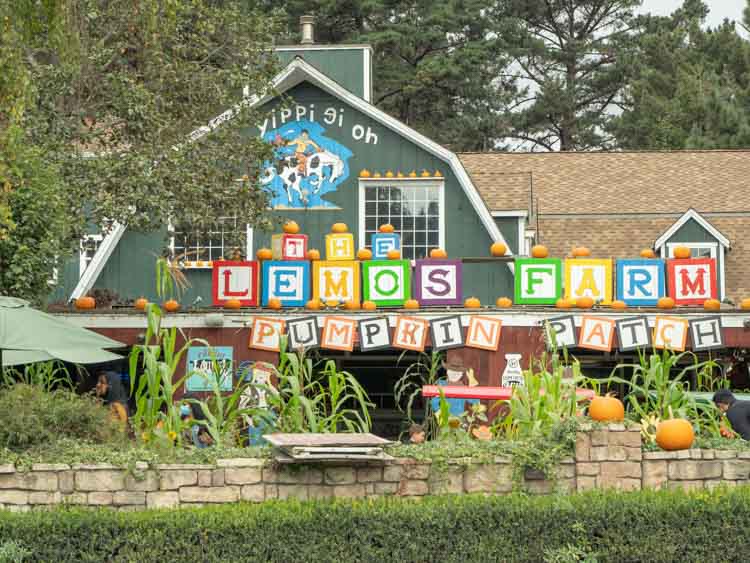 Lemos Farm
Lemos Farm is a year-round kids destination. They host birthday parties and pony rides all year as well as (and I'm not kidding), goat yoga. In September, they transform into fall festival mini theme park. They have a haunted house, hay rides, train rides, a petting zoo, car barn and slides. What they don't actually have is pumpkins. So Lemos Farm is great for a family outing, but you'll need to find your perfect pumpkin elsewhere.
Hours: Daily 9a-5p.
Activity Costs: Pumpkin patch passes are $15. The get booked up so purchase tickets at least a few days in advance.
Location: 12320 San Mateo Rd, Half Moon Bay. Right on 92, hang a right at the brightly decorated horse sculpture.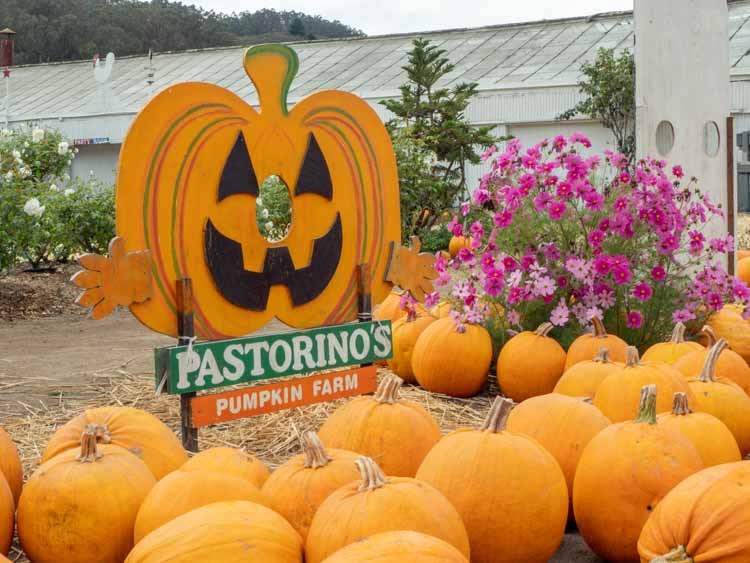 Pastorino's Pumpkin Farm
Throughout the year, Pastorino's offers gifts, house plants and cut flowers. But in the fall, they morph into a pumpkin patch and fall festival. For activities, they offer train tides, hay rides, a giant slide and petting zoo. They also have a really cute gift shop and a decent selection of pumpkins. If you are hungry, they sell slices of pumpkin pie, or if you can't resist, you can buy a whole pie.
Hours: Daily 9:30a-5:30p
Activity Costs: Pony rides $10, hay rides $5, petting zoo $5, haunted house $5.
Location: 12391 San Mateo Rd, Half Moon Bay. Across 92 from Lemos Farm.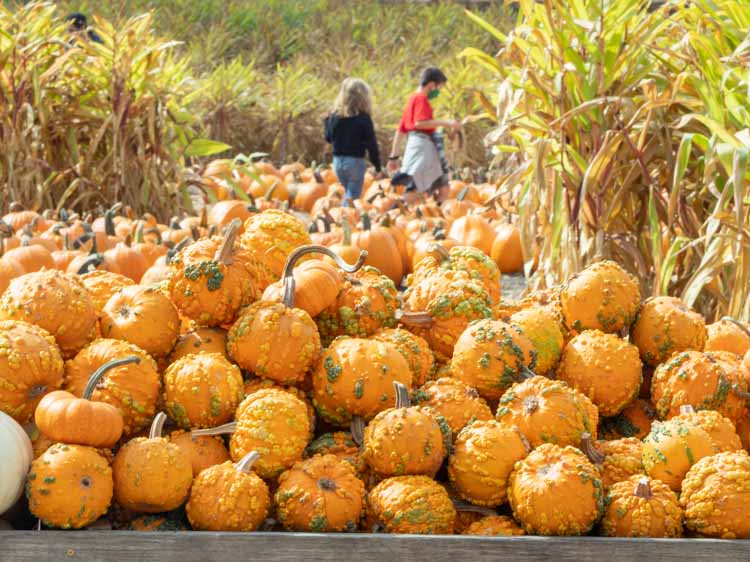 Arata Farms
Arata Farms is located six miles south of Half Moon Bay on a quieter stretch of Highway 1. So if you want to avoid the gauntlet on 92, Arata is a great option. They have a massive 2-acre Minotaur's Labyrinth hay maze, which is fine for kids but also fun for adults. They also offer a petting zoo, snack shack, picnic tables and quite a variety of pumpkins. In fact, they have a "pumpkin river" that flows in between their corn stalks. They also have some really cool, extra large metal animal sculptures.
Hours: Sunday-Thursday 9a-6:30p, Friday-Saturday 9a-10:30p
Activity Costs: An all access pass is $45. Individual pricing : hay maze $15 ($20 at night), hay ride $8, petting zoo $8, pony ride $10, haunted barn $10, train ride $8, pumpkins at a variety of prices.
Location: 185 Verde Rd, Half Moon Bay, CA 94019, on Highway 1 just south of Bob's pumpkin farm.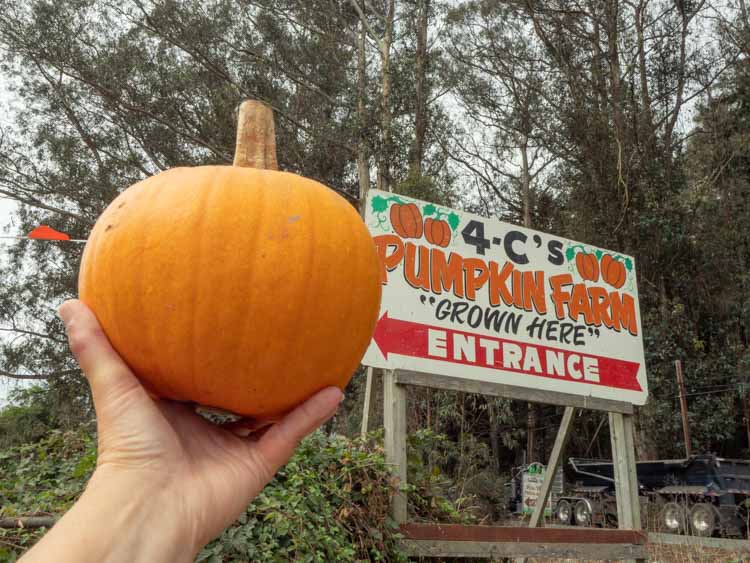 4-C's Farm
4-C's pumpkin farm does a great job of finding a sweet spot on the fall festival/perfect pumpkin patch continuum. They have a very large lot of pumpkins which they grow themselves. They tend toward mostly traditional front porch pumpkins, in a lot of sizes. However, they do also offer some other varieties. They also have a petting zoo and pony rides. When I was there most recently, they had the most adorable baby pigs! They also sell Christmas trees in December.
Hours: Daily 9a-5p.
Activity Costs: Pony rides $10, petting zoo $5.
Location: 678-698 San Mateo Rd. On Highway 92, just east of Pastorinos and Lemos farm.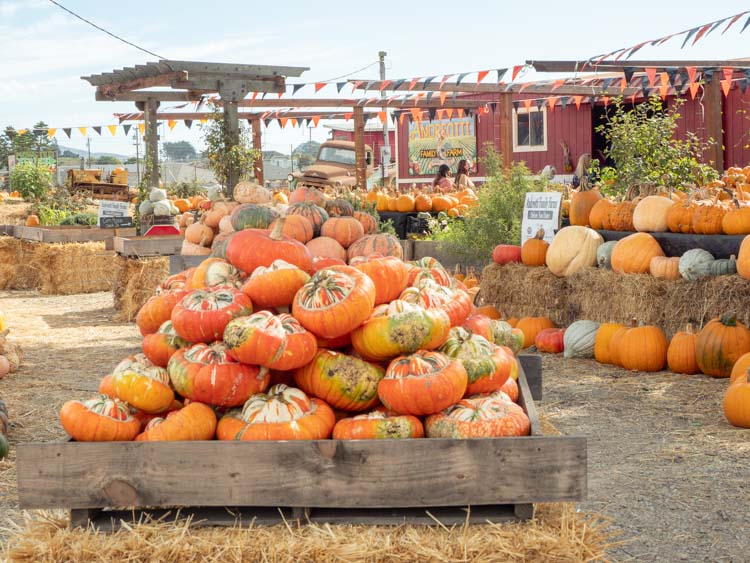 Andreotti Farms
Andreotti Farms has one of the prettiest pumpkin patches in Half Moon Bay. If you like a really colorful front porch and cute table decorations, Andreotti's is for you. They grow 30 unusual varietals, and have a lot of pumpkins that are good for eating, not just carving. They also have a large corn maze in the back pasture. The patch is also dog-friendly. They are located on Highway 1, but you can also visit their produce farm store on Kelley Ave (near the Half Moon State Beach Park at Francis Beach).
Hours: Daily 9a-6p.
Activity Cost: They have a pumpkin patch reservation for $20 adult/kid that includes the corn maze, a u-pick sunflower field, a hay bale climbing structure and a credit towards a pumpkin. You can pre-book it here.
Location: 800 Cabrillo Hwy N, If you Google it, use the Cabrillo Highway 1 address, not the Kelley Ave address. Located next to Farmer John's patch.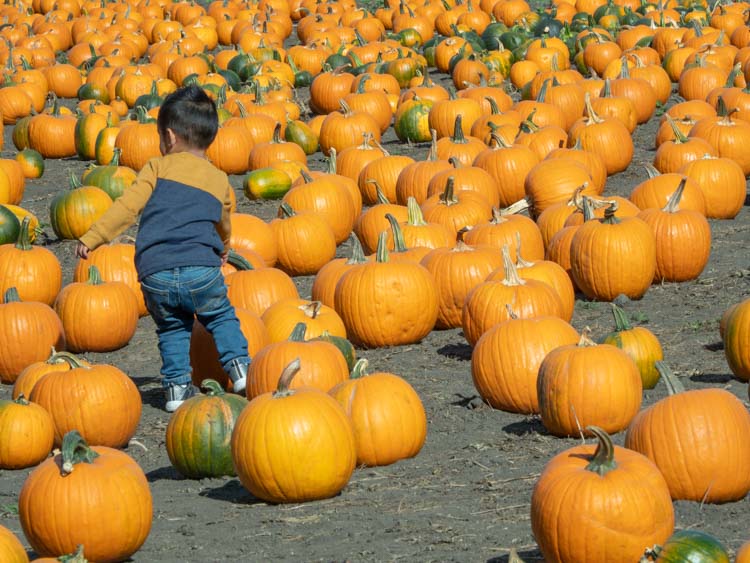 Repettos Pumpkin Patch
Repettos is the best pumpkin patch if you are looking for a lot of basic front porch pumpkins for a good price. They have a large lot for their patch with a lot of pumpkins for $5. They also have an inexpensive, corn maze that isn't huge, but it's large enough to get lost in. Repettos also runs a cut flower business in a slightly different location than the patch.
Hours: Daily 9a-6p (but sometimes stays open to 7 if it's busy).
Activity Cost: Corn maze $2
Location: 12950 San Mateo RD. Highway 92 next to HV produce. If you Google, it will take you to their cut flower nursery, which is not where the patch is located.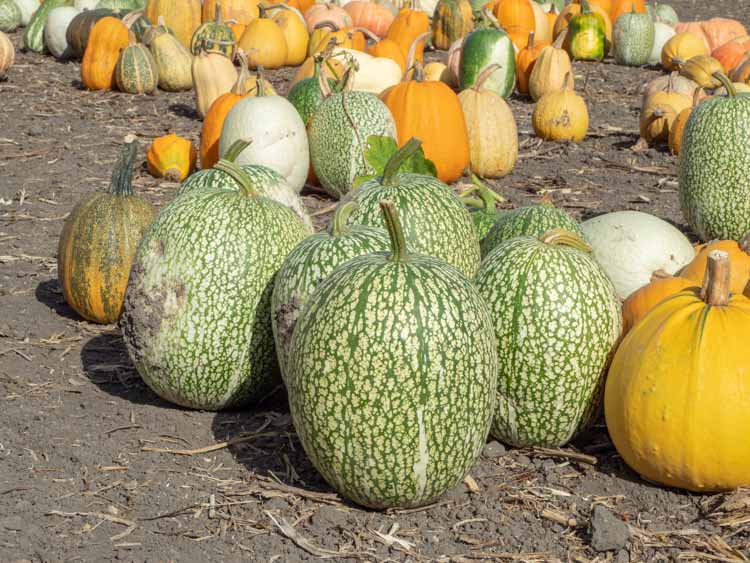 HV Pumpkin Patch
When they aren't selling pumpkins, HV is a small year-round produce stand. They always have a lot of well-priced produce of whatever is in season and they also stock a few imported basics (like bananas). Their patch is an inexpensive, no-nonsense place to get a variety of pumpkins. They carry a lot of orange, green and white pumpkins that are the perfect size for the front porch. They also have a small, free corn maze that won't get you very lost, but it's fun for the kids.
Hours: Mon-Fri 8:30a-6:30p, Sat-Sun from 8a.
Costs: Small sugar pumpkins (for cooking) are under $3 and the rest range from $10 up to $38 for extra extra large.
Location: Location: 12950 San Mateo RD. Right next to the Repettos patch on Highway 92. Look for the wood hut.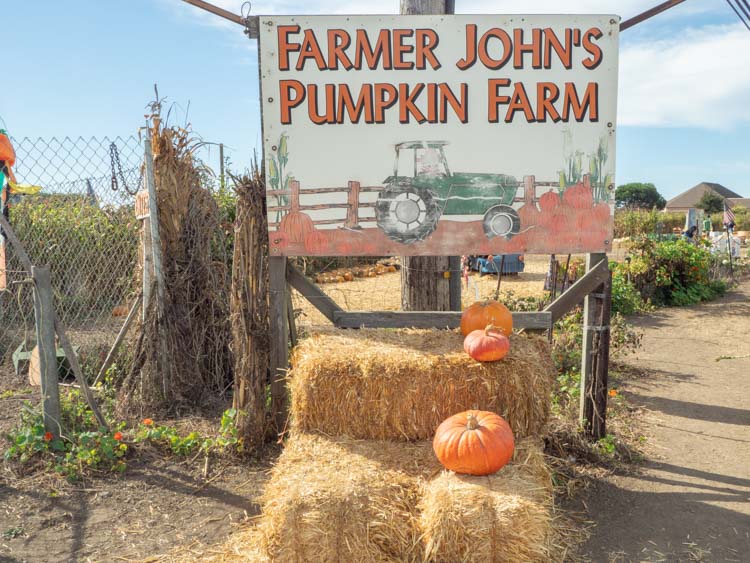 Farmer John's
Farmer John's owns farmland right behind the patch. They grow most of their own pumpkins, however they do bring in some unusual varietals that they don't grow themselves. So, they have a good mix of stock pumpkins with some pretty varieties to spice things up a bit. They also have a small snack shack and some hay bales and corn stalks for the kids to play on.
Hours: Daily 9a-6p
Location: 850 Cabrillo Hwy N. Highway 1, north of the strip mall with the Safeway. Located right next to Andreotti Farms.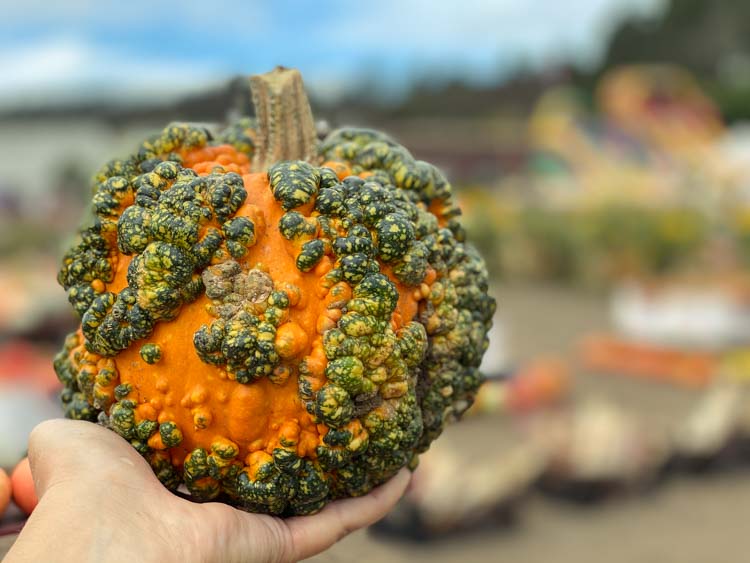 Cozzolini's Pumpkin Patch
Like 4-C's, Cozzolinos is another farm that does both Christmas Trees, a farmstand and pumpkins. In the fall, they are all about the pumpkins and don't do fall festival activities. But their pumpkins are gorgeous. They have a ton of varietals, including the freaky looking one in the picture above. Looks like something from a horror movie doesn't it? Perfect for a frightful Halloween front porch. They are located across Highway 92 from Bongards Nursery.
Hours: Fri 9:30a-5p, Sat-Sun 9a-5p.
Location: 12599 San Mateo Rd, Half Moon Bay. If you Google it, it will give you the address for the Christmas farm, which is not in the same location.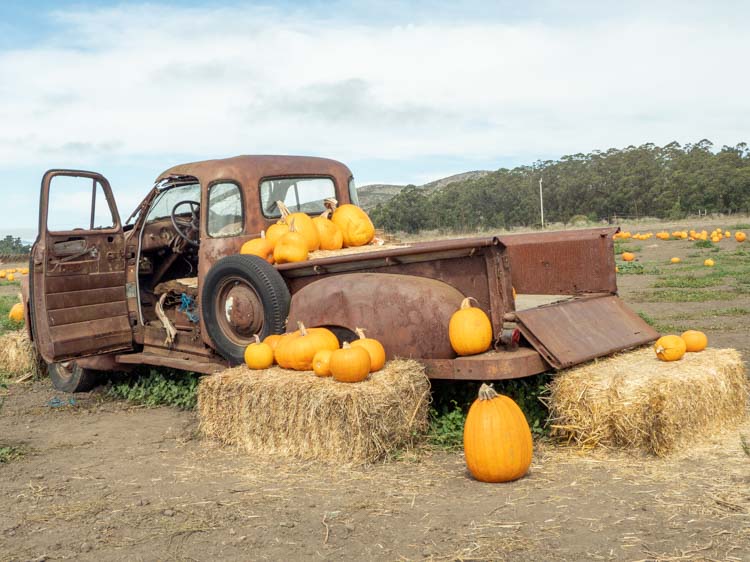 Bob's Pumpkin Farm
Bob's Pumpkin Farm bills itself as a place where you can "pick 'em where they grow 'em". That's not to say that the other farms don't grow their own. But many grow their pumpkins on nearby acreage and then move the picked pumpkins to their lot. Bob literally grows them right in the field where you buy them.
Bob's is my friend Susan's favorite pumpkin patch in Half Moon Bay. They have an astounding collection of extra large pumpkins in freaky shapes with creepy stems. These are the best pumpkins if you want to set up an extra large fright on your front porch. Their location south of town also means that traffic will be less intense and parking will be easier to find. Bob's also has some picnic tables and hay bales for the kids.
Hours: Daily 9a-6p.
Location: Cabrillo Hwy S. Highway 1, about 5 miles south of town and just north of Arata Farm.
Great Pumpkin wishes you the best Halloween- happy pumpkin hunting!
Explore More of Half Moon Bay and the Coastside
Share these Half Moon Bay pumpkin patches with your friends on Pinterest: