Half Moon Bay is a perfect day trip within the Bay Area or a weekend getaway from anywhere in California. It's a cute town and you'll be spoiled for choice with all of the state beaches, hikes and attractions. This guide is informed by the years we spent living in Half Moon Bay and we still visit frequently– so, you can trust us. These ideas for 30 delightful things to do in Half Moon Bay includes some popular attractions along with a few local's only tricks. So, get ready to bookmark this page because we have some great ideas for you.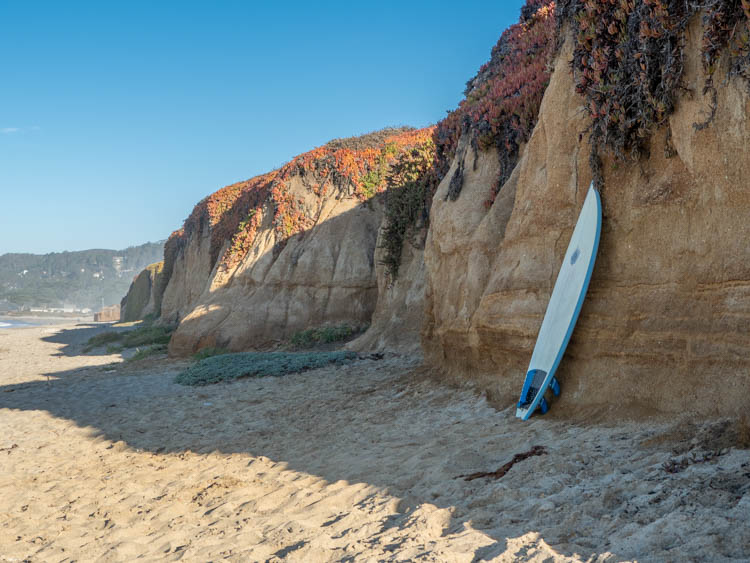 Why Visit Half Moon Bay?
Half Moon Bay (HMB) floats in the center of a Venn diagram that merges urban agriculture, small town charm and awe inspiring nature. Agriculturally, it's known for growing Christmas trees, pumpkins, cut flowers, brussel sprouts and artichokes. (Fun fact for you trivia nerds– in the 1930's Half Moon Bay had a monopoly on artichoke production in the US and there was a scandal when racketeering thugs from the east coast started an artichoke war.)
Half Moon Bay is also a classic small northern California coastal town with a cute, historic downtown. The town was developed in the 1840's as "Spanishtown", and was named for the Mexican settlers were were given land grants. The town got an economic boost during Prohibition when the thick fog gave safe harbor to Canadian rum runners and many of the town's historic buildings date back to that period.
Many people visit Half Moon Bay for it's abundant coastal wonders. San Mateo County has 15 state parks and all but three of them line the Coastside or are in nearby tributaries. There are cliffside coastal hikes, tiny crescent beaches, surfing, beachcombing and migratory marine mammals.
This list of things to do in Half Moon Bay offers up a mix of all three of those elements, so that you can sample the agriculture, small town charm and natural wonders that make the Coastside so special.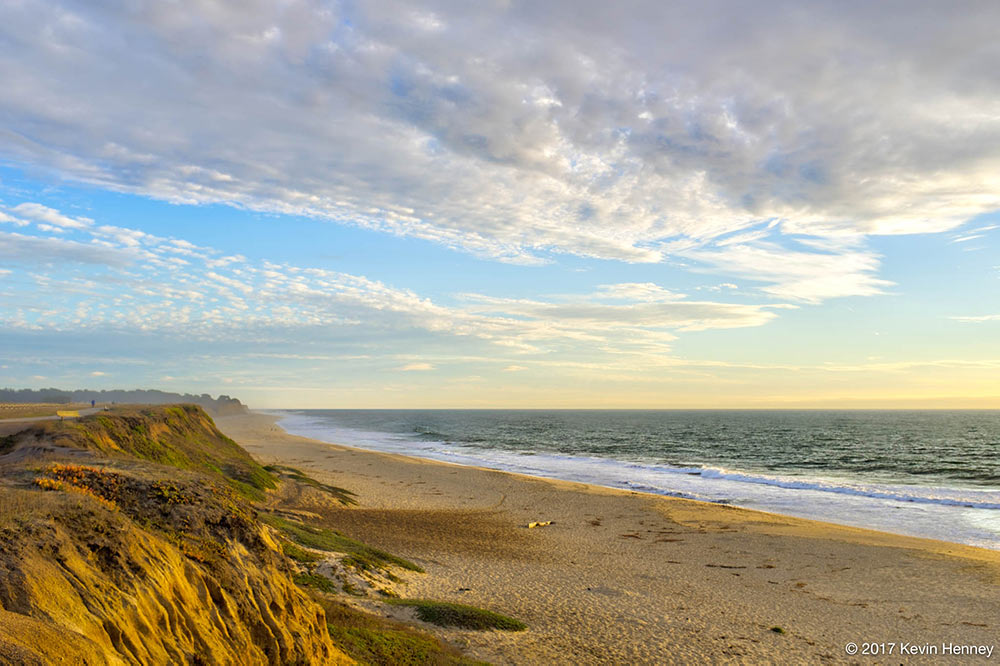 Got Questions? We Have Answers!
Here are a few commonly asked questions about Half Moon Bay.
How do You Get to Half Moon Bay?
– From San Francisco, go south on Highway 1 for 30 miles.
– From the Peninsula, go west over Highway 92 for 15 miles.
– From San Jose, take 280 north and then Highway 92 west for 42 miles
How to Beat the Traffic into Half Moon Bay
I used to live in Half Moon Bay, so trust me when I tell you that weekend rush hour traffic is real. Here are three ways to beat it:
1. Go early. If you can get over to the coast before 10am, you can beat the traffic and stake out a nice spot on the beach.
2. Stay late. Hang around for dinner and the sunset and you'll sit out the worst of the returning traffic.
3. Take the scenic route. My super-secret weapon for a busy weekend is to detour over Skyline Boulevard to either Tunitas Creek (which meets Highway 1 eight miles south of Half Moon Bay) OR La Honda Road (which meets Highway 1 in San Gregorio, ten miles south of town).
Both roads are winding and neither would be faster when the main roads are clear, but they are very scenic and far less frustrating than sitting in traffic on 92. This list of things to do in Half Moon Bay has suggested ideas for the area around San Gregorio and Pescadero, so taking Tunitas Creek or La Honda Road, gets you that much closer to the attractions and activities south of town.
Weather in Half Moon Bay
It is not hyperbole to say that it's nearly always 64′ in Half Moon Bay. California's cool coastal climate and mild winters means that the average highs only vary by about 10′ throughout the year. Sure, there can be colder days in the winter and some really nice hot days in the spring or early fall.
But bring a sweater and a jacket and plan for 64′.
It can be foggy in HMB anytime of year, but is particularly more so when the summer heat of California's Central Valley pulls in the coastal moisture. It frequently rolls in in the later afternoon but will often clear out for sunset.
Can You Swim in Half Moon Bay?
Well, the surfers do indeed swim in the Half Moon Bay beaches, but we don't recommend it for mere mortals. The water is a very cold 50-60'F and the surfers are doing it in wetsuits. Some of the beaches have riptides. It's fine to play along the edges of the water on a calm day, but be very careful to keep an eye on the surf.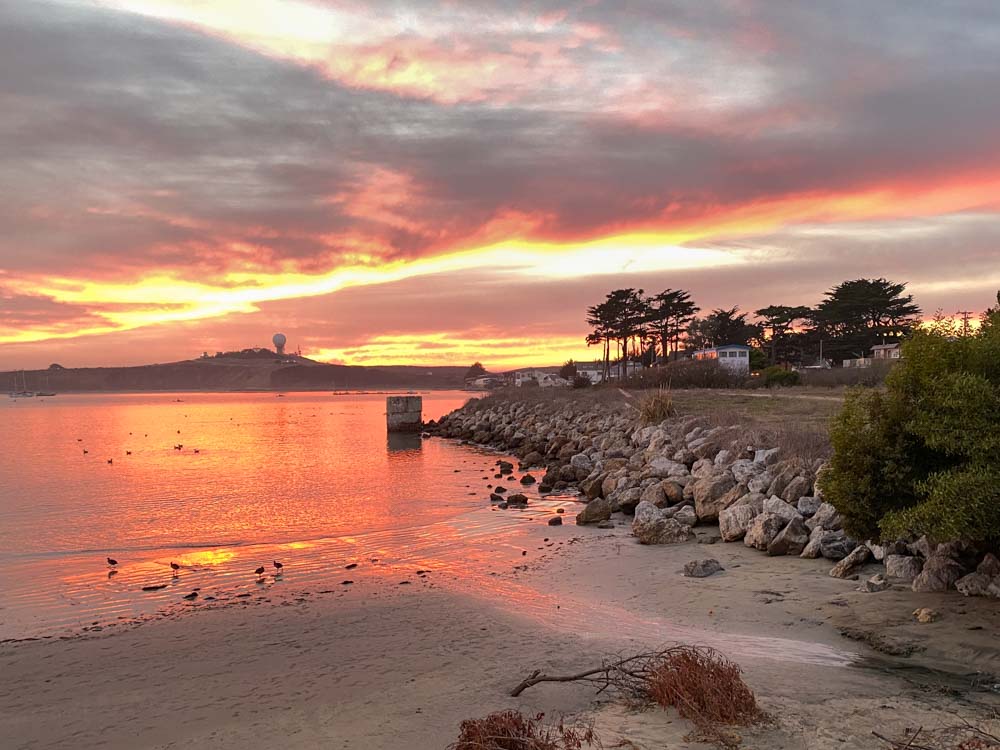 Top 30 Things to Do in Half Moon Bay
We've organized this list of Half Moon Bay attractions and places to visit according to a few categories, so scroll the whole list or jump down to the area that most interests you.
Half Moon Bay's Top Attractions, Activities & Drives
These attractions and activities are very family-friendly and offer a mix of nature, agricultural and historical activities.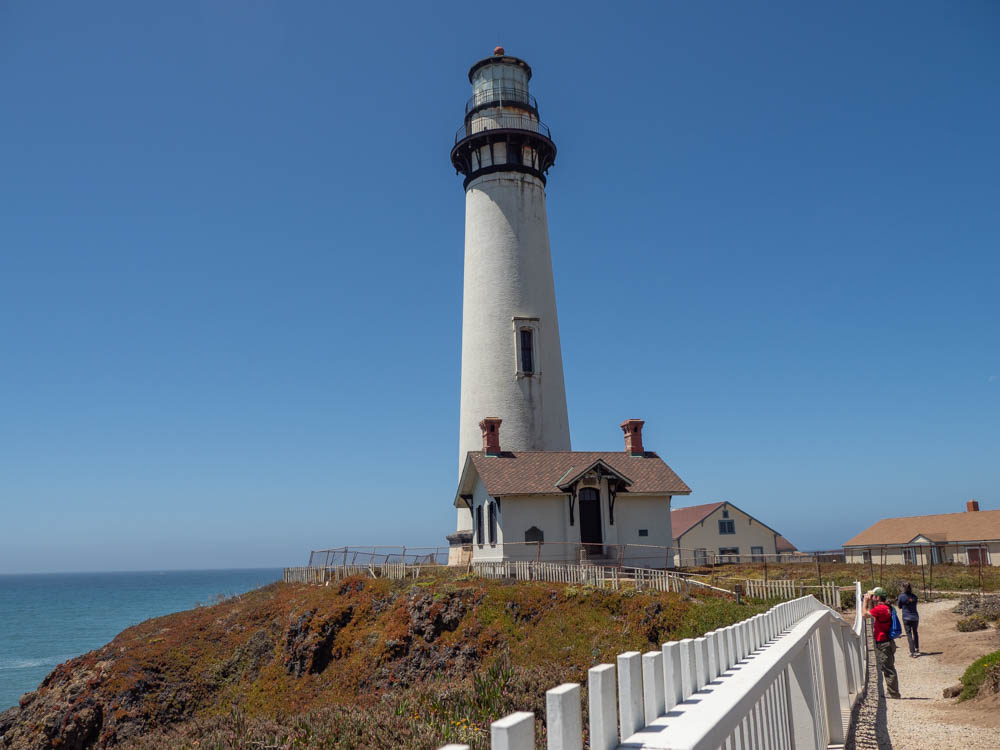 1. Pidgeon Point Lighthouse
Pidgeon Point juts out into the pacific on a lovely thumb of land south of Pescadero. The lighthouse has been guiding mariners since 1872 (and some of those prohibition era bootleggers since the 1920's). The lighthouse is indeed still in use today, although they've transitioned from a traditional glass lens to LED lighting.
This area is worth visiting not only for the lighthouse, but also for the migratory marine mammals. Seals, sea lions and whales can often be seen passing by. When you visit, bring binoculars and keep your eyes open.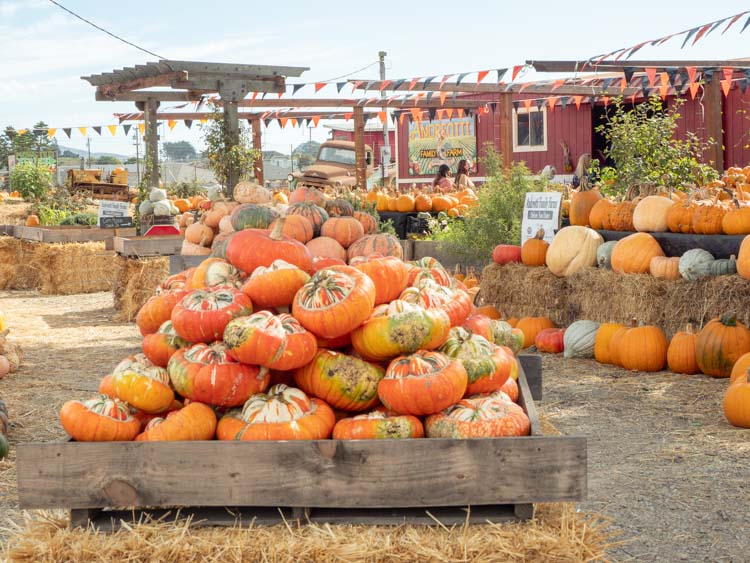 2. Half Moon Bay Pumpkin Patches
Starting in September, the whole Coastside turns in to one big fall festival. The attractions include pony rides, corn mazes and lots of pumpkin picking. I'm partial to Andreotti Farms because they carry unusual (and very pretty) pumpkin breeds, but check out our guide to all of the Half Moon Bay pumpkin patches to get the full scoop.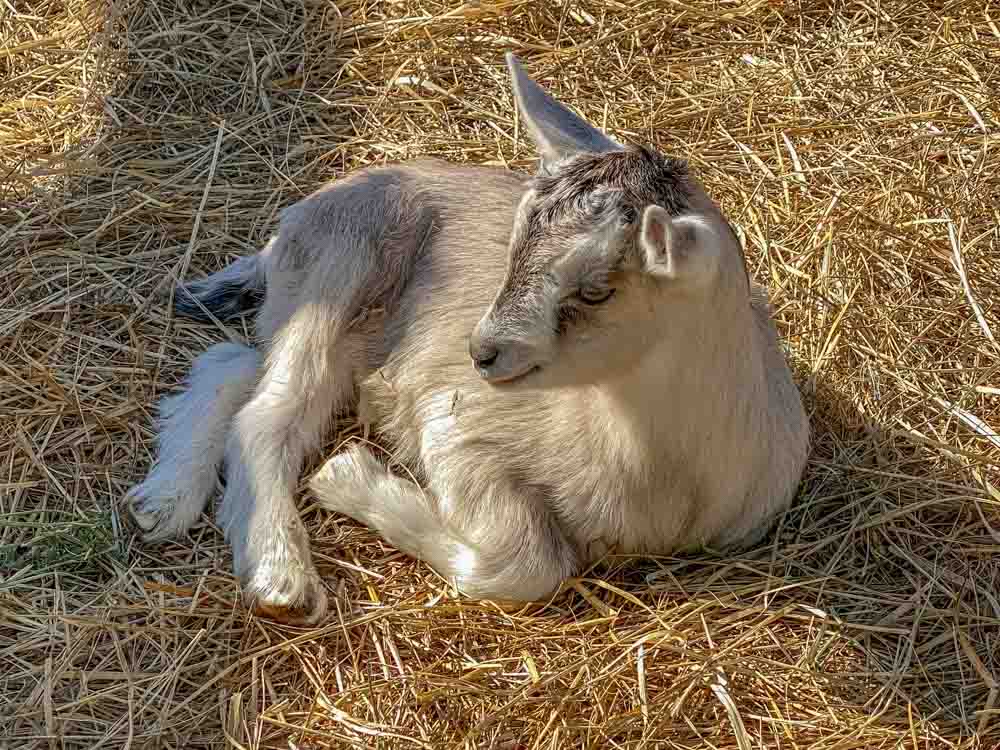 3. Harley Farms Goat Dairy
Two words: baby goats.
It's tough trying to decide which is cuter; golden retriever puppies or little baby goats. But when you visit Harley Farms, the voting will definitely tilt toward their adorbs baby goats. Those wobbly legged darlings are just beyond.
And so is the Harley Farms cheese. You see, Harley Farms is not a petting zoo, but rather an actual working dairy and they make very tasty goat's milk cheeses. If you are interested in learning more about their dairy operation, you can schedule a tour. Otherwise, visit any given day between 11am-4pm to ogle the goats and get some cheese.
4. HMB Kayak Rentals & Tours
If you are keen to get out onto the water, you can rent kayaks and SUPs from HMB Kayak Company in Princeton Harbor. They rent boats, boards and bikes by the hour and also offer guided kayak tours of the harbor and Fitzgerald Marine Reserve.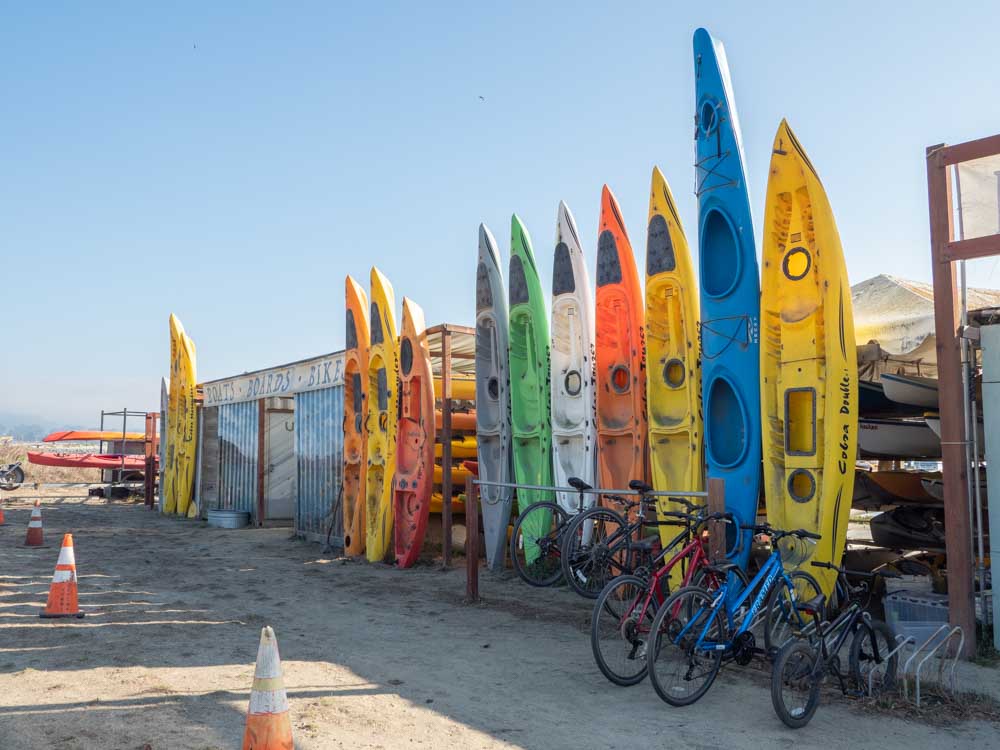 5. Stage Road Scenic Drive
Stage Road is a winding, seven mile rural drive that meanders between Pescadero and San Gregorio. It's not the fastest route, but it surely is lovely. You slide past the Mt Hope Cemetery, small farms and eucalyptus groves with soothing pastoral scenery.
6. Tunitas Creek-Purissima Creek Scenic Drive
For a slightly longer scenic drive, take the even more meandering route along Tunitas Creek and Purissima Creek roads. It's a 17 mile jaunt through pastureland and redwood forest.
Start at Highway 1 and go northeast on Tunitas Creek Road. at 2.7 miles, turn left onto Lobitos Creek Road. Circle back towards Highway 1 but before reaching it, turn right onto Verde Road. After 3 miles, turn right onto Purissima Creek Road and follow the curve into the hills and then back out again, reaching Half Moon Bay after 7 scenic miles.
Where to See Wildlife
The Coastside waters are teeming with sea life and marine mammals. Migratory gray whales move through the area between January and March. The humpbacks swim through in the summer. Elephant Seals are constantly coming and going, as are seals, sea lions, dolphins and harbor porpoises.
7. Año Nuevo State Park (for Elephant Seals)
Año Nuevo is a major breeding ground for elephant seals. Every year 10,000 seals migrate to breed, give birth and molt on Año Nuevo's dunes and the surrounding water. It's quite something to see these boulder-sized animals defy gravity and hoist themselves up onto the sand for a good, old fashioned mating throwdown. Seeing these behemoths is one of the coolest things to do in Half Moon Bay…but you have to book tours well in advance.
8. Bean Hollow State Park (for Sea Lions)
If you can't snag an Año Nuevo tour, then the next best thing is a DIY sea lion excursion to Bean Hollow State Beach. There is a steady resident population of sea lions lounging in the rocky shallows at the north end of the beach park. Park at the small lot, then take the blufftop trail a short way south to see the wildlife.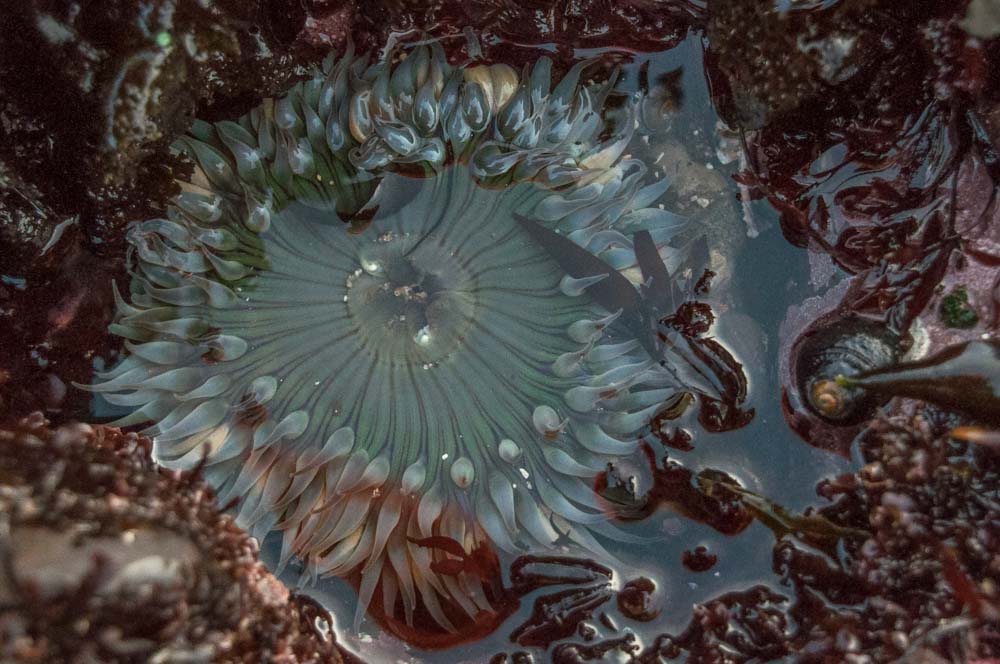 9. Fitzgerald Marine Reserve (for the Cast of Finding Nemo)
The Fitzgerald Marine Reserve is located in Moss Beach, on the north end of the Coastside. The nutrient rich water along this coastline supports a very diverse variety of marine life. The wide rocky coastline at Fitzgerald means that low tide brings a lot of that life closer to the surface. There is a bluff trail where you can see the coastline from above, but the real fun is at water level.
Go out at low tide and very carefully tread on the rocks, where you are likely to find anemone, star fish, crabs and childon. Keep an eye out for the offshore rocks and you can also spot harbor seals. This is a really fun Half Moon Bay activity for kids, but keep a sharp eye on the waves.
Hikes Along the Coastside
When I lived on the coast (and even now that I don't), one of my favorite things to do in Half Moon Bay was walking the many trails. The trails range from oceanside strolls to hilly hikes with ocean views. We have a whole guide for hiking in Half Moon Bay, but here are a few of our favorites: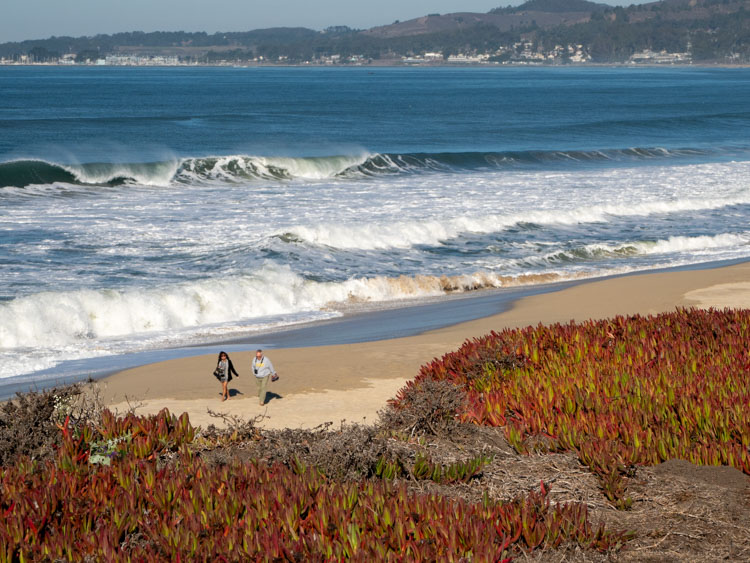 10. The Coastal Trail
The California Coastal trail is an ambitious plan to make the entire coastline of California walkable. About 50% of the trail is complete and sections in the Bay Area include the Golden Gate Bridge, through the Lands End hike and down through Ocean Beach. There are bits and pieces of it through Pacifica, until the trail lands firmly once again at the Devil's Slide, where it proceed down through Half Moon Bay.
My favorite section of it goes from Pillar Point Harbor south into Half Moon Bay. This stretch is flat and paved, making it kid, stroller and bike friendly. It goes past Surfer's Beach, Dunes Beach, Venice Beach and Half Moon Bay Beach before ending 4.5 miles later at Poplar Beach.
Another option is to take the dirt path from Poplar Beach 3 miles south to to Wavecrest Beach, where you can see the Ritz Carlton. Just pick a section for however much time and energy you have and enjoy the ocean views.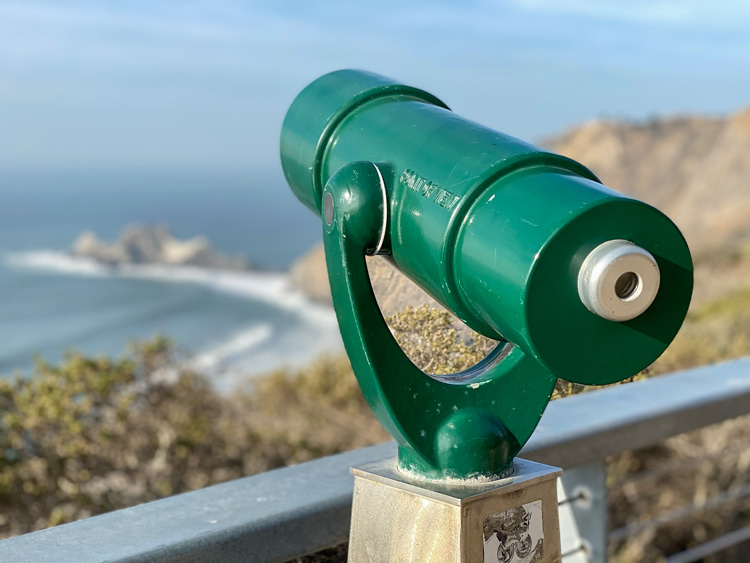 11. Devil's Slide Trail
Devil's Slide was once a problematic bit of roadway prone to rock slides. In 2013 they (finally!) completed a bypass tunnel. Following that, the county to converted the road into a pedestrian walkway and bike path.
It's not a particularly long hike, nor a technical one, but it has some of the best ocean views of any hike in the Bay Area. It's an easy 2.5 mile round trip and you can find more information on why and how to do the hike using our Devil's Slide guide.
12. Quarry Park
Quarry Park is a local's secret. The park is located in the hills above El Granada. Visiting the shady Quarry Park is perfect for a warm day or if you are looking for some peace and quiet among the eucalyptus trees. Check out our Quarry Park guide, which includes detailed info on how to do the full 4 miles loop.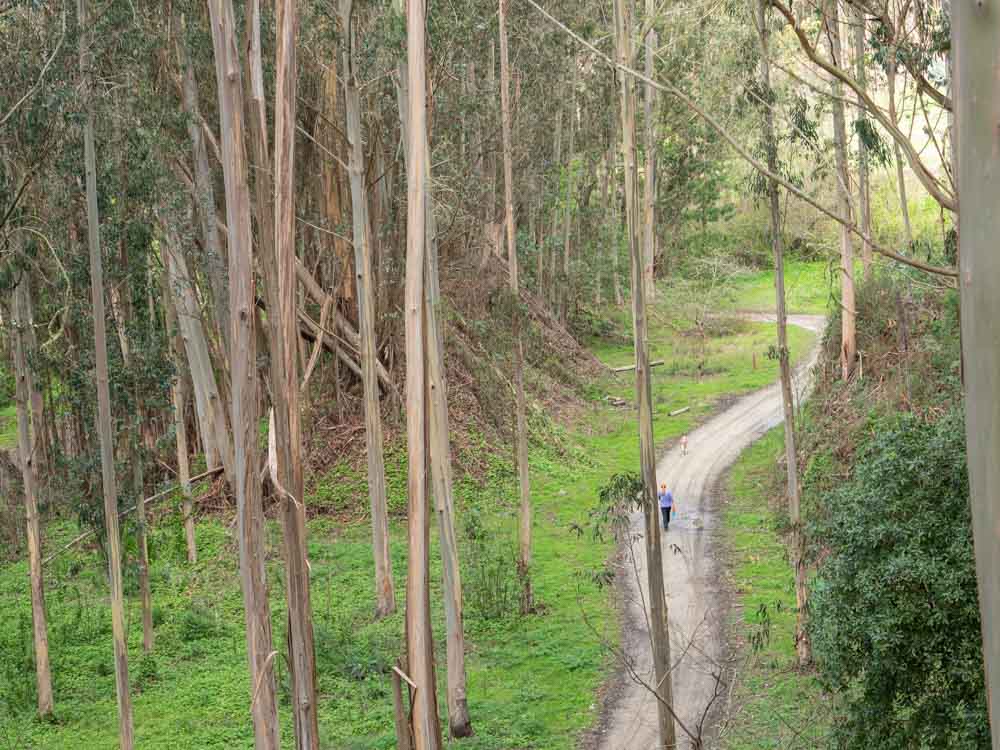 13. Hiking in Montara State Beach
Montara State Beach does indeed have a beach. But it also has three major trailheads above the beach in the McNee Ranch property. You can take the easy 2.2 mile Gray Whale Cove trail that parallels Highway 1. You can take the 4.7 mile, dog-friendly Colma Loop trail which gets you up above the Devil's Slide. Or perhaps start out on the Montara Mountain trail and then add whatever distance you wish, looping back on one of the many connecting trails.
Half Moon Bay's Best Beaches
Yes, of course, visit the baby goats, but don't forget that Half Moon Bay has some of the best beaches in Northern California. We've listed a few of our faves below, but if you want more, check out our article on the 10 best beaches in Half Moon Bay.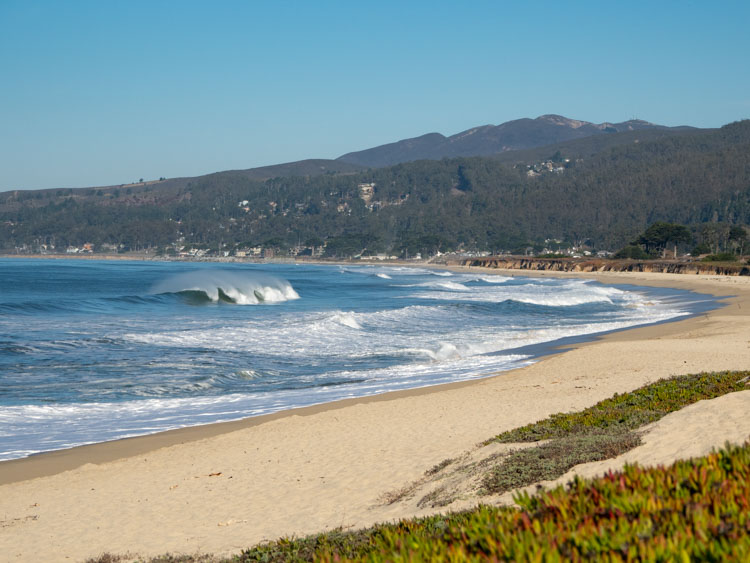 14. Half Moon Bay State Beach
This state beach park has four miles of wide sand encompassing a good chunk of the bay. It's great for a few reasons; the first is that it's the only Coastside beach park offering camping. The second is that it's very easy to get to from Highway 1 and downtown. And the third is that the beach gives you the option of taking a very long stroll on the beach but is also adjacent to the blufftop Coastal Trail.
Local's tip: the more popular part of the beach is located at the official campground on Francis street. However, Dunes Beach and Venice Beach are also part of the state beach park and they tend to be quieter spots. The main downside to HMB Beach is that it isn't dog friendly.
Get the full downlow with our Half Moon Bay state beach guide, which includes a full FAQ, camping and activity information.
Read More: Get the full downlow on all CA parks with our complete California State Parks list (with map).
15. Poplar Beach
Poplar Beach is where to go in Half Moon Bay if you want to bring your pooch. It's located just south of Half Moon Bay state beach. It has the same wide sand beach and coastal trail access with the added bonus of being dog friendly.
Paid parking is available at the end of Poplar street and it's a short hop down the bluff. People tend to cluster right at the base of the entrance, so if you want some privacy, just head south 5 minutes and you'll have a stretch of lovely beach all to yourself.
16. Mavericks Beach
Mavericks is located at the northern tip of Pillar Point Harbor. It's best known for hosting a world class big-wave surfing competition, but it has a lot to offer regular mortals as well. Maverick's not a classic sandy beach, but I like it because, in addition to Poplar, it's is also very dog-friendly. So, if you are in the mood for a wind-swept stroll amidst the waves while your dog dances around with joy, Mavericks is your spot.
There is also a small beach in the harbor which is very kid-friendly.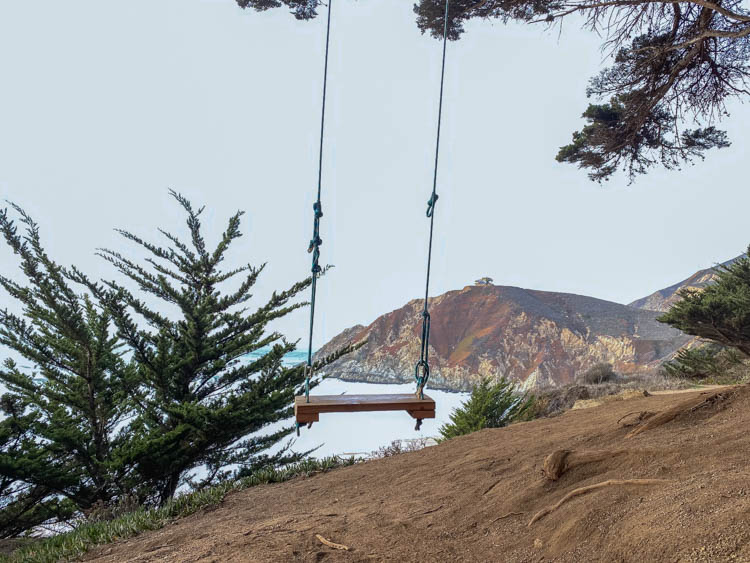 17. Gray Whale Cove
Gray Whale Cove is a lovely little link in the chain of beaches that stretch along the Coastside. It's located just south of the Devil's Slide. It's a great spot to go if you simply want to grab a quiet moment and stare at the waves. There's also a cute swing installed at the top of the bluff if you want to have an Instagram moment.
Here's our guide for Gray Whale Cove.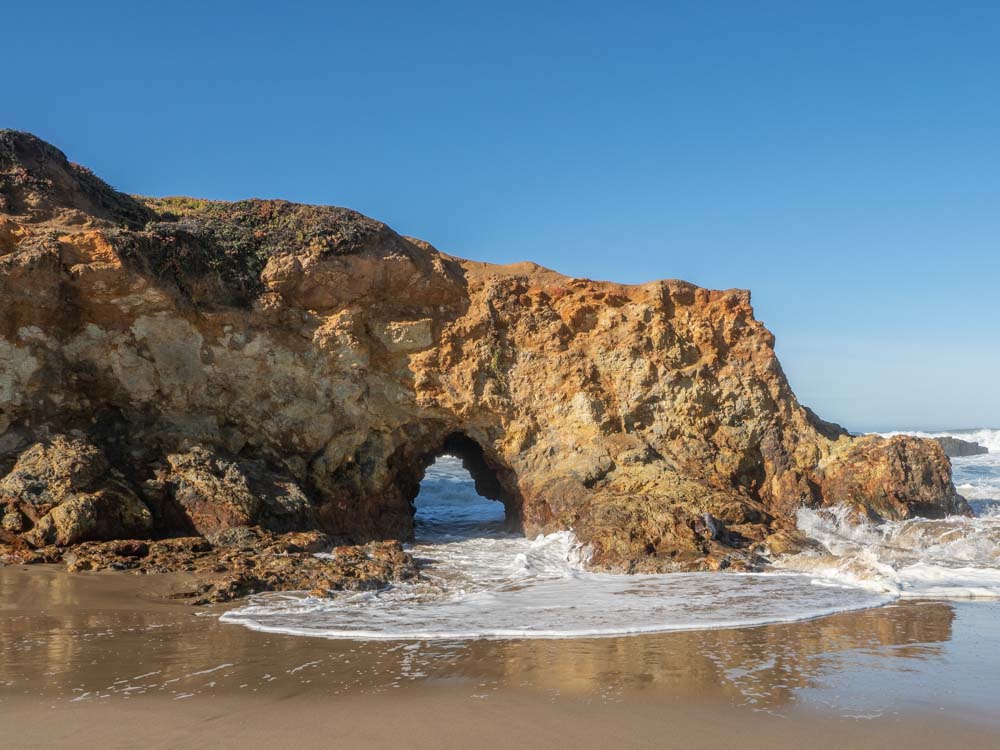 18. Pescadero State Beach
Pescadero offers up a trifecta of ocean experiences. The northern end has a wide sandy beach, which is perfect for strolling and constructing driftwood sculptures. The south end has a rocky promontory which is great for tide-pooling. And the estuary to the east has hiking and bird watching in the Pescadero Marsh.
Check out our Pescadero State Beach guide before you go because parking can be tricky we have have some tips for you.
Where to Shop on the Coastside
If you are more into shopping and less into nature, there are still plenty of things to do in Half Moon Bay that will keep you busy for a full weekend getaway.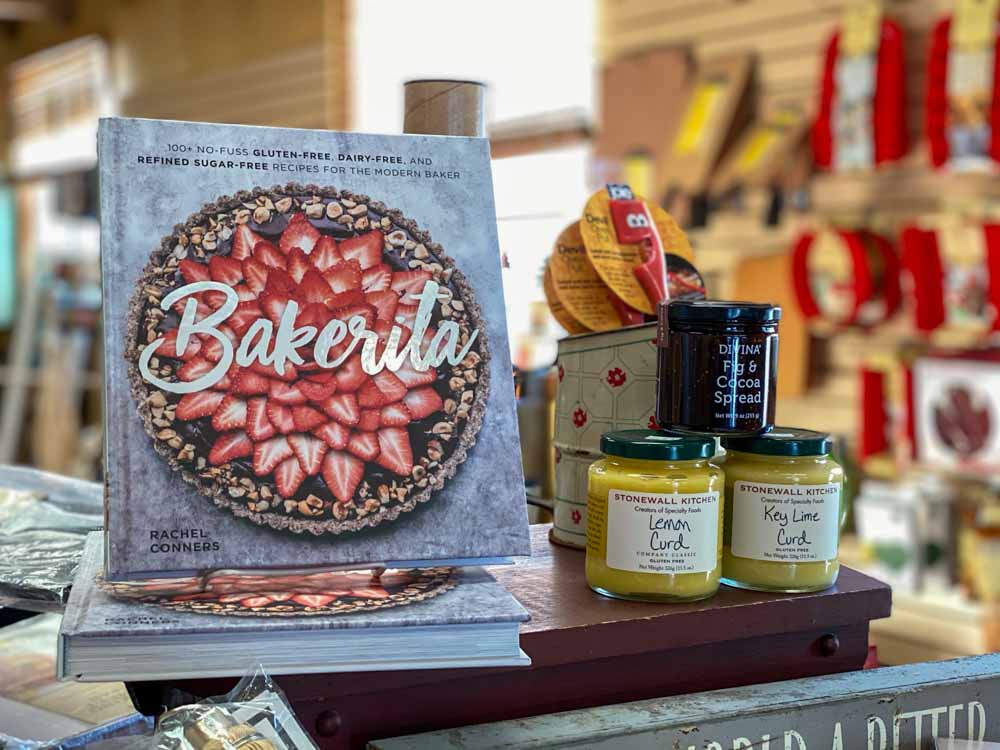 19. Downtown Half Moon Bay
Half Moon Bay has a cute historic downtown with lots of restaurants and shops. The main drag is only four blocks long, but an earnest shopper can kill several hours there. Here are a few of my faves:
Luz Luna carries fair-trade handicrafts from Central America. They have lovely small household trinkets, cute kid's clothes, stuffed animals and jewelry. Great for Christmas gifts.
Gourmet Appliance carries kitchen gadgets, lovely cookbooks and fancy foods.
Coastside Books has an eclectic assortment of new and used books.
Half Moon Bay Feed & Fuel has hay and and farm equipment, which you probably don't need. But they also sometimes have baby chicks, which are adorable, so you should stop in and see them.
20. Pastorinos Flowers
Not only is Pastorino's on point for the pumpkin festival, but they carry cut flowers and gifts throughout the year.
21. San Gregorio General Store
This cute spot in San Gregorio is a popular stopping point for road trippers, bicyclists and motorcyclists. The store carries gift items like fun household goods, socks with whacky sayings, sun hats and recipe books. They also offer coffee and a full bar.
22. Pescadero Shops
If you are visiting Harley Farms, then leave a little bit of time to check out the shops in Pescadero. They don't have much of a main drag, but they have some tiny little microshops that are worth stopping into like: The Sunshine (which has gourmet foods) and The Shops (which has a perfumer and a potter).
Where to Eat in Half Moon Bay
There are plenty of great places to eat in Half Moon Bay, but the following are notable because they offer something special in the way of ambiance, attitude or cuisine.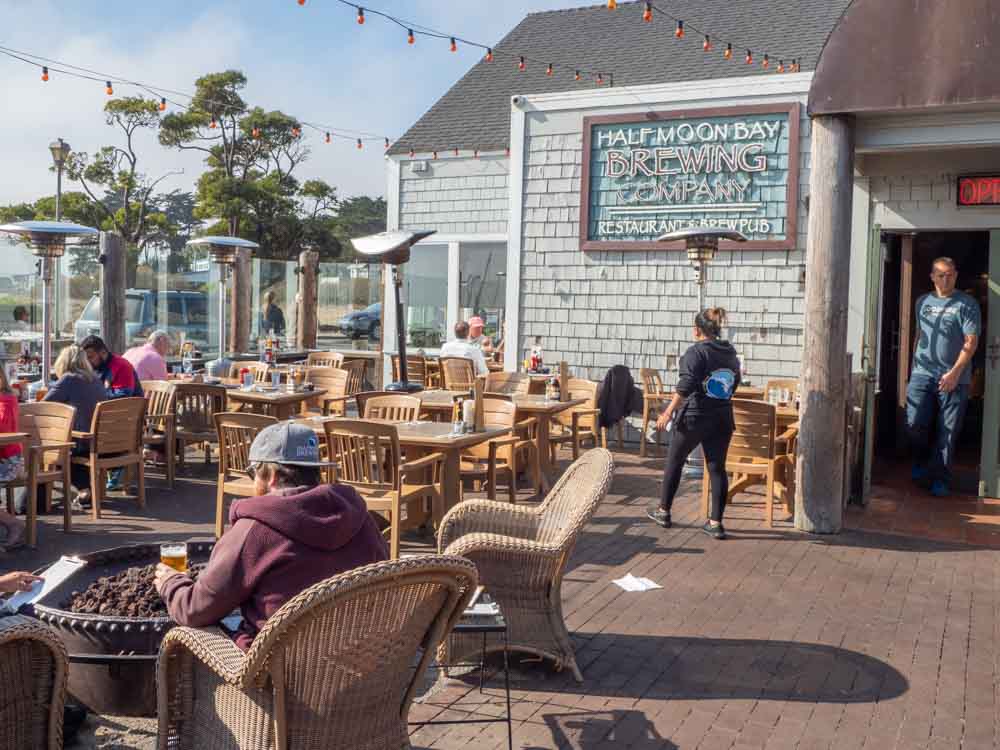 23. Half Moon Bay Brewing
HMB Brewing was one of the first craft breweries on the Peninsula and they've been perfecting their beer since 2003. They have a wide ranging menu and popular items include include the burgers, fish & chips and salads, but I like their gutbusting nachos. However, more than the food, what makes HMB Brewing special is their patio. It's large, covered in firepits and has great harbor sunset views.
24. San Benito House Deli
This shoebox of a deli in downtown Half Moon Bay produces the best sandwiches on the Peninsula. Their secret is homemade bread baked fresh every day. It doesn't even matter what they put in between the slices because the bread is so good. Stop there to pick up some lunch before hitting the beach.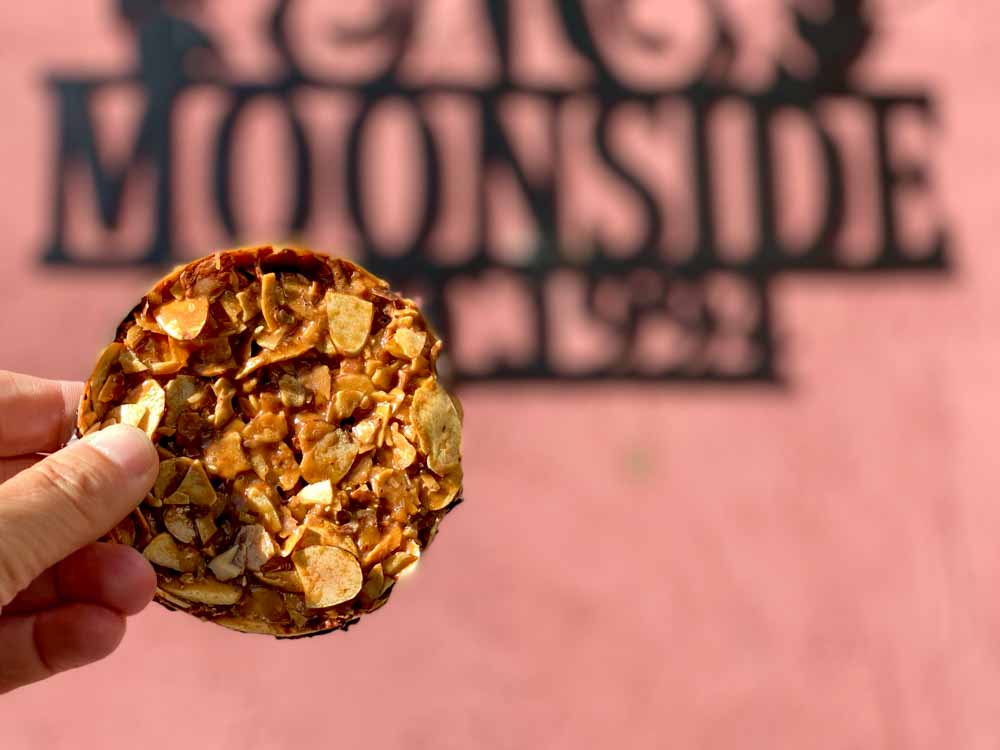 25. Moonside Bakery
Because sometimes you need to fortify yourself with home made baked goods. Moonside is in downtown HMB and they bake up yummy cakes, tarts and cookies
26. Arcangeli's
This is a small grocery store in Pescadero. It's a good spot to stop for picnic items if you are going to Pescadero or Pomponio Beach. They do have great sandwiches. But I recommend picking up some cheese, deli items and a loaf of their famous artichoke bread.
27. Duarte's
Duarte's has been making downhome food since 1894. They have a rotating selection of daily specials and they are best known for their artichoke soup and olallieberry pie. Their best, secret off-the-menu item is a mixed soup with 1/2 artichoke soup and 1/2 green chili soup. Order that!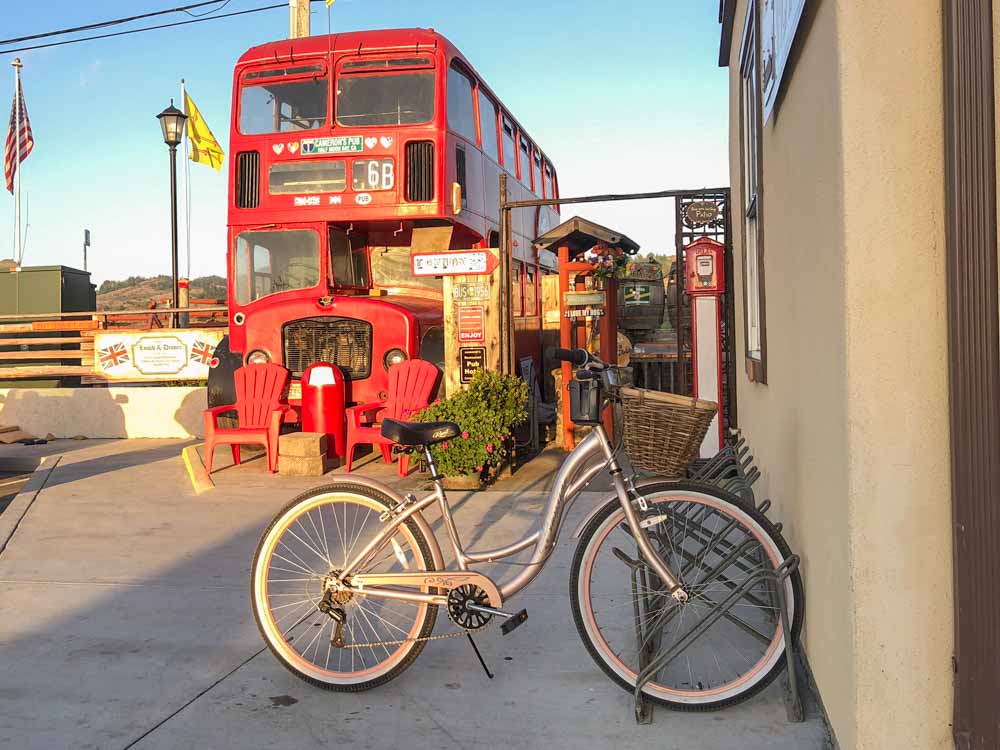 28. Cameron's Pub
Cameron's is a classic British pub, complete with red double decker buses. They have a standard pub menu and their burgers and ribs are good. They have a full bar but are really known for their wide selection of beer. It's a very friendly place and Cameron himself is often hanging about.
29. La Nebbia Winery
They don't grow wine grapes in Half Moon Bay, but that hasn't stopped La Nebbia from making wine. They make a wide range of reds, whites and dessert wines using grapes sourced from around California. Going there is fun because they have a really nice outdoor patio with a bocce court and picnic tables. You can order charcuterie plates from them or bring your own picnic.
30. Jettywave
This fresh new spot in Princeton Harbor is a great place to catch a drink at the end of the day. They have a very creative cocktail menu and seating with firepits so that you can stave off that 64′ HMB temperature. There is also a food pop-up serving chewey, blistered, delicious pizzas.
(This article contains affiliate links. This means that if you choose to purchase, I'll make a small commission.)
Where to Stay in Half Moon Bay
If you are fond of Airbnb's, then be sure to peruse our list of cool Half Moon Bay beach rentals. If you are looking for full service, check out these options:
Cute: Mill Rose Inn is a lovely B&B with a flowery garden located right in downtown Half Moon Bay. Check reviews and book through Booking.com.
Luxury: The 5-star Ritz-Carlton has a golf club, spa and large outdoor deck with is perfect for sunset views. Check reviews and book through Booking.com.
Mid-range and new: The Aristocrat Best Western is right next to Cameron's pub. It's very new located near downtown. Check reviews and book at Booking.com.
Load up your weekend getaway with these cool things to do in Half Moon Bay and you'll get a great mix of amazing nature, fun attractions and yummy food. Have fun and happy trails!
Share what to do in Half Moon Bay with your friends on Pinterest: