Half Moon Bay is one of Northern California's best beach towns. It has a cute downtown shopping district, great hiking and good restaurants. But more importantly, the Coastside has some incredible beaches. If you want to visit the beaches in Half Moon Bay, you may have trouble deciding which one to pick.
No worries, we've got you covered! We used to live in Half Moon Bay and still visit frequently. We can help you find the best beaches in Half Moon Bay to suit your needs, activity level and desired beach vibe.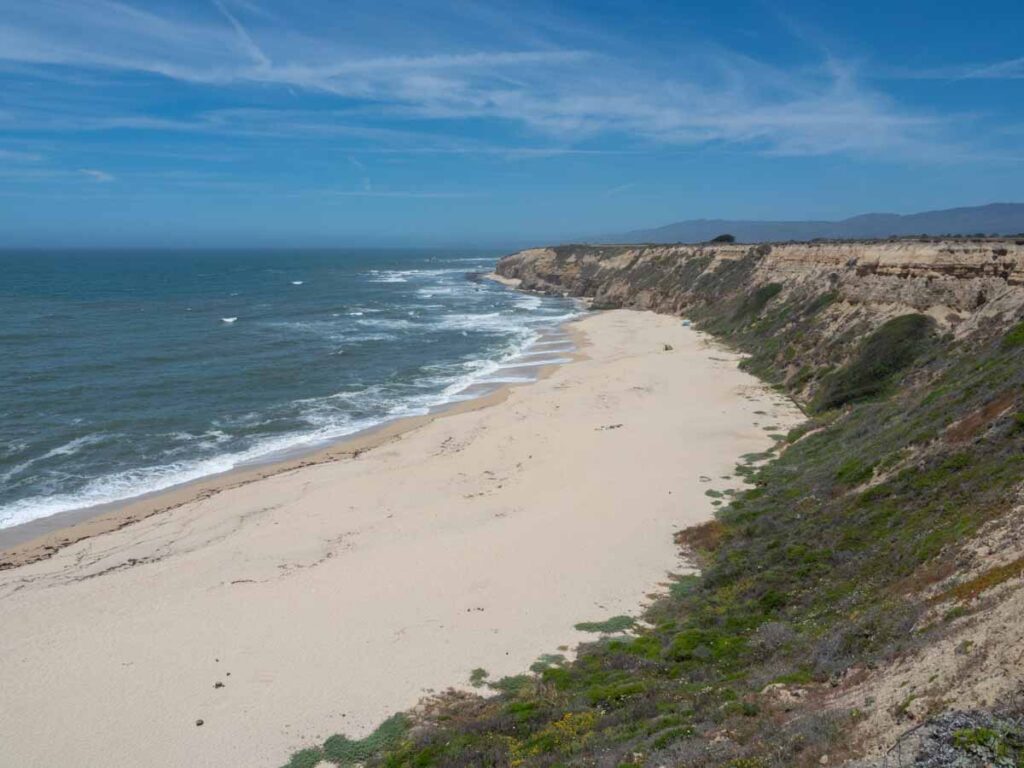 Top Tips for the Best Half Moon Bay Beaches
The beaches in Half Moon Bay are popular. It takes less than an hour to get there from either San Jose or San Francisco. So the area gets very busy, especially on weekends and holidays. Here are a few tips for how to deal with traffic and have a pleasurable beach visit.
How to Beat the Traffic into Half Moon Bay
I used to live in Half Moon Bay, so trust me when I tell you that weekend rush hour traffic is real. Here are three ways to beat it:
1. Go early. If you can get over to the coast before 10am, you can beat the traffic and stake out a nice spot on the beach.
2. Stay late. Hang around for dinner and the sunset and you'll sit out the worst of the returning traffic.
3. Take the scenic route. My super-secret weapon for a busy weekend is to detour over Skyline Boulevard to either Tunitas Creek (which meets Highway 1 eight miles south of Half Moon Bay) OR La Honda Road (which meets Highway 1 in San Gregorio, ten miles south of town). Either route is winding and scenic and beats the traffic going over Highway 92.
Weather at the Half Moon Bay Beaches
It is not hyperbole to say that it's nearly always 64′ in Half Moon Bay. Sure, there can be colder days in the winter and some really nice hot days in the spring or early fall. But plan for variable weather by bringing layers.
It can be foggy in HMB anytime of year, but is particularly more so when the summer heat of California's Central Valley pulls in the coastal moisture. It frequently rolls in later in the afternoon but will often clear out for sunset.
Swimming in the Ocean
Do so very cautiously. The water averages a chilly 50-60 degrees, which is why you'll see the surfers wearing wetsuits. In addition, some of the beaches have riptides. It's fine to play at the edges of the water but keep your eye on the surf (and the kiddos).
Getting Access to the State Park Beaches
Most of the Half Moon Bay beaches are California state parks that charge vehicle day use fees. If you plan to visit state parks frequently, consider getting an annual parks pass. There are various options available, and some offer discounts. You can use our CA parks pass guide to figure out which pass is right for you.
If you don't want to get an annual pass, then be sure to bring $8 in cash with you. Some of the smaller beaches listed here have self-pay kiosks that are of the old-school "put some money into an envelope" variety.
Read More: Get the full downlow on all CA parks with our complete California State Parks list (with map).
More Stuff to do in HMB
If you are planning a weekend getaway to the Coastside, then we also have some other suggestions for you.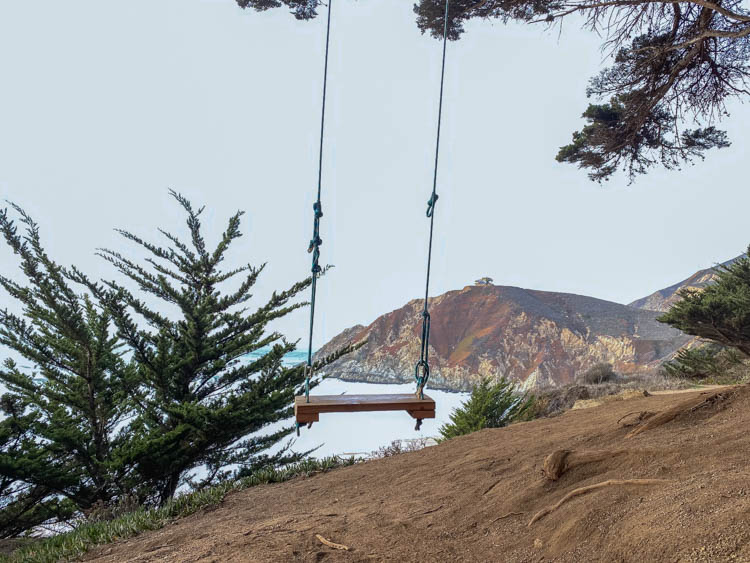 Your 10 Best Beaches in Half Moon Bay
With that housekeeping done, let's find you some beaches! These are our fave top 10 beaches in Half Moon Bay, listed in order from north to south.
Gray Whale Cove State Beach
Best for: quiet contemplation or a romantic picnic.
Access: free.
Parking: Across Highway 1 and slightly south is a parking lot with space for ~35 cars. Be very careful crossing the highway.
This delightful crescent of a beach is quiet and off the radar. It's tucked away down a steep hill just south of the Devil's Slide. The cliffside has a fun swing and sitting on it will help you soar out and see the stunning ocean views. The narrow beach has soft sand and is nice for a very slow (but short) stroll. There are sometimes nude sunbathers at the very north end of the beach.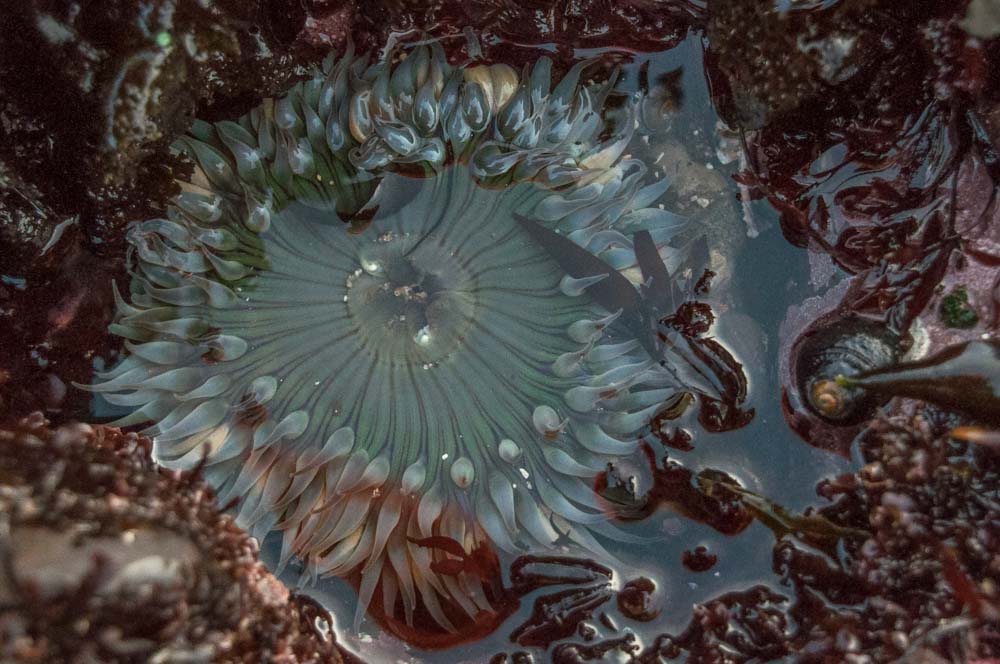 Fitzgerald Marine Reserve
Best for: tide pooling.
Access: free.
Parking: ~35 parking spots and some limited street parking in the neighborhood.
Fitzgerald Marine Reserve isn't the kind of beach where you'll build sandcastles. Rather, it's the kind of beach you visit at low tide and wade around the rocks hoping to find an octopus. The tidepools also have anemones, mussels, crabs, sponges, sea stars, and lots of fish. It's especially fun at a very low tide, so check the tide tables before heading out.
Surfer's Beach
Best for: surfing.
Access: free.
Parking: ~40 parking spots in the dirt lot across from Highway 1 and also along the highway. Be very mindful of cross traffic.
Hey, not everyone can handle the big waves at Mavericks. So, Surfer's Beach is great for mere mortals who want to get out into the surf. It's also a nice spot to park a beach chair if you enjoy watching surfing. There is also the nearby Half Moon Bay Kayak Company if you want to rent a kayak for paddling in the harbor.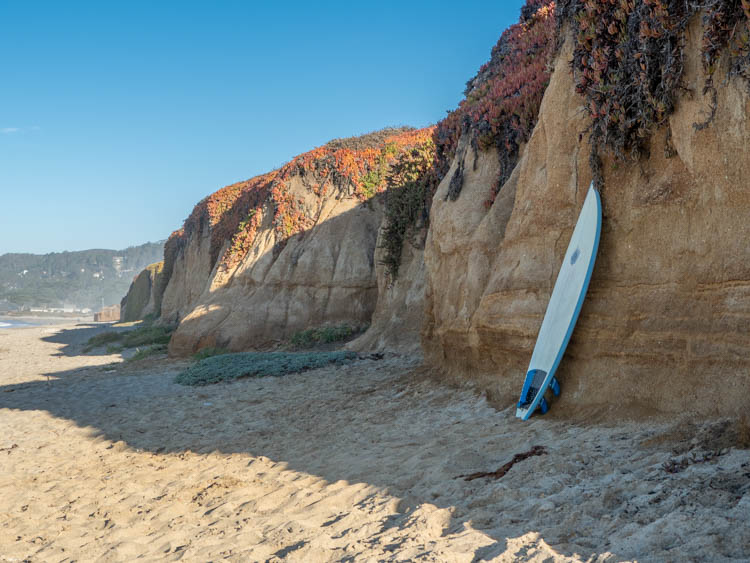 Half Moon Bay State Beach (Dunes & Venice)
Best for: a good long walk.
Access: $8 day use fee, self-pay.
Parking: ~120 parking spots at Venice and ~105 at Dunes.
Dunes and Venice Beach are right next to one another and they are officially part of the Half Moon Bay State Beach Park. The beaches are popular with locals because there is ample parking and they are far less crowded than Francis Beach. If you go out at low tide, you can take an uninterrupted beach walk 5 miles down to Wavecrest beach.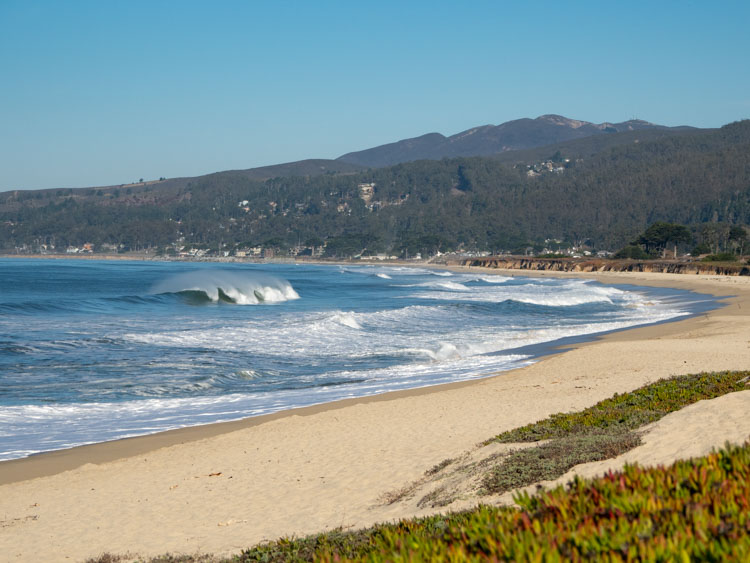 Half Moon Bay State Beach (Francis)
Best for: camping.
Access: $8 day use fee or $35-65 for camping.
Parking: ~140 day use parking spots. Street parking available in the nearby neighborhood- but please be respectful of the local residents.
Other than a few private RV parks, the Half Moon Bay beach park offers the only beach camping along this stretch of the Coastside. The state park even has a few premium camp spots right at the edge of the beach cliff, which are perfect for seeing killer sunsets. This beach park is also close to downtown shops and restaurants.
We have a full guide for Half Moon Bay State Beach which gives tips for day tripping and camping.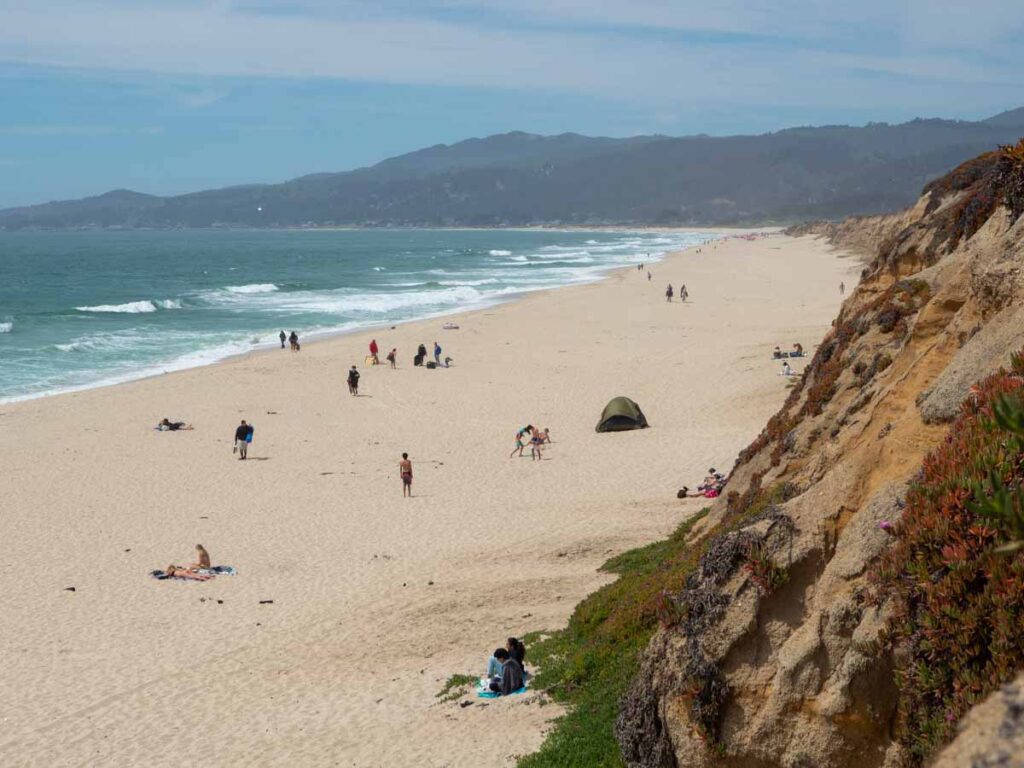 Poplar Beach
Best for: dogs.
Access: $10 day use fee. Pay at the kiosk.
Parking: ~100 day use parking spots.
If your dog is like my dog, they absolutely love the beach and fortunately, Popular is the best Half Moon Bay beach for pups. In fact, it's one of the very few beaches in the area that allows dogs. This is because there is a lot of sensitive dune and snowy plover habitat at the other beaches. There are a lot of beachgoers and families right at the bottom of the Poplar beach access, but if you go south, you'll quickly get clear of the scrum. You are supposed to keep your dog on a leash, but some people go off leash once they get to the quieter stretches.
Redondo/Wavecrest Beach
Best for: beach-to-bluff loop.
Access: free.
Parking: Use the Poplar beach parking lot or grab one of the limited free spaces at the Ritz Carlton.
The Redondo and Wavecrest beaches are just south of Poplar. They are also dog-friendly and very quiet. What makes them cool is that you can visit them on a lovely 4 mile walking loop. Start at Poplar, go south on the beach to Redondo, once you start seeing the Ritz, scramble up the bluff at the rift (watch your footing because there are no stairs), then head north again on the dirt hiking path. Along the way, keep your eyes out for red tail hawks.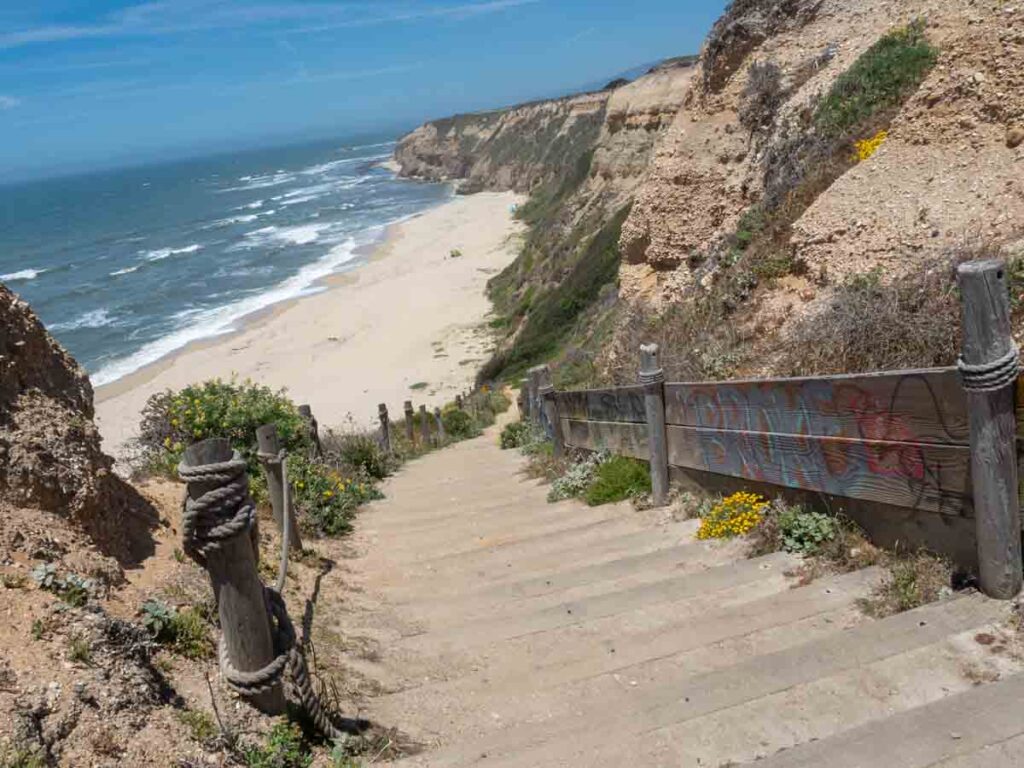 Cowell Ranch Beach
Best for: quiet contemplation.
Access: free.
Parking: ~17 spots in the parking lot and limited spots along the east side of Highway 1.
This quiet spot has very subtle signage and is easy to miss. But all the better for you…especially if you are in the mood for a quiet sit. Once you park, follow the path a half mile to the beach access. There are stairs to your right that go down to the beach. But take a moment to look at the beach toward the left as there are often harbor seals hanging out there. If you are feeling energetic, you can also take a blufftop walk south along the Cowell Purisima Coastal Trail.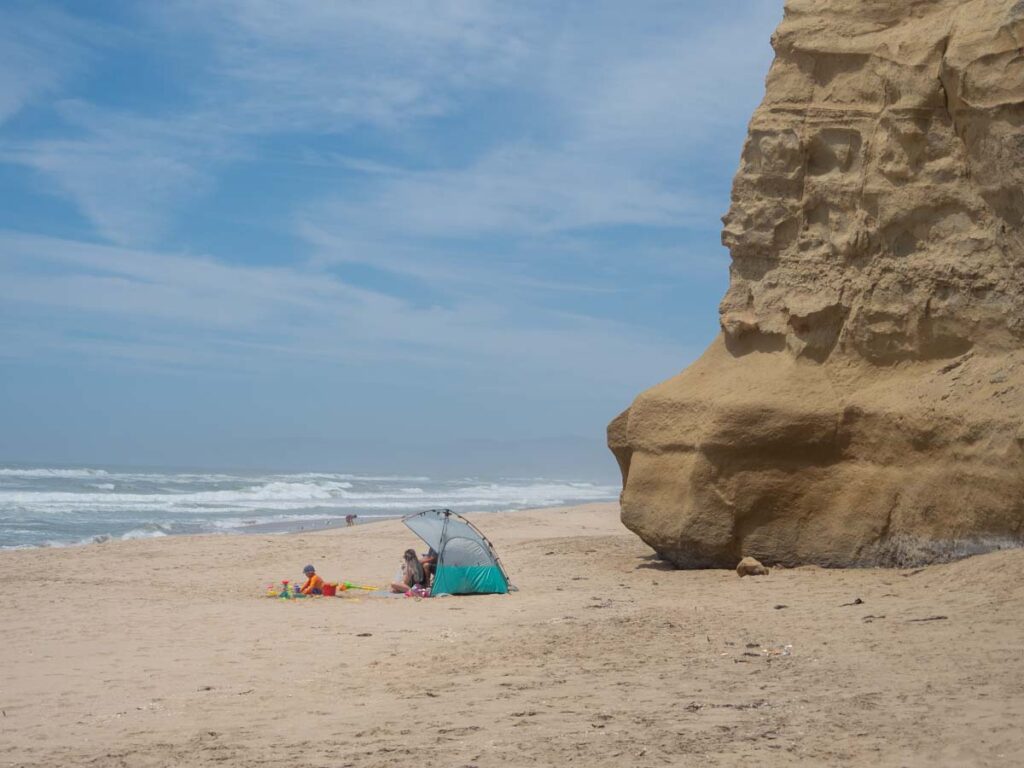 Pomponio State Beach
Best for: multi-generational family fun.
Access: $8 day use fee.
Parking: ~65 spots in the parking lot.
This beach is perfect for families so bring grandma and the kids. The parking lot sits right at beach level (rather than at the clifftop), making it very accessible for small kids and older adults with balance issues. The beach is very wide and the sand is very soft, so there's lots of room to spread out with the beach toys. The beach gets busy right near the the parking lot, but if you walk north, you can get out of the scrum.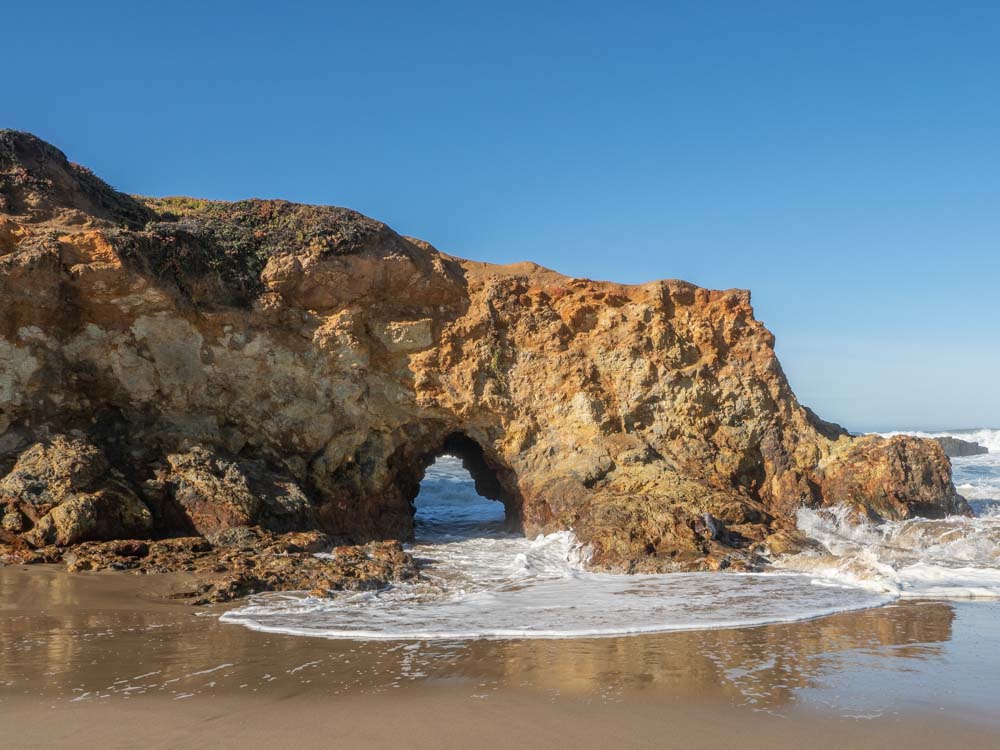 Pescadero State Beach
Best for: an activity trifecta of beach, marsh walk and tide pools.
Access: $8 day use fee.
Parking: ~100 spots spread across three lots.
For starters, Pescadero has a nice 1-mile long stretch of beach, which is perfect for strolling. The nearby Pescadero Creek pushes driftwood onto the beach so you can have a lot of fun making wood sculptures. You can take a walk into the nearby Pescadero Marsh to see birds and riparian habitat. And if you visit the south lot, you can have a nice picnic and do some tide pooling.
Use our Pescadero State Beach guide to get all of the specifics on how to visit the beach.
Visiting any of these best beaches in Half Moon Bay will guarantee you a great afternoon out. It's no wonder that HMB makes our list of the best beach towns in NorCal. Enjoy your time at the beach and have a great chill pill.
In the words of Sandy Gringas, "At the beach, life is different. Time doesn't move hour to hour but mood to moment. We live by the currents, plan by the tides and follow the sun."
Share our best Half Moon Bay beaches on Pinterest: