We want you to stay safe. These articles are designed to help you plan a trip when you are ready to travel. Be sure to check with businesses and attractions and make sure they are open before you visit.
Whether you are doing a weekend getaway from San Francisco or visiting the Coastside as part of a larger trip, these Half Moon Bay Airbnb rentals will deliver that California cool that you're looking for. This article spotlights a baker's dozen of houses for rent in Half Moon Bay that feature access to the beach, local trails and epic ocean views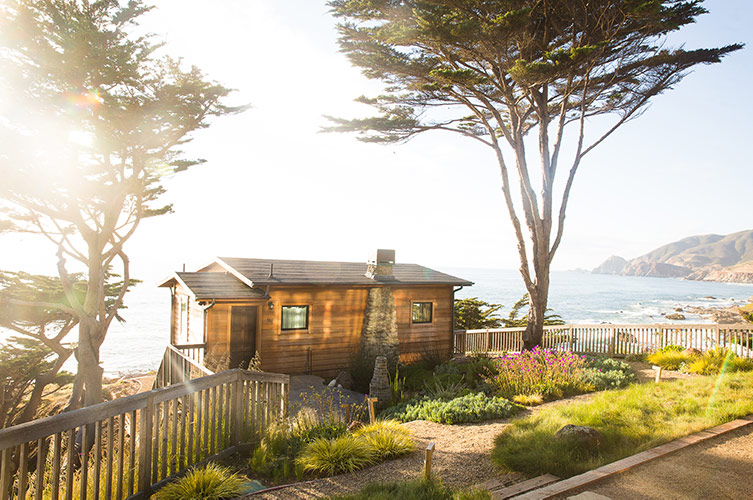 (This article contains affiliate links. This means that if you choose to purchase, I'll make a small commission.)
5 Tips for Your Half Moon Bay Airbnb Rental Vacation
Pay careful attention to the listings, particularly the number of guests vs. the number of actual beds. Many Airbnb listings, including some on this list, count sofa beds and air mattresses as sleepable furniture. This may be fine for your seven year old but maybe not for your adult friends and family.
Be mindful of the weather. HMB is highly variable, even within one day. It can be quite chilly in the summer and divine in April. Pack layers.
Give yourself plenty of time to explore Half Moon Bay's awesome beaches. Here are guides for Half Moon Bay State Beach Park, Pescadero Beach and Gray Whale Cove and our list of favorite HMB beaches.
Also leave some time open for hiking. You can do the popular Devil's Slide hike or tackle a section of the 7.5 mile coastal trail that goes from Pillar Point Harbor all the way down past Poplar beach.
Get our mega guide that includes 30 fun things to do on the Coastside with attractions, beaches, hikes and places to shop and eat.
Let's dig into these Half Moon Bay holiday rentals and find you someplace cool to chill.
1. Coastal Studio near Poplar Beach
Sleeps: 2 guests, 1 queen bed
Cost: $154/ni
This petite coastal Half Moon Bay Airbnb offers tons of privacy and is an easy ten-minute walk to the beach. You can smell the ocean and hear the waves crash from the quiet cottage's private patio. Spend your serene evenings out in the little outdoor space, lit by a string of lights.
This pristine tiny guest house has a full kitchen with all the essential amenities. Although it's a part of three other units in the building, it has a private entrance. The neighborhood however is quiet and it's only a short 15 minute walk to downtown.
"Super cute studio! Within walking distance to the beach. Had all the amenities we were looking for. Lots of good places to eat nearby. We had a very relaxing time."
Book it here: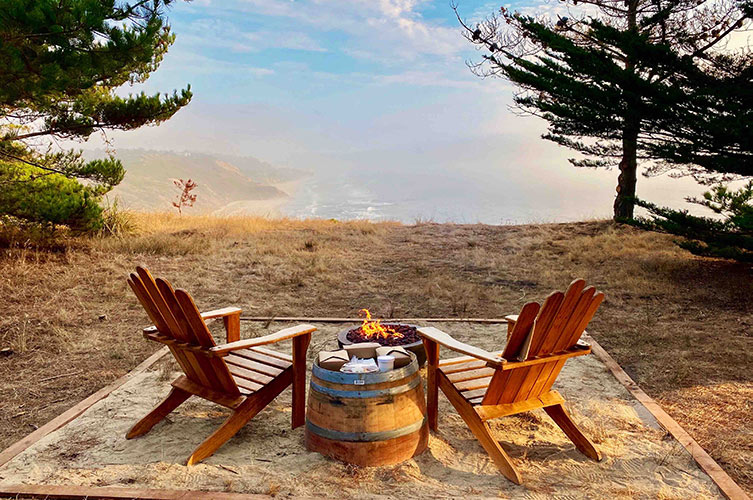 2. Private Airstream Coastal Hideaway
Sleeps: 2 guests, 1 queen bed, 1 sofa bed
Cost: $326/ni
This 2020 Airstream is extraordinary- it's a mini-hotel on wheels! The contemporary interior makes it the coziest and the most fashionable glamping on the coast. In fact, this Half Moon Bay Airbnb is one of the very few glamping spots in the area. Perched up a coastal cliff overlooking San Gregorio beach, the view is phenomenal. Enjoy sunsets that you'll live to cherish.
That's not all there is to this unique Airstream hideaway. First, it sits on 7 acres of private land. We are talking about the utmost privacy and freedom. This slice of heaven has all the amenities you will need for a weekend getaway, including A/C, a fire pit, and WiFi.
"Although there is lots of stuff to do around the location, you won't need to (nor want to) leave the Airbnb because there is so much to take in".
Book it here:
3. Artsy Beach House for the Weekend
Sleeps: 7 guests, 3 queen beds, 1 couch
Cost: $315/ni
This funky three-bedroom property will lighten your mood instantly upon arrival. The artwork alone is a memorable feature, making it one of the most amazing houses for rent in Half Moon Bay. The beautiful artwork that covers most of the walls is the family's labor of love that they share with their guests.
The rental has a well-stocked kitchen, ready for large family meals. Location wise, the house is very near to Dunes Beach and you can enjoy the Pacific's dramatic coastline from this glorious spot. Spend your time walking the coastal trail, at the beach, or by the house's calming Buddha patio. The backyard is large enough for a fire pit and is the perfect barbecue spot.
"The sheets and the beds were comfy, the kitchen well stocked for family dinners, and the walk to the beach sublime. Best of all, BlackChin the resident cat was a total joy to have around!"
Book it here:
4. The Penthouse at Miramar
Sleeps: 6 guests, 1 king, 1 double, 1 sofa bed
Cost: $850/ni
This luxury spot has surreal ocean and sunset views. It's sea and sand in one lavish package. The beautiful penthouse sits right on the beach. Its interior is elegant with bright accents of wood, adding a level of comfort and earthy tones. Large windows fill the home with lots of natural light.
A large and airy kitchen, is a dream for every chef, with 180-degree views of the ocean. The kitchen has high end cooking equipment. There is a four-way fireplace and a rooftop patio with to-die-for ocean views. Exquisite art adorns the walls. You will treasure the quiet of the night accentuated by the sound of crashing waves as you lie on the beach house's plush Egyptian cotton sheets.
"Outstanding views and sounds of the ocean during the day and night, plus a comfortable office, delightful Jacuzzi, wonderful kitchen".
Book it here: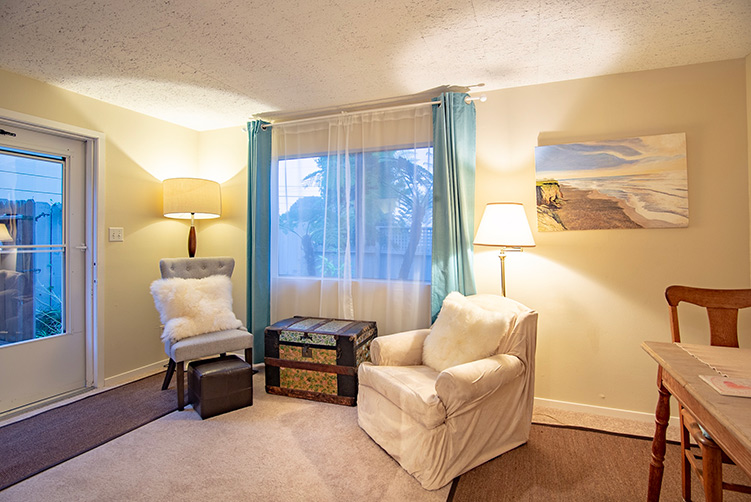 5. 5 Min. Walk To The Beach, Food, and Hiking Trails
Sleeps: 2 guests, 2 queen beds
Cost: $150/ni
Quick access to the beach, an immaculate space and a private pleasant stay are the main selling points of this cozy rental. It's one of the least expensive Half Moon Bay Airbnb options, but it has a lot to offer. The hosts are musicians and artists. They occupy the first floor of the building and have left the ground floor of this quiet home for their guests.
To watch the pounding Pacific surf, take a quick walk down to Montara State Beach. Other than that, you use the outstanding hiking trails that adorn the hills around the area. The affordable and clean, cozy one-bedroom space has a well set up kitchen. The small private patio is welcoming and sunny and the perfect place to unwind.
"From the kitchen, the notes left, the recommendations, etc. definitely exceeded my expectations. It's clean and comfortable."
Book it here:
6. Spacious Coastal Apt w/ Spectacular Ocean Views!
Sleeps: 4 guests, 1 queen bed, 2 sofa beds, 1 air mattress
Cost: $195/ni
This spacious one-bedroom apartment has such phenomenal ocean views, you won't want to leave once your stay is up. This is perhaps one of the best holiday houses in Half Moon Bay. It's tastefully designed with a modern touch, airy, and has tons of natural light. The property is only 0.7 miles away from the beach and is next to the Quarry Park loop trail.
A relaxed 20 minutes walk or a quick drive downhill from the house should have you relaxing by the shoreline. And there are also many other beaches within a short drive the the apartment. The home's outdoor patio is gorgeous, and it will have you hooked on the blue ocean view and exceptional sunsets.
"The bed was comfortable and the sheets were soft. The bathroom and shower were very nice. We didn't intend to stay inside so much on our trip, but we were so comfortable staying in and looking out the window that we spent most of our time at the Airbnb."
Book it here:
7. Coastal Zen Cottage – Walk to Beach!
Sleeps: 2 guests, 1 king bed
Cost: $150/ni
The quaint Zen cottage has mellow coastal vibes despite its close location to the city. It is a private studio near Surfers Beach. The apartment is only 0.4 miles to the sea and offers many opportunities for other outdoor activities at the adjacent Quarry Park such as biking and hiking trails.
The private Zen bamboo garden and patio are exquisite. Both amenities are private but shared between the Half Moon Bay Airbnb visitors and the hosting family. The patio is a perfect entertainment spot all decked out in wood. The site has an outdoor shower, BBQ fire pit, and a super clean hot tub.
"We were able to enjoy the beach cruisers and local beaches just minutes away. The Quarry Park literally across the street. The beautiful landscaping of the home is stunning."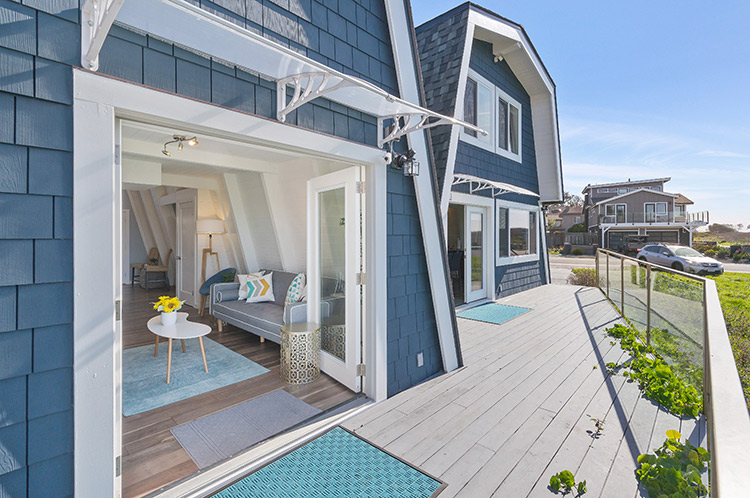 8. 2bd Walk2Beach #Staycation #Family#Relaxing
Sleeps: 7 guests, 3 queen beds, 1 air mattress, 1 sofa bed
Cost: $447/ni
This is an elegant and clean home in an ultra-quiet neighborhood. You will love the large windows, wide French doors, and tasteful interior décor. Its location is perfect. Just take a short walk to the dog-friendly Poplar Beach. You can stroll to downtown Half Moon Bay from this adorable space. In the vicinity, there are excellent eateries and the historic Main Street.
The luxurious large home is a perfect staycation point for the group that wants to relax, eat out, or have takeout. That said, it has a basic kitchenette with induction stoves and some utensils, so that you can prepare a quick meal.
"Great place, beautiful furnishings, and we loved keeping the doors open and enjoying the view".
Book it here:
9. Charming: Beach Casita with Private Patio
Sleeps: 4 guests, 2 queen bed
Cost: $161/ni
This cute beach nest is an excellent alternative to a pricey luxury spa. The Casita is only 500 yards away from Poplar beach. To get to the water meander along the cliffs and watch the hawks fly among the trees.
The little cottage allows pets and the nearby beach is dog-friendly, so bring along your pups. The hosts have dogs in mind and have provided dog beds and bowls. In addition to the cozy large queen bed, there is an extra bed up a flight of stairs in the loft. The bed downstairs however has a skylight above it and you can sky gaze at night when there is no fog.
"The cottage is a minimal but thoroughly clean and comfortable space with a loft and all necessary amenities. It's in a great location, quiet, easy access to the beach area, and has a large veranda for lounging or eating, which is part of an enclosed backyard for pets."
Book it here:
10. Seaside Retreat -Near Beach & SF/SJ
Sleeps: 6 guests, 1 king bed, 1 queen bed
Cost: $166/ni
Clean, roomy, gorgeous space with an excellent host and a bonus goodie basket. The vacation home has two decent sized rooms. Its kitchen is roomy and well-stocked. You do not need to bring in much to create a delectable spread.
The snuggly space is so close to Surfer's beach, you only need to cross the street to get to the Princeton harbor. And it's only a short 4-mile drive to Half-Moon Bay.
"The apartment is amazing. I stayed for work and found the internet reliable, walkable to the beach and restaurants, coffee, etc. Was clean and roomy! The bonus goodies were icing on the cake."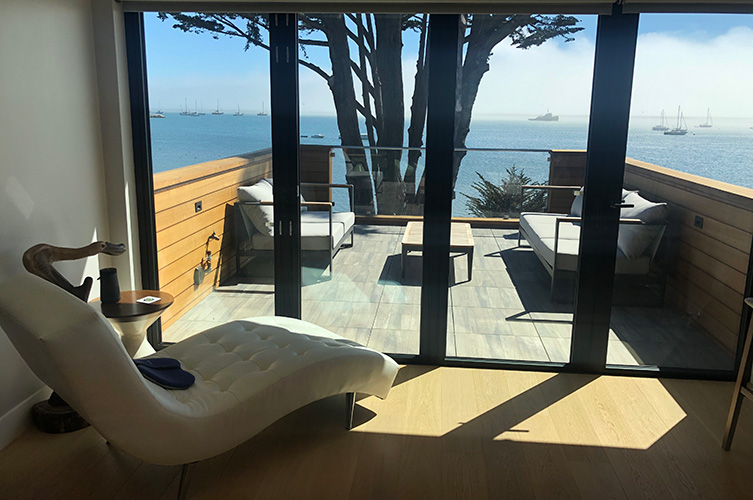 11. Modern Luxury Ocean Front Home
Sleeps: 6 guests, 2 king beds, 1 sofa bed
Cost: $856/ni
This fabulous home is in Princeton by the sea, right on the harbor. It has a unique, modern design that looks kind of like a ship. It's right next to the water, offering excellent picturesque views of Pillar Point Harbor. All the coastal retreat rooms and common rooms in the open floor setting offer breathtaking oceanfront views.
From here, you can walk to the nearby restaurants like the popular Barbara's Fish Trap or the Half Moon Bay Brewing Company. That said, it has a well-equipped and modern kitchen with an oven and dishwasher. Its laundry room has a washer and dryer, while all rooms have a tub and shower combination.
"Right on the water and walking distance to terrific tidepools and hiking trails along the ocean."
Book it here:
12. Quiet Beach House for Vacation or Weekend Getaway
Sleeps: 2 guests, 1 queen bed
Cost: $145/ni
On its perch above El Granada is this quiet beach house getaway. If you are looking for a picturesque Airbnb in Half Moon Bay offering ultimate peace and privacy, this is it. Wake up to the scenic and calming views of the surrounding eucalyptus forest.
For a closer interaction with nature, step out onto the magnificent private deck complete with wicker furniture. Bathe in the glory of the immaculate sunrise or sunsets as you listen to birdsong and watch deer walk by. This beautiful one bedroom weekend getaway is only 4 minutes away from the beach and Pillar Point Harbor by car. There is also quick access to Quarry Park or the Rancho Corral de Teierra open space.
"Great views from the balcony in the morning with a cup of coffee. Everything was in very close proximity to stores, gas, beaches."
Book it here: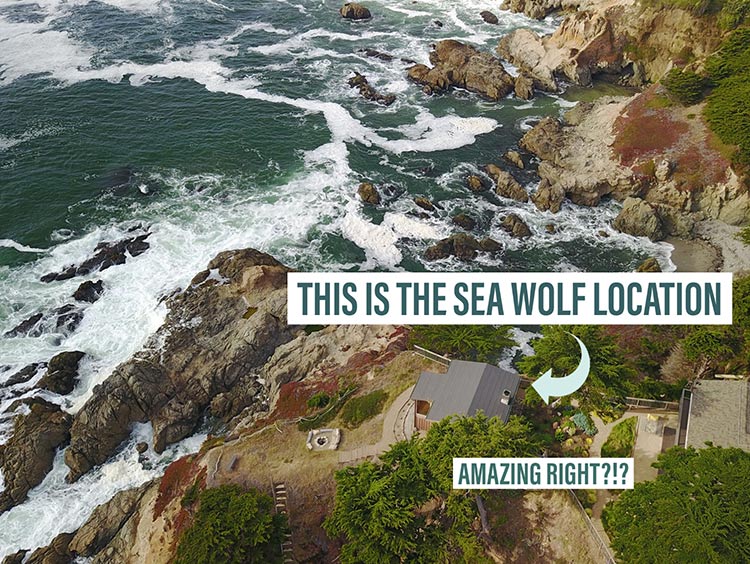 13. Sea Wolf Bungalow
Sleeps: 2 guests, 1 queen bed
Cost: $541/ni
This wooden romantic getaway by the edge of the sea oozes old-world charm and some of the best views of the coast. The Sea Wolf is a quaint rustic cabin, just 7 miles away from Half Moon Bay. The sweeping views, sounds, and smells of the waters below will fade off any stress and anxiety as you take the load off on the ottoman, or cozy chair at the bungalow.
Watch relaxing sunsets curled up on the Pendleton blankets. The cabin is perfect for surfers, whale watchers, and hikers. It is also ideal for a weekend getaway or honeymoon. It has basic kitchen amenities and there is an espresso machine for that morning cup of coffee while you watch the tide come in.
"Treehouse feel in a unique, well-restored cabin as close as you can get to the ocean without being on a boat".
Book it here:
Here is a curated map of the Airbnbs in Half Moon Bay
More Fun Things to Do in Half Moon Bay and the Coastside:
Share these Half Moon Bay Airbnb rentals with your friends on Pinterest: