Whether you are doing a weekend getaway from San Francisco or driving the coast as part of a larger trip, these Santa Cruz beach houses will deliver an amazing coastal experience. This article spotlights eight of Santa Cruz beach house Airbnb rentals that feature beach access, killer ocean views and proximity to fun things to do in Santa Cruz, Aptos and Capitola.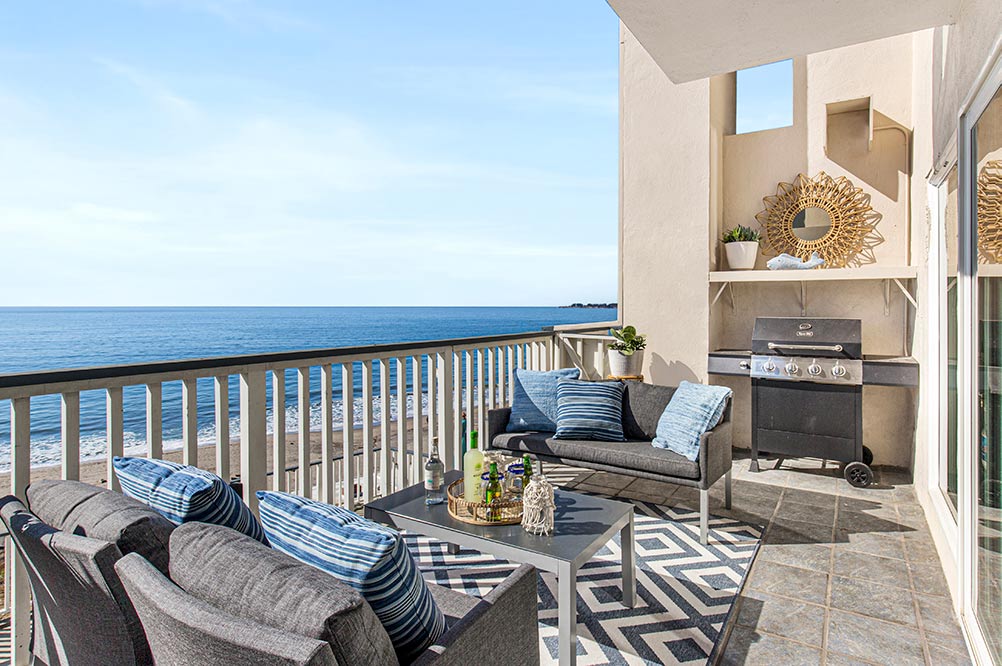 3 Tips for Your How to Rent a Beach House in Santa Cruz
Pay careful attention to the listings, particularly the number of guests vs. the number of actual beds. Many Airbnb listings, including some on this list, count sofa beds and air mattresses as sleepable furniture. Or there are multiple beds in one room. This may be fine for your seven year old but maybe not for your adult friends and family.
Pay attention to the location of the rental. Some of the Santa Cruz beach houses listed here are at water level and on, or very near to the beach.. But others are on the clifftop, which is better for killer sunset views, but may require a short drive to get to the actual beach. The more affordable listings deeper into the neighborhoods, but walkable to the beach.
Give yourself plenty of time to explore the surrounding area. Check out these cool things to do in Santa Cruz for beachcombing, hiking, shopping and eating suggestions. Some of the listings are quite close to the old growth redwoods in Nisene Marks State Park, Big Basin State park or Henry Cowell State Park.
If you aren't sure exactly sure if you want a beachy rental or a woodsy rental, be sure to check out this list of Santa Cruz tree houses for rent. They are pretty amazing!
Your Curated List of Santa Cruz Beach House Airbnb Rentals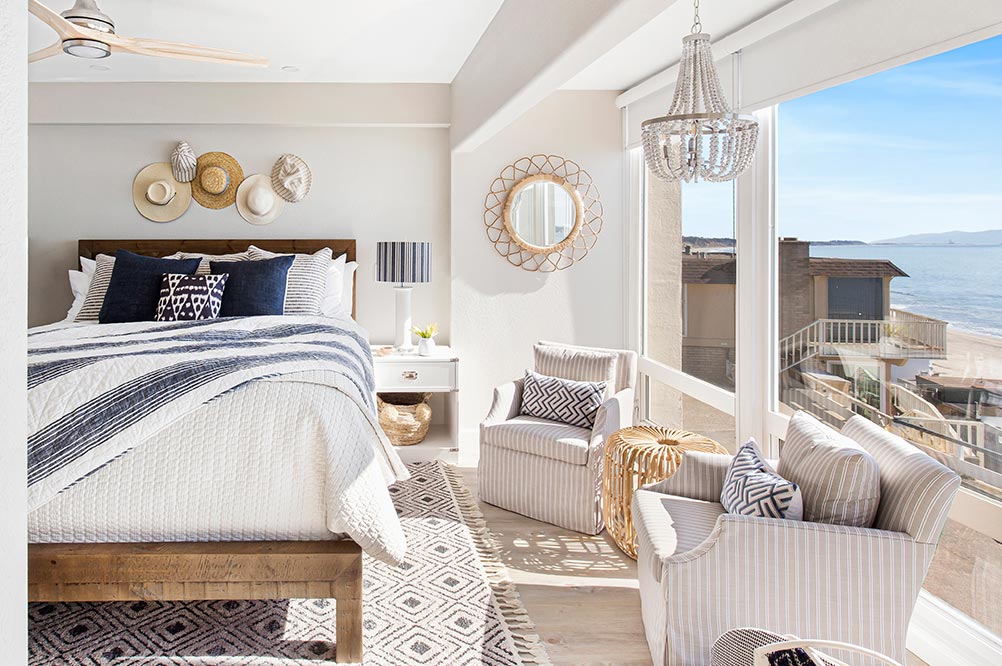 1. Escape – Brand New Modern Chic Coastal Retreat
Sleeps: 8 guests, 4 bedrooms with one queen and three kings
Costs: $577/ni
This beach condo rental in Aptos has it all! It has a breezy modern interior, ocean-view deck, a quiet end-unit location and on-site swimming pool. Even the bathroom has cool views. This home is great for a larger family or group of friends, serviced by four bedrooms, large dining table and spacious living room (with fireplace). The deck is like an extra living room with cushy seating and a large barbeque.
"Absolutely stunning location with a beautiful home to match. Exactly like the pictures. Sunrises in the master bedroom are once in a lifetime."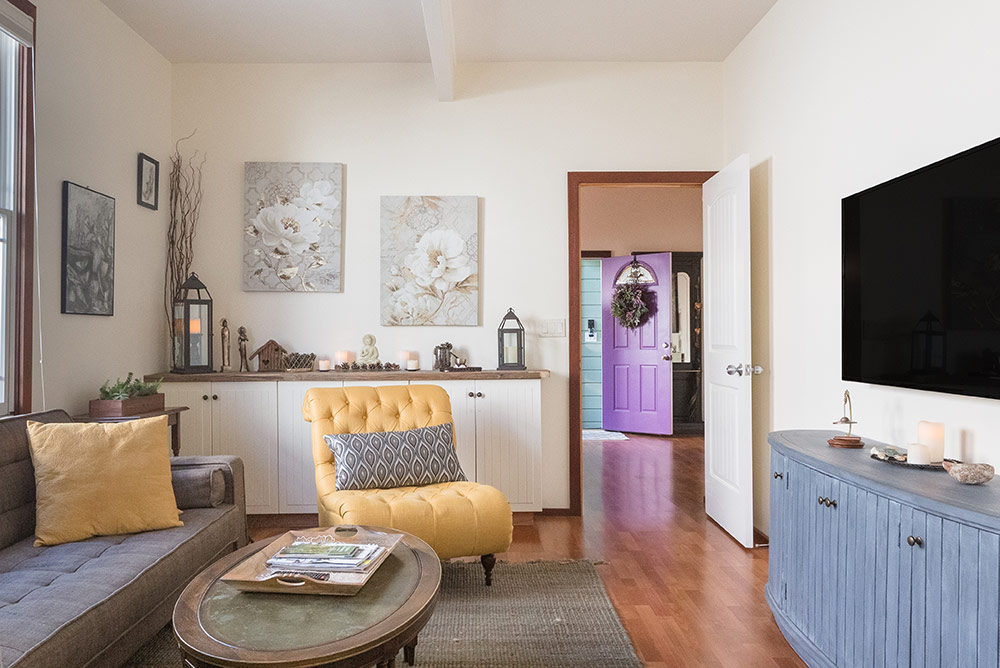 2. Cozy Pied-a-Terre in Downtown Santa Cruz
Sleeps: 2 guests, 1 bed
Costs: $205
This little house is perfect for someone who wants to be downtown and near the Santa Cruz Beach Boardwalk. The house has a lovely beach-inspired color palette and well-designed accessories. There's a private backyard bistro table and hammock for those chill afternoons. At $205, this fully furnished home is cheaper than most hotels in town and far cuter.
"Dianne's place is extremely comfortable, charming, and even more spacious than in the pictures. Great light from windows in every room, entering from the back makes the space feel really private."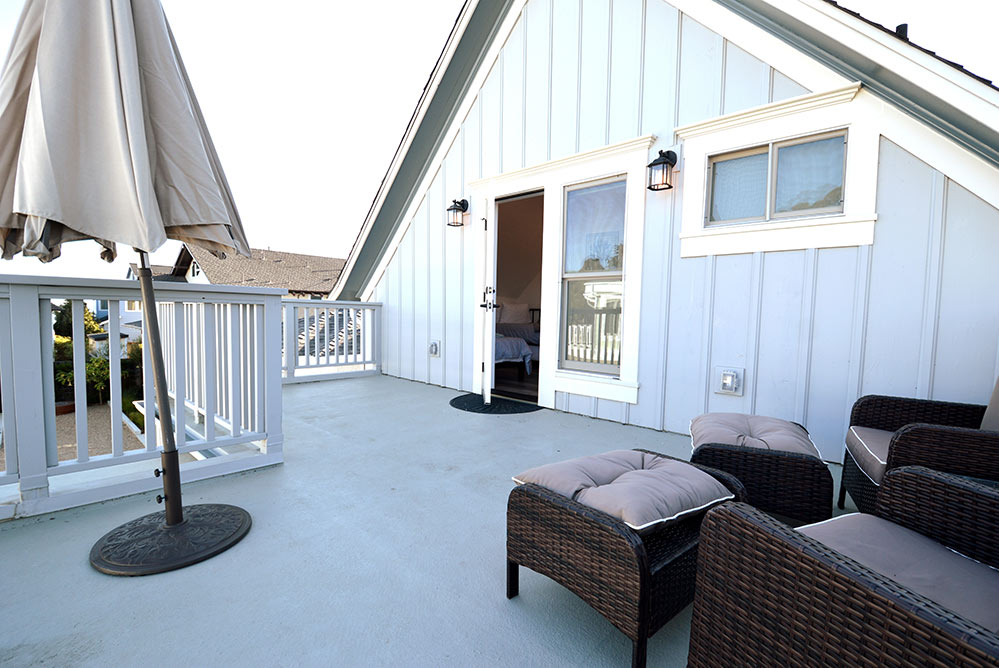 3. The Santa Cruz Beach Boardwalk House
Sleeps: 7 guests, 3 bedrooms, 2 queens, 2 singles, 1 crib
Costs: $279/ni
If you want an Airbnb near the Santa Cruz Beach Boardwalk, this is the house for you. Just walk across the bridge and you are right on the boardwalk and the wide sandy beach. This family-friendly house has a nice, open interior with an updated kitchen and bathrooms. The second story deck gets lots of light and has comfortable deck furniture.
"We had an incredible stay. The location is ideal for a quick walk down to Seabright Beach. The space was super clean and tidy with charming beach bungalow vibes."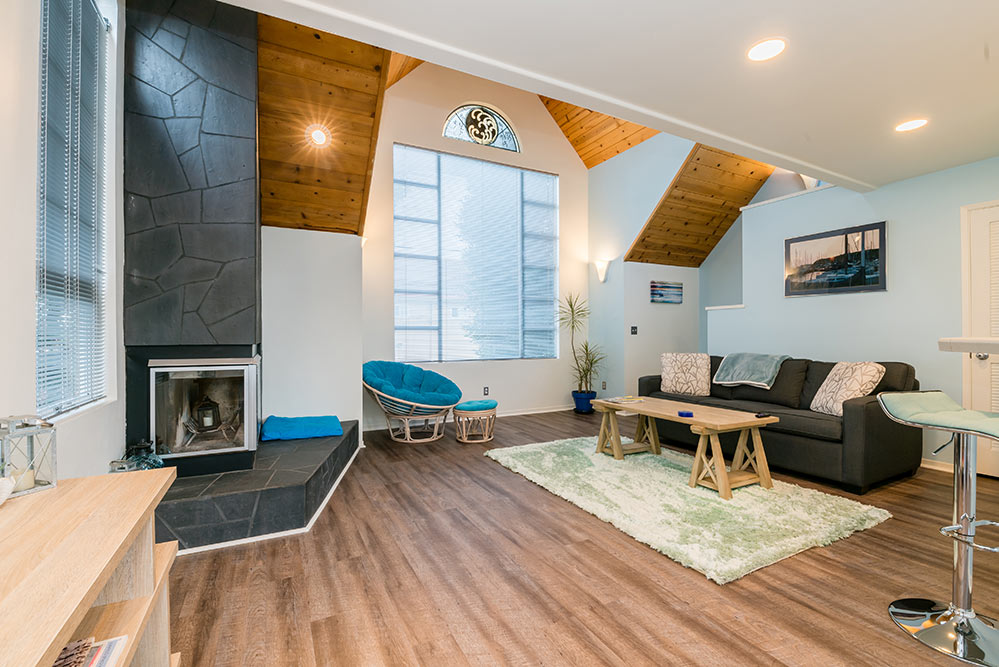 4. Wave House by the Beach for Two
Sleeps: 2 guests, 1 bedroom
Costs: $275/ni
Like the two rentals above, this house is also near the Santa Cruz Beach Boardwalk and downtown. What's nice about this listing is that it isn't pretending to be anything other than what it is…a romantic getaway for two. While there is a full kitchen, you are so close to downtown, you may want to eat out. There is also a private deck off of the bedroom where you can have your morning coffee.
"Super cute spot RIGHT next to the boardwalk. Location is incredible. If you want to be central in Santa Cruz this is a great spot."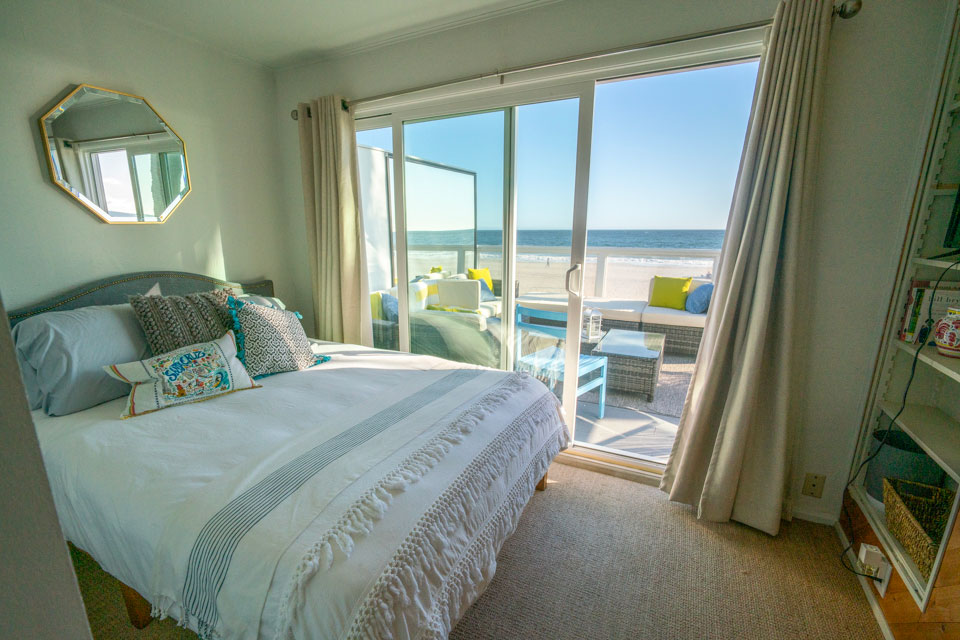 5. Anchor's Away Beach House Steps from Beach
Sleeps: 6 guests, 2 bedrooms, 1 king, 1 queen, 1 bunk, 1 crib, sofa bed
Cost: $386/ni
This sea-level beach house has ocean views from every room. It's right on Rio Del Mar beach and just south of the lovely Sea Cliff State Beach Park. In addition to the ocean front decks, the home also has a nicely appointed back yard with a dining area, outdoor living room, hot tub and outdoor games. You can borrow their beach toys and spend the perfect afternoon at the beach before returning to the house for sunset happy hour.
"Wow what a beach house! Right on the beach, amazing views! Great big deck for watching the waves. Lovely little backyard for relaxing or barbequeuing. Super stylish decorations – and comfortable space."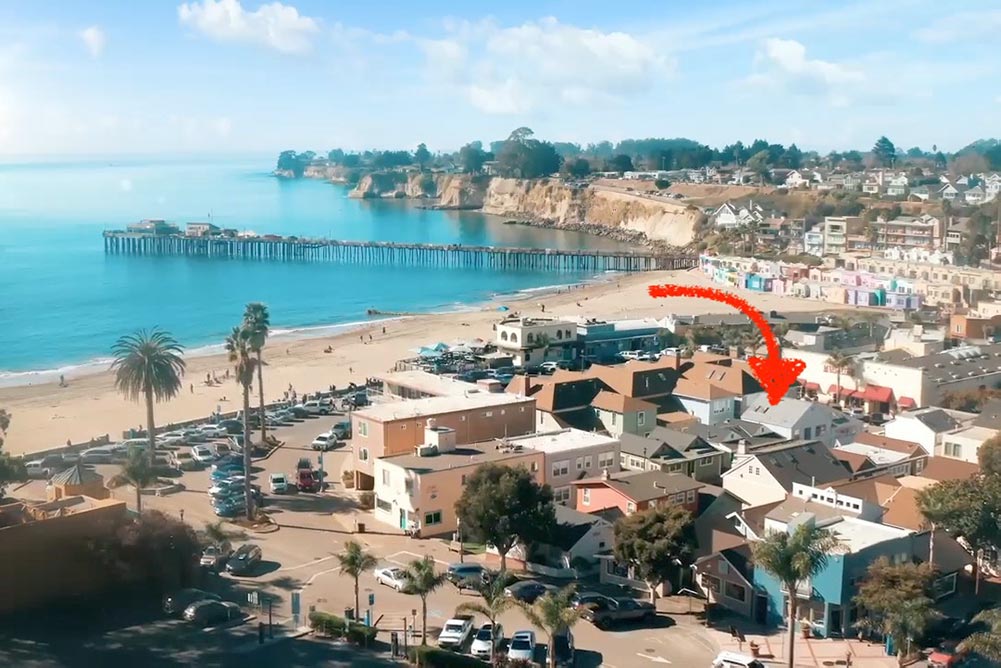 6. 62 Steps to Sand – Historic Capitola Beach Cottage
Sleeps: 6, 2 bedrooms, 1 queen, 1 single, 1 bunk bed, sofa bed
Cost: $314/ni
That image above says it all. If you are looking to be close to Capitola's wide, gentle beach and also shops and restaurants, then this house will fit the bill. The space inside isn't large and probably better suited to families or a couple than large groups of friends. But it's fully equipped with all of the necessary amenities, including beach toys and towels.
"The place and location was better than expected; walking to beach, restaurants and shops. The place was impeccable and perfect for our family of 4 with small children."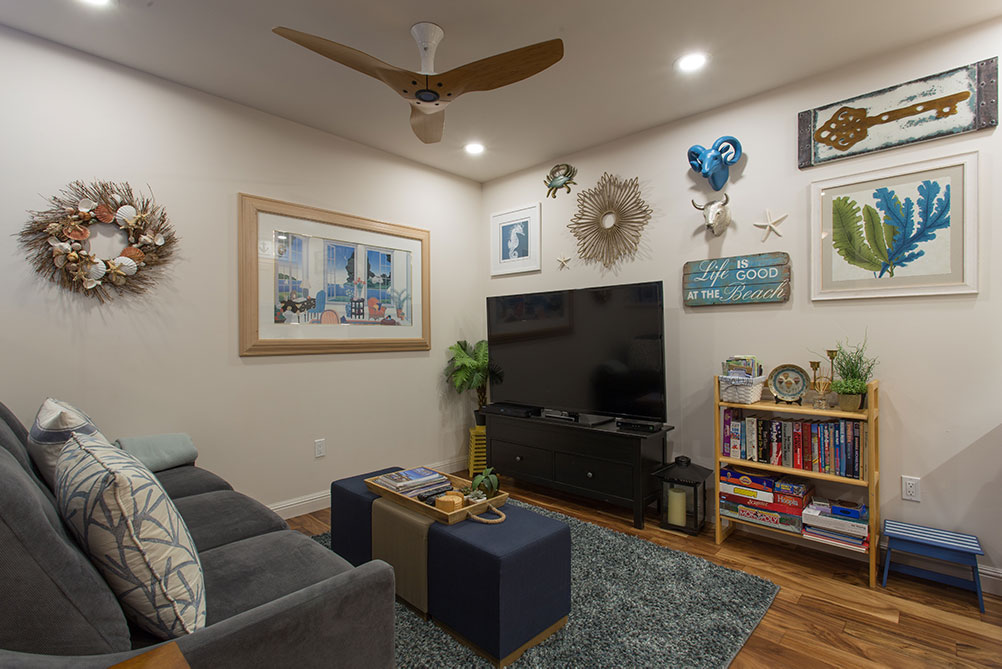 7. Steps to Beach, Comforts of Home
Sleeps: 2 guests, 1 bedroom
Costs: $112/ni
This in-law unit is a perfect value getaway for two people. No, their Airbnb pictures aren't from Architectural Digest and they don't have an ocean view deck. But they do offer all of the necessities at an unbeatable nightly rate. So, if you are more motivated by the outside than in, book this place. From their convenient Aptos location, you can stroll on the lovely Rio del Mar beach, golf at Seascape Golf Club or go hiking in the nearby Nisene Marks State Park.
"Super cozy and definitely has all the amenities you need for your weekend! A walk away from the beach and lots to do nearby."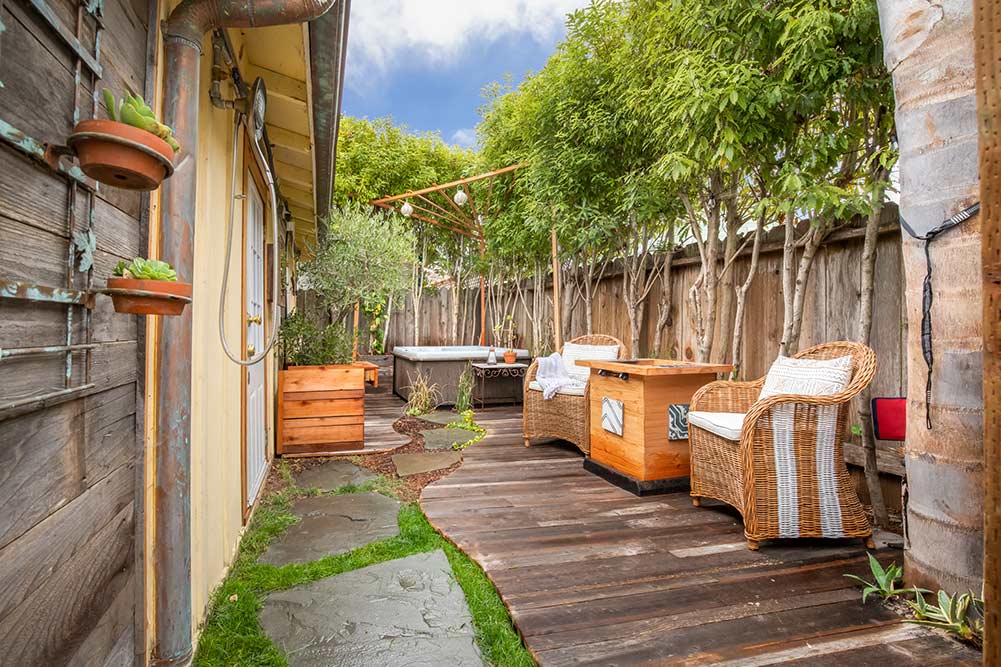 8. Beach Suite with Hot Tub, Aquarium Passes, E-Bikes & Surf Board
Sleeps: 3 guests, 1 bedroom, 1 double, 1 single bed
Costs: $222/ni
This small studio is styled like a hotel room, but better. For $222/ni, it's far cheaper than many hotel rooms in town and it's pet friendly. The hosts offer a ton of amenities like a hot tub, pizza oven, and free use of surf boards, e-bikes and guest passes to the Monterey Bay Aquarium. You can also just chill out on the nearby Corcoran Beach. This unit doesn't have a full kitchen, so it's ideally suited for a couple who likes to eat out.
"This space was small but super cute! The space is private and all the amenities were awesome. We got to ride the electric bikes, walk to the beach, and it was great to be able to bring our furry baby!"
As Jacques Yves Cousteau once said: "The sea, once it casts its spell, holds one in its net of wonder forever." True that Jacques. Enjoy your beach stay!