We want you to stay safe. These articles are designed to help you plan a trip when you are ready to travel. Be sure to check with businesses and attractions and make sure they are open before you visit.
Whether you are doing a weekend getaway from San Francisco or driving the coast as part of a larger trip, these Santa Cruz tree houses will deliver an amazing forest experience. This article spotlights a baker's dozen of Santa Cruz tree house rentals that feature privacy, access to trails, redwoods and a whole lotta fresh air.
4 Tips for Your Santa Cruz Tree House Rental
Pay careful attention to the listings, particularly the number of guests vs. the number of actual beds. Many Airbnb listings, including some on this list, count sofa beds and air mattresses as sleepable furniture. This may be fine for your seven year old but maybe not for your adult friends and family.
Some of the listings mention that they are "420 friendly". This is Santa Cruz code for weed. The listings that mention 420, may allow the use of it on property, but never indoors.
Some of these tree house listings are in the middle of nowhere, which is of course, the point. But it also means that many have very dodgy cell signals. Ask the host if that's important to you, otherwise plan to use wifi.
Give yourself plenty of time to explore the surrounding area. Check out these cool things to do in Santa Cruz for beachcombing, hiking, shopping and eating suggestions. Some of the listings are quite close to the old growth redwoods in Nisene Marks State Park, Big Basin State park or Henry Cowell State Park.
Let's dig into some Santa Cruz tree house glamping and find you someplace cool to chill. If you are also considering staying at the beach, then also peruse this curated list of Santa Cruz beach house rentals.
(This article contains affiliate links. This means that if you choose to purchase, I'll make a small commission.)
(All of the images below are courtesy of Airbnb.)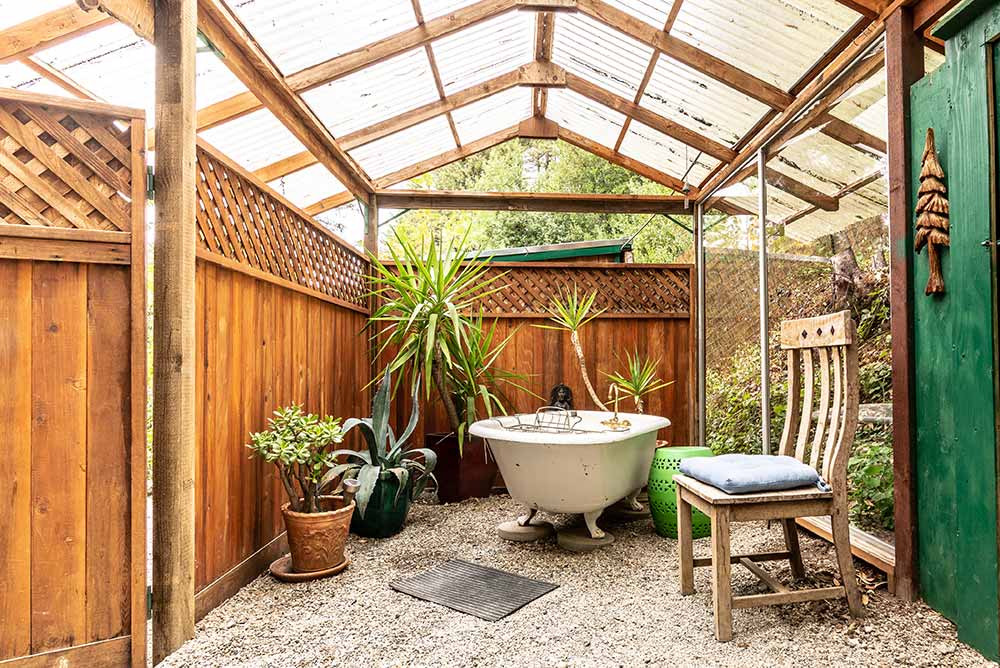 1. Lovely Retreat Nestled in the Woods
Sleeps: 2 guests, 1 queen bed
Costs: $94/ni
This whimsical cabin sits right in the middle of redwoods in Scotts Valley. It has a comfortable queen bed with warm blankets. The host has provided a heater and firewood to keep you toasty on rainy days. That said, this space is designed for outdoor living and its star attraction is its bathtub in the forest. The outdoor bathhouse is tastefully designed and offers lots of privacy. The cabin has a small kitchen, a fire pit, and a gas grill for your barbecue.
"You could enjoy hours peacefully in the bathtub while enjoying the quiet outdoors."
Book it here: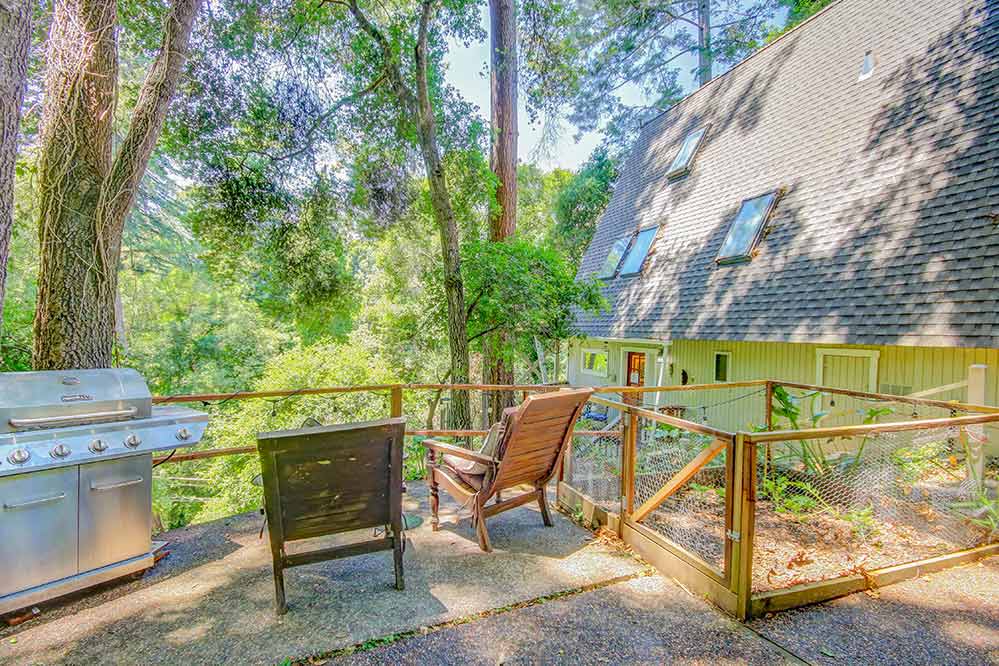 2.Stairway to Tree Top Haven
Sleeps: 3 guests, 1 queen bed, 1 double bed
Costs: $131/ni
This artsy little apartment nestled in the woods has a colorful beach escape feel. Included in its excellent indoor amenities is an out of this world cushy bed and a bedroom fireplace. You can also soak off sore muscles from those redwood hikes in the outdoor tub as you enjoy expansive forest views. This serene getaway is a short drive to the beaches and restaurants in Aptos.
"If you like being in the canopy and hearing birds, and a little outside of town, this is a great place"
Book it here: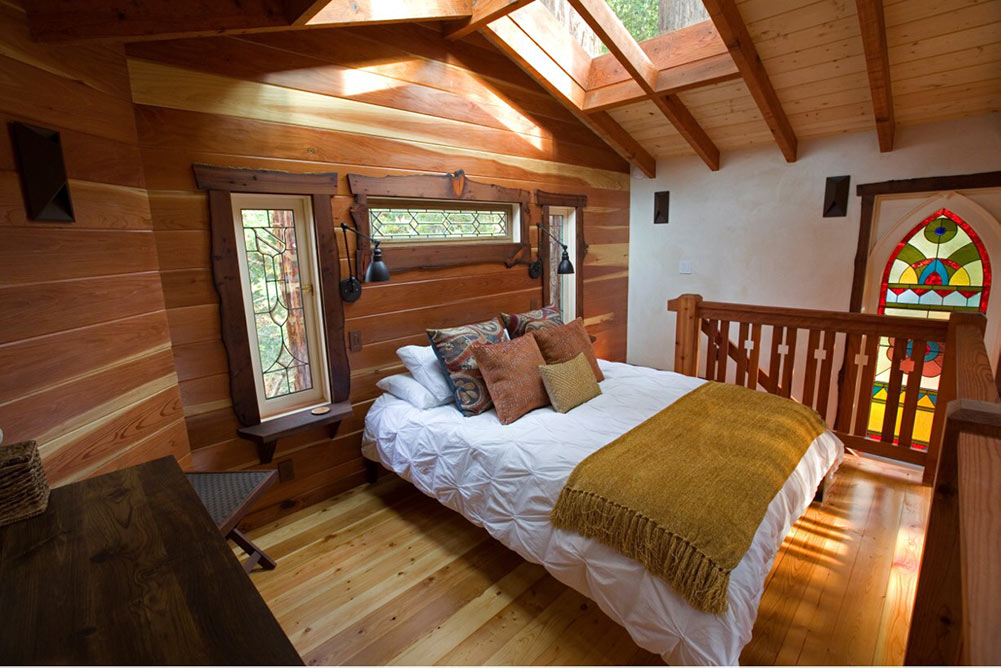 3. Luxury Tree House in the Redwoods
Sleeps: 2 guests, 1 queen bed, 1 sofa bed
Costs: $195/ni
This enchanted little cabin sprouts right off a grove of redwood trees near the Hawks Hill and Four Gates wineries. It is a thoughtful and beautifully crafted space, with custom woodwork and stained glass windows with an old-world feel. The cabin's magic shines the most through a ring of redwoods visible via the skylight above the bed. This Santa Cruz tree house rental has an indoor bathroom, a kitchen, and a beautiful outdoor deck where you can enjoy calming sunsets and morning coffee.
"The property is far better than what you can see in pictures! The high-quality details and how the property is constructed is a bit of a marvel and really should be world-renowned. It is close to the road but it is a quiet area."
Book it here: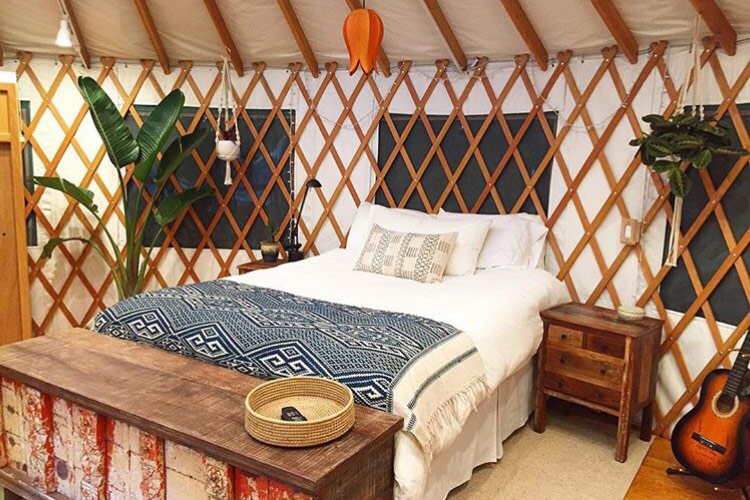 4. Mountain Top Yurt in the Redwoods
Sleeps: 2 guests, 1 queen bed, 1 couch
Costs: $92/ni
This yurt isn't a tree house per se, but it's a really cool place to go glamping in Santa Cruz. Its beautiful, cozy, and offers a lot of privacy. The yurt sits right in the middle of the forest, by a private hill. It has an outdoor feel, thanks to its eight windows and a French door. It's furnished with a kitchenette and a sizable dining room table. You will love the invigorating outdoor hot water bathhouse. There are lots of hiking trails near the yurt, including Mount Madonna County Park.
"A very relaxing and cozy space. We enjoyed breakfast on the sunny deck, the outdoor shower, and all of the birds chirping away."
Book it here: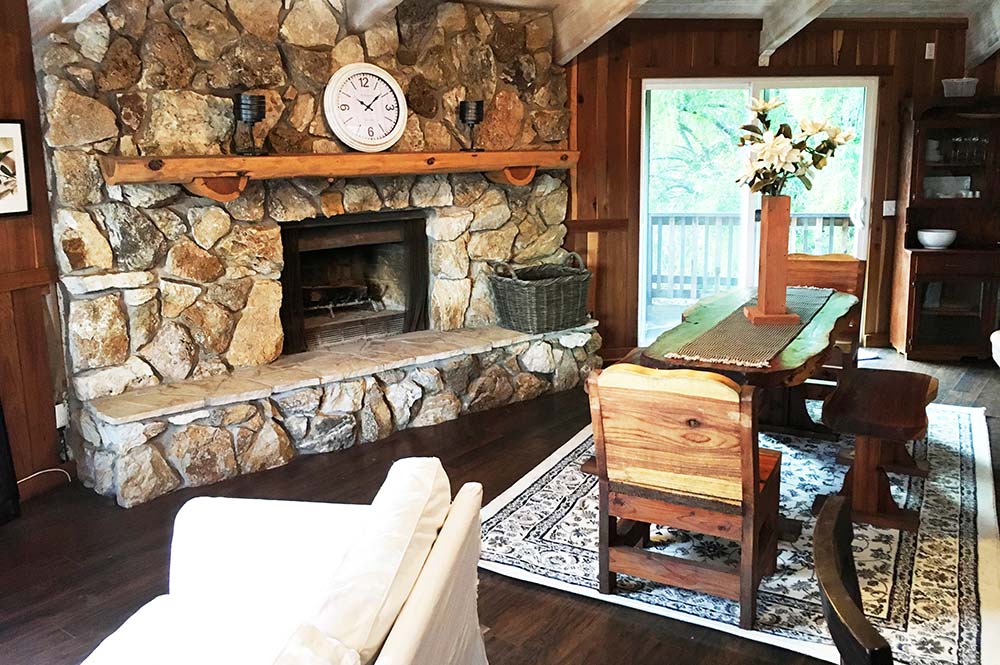 5. Juju Paradise: Santa Cruz Redwoods Retreat
Sleeps: 6 guests, 2 double beds, 1 single bed, 1 couch
Costs: $161/ni
This rustic wood property has some of the best views of all Santa Cruz cabin rentals. "Juju" owned the land for decades and her inheritors have maintained her connection with the land. The house is surrounded by acres of redwoods and the property also has a lemon orchard. This lux 12 sided house offers spectacular views from its second story deck. It's a marvel of woodwork with with two roomy bedrooms, a bath, and a well-stocked kitchen. From this location, you can easily access the forest of the Nisene Marks State Park for hiking.
"Fantastic getaway place…clean, rustic, cozy, and full of anything you need for a comfortable stay. The host was very friendly and hospitable. Great stay, beautiful scenery, and fantastic value!"
Book it here: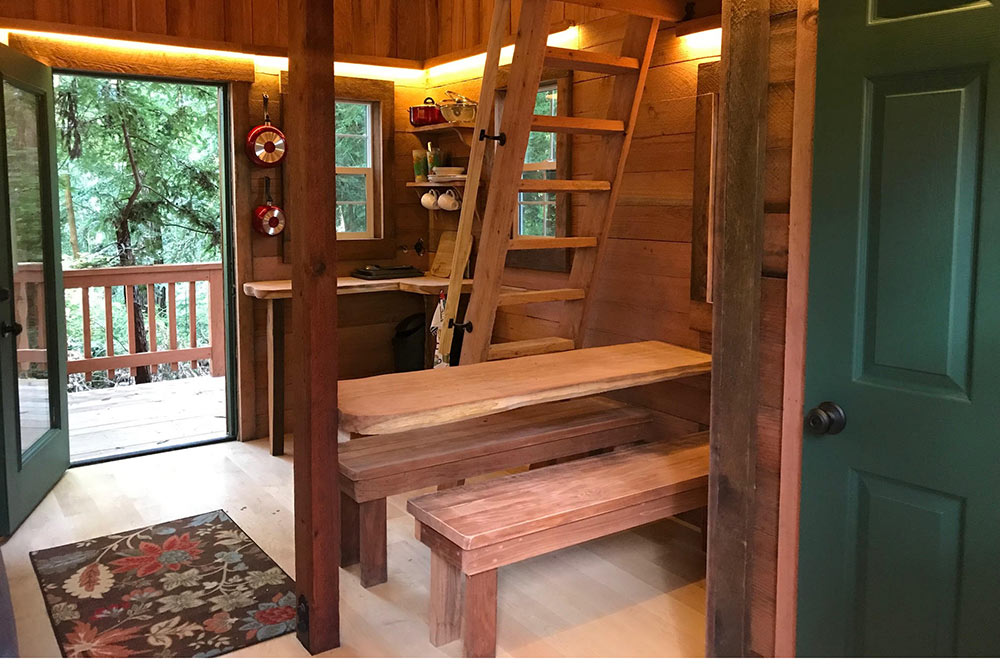 6. Cabin at Juju Paradise: Santa Cruz Redwoods Retreat
Sleeps: 3 guests, 1 queen bed, 1 sofa bed
Costs: $118/ni
This small cabin is on the same property as the house above. You can rent it separately or do the whole property if you have a larger group. This little wooden cabin definitely has a glamping feel. There is an element of roughing it but it does have amenities. The cabin has a hot water outdoor shower, right under the redwoods. Sustainable features include a propane stove/oven, a composting toilet and LED lights.
"The perfect place to get away and find yourself. Amazing view, calmness, serene setting."
Book it here: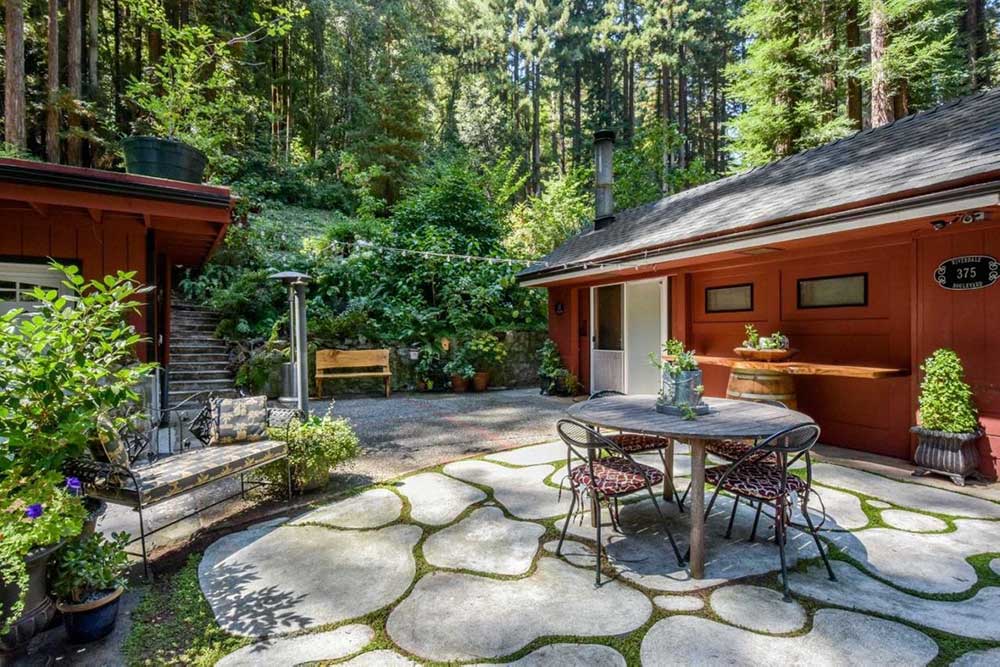 7. Paradise Cabin Nestled Among the Redwoods
Sleeps: 2 guests, 1 queen bed
Costs $250/ni
This list of the best Santa Cruz tree houses would be incomplete without this tranquil space. Prepare to experience a profound closeness to nature in this beautiful cottage. It has a full kitchen and a bath with a jacuzzi tub. You will enjoy spending time in the outdoor sitting space or indoors by the fireplace. This property is only a short drive to the Henry Cowell Redwoods State Park. There are shops and restaurants nearby in Boulder creek. Please note that this listings says that it will accommodate five people, but there is only one bed. They may have hide-a-beds, but the listing doesn't mention it. So you should message the host for more info.
"It feels remote but there are people close by and the town is close for anything you need."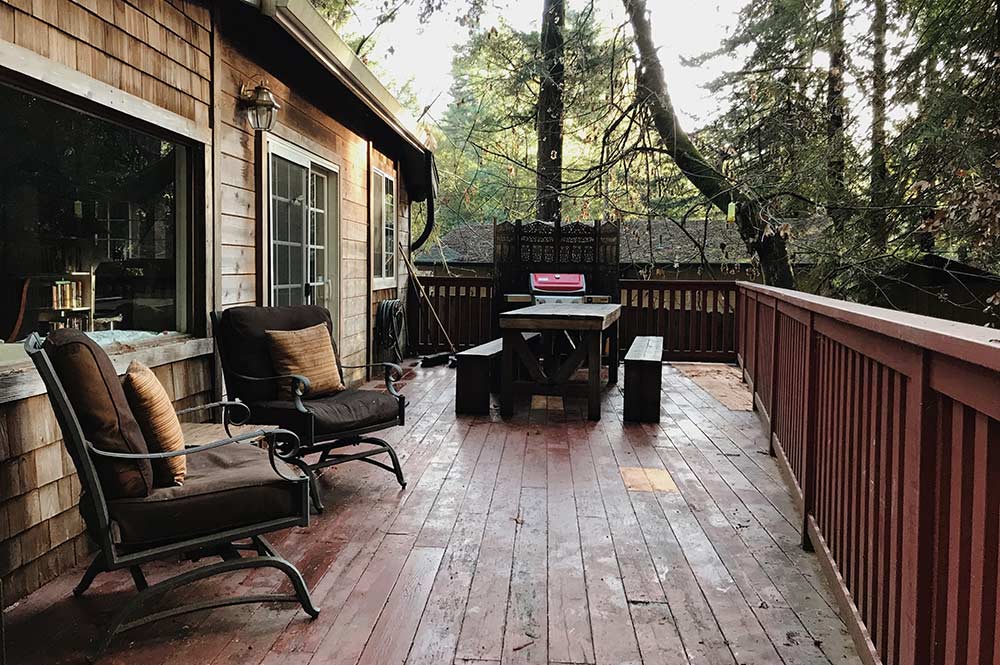 8. Charming Cabin and Cottage – Hot Tub, Dog-Friendly
Sleeps: 8 guests, 1 king bed, 1 queen bed, 2 double beds, 1 single bed
Costs: $246/ni
This idyllic property near Boulder Creek is great for one or two families, a romantic get-away, or a retreat. The cabin has all the amenities you will need for your weekend getaway. Gaze at the redwoods from one of two decks or the hot tub. Additional amenities a well-stocked kitchen, an indoor fireplace and an outdoor fire pit.
"My family thoroughly enjoyed the kitchen and BBQing on the deck, and of course the hot tub."
Book it here: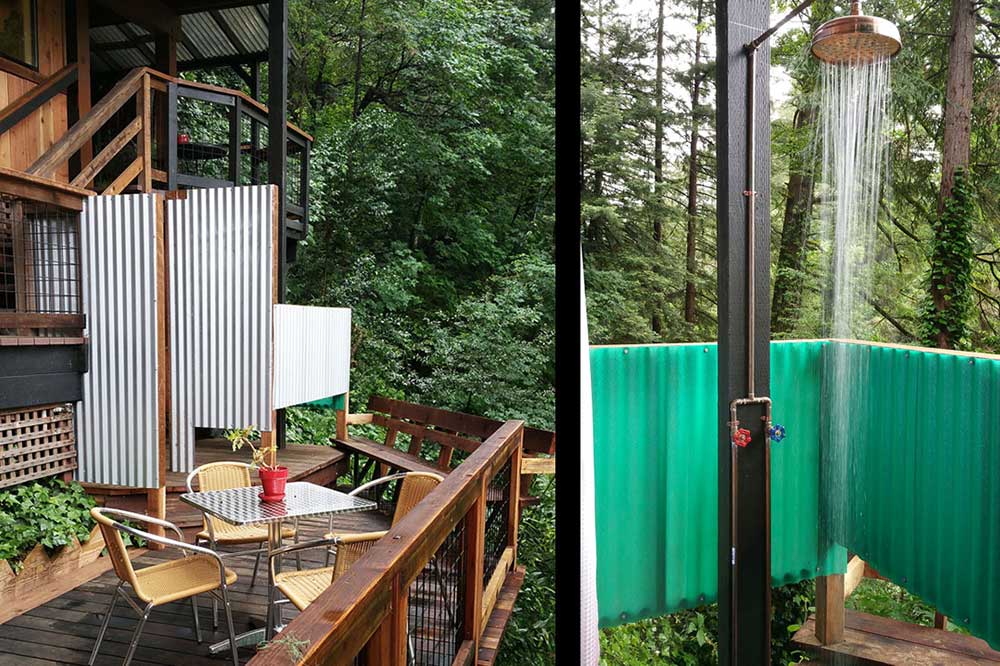 9. Riverfront Tree House~Old Redwoods~Fantastic Views!
Sleeps: 4 guests, 1 queen bed, 1 double bed, 1 single bed
Costs: $246/ni
This magical tree house in Santa Cruz will recharge and rejuvenate you. The 2-acre property rises amid ancient spruce and redwood trees right next to the San Lorenzo river. There is a tree growing right through the multi-level deck, which sports stunning views. Amenities include a bathroom and a fully equipped kitchen. In the outdoors, there is a sink and shower, a BBQ, and a fireplace spot.
"Green-friendly place with splendid views of trees and the sound of the creek below, just like the pictures."
Book it here: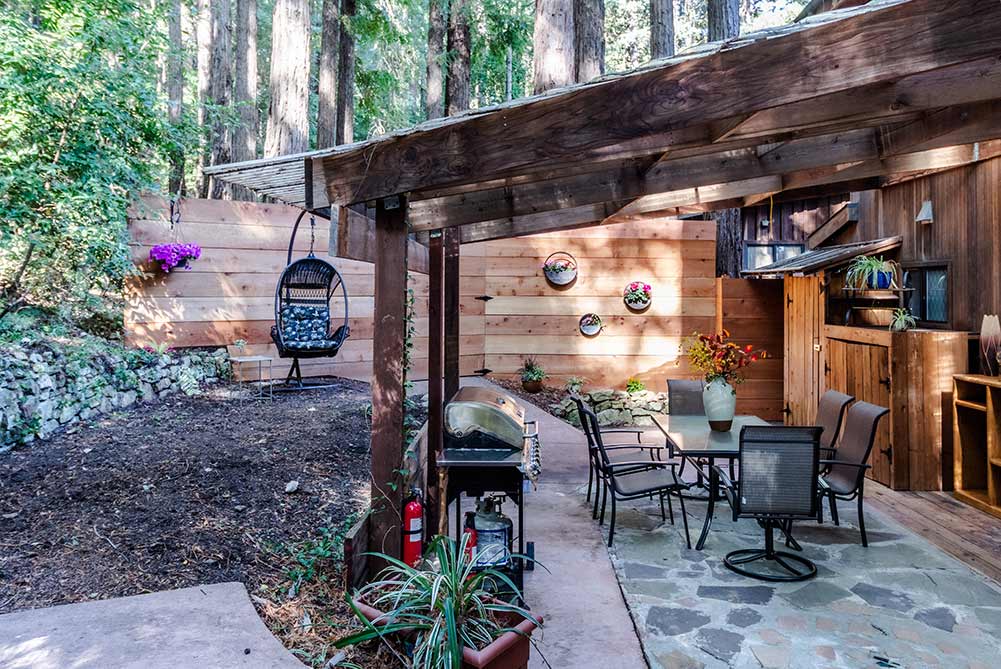 10. Tree House with Modern Amenities
Sleeps: 4 guests, 2 queen beds
Costs: $300/ni
The two-story home has a mountain cabin feel with expansive decks and outdoor spaces. The peaceful nature lovers' retreat has an up-to-date kitchen, laundry amenities, and gorgeous views. This tree house in the Santa Cruz Mountains is very close to the Loch Lomond Recreation area, perfect for swimming, boating, and hiking activities.
"The kitchen was excellently stocked, the living room super comfortable, and the outside areas perfect for enjoying the beautiful redwoods in the area."
Book it here: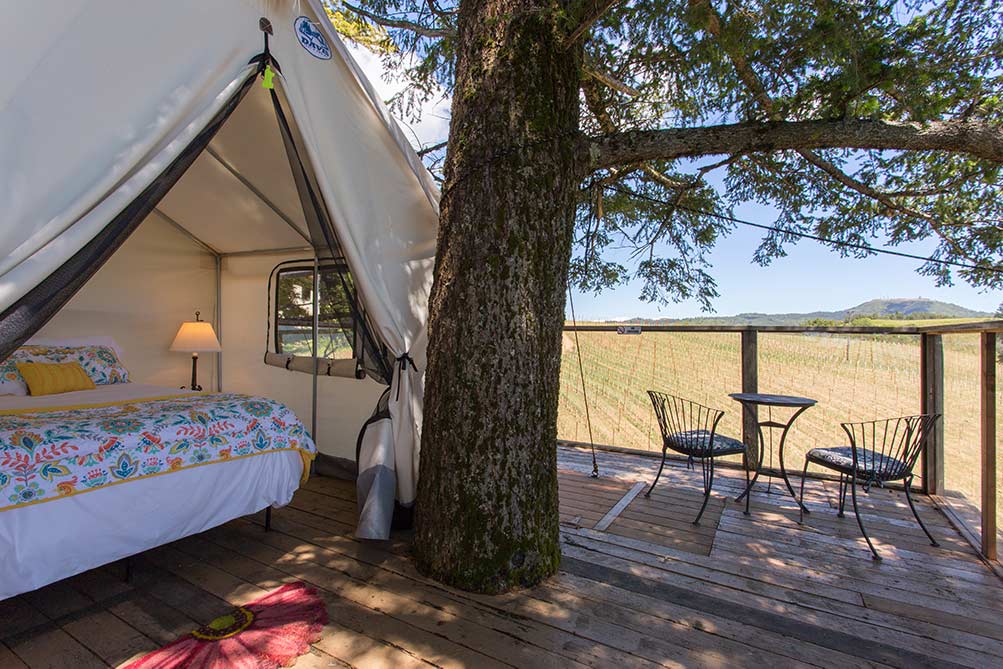 11. Tree House in Vineyard Overlooking Monterey Bay
Sleeps: 2 guests, 1 queen bed
Costs: $250/ni
While some Santa Cruz Airbnbs on this list are like houses-in-trees, this listing is literally a tree house and is one of the most unique ways to go glamping in the Santa Cruz. This listing is way off the beaten path and is located deep in the Santa Cruz mountains on a vineyard. Lounge in your lux queen size bed and get views Monterey Bay and the Pacific Ocean– perfect for sunsets. The set-up is a 400 square foot platform with a yurt-like tent and a queen bed. The host has a full bath in the adjacent main house, a short walk away from the tree house.
"We enjoyed some local wine, ocean views, sunsets, and exploring the vineyards ALL to ourselves."
Book it here: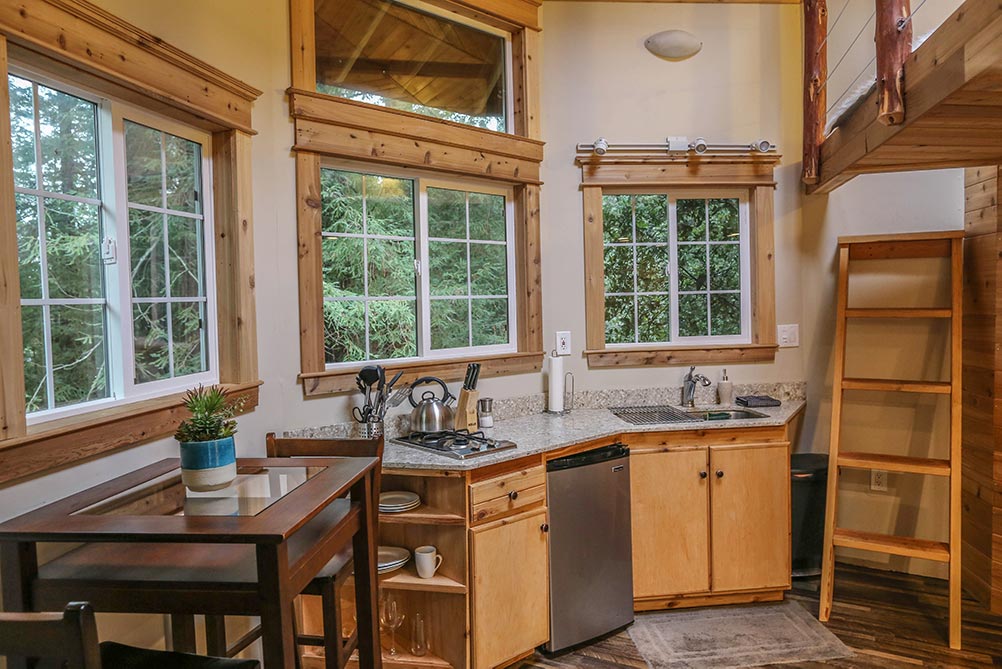 12. Cedar Tree House in Aptos Mountain Retreat & Spa
Sleeps: 3 guests, 1 king bed, 1 sofa bed
Costs: $135/ni
This octagonal tree house offers one of the best Santa Cruz cabin experiences. Connect with nature in a retreat-like setting and hike in the nearby Nisene Marks State Park. The cool tiny home has an exquisite geometric woodwork ceiling and a dome skylight. There is a kitchenette with a mini-fridge and a bathroom. Outdoor attractions include a pool, hot tub, meditation pond, and a garden. This host also has is another nearby glamping yurt for rent.
"The grounds are exceptionally beautiful, with surprises at every turn"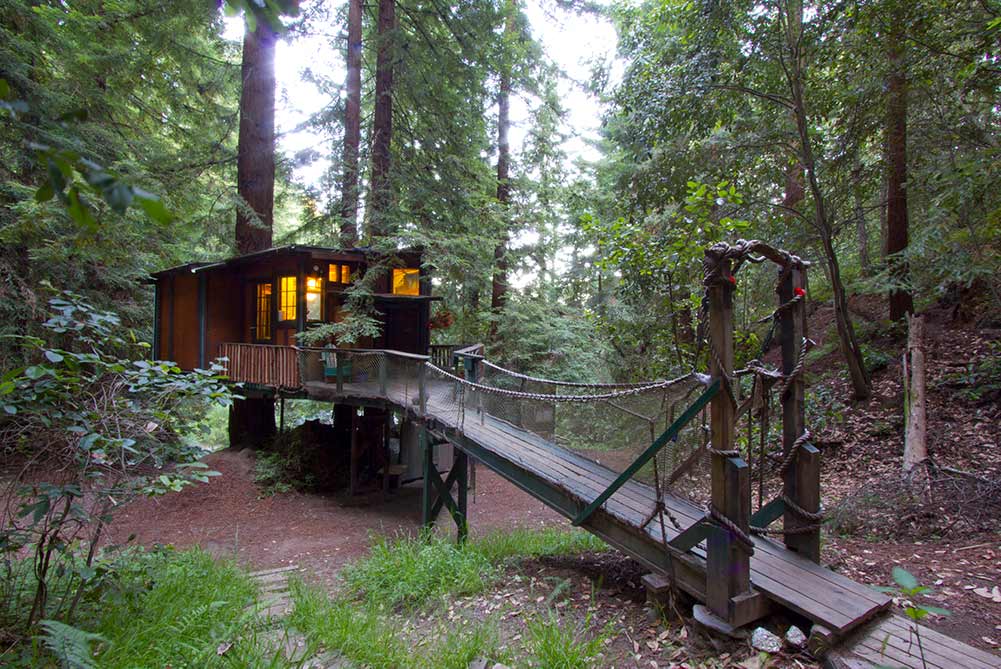 13. Redwood Tree House Santa Cruz Mountains
Sleeps: 2 guests, 1 queen bed
Costs: $155/ni
Relive your childhood in this actual tree located house deep in the Santa Cruz mountains. It has a pirate vibe with the gang plank but rather than the ocean, you get a forested paradise. It was built by an artist and the craftsmanship really shows. As one of the few genuine Santa Cruz tree houses, it has an actual live tree rising through the living space! Spend your time in the hot tub gazing at the trees, or in the Adirondack chairs gazing at the trees. The listing also comes with a small but fully functional kitchen and a full bathroom.
"Perfect place to disconnect. Quiet, clean, and super quaint."
Here's a map to all of these listings, plus a curated selection of Santa Cruz beach houses.
Enjoy your tree house stay. As John Muir once said, "Come to the forest, for here is rest.
True that John.
More Fun Things to do on the Coastside:
Share these tree houses in Santa Cruz with your friends on Pinterest: