Cayucos, California is a quiet little Central Coast beach town which makes a perfect weekend getaway on its own, or a nice overnight stop on a larger central California road trip. The town is great if you want to have a mix of chill time and outdoor activities– and these 10 fun things to do in Cayucos will give you a mix of both.
The area was the original home for the Chumash people, who have lived on the Central Coast for over 10,000 years. Their homeland ranged widely in Central and Southern California, covering coastline from Malibu to Cayucos. They were advanced basket makers and fishers and they used kayaks to navigate the coastline. In 1603, Sabastian Vizcaino was sailing the coastline, saw the Chumash's canoes and he named the area Cayucos or "little kayak".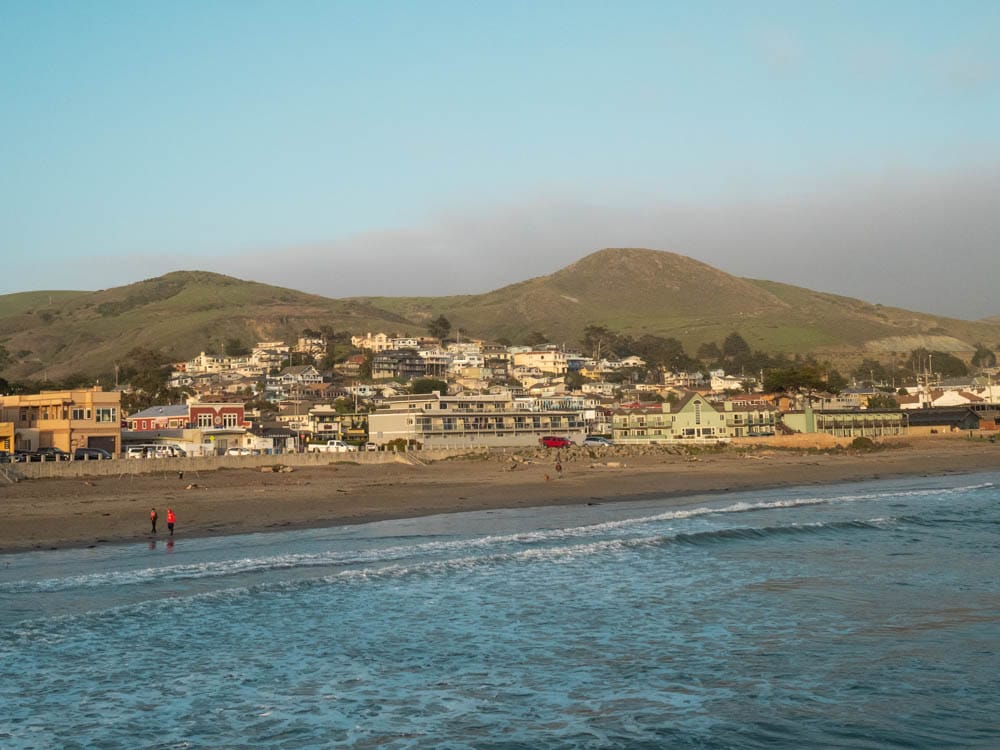 During the Spanish colonization, the area was used primarily for ranching and dairy. Cayucos subsequently became a busy port and market down. There were also some shenanigans regarding a spectacular bank robbery in 1892, and a prohibition-era rum-running operation (which also happened in Half Moon Bay). But things have settled down since then and Cayucos, CA is now a quiet town with a lot of retirees and folks like you, who are looking for a nice visit and some beach time.
And we are here to help you do that, because we are nothing if not helpful here at California Crossings. Let's get started.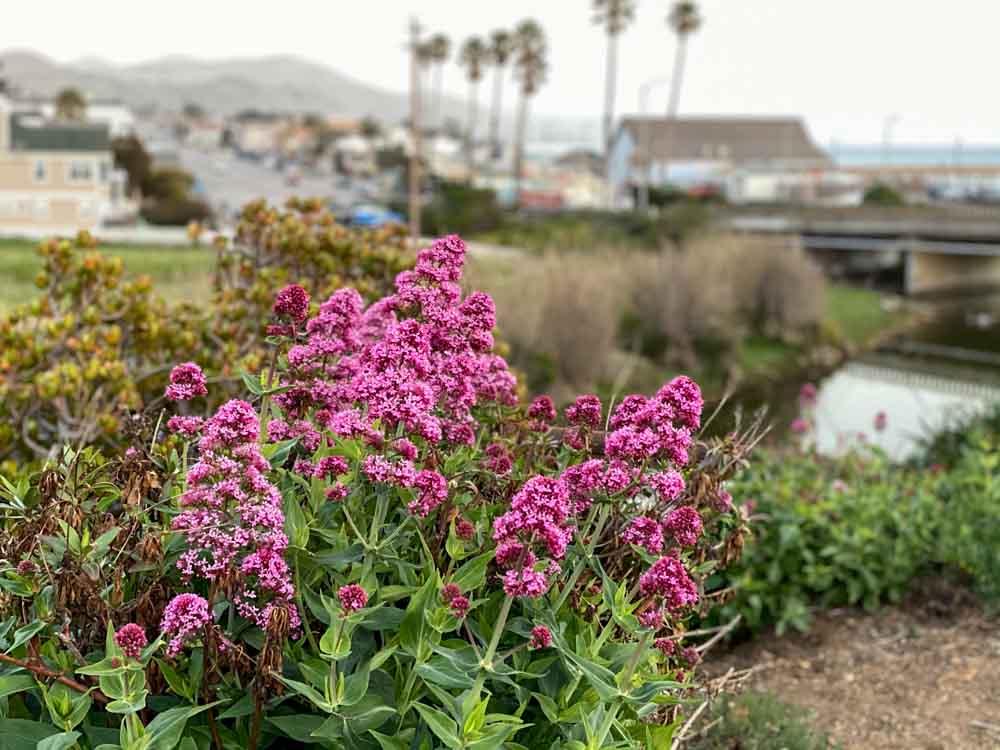 How to Get to Cayucos
Cayucos is roughly equidistant between Los Angeles and San Francisco. Getting to Cayucos from Los Angeles will take 3.75 hours and 208 miles. Getting there from San Francisco is 3.5 hours and 215 miles. You can take Highway 1 the whole way or use Highway 101 to Paso Robles and then head to the coast on Highway 46.
If you are stopping in Cayucos as part of a larger coast road trip, be sure to check out our itinerary for the Pacific Coast Highway. It covers SF to LA in 5 days with advice on key stops, where to stay and where to eat. We also have a more detailed Big Sur road trip guide if you want to combine time in Cayucos with the coastline to the north.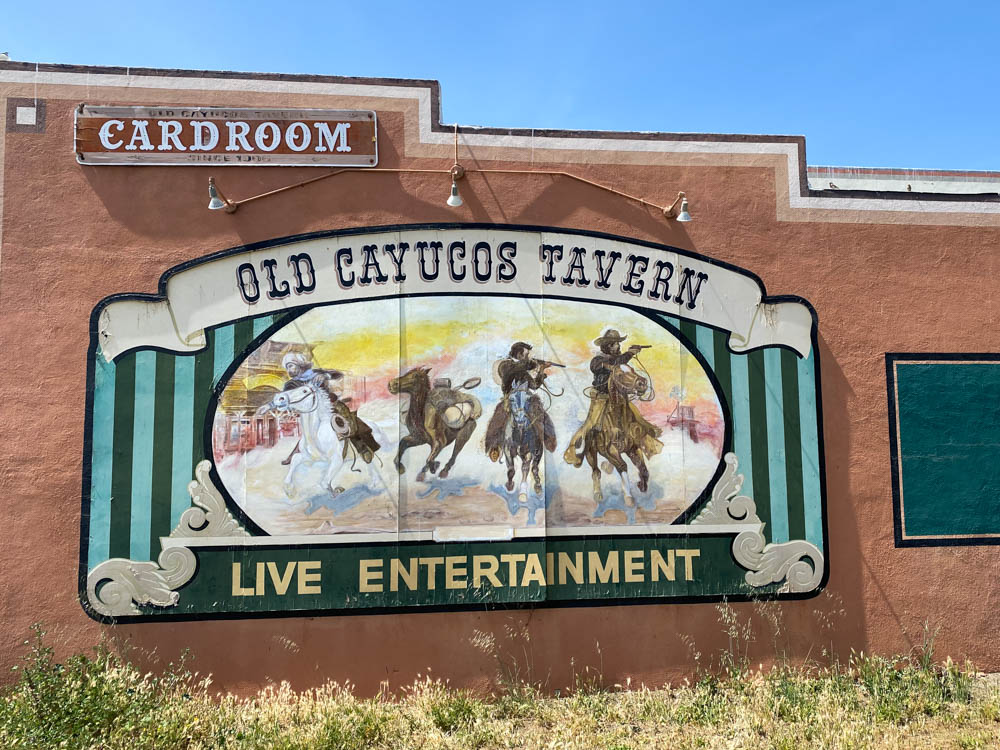 (This article contains affiliate links. This means that if you choose to purchase, I'll make a small commission.)
Where to Stay in Cayucos
Ocean front views: It doesn't get any more oceanfront than staying at Shoreline Inn at the Beach. All of the rooms have at least a partial view and many have a full view. You get your own little patio and Adirondack chairs for watching the sunset. Check reviews and book at Booking.com.
Bed, breakfast and a hot tub: The On the Beach Bed & Breakfast has a lot going for it. You are just steps away from City Beach, they offer a full breakfast and their hot tub has pretty sweet views. Check reviews and book at Booking.com.
We've also got a guide for campgrounds in Big Sur, which includes Hearst San Simeon State Park, which is near the light station.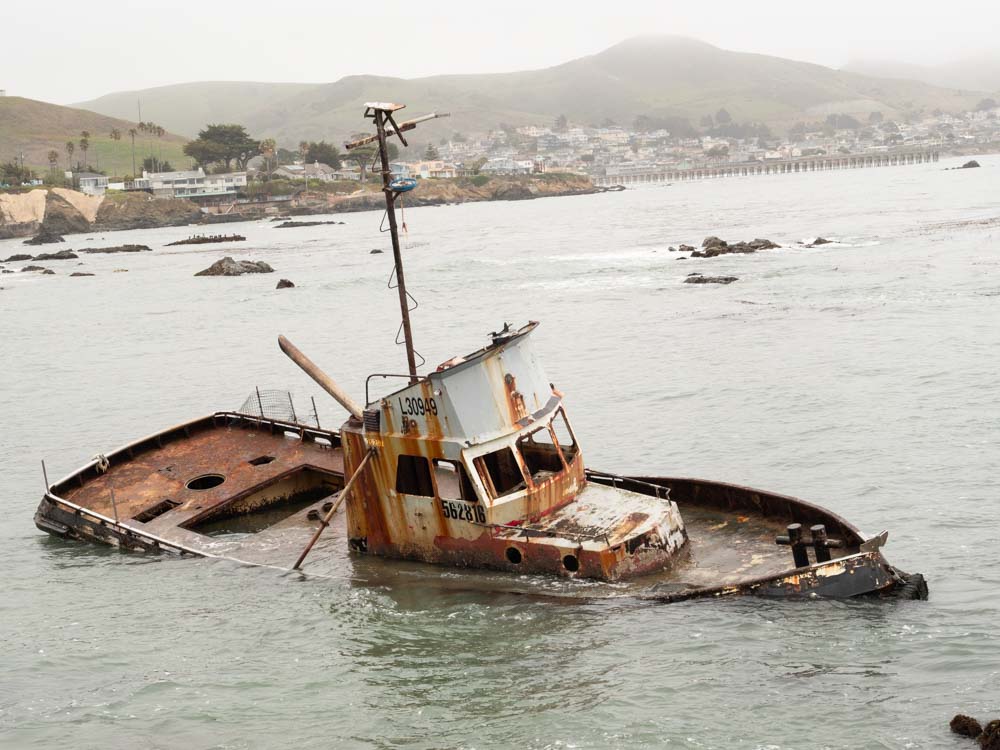 Your Top 10 Things to do in Cayucos
When you visit Cayucus, you should think of it as a base of operations for the central coast. There are fun things to do right in town, but we are also suggesting a few things that are a bit north/south of town. There is a lot of stunning coastal views, parks, bluffs and marine life in central California and you should definitely go out and explore it.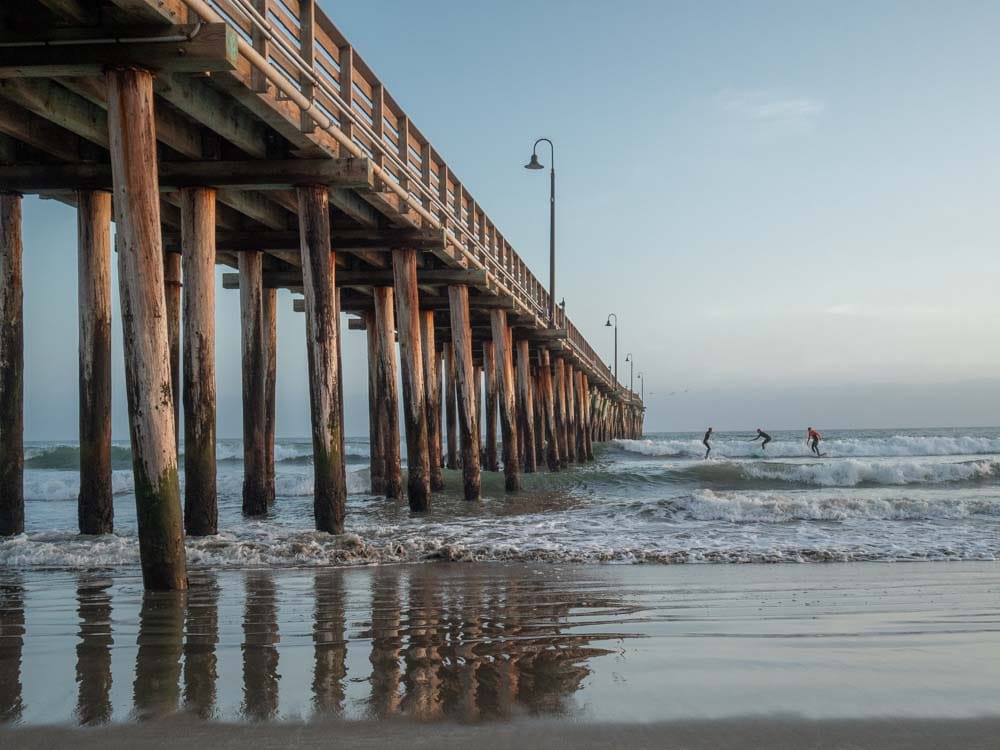 1. Chillaxin' on Cayucos City Beach & Pier
Pack a beach chair and an extra large chill pill because you are going to need both for the Cayucos beach. This little beach is less than a mile long, but it's quite delightful for a slow stroll. It's one of a very few dog-friendly beaches in California and it's also pretty kid friendly. You can surf the break at the pier or just hang out and watch the sunset.
The 982 foot Cayucos pier was originally built in 1872 and was reconstructed in 2015. It was originally an important part of Cayucos' shipping port, but now it's primarily used for fishing, strolling and watching the waves. The pier is particularly evocative at sunset with the quiet water tumbling under the pier supports.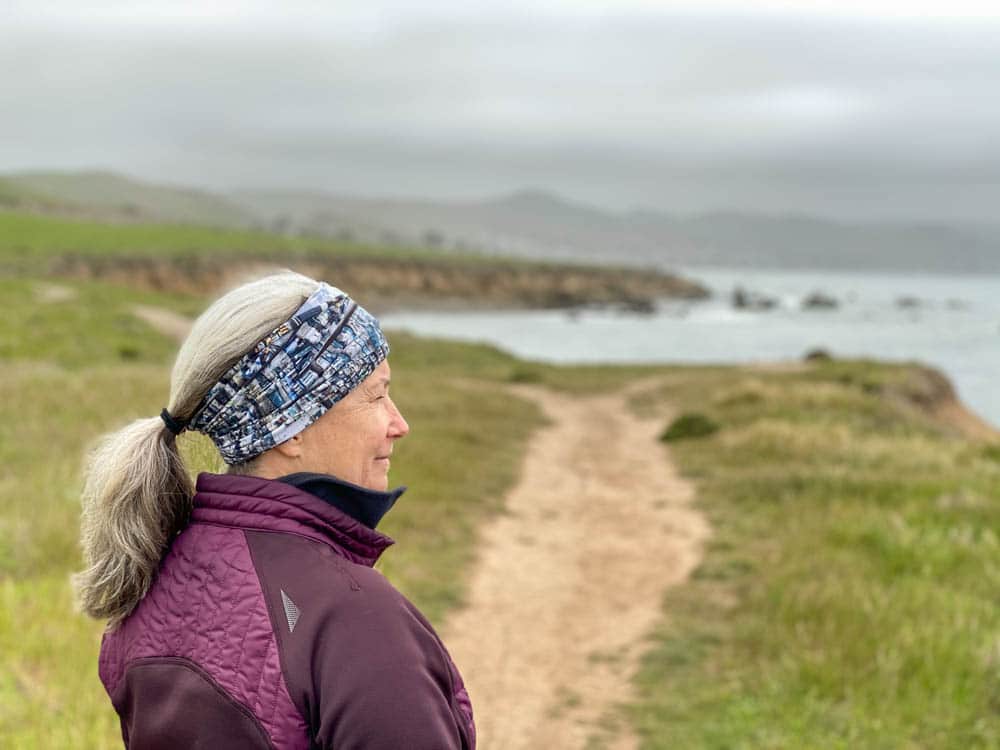 2. Hiking Estero Bluffs State Park
Estero Bluffs is one of the nicest outdoor activities to do in Cayucos. The land was used for ranching during Cayucos' dairy boom and had been slated for development. But a strong outcry from the local's halted the development and the blufftop became a state park in 2002.
The park has lovely ocean views with rocky bluffs, dunes and even a shipwreck. They do have parking at the state park, but you can easily walk to Estero Bluffs from town. You can hike the full 7.2 mile round trip, or just do as much or as little as you want. The southern end of the trail is dog-friendly, making Estero Bluffs one my dog's most favorite things to do in Cayucos. You can do a 3 mile round trip by going as far as San Geronimo road before turning around.
Read More: Get the full downlow on all CA parks with our complete California State Parks list (with map).
3. See the Murals in Town
Cayucos has developed a series of community supported murals around town. The 9 murals cover historical and environmental topics and they add a lot of color and interest to the downtown drag. You can find a mural map here.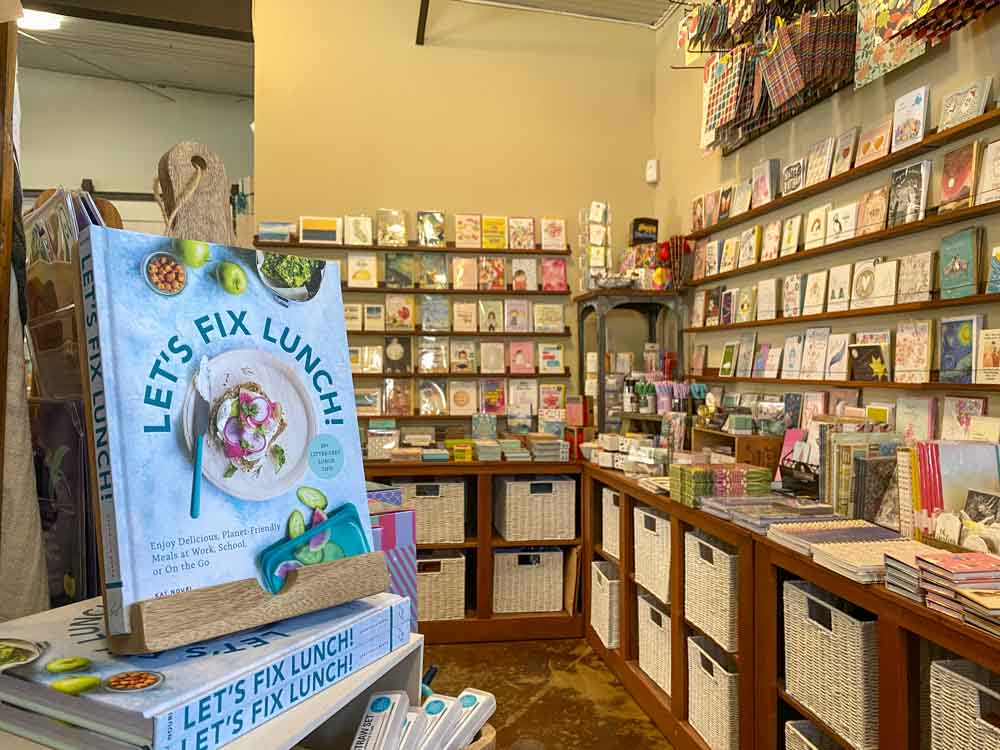 4. Shop at Cayucos Pharmacy & Gifts
I went into this pharmacy to get some lip goop and was surprised to find a cute gift shop. They have a down to earth ethic at this compounding pharmacy, and their gifts reflect that. They carry adorbs kid's clothes and toys, notebooks, healthy cookbooks and a lovely selection of greeting cards. They are a bit south of the main drag, but it's definitely worth taking the time to walk down to the pharmacy and check out their wares.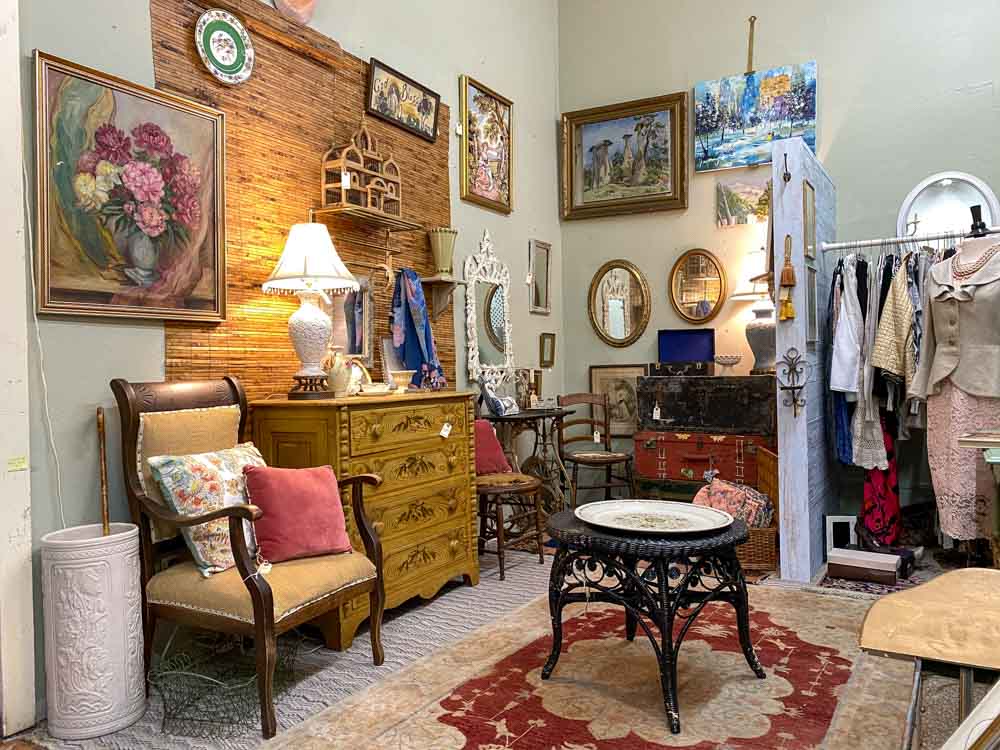 5. Go Antiquing
For such a small town, Cayucos is fairly busting with antique stores. Well…they have three anyway. These stores go beyond the normal dusty kitchen gadgets from Grandma's house.
Troll around and you'll also find a well-curated selection of gently used clothing and small galleries featuring jewelry and other locally made crafts. You can also find some old farm implements that you can repurpose in your garden and get some cute beachy signage.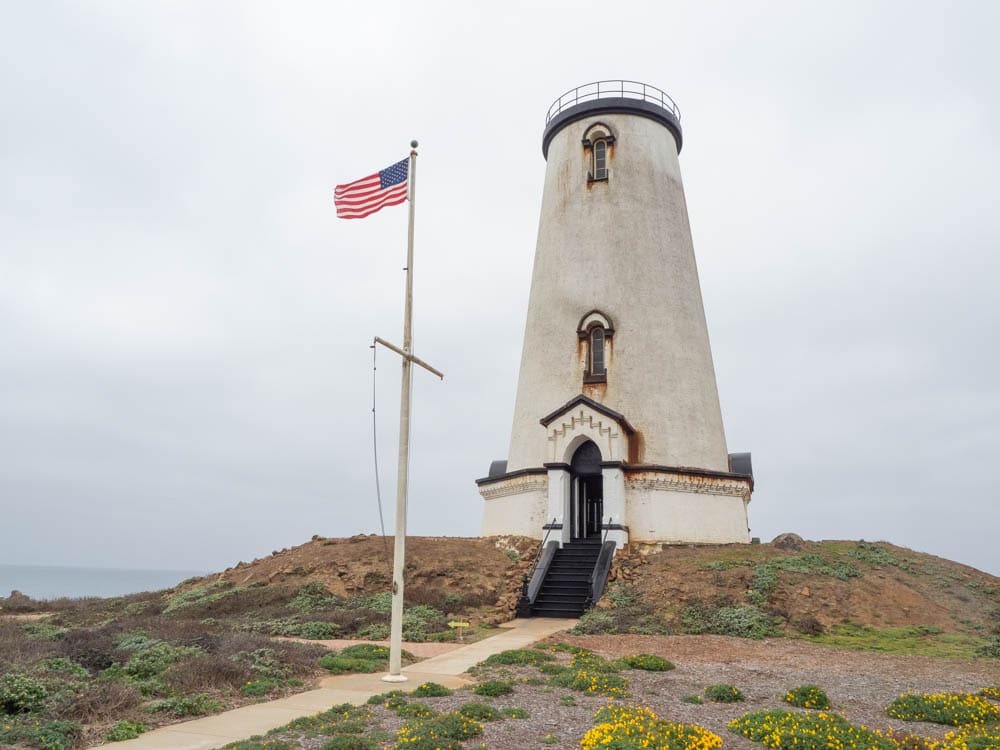 6. Tour the Piedras Blancas Light Station (+ Elephant Seals!)
This excursion gets you out of town. Head up the coast 30 miles to visit the Piedras Blancas Light Station. This light station is a national monument and has been in continuous use since 1875. The site is named for the "white rock" which sits just offshore of the short peninsula. It's so named not for any particular geology, but for the birds who continuously crap on it. Although, some of those nesting birds are the threatened Peregrine Falcon, so that's cool.
The site has well-preserved grounds and lightkeeper housing. You can't simply drive up to the lighthouse and wander around. You must take a scheduled tour. Use our guide to get more info and tour booking details for Piedras Blancas Light Station.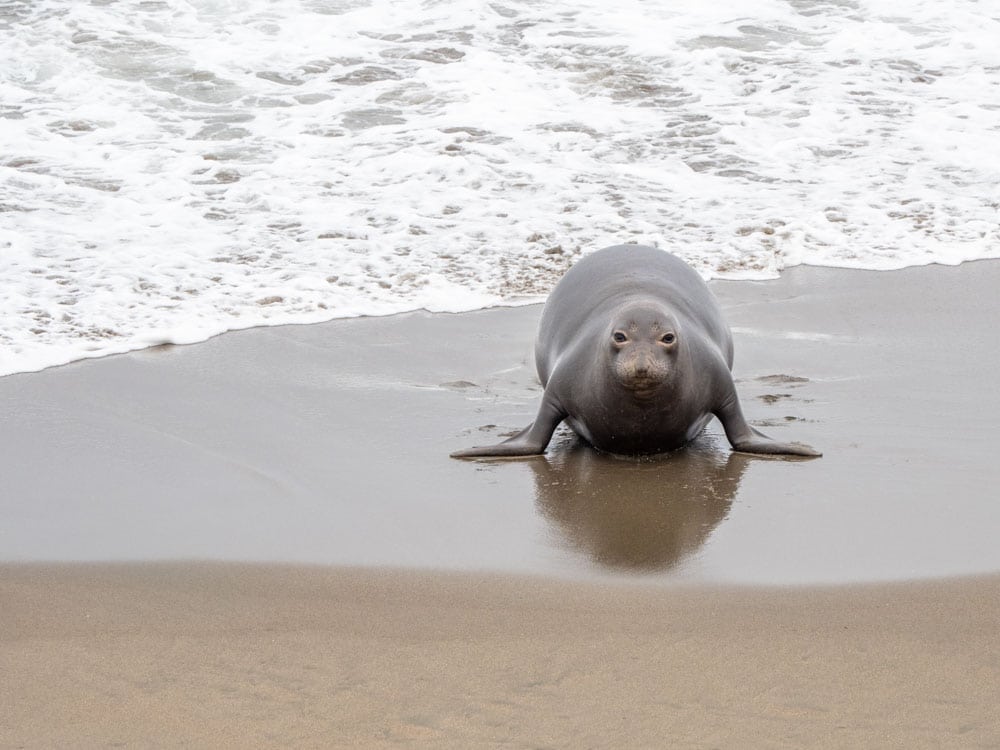 After your tour (or even if you decide not to do the tour), you should definitely stop off at the nearby Piedras Blancas elephant seal rookery. Unlike migratory whales, the elephant seals can always be spotted at Piedras Blancas. The males, females and pups come and go throughout the year according to various lifecycles that include: mating, birthing, molting and resting. The pic above was taken in April and features a molting female.
There is a ~1 mile long pathway that runs north-south of the parking lot, with plenty of opportunities to observe the seals. If you want to get jazzed for your visit, you can watch the live elephant seal cam.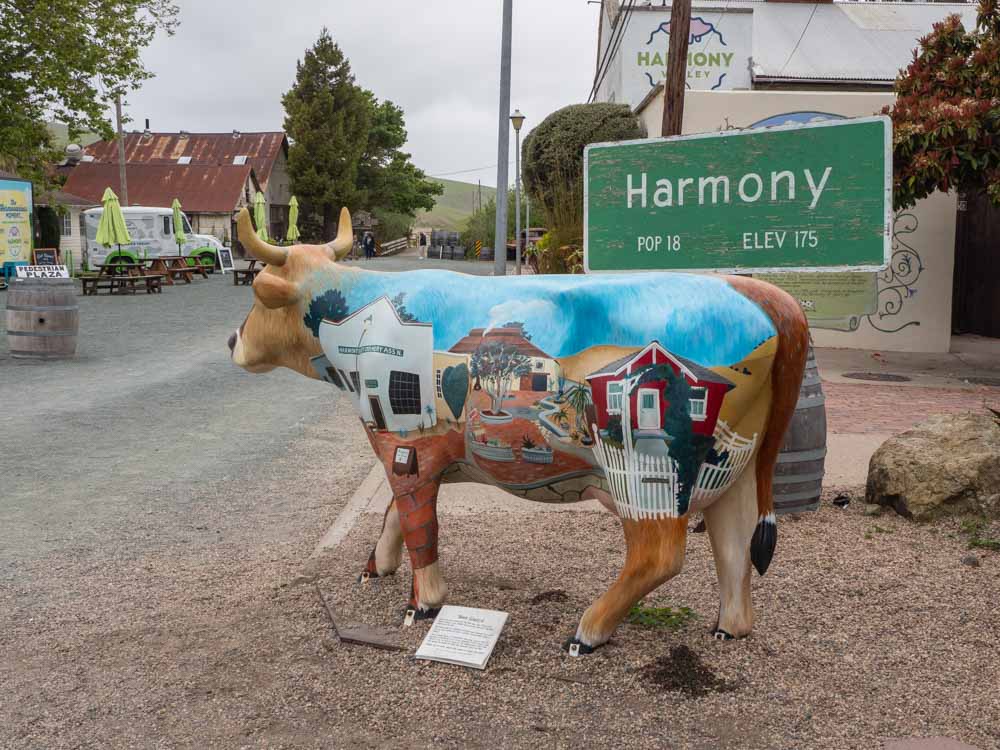 7. Hang Out in Harmony
This town's name alone qualified it for our list of hippie towns in California– but there's more to the story than that. Harmony got its start as part of that dairy boom in the mid to late 1800's and was prosperous until the dairy was shut down in 1955. There was a resurgence in the 1970's when counter-culture types moved in seeking a slower pace of life and a place to practice traditional crafts.
The whole town was sold in 2014, but it still houses a small population of artisans making and selling art objects, locally hand blown glass, and pottery. They also have some hilarious cow sculptures that are definitely worth stopping for. And if you visit on the weekend, you can get some Harmony ice cream. Learn more about the history and find things to do in Harmony.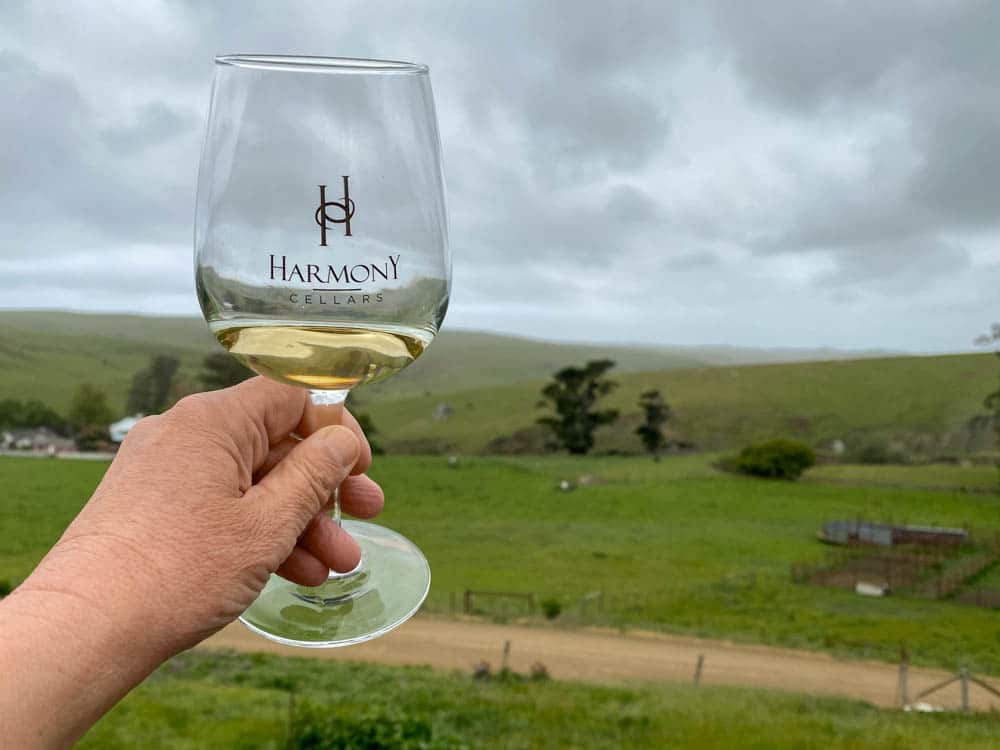 8. Harmony Cellars Wine Tasting
There are tons of wineries in nearby Paso Robles, but not so many along this stretch of coastline. However, if you're feeling parched after your lighthouse and cow sculpture tours, you should definitely stop into Harmony Cellars. It's right up the hill from the town of Harmony. They are committed to producing fine wines at affordable prices (which isn't the case with many Paso wineries).
They source their grapes from around the Central Coast and they make some yummy Zinfandel, Tannat and Petit Sirah. But the real treat is their large outdoor deck, which overlooks pasturelands. They do get busy on the weekends and reservations are recommended.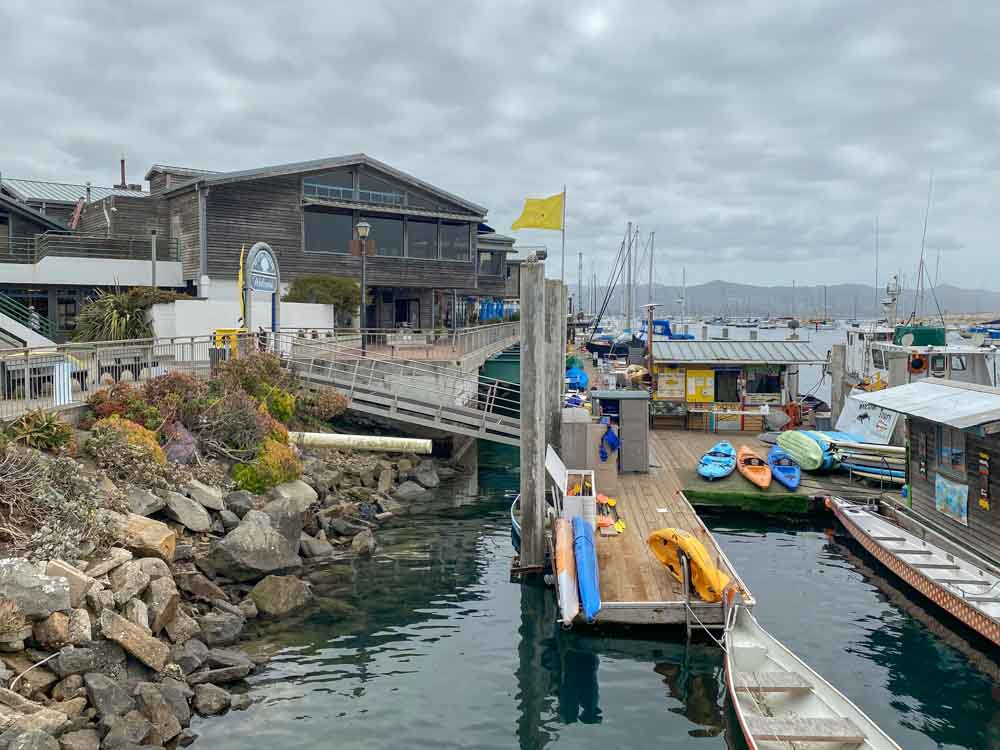 9. Spend an Afternoon in Morro Bay
There's a ton to do in Morro bay and it's actually worth its own weekend getaway. But if you want to get a taste of Morro Bay while visiting Cayucos, consider spending a few hours doing one or two of the following:
Hang out at Morro Strand State Beach. This long, sandy beach is great for a stroll or just chilling out and you can see the cool Morro Bay rock from the beach.
Stroll around the Embarcadero. This downtown area is a bit kitschy (think- saltwater taffy) but it's still fun to stroll the shops. If you are thirsty, stop into the Libertine pub for a beer– they specialize in sours.
Rent a kayak and go out into the harbor. the water along California's central coast can be quite rough. But Morro Bay's harbor is large, gentle and populated with adorable sea otters. There are three watersports rental companies spread along the harbor area.
Take a hike in the Elfin Forest. No, elves don't live there. But pygmy coast oaks do live there. This little nature reserve south of town has some lovely views of Morro Bay and a contemplative dog-friendly nature trail.
10. Take the Slow Road to Paso
Whether you are headed home via Highway 101, or just moving the party to Paso for some wine tasting, you should definitely take the slow road. Google will tell you to go north from Cayucos, over Highway 42 and into Paso. Which is fine. But taking the Old Creek Road is more fine.
This scenic winding road heads northeast through oak forest and pasturelands, skirting the Whale Rock Reservoir. It will only take you an extra 25 minutes to do this routing, and the views are worth it. The road is narrow and we don't recommend tackling it if you have an extra large RV or trailer, but everyone else should be fine.
We've got a whole guide for things to do in Paso Robles, which also feature more backroads explorations.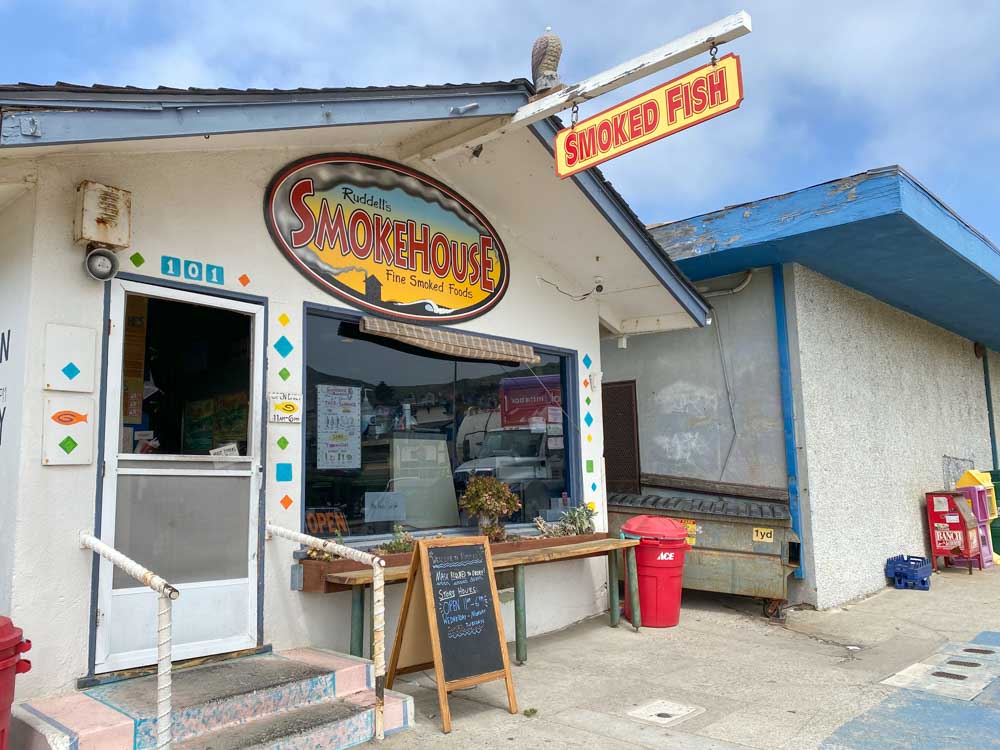 Where to Eat in Cayucos
For breakfast, try The Hidden Kitchen. They are a gluten-free restaurant offering smoothies and yummy waffles made from blue corn.
For lunch, you have to eat at Ruddell's Smokehouse. Partly this is because they are only open for lunch. But also because Ruddell's has the best barbeque on the central coast, offering both fish and chicken in addition to the usual beef and pork.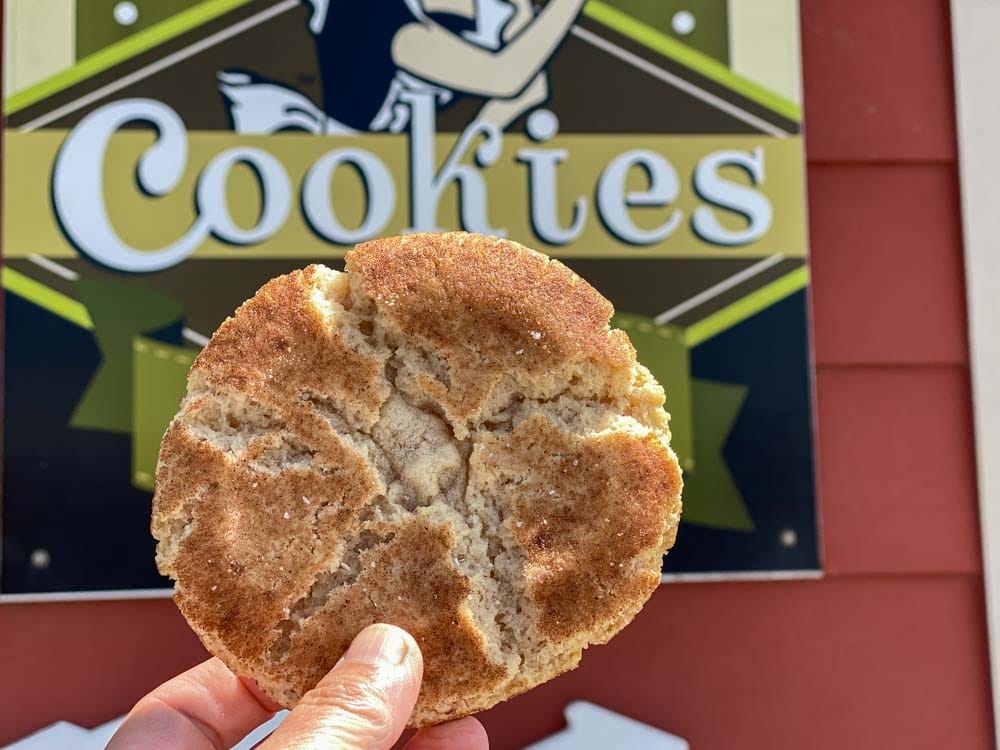 For your mid-afternoon snack, be sure to stop into the Brown Butter Cookie Company. They offer both standard sugar cookies and also extra large chewy cookies (which are the best!) Pay attention to the menu because they offer interesting seasonal flavors. They do a large shipping operation at the store, so you can also send Brown Butter cookies as a gift to your friends and family.
For dinner, it's worth going to the Lunada Garden Bistro, if only for their lovely garden patio. They have a wide ranging New American menu and the seafood pasta dishes are popular.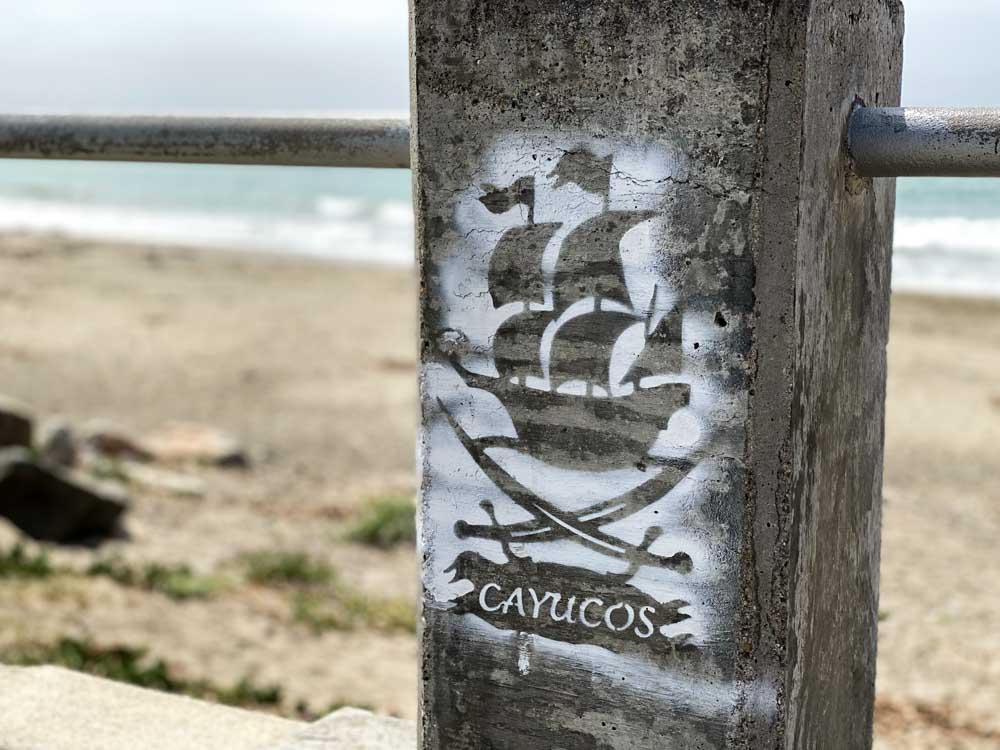 More Things to do in Coastal California
Plan your next weekend getaway in one of these awesome coastal towns
Share these things to do in Cayucos with your friends on Pinterest: