California's gold rush boom in the 1850's set off a frenzy of mining unlike any that the US had ever seen. And not only was there gold in them thar hills, but also silver, copper, lead, borax and zinc. Many such mines sprang up in the dry, southern reaches of Eastern California in what is now the area around Death Valley National Park. This region isn't called Death Valley for nothing, so when the boom started to wane, Death Valley's formidable landscape and unforgiving climate gave little reason for the mining towns to consider prospering. And the long slow slide began.
As a result, you'll find quite a few ghost towns in Death Valley…and in the adjacent region. We're recommending eight of them that are worth adding to your Death Valley trip. All but three of the ghost towns are easily visited with a normal car and you have choices whether you are coming in from LA, the Highway 395 corridor or Nevada.
(This article contains affiliate links. This means that if you choose to purchase, I'll make a small commission.)
Plan Your Death Valley Trip
We a veritable gold mine of resources to help you plan a trip to Death Valley (sorry, but we couldn't resist the pun). Start with our Death Valley visitor's guide, which includes things to do and practical tips like when to visit and how to get there. Get some fun facts about the national park. Find accommodation using our hotel guide or our camping guide. We also have a two-day itinerary (which includes some of the ghost towns), and a suggested road trip routing from SF (which includes other ghost towns).
Get guides for the popular Golden Canyon and Sidewinder Canyon hikes. Then keep driving to Joshua Tree, using our road trip guide.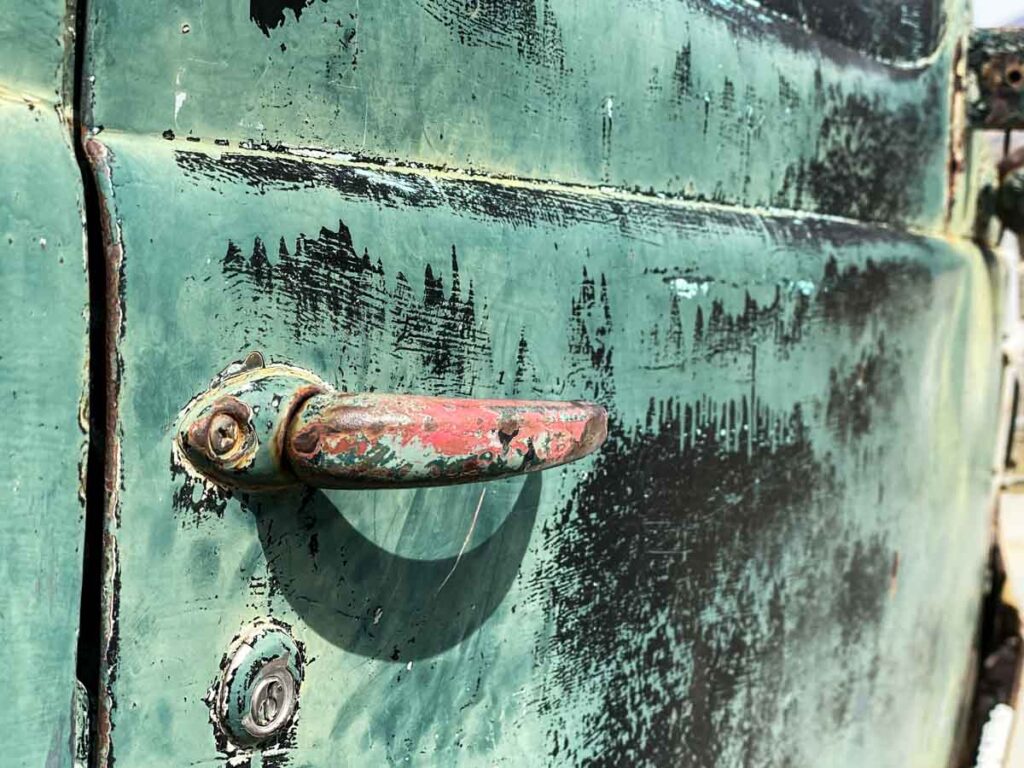 Tips for Visiting Ghost Towns in Death Valley
Keep the gas topped up: While there are several gas stations in Death Valley, the park and surrounding area has a lot of open space and a "middle of nowhere" vibe. So keep the tank gassed up.
Always carry water: It can be very hot in Death Valley, even during the spring and fall. Be sure to pack plenty of water, both in the car and on your hikes.
Take an old school map: Death Valley has notoriously poor mobile reception, so you may not be able to count on Google maps to help you find some of these locations. We are huge fans of the California Road & Recreation Atlas. It's super detailed, showing both paved and dirt roads and recreational areas.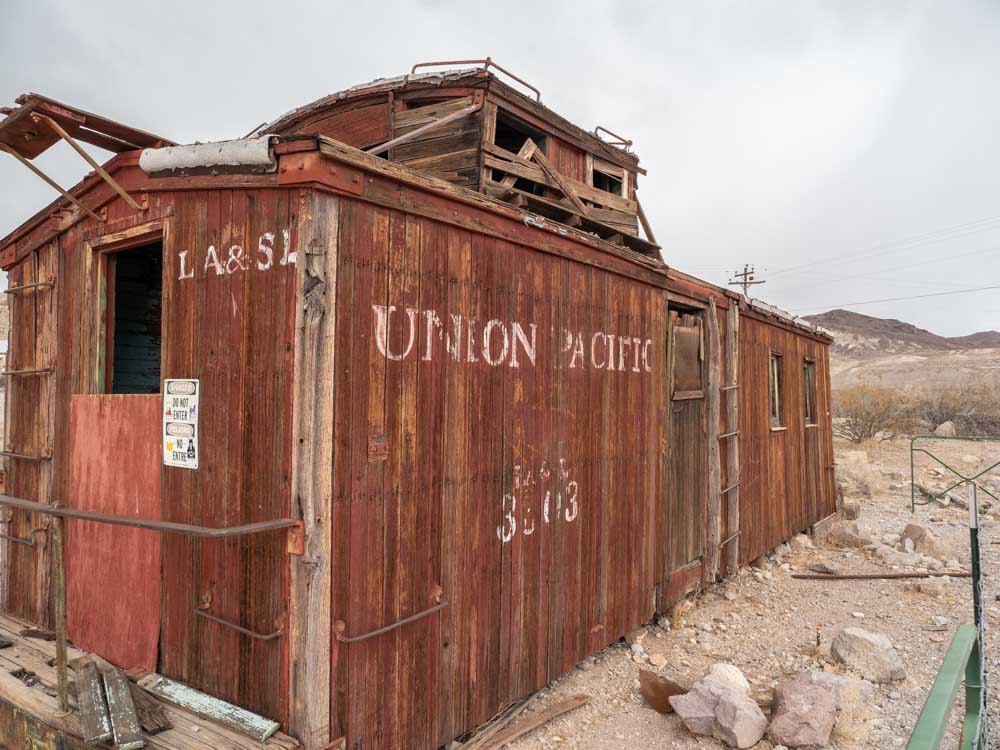 Rhyolite Ghost Town
Rhyolite was a grand boomtown. In its glory days, it had a public bathhouse, 50 saloons, and 19 lodging houses. Starting as a small mining camp in 1905, the town's population grew to 5,000 miners in just a half a year. Charles M. Schwab's attention elevated the town, bringing in water mains, electricity, telegraph, and telephone lines. Unfortunately, the ore diminished, leading first to mine closures and then the closure of the town's related businesses. They cut power to the town in 1914, forcing most of its inhabitants out.
Some of Rhyolite's remaining attractions are:
The Tom Kelly bottle house, which is the largest and oldest bottle house in the US.
The Goldwell open-air museum.
Remains of the old bank, jail and train depot.
Getting to Rhyolite: Rhyolite is 4 miles west of Beatty, Nevada and and 1.5 hours northeast of Death Valley's main activities. Here's our full guide to Rhyolite, which has more history on the site and a bunch of pics.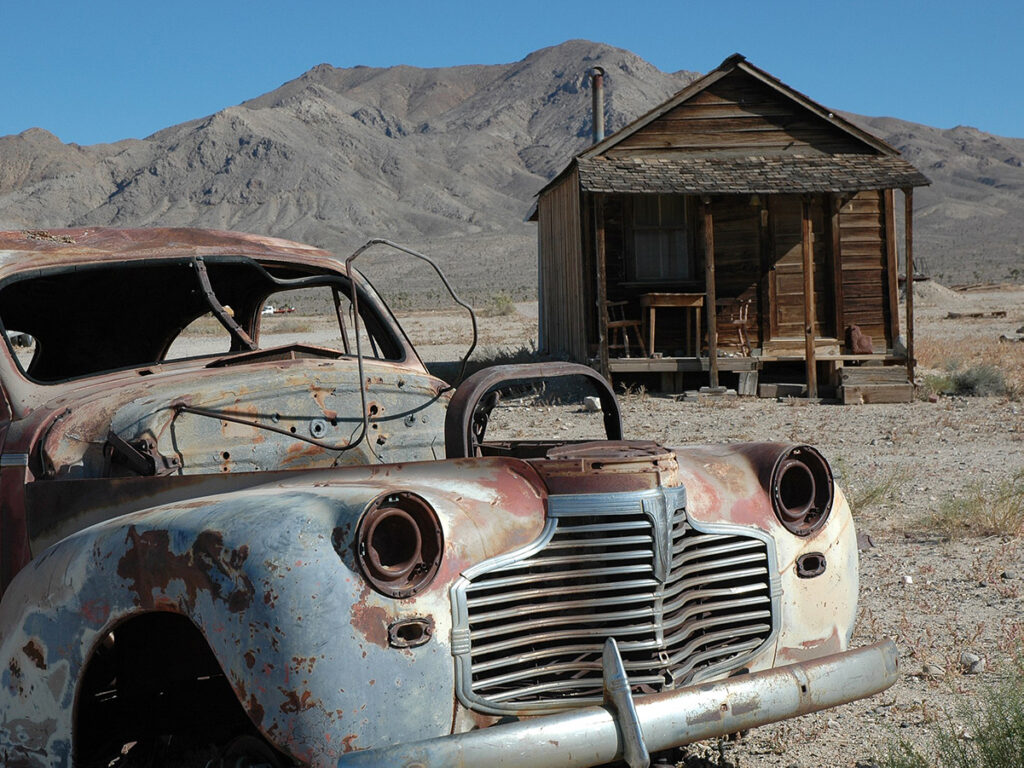 Gold Point
Gold Point is a ghost town with a resurrection story. It was founded in the early 1860's as a silver mining camp. Things tootled along until the 1920's, when gold was found there. The population topped out at 2,000 and the town supported many saloons, hotels and stores. And then came the inevitable decline.
In the late 1970's two friends came to town and decided to do what they could to save Gold Point. They began purchasing buildings and worked with the few remaining townspeople to shore up the buildings.
Things to do there:
How to Get to Gold Point: The town is a great stop if you are entering Death Valley from Nevada and also want to visit Rhyolite via Beatty, NV. The town is one hour north west of Beatty.
Chloride City
Like Panamint City (noted below), Chloride City is another Death Valley ghost town that's located within the park borders. But it's somewhat tricky to get to. Silver ore was found in Chloride in 1871. But the difficult location meant that it never really boomed like other sites, and calling it a "city" is generous. But mining came and went into the early 1900's before the formidable location meant the the city started melting in to the landscape.
Things to see include:
Old cars.
Building ruins.
Mine entrances.
Getting to Chloride City: This 17 mile dirt road requires 4×4 and clearance. Going east on the Daylight Pass Road toward Beatty, look for the small sign 3.6 miles east of the Hells Gate rest stop (which also has park signage). Then head south and up.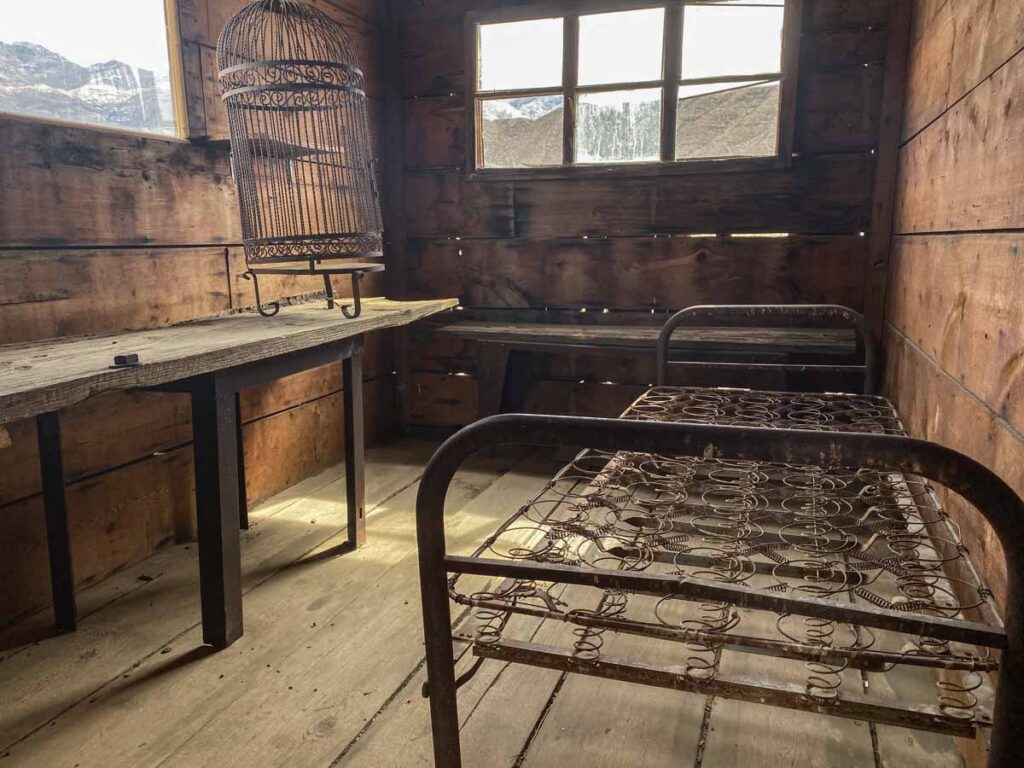 Ballarat
Ballarat is a little boomtown in the Mojave Desert's Panamint Valley, at the western edge of Death Valley National Park. Ballarat rose at the tail end of the 19th-century mining rush of 1896. It was a mining supply station and a source for whisky and water, both being in scarce supply in this very dry desert. At its peak in 1897, the town was home to 500 people and had a post office, morgue, and a jail. As the lodes dried up, the post office shut down in 1917, ending the town's heyday.
You can simply wander around visiting the old buildings, trucks and farm equipment There's also a small store with some historic artifacts and explanatory signage. A donation is requested.
An old graveyard and the grave of one of the last of the Rainbow Seekers– Seldom Seen Slim.
The general store run by the ghost town's lone resident and dog.
Charles Manson's old truck.
Getting to Ballarat: It's located 40 minutes directly south of Panamint Springs and an hour west of Stovepipe Wells. It's about an hour south of Darwin and you can do both in one shot. Along the way, don't be surprised if you're bombarded by a herd of feral mules. They were cut loose by the miners and now live off the land. They like carrots, should you feel so inclined.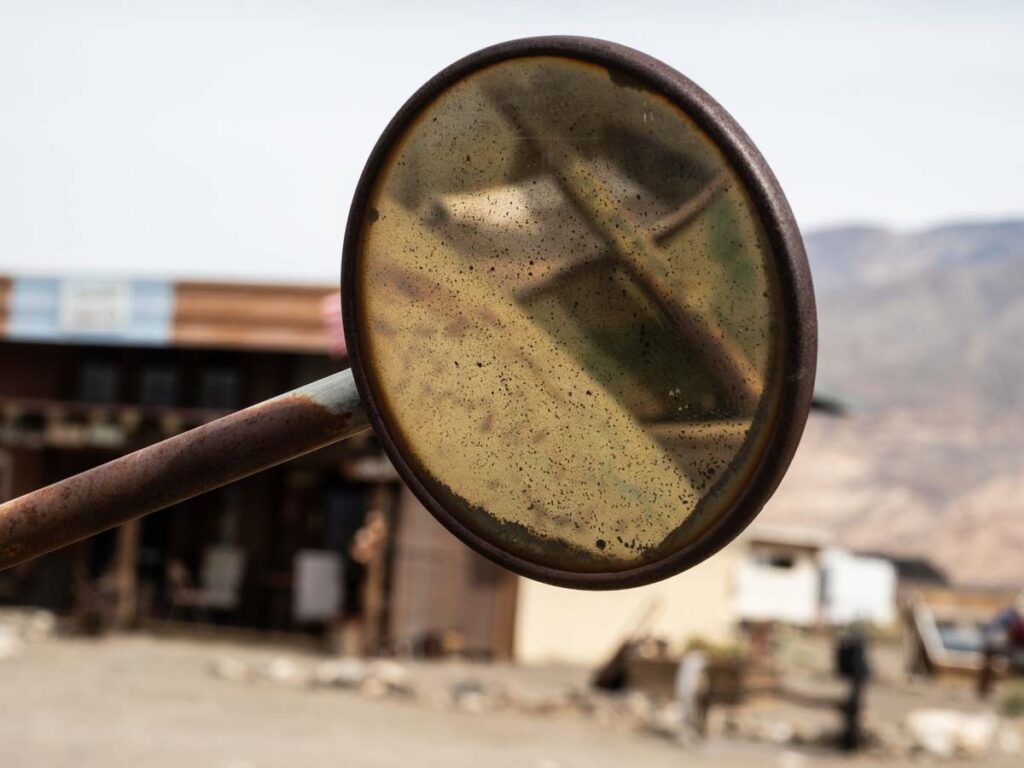 Panamint City
The Panamint City ghost town is located near(ish) Ballarat, but within the confines of the Death Valley National Park borders. This area is remote, even by intrepid 1800's standards. And the area was a magnet for bandits. The town started booming when silver and copper were found there in 1872. Nevada Senator John P. Jones rushed in to buy up claims. But it was a very risky endeavor, given the remote location and difficult terrain. The frenzy peaked in 1874 with 2,000 miners but by 1876 a steep decline began.
Things to see include:
A smokestack.
Miner cabins.
Mining equipment.
Getting to Panamint City: Visiting this Death Valley ghost town is only available on foot and not for the feint hearted. The trailhead parking is 6 miles north of Ballarat. The trail itself is a difficult 12.6 mile out and back with nearly 4,000 feet of elevation gain. Only attempt this hike if you are an experienced backcountry hiker.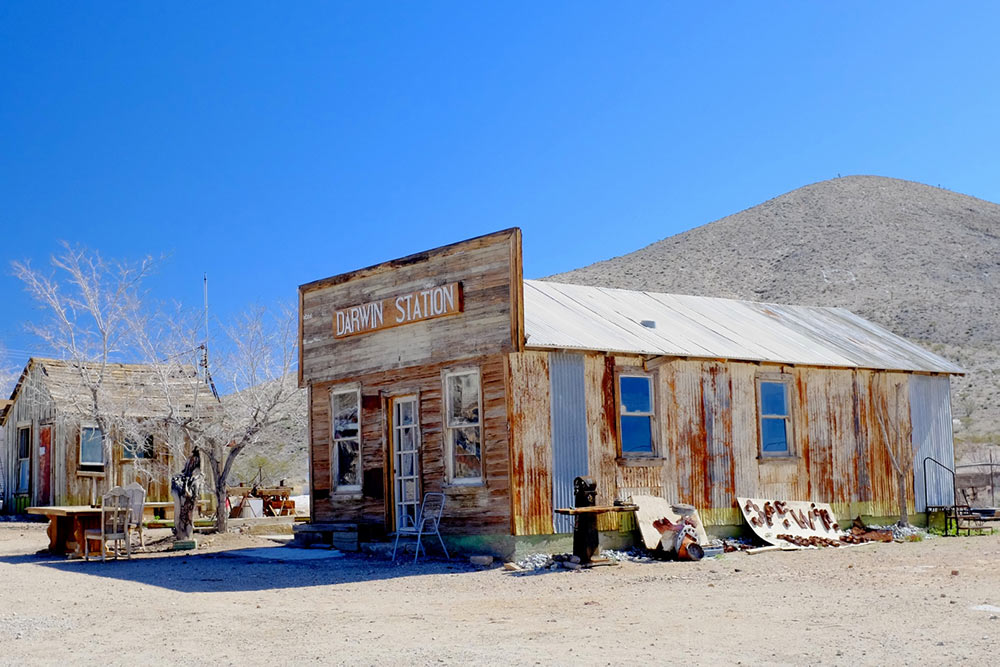 Darwin
Darwin is a "kind of" ghost town located outside the western reaches of Death Valley National Park. The town borrows its name from Darwin French, a prospector who visited the area in 1850. The adjacent canyon and falls north of town are also named after him. The first settlement in Darwin came up in 1874, in the wake of lead and silver mining in the region. The post office opened in 1875 and, but for a brief closure, it's been open ever since.
The town remained operational because of the Eichbaum Toll Road, which provided western access into the national park. But the town became isolated in 1933 when Death Valley was designated a national monument. When a a new, free bypass into the park was created, the town inevitably declined.
According to the 2020 census Darwin still has 36 residents. This isn't a zoo, and the residents own private property, so please be considerate while wandering around.
Things to see include:
Old buildings from its mining heyday.
Folk art stores and open air museum.
Post Office, which is open 10a-2p Monday-Saturday.
Getting to Darwin: It's located 30 minutes west and south of Panamint Springs.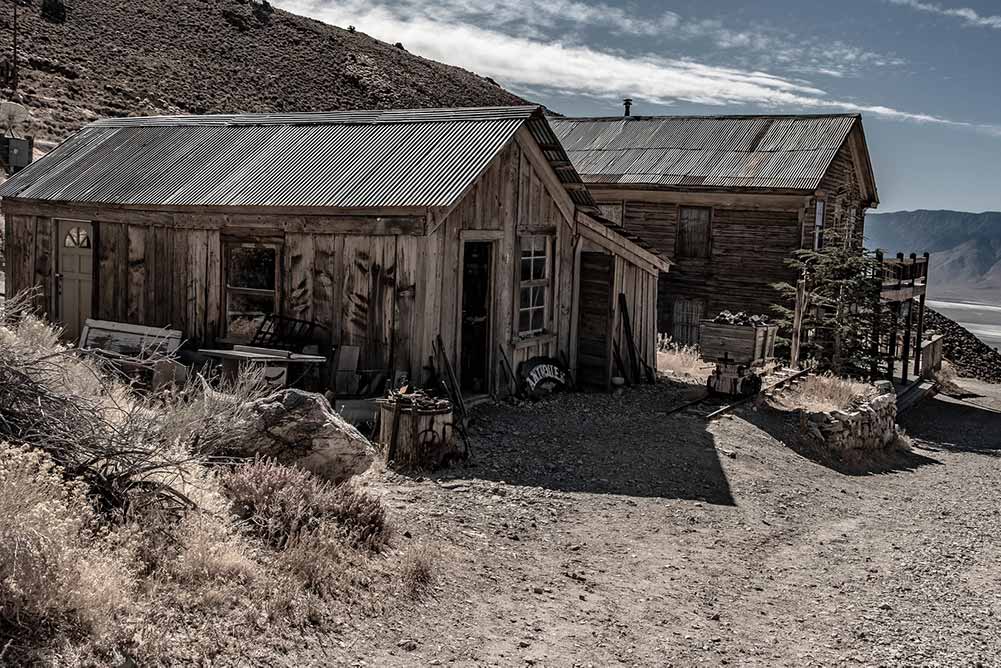 Cerro Gordo
Cerro Gordo, Spanish for 'fat hill' is one of the most authentic mining ghost towns near Death Valley. And while it's not in Death Valley proper, it's worth a stop if your trip also includes time driving the Highway 395 corridor.
Cerro Gordo was the first major silver strike in Owens Valley. Its roots date back to 1865 when Pablo Flores set up a silver ore mining and smelting point at Buena Vista peak. By 1867, more miners began flocking to the area. Some businesses were established and in 1868, a proper road was built to the remote area. This enabled mule-team wagon trains to transport more of the ore to Los Angeles.
At its peak, 1,500 people filled the camp and it developed a reputation for lawlessness. However, like the other towns listed here, the mine's production and profitability ultimately fell, and by 1920, Cerro Gordo had only ten miners remaining. The site is now a privately owned 336 acre ghost town. The entrance fee is $10. The town is open 9am-5pm Monday-Sunday. They are open all year, but the road may be impassable during winter storms.
Things to see in Cerro Gordo include:
Authentic feel of a 19th-century mining town tour.
Hoist House and Assay Office experience.
The area's photographic scenery.
Getting to Cerro Gordo: Located 41 miles southeast of Lone Pine off of Highway 395. Getting there requires going up an 8-mile dirt road which is steep in sections, topping out at 8,500′. They advise a 4×4 car or at least some clearance.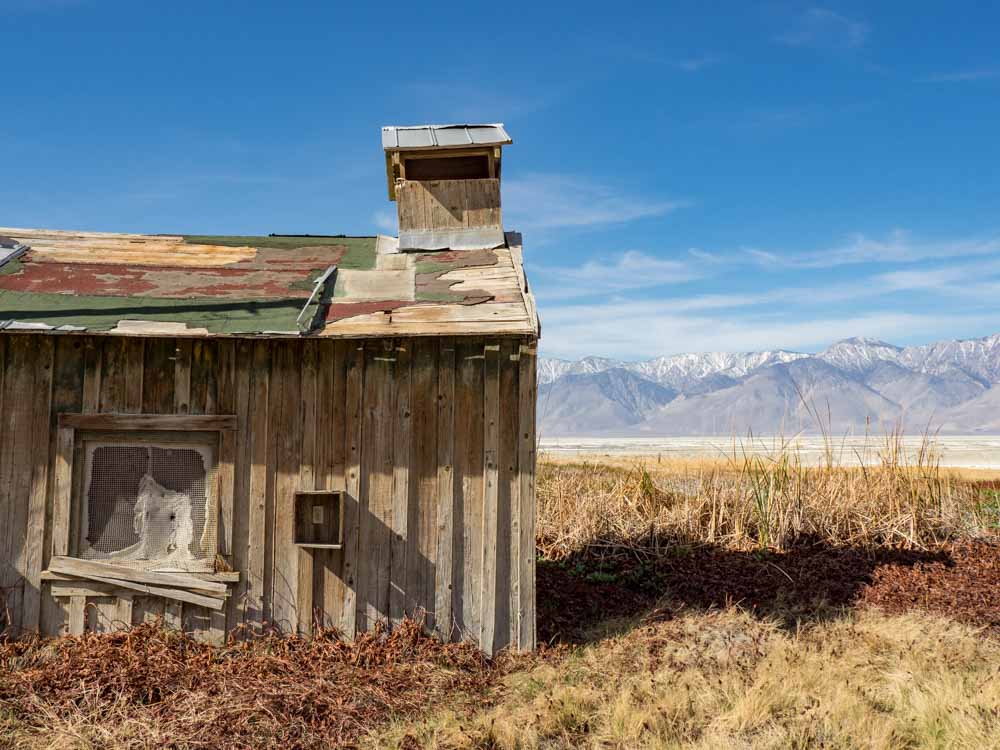 Keeler
If you are getting to Death Valley from the Highway 395 corridor, you drive in right past Keeler and it's definitely worth a quick stop. The town is one of two 'almost' ghost towns near Death Valley, with a human population of 71 and a sad number of abandoned buildings.
Keeler grew on the shores of Owens Lake in the 1870s as a freight terminal. By 1880, a mill was build to process ore from the Cerro Gordo mines and a rail spur was laid to help move the ore. Keeler went through several highs and lows because it was tied to Cerro Gordo's fortunes. As noted above, Cerro Gordo ultimately Cerro dried up and then the nearby lake dried up as well, which killed the town and drove away most of the residents.
That said, there are still people living there, so please respect that when you wander the town.
Things to see in Keeler include:
The old post office, operational since 1883.
The Owens Lake Silver Company furnace, a historical landmark.
Keeler cemetery, the old train depot and other mining buildings.
Getting to Keeler: It's located 15 miles south of Lone Pine, on the western road into Panamint Springs and Death Valley.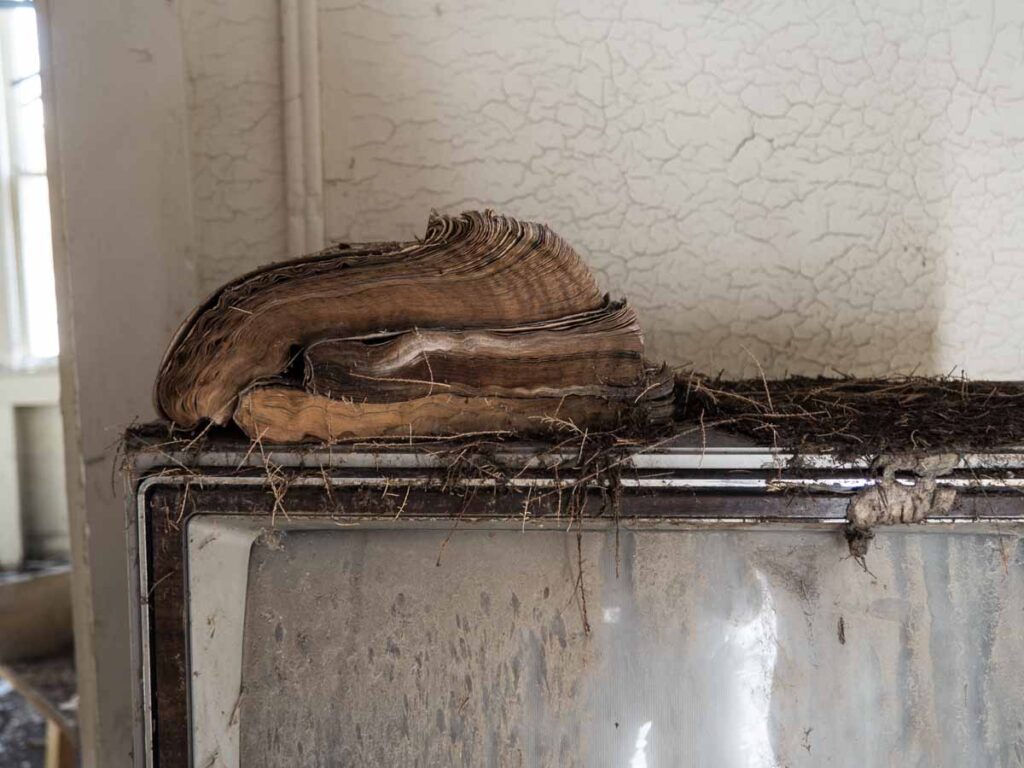 Other Things to Do in the Area
If you are getting to Death Valley via the Eastern Sierra, be sure to use our Highway 395 road trip itinerary to find some key stops. We've also got guides for things to do in both Lone Pine and Bishop.
If you are also including Joshua Tree in the trip, we have a whole guide for the national park. We've also got a list of the best Joshua Tree hikes, a campground guide, advice on how to spend a day in the park, and things to do in nearby Joshua Tree town.
Share these ghost towns in Death Valley with your friends: