If you've only got one day in Joshua Tree National park, you'll want to plan carefully, because there are plenty of awesome things to do there. This insanely thorough guide will help you how to prioritize your time in Joshua Tree. We've also got a guide that includes a full Joshua Tree FAQ with planning tips.
As someone who grew up in Utah, I have a deep fondness for the desert. What looks to others like a dry forbidding landscape, appears to me as a resilient garden. I have a respect for an ecosystem that can support so much hidden wildlife on so little water. It's for that reason that I've been to Joshua Tree National Park several times, most recently for just a day trip.
I was in the area to check out out some quirky artsy things to do in Joshua Tree town, and also did a counter-culture excursion to nearby Slab City and sandwiched in between the two are 792,000 acres of national park worth exploring.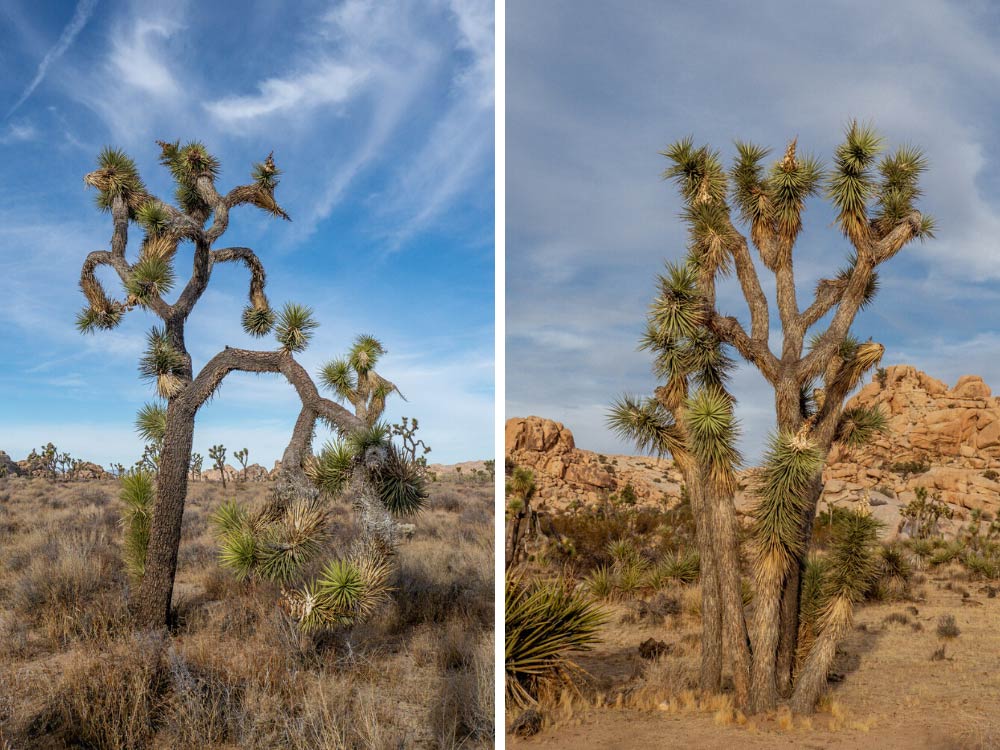 5 Cool Facts about Joshua Tree National Park
Joshua Tree is part of two different desert systems. The northwestern half of the park is part of the Mojave (which also includes Las Vegas and Death Valley National Park. The southeastern section of the park is part of the Colorado Desert, (which also includes Mexicali, the Salton Sea and Lake Havasu.)
At the urging of Minerva Hoyt (who loved the desert even more than I do), Joshua Tree became a National Monument in 1936, but it didn't become a National Park until 1994.
There are 57 mammal species living in the park. In fact, I saw three coyotes in just one day in Joshua Tree. If ever there was a species destined for a resilient garden, it's the coyote.
In the early 1900's, the park used to get as much as 10 inches of rainfall per year. Now it gets 2-5 inches. The reduced water is stressing the Joshua Tree's ability to reproduce.
Nearly 3 million people visit the park every year, which is why you should plan your visit carefully.
Read More: Check out this article, which has even more cool Joshua Tree facts.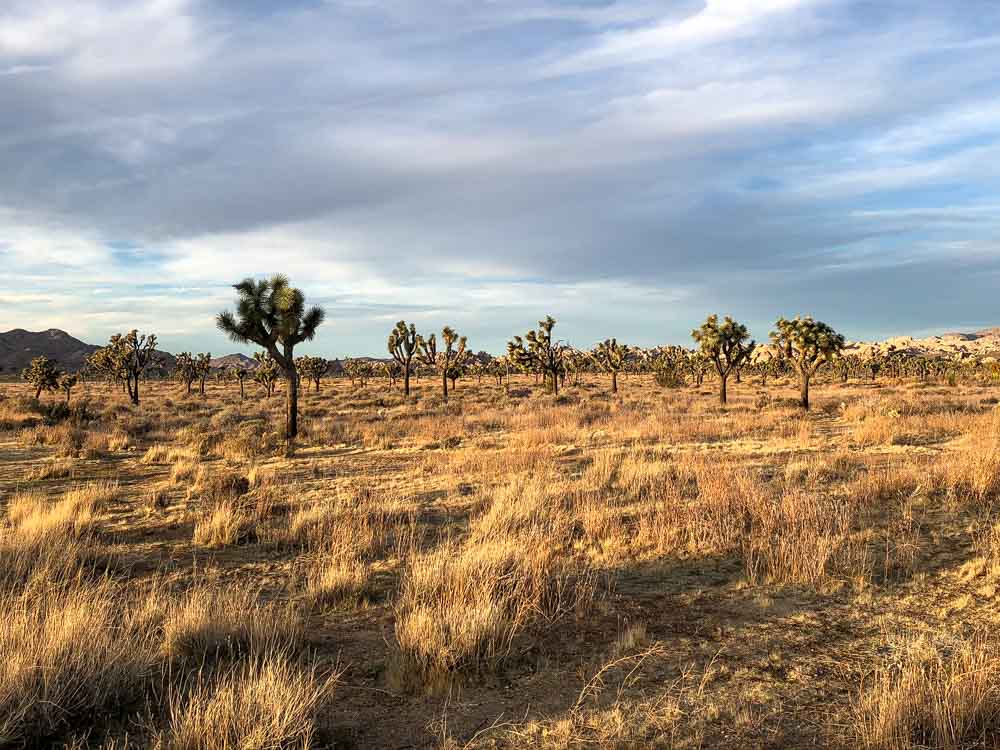 Top Tips for Your One Day in Joshua Tree
What are Joshua Tree National Park Prices?
A seven day vehicle permit is $30. For $80, you can get an annual national park pass, which is worth it if you are also planning to visit Death Valley, Yosemite or other national parks in California.
When is Joshua Tree Open?
Joshua Tree is always open. The visitor centers are open from 8am-5pm, but the park gates are always open. This means that you can go in and out at any time.
How Do I Beat the Crowds in Joshua Tree?
There are two ways to do this: go early and stay late OR visit during off days.
The going early and stay late scenario has you arrive the night before, but in time to stop into the Visitor Center to get maps and some advice. Then, because the park is always open, go into the park very early in the morning. If you haven't yet purchased your pass, don't worry about it. They'll charge you when you leave. If you are doing Joshua tree as a day trip from Palm Springs, LA or Las Vegas, then stop into the Visitor Center when you arrive and plan to stay late inside the park. The crowds die down later in the day, when people go to into town for dinner.
When you go in, do the Barker Dam trail and Hidden Valley loops first, as they are the most popular.
Joshua Tree is a very popular park, so if you can swing it, try going in the middle of the week. Also, there are some shoulder seasons when the park is less busy. Going right after a holiday (such as between Thanksgiving and Christmas) and early January might net you some breathing room.
Is There Cell Service in Joshua Tree
Absolutely not.
Cell service in the park isn't simply bad, it's non-existent. This can be refreshing when you want to commune with nature. But if you are in a group with multiple cars, or have people strung out along a hiking trail, you can't count on texting to communicate with the group. You'll just have to do things the old fashioned way by making a plan and sticking to it.
Are There Secret Trails in the Park?
The park has two types of maps; a slick brochure style map and a newspaper style map. They each have good information on the most popular parts of the park. However, neither map shows all of the trails.
For instance, the Arch Rock trail (noted below), is missing from both maps.
If you are interested in getting off the tourist trail and exploring something out of the way, then ask for suggestions at the Visitor Center. Also, the All Trails app and website do a better job of listing all of the trails, and you can use the app without a data connection. Be sure to check out this guide for the 10 best hikes in Joshua Tree.
What Kinds of Services are Available in Joshua Tree?
Services within the park are very limited. There are parking lots, pull-outs, toilets and picnic tables sprinkled throughout the park. However, there are no cafes or souvenir shopping in the park proper. Bring in enough food, snacks, water and more snacks to last for your entire day in Joshua Tree.
When is the Best Time to Visit Joshua Tree National Park?
DO NOT GO in the summer, it's just too blazing hot.
Between June and September, the average high temperature runs between 91-99′ F (33-37′ C). Some of the park trails and campgrounds aren't even open in the summer. Any other time of year is better, and Mar/Apr and Oct/Nov are delightful.
Can You Rent Cabins in Joshua Tree?
You can't rent cabins in the park proper. They do have over 400 camp spots, but not structures for rent. But there are a lot of Airbnbs for rent around Joshua Tree and Yucca Valley. Check out this list of cute and quirky Joshua Tree cabin rentals or this additional list of Joshua Tree glamping trailers, RVs and tents. Or use this guide for camping in Joshua Tree.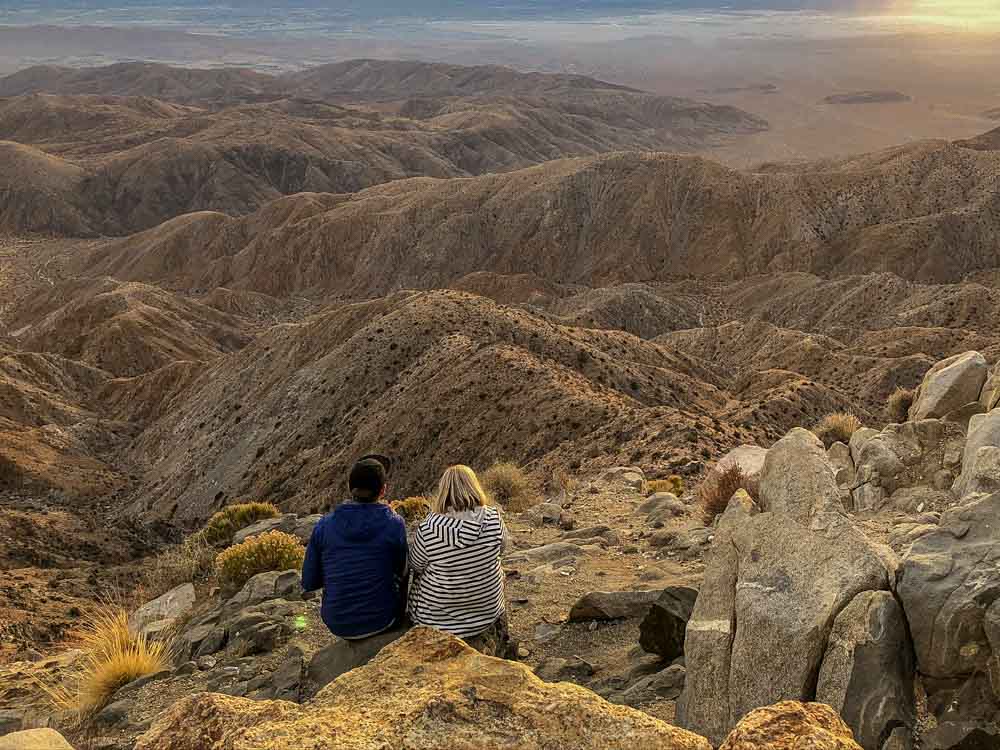 Top Things to Do in Joshua Tree in One Day
This itinerary calls out some of the more popular things to do in Joshua Tree, but it also suggests a few lesser known or off the map options. These ideas will get you out of the car, but not fighting for elbow room with the other park visitors.
If you go during the spring or fall times as I'm suggesting, you'll have about 12 hours of daylight during which to run around the park. The park gate is always open and you can go in any time, so get there early and stay late to optimize your one day Joshua Tree itinerary. You should have time to hit up the top four park sites, with time for one longer hike and at least one additional attraction.
Must See Sights in Joshua Tree
Barker Dam: 1.3 mile nature trail
Skull Rock: 1.7 mile nature trail
Cholla Cactus Garden
Sunset at Key's View
Additional Hikes
Hidden Valley nature trail: 1 mile
Arch Rock trail: 1.2 miles
Wall Street Mill: 2.4 miles
Lost Horse Mine: 4 miles
Additional Attractions
Key's Ranch tour
Queen Valley Road detour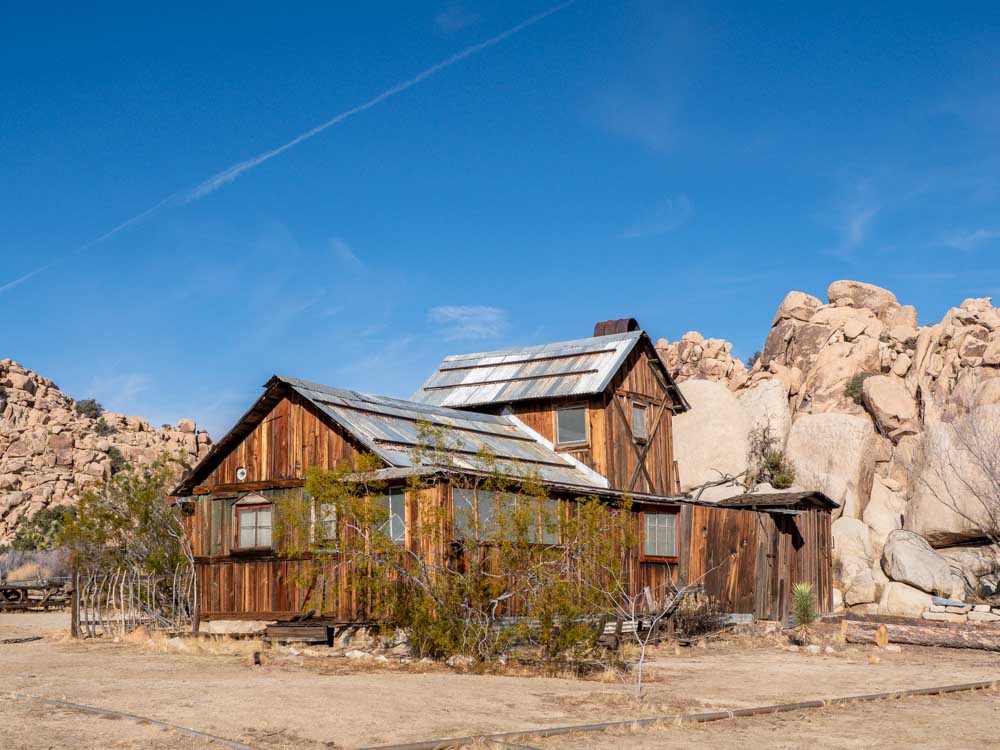 Take the Key's Ranch Tour
The Keys Ranch tour is the best kept secret in the park. The Keys family were the only ones to make a sustainable living in this unforgiving landscape (or rather…resilient garden). William Keys started out running scams at Scotty's Castle, in Death Valley. After doing some time for that, he began working a mining operation in Joshua Tree. When the mine owner went bankrupt, Keys took the equipment as back pay and created his own homestead.
The Keys family was remarkably resourceful, running cattle, designing their own dam and growing crops. They ran their own mine for years and later earned income separating ore for others using a machine of Keys own making.
The Keys were able to scratch out a living in Joshua Tree, partly because they scrounged the equipment left behind by other, less successful pioneers. They held onto everything. Their yard is a museum of homesteading equipment and an art exhibit for jerry-rigged contraptions.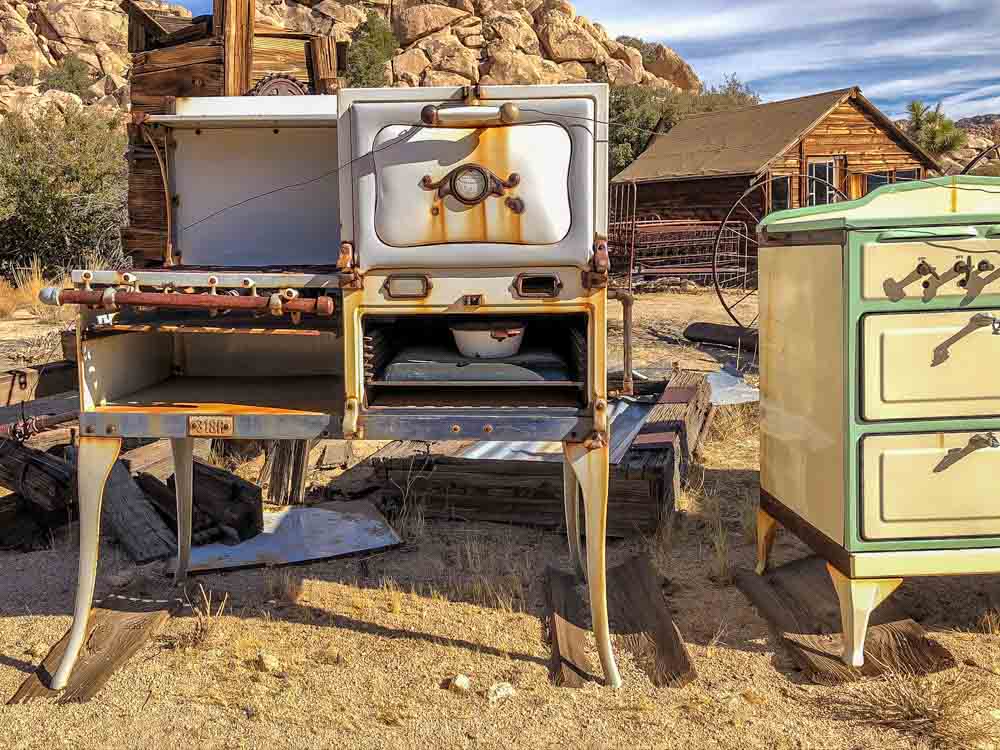 A long simmering feud with another homesteader landed Keys in jail again, this time for murder. He was acquitted on a technicality, but everyone knows he did it. After his death, his family sold the property to the park.
The tour takes 1.5 hours, which will eat into your time since you only have one day in Joshua Tree. But the tour is worth it. You can only get onto the ranch on a ranger-led tour and they only offer 25 tickets per day. So buy the tickets well in advance.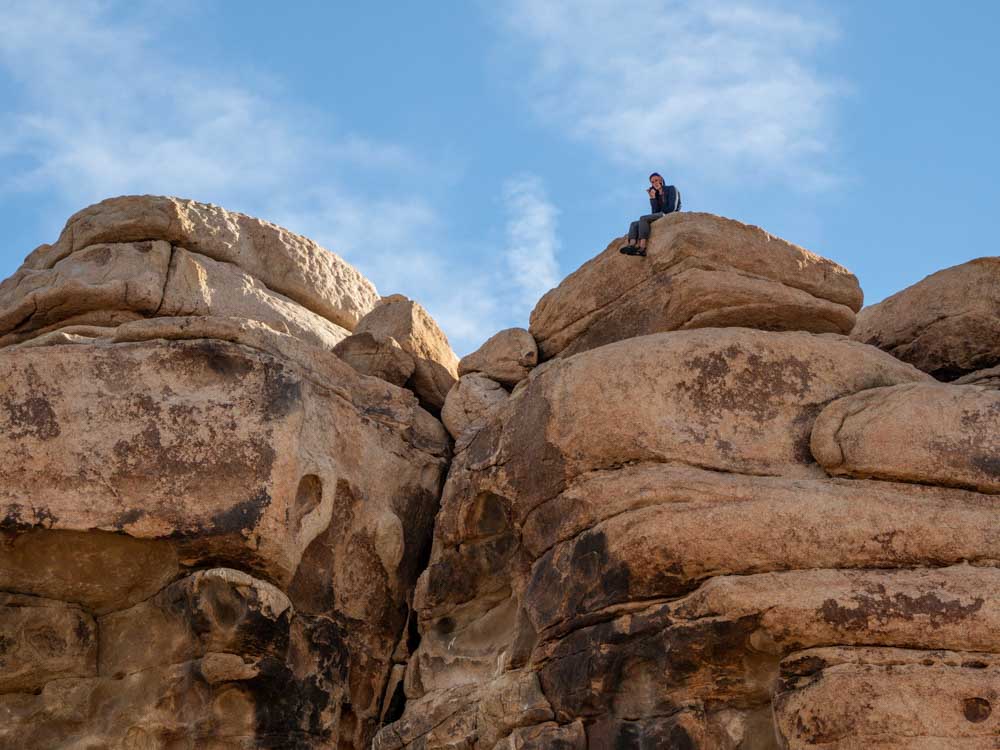 Stroll the Hidden Valley Loop
Hidden Valley is just down the road from Keys Ranch. It was once part of a cattle rustler's hideout, and is now a popular picnic spot and rock-climbing area. You can walk the 1-mile loop trail and also wander the campground area, watching the rock climbers defy gravity.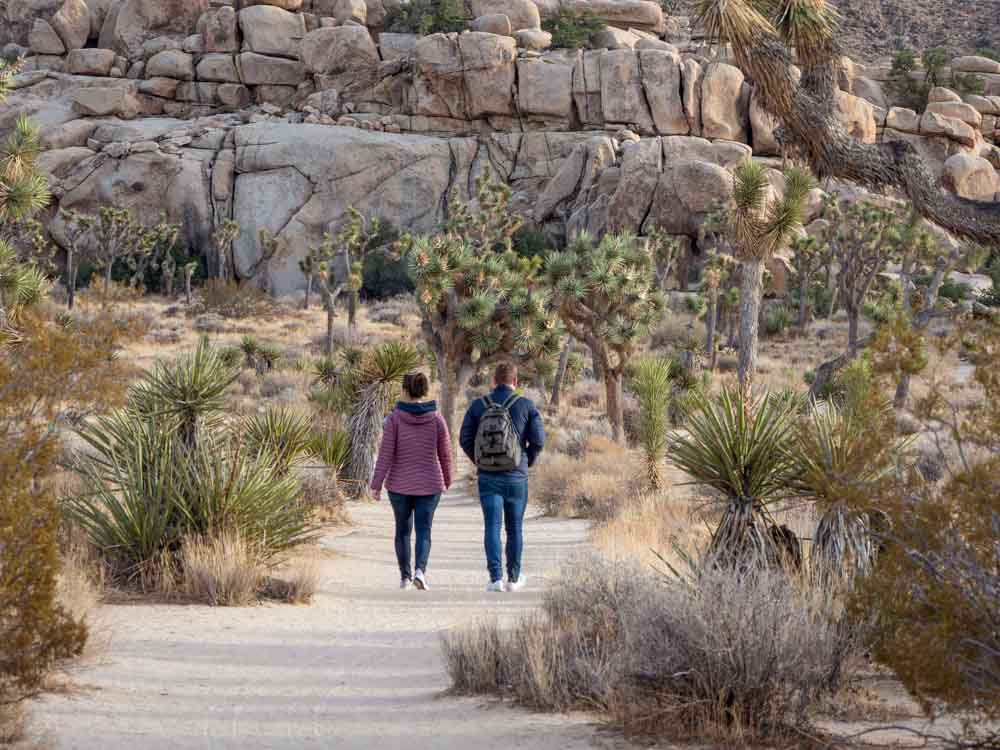 Stroll the Barker Dam Loop
During the late 1800's and early 1900's, cattle ranching was an important part of the region's economic activity. The dam was built to provide year-round water for the cattle. Today, you may or may not see water behind the dam, but when it's there, it attracts the local wildlife.
There is a 1.3 mile interpretive loop that has nature markers and a small spur leading to Native American cave paintings.
Walk the Wall Street Mill
Starting with California's gold rush in 1849 and well into the 1930's, there was gold mining in Joshua Tree. There are quite a few mining and milling sites in the park and it's worth making time for at least one of them. The Wall Street Mill is a great place to start.
This 2.4 mile trail is located right near the Barker Dam loop. The mill was originally owned by Bill Keys and the trail has informative signage, old mill equipment and Joshua Tree's lovely landscape along the way.
Hike the Lost Horse Mine
During its heyday from 1895-1905, this mine produced an astonishing amount of precious metal, netting 10,000 ounces of gold and 16,000 ounces of silver. So, hiking this loop will give you a big dose of Joshua Tree's mining history in addition to the lovely natural landscape views. You can do this trail as a 4 mile out and back, or take the longer 6.8 mile loop trail.
The trailhead is accessed from the Keys View road and you have to travel for a short while on a dirt road, which is graded and accessible for most normal cars.
Drive the Queen Valley Road and Desert Queen Mine Roads
This is a short drive and you can easily make time for it, even though your one day itinerary is tight. The dirt road skirts the busy section of paved road between Barker Dam and Skull Rock. It's well graded and is fine for a passenger car, although I wouldn't do it if the park has been experiencing one of its infrequent rains.
There are a number of well marked trails and dirt road spurs that lead off the road, so it's a nice spot to get out and stretch your legs without having to fight for space with the other cars. Keep an eye out for the signage for the Desert Queen Mine overlook, which is a short .2 mile trail.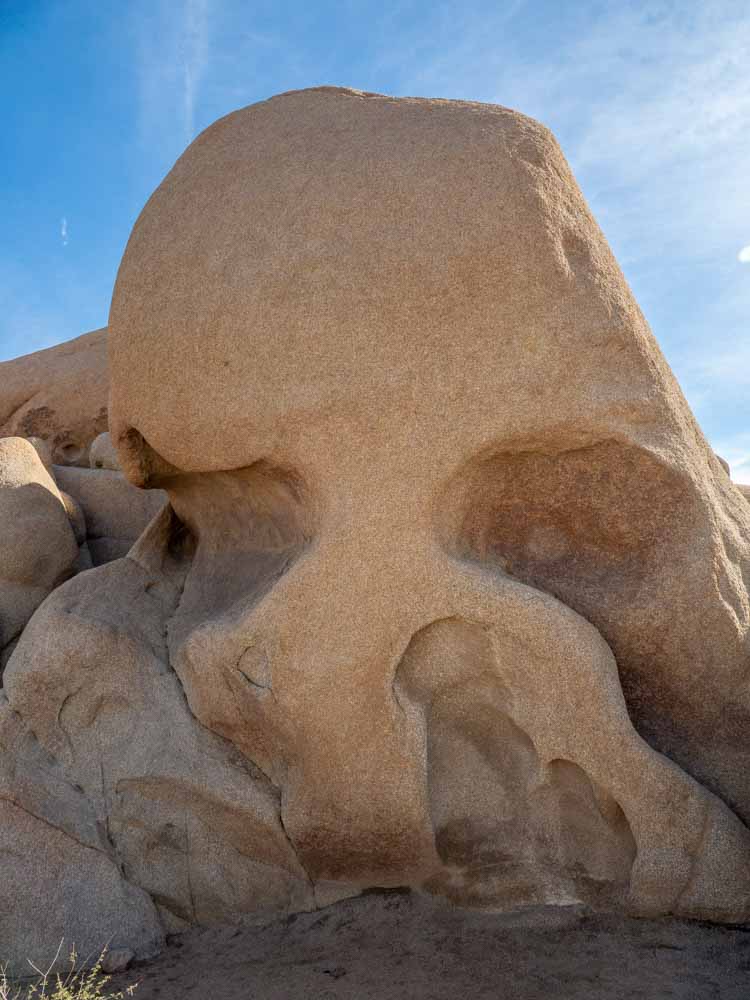 Creep Out at Skull Rock
Do you remember Skeletor from the Masters of the Universe cartoon? Well, he's now made his home in Joshua Tree. This creepy bit of geology is the result of relentless drips of rain, carving your next Halloween mask into the granite. In addition to scaring your children, there's also a 1.4 mile nature trail.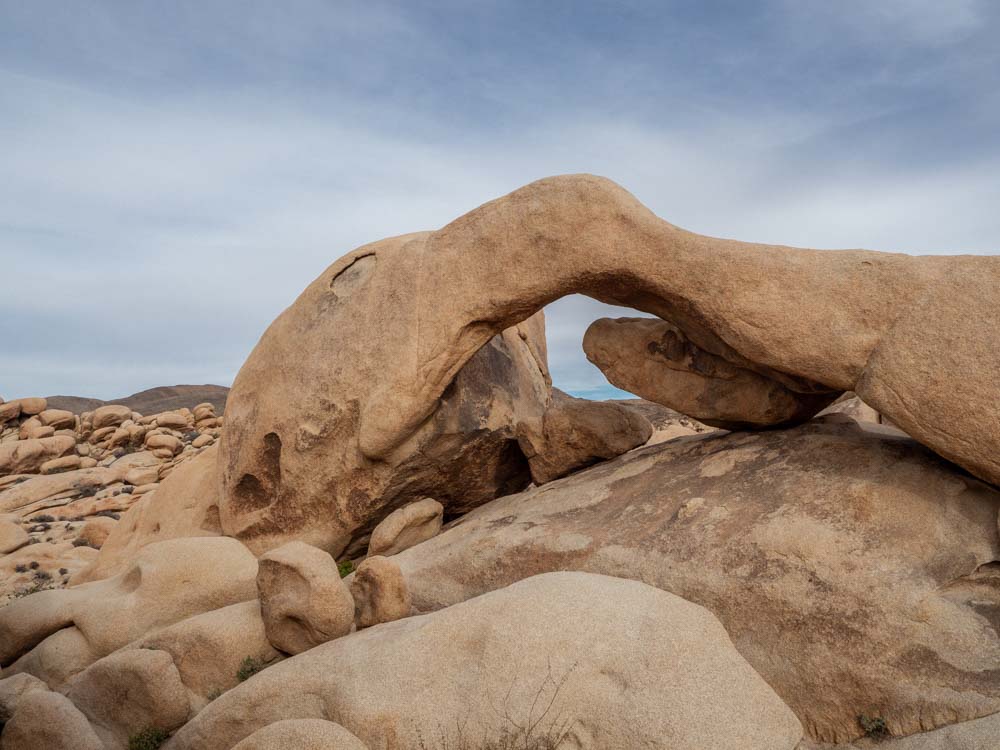 Take the Arch Rock Trail
The Arch Rock loop is one of those un-mapped but well, sign-posted trails. It does a short circuit around the White Tank campground. To find the trailhead, park at the Twin Tanks parking lot and then follow the signs across the road. Then, take an immediate right (which isn't well marked) and head toward the rock cluster.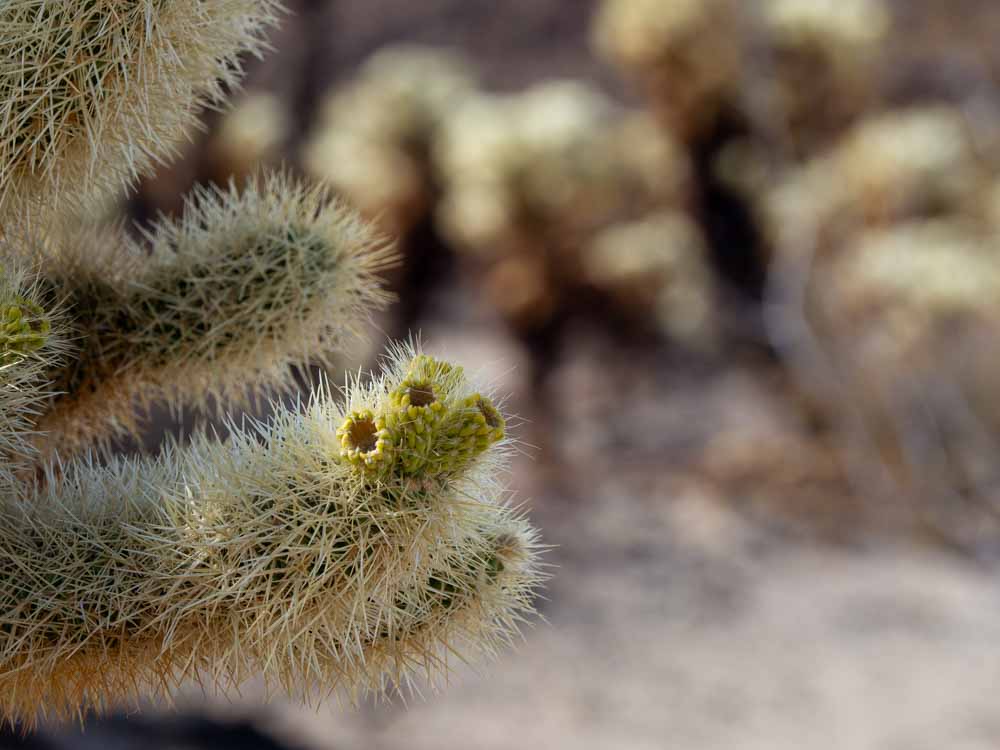 Visit the Cholla Cactus Garden
This garden has thousands and thousands of Cholla Cactus. Their sharp spines lay in wait and are known to "jump" onto unsuspecting passersby. So, mind that you stay on the path.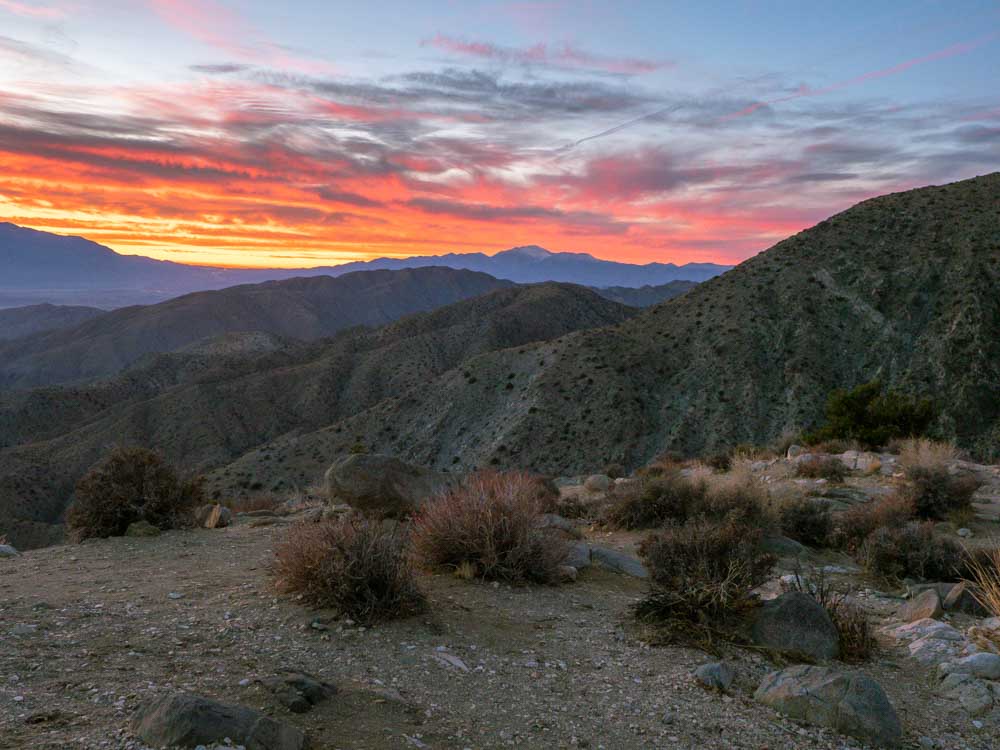 Take in Sunset at Keys View
Actually, this is one of the most popular things to do in Joshua Tree and the views are great all day. The overlook offers a wide-angle view of the Coachella Valley and on a clear day, it feels like you could reach out and touch LA.
But, trust me, you'll want clouds instead. At sunset, the setting sun sparks up the clouds in a flaming light show. To see the best of it, get there about 20 minutes before sunset and stay about 30 minutes after the sun has gone down behind the mountains.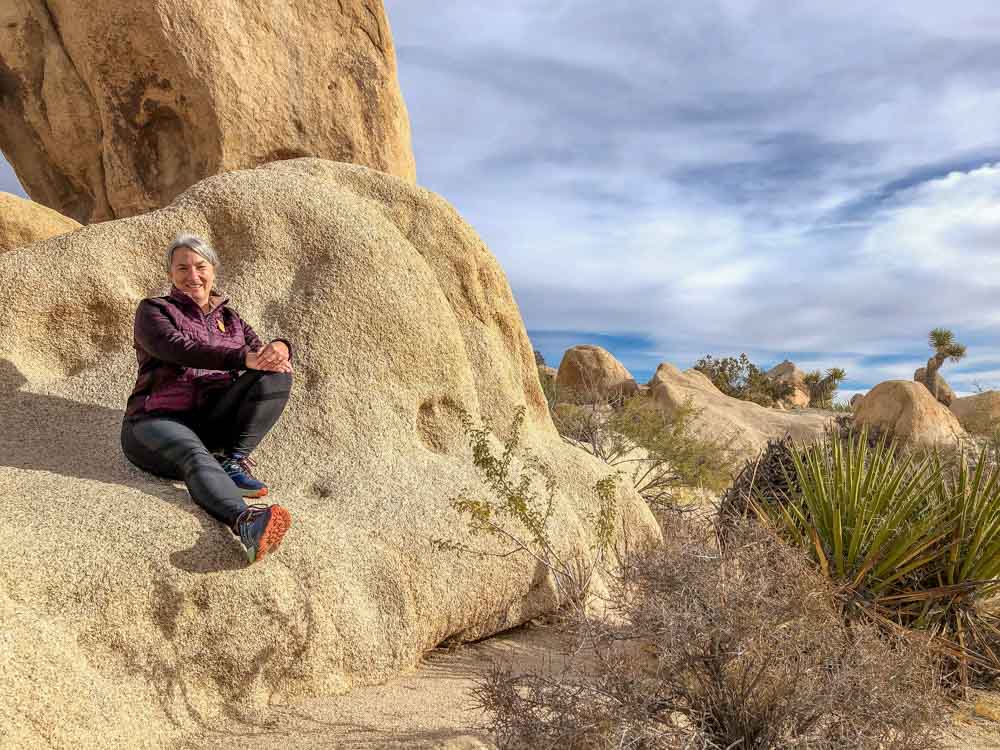 Getting to Joshua Tree National Park for a Day Trip
If you are doing a Joshua day trip from a nearby city, be sure to get a very early start so that you have as much time as possible in the park.
From central LA: The route is 146 miles and will take 2.5-3.5 hours depending upon traffic. Google maps will route you to northern Oasis entrance as the quickest way. However, you could easily go through Palm Springs and use the southern Cottonwood Spring entrance, doing a south-to-north route through the park.
From Palm Springs: It's about an hour to either the Oasis or Cottonwood Spring entrance. Again, I would recommend going into one entrance and out the other.
From Las Vegas: It's 187 miles from Las Vegas to the Oasis entrance. Frankly, I don't recommend doing a day trip to Joshua Tree from Las Vegas. You'll spend 3 hours each way just driving. But if you insist, use the Oasis gate for your in/out. Try to leave a little time to see the sand dunes in Mohave National Reserve, which you'll drive through on the way. You can also do a loop that includes starting in Las Vegas and then road tripping both Joshua Tree and Death Valley.
If you are flying, use our guide for finding the best Joshua Tree airport, which varies depending upon your budget and travel plans.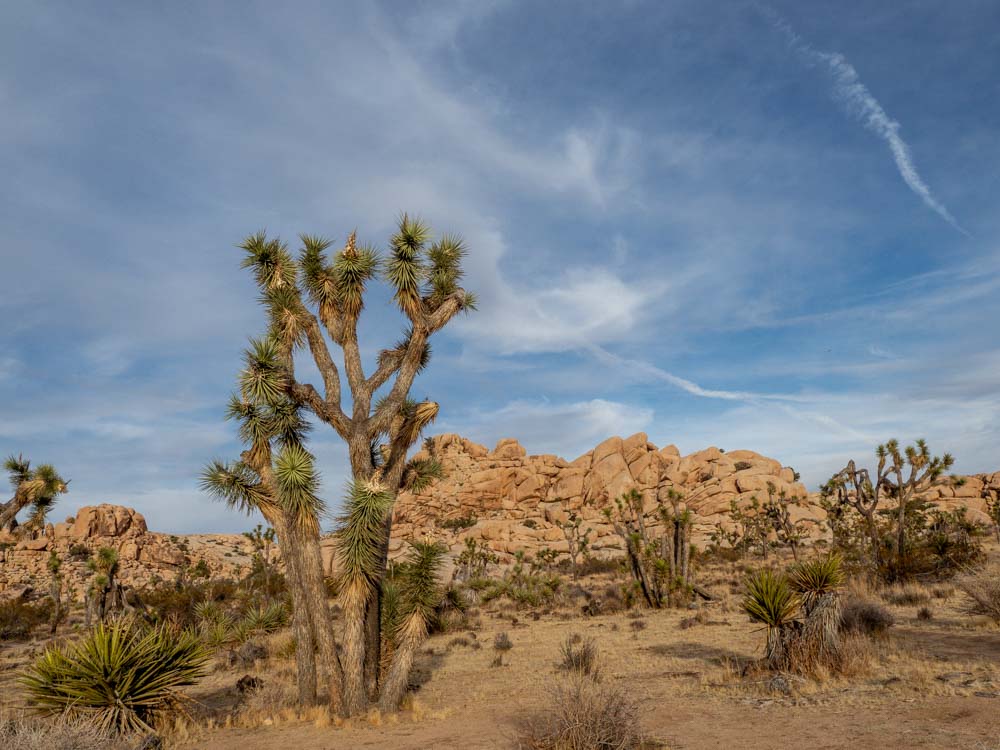 (This article contains affiliate links. This means that if you choose to purchase, I'll make a small commission.)
Where to Stay Near Joshua Tree
The park itself has 494 camp spots. Use our campground guide to find out which ones are the best and which require advance reservations.
When I RVd through the region a few years ago, I stayed at the 29 Palms RV resort. In addition to RV slots, they also have a few cabins.
Nearby 29 Palms and Joshua Tree have a range of accommodation from inexpensive motels to nice lodges. If you like kitsch, you can score a cool hotel like the western-themed Joshua Tree Ranch House or Pioneertown Motel.
You can also check out with our guides for glamping and cabin rentals.
If you've only got one day in Joshua Tree, I hope this article will help you figure out what to do there. If you have more time, then do it all and enjoy your stay in the park.
Explore More of Southern California
Plan a trip to Death Valley using our massive guide, which has three different itinerary ideas, campground and hiking information. Check out our recommendations for the top 20 epic drives in California, which includes several drives near Joshua Tree, like the Palms to Pines Scenic Byway, Anza Borrego and the Rim of the World byway to Big Bear. Or head north and explore the Eastern Sierras using our Highway 395 road trip itinerary.
Help your friends spend one day in Joshua Tree by sharing on Pinterest: