Joshua Tree National Park has a lot of hiking trails, which very widely in difficulty, distance and visual interest. This baker's dozen features the best hikes in Joshua Tree, which run the gamut from easy nature trails, longer hikes with epic landscapes and even trails that explore the park's mining history.
So, pick your interest (and your distance), and get hiking in Joshua Tree when you next visit the park.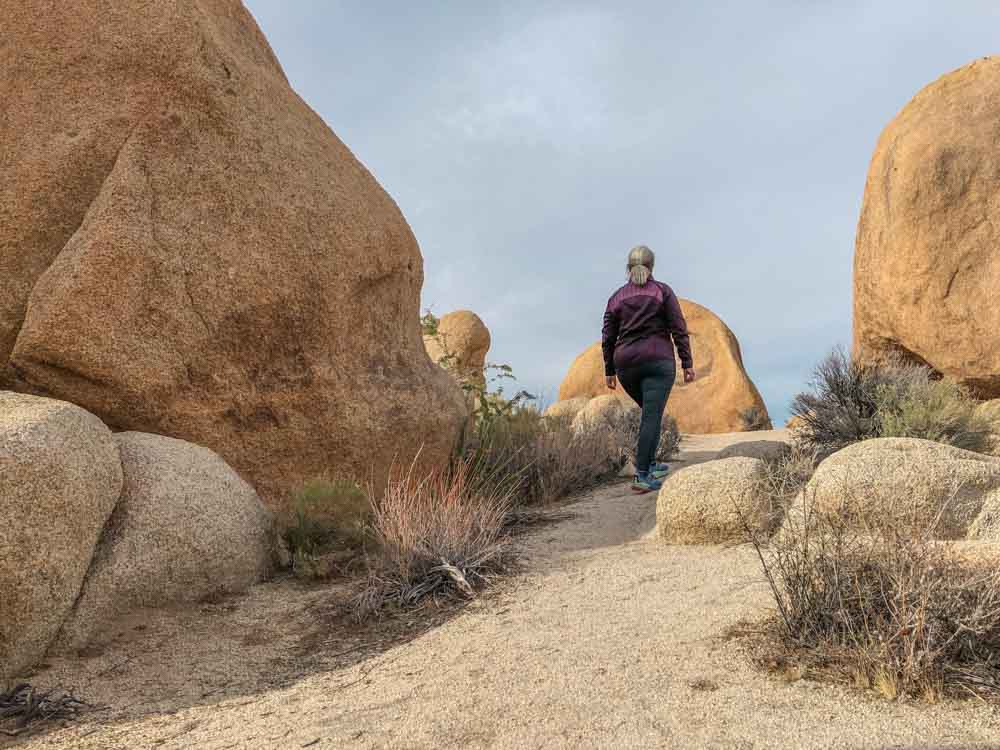 Plan Your Trip to Joshua Tree
In addition to the Joshua Tree hiking trails, there are a lot of other cool things to do in in and around the park. Here are a few suggestions for you.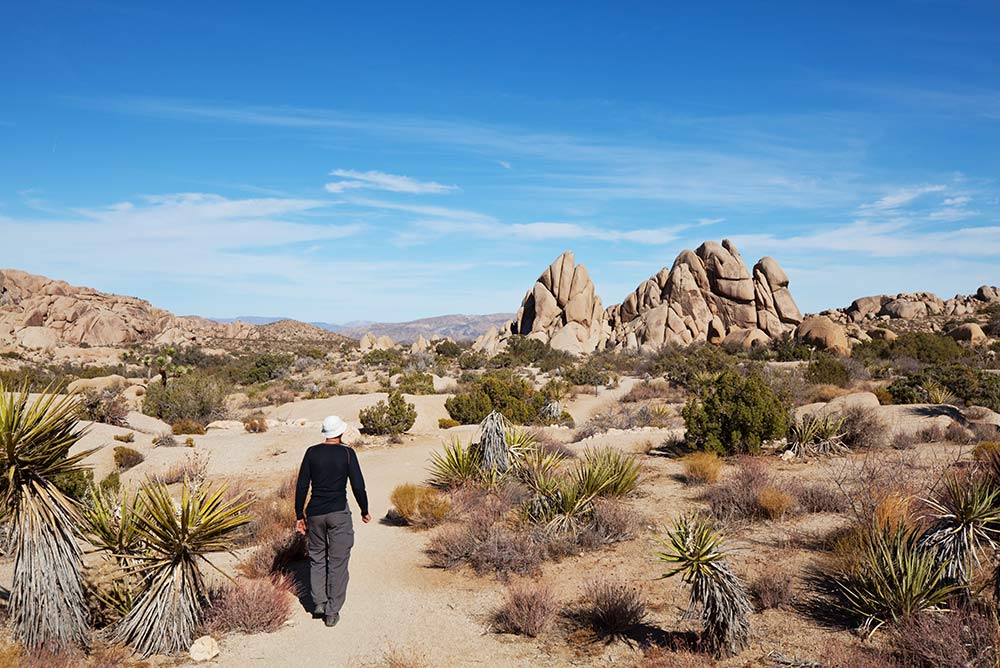 (This article contains affiliate links. This means that if you choose to purchase, I'll make a small commission.)
Where to Stay in Joshua Tree
Hiking is an energetic business and you'll want to make sure that you get a good night sleep for it. If you are camping, be sure to reserve sites well in advance because the park is popular and sites are limited. Use our Joshua Tree campground guide to find the perfect spot.
If you want to get an early start on your hikes, we recommend staying near the park's northwestern entrance in the towns of Joshua Tree or Twentynine Palms.
There are tons of cool vacation rentals in and around the town. Check out our guide for glamping and Airstreams and also our other guide for cool cabins and homes with unique architecture.
If you prefer full service, Booking.com has plenty of hotel and motel listings for Joshua Tree, and also nearby Twentynine Palms and Yucca Valley, like the western-themed Joshua Tree Ranch House or Pioneertown Motel.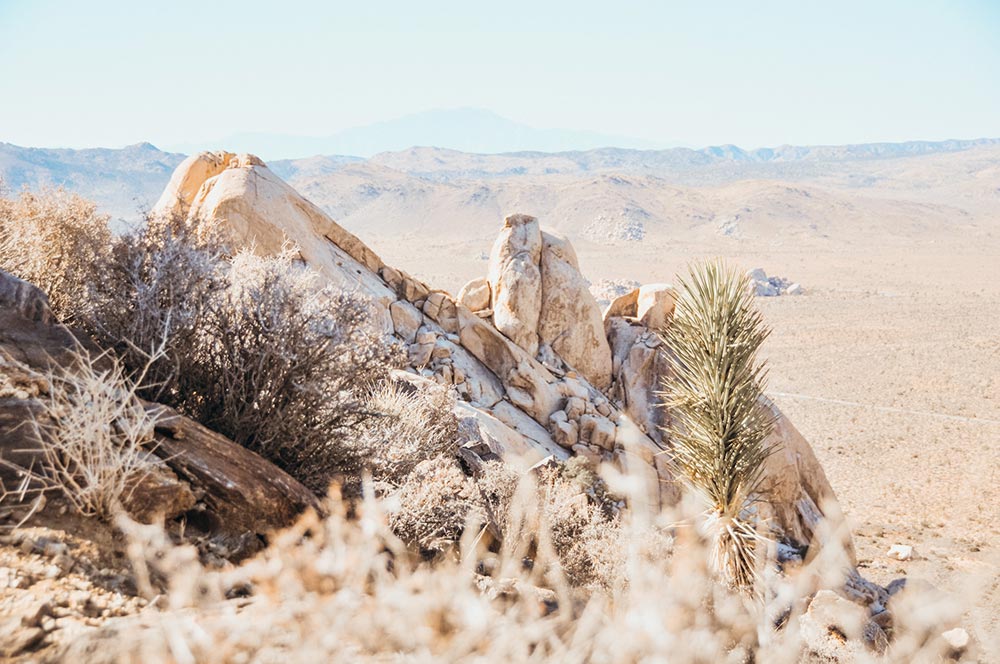 Tips for Hiking in Joshua Tree National Park
How Do I Get a Joshua Tree Trail Map?
The Park Service has a slick 4 color brochure map, which shows most hikes and all campgrounds and picnic sites. But at key sites, you'll also see a larger map at some of the info kiosks. These sometimes have more detail regarding the trails. So if you see one, take a picture of it. Here is their map page
We recommend that you stop into the Visitor's Center to get the most updated information.
Can I Take a Dog Hiking in Joshua Tree?
No. Dogs are not allowed on any trails in the park. They are confined to parking lots and campground and anything paved.
Which Joshua Tree Entrance is Best?
The northwestern entrance is best for visiting some of the core park sites. It also has the larger of the Visitor Centers. But you can certainly use the southern entrance or the one that goes south of Twentynine Palms, just get your trail map in advance.
What is the Best Time of Year to Hike Joshua Tree?
October to May is the best time to visit generally and certainly for these hikes in Joshua Tree. The summer temperatures are volcanic and the Parks Service does not recommend extended hiking during that time.
Do I need Hiking Shoes for Joshua Tree?
We don't recommend sandals for any of these hikes as the terrain is pretty spikey! For the easy Joshua Tree hikes and nature trails, you can get away with tennis shoes.
But for any hike longer than 2 miles or that has elevation gain, you should wear at least a trail runner for better grip. We've put well over 1,000 miles on the Hoka Speedgoat trail runners. They have strong foot cushioning and decent grip.
When Does Joshua Tree Open?
The park gates are always open. This means that you can get an early start for hitting the Joshua Tree Trails.
Are There Stores or Restaurants Inside the Park?
No. There are no concessions in the park. You can get water at the campgrounds, but otherwise plan to pack in all of the water, food and sunscreen that you'll need for your hike.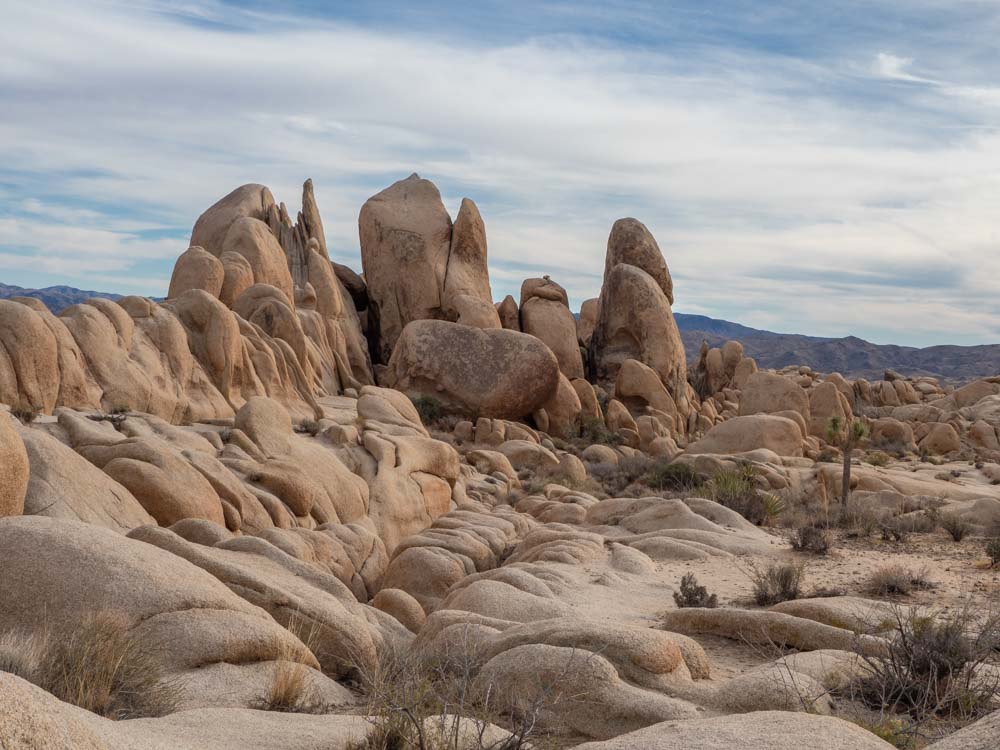 The 13 Best Hikes in Joshua Tree
We've collaborated with some of our other trail-loving travel blogger friends to compile this list of the best Joshua Tree hikes. They are listed in order of length and difficulty. So, you can mix a harder hike with an easier one in order to see the most of Joshua Tree's amazing landscape.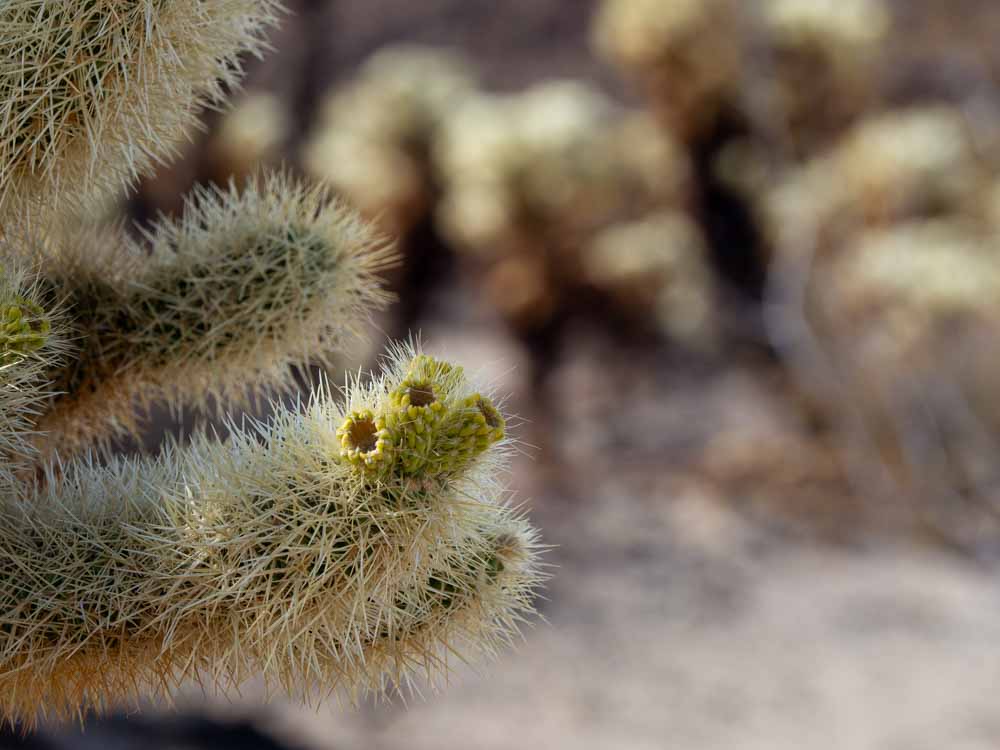 1. Chollo Cactus Nature Trail
Distance: .2 miles
Elevation Gain: 9 feet
Difficulty: Easy
Recommended by: Sumeeta of Sumeeta Seeks
Joshua Tree is a magical place everywhere you look, but the Cholla Cactus Garden is particularly special and unlike anything else. At only 0.2 miles, this easy hike is a mellow walk suitable for all ages and ability levels.
The short loop begins from the parking lot and continues over a wooden walkway and various gravel patches. You can also venture off the trail to fully immerse yourself in the wonder of the ethereal scenery. Cholla cacti surround you everywhere you look, and these tall, bizarre, and beautiful plants possess an otherworldly quality that makes you feel like you are on Mars.
The Cholla Cactus Garden is located about a 30 minute drive north from the Southern entrance of Joshua Tree National Park. There is ample parking in the nearby lot. Be careful not to touch the plants as they are extremely spiky.
Anytime of day is good to see the garden, but try to visit around sunset. At the golden hour, the sun's rays transform into bursts of color that pop against the stunning desert backdrop. And if you stay a while longer until it gets dark, the cacti shimmer in the light of the stars and the moon. A perfect way to end a day in the park before exiting from the southern exit.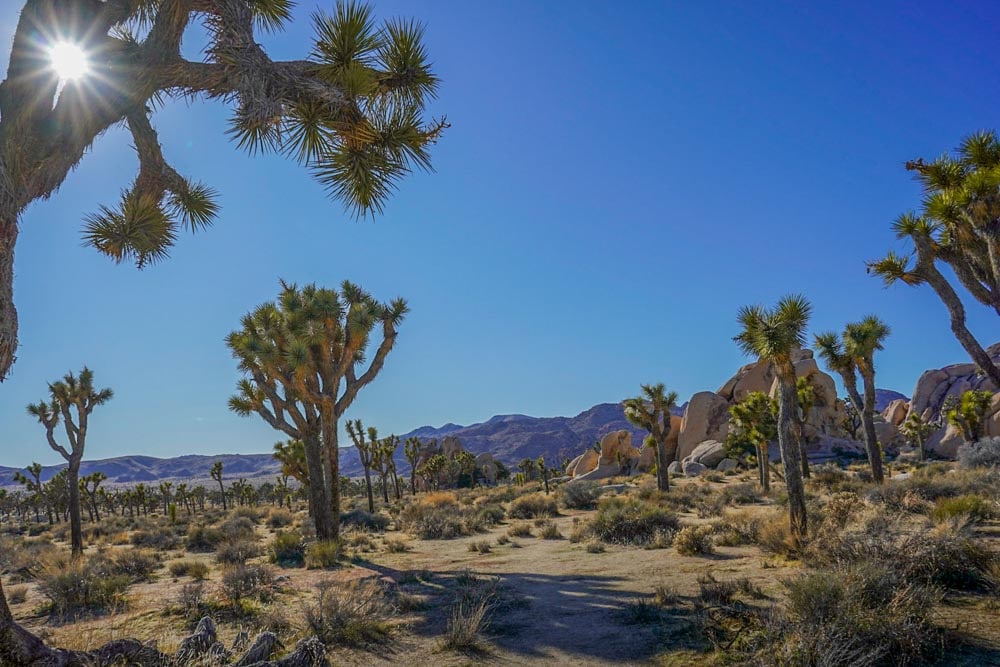 2. Hidden Valley
Distance: 1 mile loop
Elevation Gain: 114 feet
Difficulty: Easy
Recommended by: Jessica of Uprooted Traveler
The Hidden Valley Nature Trail is a the perfect introduction to the park and the surrounding Mojave Desert. The flat trail, which leads around a stunning desert valley, is a great hike for beginners and families. It offers a stunning array of desert flora, like the park's eponymous trees, beavertail cacti, and California juniper.
Beyond the stunning plant life, the valley is littered with enormous monzogranite boulders, and it's impossible to resist climbing on them. And while there's plenty of smaller rocks for even the most beginner climber to scale, this area is a fantastic place to catch professional climbers in action.
So even though this hike is short and easy, budget a fair amount of time to spend here- between taking photos of the gorgeous surroundings and playing on the boulders, you'll likely need an hour or two to get your fill.
The trailhead also has a great picnic area, shaded by some large rocks- consider picking up some food in the nearby town of Joshua Tree or Palm Springs before your hike and enjoy your lunch at the picnic area, while taking in those epic Joshua Tree views.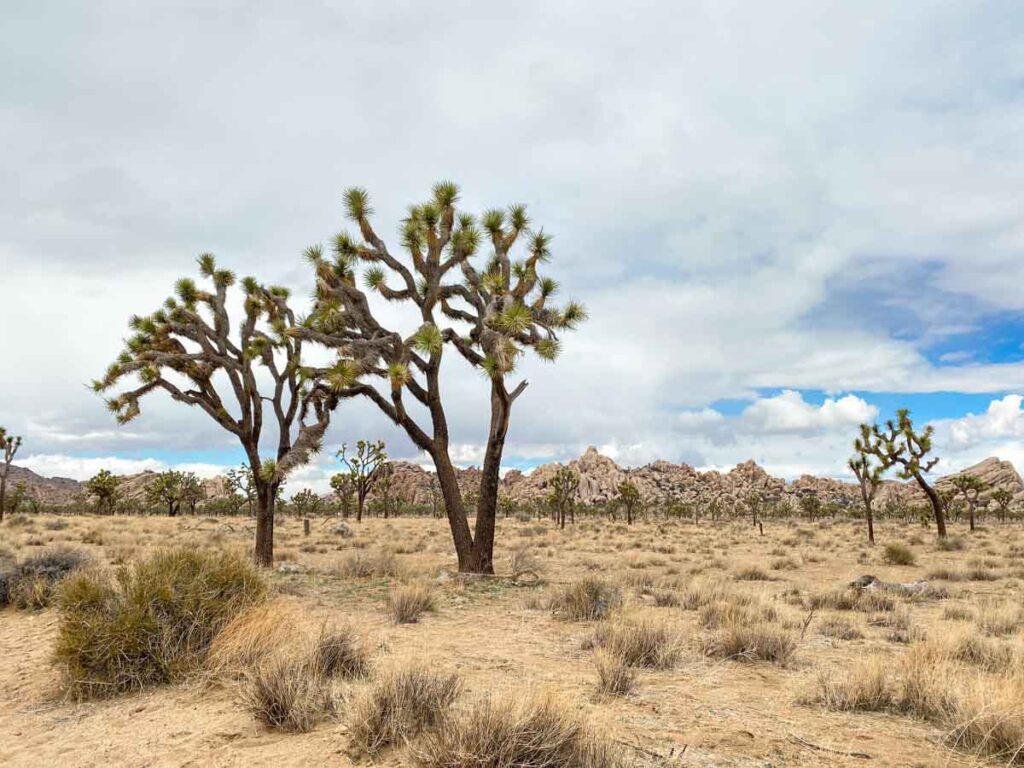 3. Minverva Hoyt Trail
Distance: 1.2 mile one way
Elevation Gain: negligible
Difficulty: Easy
This easy off-the-radar hike is right in the heart of the park and you can easily combine it with the Hidden Valley loop for something longer. It's not noted on the All-Trails app, nor is it listed on the National Park website, but you will see the parking lot on the map. It's right off park boulevard, just south of the more crowded Hidden Valley parking lot. The hike is named for Minerva Hoyt, who was an avid naturalist. She advocated hard for the establishment of the national park.
The hike is a lovely flat walk that meanders through the namesake Joshua Trees. Walking it south to north in the late afternoon light is quite lovely and because few people think to walk here, you'll have the place to yourselves.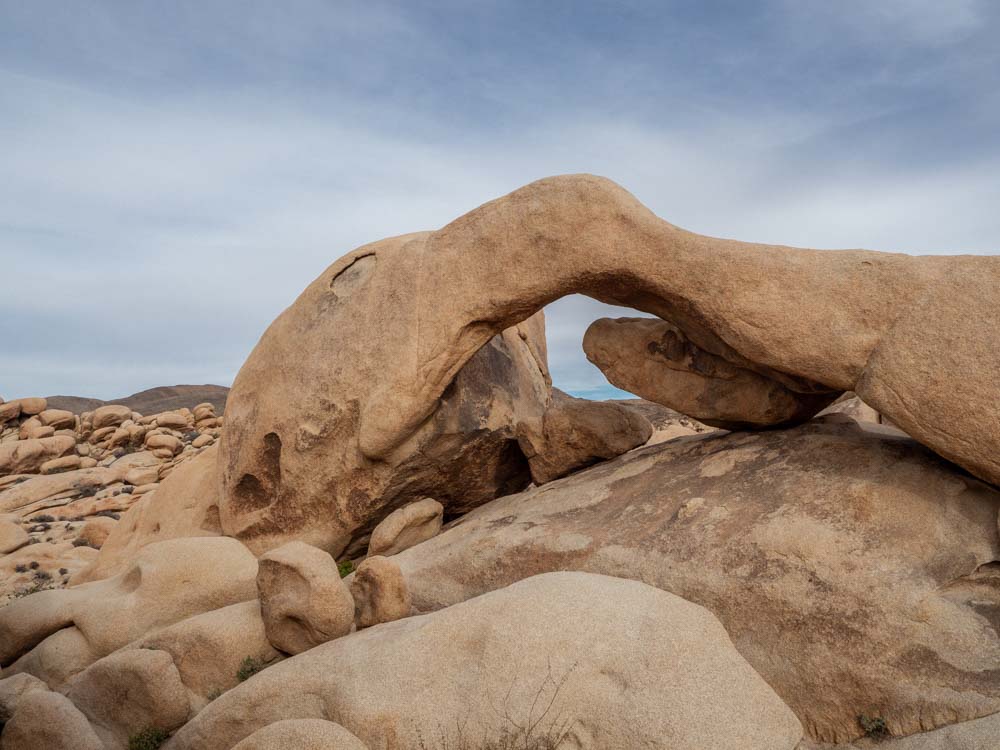 4. Arch Rock
Distance: 1.2 miles
Elevation Gain: 88 feet
Difficulty: Easy
The Arch Rock loop is one of the hikes which is not well marked on the glossy brochure.
The landscape on this nature trail is a bit more reminiscent of southern Utah with its red rocks and graceful arch. The trail starts out pretty flat, but once it reaches the rocks, there is plenty of opportunity to scrambling around and doing some 101-level bouldering.
The trail is very easy and a great option for families with smaller kids.
To get to the trailhead, park at the Twin Tanks parking lot and then follow the signs across the road. Then, take an immediate right (which isn't well marked) and head toward the rock cluster.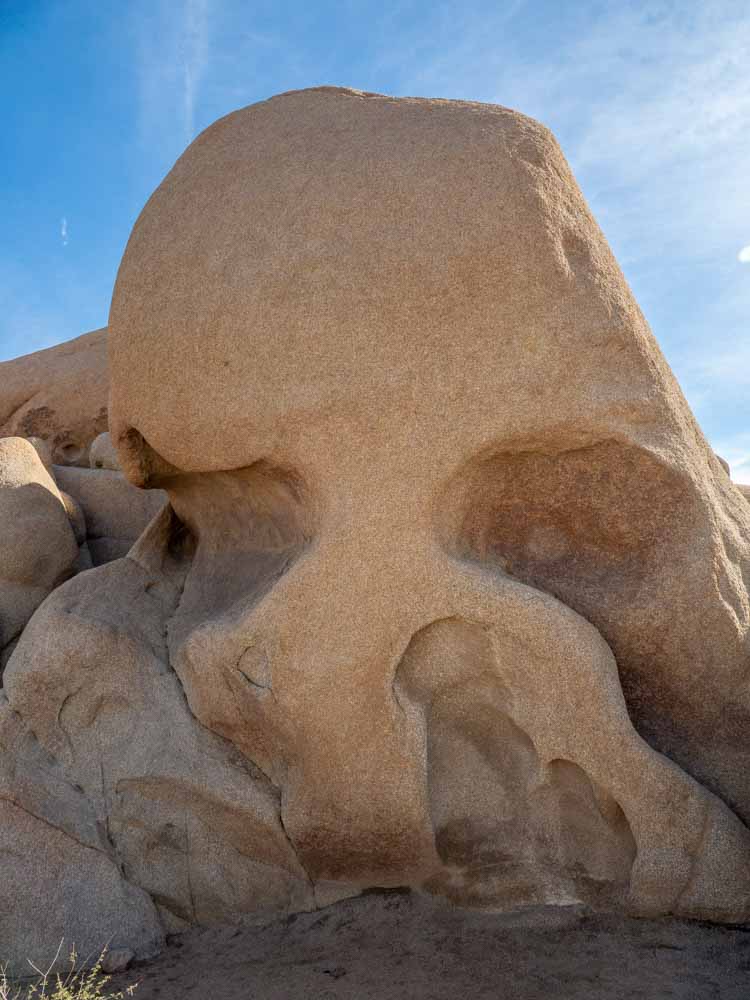 5. Skull Rock
Distance: 1.7 miles
Elevation Gain: 160 feet
Difficulty: Easy
Recommended by: Noel of Travel Photo Discovery
The Skull Rock nature loop is a very unique Joshua Tree trail. The hike is a very popular destination in the park. It's approximately 1.7 miles and good for all hiking skill levels. Along the trail are giant rock clusters and the signature skull rock with eye socket depressions giving it a distinctive skull appearance.
If you go there in early spring, you'll also be rewarded with California native wildflowers in the park which give you a fantastic view of color. In addition to the flowers, the vegetation around the trail is typically full of arid cactus plants of varied Joshua tree, yucca, juniper, various cholla and other cactus making this an interesting landscape.
You can also spot some rates, jack rabbits and the occasional snake or coyote that lives in the desert landscape.
For access, you can park on Park Boulevard towards the landmark or through the campground area at Jumbo Rocks campground at site 93 where the trail head starts.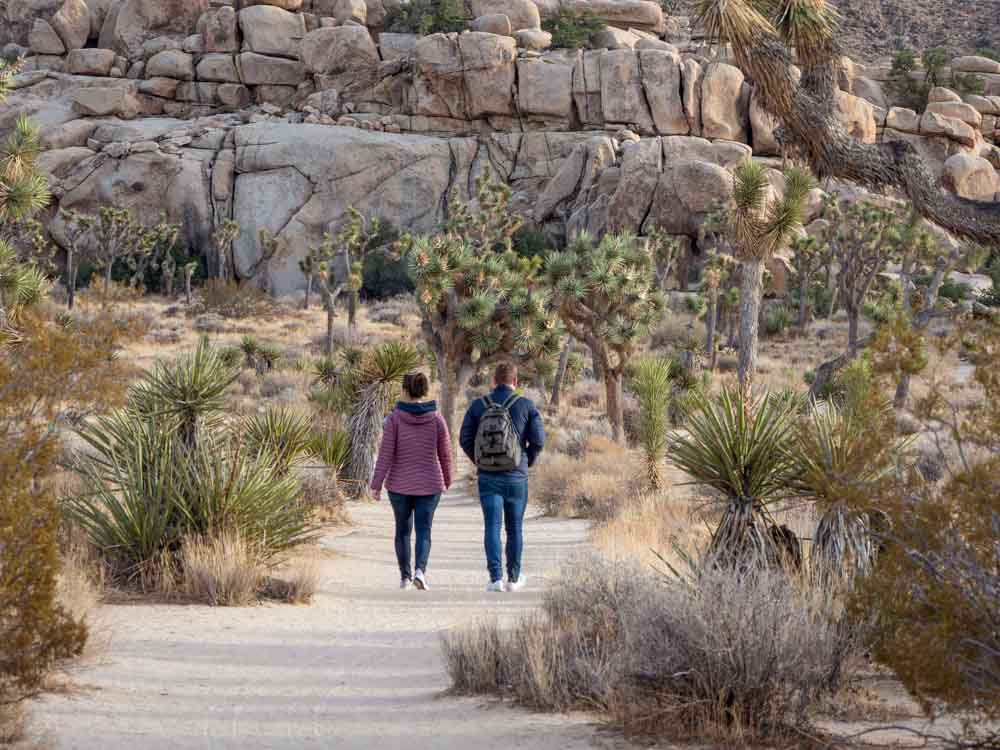 6. Barker Dam
Distance: 1.3 miles
Elevation Gain: 62 feet
Difficulty: Easy
Barker Dam is one of the best hikes in Joshua Tree because it's easy and very family friendly. The hike is notable because not only do you see the lovely desert landscape, but you can also learn about Joshua Tree's mining history.
During the late 1800's and early 1900's, cattle ranching was an important part of the the region's economic activity. The dam was built to provide year-round water for the cattle. Today, you may or may not see water behind the dam, but when it's there, it attracts the local wildlife.
There is a 1.3 mile interpretive loop that has nature markers. Be sure to take the small spur, which leads to to Native American cave paintings.
Barker Dam and nearby Wall Street Mill are among the top hikes in the park. This means that parking can be a challenge, particularly during the middle of the day. So, go early or late to avoid the crowds.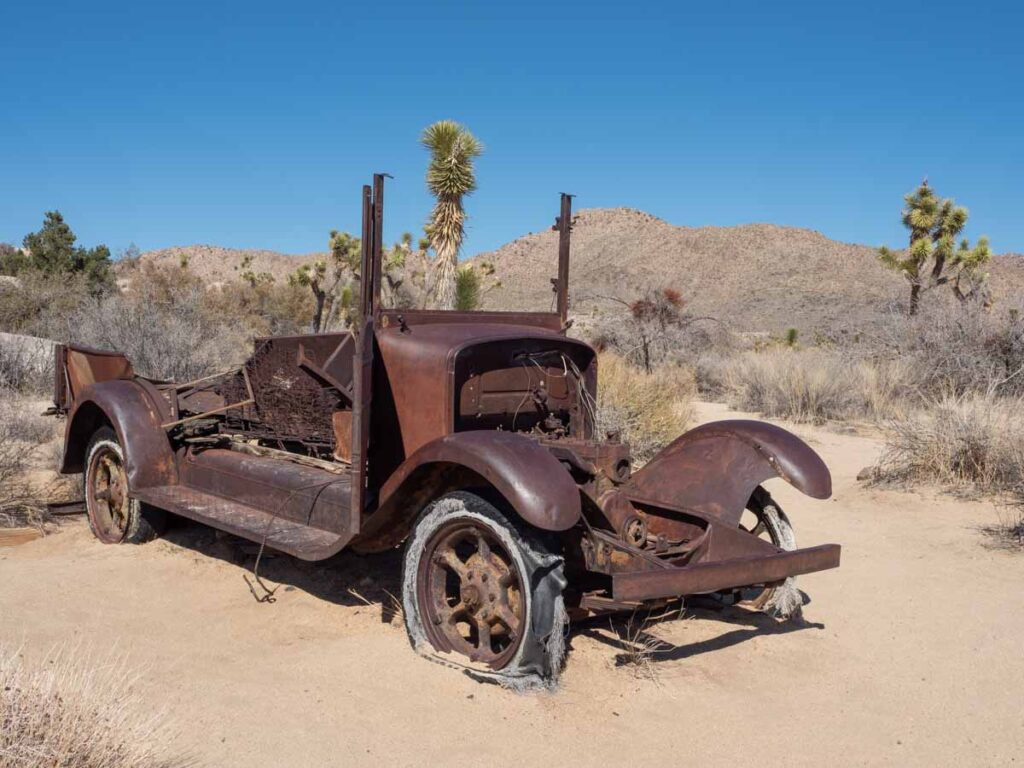 7. Wall Street Mill
Distance: 2.4 miles
Elevation Gain: 88 feet
Difficulty: Easy
Recommended by: Dhara from Roadtripping California
The Wall Street Mill hiking trail in Joshua Tree National Park is a must-do, not only for its scenic beauty, but also for its historical significance. If you enjoy learning about local lore, then this hike will charm you with its colorful history.
Start the trail at the Wall Street Mill parking area. Along the sandy trail, you will see the typical Joshua Tree landscape, with masses of boulders and many Joshua trees. If you want to examine one of these trees up close, this trail will give you some chances to do so.
Also along the route, stop to photograph the rusty remains of automobiles that make a statement against the more neutral tones of the desert. The mill, which is the payoff for this hike, is actually quite well preserved. It was owned by Bill Keys, a prominent area rancher and miner, and was used to crush gold ore for several decades.
There are several informative plaques that talk about the mill and its history, and the mill makes for great photos as well. After you are done exploring, you retrace your steps to the start point.
The trail is exposed, so you will want to hike it early or late, in the cooler months of the year.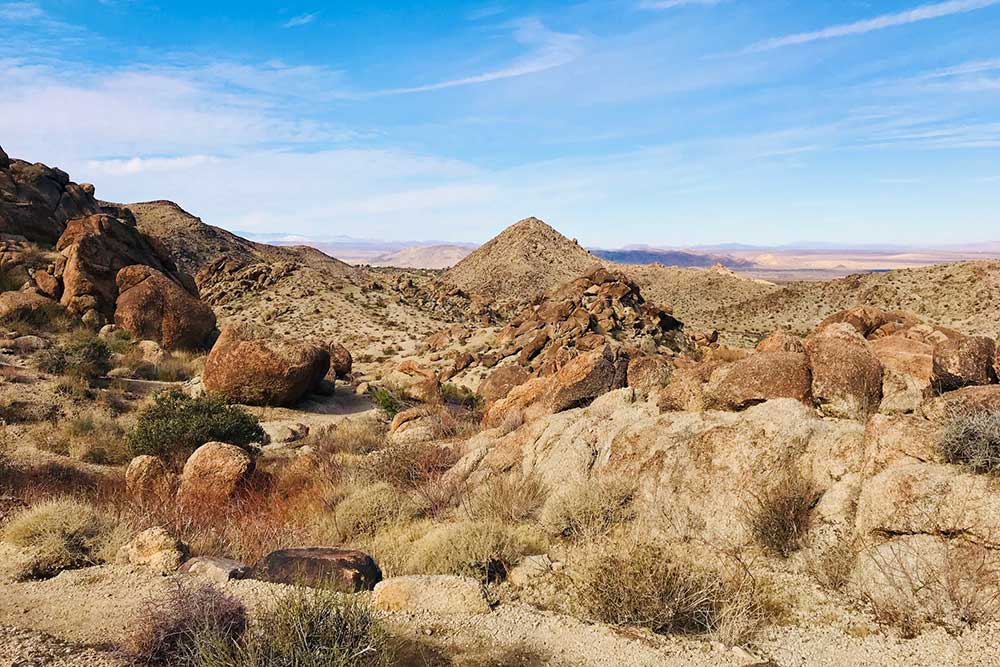 8. 49 Palms Oasis
Distance: 3.1 miles
Elevation Gain: 636 feet
Difficulty: Moderate
Recommended by: Wendy of Empty Nesters Hit the Road.
The 49 Palms Oasis Trail is a 3 miles roundtrip hike with 300 feet of elevation gain each way. This moderately strenuous hike will take two to three hours to complete.
49 Palms Oasis is your top Joshua Tree hike if you are looking for challenging terrain and some rock scrambling. The trail immediately heads uphill to a ridge punctuated by barrel cacti. Take some time at the top to appreciate the views of the high desert and surrounding towns of Joshua Tree and 29 Palms.
Next the trail descends into the canyon filled with giant palm trees. If it's a hot day you'll enjoy the cooler temperatures in this shaded canyon. Consider bringing a picnic lunch and relax in this peaceful setting.
Due to the large number of rocks and boulders along the trail, hiking boots and poles are definitely recommended. And while the palm canyon is cool and shaded, the rest of the trail is not. Come prepared with water and sunscreen.
The trailhead is accessed on Canyon Road off of Highway 62. The parking lot is small, so plan to arrive early to grab a spot.
If you are planning on driving north/south through the park, be sure to check out Wendy's guide for Palm Springs.
0. Desert Queen Mine and Eagle Cliff Boulder House
Distance: 3.4 miles
Elevation Gain: 580 feet
Difficulty: Moderate
The Desert Queen Mine had a long history. It was in operation from 1895-1961 and was one of the most productive in Joshua Tree. The mine consists of a series of tunnels and shafts, and while the shafts are closed for safety, visiting the site is remarkably hands-on with the Boulder House ruin and old equipment laying around.
The hike itself skirts along the edge of the canyon wall and part of it is a loop. Doing the loop to the mine is easy enough, but if you want to visit the Boulder House ruin, be sure to download the map coordinates onto your phone's hiking app as the trail is not well marked.
The trailhead sits on the Desert Queen Mine dirt road. This is actually a lovely, well graded dirt road that makes a great scenic short-cut between the Skull Rock and Barker Dam hikes noted above.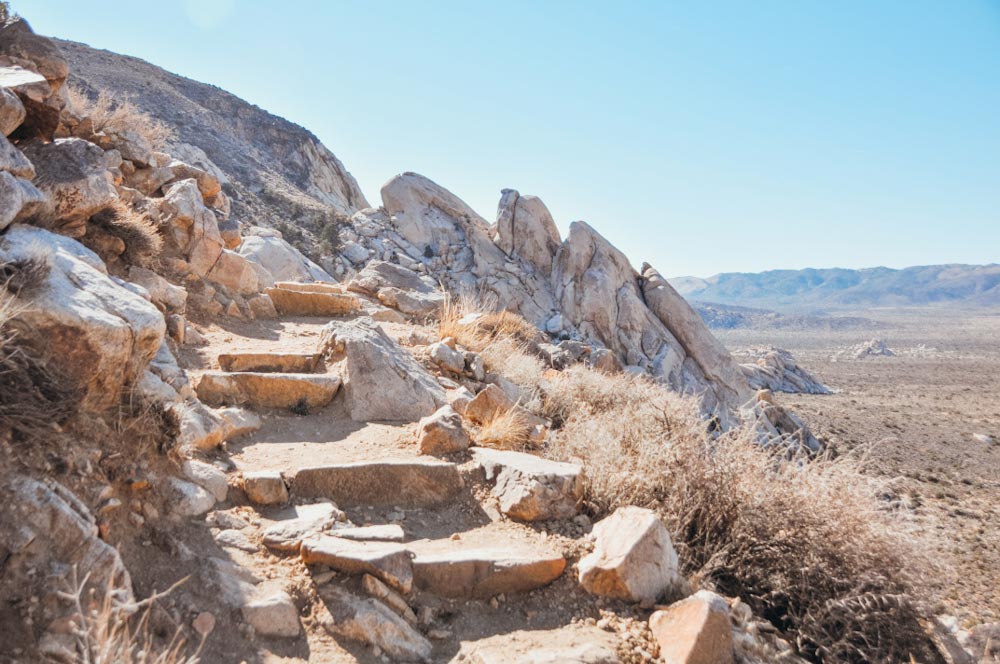 10. Ryan Mountain
Distance: 3 miles
Elevation Gain: 1,069 feet
Difficulty: Moderate-to-Strenuous
Recommended by: Janessa from Destination Daydreamer
If you are looking for a hike to see Joshua Tree from above, be sure to check out Ryan Mountain.
Hiking Ryan Mountain will take you to one of the tallest points in Joshua Tree, on one of the park's most popular hiking trails. It is a 3-mile, out-and-back trail with 1,069 feet of elevation gain. On the way up, you will pass many beautiful craggy rock forms, unique cacti and, glimpses of your upcoming view.
Once at the summit, you are provided with 360-degree views of some of the park's beautiful boulder formations, unique Joshua Trees, the bare desert floor, and (on a clear day) the huge peaks of San Jacinto and San Gorgonio in the distance. For a unique experience, try hiking Ryan Mountain at sunset for some gorgeous views of the sun lowering over Joshua Tree.
This hike is ranked as moderate-to-strenuous and definitely shouldn't be hiked in the heat of summer per the recommendation of the National Park System. This is because the trail is basically a continuous uphill climb with little shade.
There is a parking area right off the road between Sheep Pass and Ryan Campground (you will also find some of the great bouldering in Joshua Tree at Ryan Campground). If hiking in the fall or winter, be sure to pack some layers because it can get chilly in the shade.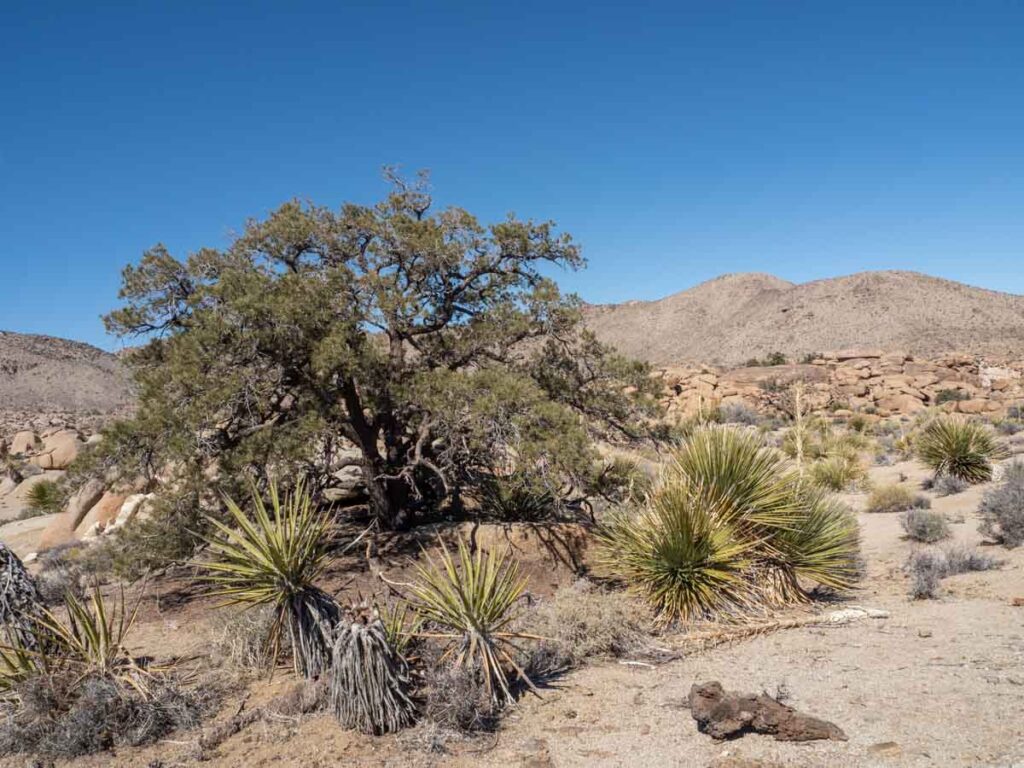 11. Pine City Trail
Distance: 4 miles
Elevation Gain: 147 feet
Difficulty: Moderate
This is another off-the-radar hike that doesn't get a ton of traffic. So, it's great if you are visiting on a busy weekend. That said, the parking lot also serves the Queen Valley mine trail and overlook, so parking can get tight. But once on the trail, you'll have plenty of elbow room.
The trail itself is notable for the pine trees that are clustered toward the interior of the hike. Pine trees are very rare in Joshua Tree, especially as the mid elevations. If you are doing the hike in the spring, you're also likely to see flowering cacti.
12. Lost Horse Mine Loop
Distance: 6.8 miles
Elevation Gain: 882 feet
Difficulty: Moderate-to-Strenuous
You can actually do this trail as an easier 4 mile out-and-back that just goes to the mine, but it's worth taking the energy to do the full loop.
During its heyday from 1895-1905, this mine produced an astonishing amount of precious metal, netting 10,000 ounces of gold and 16,000 ounces of silver. So, hiking this loop will give you a big dose of Joshua Tree's mining history in addition to the lovely natural landscape views.
Hiking the trail, counterclockwise, takes you through a wash of yucca and Joshua Tree. You soon hit a saddle with high level views over the valley floor. You then come along the mining ruins and follow the trail out on the old mining road.
The trailhead is accessed from the Keys View road and you have to travel for a short while on a dirt road, which is graded and accessible for most normal cars.
13. Boy Scout Trail
Distance: 8 miles one way
Elevation Gain: 1190 feet
Difficulty: Moderate-to-Strenuous
The Boy Scout Trail is normally used by backpackers doing it as an out and back or running a 1-way shuttle. But you can do a portion of it as a day hike as well, simply covering as much ground as you have time for. You can start from either the Indian Cover backcountry pullout (which is accessed west of Twentynine Palms) or the Boy Scout trailhead (which is on Park Boulevard north of Hidden Valley.
The trail is characterized by the sandy boulders and canyon walls. Once you get past the first mile or so, you'll largely have the trail to yourselves.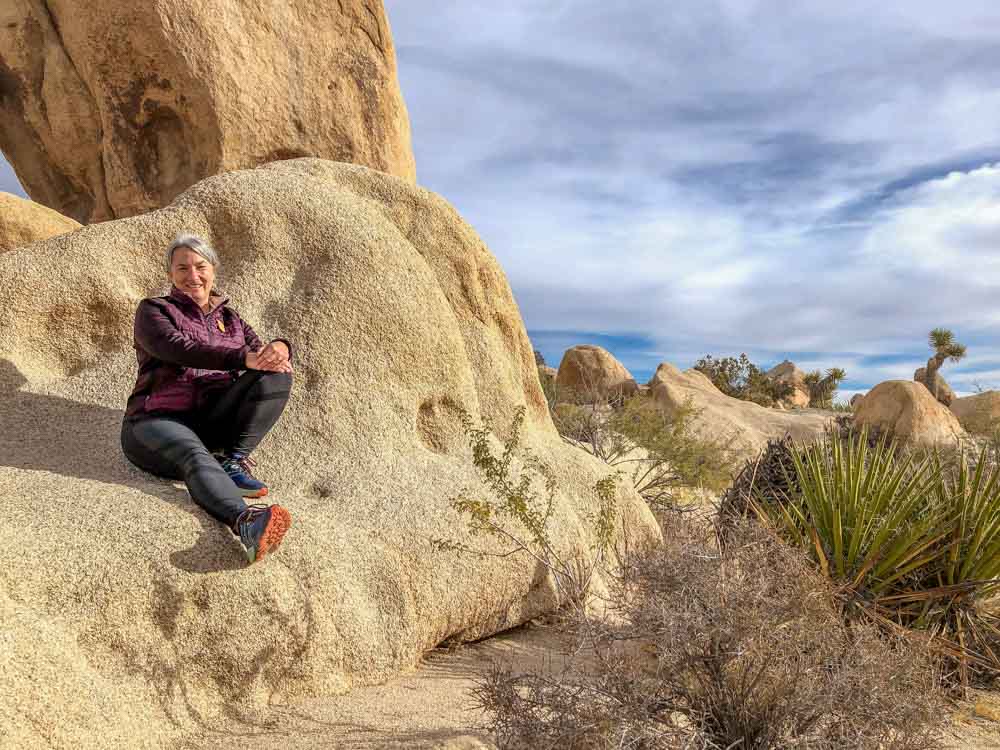 We hope that you've been inspired by this list of the 10 best Joshua Tree hikes. Enjoy your outing and happy trails!
Explore More of California's National Parks
Share these best Joshua Tree hikes on Pinterest: