Joshua Tree's basic motels and RV parks are functional and affordable, but are they cute? Are they retro? Do they have panache? Hardly. These Joshua Tree glamping rentals on Airbnb and VRBO are another matter entirely. This article spotlights a baker's dozen of Joshua Tree glamping trailers and tents for rent that will wrap you in a cool retro vibe while keeping you close to the area's amazing landscape.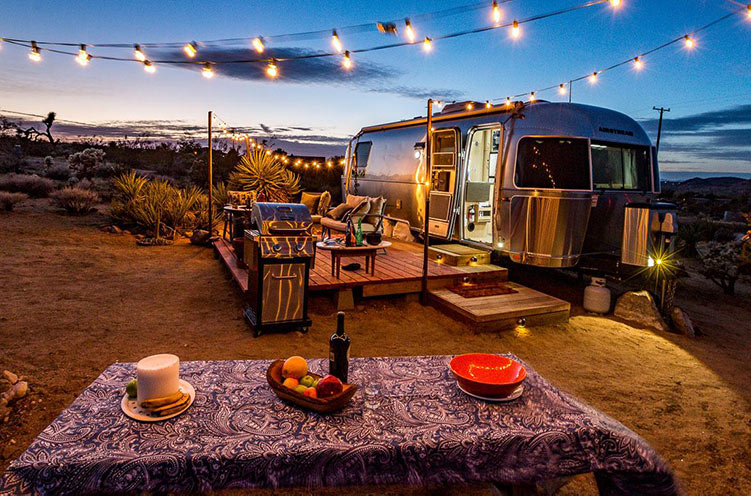 The town of Joshua Tree has a decidedly hip vibe. The vibe arrived in the area during the late 1960's. Over the next few decades, galleries and studios spread along the highway 62 corridor, ensuring that an artsy culture became firmly planted in the region.
The town has managed to retain a retro, quirky culture. For instance, this article on things to do in Joshua Tree town features a crochet museum, an outdoor sculpture garden that uses materials like broken toilets, and a prisoner of war cabin from an alternative dimension. Please do those things when you visit Joshua Tree, they aren't hard to find and they are totally worth the time.
The theatrical retro vibe also extends to the Airbnb glamping in Joshua Tree. There are vintage airstreams, tent glamping, a light-filled short bus, toy trailers and oodles and oodles of desert views.
If you are also interested in cabins, tiny houses and unusual architecture, then also navigate to these listing for Joshua Tree Cabins.
Can you go Glamping in Joshua Tree National Park?
Only if you bring it with you. There are no cabins, trailers or fancy tents for rent inside the National Park. They do have over 400 campsites. So you could pack a fancy tent or rent an RV for your Joshua tree trip. If you don't want to do that, you'll need to do your Joshua Tree glamping in Yucca Valley or the town of Joshua Tree. Both towns are very close to the park's north entrance.
3 Tips for Booking a Joshua Tree Glamping Rental
1. Pay attention to the ratio of suggested guests to beds/bedrooms. The glamping listings below do indicated the # of guests and beds. However, many Airbnb listings (including some in this article) count bunk beds, sofa beds and hammocks as "beds". This is fine for your seven year old, but maybe not for grandma.
2. Joshua Tree summer temperatures are volcanic. If you are going during that time, check the listings for air conditioners, swamp coolers and cowboy pools (which are extra-large galvanized horse troughs).
3. Many of the listings are on dirt roads. Don't worry, the main dirt roads have road signs and can be navigated with a passenger car. However, Google maps gets confused in this area and will sometimes want to send you down what is really more of a side road with loose sand. So, pay careful attention to the driving directions that your host gives you.
Get our full Joshua Tree visitor guide, figure out how to spend a day there, and also know before you go with these Joshua Tree fun facts. You should also look at our guide featuring the best Joshua Tree hikes.
If you are flying rather than driving to Joshua Tree, check out our guide for the closest and most convenient airports to Joshua Tree. Visit the area as part of a larger Joshua Tree to Death Valley road trip using our thorough guide.
(This article contains affiliate links. This means that if you choose to purchase, I'll make a small commission.)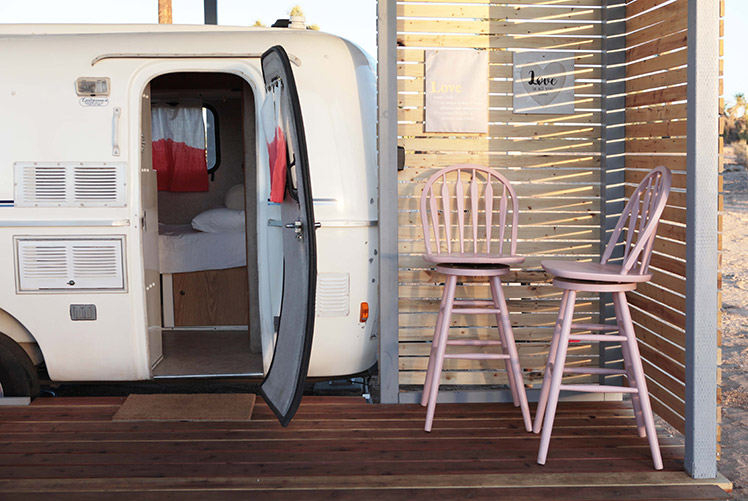 1. The Love Egg Vintage Trailer
Sleeps: 3 guests, 1 sofa bed, 1 small double bed, 1 hammock
This cute little 16′ egg trailer is pet-friendly and pretty in pink. They have a nice deck with an outdoor kitchen, outdoor shower (as well as one inside) and a hammock with killer views.
"It's adorable and I spent almost the entire time reading in the hammock. It was the perfect way to spend a couple days away to unplug."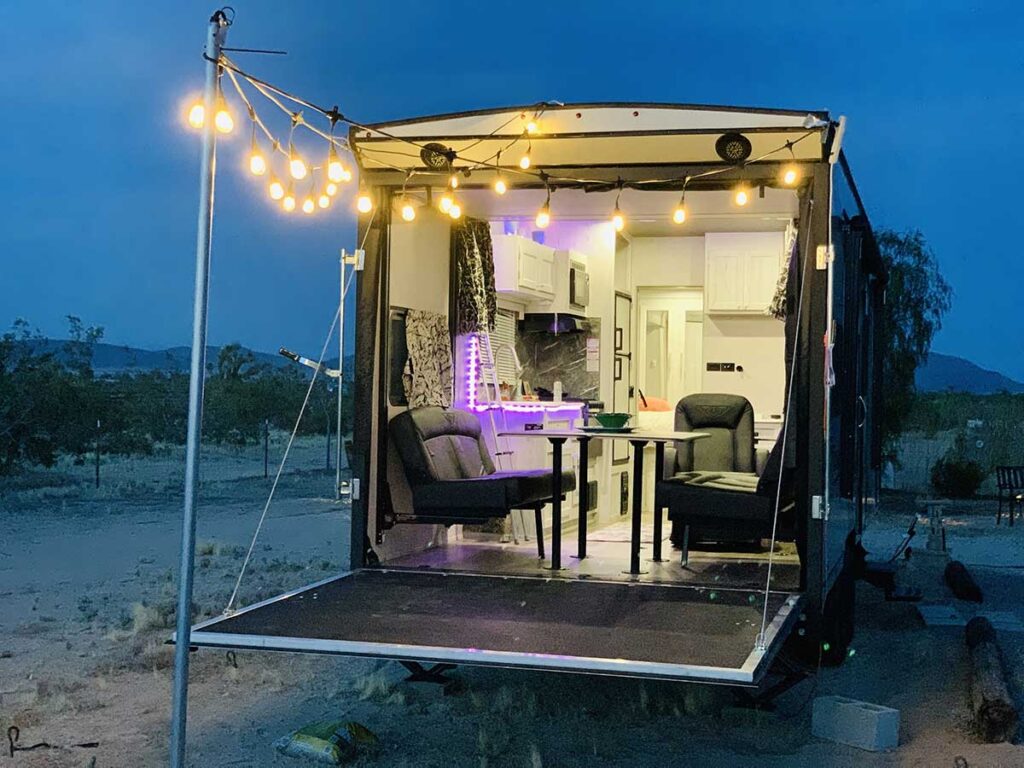 2. Unique Desert Landscape with a Toy Hauler
Sleeps: 6 guests, 1 king bed, 2 convertible couches
Toy Haulers are usually used to haul ATVs or motor bikes for offroading. But this brand new one has been converted in to a modern lounge pad with comfy chairs, a good size bathroom, modern conveniences, a cowboy pool and room for the whole family. The best part is the huge fold down rear door which brings the sunset views into the trailer for dinner.
The trailer is conveniently located near downtown Joshua Tree.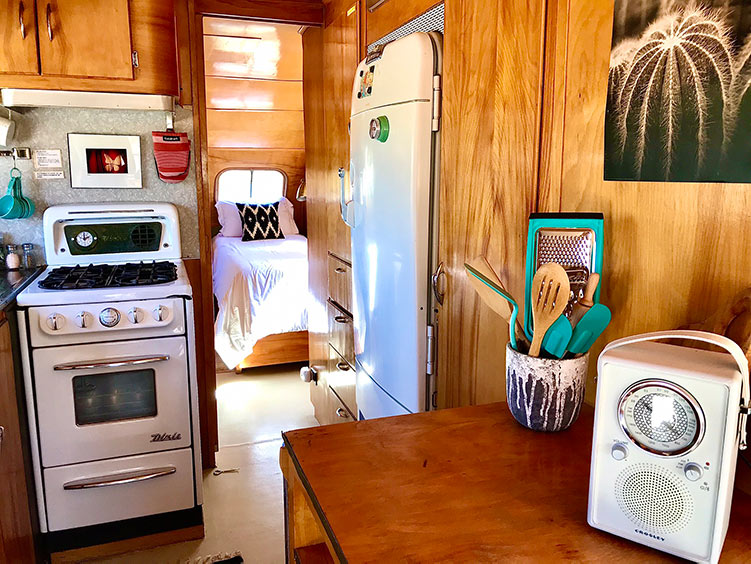 3. Silver Belle Bungalow- Vintage Trailer
Sleeps: 2 guests, 2 single beds
The Silver Belle is an affordable vintage 1951 Spartanette trailer. It's solar powered, has cute retro appliances and mid-century touches like wood paneling. It feels a million miles away but it's actually quite close to Yucca Valley.
"This place is a pristine time capsule. The trailer itself is from another era. It retains all the goodness of a simpler time. It's a fun, stylish and cozy place to stay."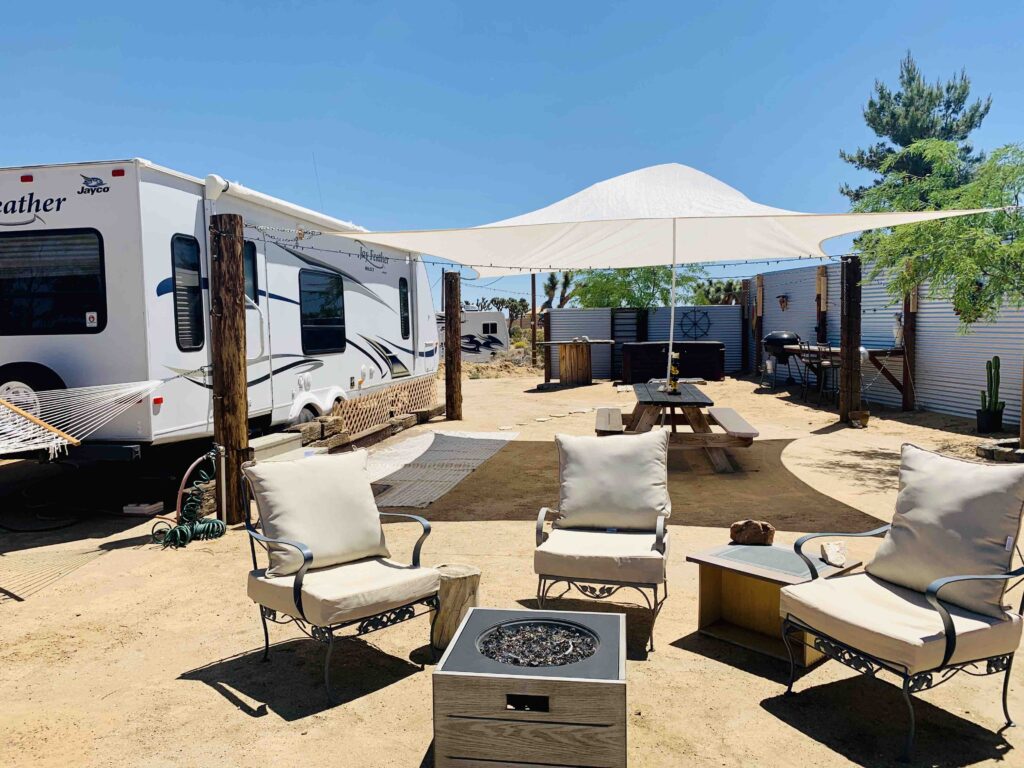 4. Pipes View RV
Sleeps: 4 guests, 1 double bed, 1 sofa bed, 1 futon, 1 hammock
Pipes View is a nice modern and very affordable RV. It's spacious and has all of the mod cons. But what makes it truly special as a Joshua Tree glamping spot is the outside space. They have a full outdoor living room with a hot tub and propane fire pit. It's on a quiet location off of 247 and is great for stargazing.
"This Airbnb was exactly what we needed! Such an amazing location, the view is spectacular! Everything in the trailer and outside was spotless. Loved sitting by the fire and looking at the stars in the hot tub! "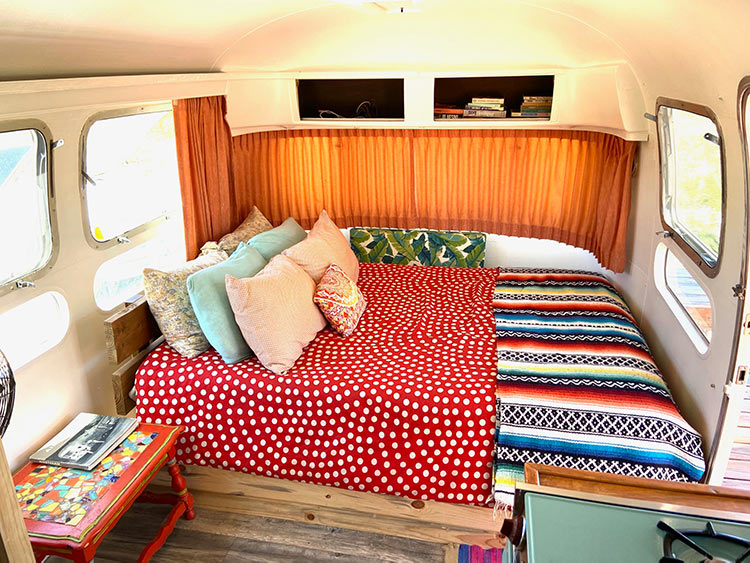 5. The Land Yacht- Classic Airstream
Sleeps: 4 guests, 1 queen bed, two bunk beds
This classic Airstream is bursting with amenities. The interior is light and colorful with wood touches and a cute turquoise stove. The outside has a very generous deck space with a covered picnic table, fire pit and a cowboy pool. The lot feels private but the Yacht is located near the town of Joshua Tree and the National Park entrance.
"You're going to absolutely fall in love with this place! Nice secluded area where you can catch jack rabbits running around while enjoying the pool and fire pit."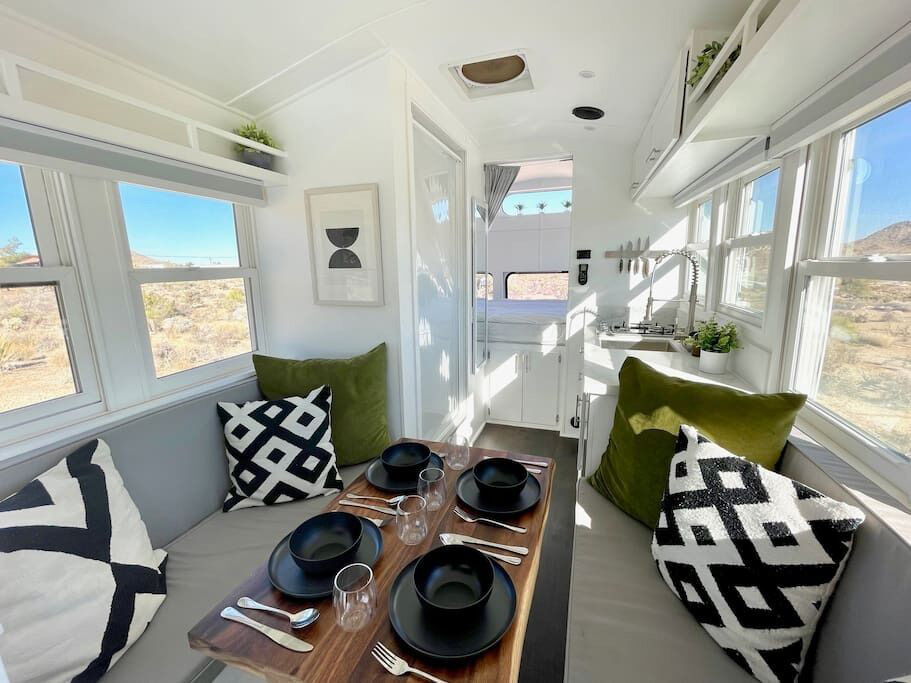 6. The Oliver- Designer Short Bus
Sleeps: 2 guests, 1double bed
This is such a cool little trailer. It's a converted short bus that's been incredibly well-designed with architectural touches and custom woodwork. It's full of light and has 7.5 feet of headroom (which is more than you can say for many trailers). The outside space has a table and chairs and a shared fire pit. The bus has an indoor toilet but a shared shower in an outbuilding. It's located on a 5 acre property with some other glamping units.
"Quant and cozy with high-end touches in the desert. Just the right amount of space for a couple. Step outside at night for the most amazing view of the stars."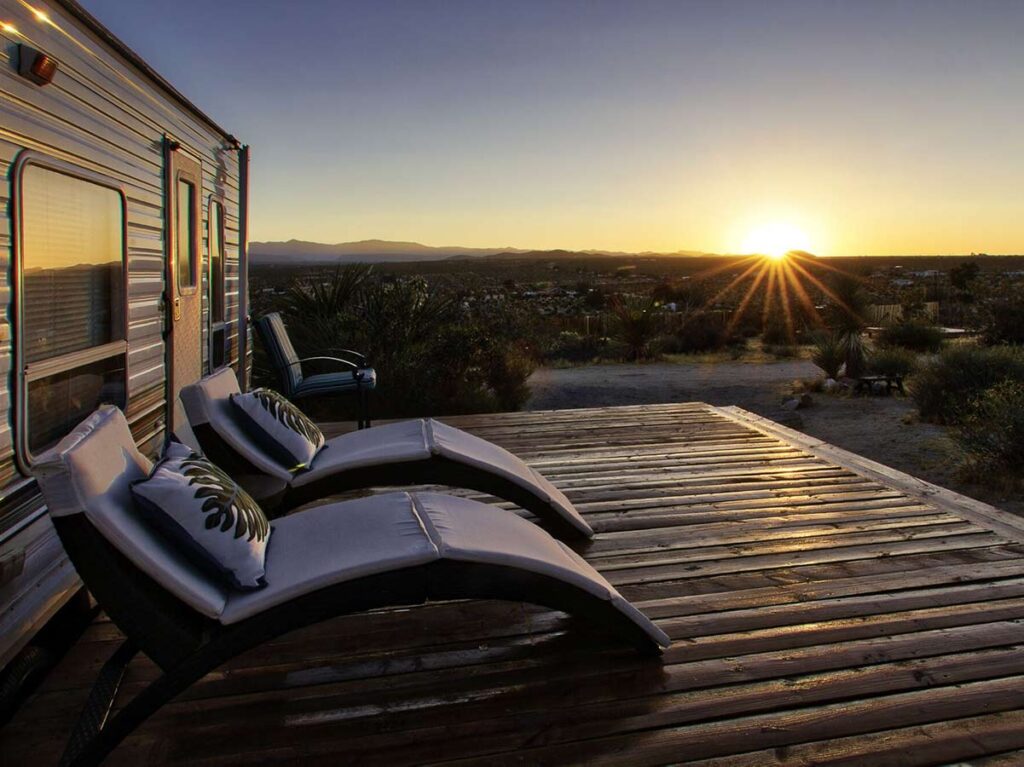 7. Open Sky, Starry Nights RV
Sleeps: 3 guests, 1 queen, 1 futon
This spacious trailer offers great indoor/outdoor living. The indoor space has sized kitchen and dining area in a studio-style layout. The outdoor space has a killer deck with even more killer sunset views and a firepit with benches.
"Great place to see the sunset and stars! It is in a huge fenced yard next to the main house. The main house is behind the RV, so it feels like you have the entire area to yourself."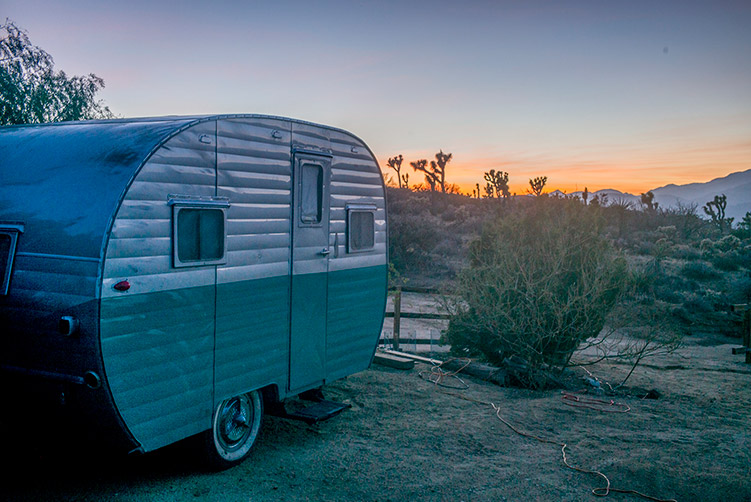 8. Vintage Trailer on Artist Compound
Sleeps: 1 guest, 1 bed
This cozy 1955 vintage trailer is perfect for someone who needs to get away for some me time. The trailer is located on an artist compound 1.5 miles up a quiet dirt road with 360′ views. The trailer itself has limited amenities but you are allowed to use the bathroom and kitchen in the main house. There is also a clothing optional pool and hot tub that is shared with the owner.
"Best kept secret in the desert, charming free spirited environment. Tao's hospitality and taste are next level"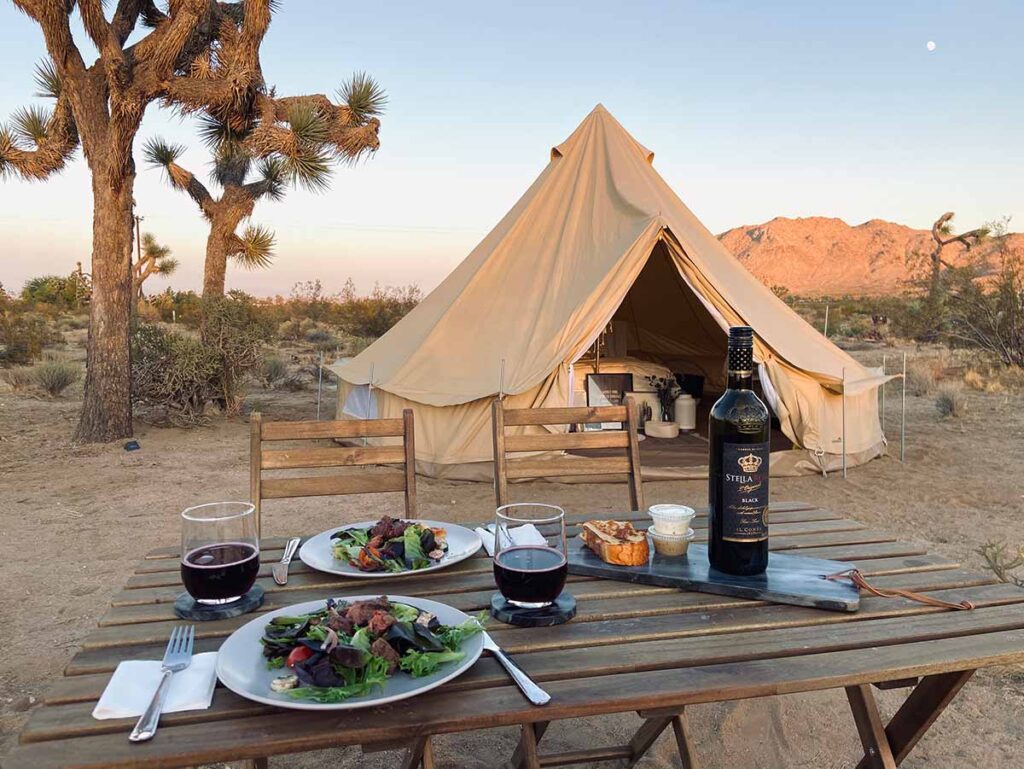 9. The Moon Dust Glamping Tent
Sleeps: 2 guests, 1 queen bed
This Airbnb listing is classic Joshua Tree glamping. It's a 16′ tent with a queen bed and outfitted with fancy bedding and a propane heater. There is a heated outdoor shower and port-o-potty. The outdoor space also has a dining table, cowboy pool and a hammock. They also provide some romance by throwing in a bottle of wine.
"Wonderful relaxing getaway in a stylish facility! The sky and landscape is stunning and the bed inside the tent was super comfy and welcoming, not to mention the lovely bottle of wine…"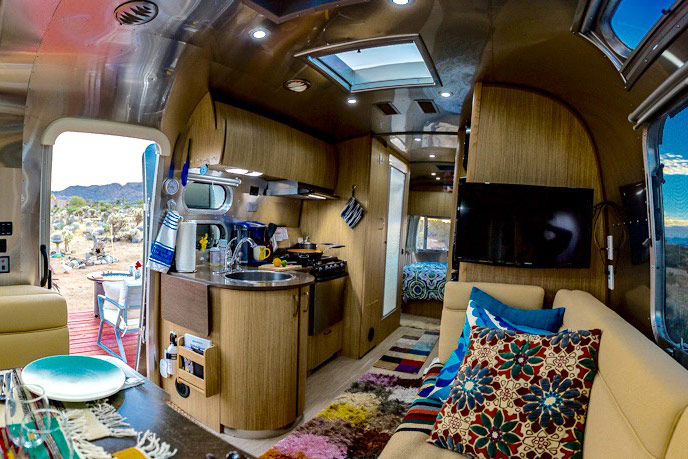 10. Magical Airstream
Sleeps: 4 guests, 1 queen, 1 double, 1 single
This Airstream is cool enough on the inside, with a cushioned banquette, modern kitchen amenities and proper bedroom. But this glamping spot really shines on the outside. There is a generous deck with a comfy outdoor living room, propane BBQ and 1.5 acres of desert views.
"If you get the chance to stay here, consider yourself lucky. In close proximity to the national park and filled with fun and fantastic/adorable amenities–this space is special…"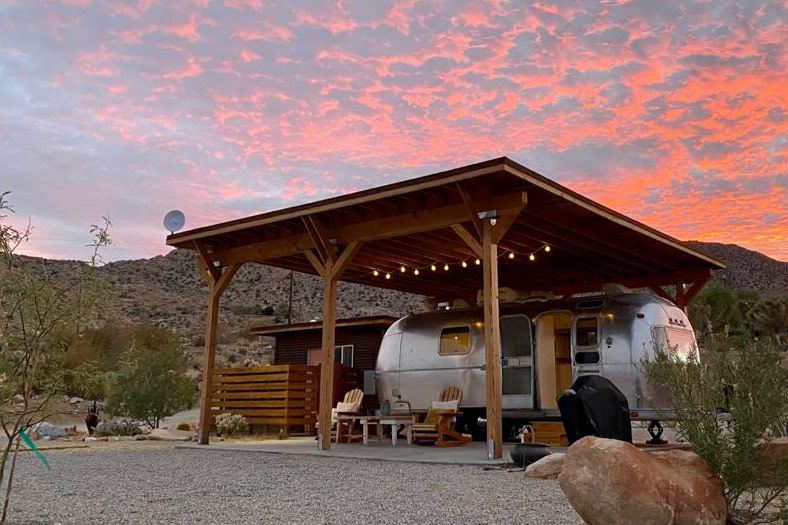 11. Airstream with Incredible Views
Sleeps: 2 guests, 1 double bed
This renovated 1970's Airstream trailer has a light, bright design with modern conveniences on the inside. The outside is nice because the trailer is nested under a fully shaded roof, which is key in the hotter months. They also provide a warm outdoor shower from which you can check out the soaring 360 degrees dramatic landscape, and flow with the peaceful, restorative tranquility of the desert.
"The moment I got out of the car I knew I had chosen well. Exquisite, complete quiet. As I walked to the Airstream I was greeted by that magnificent view across the little valley."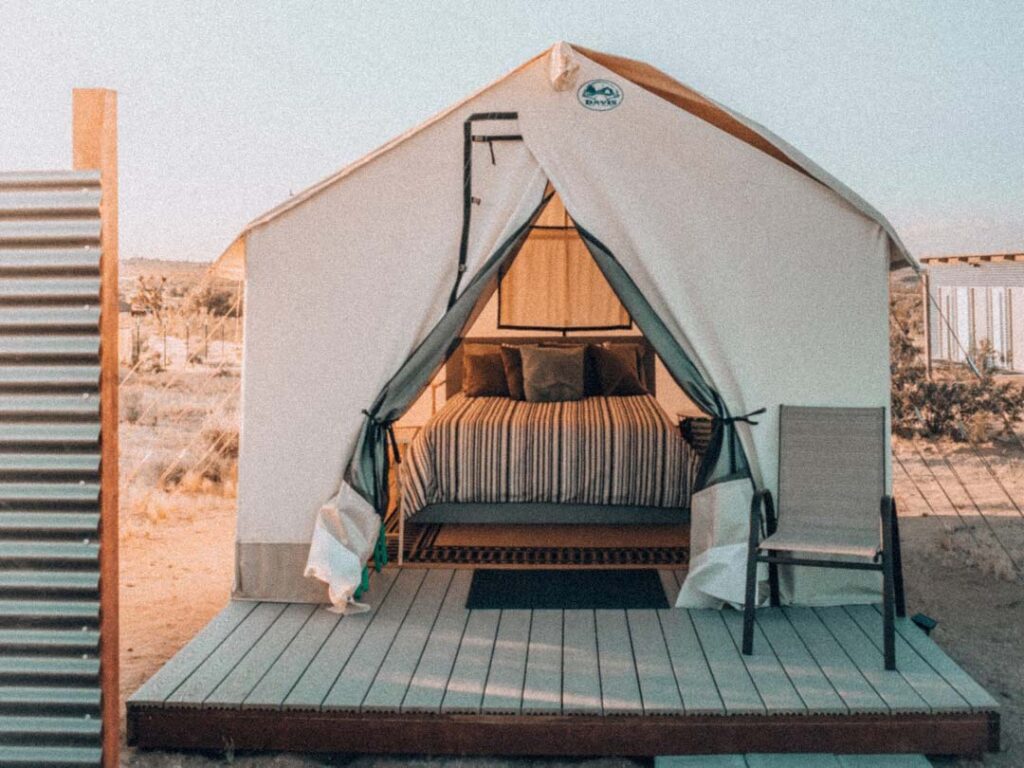 12. Joshua Tree Tents with Pool
Sleeps: 2 guests, 1 queen bed
This affordable Airbnb listing is part of a compound of 5 tents, with two full shared bathrooms (hot water) and a kitchenette. There is a large patio and BBQ area and pool. This glamping spot in Joshua Tree would be great for a larger family or friends group who want privacy for sleeping but also shared space to hang out together.
"Had an amazing stay! The tents were absolutely perfect for a mini getaway in Joshua Tree! The pool was a plus especially on a hot and sunny day. The cooking area was supplied with everything we needed to cook for our meals."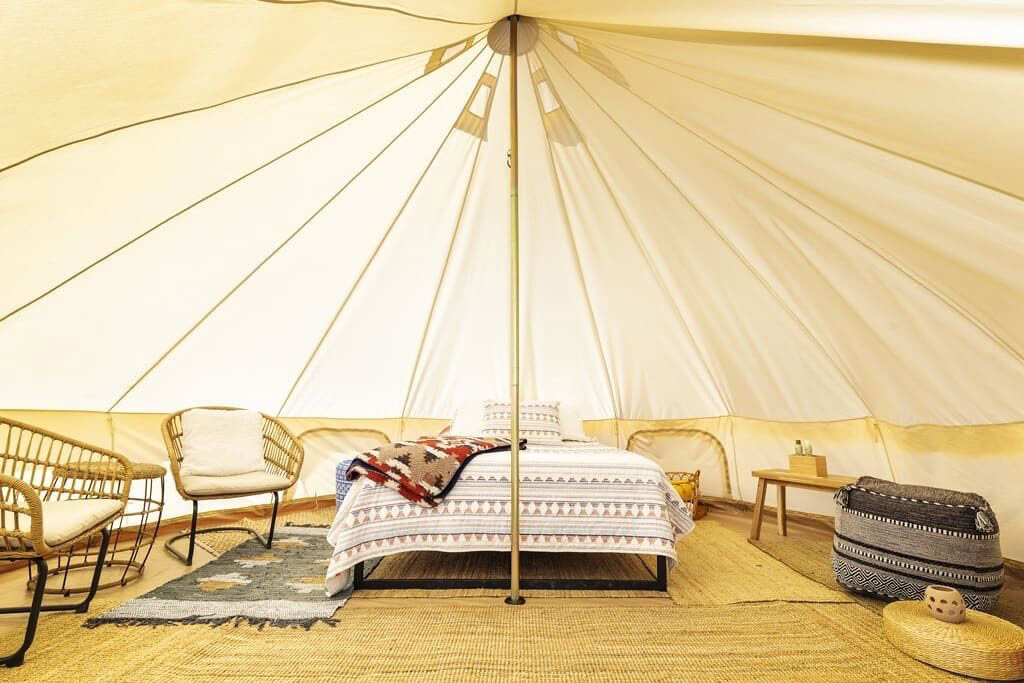 13. The Electric Yurt (with Pool)
Sleeps: 3 guests, 1 queen, 1 cot
This yurt is part of the Castle House Estate complex. The complex has a kooky medieval vibe with a blend of indoor and outdoor living. Each yurt has plush floor pillows on woven floors, a queen bed and a private fire pit. The bathrooms and showers are shared with other guests. You can do this as a couple's retreat or rent multiples units in the facility for a group trip.
Enjoy your stay in Joshua Tree! Check out these other cool things to do in Southeastern California:
Share these awesome Joshua Tree glamping spots with your friends on Pinterest: