By definition, East Jesus is slang for something that is ridiculously far away, or more colloquially, way the F out there. And the East Jesus artist collective and sculpture garden in Niland is certainly that– both literally and metaphorically.
From a literal standpoint, East Jesus is 70 miles southeast of Palm Desert and 148 miles due east of San Diego. It's located on a hot, scrubby patch of land adjacent to the Slab City squatter complex. Both are bordered by the acidic Salton Sea and razer sharp hills of the Sonoran Desert.
Metaphorically, East Jesus is even more out there…but in a good way. This legit non-profit arts organization is an unapologetically weird collection of found-object sculptures with an artistic ethic rooted in sustainability and collective effort.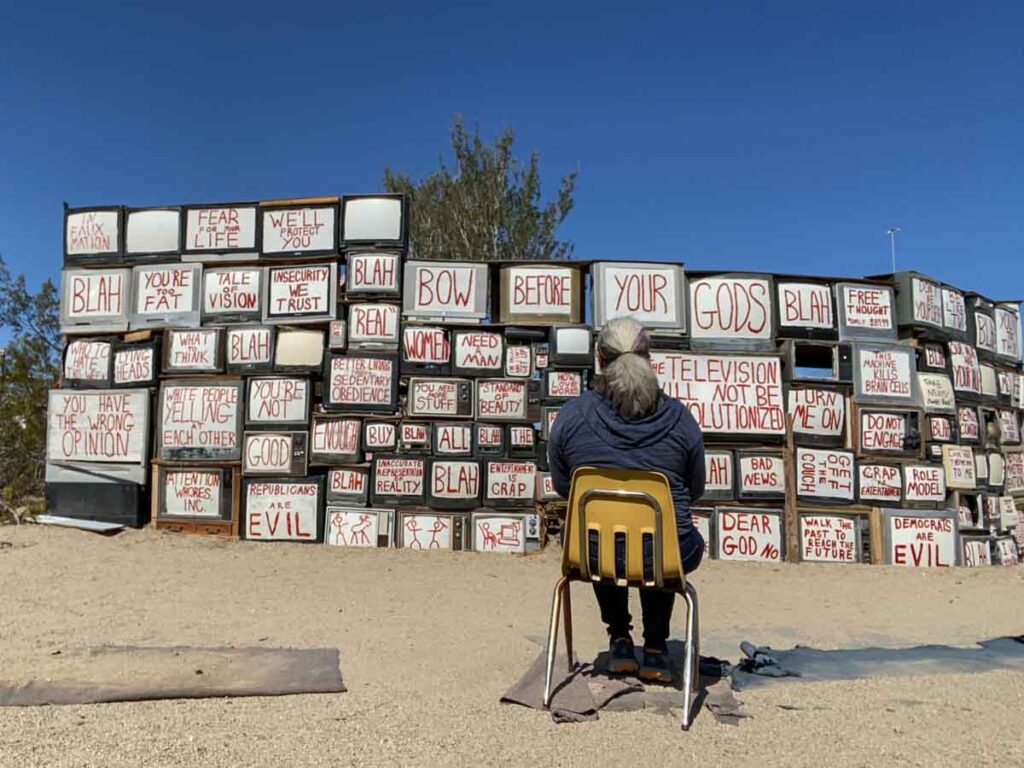 East Jesus was founded by Charlie Russell, a Burning Man artist who came to the area to help Leonard Knight with his Salvation Mountain project (pic of that below). Russell liked the ethic at Slab City, which bills itself as "the last free place", so he established a camp on private land just outside boundaries of the Slabs. East Jesus began with Charlie and his exuberant art car sculptures. But over time, it has grown into a much larger 30-acre space, with a huge sculpture garden, tours, an artist live/work space, workshop, music room, and garden.
To find out more, I spoke with Jenn, the primary Artistic Director for the East Jesus. She's a retired teacher and the chief shepherd for the complex. She says that the mission for East Jesus is focused on art, sustainability and the points at which they intersect.
We encourage people to work with what's been discarded"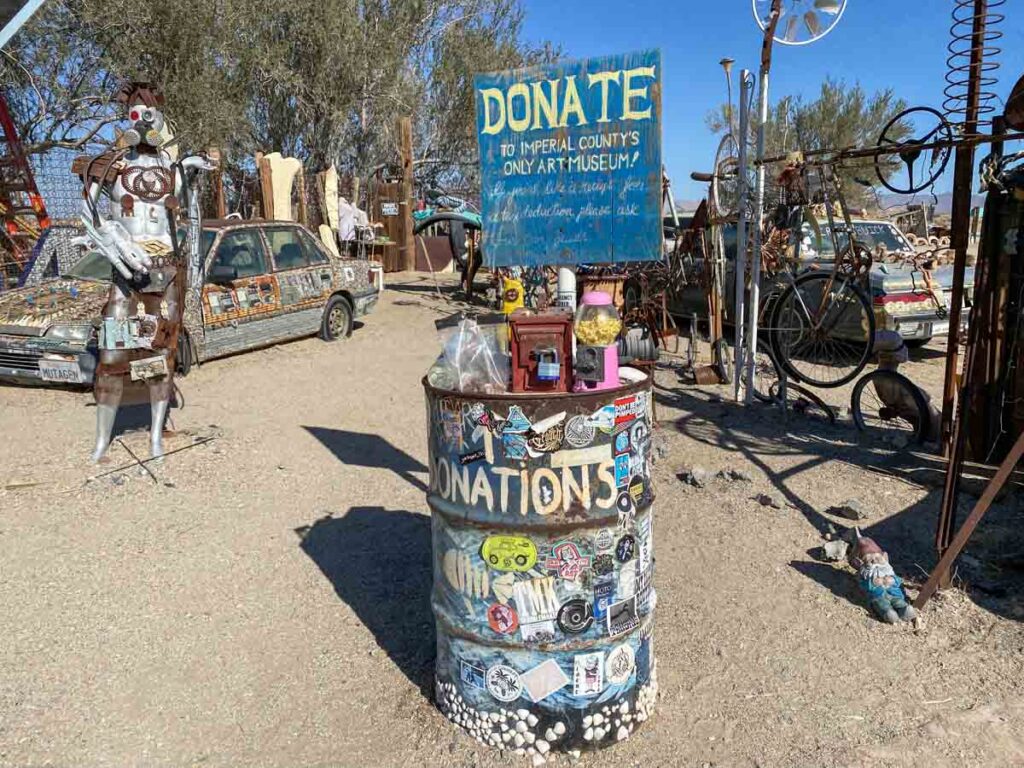 As she gave me the grand tour, I was struck by how the whole site is a study in contrasts.
On the one hand, you have an explosion of art that is supremely creative, whimsical, edgy and political. The sculptures are a happy mess of found objects repurposed into sculptures featuring animals, decorated cars, political messages, bizarre interactive games, towers of sparkly stuff and (if you look carefully at the image above) randomly placed gnomes.
But on the other, East Jesus is a serious arts organization that provides public education, generates its own electricity with a 48 volt solar array. composts its own waste, and then repurposes it into a veg and herb garden. East Jesus keeps a sharp eye on its plein air artistic treasures with someone on shift at all times. And they also provide food and housing to artists-in-residence.
All of this artistic work is being done in a county that not only has no arts funding, but it has no other art museums at all. And while East Jesus and the county do work well together, these guys have really had to bootstrap their own museum in desert ecosystem that's hostile to human habitation.
Jenn and the on-site volunteers spend half of everyday just keeping the basic systems humming. She sees her role as "maintaining the canvas" of this sprawling work-in-progress.
I mention all this because for me, learning about the sweat that goes into East Jesus made me appreciate the artworks even more than the first time I visited. And even though Instagram has helped to increase the visibility (and visitation) for East Jesus, what's going on there is worth a deeper inspection than the simple selfie.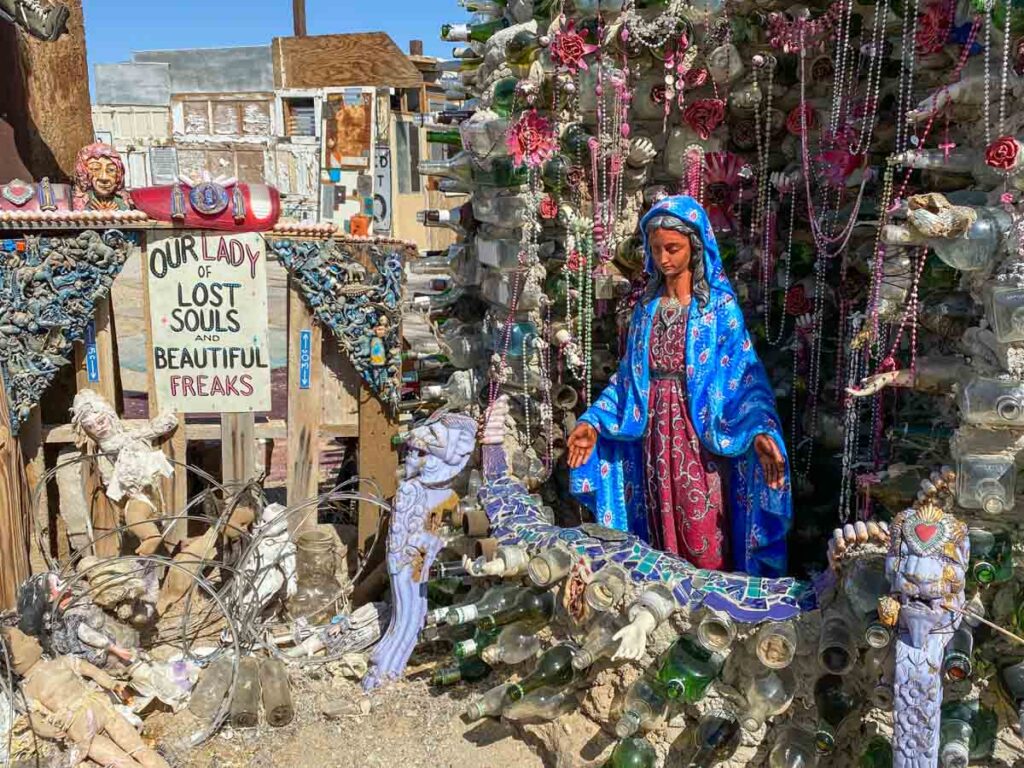 Our Lady of Lost Souls and Beautiful Freaks guards the entrance to the live/work area of East Jesus. The bottle wall that it's embedded into has been a work in progress for many years.
The TV wall sculpture was also a long work-in-progress, taking ten years to assemble. There's plenty of commentary built into the TV sets including: "white people yelling at each other", "bow before your Gods", "this machine kills brain cells", and in a bit of equal opportunity political barb "Republicans are evil" and "Democrats are evil".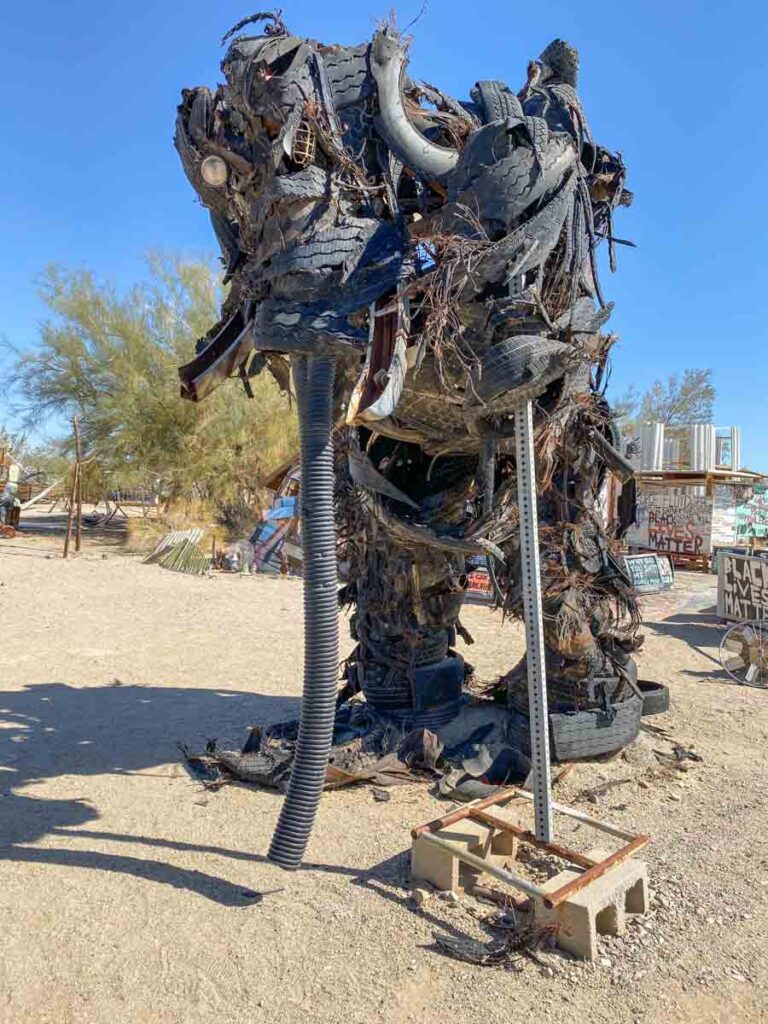 This elephant sculpture made of old tires and dryer vent hose is a great example of how "junk" can be graceful.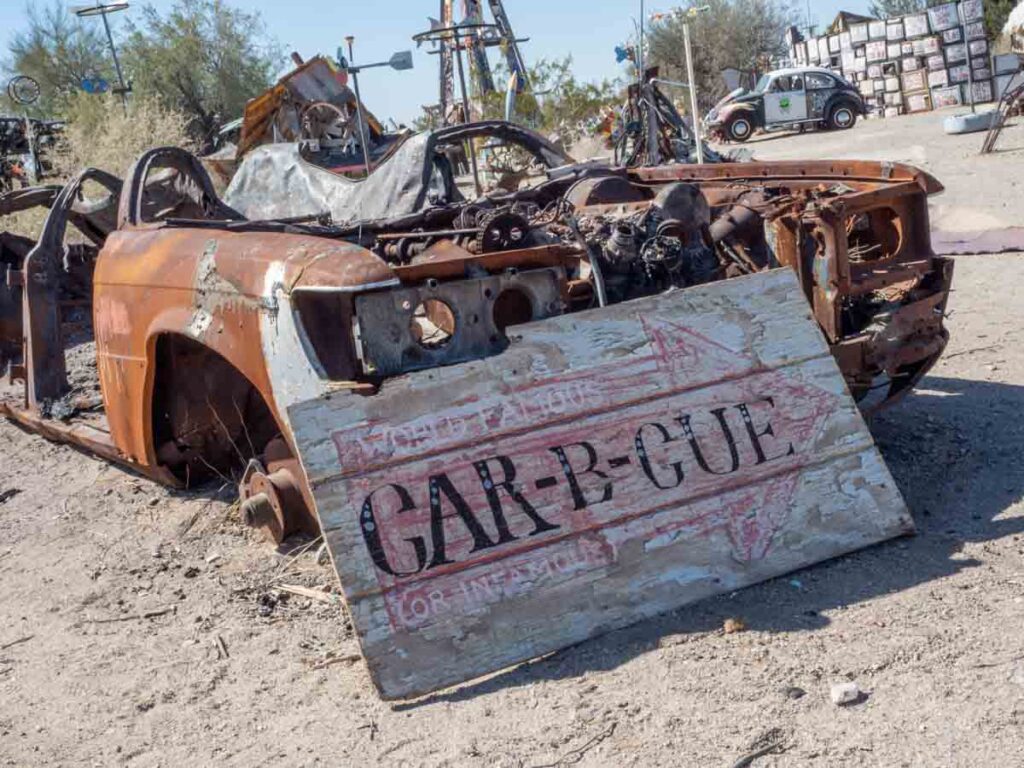 In the classic Burning Man tradition, the Car-B-Cue, which was once husk of a car, now functions as a ceremonial fire pit.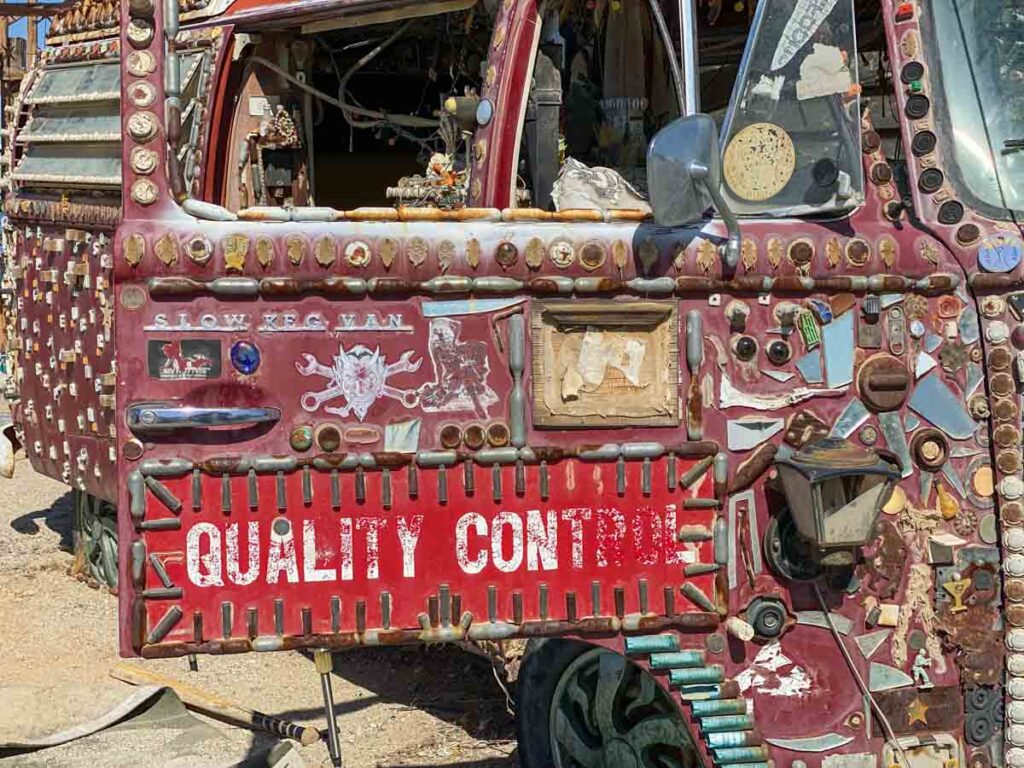 This art car keeps up the spirit of Russell's original creations.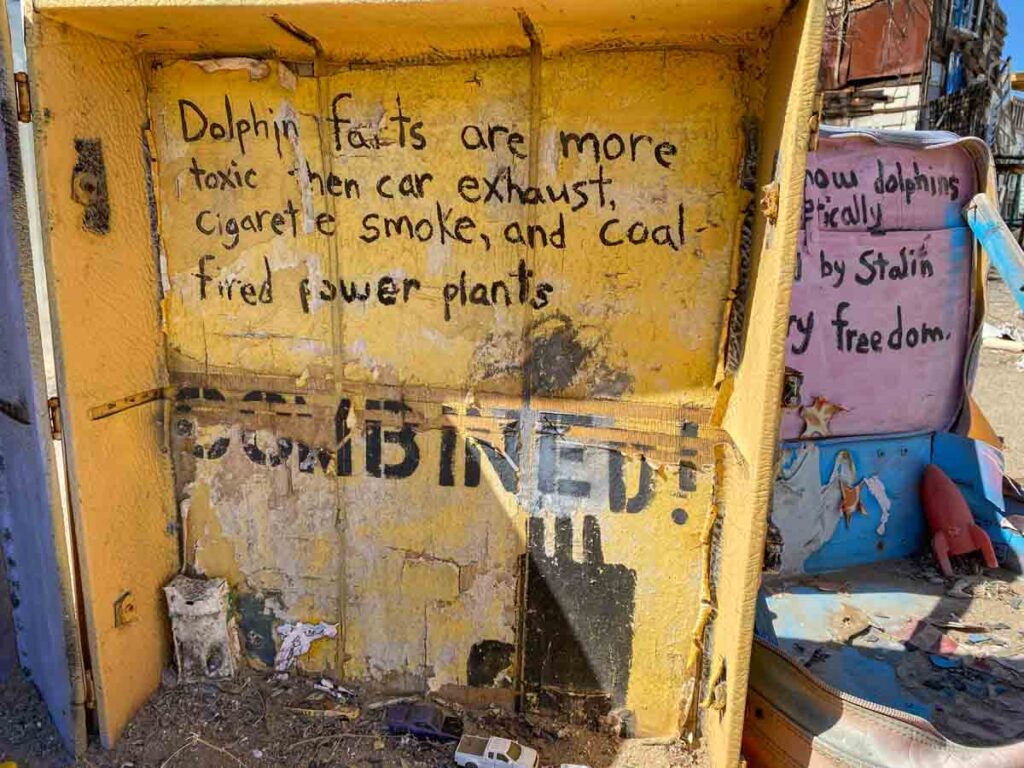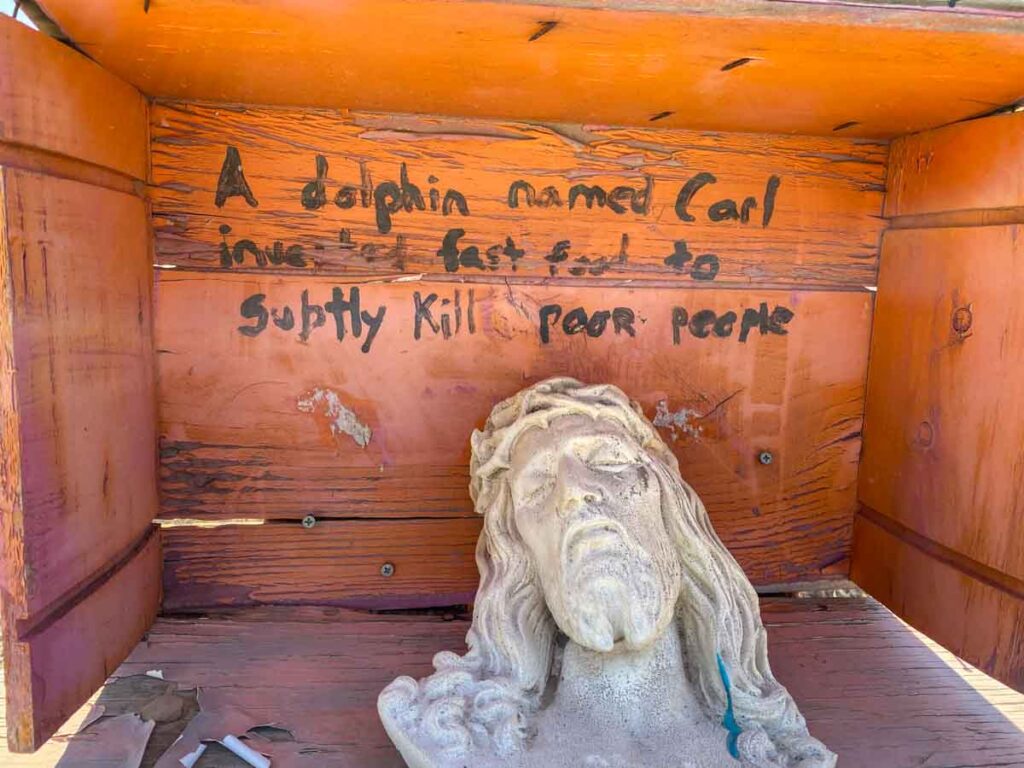 The series of anti-dolphin sculptures are among my favorites. They have a low-brow look with a high concept message. It's so seditious to imply that everyone's favorite marine mammal "invented fast food to subtly kill poor people", that their "…farts are more toxic…[than] coal fired power plants" and that they "were genetically engineered by Stalin to destroy freedom". Flipper must be turning over in his watery grave.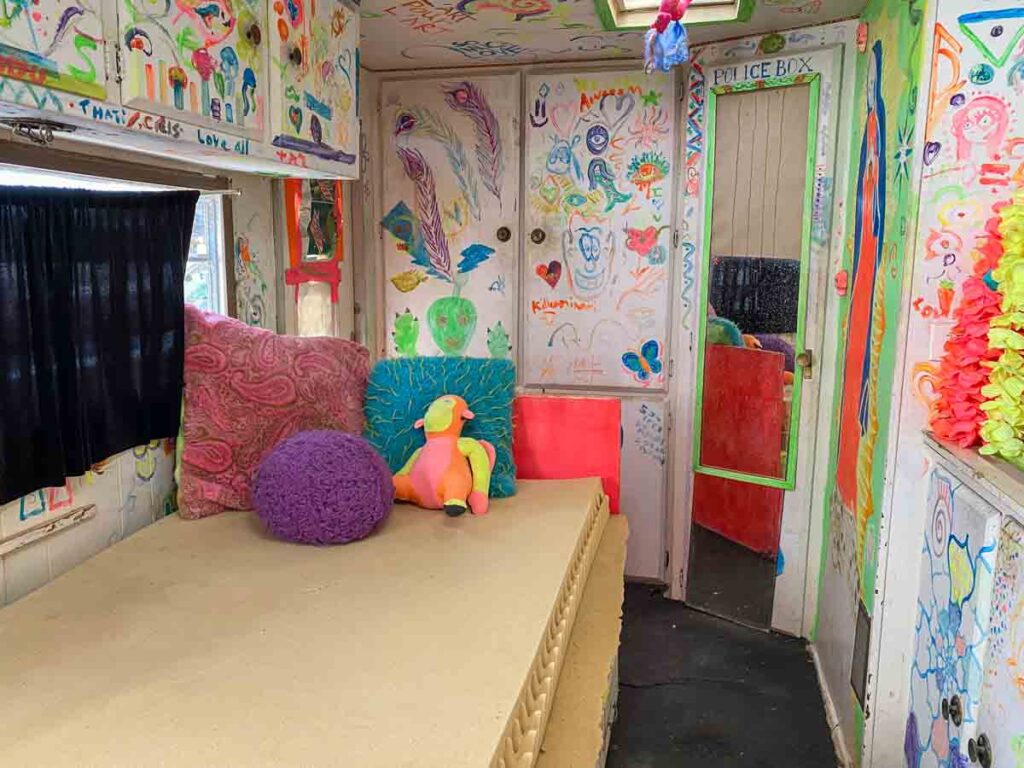 These fancy digs in the Pink Wonder Wagon provide housing for the resident artists.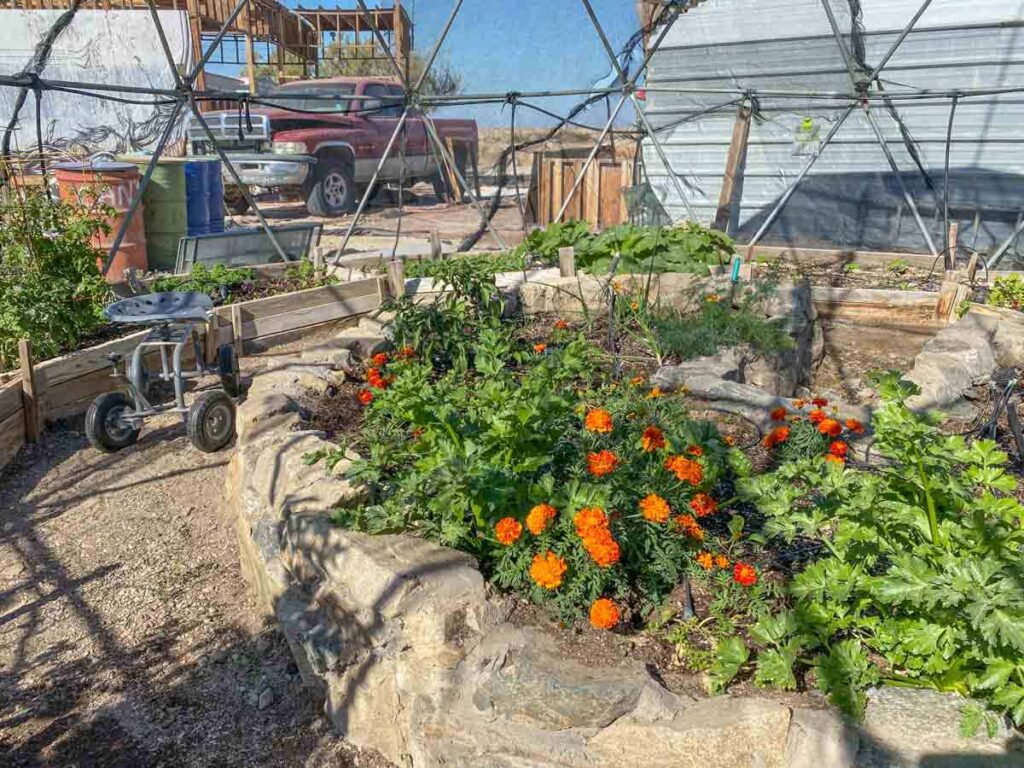 Here's the DIY greenhouse with a flower, herb and vegetable garden.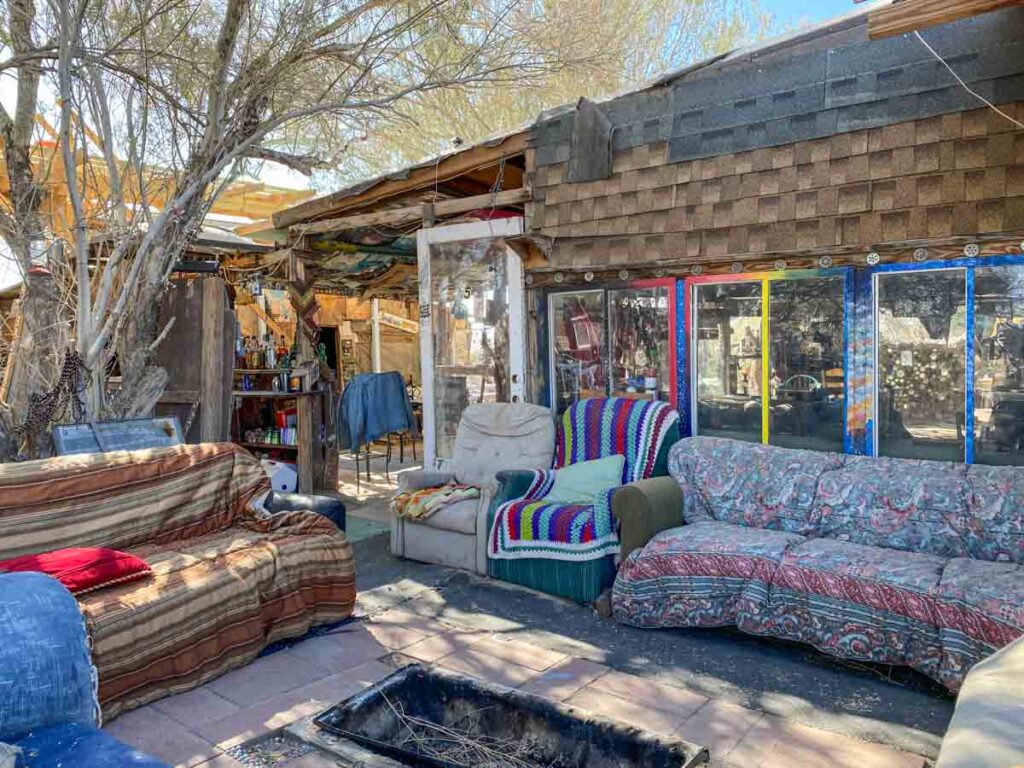 It's all about communal living in East Jesus with shared meals, shared chores and a group living room with fire pit.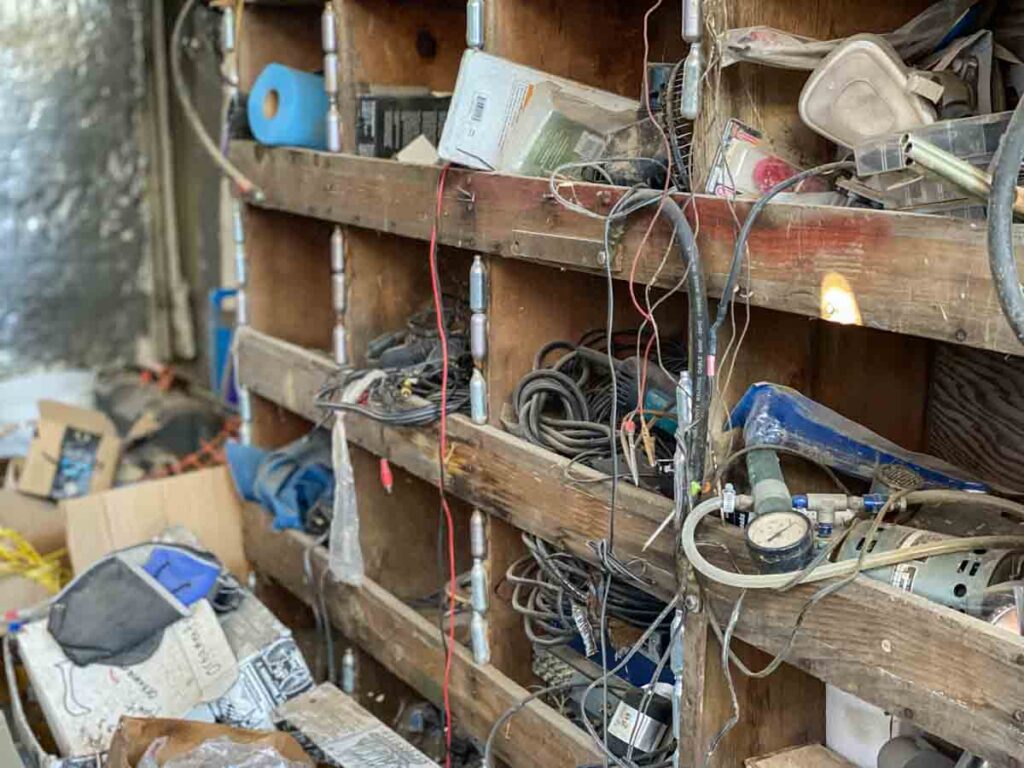 The work shed houses a wide array of hardware, which is used for both art projects and to keep the power and water systems running.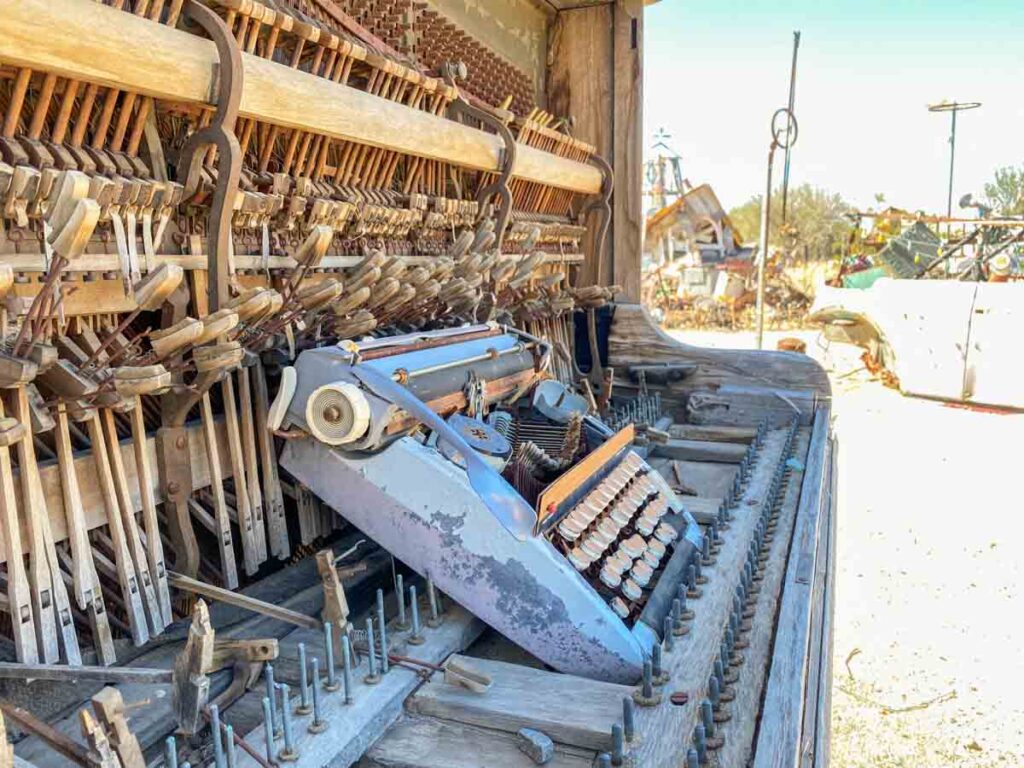 How to Visit East Jesus, California
You can easily do East Jesus as a 1/2 day trip from Palm Springs. It will take about 1:15 to dive the 70 miles from Palm Desert. It also makes a good stop if you are transiting between Palm Springs and San Diego. Simply take a loop over to East Jesus, and head back toward San Diego through Anza Borrego State Park. Alternatively, you can go back to Palm Springs the loooong way by taking the scenic Palms to Pines drive.
When you get to Niland, go east on Main St., which turns into Beal Road. Go about 4.5 miles, driving past Salvation Mountain, hang a left at the T-intersection and left again when you see the signs for East Jesus.
If you'd like to spend more time on site, check in at the Ponderosa Camp in Slab City. If you have a self-contained RV or van, they may let you camp out on their patch. Spyder, who runs Ponderosa, also rents out some RV beds and a few "cabins" for cheap through Airbnb. It's not fancy, but it's an authentic experience in The Slabs.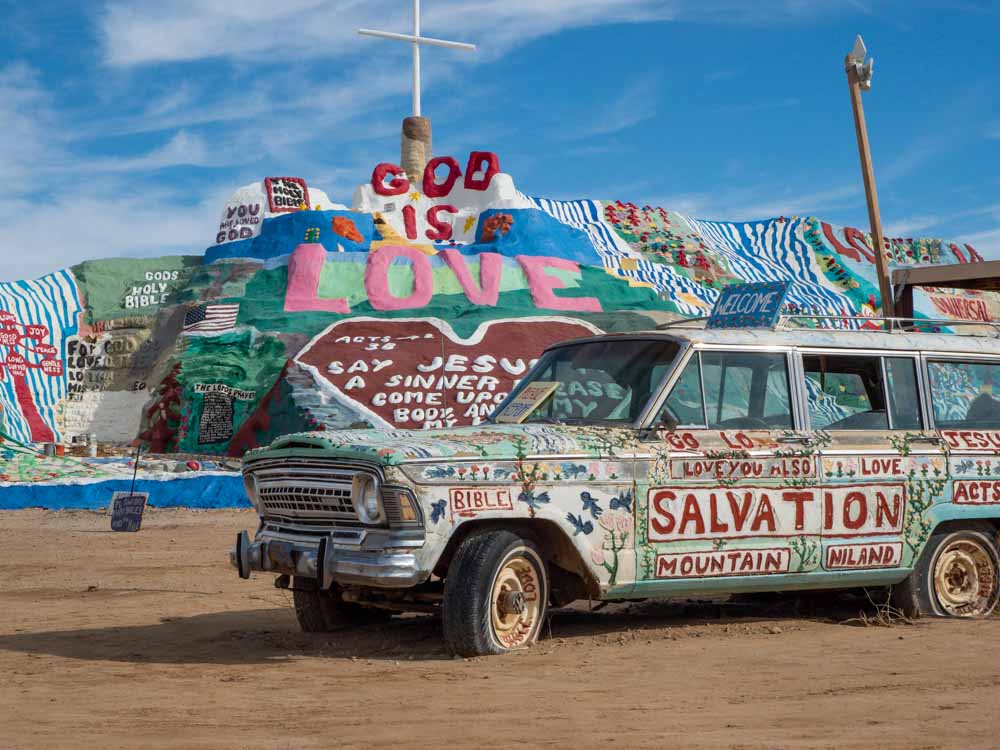 What Else To Do Near East Jesus
On the way down to East Jesus, stop in at Bombay Beach. There are a series of fun sculptures that have been places on the beach and in the water.
Once at East Jesus, take some time to wander around Slab City. We have a whole article on the history and vibe of Slab City. It will give you info on why its worth visiting and what to do there. But the short list includes a visit to Salvation Mountain, which is a landscape painted with religious fervor by Leonard Knight. You could check in at Rabbitside Camp and see if they are available to give you an informal tour of their complex. And be sure to visit the free Slab City Library.
More Southern California Finds
Share with your friends: