Joshua Tree National Park offers a fantastic outdoorsy experience, but leave some time in your itinerary for the town itself. Slide down the rabbit hole and explore these eight cool things to do in Joshua Tree, which feature offbeat art, UFOs and remnants of the American West.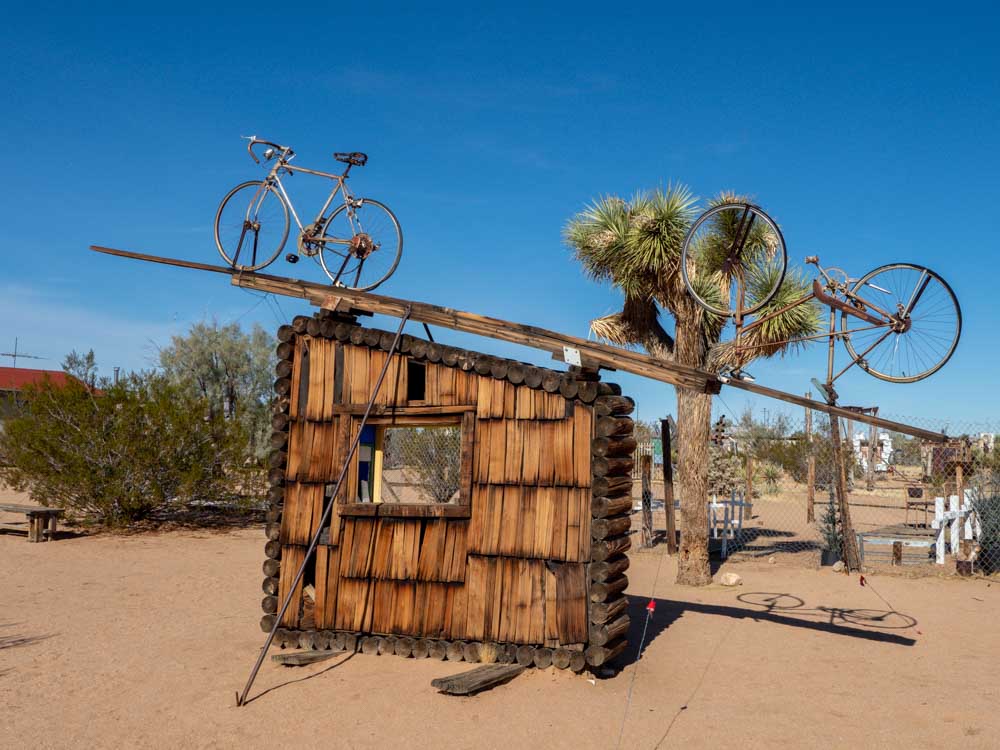 As I drove south on state highway 247 into the Morongo Basin, I had to defer my Joshua Tree National Park day trip when I fell hard down that rabbit hole. The tunnel was lined with a series of art installations and museums featuring crocheted poodles, toilet sculptures, metal abstracts, a POW cabin from an alternative dimension, a pioneer junkyard and the ghost of Gene Autry.
I was surprised by all of the artsy things to do in Joshua Tree and was curious about how it all began. I puttered around, asking everyone where Joshua Tree's artist vibe came from, but was met with shrugs. The bar keeps, gallery artists and motel receptionists seemed to simply accept that the art culture was always there.
From what I've been able to piece together, it started with the arrival of mid-century artists who came to the Basin looking for desert landscapes. A gallery scene arose in 29 Palms during the 1960s. Over the next few decades, galleries and studios spread along the highway 62 corridor, ensuring that the arts culture became firmly planted into the sandy soil of the Basin.
Another factor is Joshua Tree's easy proximity to Los Angeles. Finding a large plot of land to install a studio is far cheaper in Joshua Tree than in metro LA. Where else could Noah Purifoy have gotten the ten acres that he needed to build his toilet sculptures? Artists like Purifoy, and fellow sculpture artist Simi Dabah used the Basin as an inexpensive artistic outpost and open air storage unit for their work.
In addition, the LA movie makers of the '40's and '50's used the area as a live "wild west" set. The Basin landscape has the requisite color palette and it's just close enough to LA to avoid paying out-of-area labor union premiums.
Intruiged, I carved some time out of my national park trip see what this particular rabbit hole had on offer.
Are you ready to slide down the rabbit hole? If so, I'll help you figure out what to do in Joshua tree and why it's worth taking some time away from the natural beauty of the National Park to explore the town's quirky artistic charms.
(This article contains affiliate links. This means that if you choose to purchase, I'll make a small commission.)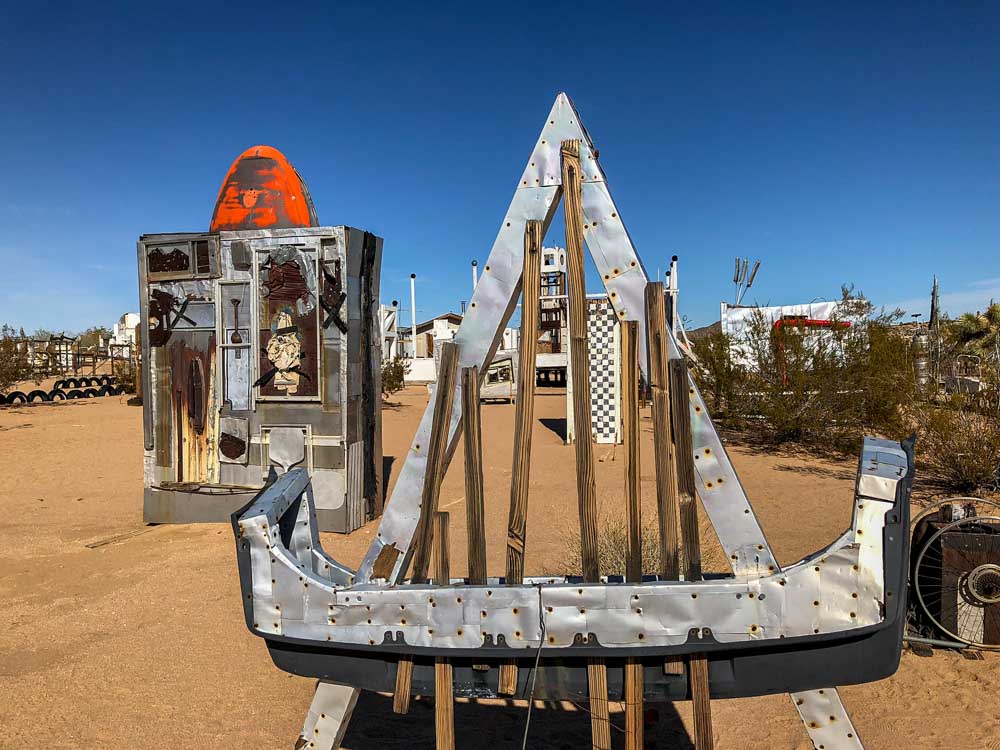 Where to Stay in Joshua Tree
The first thing you'll want to do is figure out your base of operations for this artistic quest.
There are a lot of very cool, retro and artsy Airbnb stays in Joshua Tree. I've produced two articles and each has 13 amazing offerings to check out:
If you prefer full service, Booking.com has plenty of hotel and motel listings for Joshua Tree, and also nearby 29 Palms and Yucca Valley, like the western-themed Joshua Tree Ranch House or Pioneertown Motel.
If you like roughing it, we've got your covered with our guide to camping in Joshua Tree, which includes options both in and out of the park.
If you are flying rather than driving to Joshua Tree, check out our guide for the closest and most convenient airports to Joshua Tree.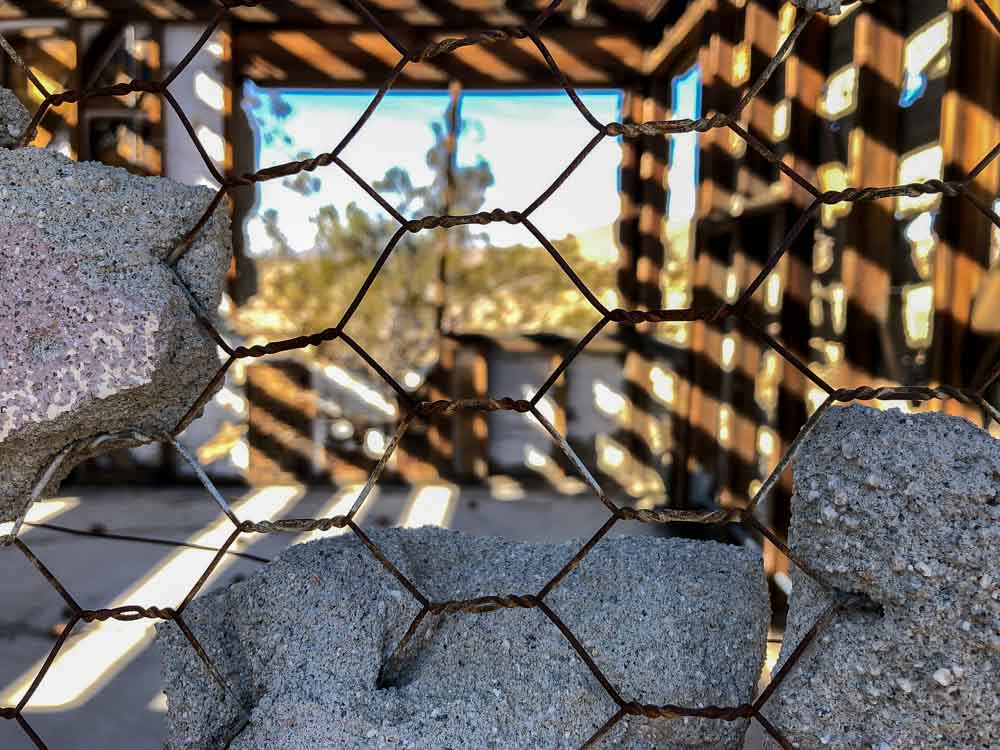 Whatever you do, don't stay in the Krblin Jihn Kabin. These walls won't keep out the wind and snakes.
Top Things to do in Joshua Tree Town (For Weirdos, Culture Vultures and Extraterrestrials)
You can do all of these artistic endeavors in one full day or two lazy days. I spent two days and nights in the area and had time for both the artsy Joshua Tree attractions as well as hiking and sightseeing in the Joshua Tree National park. You can also do some advance prep for the trip by checking out these 10 fun facts about Joshua Tree.
The Integratron
Before reaching Josuha Tree town, I turned left at Landers and headed down a nondescript dirt road into what I hoped wouldn't become an alien abduction. My first stop was The Integratron.
This wooden dome was designed by George Van Tassel. He claimed that it was informed by the writings of Nikola Tesla and he built it with telepathic directions from Extraterrestrials. It was "designed to be an electrostatic generator for the purpose of rejuvenation and time travel." But, of course. Apparently, it's also got great acoustics.
How to Visit The Integratron
The site is not open to the public on a regular schedule. You can easily find the site and walk around the exterior. You can also schedule one of their signature South Bath experiences, which involves 30 minutes of sounds from quartz crystal bowls followed by a relaxation experience. The Integratron is located in Landers, which is a 20 minute drive north of Joshua Tree town.
Integratron map location here. If you like the idea of sound experiences and energy vortexes but can't get into the Integratron, check this sound and mind journey as an Airbnb vortex experience.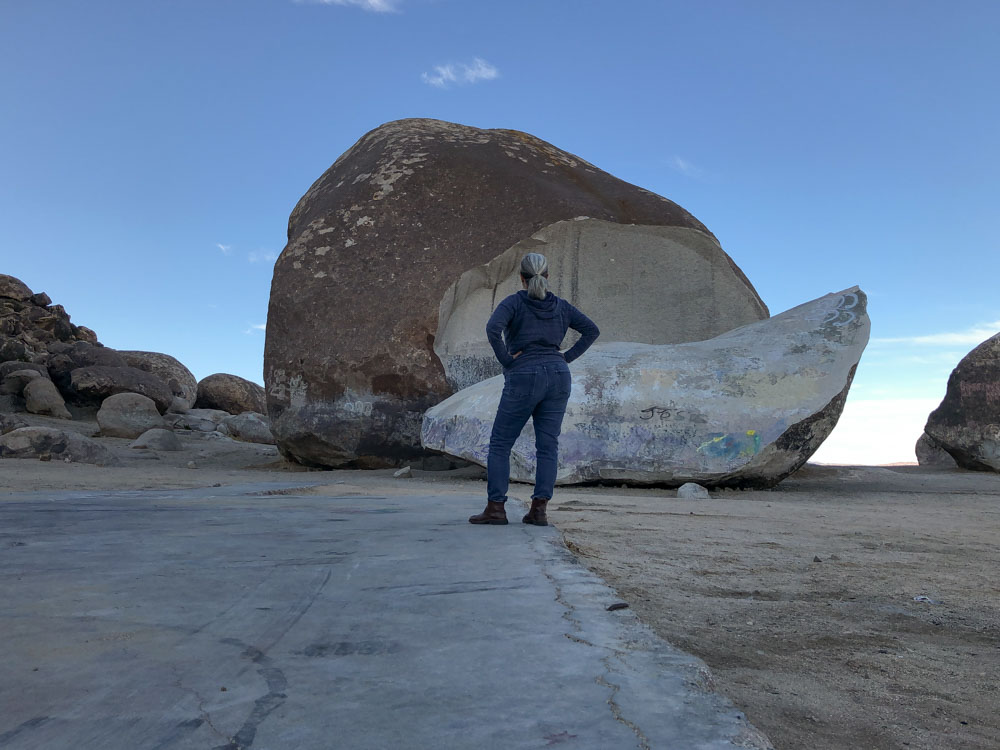 The Giant Rock
Heading further north along the same dirt road, I went in search of The Giant Rock. The name is not hyperbole, it is indeed an actual giant rock. It looms seven stories above the sandy basin floor. The rock is a magnet for spiritual vortexes and UFOs. For skeptics such myself, it seems more like a magnet for kooky characters and tall tales.
The Giant Rock used to be a key stop for nomadic Native Americans and the Hopi used it for shamanic ceremonies. There is also a rumor that it sits on an energy vortex, of the kind you might find in Sedona Arizona or Tulum Mexico.
Van Tessell himself had an interest in the rock. He provided the funding for his friend Frank Critzer to dig out a 400 square foot hole under the rock. Critzer used the space as his home and also for storing his mining explosives.
Following the inevitable explosion and Critzer's resulting death, Van Tessell took over the space, using it for his UFO conventions.
The whole thing is an interesting bit of geology, a quiet patch of desert and a lark. Fortunately, I didn't get abducted by aliens.
How to Visit the Giant Rock
The Rock is just a 10 minute drive up a dirt road from the Integretron. The road is a little rough in spots but it was fine for my passenger car. Drive carefully and avoid the road if it has been raining recently.
Giant Rock map location here.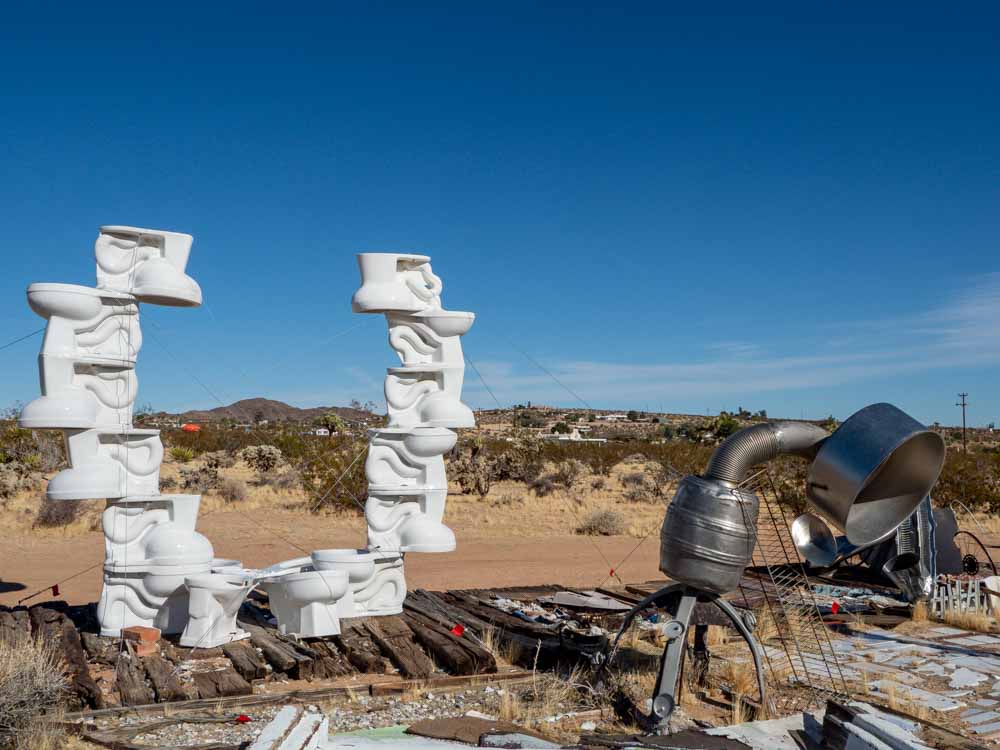 Noah Purifoy Desert Art Museum
Purifoy was born in Alabama, he earned his MFA in 1956 and later began creating art from found objects. He got a lot of attention for a traveling exhibition featuring sculptures made of charred debris from the 1965 Watts rebellion. He moved his art practice from LA to Joshua Tree in the late 80's. He was a well-respected artist and his work is featured in the permanent collections of the Whitney Museum of American Art, the LA County Museum of Art and the National Gallery in DC.
Purify's ten acre museum is a fun house of what he called "assemblage sculptures". The site is looked after by Pat and Charlie. Pat is the caretaker and unofficial historian and Charlie is the fix-it guy. They are trying hard to maintain Purifoy's vision by keeping the sculptures in safe and working order.
The sculptures themselves are made of all manner of materials: bikes, bowling balls, old appliances, furniture, kegs and scrap metal. There are also an inordinate number of pieces constructed from old toilets, which, with Purifoy's vision, became far more graceful that you might imagine.
How to Visit the Noah Purifoy Desert Museum
If you do nothing else, this museum is a must see for Joshua Tree. It's a free and open air museum and you can visit any time. Just be aware that there are private homes across the street so be respectful of private property. The location is down a well graded dirt road.
Purifoy museum map location here.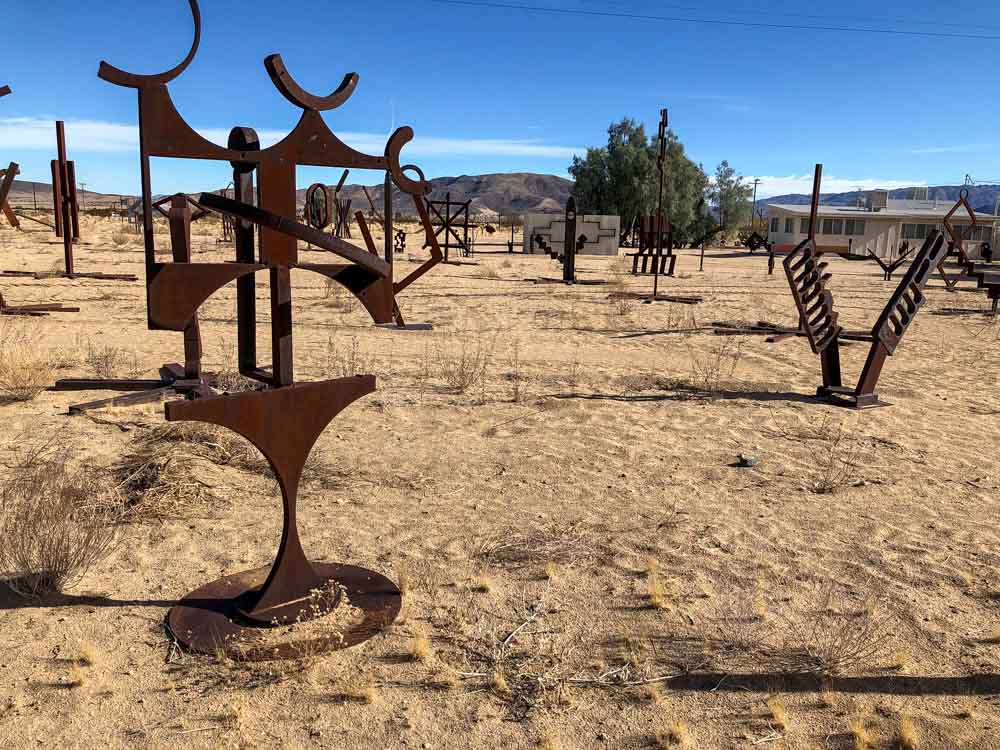 Simi Dabah Sculpture Garden
Dabah is a self-taught welder-artist. He creates abstract metal sculptures from industrial scrap. He usually works in LA, but he has a large site in Joshua Tree with more than 600 pieces on six acres of land.
Dabah is not a commercial artist and he donates his works to eligible nonprofit organizations.
How to Visit the Simi Dabah Sculpture Garden
Dabah's acreage is not open to the public, but the sculptures are in plain view. His six acre parcel sits on a corner and is enclosed in chain link fencing. You can easily walk the perimeter of the fence and see many of the sculptures. Dabah's site isn't far from the Purifoy acreage as the crow flies, but don't trust the Google directions. It will send you down a series of increasingly sandy dirt roads which aren't suitable for a passenger car. Double back to the highway and re-map it from there.
Simi Dabah map location here.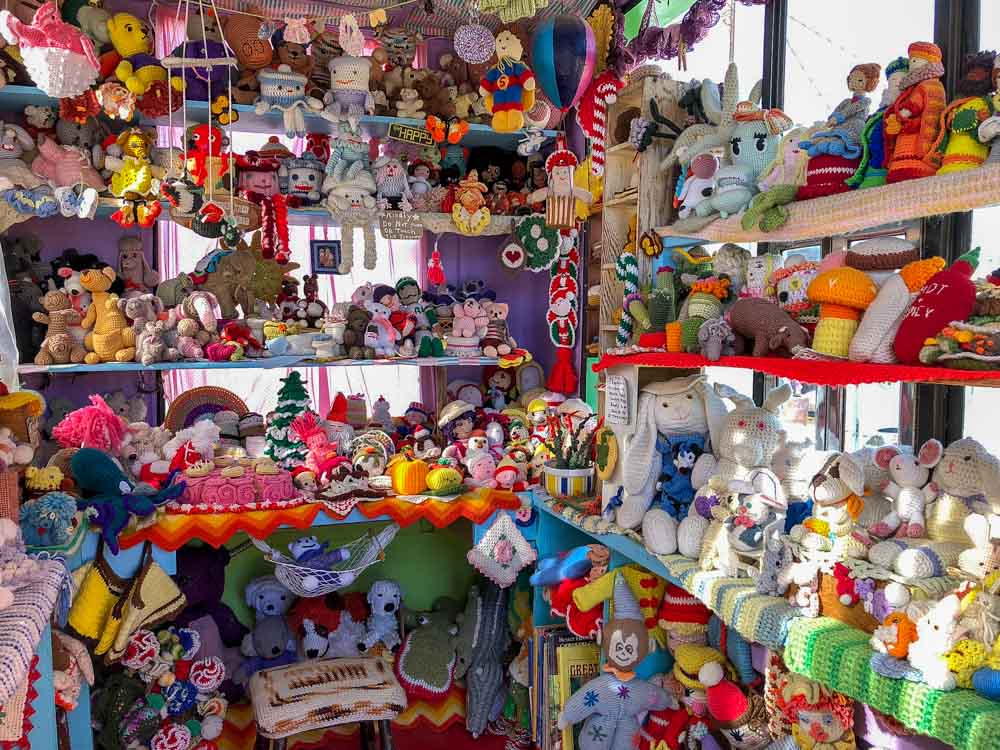 The Art Queen and the World Famous Crochet Museum
Shari Elf is a self-described singer-songwriter, fashion designer, raw food chef, life coach and maker of art from trash. She runs the Art Queen gallery and the World Famous Crochet Museum. The site has a curated exhibition space and Elf also has a gallery where she sells her quirky paintings and patches make from re-purposed fabric and wood.
But the centerpiece of Art Queen, and one of the quirkiest Joshua Tree attractions is the World Famous Crochet Museum. It all started when Elf received a crocheted poodle as a goofy gift from a friend. But the collection has gotten way out of control. When I arrived, Elf was carefully wedging yet another fluff ball into the museum, which now also includes crocheted cats, kangaroos, and even a taco.
How to Visit the Art Queen
The Crochet Museum and Art Queen are open most days from 9-5. You can get on site after 5pm, but the museum won't be open. Within the same courtyard area are several Burning Man-style sculptures and other small stores and galleries.
If you are in the area on the second Saturday of every month, take the gallery walk from 5-9pm. It includes Gallery 62, Joshua Tree Art Gallery, Beatnik Lounge, Glass Outhouse and Taylor Junction.
Art Queen map location here.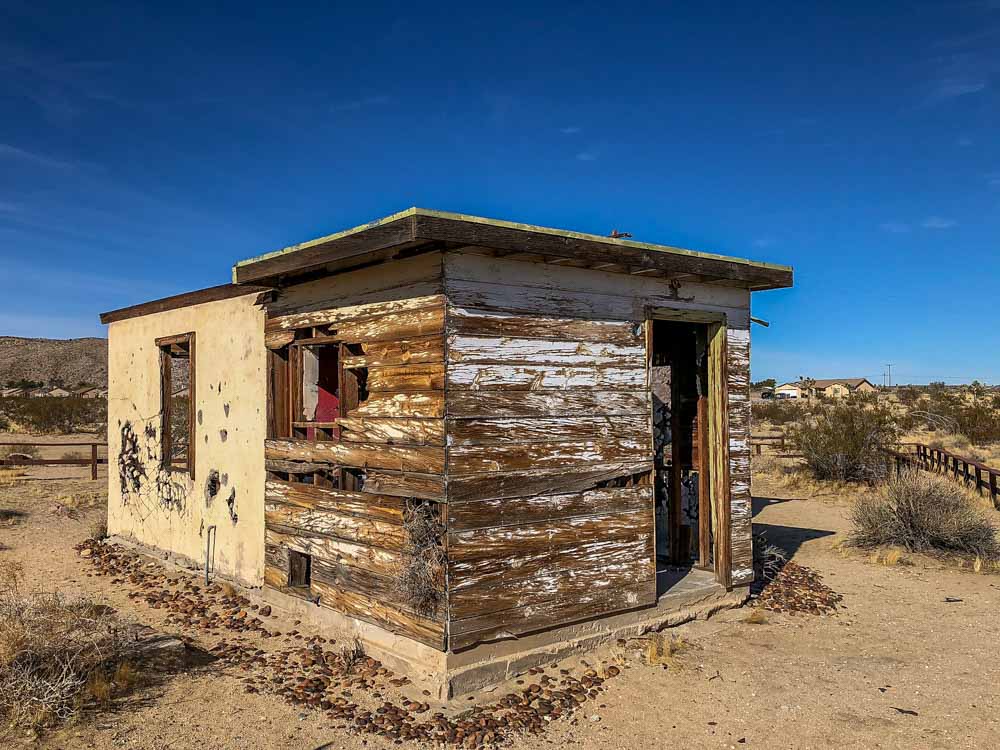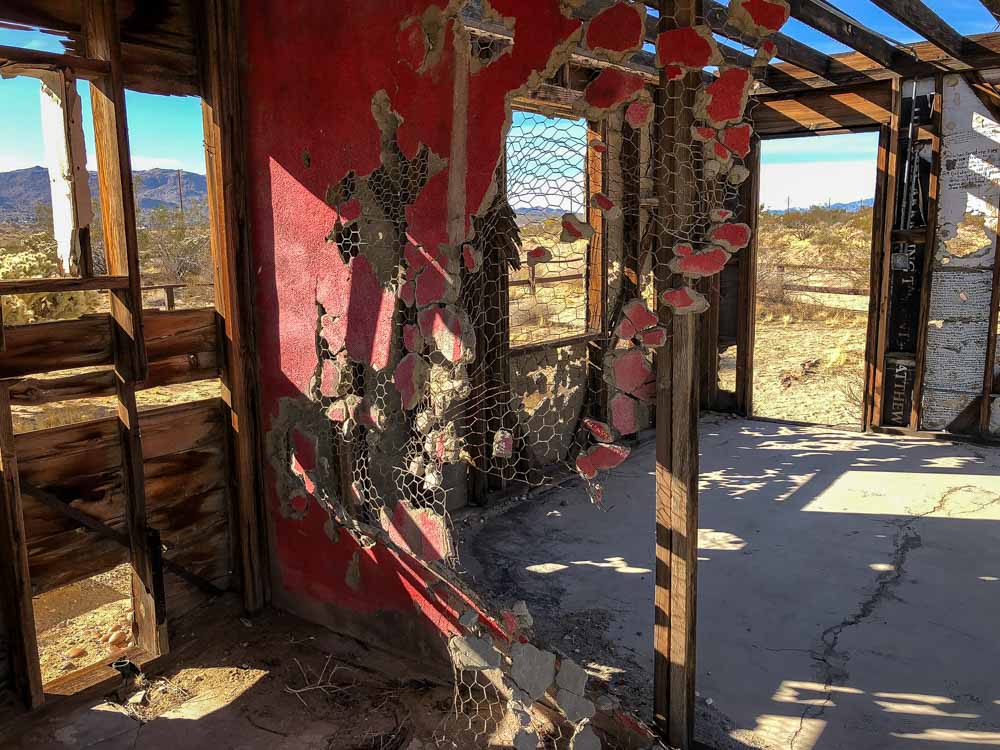 Krblin Jihn Kabin
This cabin art project is hands down the strangest thing to do in Joshua Tree town and it's caused me to upend my bucket list.
I have a list of 60 things that I'd like to do and see before I turn 60. It includes a mix of epic landscapes, like Australia's Great Ocean Road and urban adventures like this street art festival in Honolulu. There is a whole sub-category on that list for offbeat attractions, like Slab City, California (which is two hours south of Joshua Tree and worth a visit).
Little did I imagine however, that there is a whole parallel universe awaiting me. Artist Eames Demetrios is bringing that universe to life with the Kcymaerxthaere (pronounced Kymaaar-ecks-fear). Demetrios has imagined a parallel universe to ours with heroes, struggles, religious wars, and all manner of life's mess.
He has brought this world to life with a series of 140 plaques and installations in 29 countries, including Joshua Tree.
The Kabin tells the story of a religious war in the region. The losing side, or heretics, were confined to these cabins as prisoners of war. Krblin Jihn lived in this cabin and scribbled his religious writings onto the walls. The installation is set up as a derelict homesteading cabin with explanatory "historic" markers.
This is not a tongue in cheek effort. Demetrios presents Kcymaerxthaere as a serious cultural project. The world-building is so complete and the world so complex, that it's definitely motivated me to seek out more of the installations.
" …the experience of the stories of Kcymaerxthaere can help us begin to see our own possibilities and the world itself afresh."

Eames Demetrios
How to Visit the Krblin Jhin Kabin
The Kabin is an open site and can be visited anytime. But if you want to read the plaques and walls, it's best to go during the day. It's located right in Joshua Tree town, just a few minutes from the Art Queen. If you are keen to learn more, find the map and more stories on the Kcymaerxthaere website.
Krblin Jhin Kabin map location here.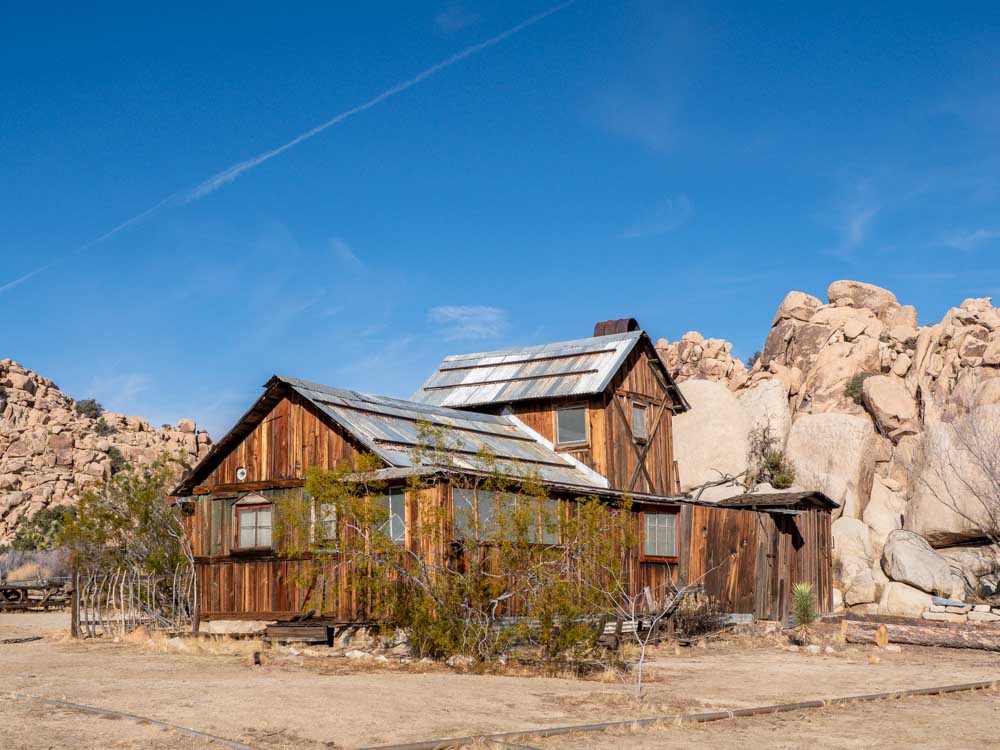 Keys Ranch
Keys Ranch is the only thing on this list that is located inside the National Park, rather than Joshua Tree town. It's one of the best things to do in Joshua Tree, but hardly anybody does it. It's worth making time for Keys Ranch because you'll get a feel for the harsh pioneer life of the mid 1900's, and Keys himself was quite a character.
The Keys family were the only ones to make a sustainable life in what is now the National Park. Keys himself started out running scams at Scotty's Castle, which is in Death Valley National Park. After doing some time for that, he began working a mining operation in Joshua Tree. When the mine owner went bankrupt, Keys took the equipment as back pay and created his own homestead.
The Keys family was remarkably resourceful, designing their own dam, running cattle and growing crops. They ran their own mine for years and later earned income separating ore for others using a machine of Keys own making. Of course, that doesn't count the years he once again spent in prison, this time for murder. He ultimately got acquitted of that one, however it was on a technicality, and his guilt was never really in question.
The homestead site is reminiscent of the Purifoy acreage. Keys held onto everything. The yard is a like a museum of homesteading equipment and an art exhibit for jerry rigged contraptions.
How to Visit the Keys Ranch
The ranch is available by guided tour only. They only have space for 25 people per day so you must book the $10 reservation in advance.
Keys Ranch map location here.
While you are in the park, be sure to check out some of Joshua Tree's best hikes and our complete guide for visiting Joshua Tree.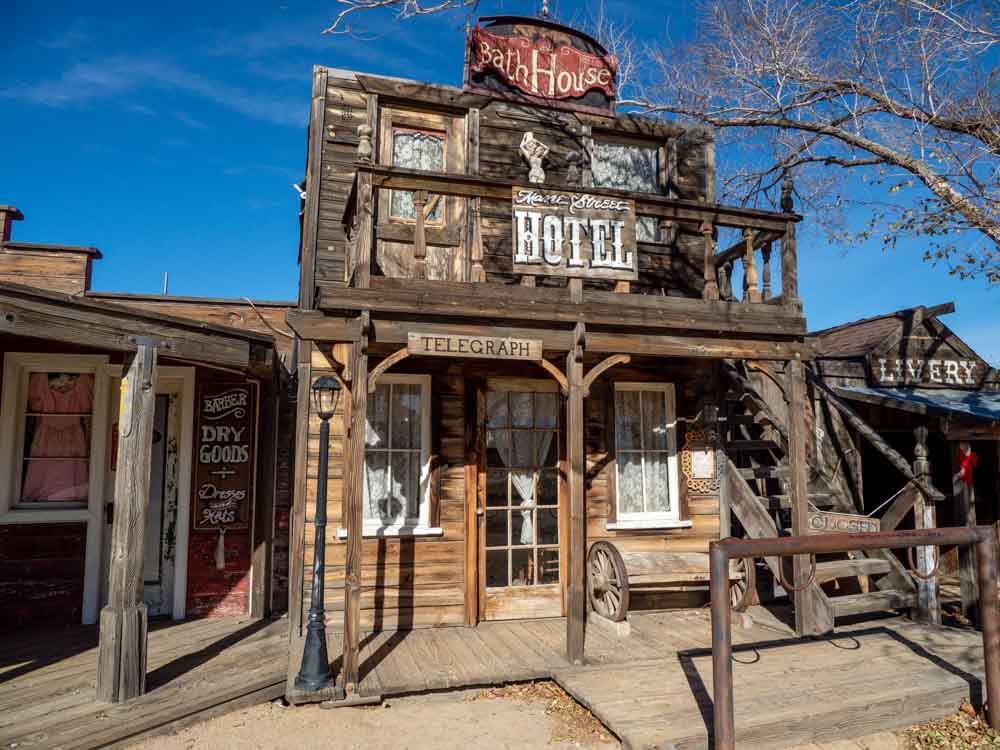 Pioneertown
I heard the ghost of Gene Autry warbling down the dusty main street of Pioneertown. Creepy that, since he's been dead for over 20 years. But I heard him clear as day, with one of his signature songs wafting out of the film museum.
Pioneertown was built by Roy Rogers' business consortium in 1946 and was specifically designed to serve as a permanent movie set. Hundreds of movies and TV shows were filmed there including the Cisco Kid series, Annie Oakley, Judge Roy Bean and the Gene Autry show.
It still looks like a legit oldy timey western town, complete with dusty storefronts. But now you can also shop for western tchotchkies and pottery. They also have gunfights and stampedes at 2:30 every Saturday (except in the summer.)
How to Visit Pioneertown
It's located about four miles northwest of Yucca Valley and is a 20 minute drive from Joshua Tree town proper. It's a free, open air site.
Pioneertown map location here.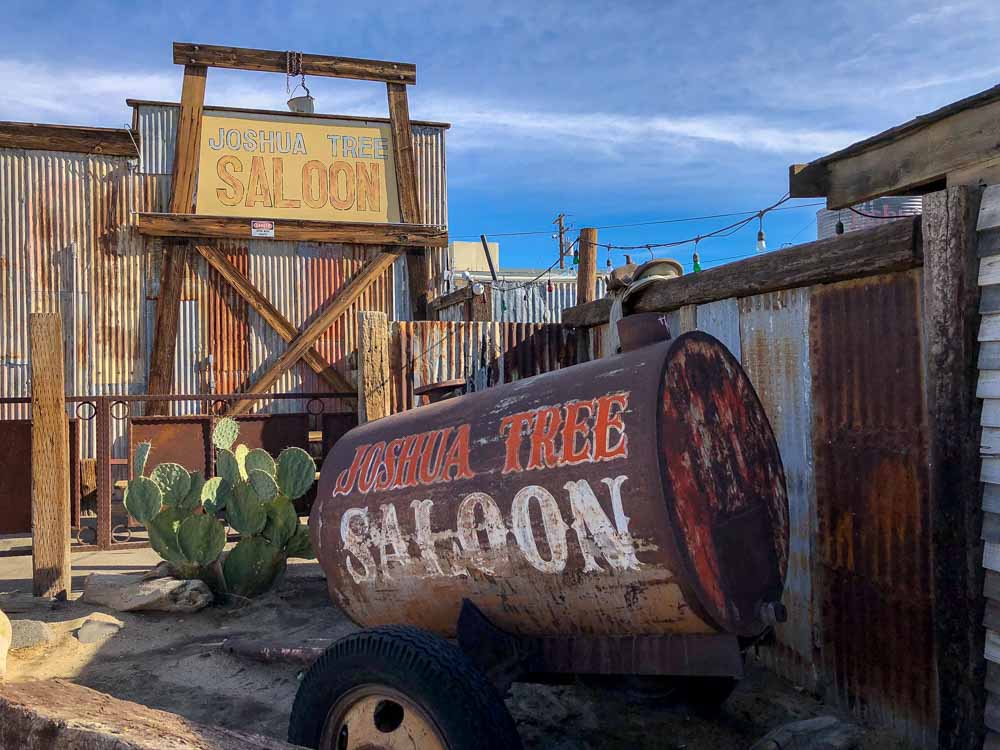 Where to Eat in Joshua Tree
Pappy & Harriets: This institution sits on the site of the original cantina for Pioneertown. It was rebuilt in 1982 by Pappy and Harriet and has since become an institution. They serve basic American fare in no big hurry. They have music every night. But they aren't open on Tuesday and Wednesday.
Joshua Tree Saloon: This barbecue joint in downtown Joshua Tree feeds both locals and visitors. They have a respectable beer selection and every manner of smoked meat. They frequently have music and they also have a large outdoor patio.
If you like offbeat adventures, these artsy things to do in Joshua Tree definitely will scratch that itch for you. Be sure to make time for some of these artistic endeavors when you visit and it will blow your curious mind right open.
Other Artsy Offbeat Adventures in CA
Share these things to do in Joshua Tree, California with your friends on Pinterest: