Death Valley National Park is 5,200 square miles. So exploring the whole territory in a two days would be challenging. But don't worry, we've got you covered. This two day Death Valley itinerary features a highlights tour of the most lavish landscapes in the park paired with practical planning tips.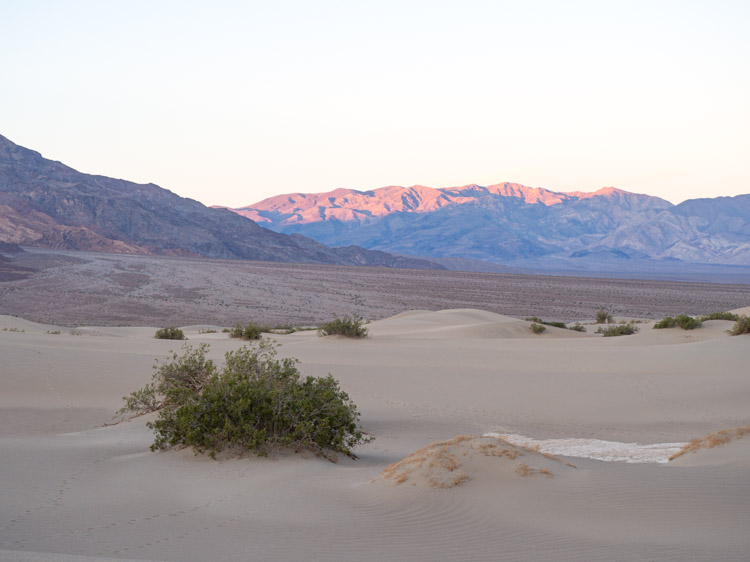 About Death Valley
Death Valley is named as such because of the doomed efforts of pioneers who were desperately seeking passage through the southern Sierra Nevada mountains. This hot dry landscape is an unforgiving place for a lost wagon train. But the pioneers persevered and after the establishment of California, Death Valley became a borax mining boom-town in the 1880's. Then, in the 1920s the Pacific Coast Borax Company began lobbying the National Park Service and the general public about the need to preserve of the area's natural resources. It was a rare and generous act of corporate philanthropy for Pacific Coast Borax to advocate turning their cash cow into a conservation area. Fortunately they succeeded and the area was designated a National Monument in 1933. Mining continued in the area until the region received official National Park designation in 1994.
There is something so beautiful about Death Valley's landscape. At first glance it's beige and bleak. But upon closer inspection, the beauty begins to reveal itself. In an expansive landscape like Death Valley, the charm is often in the contrasting details. The topography of the area includes a vast salt lake bed which is the lowest spot in the US at -282 feet. In stark contrast, the lake bed is dwarfed by the 11,000 foot Telegraph Peak. There are eroding sandstone cliffs, canyons, volcanic craters and cliffs "painted" with mineral deposits. That closer inspection will turn beige and bleak into green and pink and yellow and chiseled and craggy and awe-inspiring. And all the better if you're willing to get up at dawn and stay up past dusk.
Learn even more about the park with these 10 cool facts about Death Valley.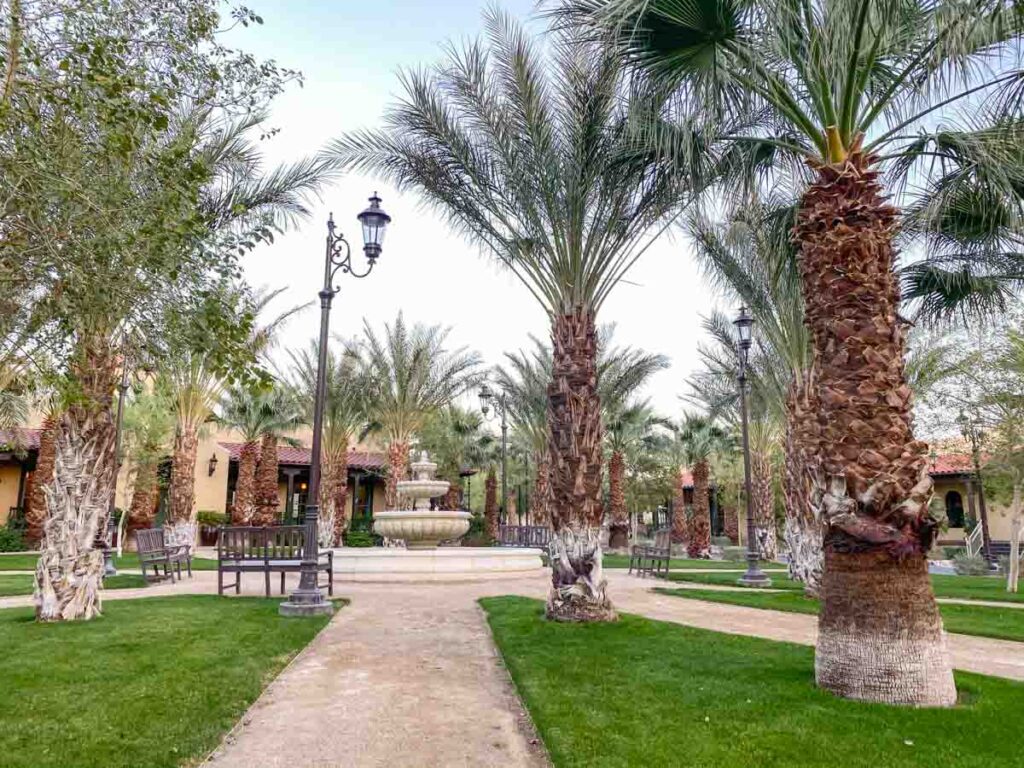 Where to Stay in Death Valley
There are three hotel/motels in Death Valley. They range in quality and, frankly, none are a fabulous deal for the money. But if you aren't camping, it's worth staying at one of these three places because the nearest lodging outside of the park is 60 miles away. However, book early as these lodges fill up during the high season.
Staying inside the park can be pricey. So, if you are on a budget, check out our Death Valley lodging guide, which also has advice on some budget options.
The Inn at Death Valley is a fancy historic inn, with lovely grounds and a nice restaurant. Check reviews and book with Booking.com.
The Ranch at Death Valley is a centrally located family-friendly place in Furnace Creek. Check reviews and book with Booking.com.
The Stovepipe Wells Village Hotel is a perfectly servicable motel. They don't have a lot of amenities, but there is a restaurant and small store onsite. Check reviews on Trip Advisor.
If you have an RV or like roughing it, there are nine campgrounds located within Death Valley. You can use our insanely thorough guide for all of the Death Valley campgrounds to figure out your best location. It lists all of the campgrounds with costs, amenities and nearby things to do. But in short, the four public and private campgrounds in Furnace Creek will give you the best access to most of the suggestions on this 2-day itinerary.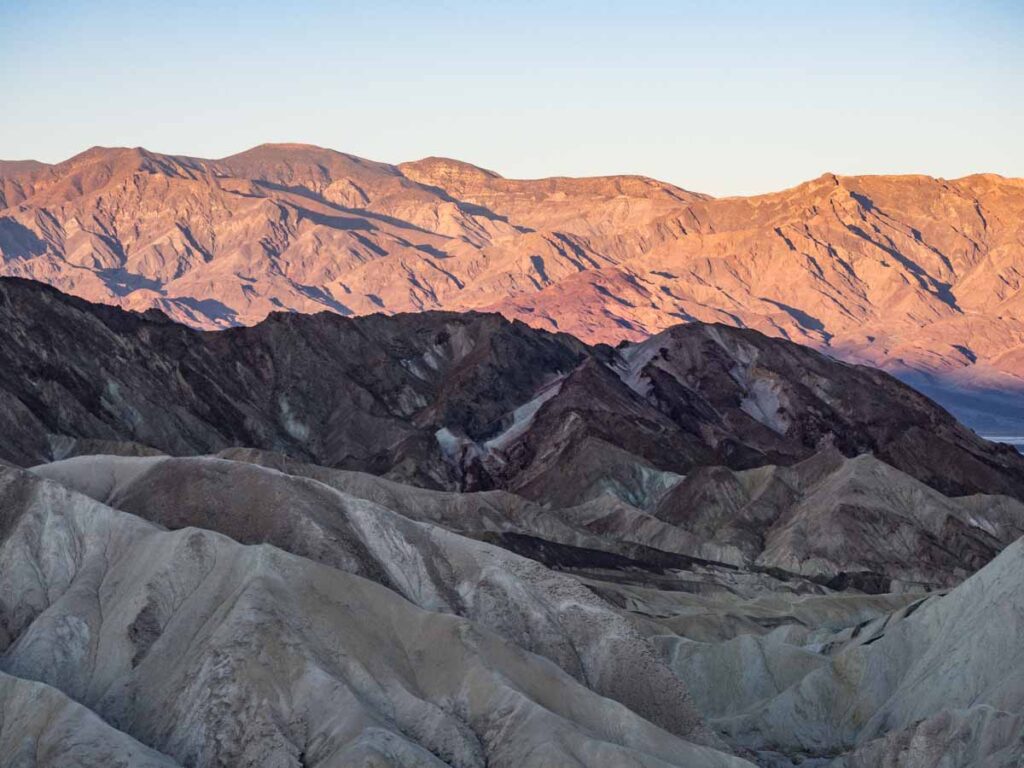 Get the Death Valley Vacation Guide: It's got the full scoop for planning your Death Valley Trip. The guide has additional routing suggestions, practical planning tips, a broader list of things to do and packing tips.
Top Things to Do in Death Valley
All of these sights are baked into the detailed two-day Death Valley itinerary below. But here are the highlights:
Mesquite Dunes
Ryolite Ghost Town
Ubehebe Crater
Badwater Basin
Zabriskie Point
Dante's Peak
Artist Palette Drive
Harmony Borax Works
Devil's Golf Course
If you are in a hurry and don't have a full two days, check out this itinerary for how to do a day trip from Death Valley from Las Vegas. And consider adding the park to a longer road trip that includes the Highway 395 corridor. Or do a 2-fer and do a Death Valley to Joshua Tree road trip.
Death Valley Itinerary: Day 1
Day one's activities involve a somewhat longer Death Valley road trip than day 2. The first day will cover some central locations but also send you out to a few lesser visited locations in the northern part of the park. Total drive time: 4 hours.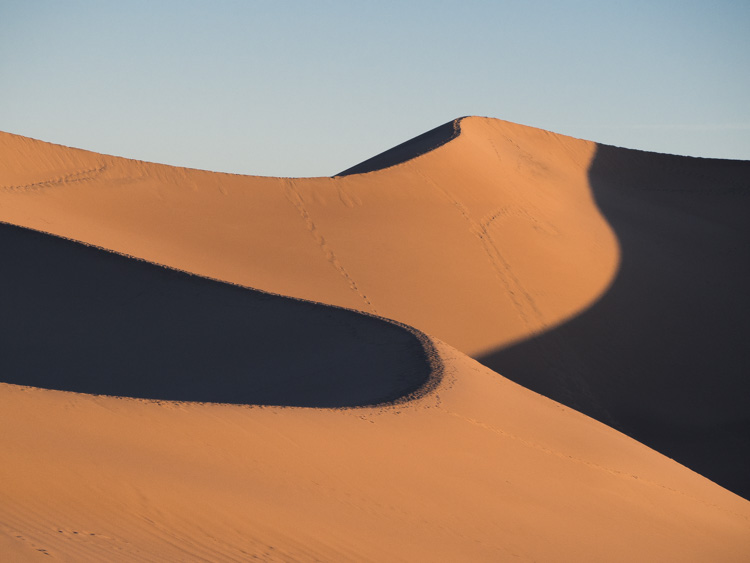 Mesquite Dunes at Dawn
One of the best ways to get your awe inspired in Death Valley is to get up and out before dawn. Yes, it's hard, but in in the park, it's totally worth the pre-dawn alarm and dismal motel room coffee. You can get to the Mesquite dunes with a fairly easy 15 minute drive from Stovepipe Wells. Then hike into the dunes for 20-30 minutes and simply explore at random. The warm light against the orange sand is a beautiful wake-up call and this is a fantastic spot for an early morning photo shoot.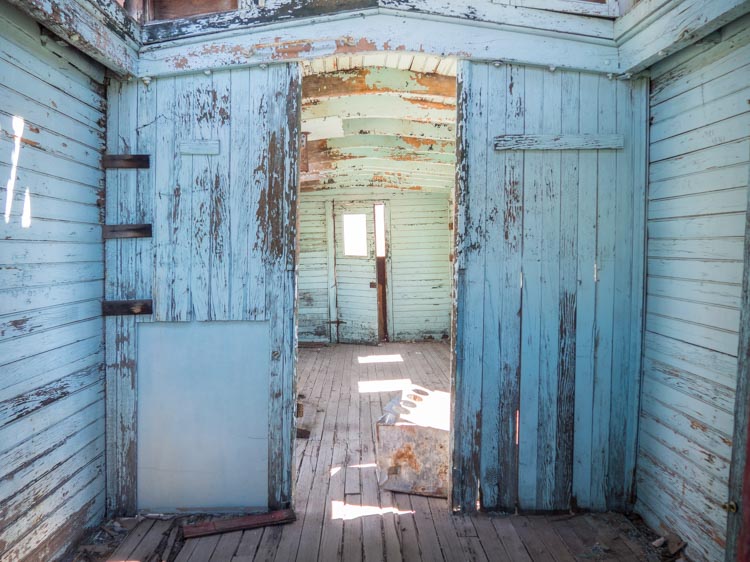 Ryolite Ghost Town
Once the sun is fully up, the area will start crawling with late risers. So get back into the car and head into the northeast area of the park to Rhyolite Ghost Town. Rhyolite is actually just outside of the park, over the border into Nevada. It's worth visiting because it's crumbling infrastructure offers a great lesson on California's unpredictable mining history. The town went from boom to bust in just 20 short years. On site, you can poke around the building ruins, old rail cars and a cool building make of soda bottles. Here's some history and practical info on visiting Rhyolite.
If you are entering Death Valley from the western Lone Pine area, I also suggest that you stop off in Keeler. People do live there, but it feels like a ghost town. There is a train station to nowhere and a lot of decaying buildings that hint of Keeler's distant past as a mining gateway town.
If you like dusty and abandoned spots, check out this guide to California ghost towns. It includes a few others that are near Death Valley.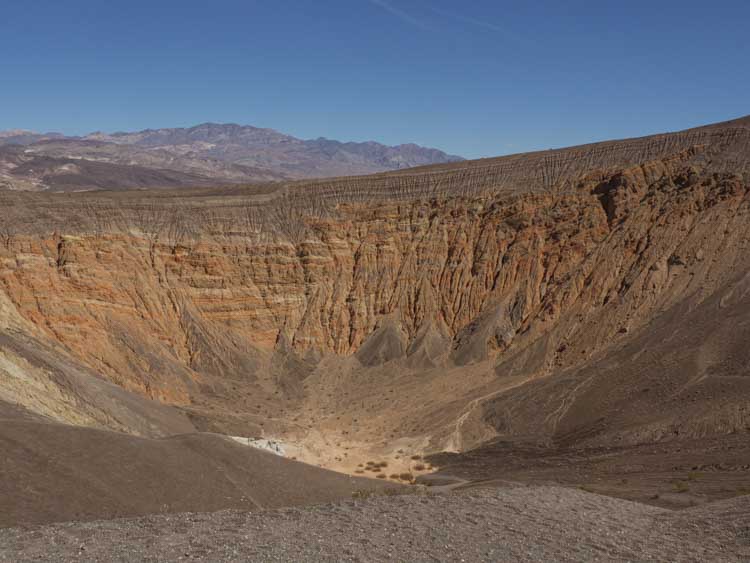 Ubehebe Crater
Heading over to the crater will take about 1.5 hours from Ryolite. This unique formation is a 600 foot deep inverted volcano. It was was formed when gases and magma built up and then exploded all over the surrounding desert floor. The resulting geology has created layers of colorful and textured rock deposits. While there, you can circumnavigate the 1.5 mile rim and/or walk down to the bottom of the crater.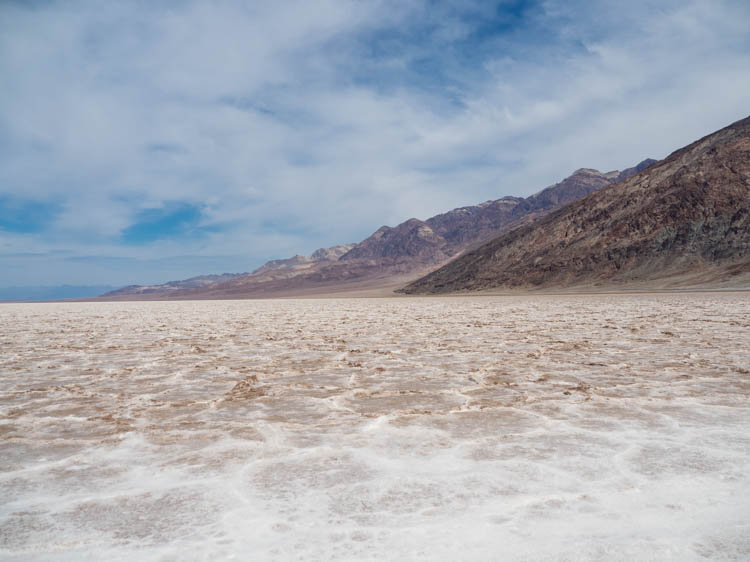 Badwater Basin at Dusk
Badwater basin is the vast drainage aquifer for Death Valley, covering nearly 200 square miles of daunting salt flats. It's called "badwater" because a surveyor found that his mule wouldn't drink the extremely salty water. You can visit anytime of day, but the valley is particularly beautiful at dusk, when the sun is setting over Telescope Peak to the west. From Furnace Creek, it will take 20 minutes to get to there. Go early because the parking lot is small.
Death Valley Itinerary: Day 2
Day two of this itinerary spends more time in the centrally located Furnace Creek area. Spending a little less time road tripping should free up some more time for a hike at either Zabriekie Point or along the Artist's Palette Drive. Total drive time: 2.75 hours.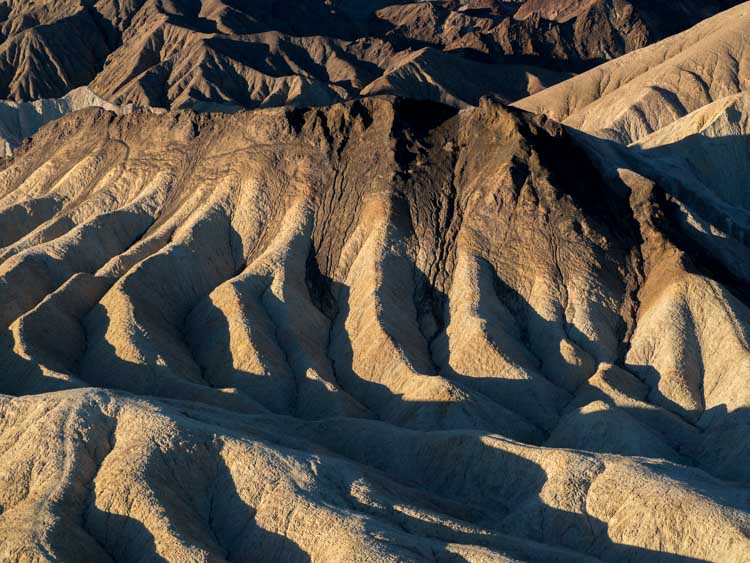 Zabriskie Point at Dawn
Zabriskie Point at dawn is a must see for your Death Valley trip. The point has generous folds of sandstone in the foreground with the Panamind Mountains for a backdrop. Dawn is pretty enough with the morning sun lighting up the Panamint mountains in pink, but things get really interesting about 20 minutes later when the sun rises a bit more and starts throwing shadows onto the sandstone canyon below. From there, you can head down into the canyon for the Badlands Loop hike, which is a 2.7 mile loop. Zabriskie Point is a short ten minute drive from Furnace Creek.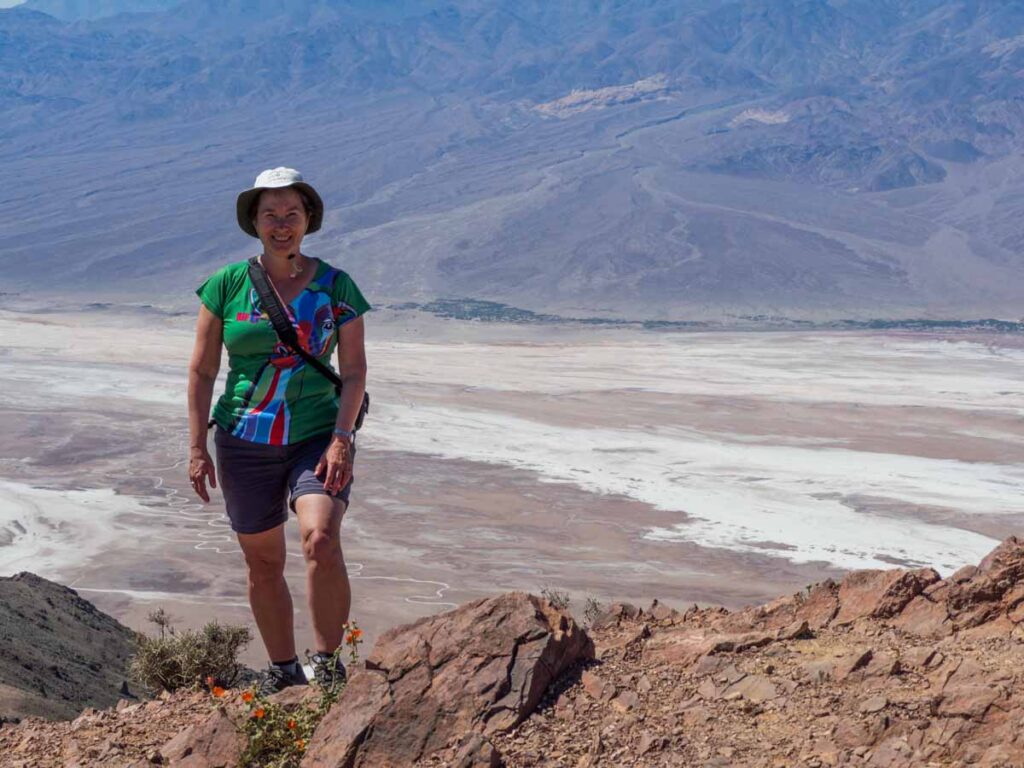 Dante's View
Head 35 minute south to Dante's View. At a height of 5,400 feet, you'll get wide angle panoramic views of the Badwater Basin and the Panamint mountain range. The other cool thing about Dante's View is that it's the same view the Luke, Obi Wan, C3PO and R2D2 had when they were headed into Mos Eisley. And if you are a Star Wars nerd, the Twenty Mule Team Drive, Golden Canyon, Desolation Canyon, Mesquite Dunes and Artist's Drive were also filming locations. May the force be with you.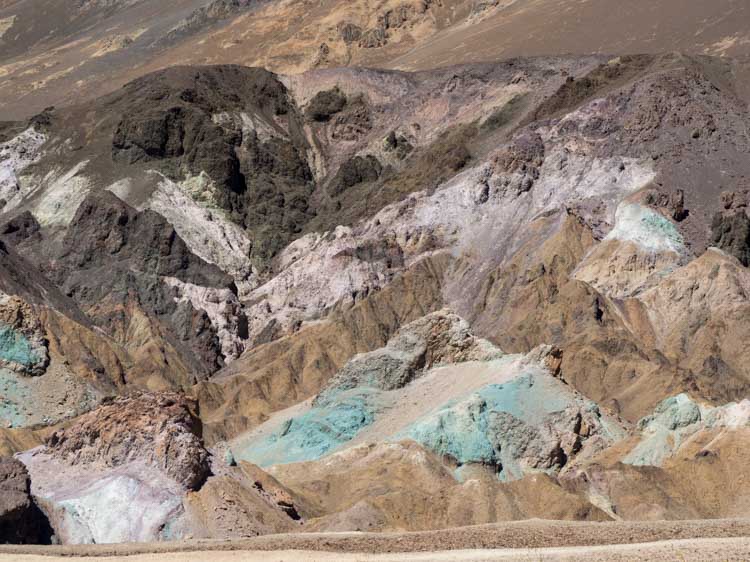 Artist's Palette Drive
Getting to Artist Palette Drive from Dante's View will take about an hour. This one-way nine mile drive will take you through an amazing geologic rainbow. One option is to simply do the drive and get a quick view of the eye candy. But I recommend that you can stop at the multiple pull-outs along the way. You'll be rewarded if you get out of the car and hike closer to these multi-hued rock formations. At the north end of the drive is the trailhead for the Golden Canyon hike. It's a three mile out and back trip (or 5.3 if you add on the Gower Canyon loop, which we recommend. Here's our Gower Gulch Golden Canyon hiking guide. If you like slot canyons, then just drive a bit further down Badwater road and take the Sidewinder Canyon trail.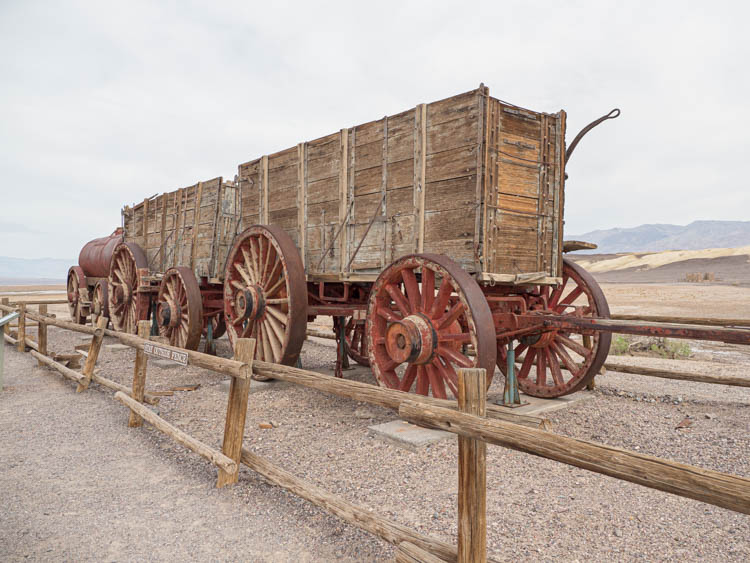 Harmony Borax Works
Borax is a compound used in many detergents and other household products. It's not as sexy as gold, but during the late 1800's it was a major part of Death Valley's mining operations. The Harmony Borax Works offer a quick history lesson on Death Valley's mining history. It's located just a few minutes north of Furnace Creek.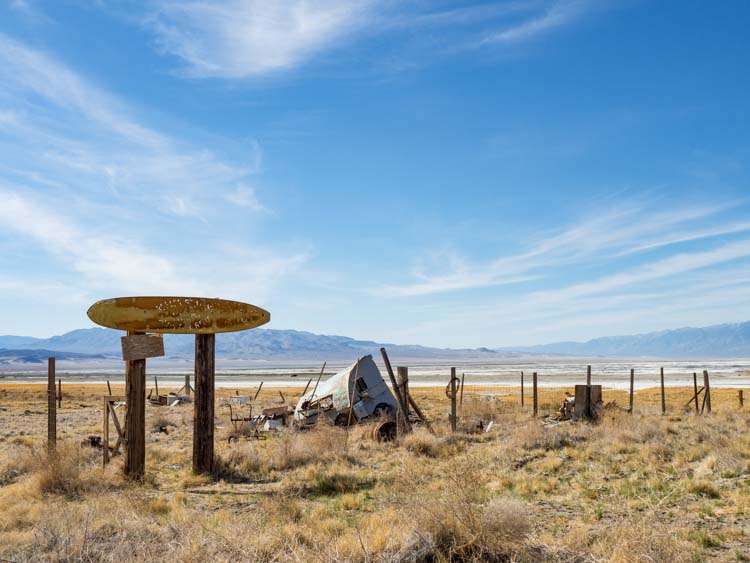 When to Visit Death Valley
For wildflowers: The very best month to visit Death Valley is in April and if you're lucky, the wildflowers will be in bloom. You can keep an eye on the Park's website for a wildflower watch.
For warm days and cool nights: March-April and October-November have great weather for a Death Valley road trip. Average highs are are 80-90 and lows are 55-65.
For fewer crowds: January is the quietest month for a Death valley visit, and it has half of the visitors than April. The stretch between Thanksgiving and Christmas are also quiet times in both Death Valley and nearby(ish) Joshua Tree National Park.
Whatever you do, don't go during the summer. It's often 115′ during July and August. That sort of heat will prevent you from being able to do much of the hiking and sightseeing on this Death Valley itinerary.
Death Valley Trip Planning Information
Visitation Logistics
The visitor's center in Furnace Creek is usually open daily from 8am-5pm.
There is a $30 vehicle fee for visiting the park and its good for 7 days. The fee is based upon the honor system and there are self-serve kiosks around the park. You can also purchase a pass in advance. The National Parks America the Beautiful pass is $80 for a year. The lifetime senior pass is also $80. So, if you are planning to visit even two other parks this year, it's worth it to get the pass.
There are restaurants of various price points in both Stovepipe Wells and Furnace Creek. All of the motel rooms have refrigerators and I advise you to take your own lunch supplies. Driving distances between the sites can be far in Death Valley and you'll find that you want to have lunch on the road or while hiking. You should also bring plenty of drinking water. Figure out how much you think you'll need, then double it. One again, this is a forbidding desert landscape and you don't want to suffer the same fate as those hapless pioneers.
Stovepipe Wells and Furnace Creek each have a gas station, general store and gift shop.
Cell service in all of Death Valley is dreadful. Do not count on any kind of cell service to get you around or coordinate with others in your travel party. Pick up a park map at the visitors center or print one in advance from the website.
If you are flying, check out our resource for finding airports that are closest to Death Valley.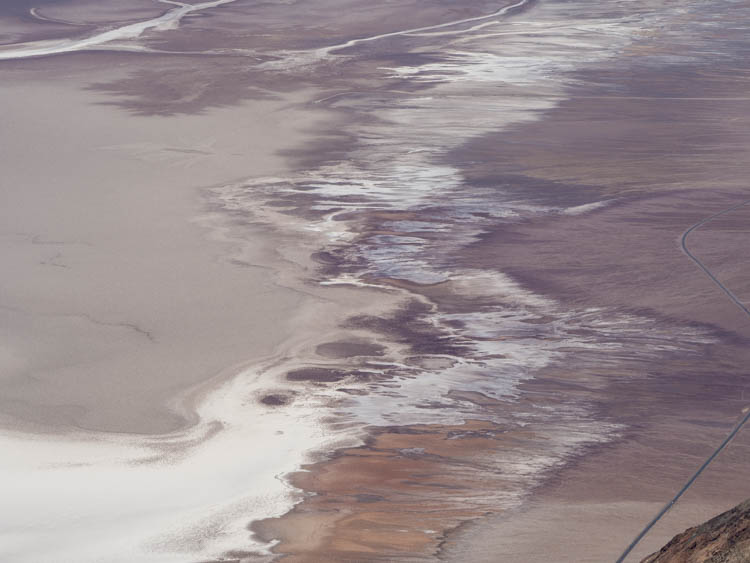 For more awesome California road trips, check out our guide for the Pacific Coast Highway and the scenic drive from San Francisco to Yosemite.
Share this Death Valley itinerary with your friends on Pinterest: