The Golden Canyon trail in Death Valley is popular…and for good reason. While hiking you enter an ancient portal into Death Valley's unique geology. You leave the flats of Badwater Basin behind and enter the canyon's narrow runway, flanked by yellow and red rock formations and intriguing tentacles along Golden Canyon's side shoots.
And if that isn't tempting enough, we strongly recommend that you take the time (and spend the energy) to do the extended loop, which includes Gower Gulch. This hike takes you out of the narrow runway and up to Manly Beacon for high level views of both the Red Cathedral and Badwater Basin.
This guide for the Golden Canyon hike and the Gower Gulch loop will give you practical advice on how to find and do the trail with various hiking alternatives. You'll also learn a bit about what makes Golden Canyon special and we'll treat you with some eye candy that will definitely make you want to go.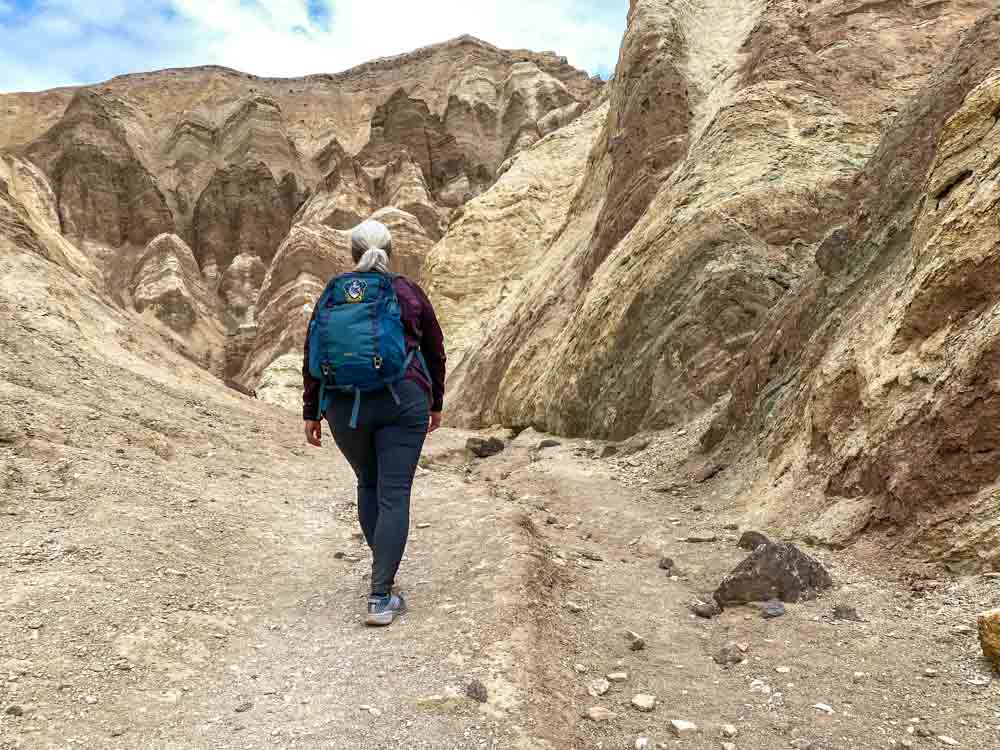 Get the Death Valley Vacation Guide: It's got the full scoop for planning your Death Valley Trip.
Golden Canyon Trail Logistics
The Golden Canyon trailhead is located on Badwater Road just 3.2 miles south of the Highway 190 intersection, which is located just 1.5 miles southeast of the Furnace Creek Visitor's Center.
There is a parking lot which will hold ~25 cars. If it's full, you can park along Badwater Road. But make sure to fully pull off the road. You don't block traffic as this road is also the gateway to other popular things to do in the park.
There is a bathroom and a faded trail map on site but no water.
When to Do the Golden Canyon Hike
If you are going between late-October and March, any time of day should be fine as the average high is ~82'F. But if you are going during April/May or Sept/Oct, the highs can be 90-105'F, so start the hike well in advance of 10am. And we don't recommend any hiking in the lower elevations of Death Valley during the summer months.
If you do Golden Canyon in the early AM or late afternoon, you will get some shade from the canyon walls. But don't expect any shade on the Gower Canyon loop.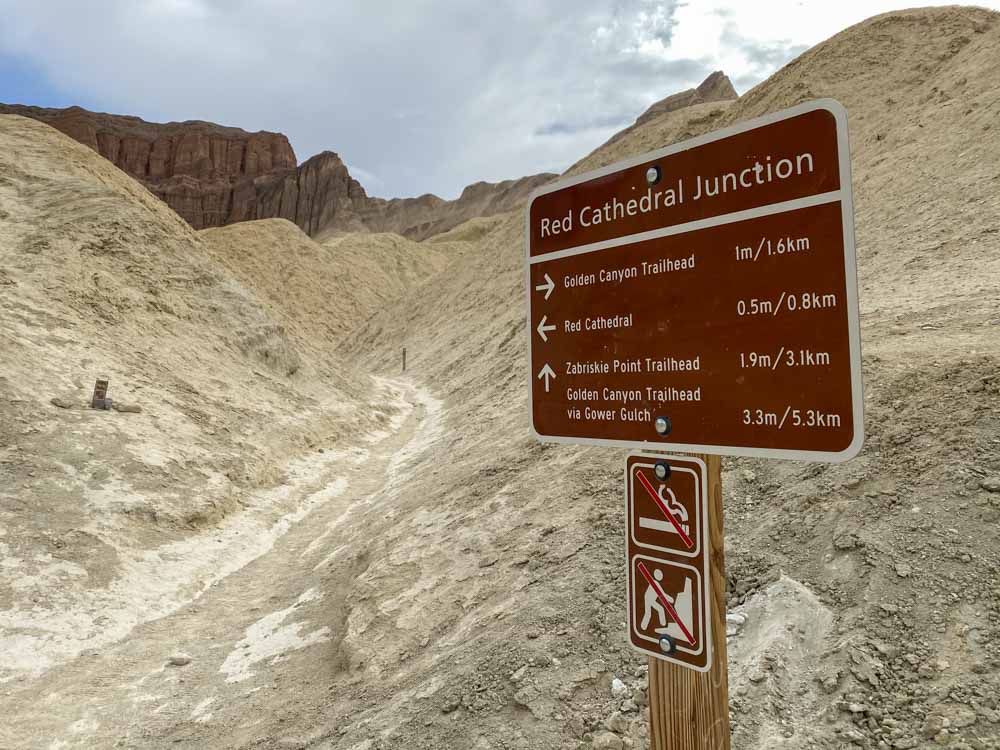 Golden Canyon & Gower Gulch Hiking Options
You can do the basic Golden Canyon route, but there are also several other trails that branch off of it which you can use for either a 1-way hike or a loop. Each option offers different views of the canyon and the valley floor and all of them are worth it.
You can print out the Park Service trail map in advance or pick up a paper version at the Furnace Creek visitor's center. If you forget the map, don't worry. The various trail options are well marked along the route.
Golden Canyon Route to Red Cathedral
Highlights on the hike include the little side tentacles that branch off to the left of the main trail. The yellow rocks of the lower hike give way to the dramatic folds of the Red Cathedral, which looms over the lower canyon.
Out and back mileage: 3 miles. It's 1 mile to the Gower Gulch turnoff and then a .5 mile spur to Red Cathedral.
Elevation: 574 of gradual gain with some scrambling to get to Red Cathedral
Difficulty: Anyone of reasonable fitness should be able to do the hike, even kids. However to get up to the base of the Red Cathedral, you'll need to scramble up rocks of up to three feet high. If you don't want to do that, you can still go as far as you can and see the Red Cathedral from below.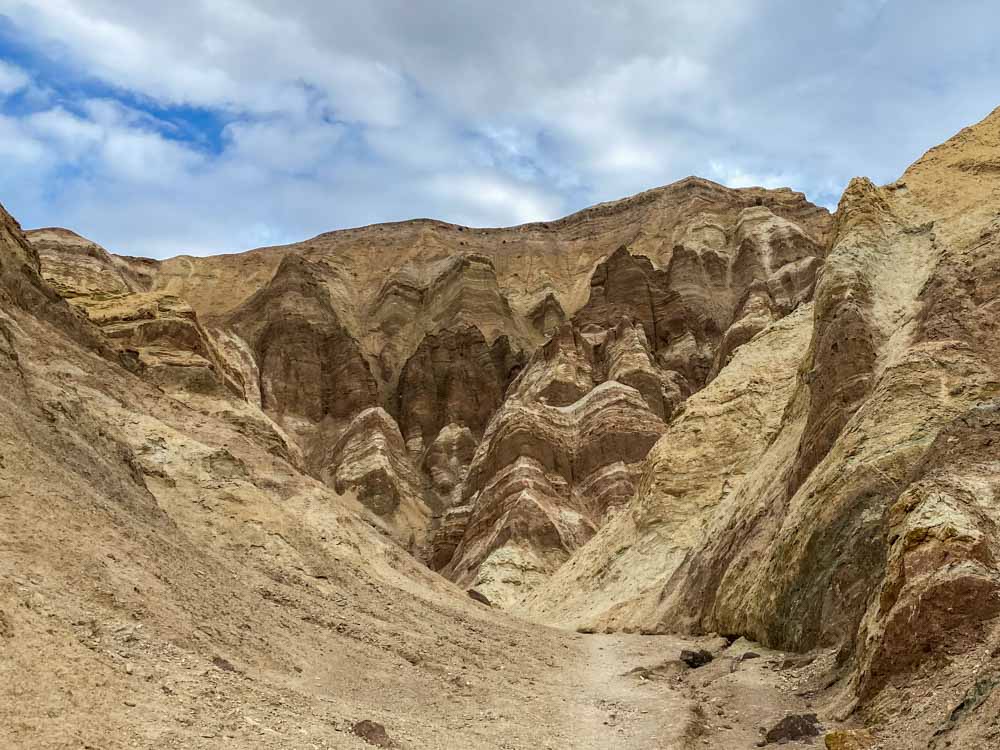 This landscape….right?!? No wonder this is one of the more popular hikes in Death Valley. Although frankly, 3PO didn't much care for the landscape. He was filmed lumbering and complaining in this Tatooine canyon after R2D2 sent them on their first Star Wars mission. (Spoiler alert: he survives the desert.)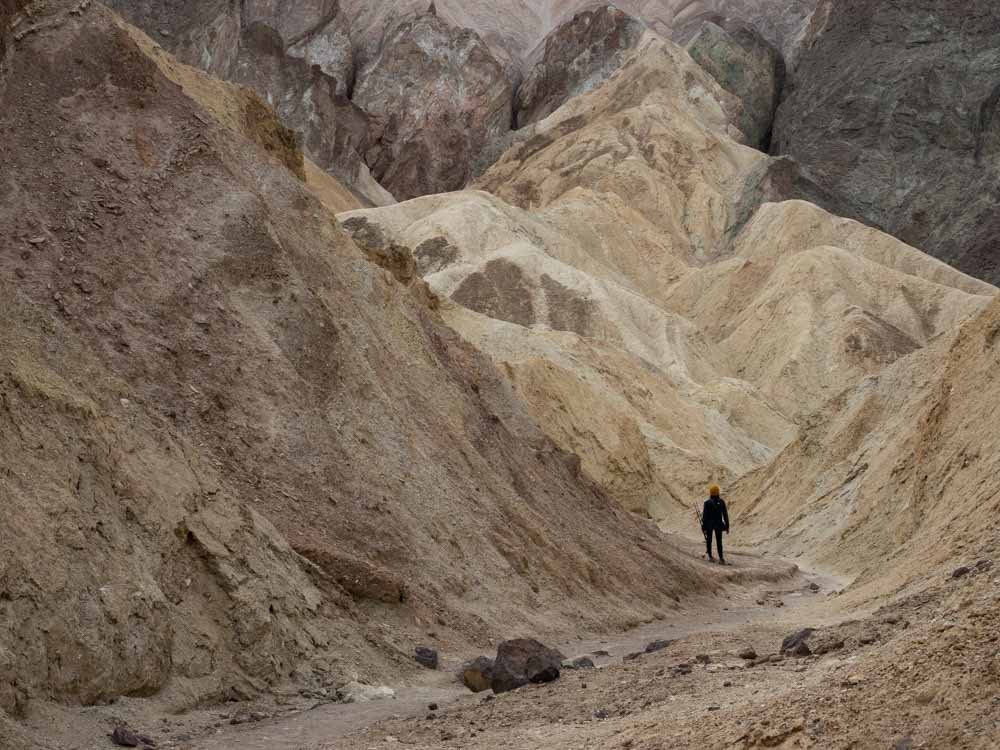 Take your time on this hike. There are a number of side slot canyons that are worth exploring.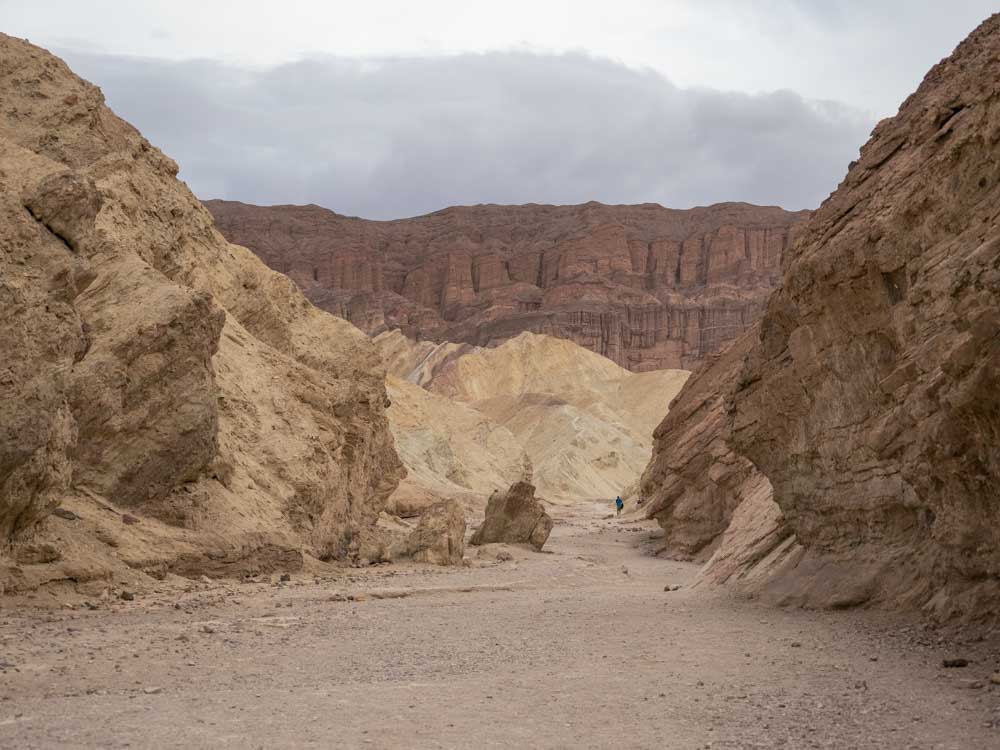 As you continue further into the canyon, you soon get rewarded with the stunning view of the Red Cathedral. Once you get closer to the Cathedral, you have a choice to scramble up to the bottom of the rock formation, or simply turn around.
Golden Canyon to Gower Gulch Loop
Some people do the quick trip up to the Red Cathedral and then move on to the next thing. But, if you have the time, it's totally worth adding the Gower Gulch loop to your Golden Canyon hike. I read reviews of this hike complaining that Golden Canyon was prettier and that there wasn't anything to see in Gower Gulch, but I heartily disagree.
As you leave the Golden Canyon trail, you are confronted with a short but steep climb up to the Manly Beacon. The towering spire was named for William Manly, one of the '49er pioneers who slogged though the area and lived to tell about it.
The view from just below Manly Beacon will reward you with 180′ views. Look backwards to get a high level look at the Red Cathedral, look below you to see Badwater Basin and the Panamint Mountain range, and look to the south for the folded mountain face that is so characteristic of Zabriskie Point. It's all downhill from there and you'll pass through a pleasant canyon wash to see some of the colorful mineral deposits that make the Artist's Palette Drive so pretty.
Loop mileage: (including Red Cathedral/Golden Canyon): 5.3 miles total.
Elevation: An additional 440 over the Golden Canyon trail, most of it in the first .8 miles.
Difficulty: Moderate. This part of the trail has some steep, narrow trail and good footwear is a must.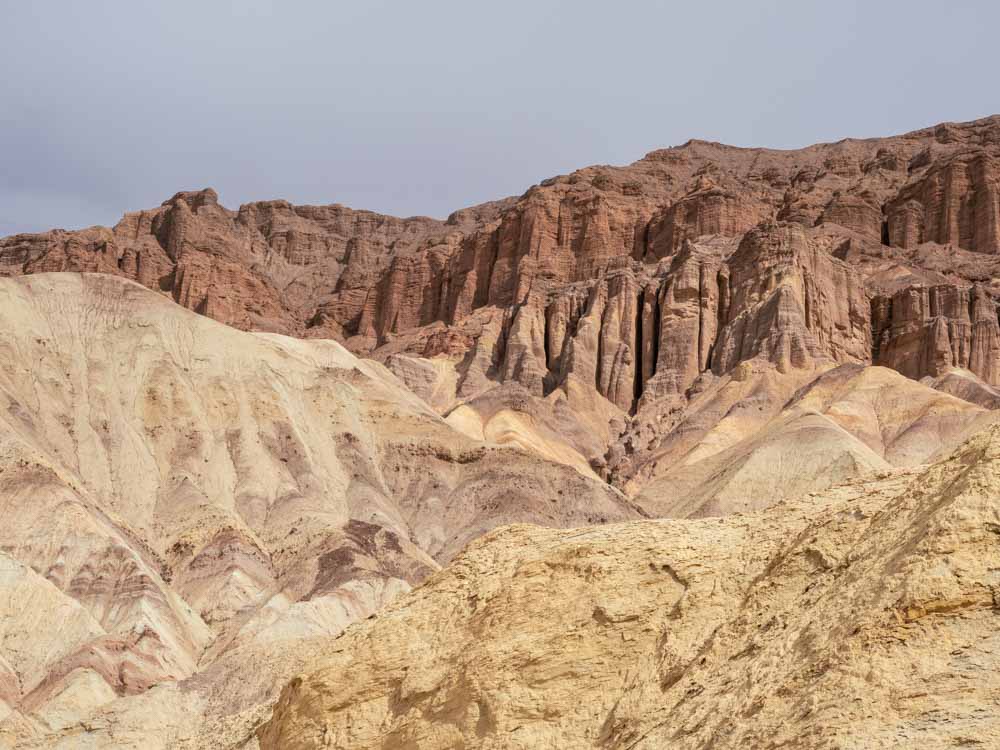 Who says that Gower Gulch isn't worth it, because this view of the Red Cathedral from Manly Beacon is quite a view.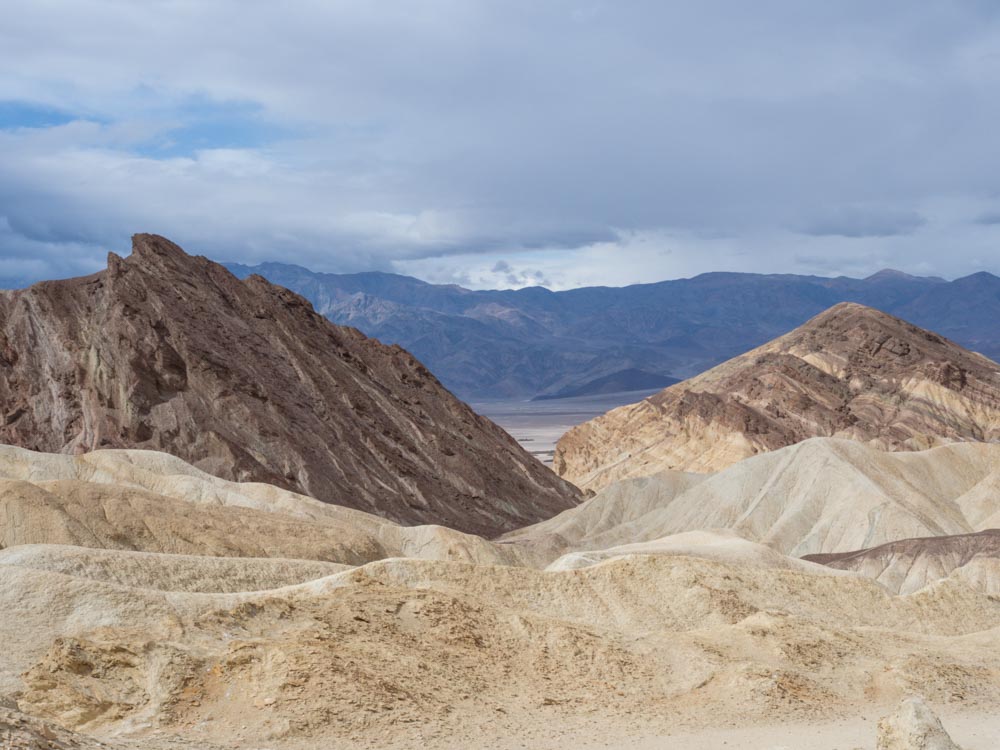 This is another view from Manly Beacon. You can get a peekaboo view of the Badwater Basin valley floor with the Panamint Mountains looming in the distance.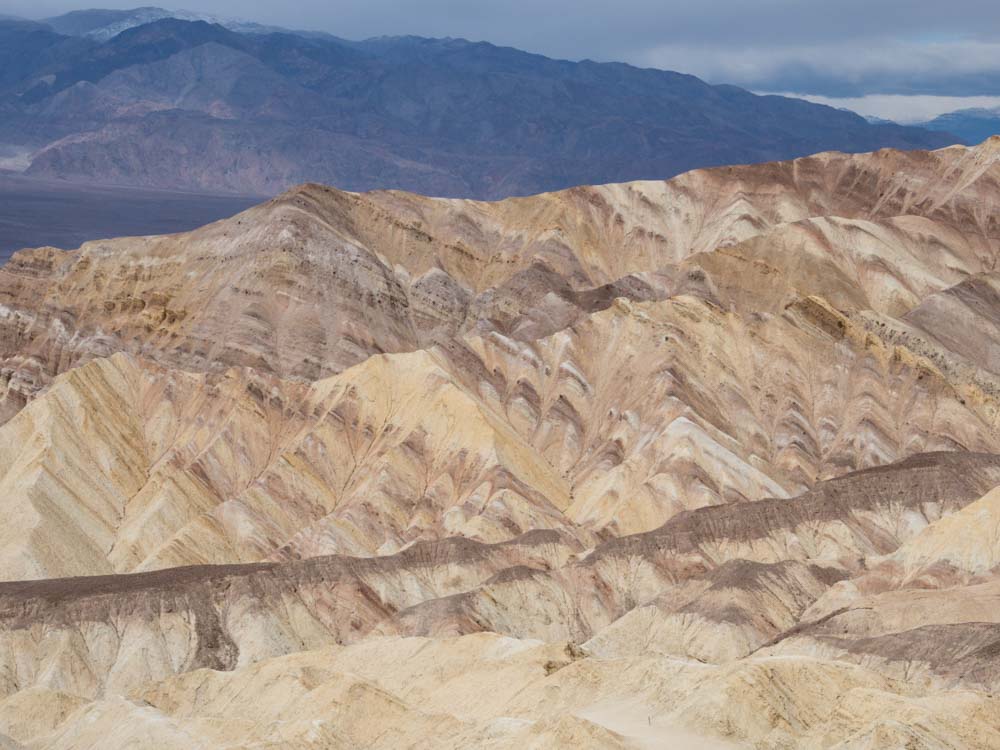 At first glance, Death Valley's landscape seems very beige on beige. But upon closer inspection, there is a very subtle beauty to the layered and twisted rock deposits which are reminiscent of a marbled paper design.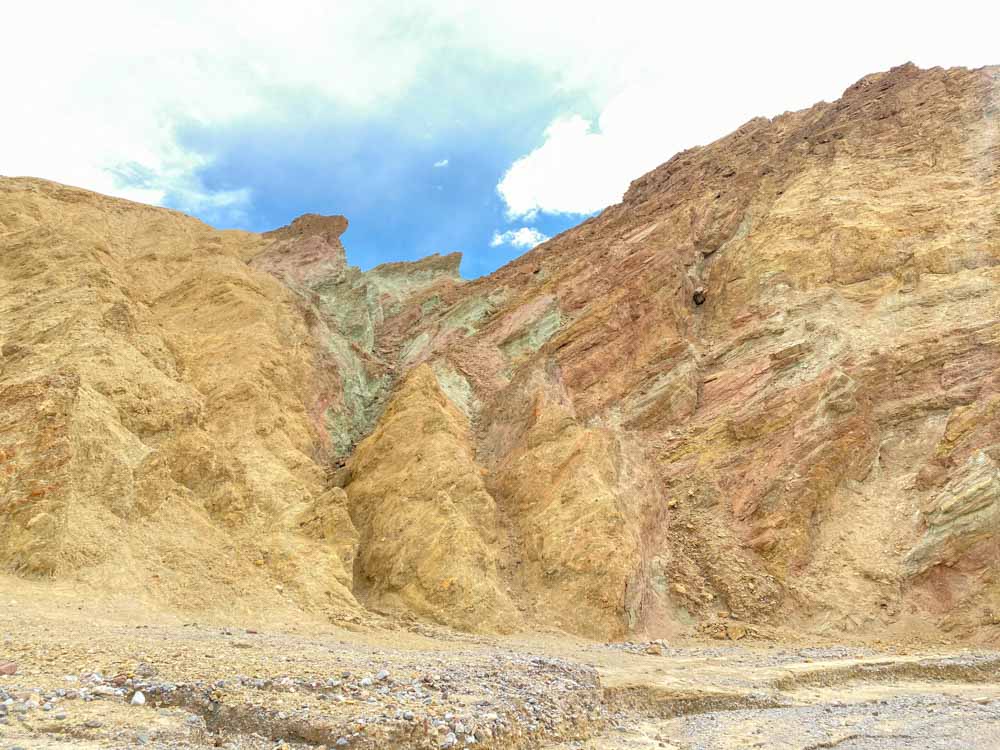 This part of the hike was a surprise. We weren't expected the mineral colored rocks on this hike, but they provided a lovely visual payoff for the effort. If you like the look, be sure to do the Artist's Palette drive further down Badwater Basin road.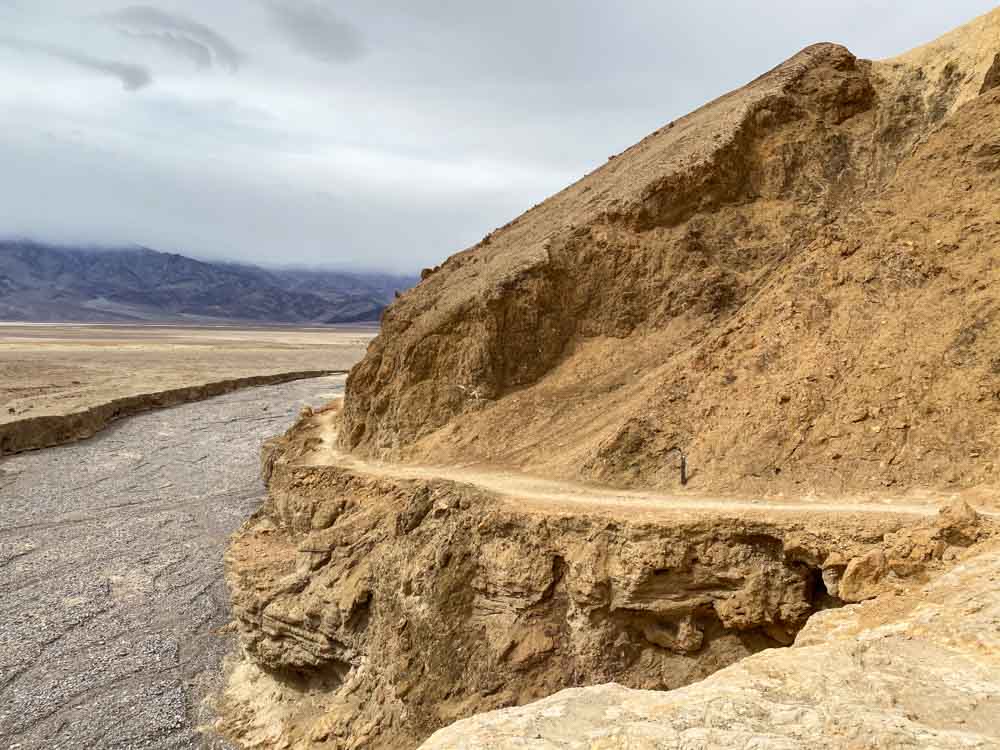 Here's is the end of the Gower Gulch loop as it meets up once again with Badwater Basin.
Zabriskie Point/Badlands Loop
If you want to add onto the hike, turn left shortly after coming down from Manly and take the Badlands loop up to Zabriskie Point. This can be done as a 1-way (if you have a companion willing to shuttle you), or you can circle back to the Gower Gulch loop. Highlights on this segment are the stark contrasting rocks at Zabriskie point. These have been folded in on one another from tectonic forces and the effect is an accordion of light and dark beige. This add-on will also give you killer views from the top of Zabriskie Point.
Loop mileage: (including Red Cathedral): 6.8 miles total.
Elevation: An additional 377 over the Red Cathedral/Gower Gulch route.
Difficulty: Moderate. This part of the trail has some steep, narrow trail and good footwear is a must.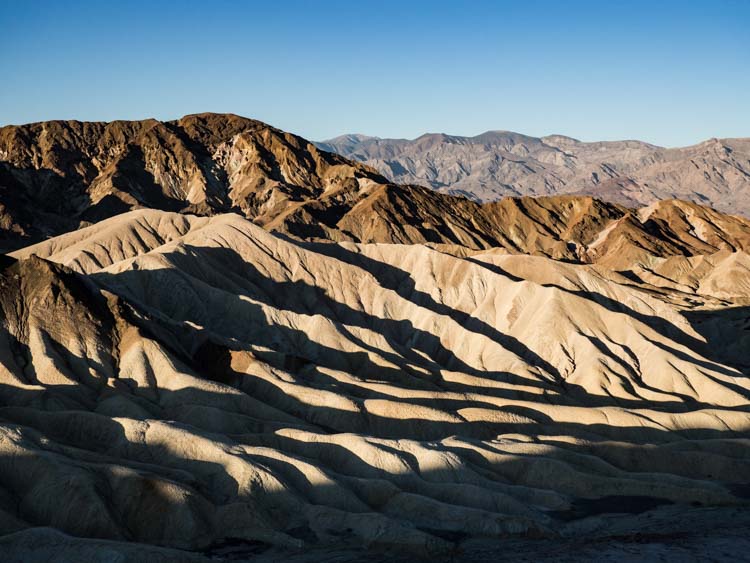 The subtle shades and folded geology of Zabriskie Point make it one of the best views in Death Valley.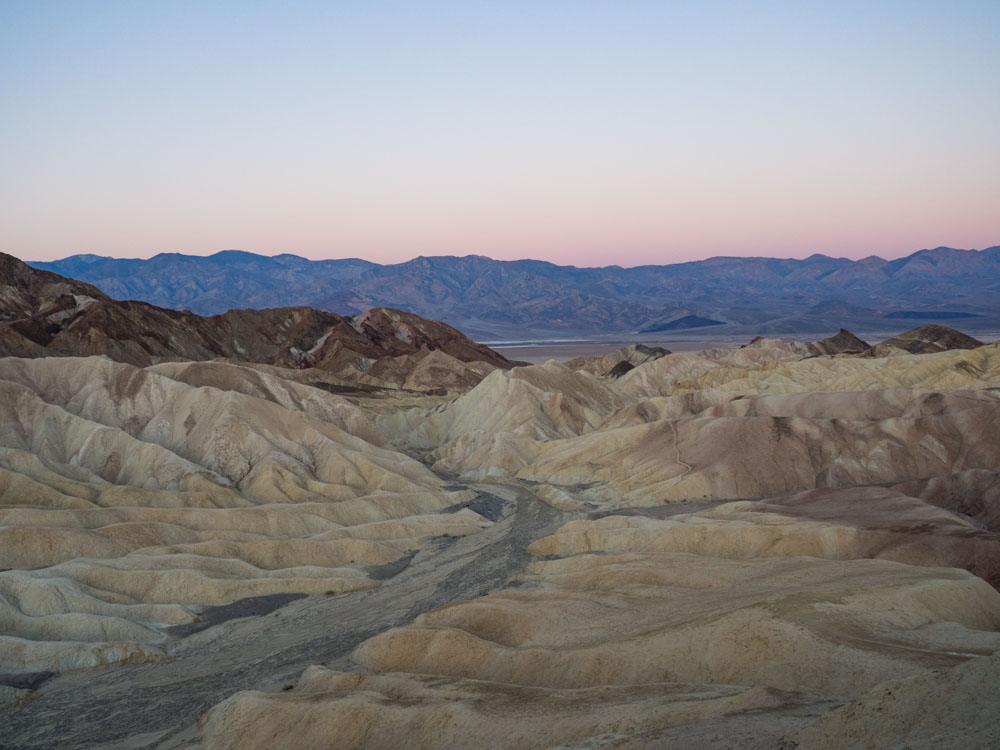 Even if you choose not to do the Zabriskie Point/Badwater loop on this hike, you should try to visit the overlook at dawn. It's definitely worth getting out of bed for.
(This article contains affiliate links. This means that if you choose to purchase, I'll make a small commission.)
What To Take on Your Hike
Water Water Water. There is none on the trail. Plan for 20 ounces of water for every three miles of hiking. These Hydro Flasks hold 32 ounces and they are lightweight.
Sunscreen. There is very little shade anywhere in Death Valley and the Golden Canyon hike is no exception.
Proper hiking pants. Yoga pants and gym shorts don't cut it when you are hiking because you don't want to be dropping your phone and keys all over Golden Canyon. Proper hiking pants or shorts with zippered pockets are a must. The black pants pictured above are from Kuhl. They are breathable, stretchy and have zippered pockets. We are also big fans of Columbia hiking clothing. They manage to strike the right balance between price and quality and their clothes have a more generous cut.
Proper hiking shoes. You don't necessarily need heavy hiking boots for this trail, but you should at least invest in some trail runners or light hikers. Flexible sole gym shoes aren't good for gripping the rocky gravely soil of Death Valley. We've put well over 1,000 miles on the Hoka Speedgoat trail runners. They have strong foot cushioning and decent grip.
A fully charged camera or phone. This canyon is pretty. You'll want to have a full charge so that you can take as many pics as you want. Amazon Basics sells an inexpensive charger that will give you two full cell phone charges.
Other Things to do Near Golden Canyon
We have a ton of information that will help you plan your Death Valley trip. Start by checking out our 2-day itinerary or the super-charged 1-day itinerary (which actually has instructions if you are coming from Las Vegas, but you can ignore that part if you are coming from elsewhere in California). If you want to do more hiking, we recommend the Sidewinder slot canyons. We also have a campground guide for Death Valley as well as a lodging guide. Also, find out some fun facts about the area, to help inform your trip.
Many of the park's most popular sights are actually near Golden Canyon, so after your hike make time to see: Artist Palette Drive, Badwater Basin (which is cool at sunset) and the short Natural Bridge hike.
Enjoy your Golden Canyon hike and if you have any questions, you can always find us on Facebook.
Share the Golden Canyon trail with your friends on Pinterest: