The more you explore Death Valley, the more it will surprise you. What appears at first glance to be a spare, beige landscape reveals a lot of complexity upon further inspection. Sidewinder Canyon in Death Valley is absolutely one of those surprises, and it's indeed worthy of your inspection.
The parking lot for the Sidewinder Canyon trail has a middle-of-nowhere vibe and the trail entrance is no more inviting. You are greeted with a pile of rocks and a vague trail pointing in the direction of the nearby alluvial fan. You may wonder what the fuss is about, but keep walking, because deep in the canyon are some amazing slot canyons whose narrow walls glow from the overhead sunlight.
The Sidewinder Canyon hike isn't as popular as the Golden Canyon hike (which is also lovely, so check out our guide for it), but that's just another reason to do it. It's less crowded than Golden Canyon and very rewarding in its own way. This guide will help you discover the canyon with practical advice for finding the coolest bits on the trail and some eye candy to get you inspired you to go.
Get the Death Valley Vacation Guide: Plan your entire trip to Death Valley, with itinerary options, more hikes, a campground guide and some fun facts about the park.
Trailhead Logistics for Sidewinder Canyon in Death Valley
The Sidewinder Canyon trailhead is located on Badwater Basin road, 32 miles (or about an hour's drive) south of Furnace Creek. This area of the park is well south of the popular sites like the Artist's Palette Drive and the Badwater Basin view. There is signage for the trailhead, but the signs are small, so keep your eyes open.
The turnoff will take you a short .5 mile up a well-graded dirt road to the parking lot. There are absolutely no services at the trail head. No water. No bathroom. No Starbucks. So, come prepared.
You don't strictly need a trail map to successfully do the hike, but we found it useful for identifying where the side canyons are located. You can print it in advance or just pick up a paper copy at the Visitor's Center in Furnace Creek.
The trailhead is sorta obvious. Simply park, and keep an eye out for a vague trail to the right of the large pile of quarried rocks. There may be a large arrow made out of rocks to help point the way. Head southeast up the alluvial fan and into the canyon.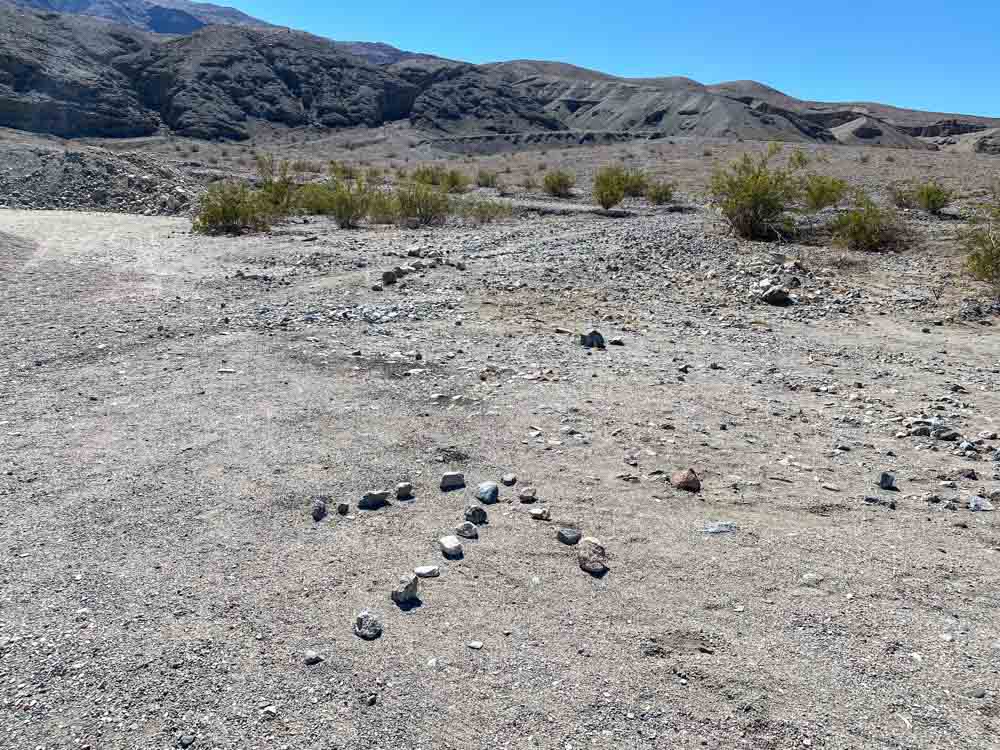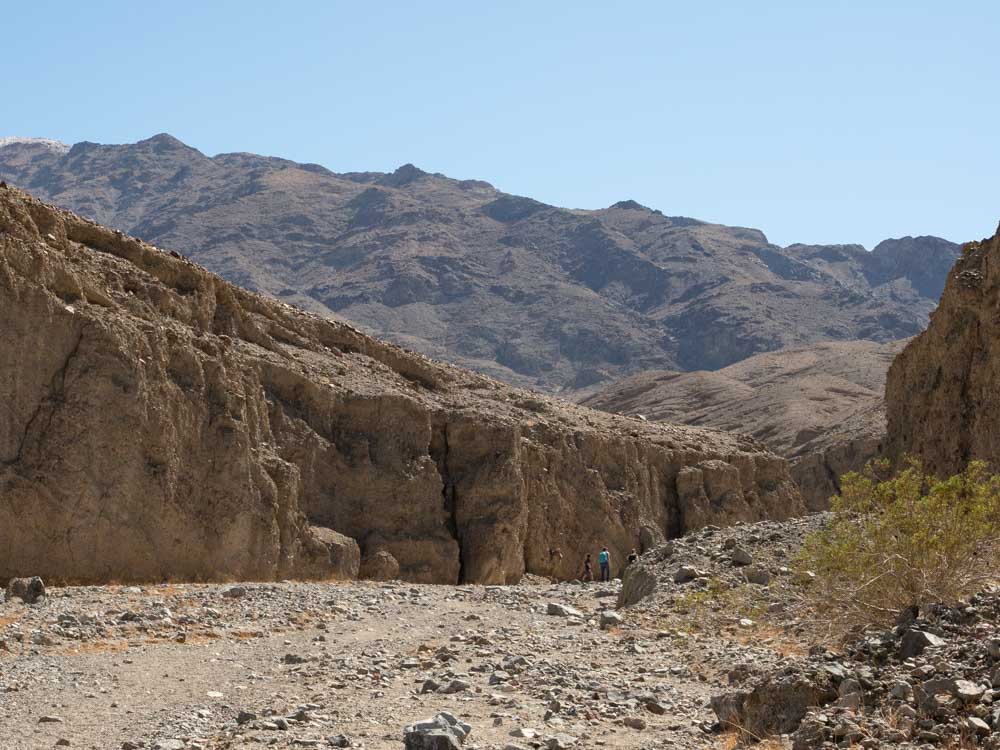 Doing the Sidewinder Canyon Trail
The Sidewinder Canyon is 2 miles deep (one way) with an elevation gain of 800 feet. It's considered a moderate hike and if you do all of the slot canyons, count on ~5 miles round trip.
Most of the hike is fairly straightforward and not technical, so it's suitable for older kids and people who aren't insanely fit. But the main event is really the slot canyons that shoot off the main canyon. These side canyons tend to start out wide (which works for nearly everyone) and then get narrow, steep and boulder-ish (which is more suitable for nimble people). So, simply understand your limits and go as far into the slot canyons as you feel comfortable.
The Parks Service trail map identified three slot canyons which are worth exploring, each one better than the previous. But, the secret to Sidewinder Canyon is that there is a fourth slot canyon toward the end that is even better than the previous three. So if you commit to doing Sidewinder Canyon, commit to doing the whole thing. Or skip one of the first canyons so that you'll have time for the fourth and final canyon.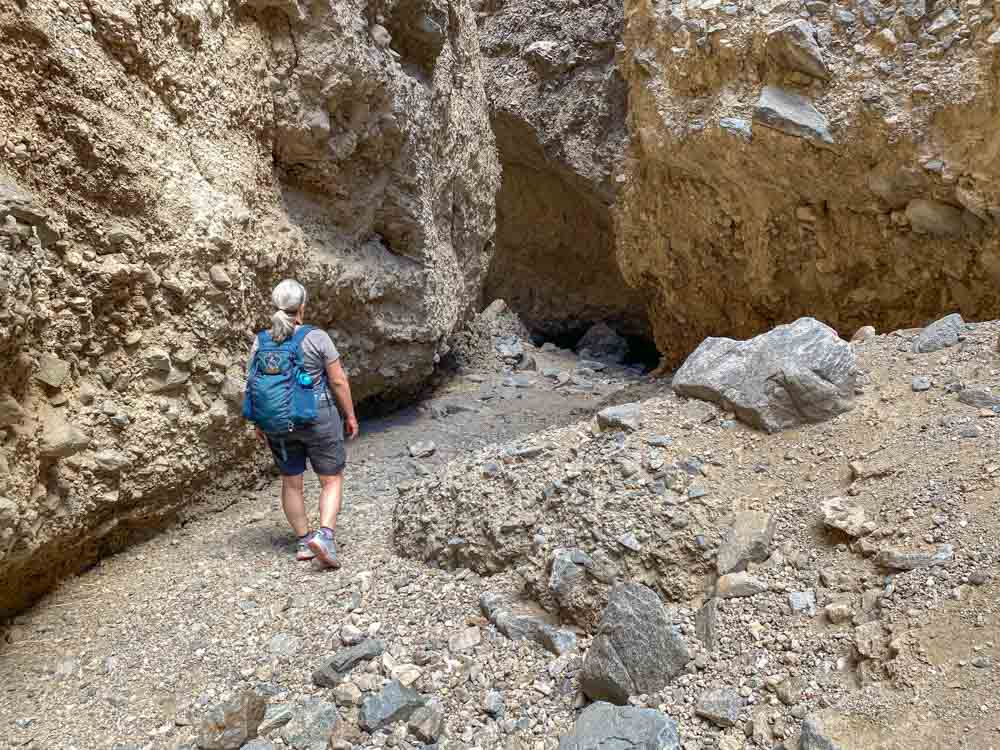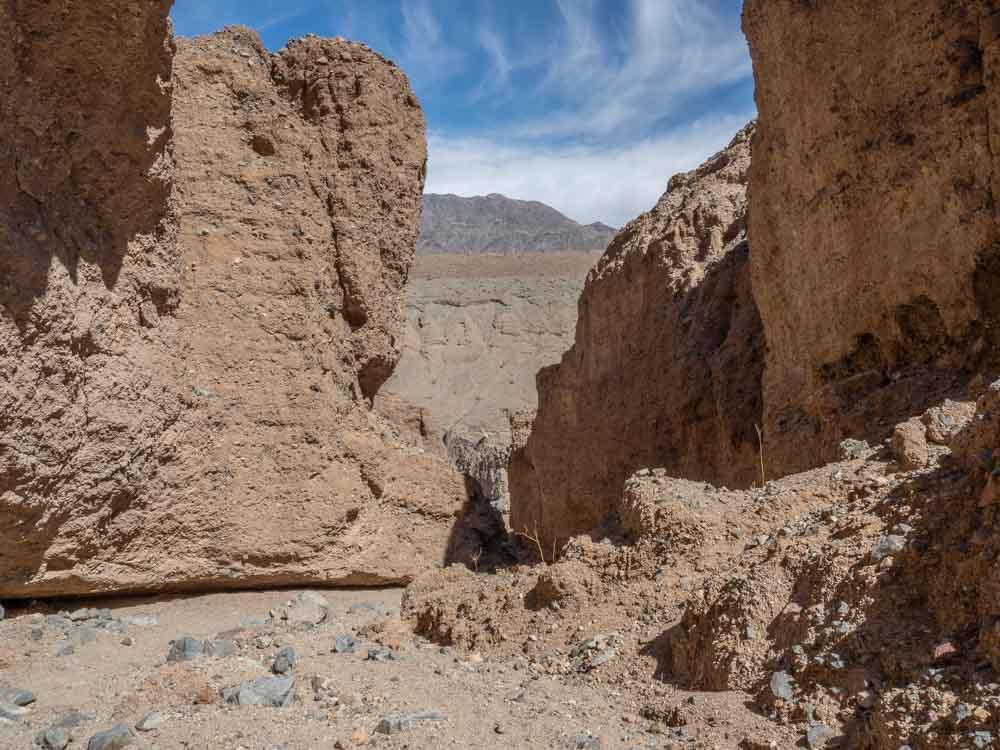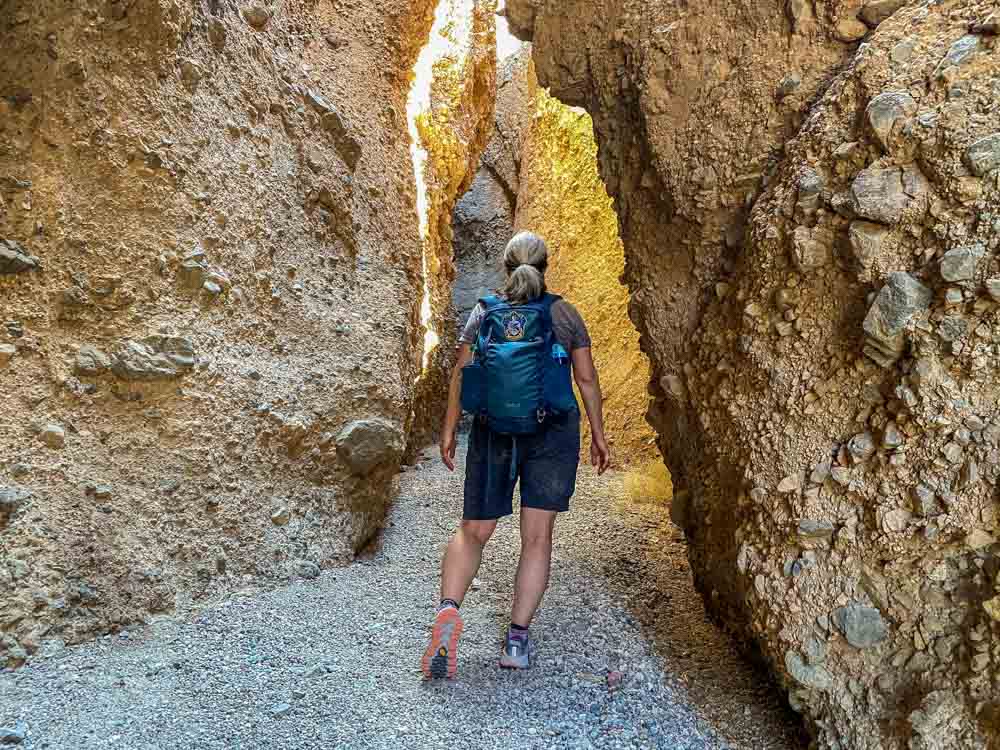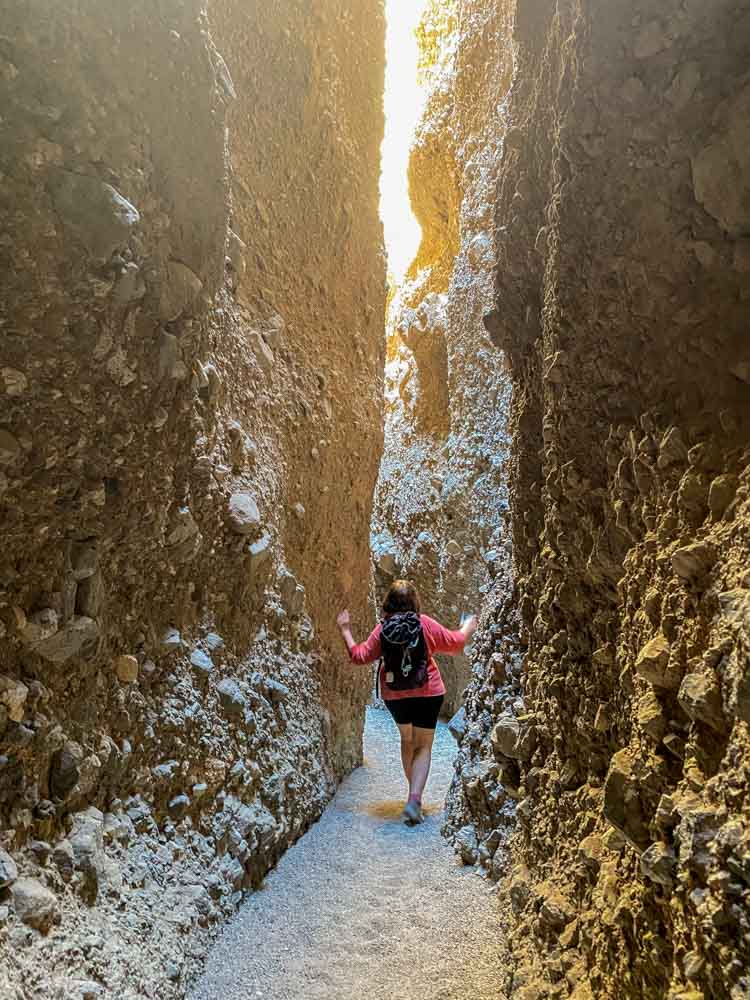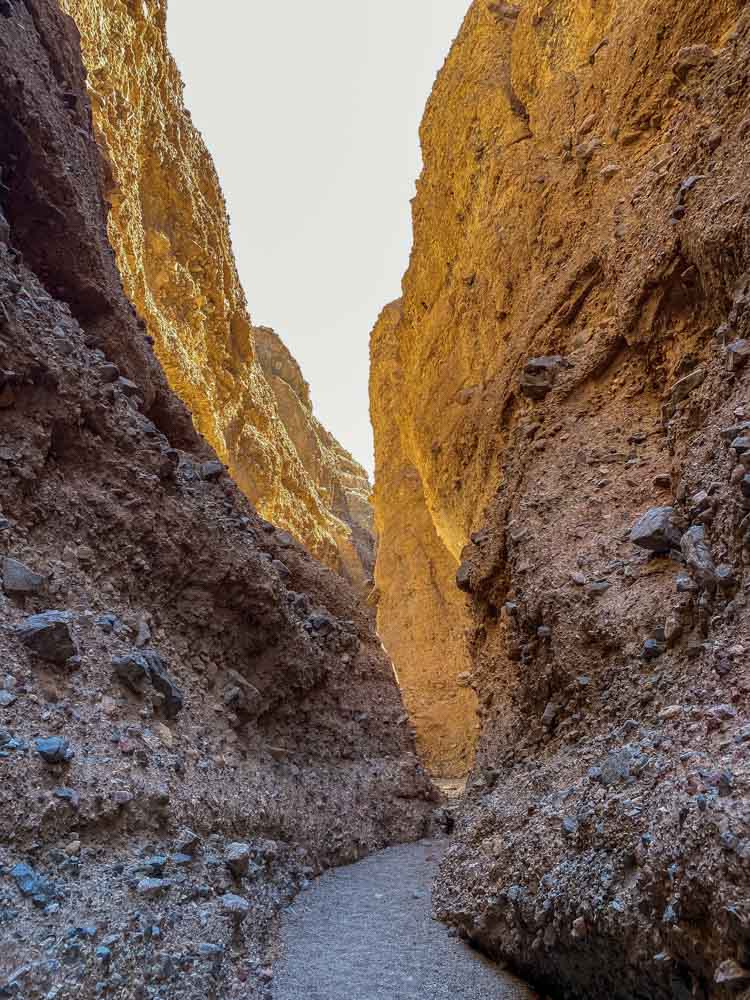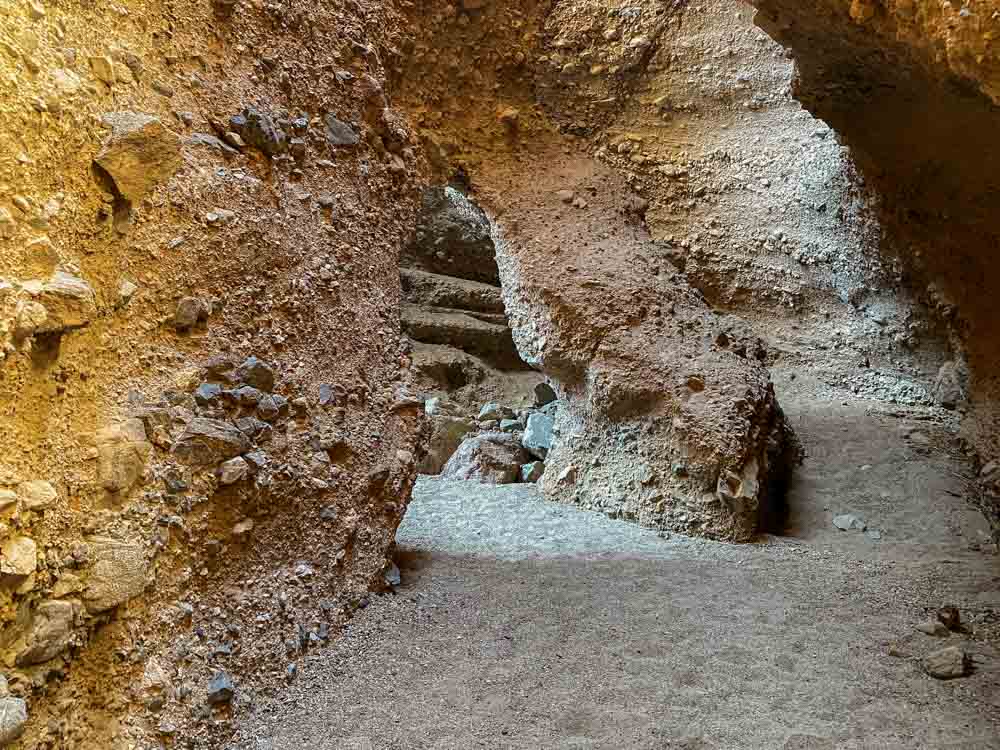 When to Do the Sidewinder Canyon
Here's the conundrum. For any hikes in Death Valley, it's best to get an early start so that you can avoid the heat of the day. But with slot canyons, you get the best "glow" of light if you go closer to midday. You'll need to use your best judgement.
If you are going between late-October and March, expect highs of ~82'F. If you are going during April/May or Sept/Oct, expect highs of 90-105'F. And we don't recommend any hiking in the lower elevations of Death Valley during the summer months.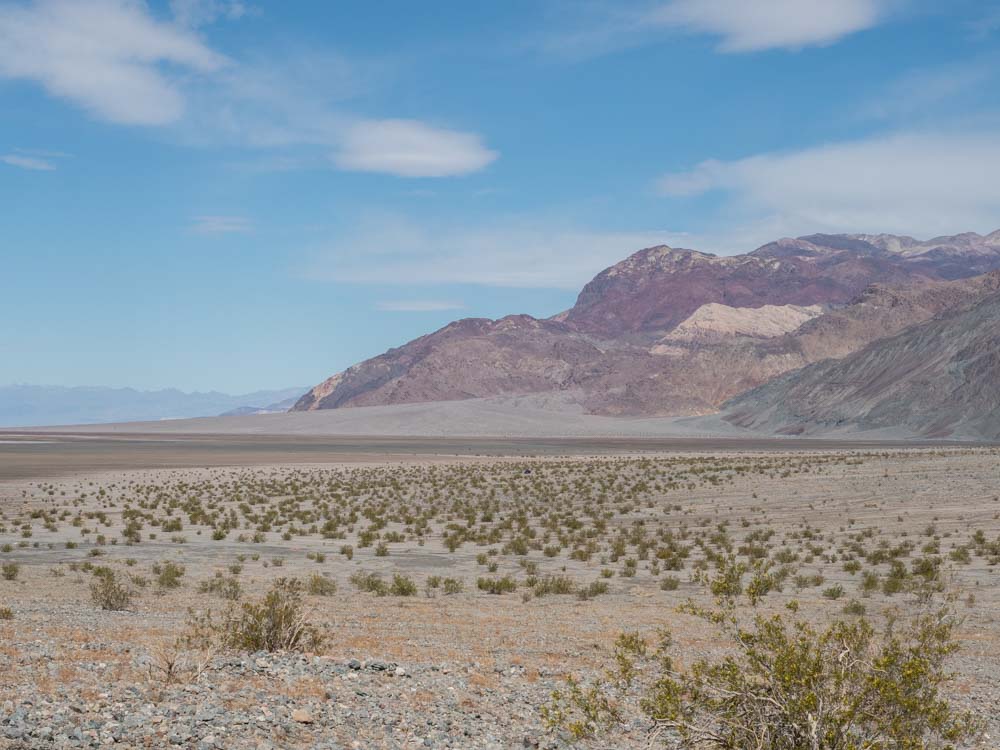 (This article contains affiliate links. This means that if you choose to purchase, I'll make a small commission.)
What To Take on Your Hike
Water Water Water. There is none on the trail. Plan for 20 ounces of water for every three miles of hiking. These Hydro Flasks hold 32 ounces and they are lightweight.
Sunscreen. There is very little shade anywhere in Death Valley and the Sidewinder Canyon hike is no exception.
Proper hiking pants. Yoga pants and gym shorts don't cut it when you are hiking because you don't want to be dropping your phone and keys all over the trail. Proper hiking pants or shorts with zippered pockets are a must. We love the hiking pants from Kuhl. They are breathable, stretchy and have zippered pockets. We're also big fans of Columbia hiking clothing. They manage to strike the right balance between price and quality and their clothes have a more generous cut.
Proper hiking shoes. You don't necessarily need heavy hiking boots for this trail, but you should at least invest in some trail runners or light hikers. Flexible sole gym shoes aren't good for gripping either rocky gravely soil of Death Valley, or the boulders in the slot canyons. We've put well over 1,000 miles on various versions of the Hoka Speedgoat trail runners. They have strong foot cushioning and decent grip.
A fully charged camera or phone. This canyon is pretty. You'll want to have a full charge so that you can take as many pics as you want. Amazon Basics sells an inexpensive charger that will give you two full cell phone charges.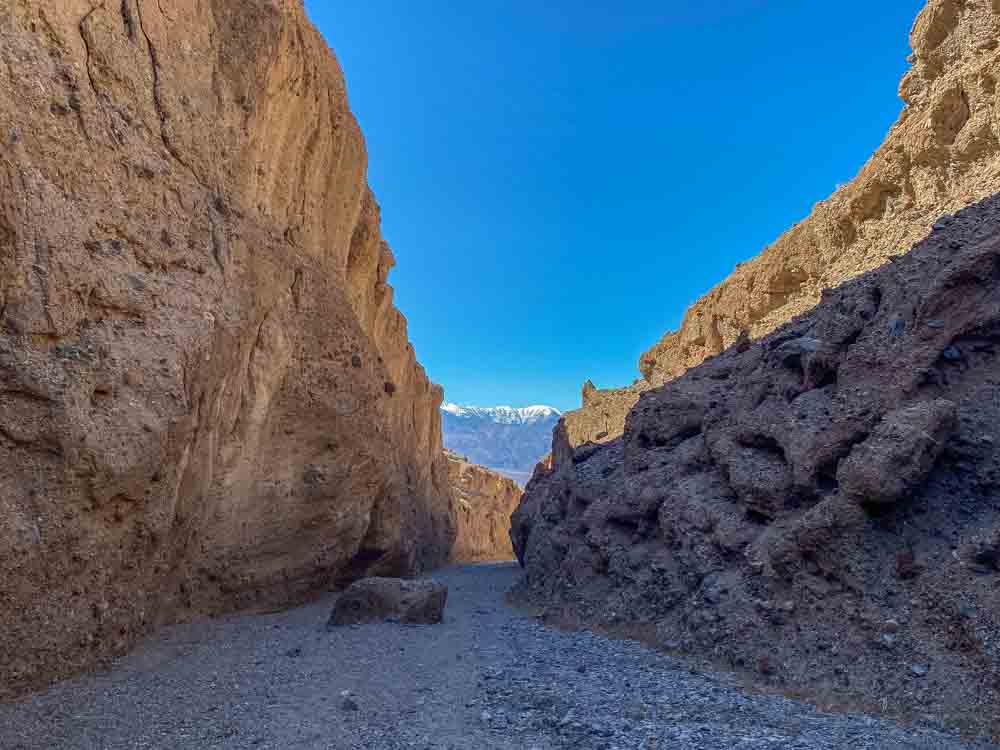 Other Things to do Near Sidewinder
We have a ton of information that will help you plan your Death Valley trip. Start by checking out our 2-day itinerary or the super-charged 1-day itinerary (which actually has instructions if you are coming from Las Vegas, but you can ignore that part if you are coming from elsewhere in California). We also have a campground guide for Death Valley as well as a hotel guide. Also, get some fun facts about the area, to help inform your trip. And check out our guide for ghost towns in the park.
Many of the park's most popular sights are actually on the same road as Sidewinder Canyon, so after your hike make time to see: Artist Palette Drive, Badwater Basin (which is cool at sunset) and the short Natural Bridge hike.
Enjoy Sidewinder Canyon in Death Valley and if you have any questions, you can always find us on Facebook.
Share this Sidewinder Canyon guide on Pinterest: