Eastern California's Highway 395 deserves much more attention as a top vacation destination. Sure, it doesn't have the showy seascapes of the Pacific Coast Highway, but hiding in the shadows of the Eastern Sierras are some amazing landscapes, vast acres of pine forest and some pretty funky geology. Which is why this drive is tops on our list of the best scenic drives in CA. This five 5-day Highway 395 road trip will give you everything you need for a full itinerary packed with the best of the Eastern Sierras.
I've lived in California for decades and been to the Eastern Sierras a number of times, but it took while for it to work its magic on me. It wasn't until a visit last fall that my feelings changed from admiring affection to full blown love. I had some free time and an itch to fire up the van. So, I was able to perfectly time my visit for fall color. Those yellow leaves slapped me in the face, waking me up to what's amazing about California's Highway 395 corridor.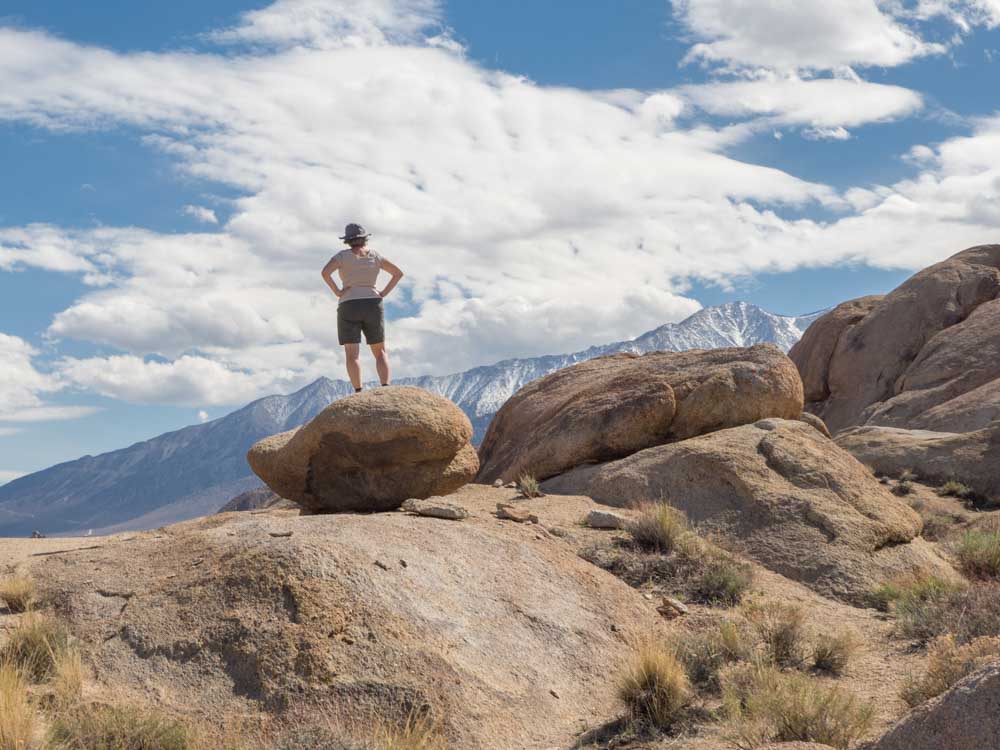 This itinerary aims to help you find that moment of amazement as well. It covers 227 miles of Highway 395, from just south of Carson City to where it ends in Southern California near Victorville. You could cover that mileage in 4 hours, but don't be in a hurry. This itinerary is a five day road trip from top to bottom. It assumes that you are starting in SF and ending in LA, although you could do it in the reverse order, or as an out-and-back. If you don't live in California and are flying into Reno, check out this airport guide, which includes information rental cars and which carriers fly into Reno.
You can adjust this 395 road trip to fit a 3-4 day timeframe, but you'll need to make some hard choices about what you have time for.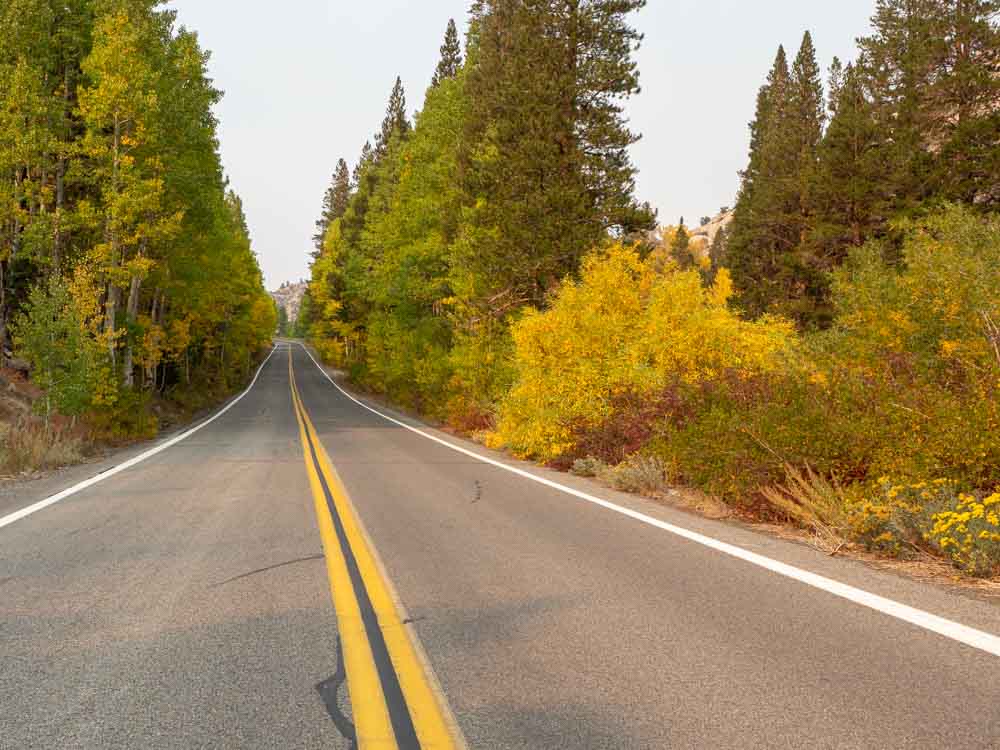 Highway 395 FAQ
Let's get started with some logistics about how and when to plan your trip.
When's the Best Time for a Highway 395 Road Trip?
The road is open year round, unless there is a major snow storm. Different seasons offer different opportunities for what to do along Highway 395.
The best time for a 395 road trip is in the Fall. The Eastern Sierras are covered in a lot of well-preserved National Forest and when the trees are turning, the whole western side of 395 lights up. Use our Eastern Sierras fall color guide for more info, but early October is a good bet. Fall is nice because the summer crowds have died down, but the Forest Service trails and campgrounds are still open.
Summer is a great time if you like hiking and water sports, but weekends and holidays can be crazy busy, so book ahead. Also, we don't recommend the Death Valley side trip in the summer because the temps are positively volcanic.
Spring wildflower season starts in late May, but if it's a late snow year, many of the hiking trails and campgrounds won't be open yet.
If you ski or snowboard, you could do a winter road trip that includes skiing/boarding in Lake Tahoe and Mammoth along with some of the other 395 attractions. But hiking will be limited and you won't be able to transit over the Tioga or Sonora passes.
Where to Start & End a 395 Road Trip?
Highway 395 actually runs from California's border with Oregon all the way down to Victorville. But this itinerary recommends the best scenic bits on a 227 mile stretch that starts just south of Carson City. This itinerary is also a great routing if you are driving from San Francisco to Las Vegas (or vice versa). If you want to fly and drive, use our guide for finding the closest Eastern Sierra airport.
You can also combine it with some of our other suggested CA road trip ideas for a longer trip.
Is Highway 395 Safe to Drive?
Yes, as long as you are a safe driver. For much of the route described here, 395 is a four lane divided highway. Exits for many of the more popular stops, such as Mammoth Lakes, have an dedicated ramp or left turn lane. There are also quite a few frontage roads that you can use. Once you get south of Lone Pine, the road downshifts to two lanes.
That said, there are things that you need to be mindful of. Check Cal Trans for snowy road conditions, watch out for fast moving semis, and stay in the slow lane, especially if you are in an RV. Also, note that the highway is not well lit at night.
Should I Pre-Book Accommodation?
For motels and Airbnb's: If your road trip occurs over a weekend or holiday in the summer, absolutely pre-book.
For RV parks: If you are RVing in the summer, some of the private RV parks may have on-the-fly availability. In the spring/fall, you shouldn't have a problem. In the winter, many of the smaller RV parks are closed.
For camping: For weekends/holidays in the summer, you should pre-book. Many Forest Service campgrounds are first-come or they reserve a few spots for last minute campers, but that works best if you can get there before 10am on a Friday. Some of the canyons managed by the Forest Service allow disbursed camping.
What is Highway 395's Elevation?
The elevation on this trip varies wildly, which is also why timing is so dependent upon the season. Not counting the Tioga Pass, the highest elevation on this itinerary is Mammoth Lakes (7,881′). But things literally go downhill from there. Lee Vining is 6781′ and by the time you get down to Lone Pine, the elevation is 3,700′. And if you do the Death Valley side trip suggested below, you bottom out at -279′.
(This article contains affiliate links. This means that if you choose to purchase, I'll make a small commission.)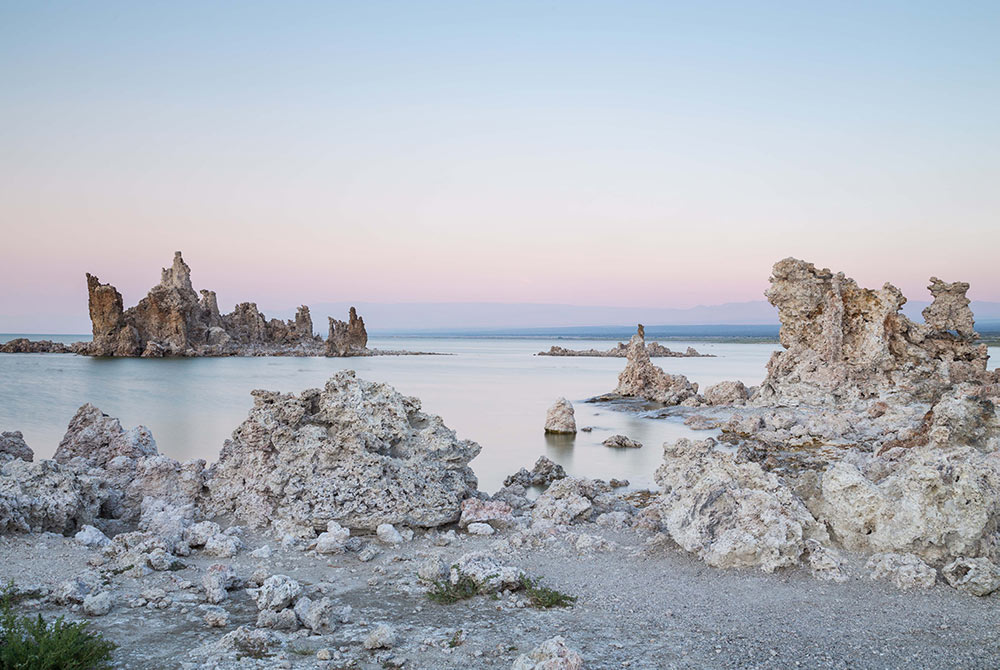 Highway 395 Attractions Map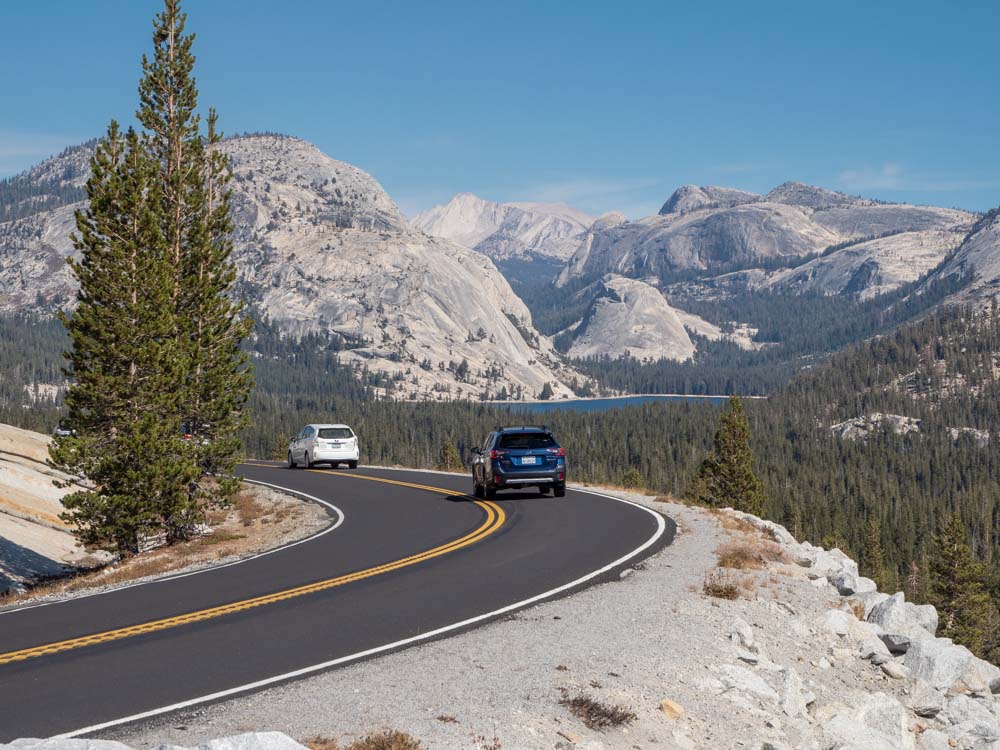 Highway 395 Road Trip Itinerary
Here's the 5 day itinerary for your 395 travel. Each day has 2-5 cool things do do and see as well as at least one scenic detour that gets you slightly off 395.
Day 1: San Francisco to Bridgeport
286 miles | 5-7 hours of drive time
The fastest route from SFO to the start of this trip is via South Lake Tahoe and Carson City. If you take that route, you can even spend some extra time doing part of the scenic drive around Lake Tahoe. Alternatively, you can tack on some road trip time in Yosemite.
If you are traveling in the summer or fall, consider the slower road over Sonora Pass (which goes through Twain Harte) or Tioga Pass (which cuts through Yosemite). Both have gobsmackingly beautiful mountain scenery with forest, windy roads and scenic pullouts. Don't do Sonora Pass if you have an extra large RV, because you won't make the hairpin turns at the eastern end. Tioga requires the National Park fee.
Once in Bridgeport, head over to Travertine Hot Springs. There are tons of hot springs along this route. Travertine is nice because it's fairly easy to find, has multiple pools, insane views and is clothing-optional.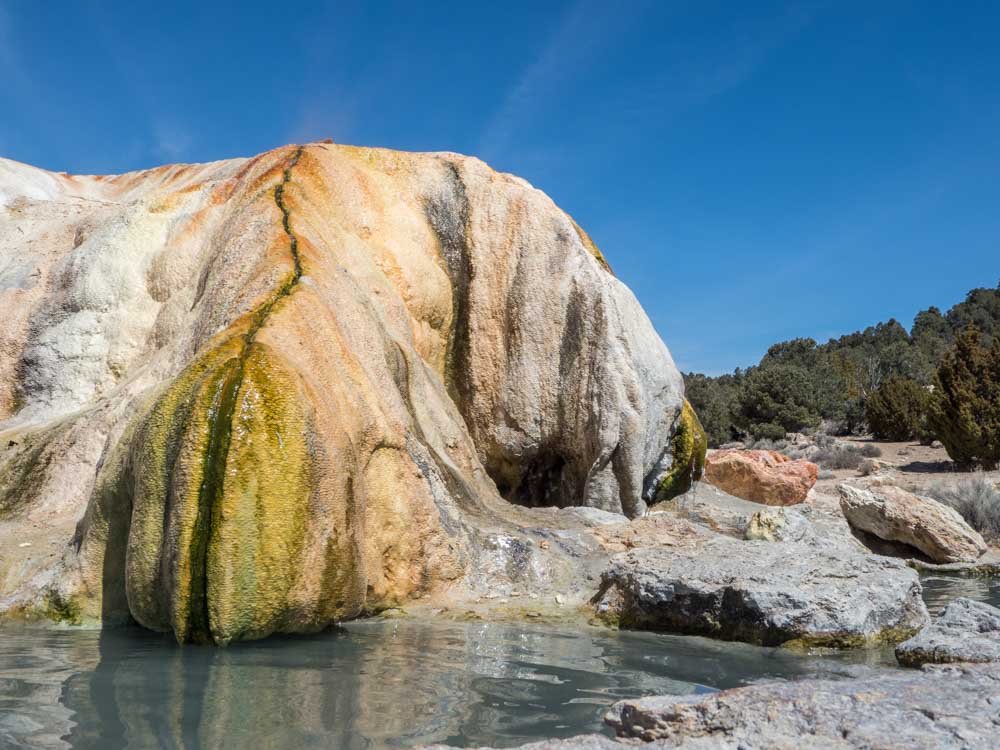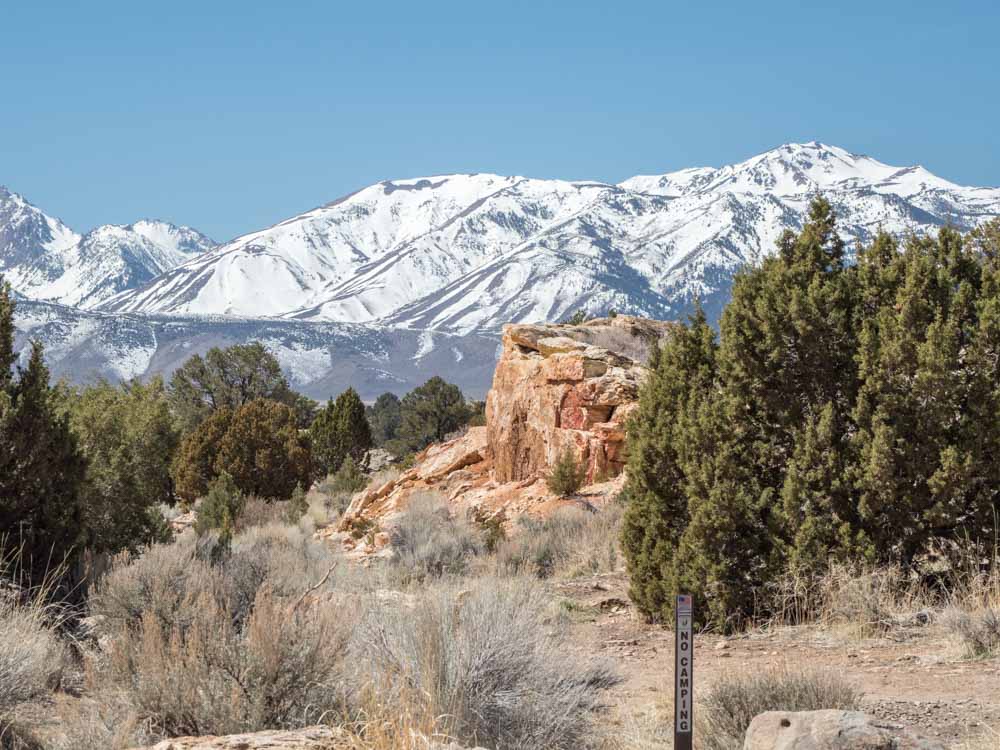 Where to Stay in Bridgeport
If you want something a bit funky, you can rent a night in a covered wagon at the Virginia Creek Settlement motel.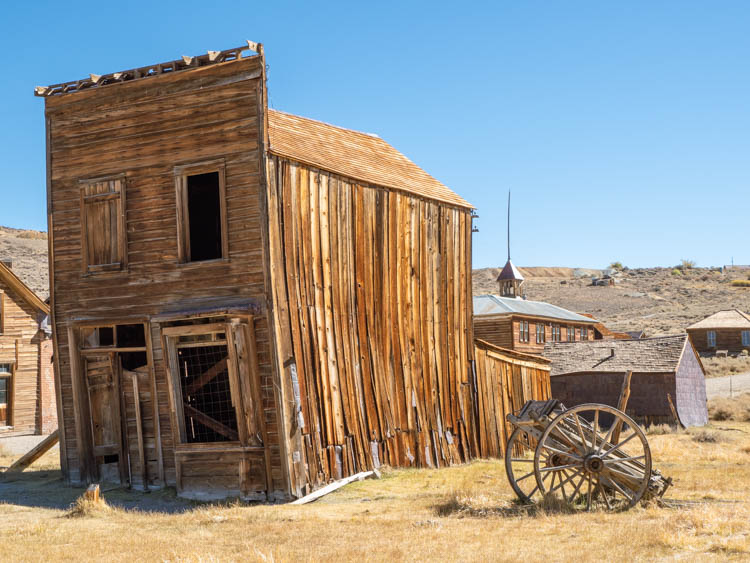 Day 2: Bridgeport to Lee Vining (or June Lake)
25 miles | 25 minutes (+ 15 minutes to June Lake)
If you are wondering why it will take all day to drive 25 miles, it's because there is a TON to do on this stretch of Highway 395. Your first stop should be Bodie State Park. This historic site is one of California's best ghost towns. It boomed from 1882 to 1932 and is a well-preserved relic of our gold rush. Visit our Bodie Ghost town guide for all of the details and plan to spend at least 1.5 hours there. The guide also suggests two scenic off road detours as an alternative to the regular road. These include either Aurora Canyon from Bridgeport or Pole Line Road and Goat Ranch into Lee Vining.
Your next stop is the scenic June Lake Loop. This lovely drive includes Grant, Silver, Gull and June Lakes. You can take a dip in Grant Lake or take a hike to nearby Parker Lake or Agnew Lake. Or simply stop into town for a cold one at June Lake Brewing. Then double back toward Lee Vining and take Highway 120 east to the southern Mono Lake viewpoint. Mono Lake is worth visiting for its crazy limestone tufa towers, which stagger upright out of the lake like crusty white zombies. The south end viewpoint will get you the closest to the tufas and it's best to go at sunset if you can swing it.
Grab dinner at the Whoa Nellie Deli, which is the best food you will ever find at a gas station. Then bunk down in Lee Vining or back in June Lake.
Read More: Get the full downlow on all CA parks with our complete California State Parks list (with map).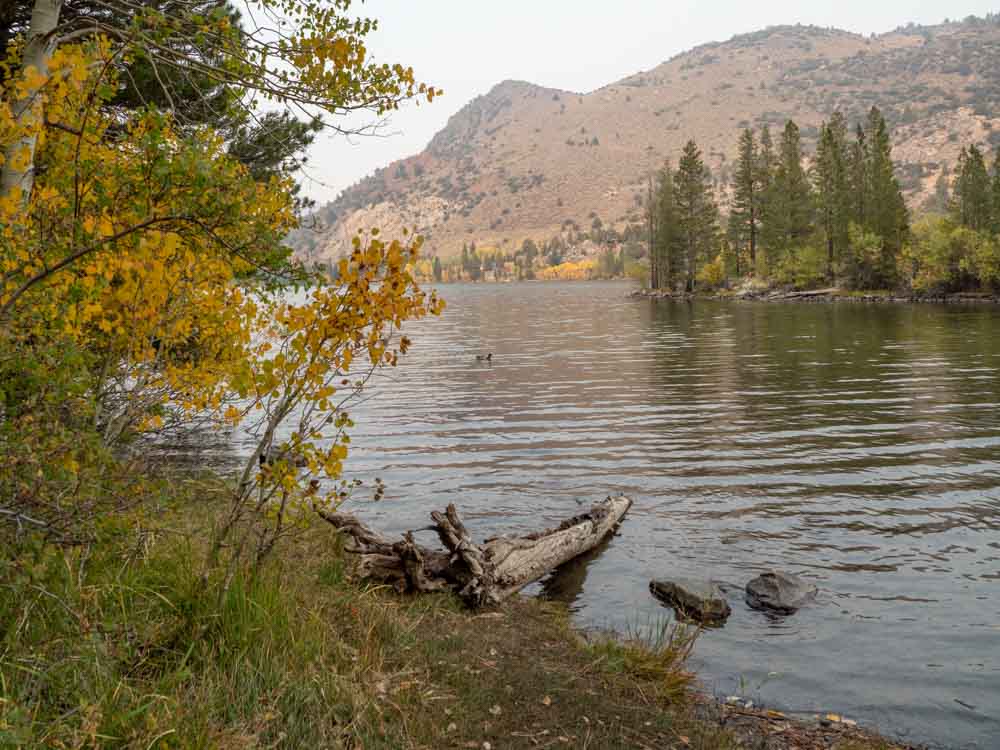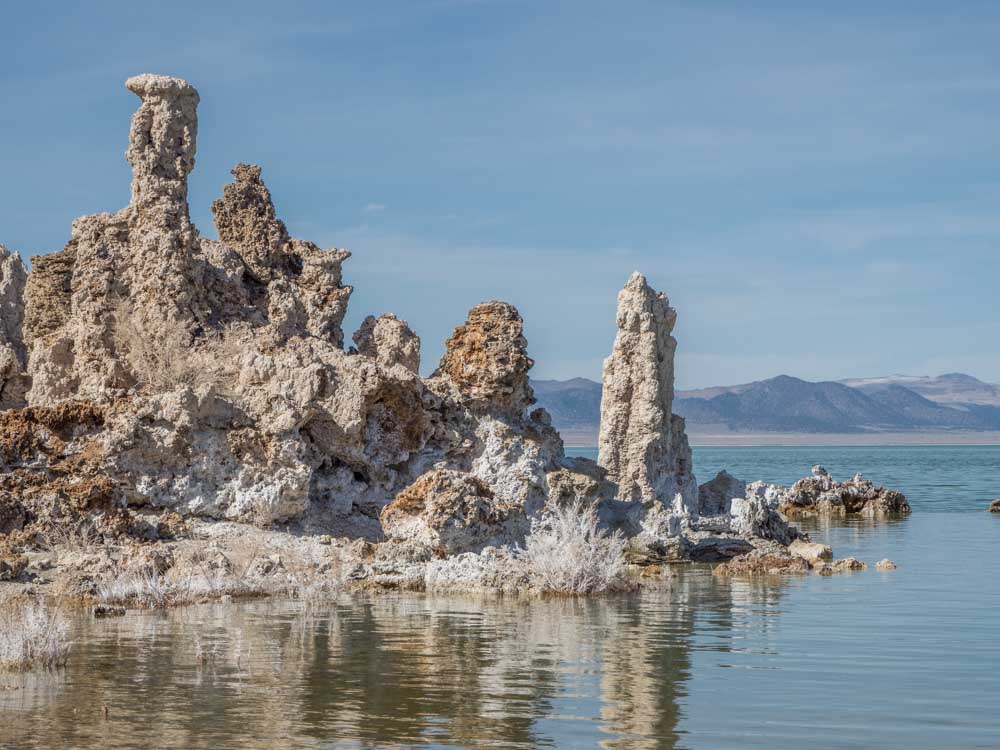 Where to Stay in Lee Vining (or June Lake)
There are a number of servicable (but not fancy) motels in both Lee Vining and June Lake. Check reviews and book here.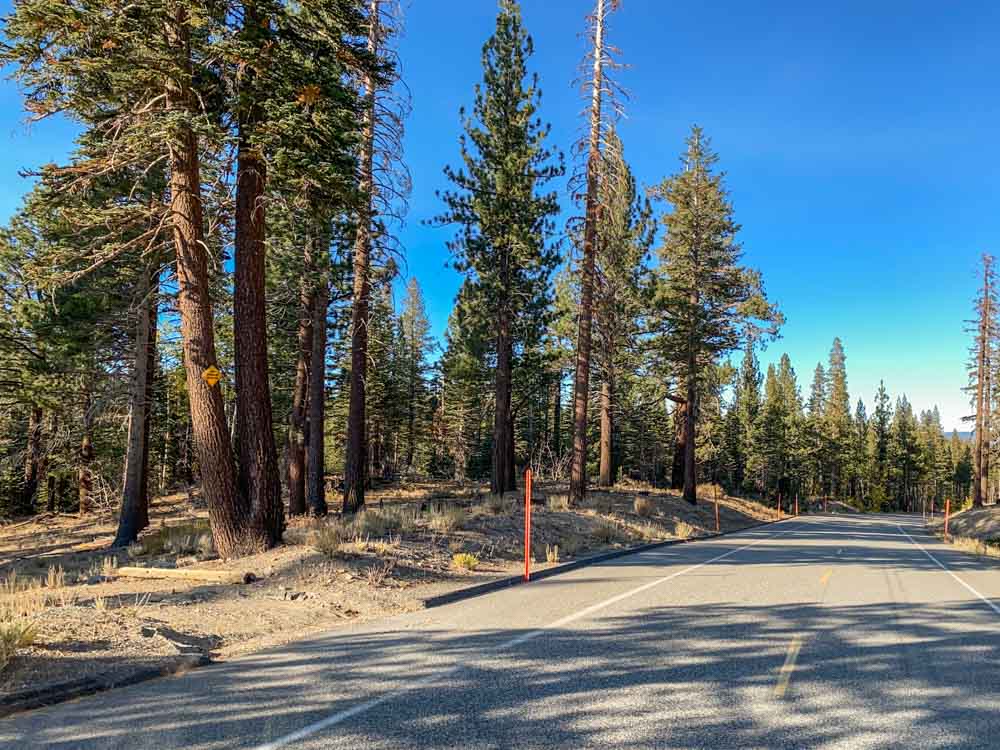 Day 3: Lee Vining to Bishop
65 miles | 1 hour
Your third day starts off with a detour. Rather than going directly to Mammoth Lakes, take the "Mammoth Scenic Loop", which is 8 miles before the main turnoff. This is a quiet, pretty road that winds through pine forest. You can further detour down Dry Creek Road for a short hike to the Inyo Craters, or just carry on into Mammoth Lakes.
Take the Minaret Summit road to the Devil's Postpile National Monument. This pile of basalt columns was created 100,000 years ago when a flow cooled and cracked into multi-sided columns. These same volcanic forces have also created the many hot springs in along the highway 395 corridor. There is a short <1 mile hike to get to the postpile and an additional 5 mile roundtrip hike to visit the Rainbow Falls.
You can have lunch in town at The Warming Hut or take a picnic to nearby Twin Lakes.
If you want some more crazy geology, your next stop should be the Hot Creek Geologic attraction off 395 east of the Mammoth airport. This is NOT a swimmable hot spring, but it's worth visiting for the bubbling brew of geysers and pools.
Now, on to Convict Lake. This lovely alpine lake is named after a bruhaha that ensued after a group of escaped prisoners hid out there. It's worth visiting because it's not too far off the main road and it's very pretty. There is an easy 2.5 mile loop trail around the lake. The southeast side has some nice beaches for fishing and swimming and you can rent kayaks and boats from the local concessionaire. In addition, the tree leaves on this lake really pop in the fall. Get more info in our full guide to Convict lake, which include info on additional hikes, where to camp and how to rent a boat or kayak.
If the lake is too crowded, then we suggest going a little further south and heading up McGee Creek. You can do as much or as little as you want of the 3.5 mile McGee Creek trail. This area is particularly nice in the late spring for wildflowers or for leaf peeping in the fall.
Now, it's time for another detour on your way down to Bishop. Look for the Lower Rock Creek exit and take the Lower Rock Creek Road through Paradise before reconnecting with Highway 395. There aren't any attractions along this road, it's just a quiet diversion from the highway. For good eats, check out the Erick Schat's Bakkerÿ or the Holy Smoke Texas Barbeque.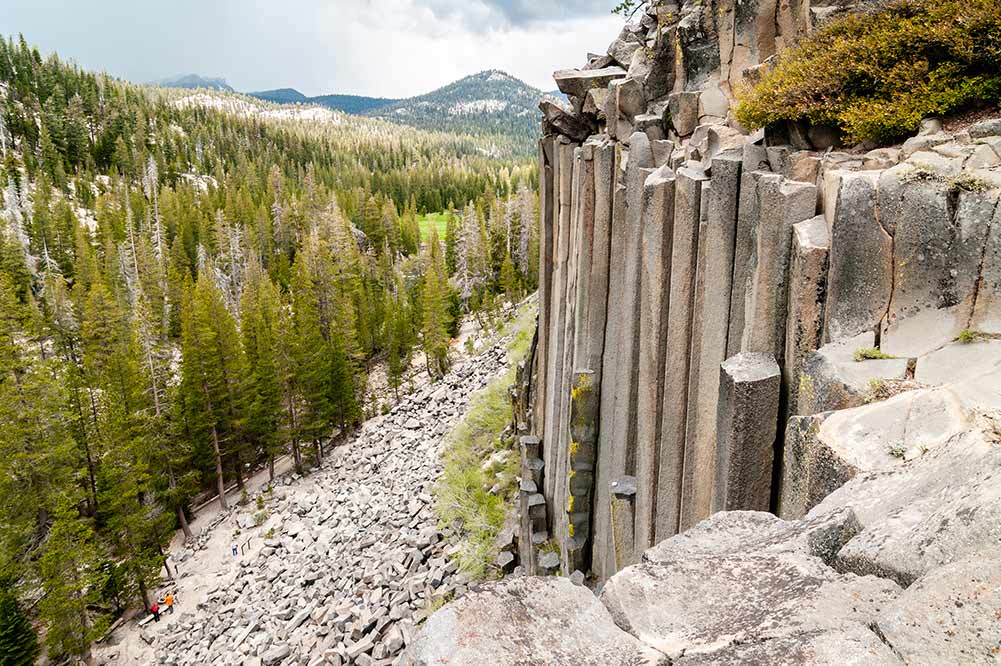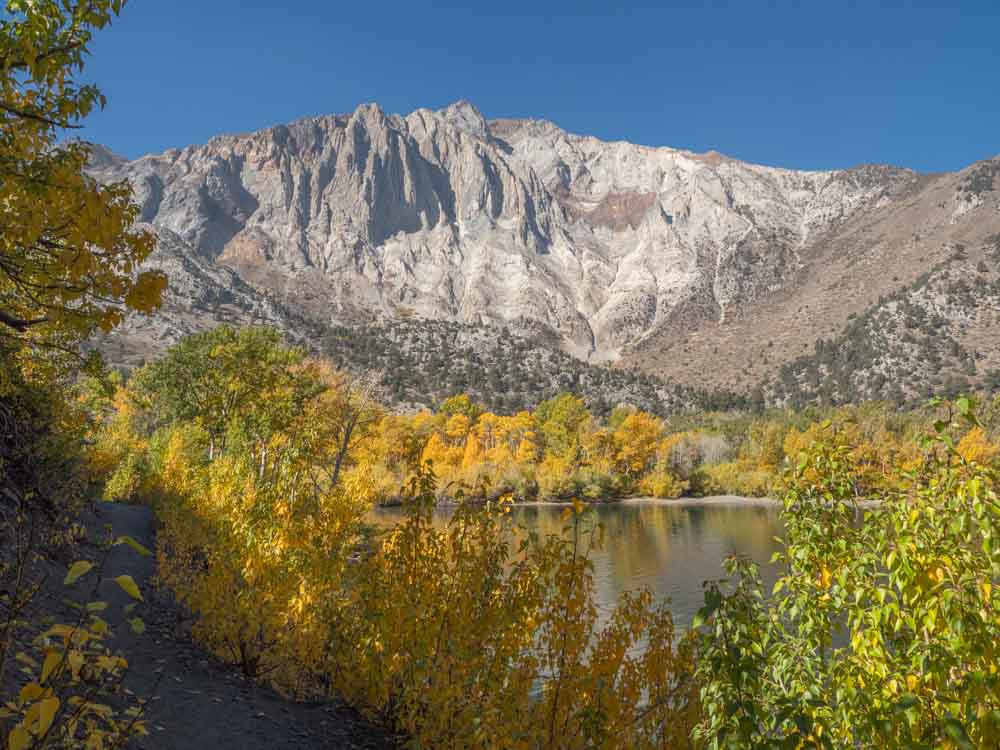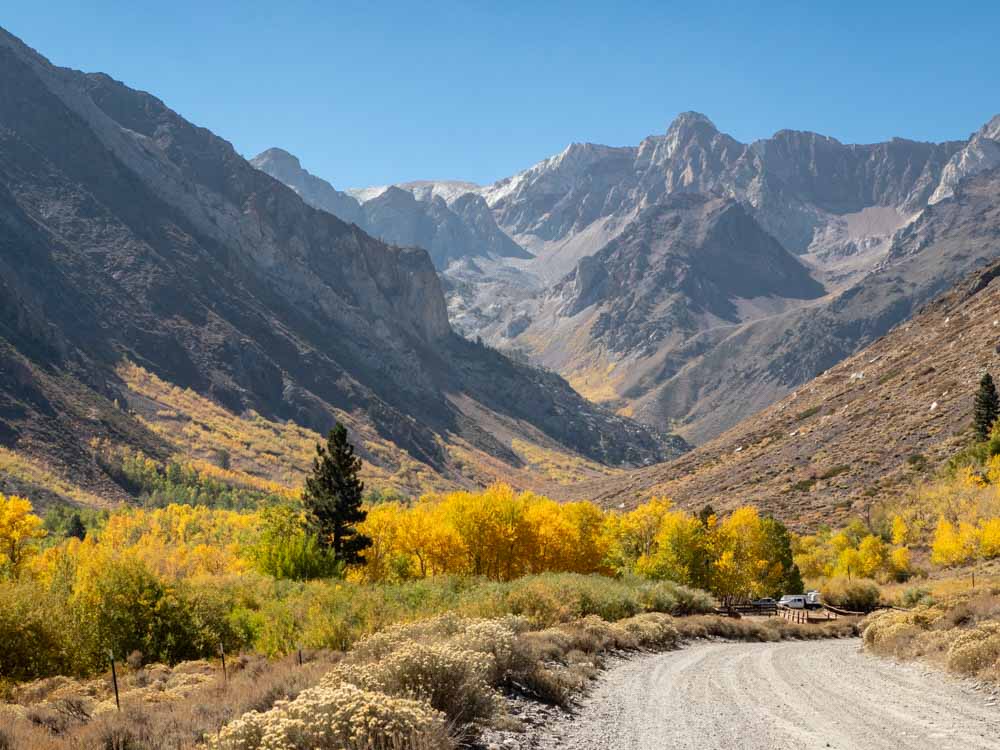 Where to Stay in Bishop
Bishop is the largest town that sits right on the highway and it's well-served by plenty of mid-range motels like Days Inn, Travelodge and Comfort Inn. Check for deals and book here. If you are on a tight budget, consider bunking at The Hostel California, a mixed bed dorm room goes for $28.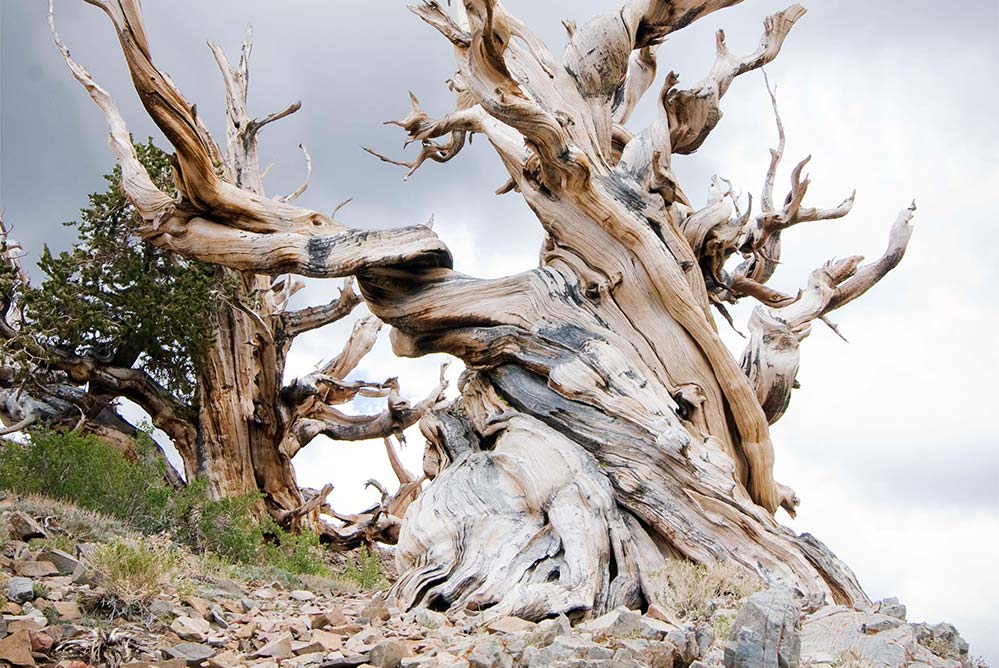 Day 4: Bishop to Lone Pine
57 Miles | 1 hour
We have a whole guide that outlines a lot of fun things to do in Bishop— both in town and nearby. So check that out if you are going to be hanging around in the area. We also have a detailed guide for Lone Pine, which elaborates upon some of what is listed below.
Before leaving Bishop, you may want to check out either the Laws Railroad museum (if you are a train nerd) or the Paiute-Shoshone Cultural Center (if you are into Native American culture).
Then head up to the Bristlecone Pine Forest, which is managed by the Forest Service. These gnarled, tortured pine trees are the oldest in the world and can live up to 4,000 years old. The short version is to go up the Shulman Grove visitor's center and do the Methuselah Trail. The longer version is to go 13 miles further up the dirt road to the Patriarch grove.
The next stop is back down Highway 395 at the Manzanar National Historic Park. Our xenophobic reflex to the bombing of Pearl Harbor resulted in the imprisonment of 11,000 Japanese Americans at Manzanar. This National Historic Park remembers that tragedy with guided tours and exhibits.
Today's detour goes up the Whitney Portal Road, which is just west of Lone Pine. This will take you an additional 13 miles up to the Mount Whitney trailhead, which is only for experienced mountain hikers, but the drive is lovely.
For good eats, check out the Castro taco truck or the Alabama Hills Cafe.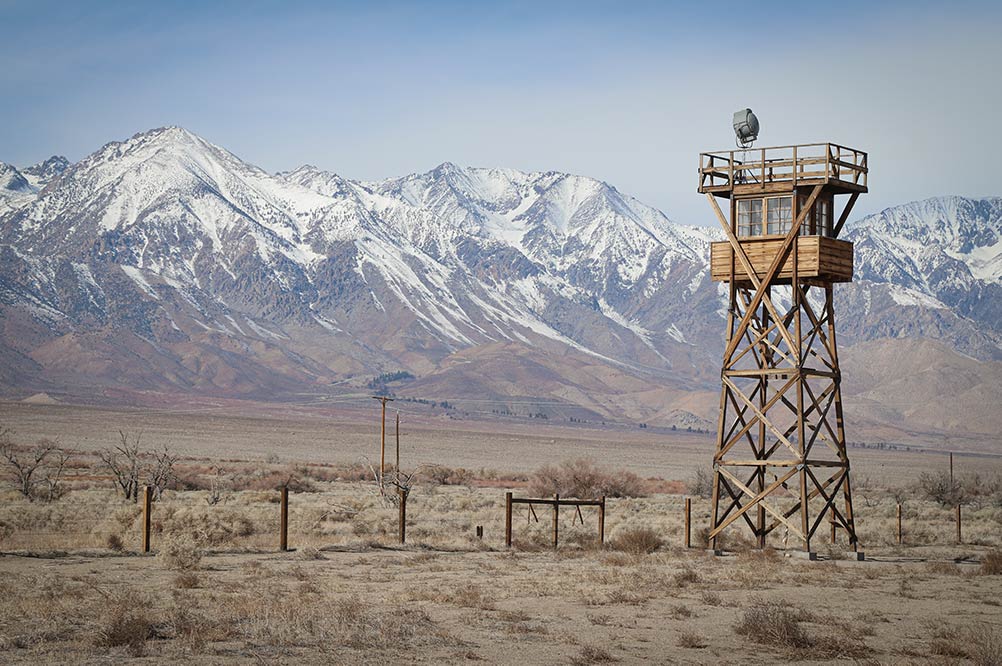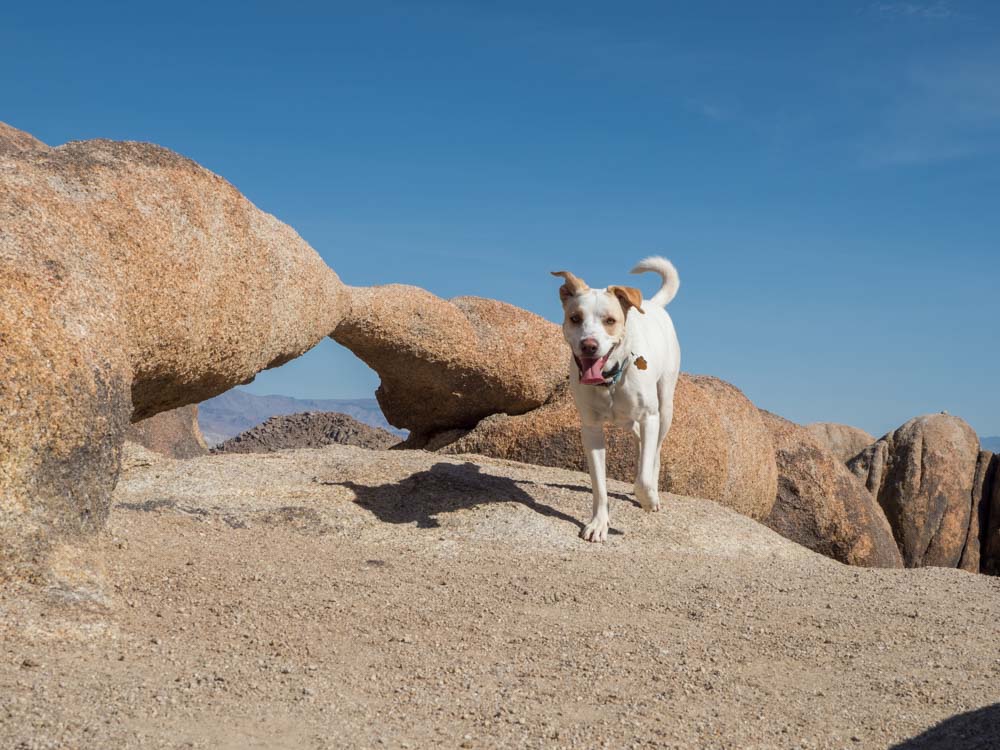 Where to Stay in Lone Pine
Once again, there is an assortment of basic motels in Lone Pine. The Dow Villa Motel gets good marks for it's central location in town.
Day 5: Lone Pine to LA
213 miles | 4 hours
Stop into the Western Film Museum to check out the memorabilia on the westerns that were filmed in the area. Then head into the Alabama Hills to see the filming locations for yourself. Alabama Hills is very reminiscent of Utah with its red, rocky landscape. You can drive the movie loop trail or take a short hike around the popular mobius arch. Here's a BLM map of the area.
Head south toward LA. If you have time, detour down Highway 14 to Red Rock Canyon State Park. This is another one of those feels-like-Utah landscapes with spires of eroding red sandstone. Take the easy Hagen Canyon Nature trail or the nearby Red Cliffs trail.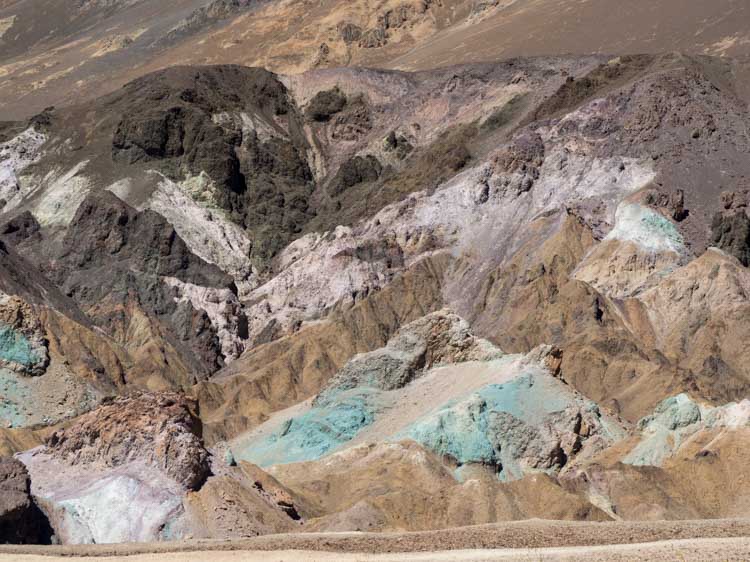 Day 5-7 Death Valley Alternative
If you can swing it, we recommend adding Death Valley onto your Highway 395 road trip. If you like this kind of spare desert landscape in the southeastern Sierras, you'll love Death Valley. It has sand dunes, salty lake beds, volcano craters, ghost towns and miles of views.
For more information, start with our mega guide for Death Valley that includes practical planning tips, routing suggestions, accommodations and top things to do. Alternatively you can build a trip from this 2-day Death Valley itinerary. Or if you are short on time, but still want to see Death Valley, get a very early start and use this 1-day itinerary. The instructions are from Las Vegas, so ignore the driving directions, but otherwise use the suggested routing once in the park. Top spots on both itineraries are Ryolite Ghost town, Badwater Basin, Zabriskie Point and Mesquite Dunes.
This add-on is best done from October to April. You can also get some inspiration and trivia with these fun facts about Death Valley. If are you camping, here's our guide for the best Death Valley campgrounds.
If you are returning to SF from Death Valley, use our guide to help you find some cool stops along the way.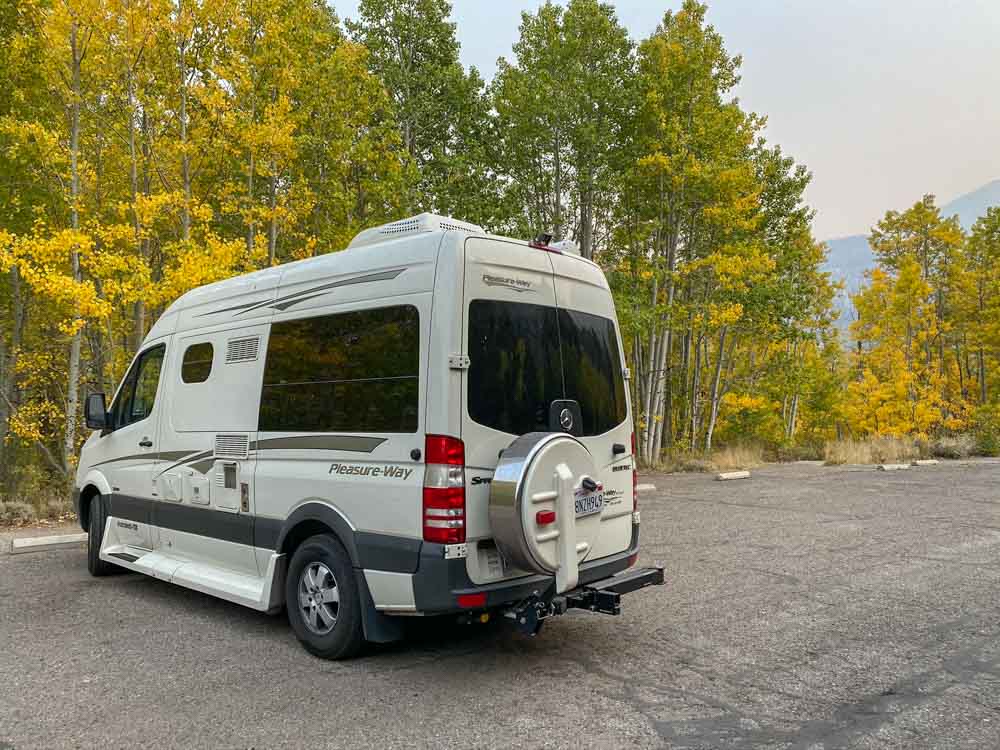 Road Trip Planning Essentials
Preparing Your Car
Start with an old school map. Mobile signals are very spotty on 395 and Google Maps won't always work there. We love the Benchmark California Road Atlas. It's very detailed and shows both paved and dirt roads as well as state parks and some campsites.
If you need to rent a car, get your best rental car deal by comparing prices with Rentalcars.com.
If you are driving your own car, don't forget to check your oil and tire pressure before you leave and you should also invest in roadside assistance. It comes with a AAA membership, most new car purchases or a credit card like the American Express Rewards Gold Card. You should also purchase a roadside safely kit which includes things like a warning triangle, jumper cables, glass breaker, multi tool, cable ties and small first aid kit. These kits also make a thoughtful, if tragically practical Christmas or birthday gift.
Be sure to stock your car with a drinks, snacks and lunch supplies. Consider getting an electric car cooler, which is great for keeping lunch stuff cold without becoming soggy from melted ice. I recommend taking mix of: trail mix, energy bars, individual cheese slices (or string cheese), crackers, pretzels, soda, water and candy bars.
"Whither goest thou, America, in thy shiny car in the night?"

-Jack Kerouac
Why Jack, we are going to the Eastern Sierras of course. While there, we will be rewarded with alpine lakes, pine forest, rock formations, weird geology and cool attractions on Highway 395. After reading this full article, you can see why it's worth devoting at least 5 days to your California 395 road trip. Have fun and goest thou soon in thy shiny car.
More California Road Trips
Share this Highway 395 road trip itinerary with your friends on Pinterest: