The Eastern Sierras are one of California's best kept secrets. The dry side of the Sierra Nevada mountains may not be a showy as Yosemite, but there is an astonishing amount of natural beauty and interesting California history to be found there. The town of Bishop, California sits smack in the middle of the highway 395 corridor and it's a perfect base of operations for exploring the area.
This guide will help you find 16 cool things to do in Bishop that will show you a bit of California's history as well as get you out of the car and exploring the area's spectacular natural offerings.
Many people doing a longer Highway 395 road trip, stopping in Bishop for just one night. But there's so much to do in the area, you may have trouble prioritizing what to do in Bishop. So, if you can swing an extra few days, it will allow you to tick off a lot of what we are suggesting below and you can dig really deep into the best of the Eastern Sierras.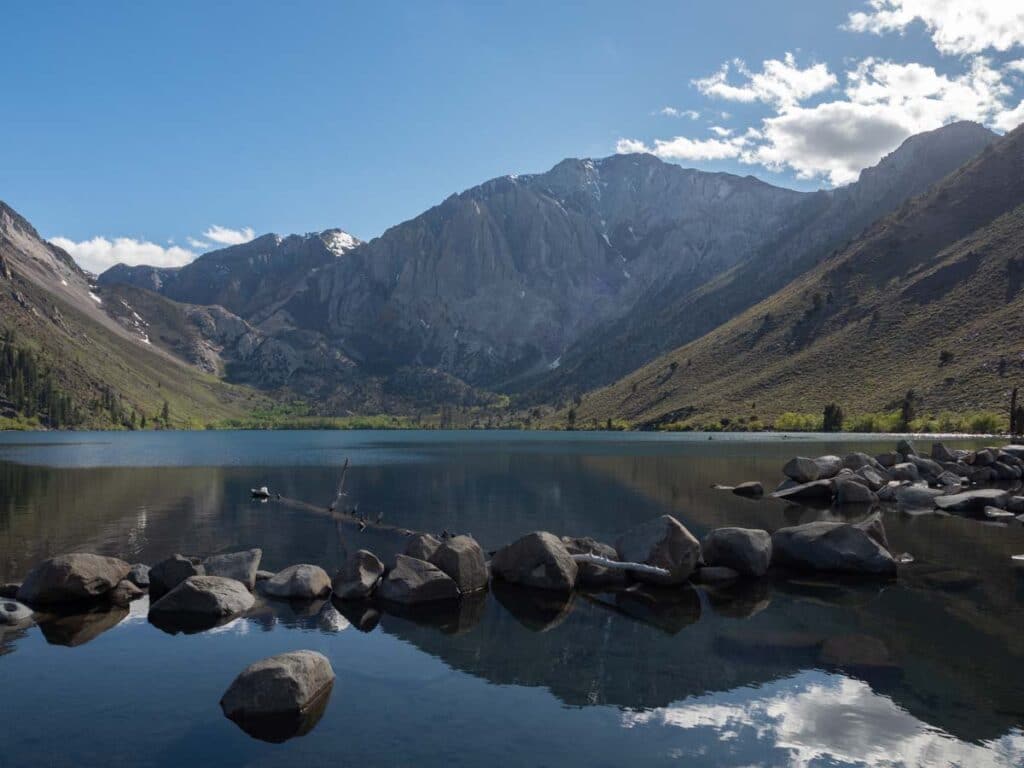 (This article contains affiliate links. This means that if you choose to purchase, I'll make a small commission.)
What's Bishop, California Famous For?
The Native American Paiute and Shoshone communities have lived in the Eastern Sierras for thousands of years, historically living a nomadic lifestyle in the region. Unlike coastal California, the Spanish weren't much interested in the Eastern Sierras. So, white settlement didn't come to area until after the 1820's, when explorers like Jedediah Smith and Joseph Walker came to check it out. In 1845, John C. Fremont led a mapping party and he was accompanied by Kit Carson and Richard Owens. Later, the nearby Owens Lake and the whole Owens Valley were named for this expedition.
Shortly thereafter, California's gold rush created a mining boom in the region and the population exploded. Because Bishop is situated on a river, the town was established to grow cattle and other food for the mining operations.
Bishop went through some upheaval around 1913, when a water war got started. The City of Los Angeles bought up a good portion of Owens Valley in order to lock up water supply for Southern California. There was a lot of resistance and displacement that occurred during that time. But Bishop is scrappy and the town survived.
Today, it's the primary commercial hub for Inyo county and a magnet for hikers, anglers, hunters, climbers and road trippers. It's famous for being, as the tourism bureau puts it, "a small city with a big back yard", and with 2 million acres of national forest at your disposal, they aren't kidding.
Are you sold? Good, let's get started finding you some fun things to do in Bishop.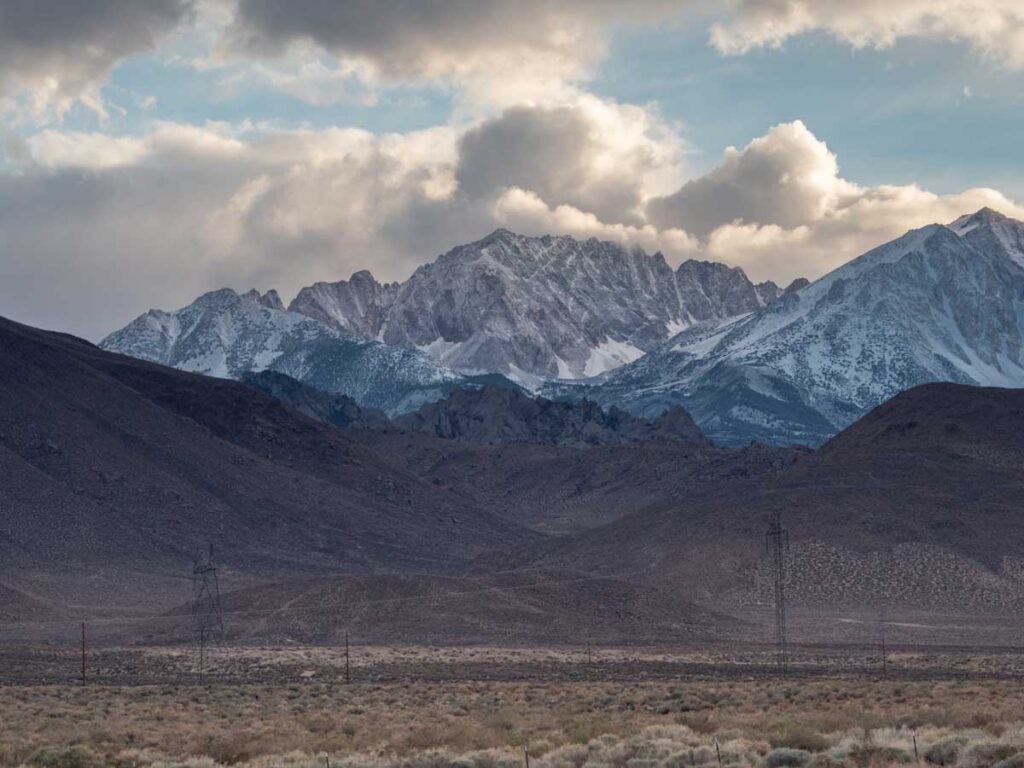 16 Spectacular Things to do in Bishop, CA
This list of Bishop's charms has a logic. It starts with 6 local cultural and historical Bishop attractions and eateries, which are in town. Then, there are 7 amazing nearby natural areas with suggestions for hikes, lakes and hot springs. And THEN, we suggest three scenic drives around Bishop.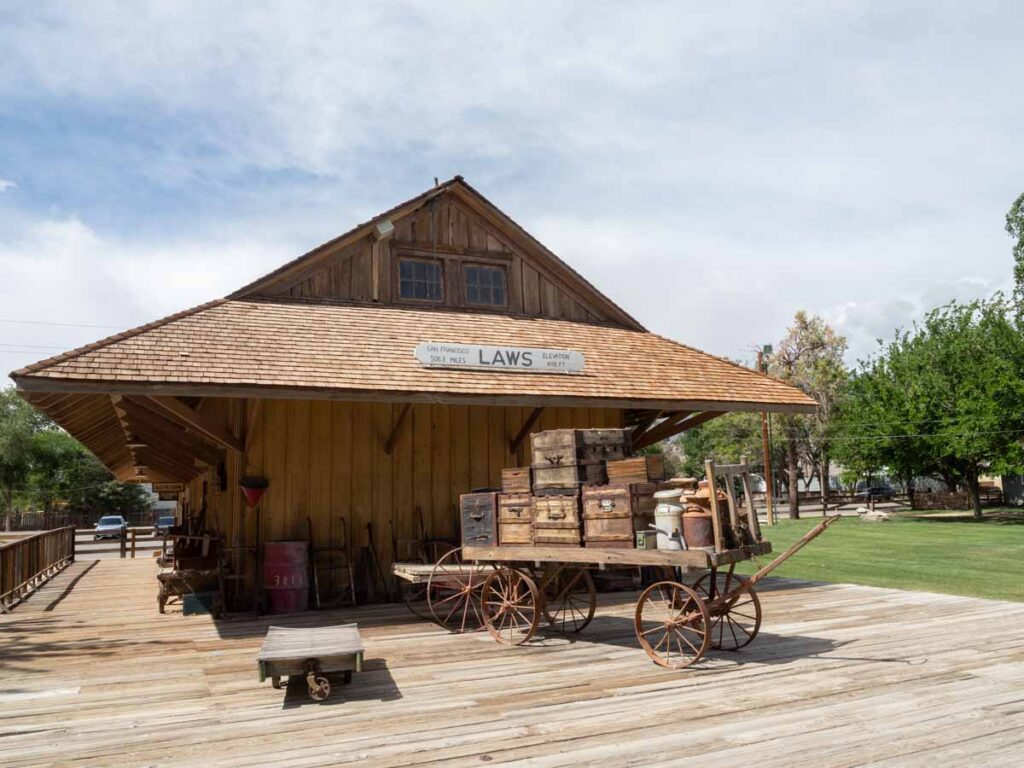 1. Laws Railroad Museum
The Laws Railroad Museum offers so much more than old train cars. The Bishop Historical Society has painstakingly re-created Laws, with historical buildings and furnishings "of the era".
The railroad came to Laws in 1863 ostensibly to serve as a narrow gage line between from Round House to the Colorado River. The town of Laws built up around the line. But the rails never made it past Keeler (which is on our list of ghost towns). The decline of mining, the development of interstate trucking and that whole LA water thing put an end to the rail line.
The historic site offers a fascinating window into historic Bishop with 11 acres of exhibits, trains and buildings. Plan to spend at least an hour and a half there.
Tips for visiting: Open daily 10-4.
2. Paiute Shoshone Cultural Center
A significant chunk of Bishop's greater area is actually part of the Paiute Reservation. The reservation hosts a cultural center which serves both Paiute and Shoshone cultures. In addition to programs that support the local community, the center has regular art exhibitions that celebrate the local Native American culture. They also have a gift shop with locally made crafts.
Tips for visiting: Open Tues-Sat 10a-4p.
3. Bishop Mule Days Festival
If you are going to be in Bishop around Memorial Day, make time for their annual Mule Days festival and rodeo. They have competitive mule drives, demonstrations, music and a parade. Book well in advance if you want to attend.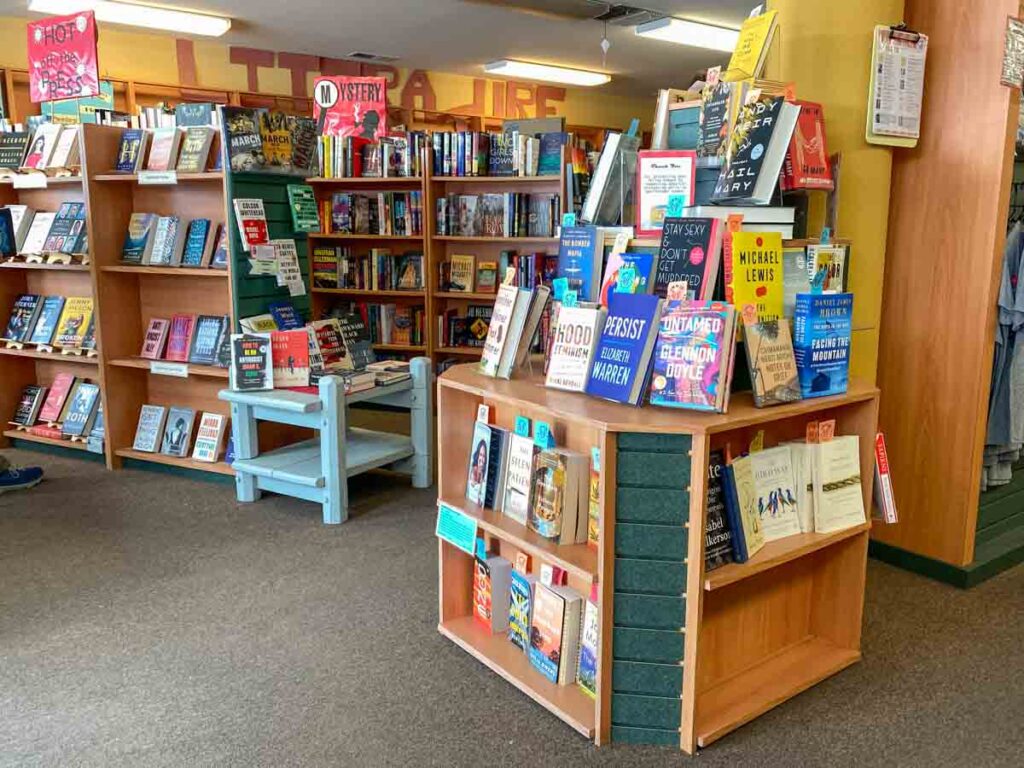 4. Spellbinder Bookstore
For a book nerd like me, there's no better way to get to know a town than to stop into the local bookstore. Spellbinder is right in downtown Bishop. It has everything that a good indy bookstore should have; staff pics, local author selections and niche books on the local culture and natural history.
Tips for visiting: Open Mon-Sat 9-5, Sun 10-2.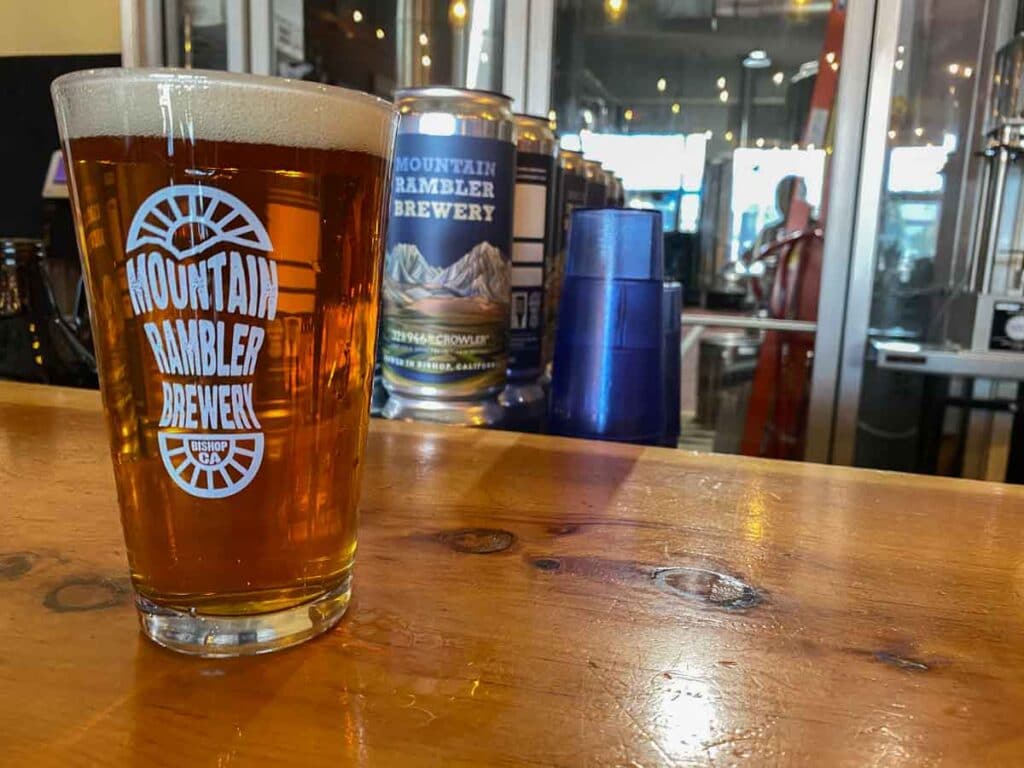 5. Mountain Rambler Brewery
Once you have your pile of books, head next door to the Mountain Rambler Brewery. They offer 12 beers on a rotating tap with a wide selection of IPAs, Mexican Lager, Pale Ales and Porters. They also offer a hard seltzer. Their burgers are really good and they will fill you up after a hard day of exploring Bishop and thereabouts.
Tips for visiting: Open 11:30a-10p.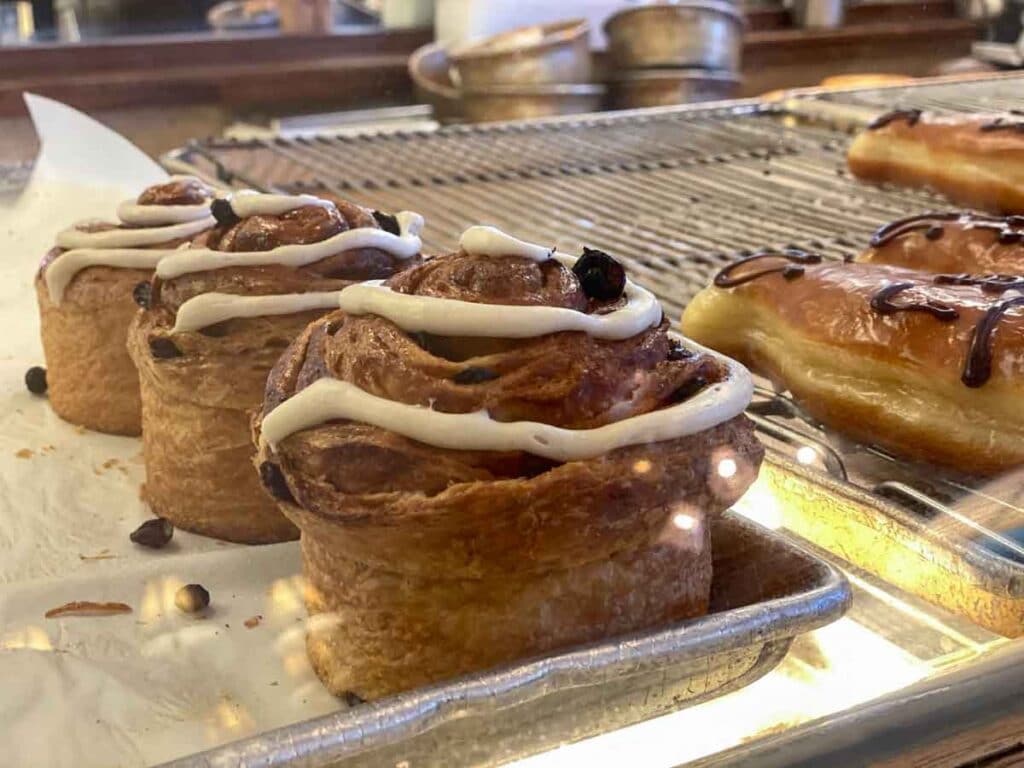 6. Erick Schats Bakkery
Schats opened in 1938 and they specialize in traditional Basque sheepherder's bread. Over the decades, they have expanded their operation to include all manner of sweet and savory baked goods. The bakery is very popular…and for good reason. You can stop in and get delicious cookies, breakfast pastries or sandwiches. They also have a wide selection of breads (I recommend the chili cheese rolls).
Order ahead for a sandwich and then take it on one of the hikes listed below.
Tips for visiting: Most days 6a-6p. The sandwich bar is open 8:30-3.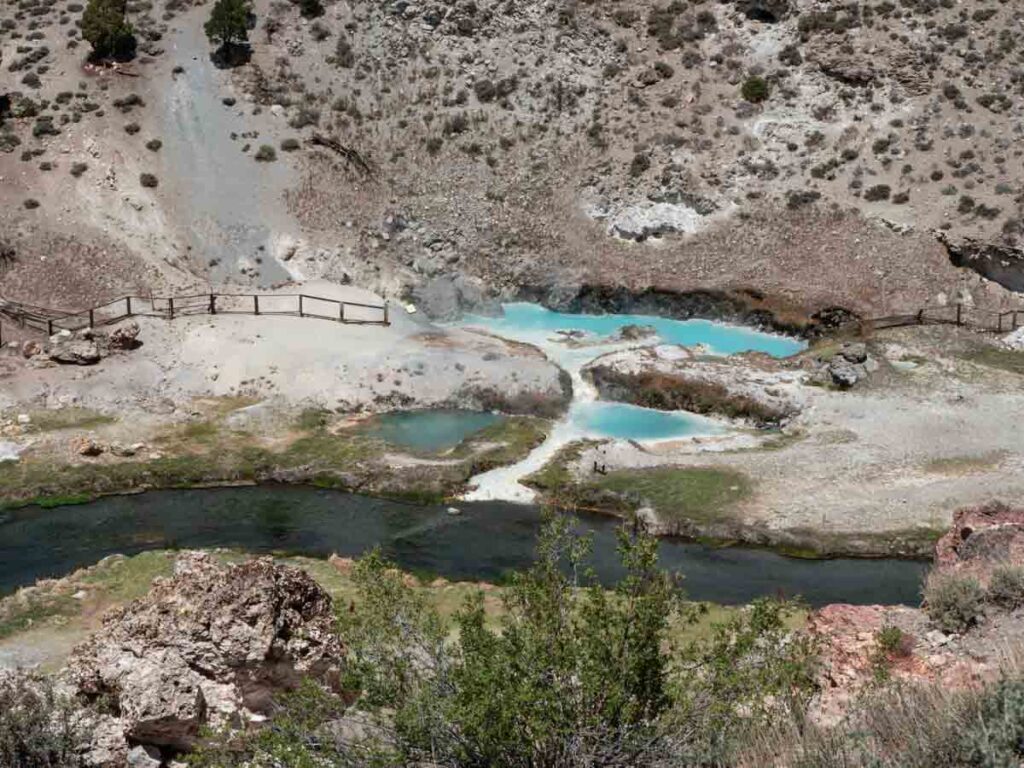 7. Hot Creek Geologic Site
The 395 corridor has some seriously funky geology. There is a chamber of hot magma sitting 3 miles below the surface of Bishop, which is just itching to get to the surface. So, there are a LOT of hot spots to explore near Bishop and The Hot Creek Geologic Site is a good place to start.
Back in the day, you used to be able to swim in the hot springs. But over time, the water has become crazy hot, so it's not safe for swimming any longer.
But the site is worth visiting anyway because the water that springs to the surface is the most amazing blue color. The spring feeds Hot Creek along a lovely little canyon and you can take a short strong along the creek.
Tips for visiting: The site is just north of Mammoth Airport. It's on a well-graded dirt road which most passenger cars can navigate.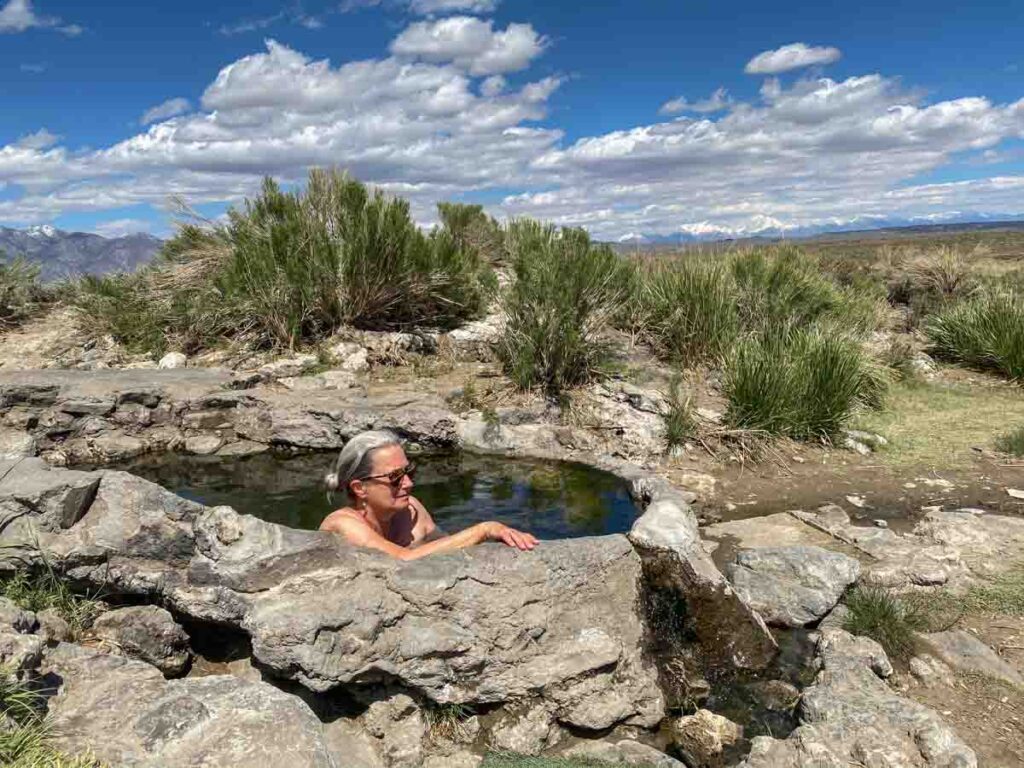 8. The Rock Tub (and Other Nearby Springs)
There are a cluster of swimmable hot springs not far from Hot Creek Geologic. Nearby Whitmore Tubs road will allow you to access The Rock Tub, which is a easy to find 2-person spring. There are also nearby Shepherd Hot Springs, Crab Cooker and Wild Willys.
All of these clothing-options springs are located on either Forest Service or BLM land. They are semi-developed with some concrete infrastructure and water spouts. But the pool are rustic, so don't expect bathrooms or other services.
Tips for visiting: The Whitmore Tubs and Benton Hot Springs roads are well-graded but other roads can be rough. So, pay attention to what your car can handle.
9. Keough's Hot Springs
If you prefer your hot water to come with some amenities, then be sure to visit Keough's. This old-school pool has been around since 1919. All of their water is sourced form the local springs and they circulate the water regularly. Keough's has a cooler standard swimming pool and a smaller hot pool. They also have changing rooms, loungers and snacks.
Tips for visiting: Mon, Wed-Fri 11-6, Sat-Sun 9-6.
10. Ancient Bristle Cone Pine National Forest
The Ancient Bristle Cone Pine National Forest is two kinds of gnarley. This forest houses some of the oldest trees in the world, topping out a 4,000 years old. The dry climate and high elevation mean that these ancient trees are very gnarled and twisty. The forest is located at 9,800 feet, which is well above the normal tree line, making this a most unusual forest.
The road getting to Bristle Cone Pine Forest is also a bit gnarley. It's located just 23 miles east of Big Pine. But much of the way is a narrow, steep Forest Service road. Any car can do the drive and we did it in our Sprinter Van. But you'll want to give yourself plenty of time for the drive and stopping at the scenic overlook.
Tips for visiting: The Visitor's Center is only open seasonally and the road is not recommended on days with inclement weather.
11. Convict Lake
If you are running short on time but want to see one of the area's lovely alpine lakes, Convict Lake is your ticket. It's named after a famous shoot-out which occurred there in the late 1800's. But now, it's a popular recreation area with a lovely loop hike around the lake, and boat and kayak rentals. Convict Lake is lovely anytime, but it's particularly pretty if you are visiting Bishop in the fall.
Tips for visiting: We have a whole guide for Convict Lake with the history, hiking and visitor information.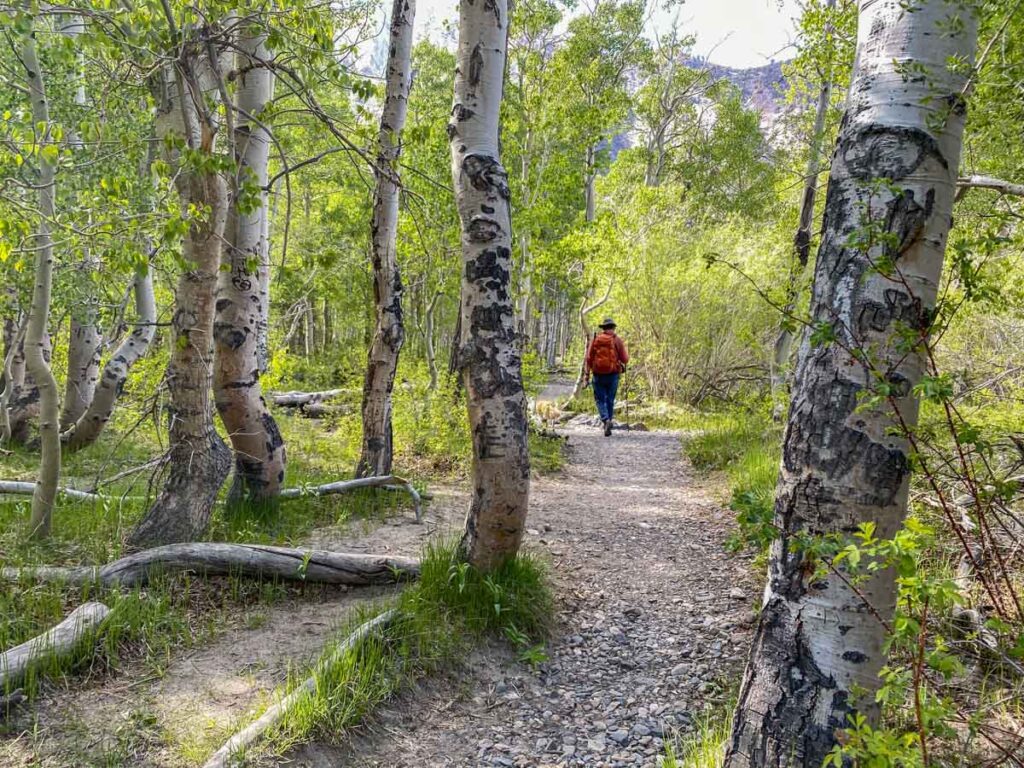 12. Winter Hikes Near Bishop
There are many, many hikes in the canyons east of Bishop. You can stop into the downtown Bishop Visitor Center to get advice from the locals, or consider one Bishop hikes below. Bishop is a year-round destination. It sits at 4,000 feet and it can and does snow in Bishop. But you can still find some nice winter hiking at the lower elevations.
Short distance winter hike: Tinemaha Wildlife Scenic Overlook — 1.5 miles round trip on a well graded dirt road with 250 feet of elevation gain.
Flexible and flat winter hike: Pleasant Valley Gorge Walk — 3 miles one way, located at Bishop's elevation and goes along the reservoir. You can just do as much or as little as you want.
Longer winter hike: Lower Rock Creek– 8 miles one way, located at Bishop's elevation and parallels Highway 395.
13. Summer Hikes Near Bishop
The hiking in Bishop really opens up in the summer. By June, the snow is <usually> gone and by July the wildflowers start popping. There are some really lovely hikes east of Bishop that get into the higher elevations of 6,000-9,500 feet.
Easy summer hike: Convict Lake loop trail– 2.5 miles, little elevation gain
Moderate summer hike: McGee Creek to Horsetail Creek– 3.6 mile round trip, 718 feet of elevation gain.
Moderate (but steeper) summer hike: Pine Creek Waterfall Overlook– 4.4 miles round trip, 1,300 feet of elevation gain.
Hard hike: Sabrina Basin to Donkey Lake– 7.6 miles round trip, 1,600 feet of elevation.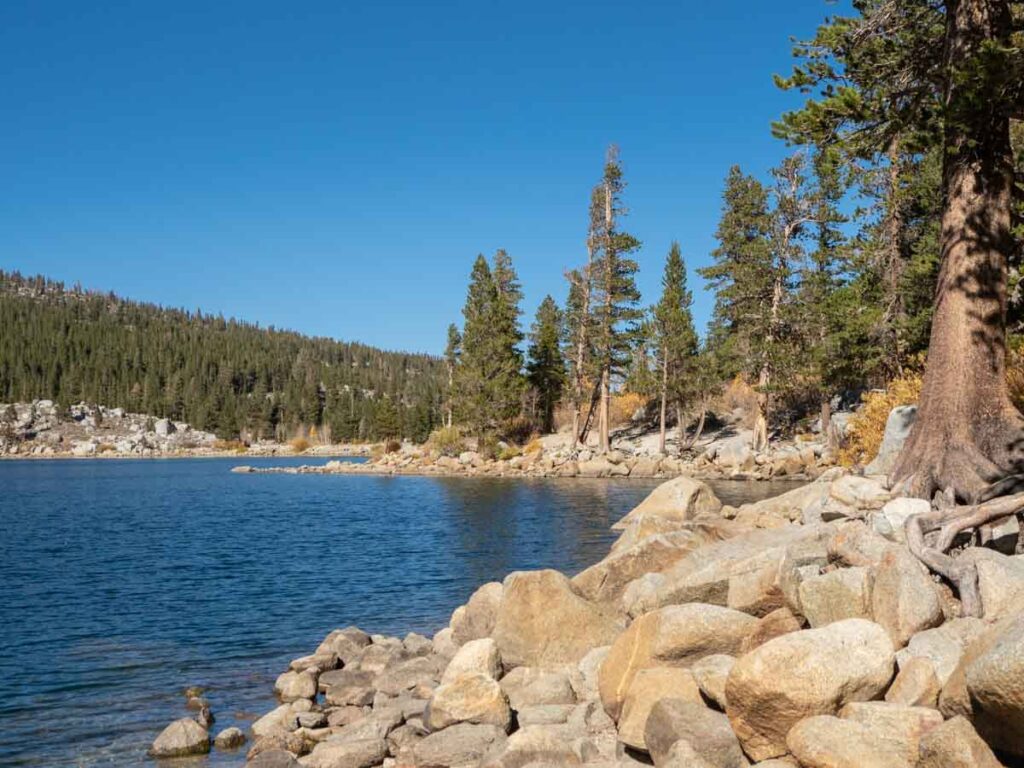 14. Rock Creek Canyon Scenic Drive
Rock Creek Canyon is a lovely diversion from the busy 395. The road start's near Tom's Place and winds 10 miles through National Forest. The road ends at a lovely high alpine lake and it's a great little spot for a picnic lunch.
15. Bishop Canyon Sabrina Lake/Buttermilks Scenic Drive
Bishop Canyon heads straight west right out of downtown. This 18 miles scenic drive meanders through desert landscape and then lovely pine forest. But the longer drive also means that you are climbing higher into the Sierra Nevadas. You can stop for a picnic or stretch your legs along the Lake Sabrina trail.
You can also do this as a loop by taking the unpaved Buttermilk road west out of Bishop, connecting with Highway 168 at the Forks Campground. This will take you past some of the Eastern Sierra's prime rock climbing country.
16. Old Sherwin Grade Detour
For a major highway, 395 is actually quite a lovely drive, what with the towering mountains to the west. But, if you are doing a full north/south route, it's worth occasionally getting off the main road. The Old Sherwin Grade road is one such road that's worth a detour. You get on it going south from McGee Creek, go through Paradise and meet up with 395 again at Rock Creek. Or, do the reverse if you are coming up from the south.
It's a nice peaceful 20 mile drive through the rolling hills.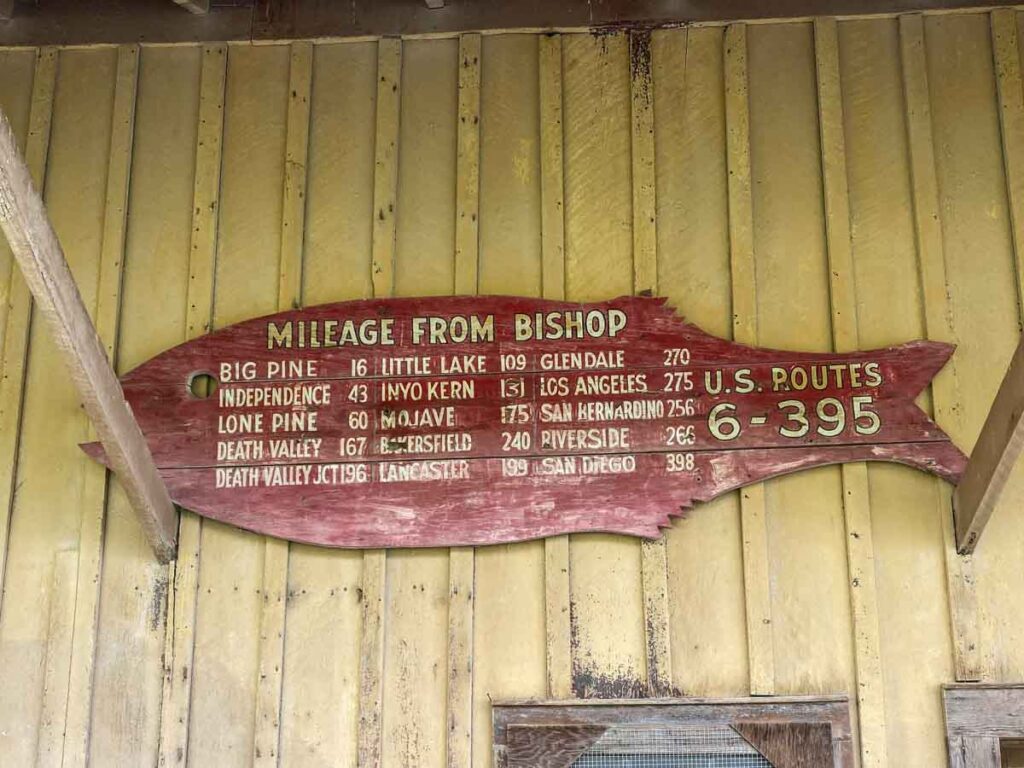 Where to Stay in Bishop
Bishop Hotels
Bishop is well-served by plenty of mid-range motels like Days Inn, Travelodge and Comfort Inn. Check for deals and book here. If you are on a tight budget, consider bunking at consider bunking at The Hostel California, a mixed bed dorm room goes for $28. If you like something with more amenities, the Creekside Inn is one of the nicest places in town. They have a comfy lobby, indoor pool and breakfast.
Bishop RV Parks
Browns Town RV park is near downtown, but just enough out of town to feel in the country. They have full hook-ups, showers and laundry facilities. They also have the ONLY dump site between Bishop south to Olancha, so if you need to clean out the tanks, do it at Browns.
There are also spots at Keough's Hot springs which offer a mix of hook-ups and dry camping. McGee Creek RV Park and Crawley RV Park are just north of Bishop.
Camping Near Bishop
Dry camping and tent camping is widely available all up and down Highway 395. Near Bishop, you can find National Forest campgrounds at McGee Creek, Convict Lake, Rock Creek, Bishop Creek and Big Pine. You can get reservations at Recreation.gov. If you are visiting on a busy summer or holiday weekend, definitely book ahead. If you are doing a mid-week stay, you can sometimes get first come spots.
Northeast of Bishop, there are also a number of BLM spots which are friendly to campers. Look into Pleasant Valley reservoir, Crawley Lake BLM campground, Wet Willy's and Horton Creek. The BLM campgrounds are always very rustic, usually with pit toilets and they don't take reservations.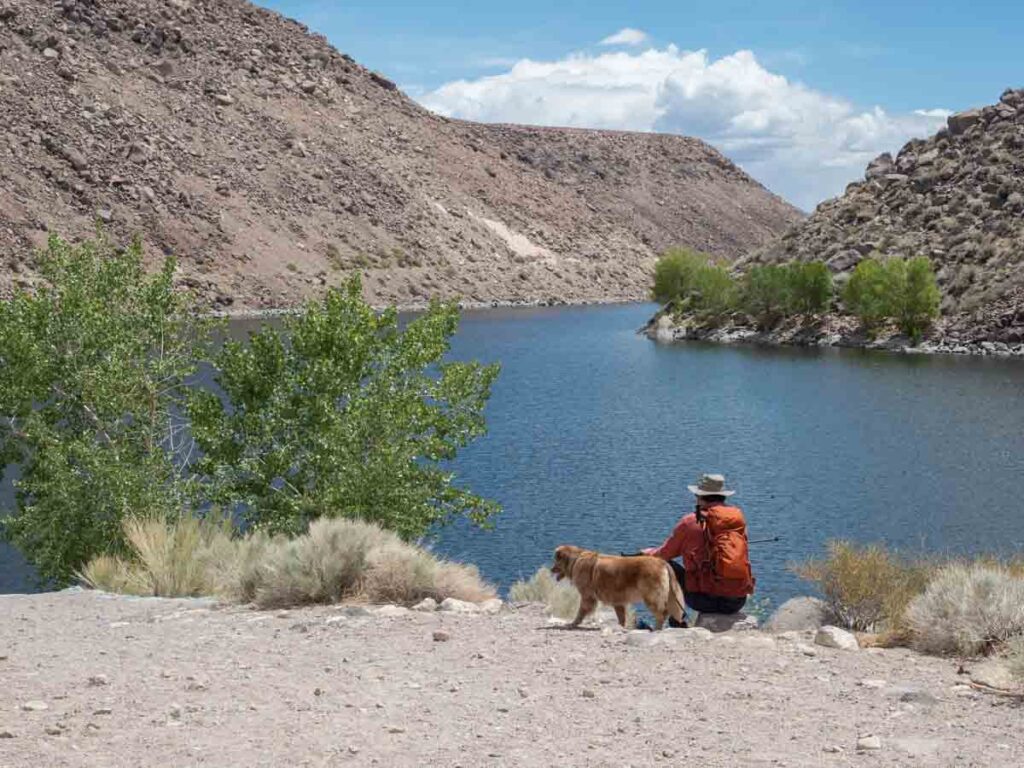 Packing Essentials for Your Trip to Bishop
Preparing Your Car
Start with an old school map. Mobile signals are very spotty on 395 and Google Maps won't always work there. We love the Benchmark California Road Atlas. It's very detailed and shows both paved and dirt roads as well as state parks and some campsites.
If you need to rent a car, get your best rental car deal by comparing prices with Rentalcars.com.
If you are driving your own car, don't forget to check your oil and tire pressure before you leave and you should also invest in roadside assistance. You should also purchase a roadside safely kit which includes things like a warning triangle, jumper cables, glass breaker, multi tool, cable ties and small first aid kit. These kits also make a thoughtful, if tragically practical Christmas or birthday gift.
Be sure to stock your car with a drinks, snacks and lunch supplies. Consider getting an electric car cooler, which is great for keeping lunch stuff cold without becoming soggy from melted ice. The Eastern Sierras are always dry and quite hot in the summer, so pack plenty of water.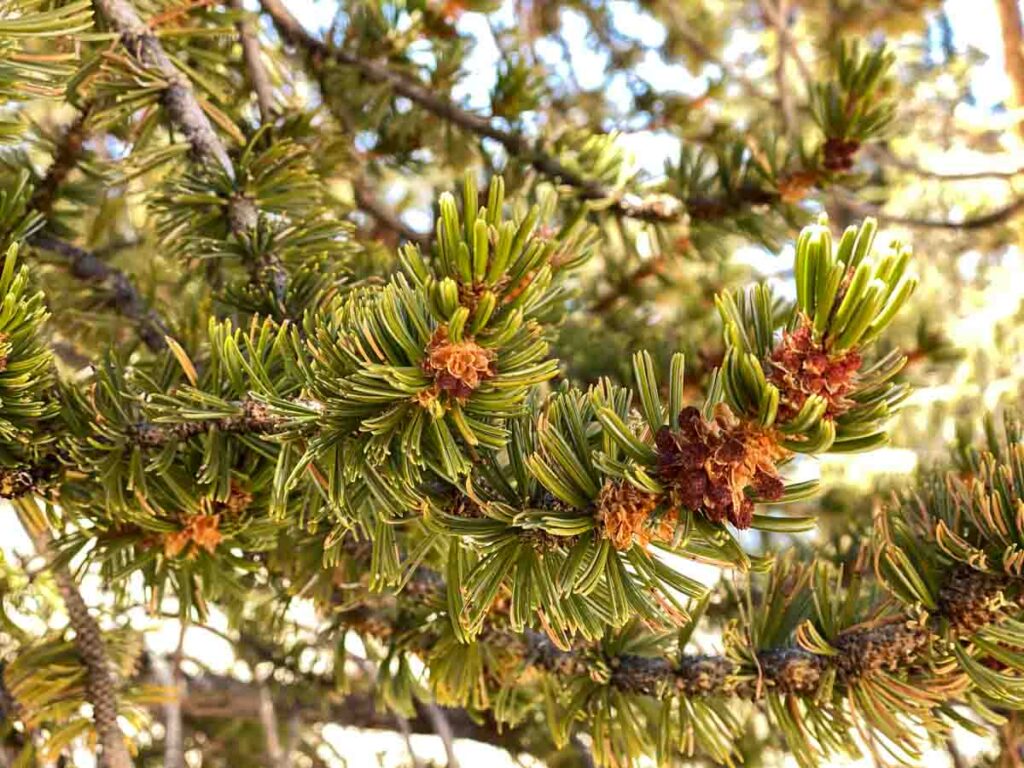 Other Packing Essentials
Here are a few other essentials that you'll want to be sure to bring on your road trip.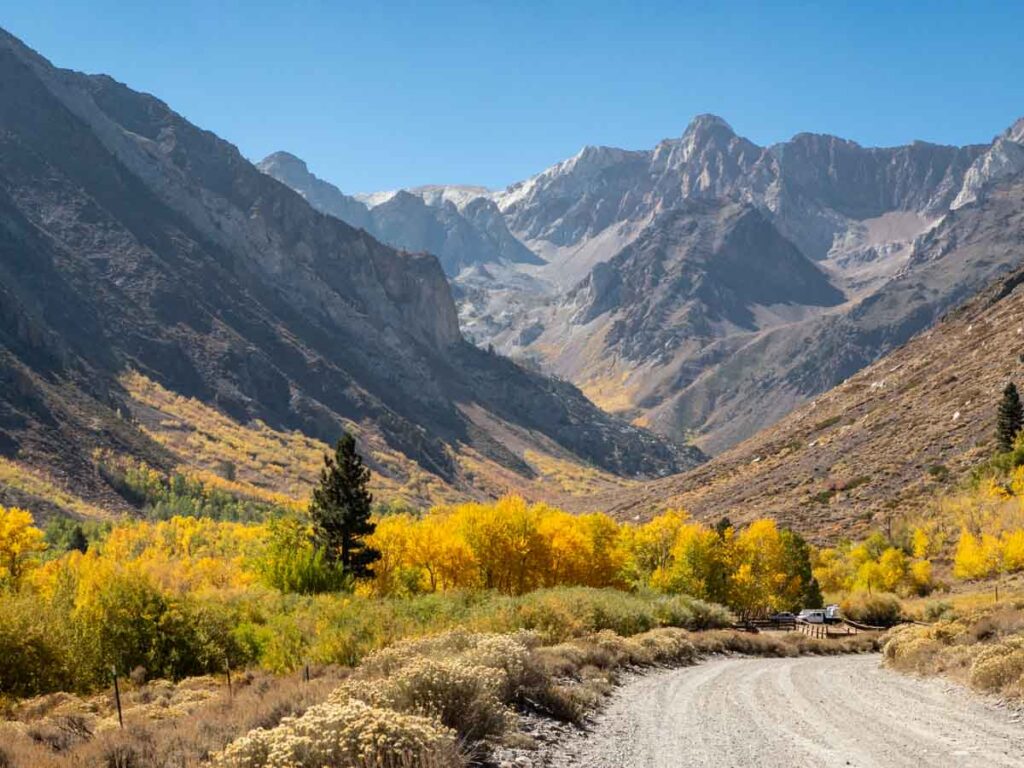 Other Cool Things to do in the Eastern Sierras
Share these fun things to do in Bishop with your friends on Pinterest: