Guerneville California makes a great weekend getaway, especially if you really want to get away. These top things to do in Guerneville offer a long weekend full of activities, wine and eating that are guaranteed to chill you out.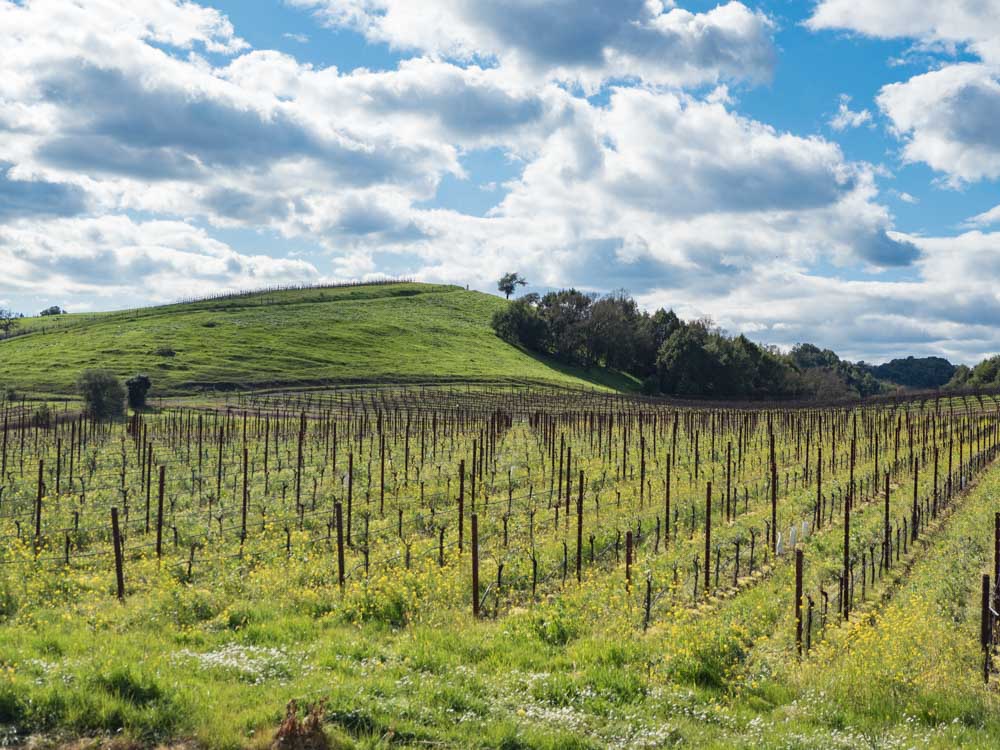 6 Totally Chill Things to Do in Guerneville
Enter Guerneville along the winding River Road and you can feel the stress slough off with every passing mile.
Guerneville and the surrounding Russian River Valley were settled in 1842 and boomed with logging until around 1920. Due to its close proximity to San Francisco and easy railway access, the Russian River Valley became a popular vacation spot in the 1920's. The area has chugged along ever since, serving vacationers while also retaining its dusty boom-town air. The vibe in Guerneville is very, very chill. It's far quieter than nearby Healdsburg, Sonoma or Napa Valley. They don't have fancy shops or Michelin starred restaurants, just good wineries and a whole lot of the great outdoors. It's the kind of place where you should do things slowly – or you could do nothing at all.
I chose Guerneville for a long weekend chick trip and again as a couple's retreat for that very reason. There are plenty of things to do in Guerneville, but you can explore them at your own relaxed pace.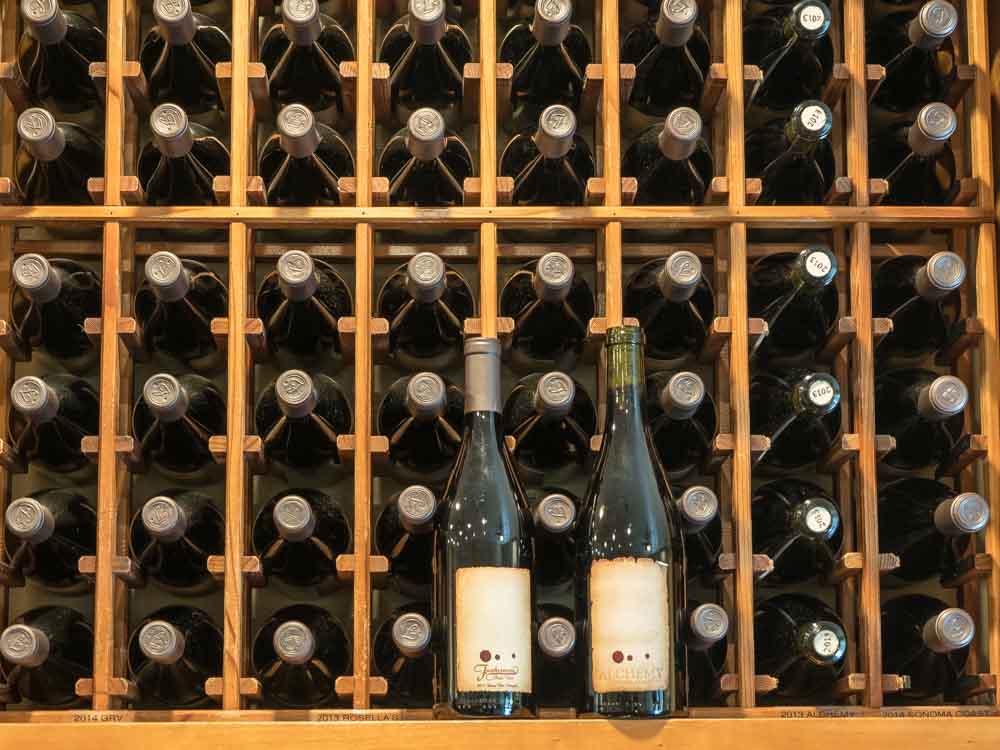 1. Go Wine Tasting Along the Russian River Valley
One of the most popular things to do in the Russian River Valley is wine tasting. What follows are just five of the eighty wineries that dot the Russian River Valley. To find them all, you can download a map from the Wine Road.
Coming north from San Francisco, you get a more scenic drive if you divert through Sebastopol. There is a pretty route from Sebastopol through Forestville to Guerneville along Highway 116. The route is lined with a cluster of vineyards and we started at the Furthermore Winery. They specialize in Pinot Noir and only do 3,500 cases a year. They have a fun outdoor space with bocce courts and Adirondack chairs, and they rent a cute AirBnB on the property. Just down the road is the Iron Horse Vineyard. They specialize in estate grown Chardonnays and their outdoor tasting room has a resident cat and great vineyard views.
You can find another cluster of wineries by taking River Road east to Westside Road toward Healdsburg. The Korbel Champagne Cellar offers tours, tastings and a deli where you can get picnic fixins'. The MacRostie Winery makes great Pinot Noir and Chardonnay but even better is their tasting room…or rather their tasting "living room". Unlike most vineyards where you have to belly up to the bar, Macrostie has easy chairs and couches and they deliver the tastings to you. They also have a deck with a 180′ view of the vineyard.
Closer to Healdsburg is the Geyser Peak winery, so named after the local geysers which power 60% of Sonoma County's energy. I usually buy the cheap everyday Geyser Peak at Safeway but the tasting room has a surprisingly delicious champagne and higher-end Sauvignon Blancs. There are also some wine tours in the area that you can check out.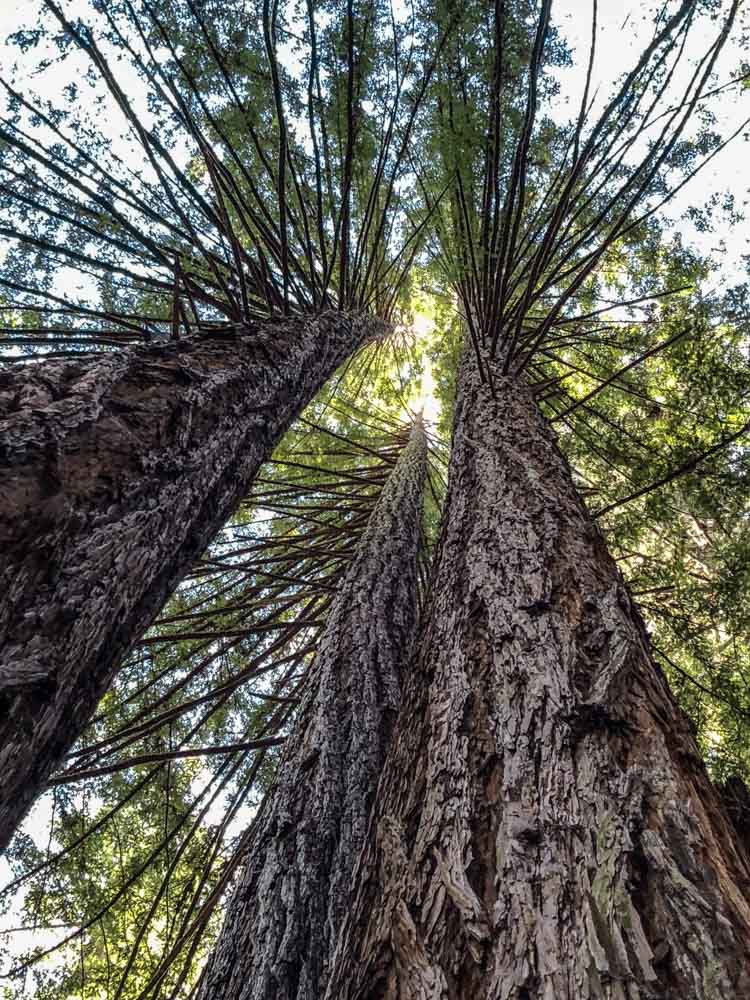 2. Go Forest Bathing in Armstrong Woods State Park
Forest bathing is the Japanese tradition of "taking in the forest through our senses" and it's exactly what to do in Guerneville if you need a big lungful of crisp fragrant oxygen. There is no better place to go forest bathing than in the Armstrong Redwood State Reserve. The reserve is located just a few minutes north of downtown Guerneville. Colonial Armstrong was a logger and agricultural pioneer who had the rare foresight to realize that unchecked logging was wiping out all of the precious redwood trees. So, he deeded 600 acres of old growth forest to his daughter with the intent of establishing the park.
The reserve has hikes that range from an easy one-mile nature trail to a more strenuous nine-mile hike.
Read More: Get the full downlow on all CA parks with our complete California State Parks list (with map).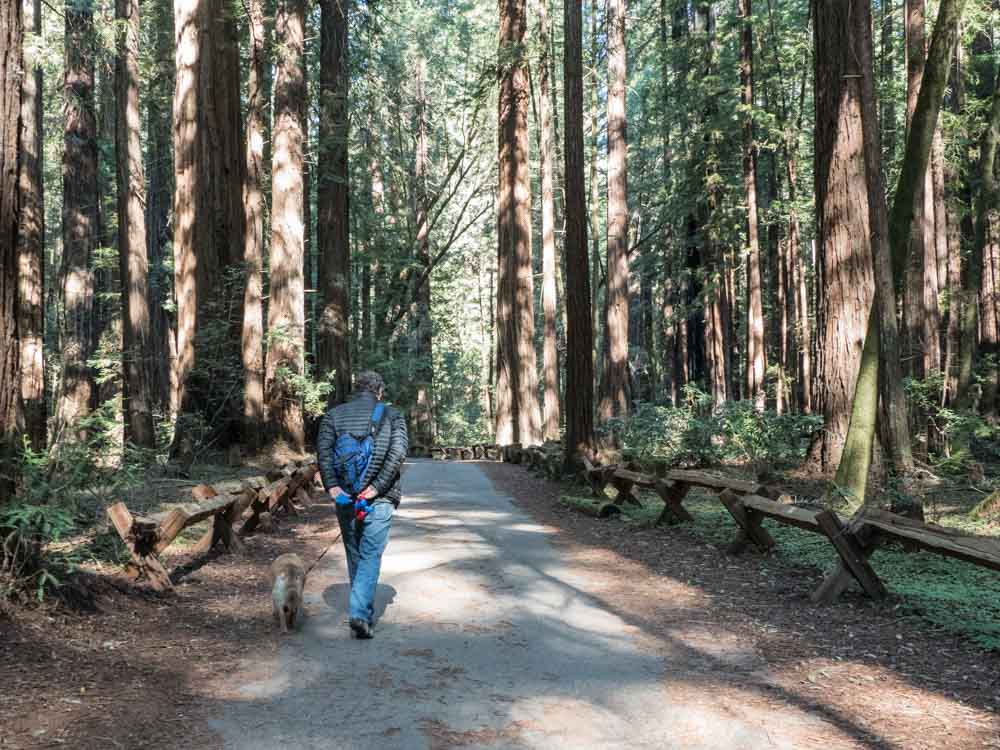 3. Float down the Russian River
If you have your weekend getaway between May and September, floating the river is one of the most refreshing things to do in Guerneville on a hot summer day. You can hang out at Johnson's Beach, where they have a beach, a snack bar and watercraft rental service. You can also do a DIY float down the river towards the ocean, but you'll need to arrange your own car shuttle. Alternatively, you can rent from Burke's canoes and get a pre-arranged shuttle back.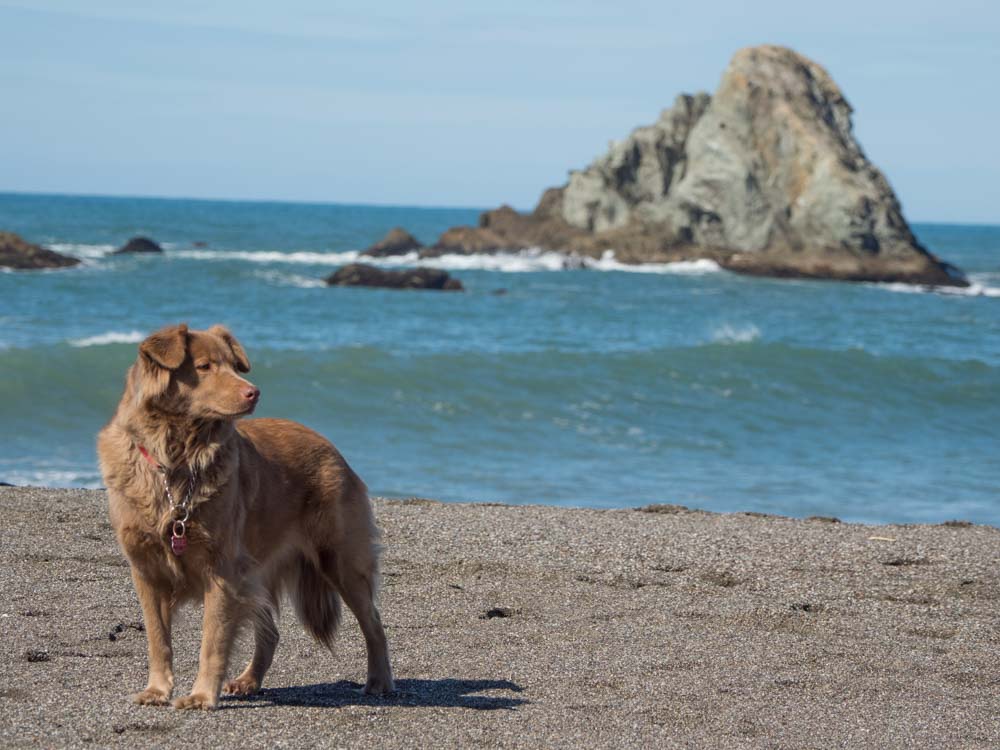 4. Stroll on the Beach
The ocean is just thirteen miles from Guerneville. If you head west toward Jenner, take Highway 1 south across the river. There, you will find the large Sonoma Coast beach park which stretches about five miles south of the river estuary. There are pull outs throughout and you can do an extended walk either on the beach or along the upper bluff. We did both by strolling on the dog-friendly beach near the Wrights campground and we also drove the overlook at Goat Rock State Beach.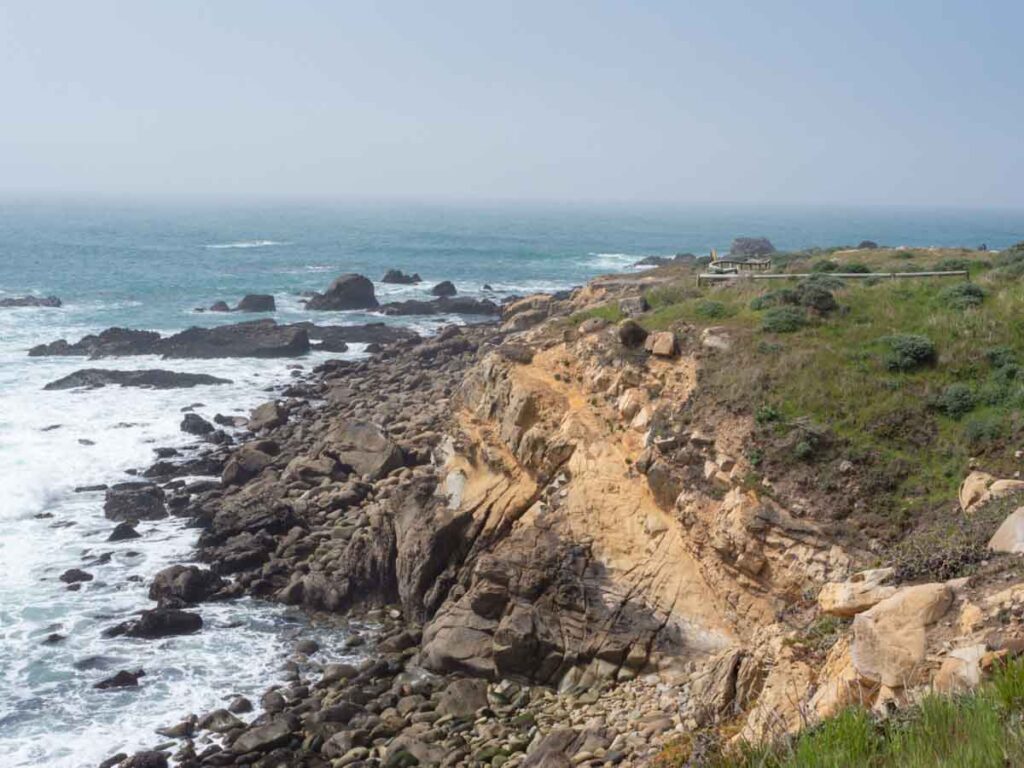 5. Visit Fort Ross and Salt Point State Park
If you are up for a longer drive, go further up the coast from Jenner and visit Fort Ross and Salt Point State Park. Fort Ross is notable for being the first white settlement on the north coast and the historic park has well preserved buildings and exhibits on Native American culture and the fur and timber industry. 12 miles further up the road is yet another state park. Use our Salt Point guide to explore the area's honeycombed sandstone geology, blufftop walks and a peaceful hike in the pygmy coast oak forest.
6. Have a Hot Mulch Massage
Massages are awesome in the first place, but they are even better if preceded by a hot cedar bath and you can do both at the Osmosis Spa. I know, it sounds weird to lay around naked in a bunch of decomposing wood chips but you have to try it. I did, and it was remarkably relaxing. I started by chillaxing in their Zen garden and then let the fragrant heat of the cedar bath relax my muscles. By the time I got to the massage, I was already jelly. It will set you back over $200 but it's totally worth it.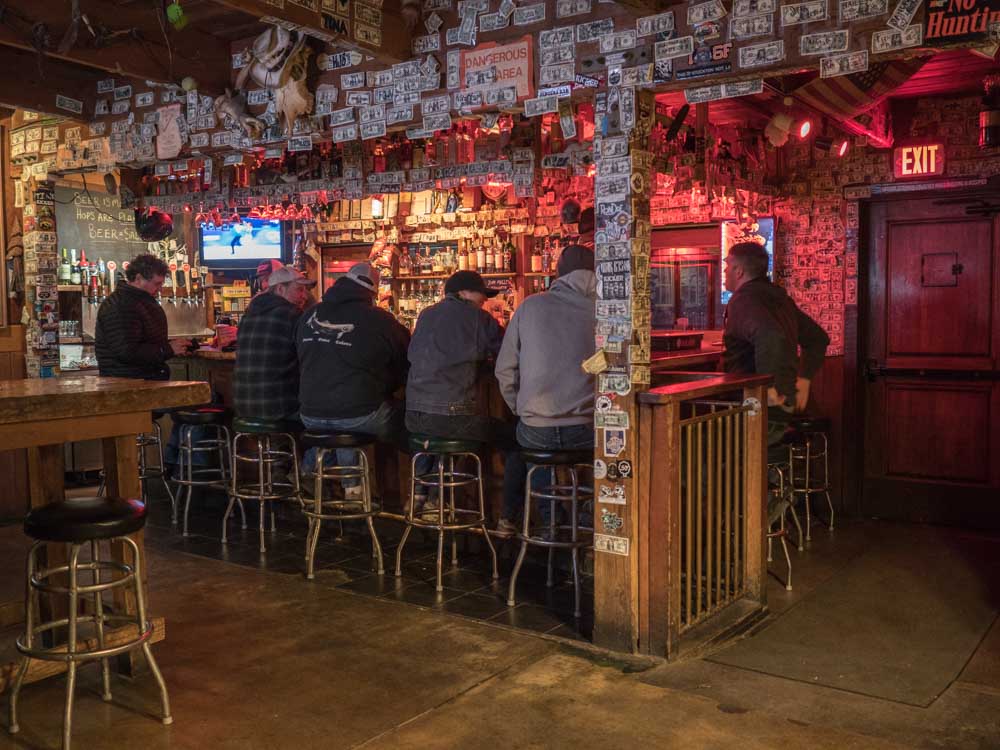 Places to Eat and Drink in Guerneville
Because of course, all of that forest bathing, floating and mulch lounging will help you work up an appetite so check out these places to go in Guerneville if you are hangry.
Tiny Town Cafe: This little cafe in Forestville isn't fancy but they know how to put together a strong cup of coffee and a great breakfast sandwich.
Big Bottom Cafe: This charming little market is right in downtown Guerneville. They have fresh baked goods for breakfast and a sandwich/salad menu for lunch. I had the delicious smashed garbanzo sandwich which is sorta like avocado toast but hummus-y.
Aquatic Cafe: This quirky little place sits right at the spot where the Russian River meets the ocean. They have a scenic outdoor deck and they serve up creative sandwiches and home made soups.
Stumptown Brewing: Stumptown is the kind of place where you go for the locally brewed beer but end up listening to the local pot farmers talk about their latest strains of experimental weed crop. In addition to the color commentary, Stumptown has a rotating tap of about seven of their own and other local beers. Most of the menu is basic bar food but their barbeque is a cut above with home-made smoked brisket and pulled pork.
Boon Eat + Drink: Boon is a cozy little spot offering a California bistro menu that features comfort foods with seasonal ingredients.
El Barrio: This bar was recommended by several of the winery tasting rooms. They have a full cocktail menu but specialize in tequilas and tacos.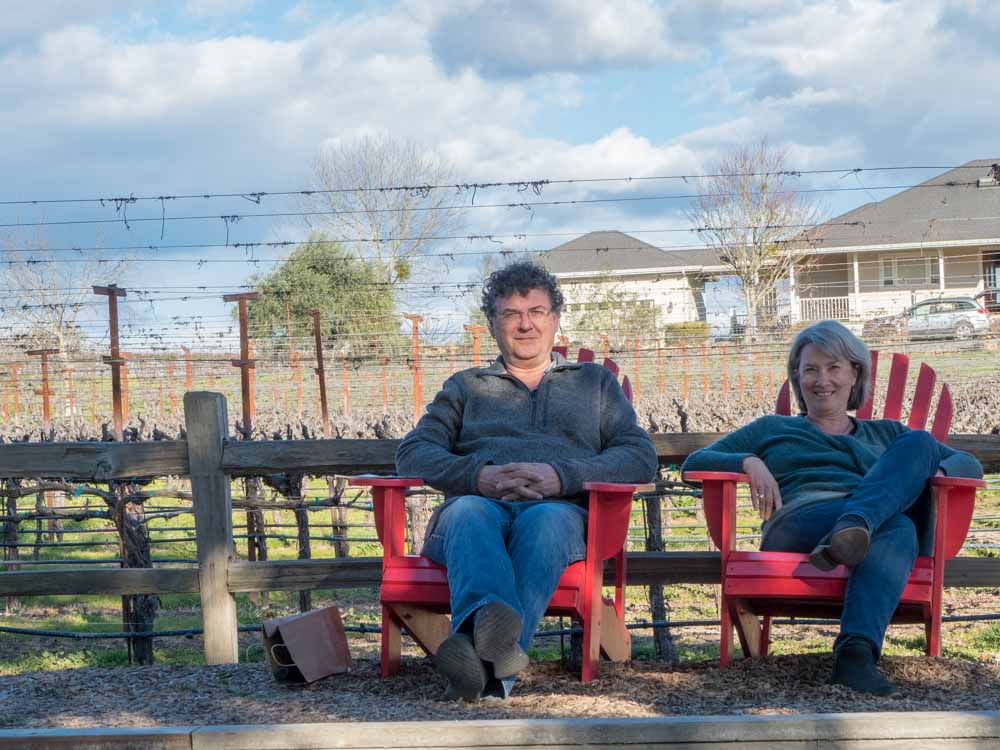 Getting to Guerneville
Guerneville is 75 miles (1.5 hours) from downtown San Francisco. Google Maps will route you up 101 to Fulton (north of Santa Rosa) and then west along River Road. But a more scenic option is to cut over to Sebastopol and take Highway 116 north through Forestville. Even better, make a longer day of it and return home via Highway 1 through Bodega Bay and Stinson Beach.
If you are coming in from outside of the area, be sure to use our guide to find your best airport option for Sonoma.
Where to Stay in Guerneville
Homey: Cottages on River Road
We stayed at the dog-friendly Cottages on River Road and, for the price, it was far nicer than we expected it to be. We had a good sized cabin with a kitchenette and porch. They have a pool and a lot of outdoor play space. They offer a well-stocked breakfast and complimentary s'mores with a campfire in the evening. They pay attention to the little things and have a very friendly and welcoming culture.
Check out reviews or book at Booking.com.
Fancy: Applewood Inn
The Applewood Inn is one of the few four star properties in the Russian River area. They have nice grounds with a pool and it's the kind of place that will stock your room with plush cotton robes.
Check out reviews or book at Hotels.com.
Glamping: Auto Camp Russian River
The Auto Camp is a retro hipster glamping hub located just outside of Guerneville. They rent vintage Airstreams, high end safari tents and cabins that kinda look like gypsy caravans. They have a canteen, clubhouse and fire pits.
Check out reviews or book at Booking.com.
Fully Stocked: VRBO Vacation Rentals
I rented a large VRBO house for my first visit to the Russian River area and there is a lot of available inventory there. For instance, this lovely house in the woods has an epic deck and it overlooks the river. This studio unit overlooks a vineyard and this massive family house has it's own dock right on the river!
Construct your weekend getaway with these things to do in Guerneville and you are guaranteed to have a relaxed good time. Report back and let us know how it goes.
More Weekend Getaways in Northern California
Help your friends find things to do in Russian River by sharing this on Pinterest.