California is America's fruit basket… and vegetable basket, nut basket and also a major dairy grower. We feed fresh to the nation. It's no wonder then that California cuisine and restaurants are on the forefront of so many food movements and multi-cultural cuisines. You can join the foodie party by leveling up your home cooking with a few of these tasty California cookbooks.
We've curated a cool baker's dozen of cookbooks featuring recipes from famous California restaurants, well-known chefs and down home bloggers. You'll find tasty California cookbooks featuring all manner of cuisines, including vegan, Mexican street food, homemade pasta, garden-to-table veggies and baked goods.
I'm already hungry, so let's dig in!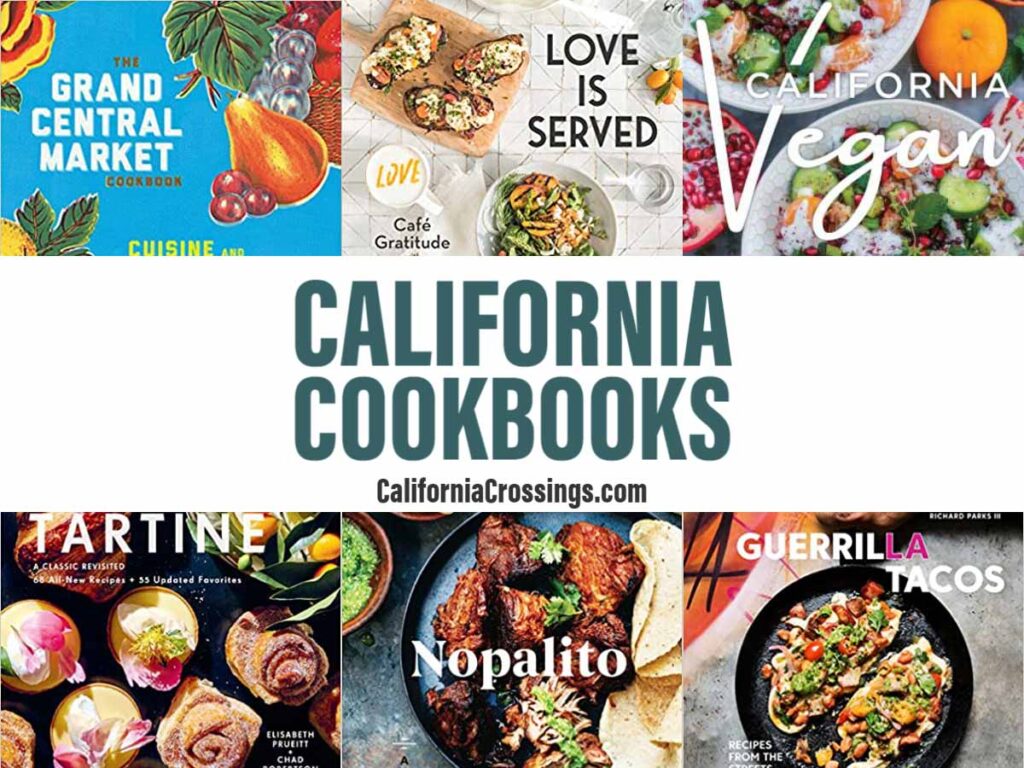 (This article contains affiliate links. This means that if you choose to purchase, I'll make a small commission.)
General California Cookbooks
California cuisine has been influenced by our access to locally grown fresh food, an immigrant melting pot, a health conscious culture and sustainability ethic. The food is driven by fresh ingrediants, simple preparations and a willingness to fuse cultures. The following cookbooks definitely hew to that ethic.
Eat California, by Vivian Lui
This book celebrates California cuisine by featuring quintisenssally local ingrediants like avococado, crab, stonefruits and citrus. The book offers seasonal spring and summer recipes for farmer's market fresh food. Like California itself, the book imports recipes from a wide range of cultures, including Japan, Mexico, the Philipines and Italy. The recipes are presented with lovely photography and inspiring but do-able recipes.
---
What's Gaby Cooking, by Gaby Dalkin and Matt Armendariz (photographer)
Gaby celebrates what she calls The California Girl Life, both on her blog and also in this cookbook. She grew up eating only pasta and grilled cheese until she was 17 (same here, Gaby). But she's now branched out and produced a book that ranges from her famous guacamole to grilled radicchio salad. The mantra for the cookbook is simple and fresh. She keeps it simple with panty basics and keeps it fresh with a eye toward fruits and veg, lean meats and healthy grains.
"What's Gaby Cooking has me California dreamin' and I live here! Every page is a celebration of what we in California never take for granted—fresh, plentiful, and gorgeous produce, and dishes inspired from cuisines around the world. The entire book is drool-worthy." — Elise Bauer ― Simply Recipes
---
California Vegan: Inspiration and Recipes from the People and Places of the Golden State, by Sharon Palmer
Palmer is a dietician living in Ojai, California, which is a region of Central California known for its organic farms and committment to health and wellness. In her role as a nutritionist, she's coommitted to giving her readers reliable content so that they can make a more healthy and emotional connection with their food. She has a food blog, and published California Vegan in 2021 as a companion piece.
The cookbook has 100 plant-based recipies with delicious choices like veggie burgers with Siricha carmelized onions, green goddess grain bowl and California ratatouille with spaghett squash. The food photography is on point and the recipes are sprinkled with personal stories.
---
California Living + Eating, by Eleanor Maidment
This California cookbook travels the state, from the vineyards in Sonoma to Palm Springs, LA and SF. It includes 80+ recipes that range from fruit-forward brunches to salads for everyday eating. The recipes have been specifically designed to be accessible to the home cook with a focus on seasonal ingrediants and quality produce.
---
The Art of Simple Food II: Recipes, Flavor and Inspiration from the New Kitchen Garden, by Alice Waters
Waters is frequently called "The Mother of American Food" and while that sounds a bit hyperbolic, she has certainly been one of the most influential chefs and food activists of modern times. She helped to shepherd the slow food movement within the US, she's been a champion of sustainable agriculture, she celebrates local food and she runs the very successful Chez Panisse restaurants. Her Amazon author page has a host of books, including the popular Chez Panisse Cafe cookbook.
But I've chosen The Art of Simple Food for this list because it does a deep dive into fruits and veggies. It's not a vegetarion cookbook, but it is plant-forward. Waters talks about her own kitchen garden and her favorite herbs, with advice on how to develop your own edible garden. She then shares relevant recipes like lamb kebabs with oregano and garlic, spicy Indian cauliflower, winter squash antipasto and rocket salad with peaches. The book is over 400 pages, so you have a lot of recipes to choose from.
---
Cookbooks from Famous California Restaurants
The following California cookbooks feature foods from some of the most successful restaurants in the state. Some, like the street tacos deliberately aim to make the recipes accessible. But others, are designed for the home cook who wants to stretch their abilities and make elevated foods at home.
American Sfoglino: A Master Class in Handmade Pasta, Evan Funke, Katie Parla and Eric Wolfinger (photographer)
Funke is the master pasta maker and owner of the Felix Trattoria in Venice, California. This book is all about how to make your own tender, handmade pasta. Funke has opinions, lots of opinions. He has opinions about pasta machines. He has opinions about the best rolling surface for dough. He has opinions about how thick the dough should be.
If you are a total pasta nerd, then his opinions will resonate with you. He'll teach you how to use techniques that he learned in Emilia Romagna, Italy and give you guidence on how to create the perfect pasta and sauce pairings. The book also includes mouth watering photography and stories from his restaurant, and his experiences in Italy.
---
Guerilla Tacos: Recipes from the Streets of LA, by Wesley Avila and Richard Parks III
Because of course you need a cookbook that covers street tacos! Avila has received a ton of accolades for his food, including being crowned the Best Taco Truck in LA by LA Weekly. Avila doesn't call his tacos authentic, but he does call them personal, and his tacos go way beyond the basic asada, carnitas and pastor. This taco cookbook has 50 base recipes that you can riff on. It covers the range from veggie options like roasted pumpkin tacos, seafood options like shrimp and chorizo, brisket tacos and a few soups and tortas.
"I don't pretend there's any deep dark secret to what I'm doing…we make pretty simple food. But we do it our own way" — Wesley Avila
---
Nopalito: A Mexican Kitchen, by Gonzalo Guzmán and Stacy Adimando
Guzmán grew up in rural Veracruz, Mexico, learning to cook from his mother Alicia. He developed a deep appreciation for the land and Mexican culinary traditions, which he baked into the menu at his popular SF restaurant, Nopalito. In this James Beard award-winning cookbook, he shares 100 recipes from the restaurant. The cookbook includes favorites like red quesadillas with braised pork, pozole rojo, enmoladas and tinga poblana. The book also offers options for drinks, deserts and 14 different kinds of salsa.
"The flavors are so vibrant, and the recipes so concise, that I feel like I'm back in Mexico every time I make something."
---
Gjelina: Cooking from Venice, California, by Travis Lett, and Nikole Herriott and Michael Graydon (photographers)
Gjelina is a restaurant that sits in the heart of LA's Venice beach. They serve Italian accented Mediterranean dishes with a California twist. They've brought 125 of their delicious and rustic recipes to this cookbook. The book has a very user-friendly layout with great photography and detailed recipe instructions. Try the braccoli rabe pesto, Tuscan kale salad, their special pizza dough or steaks with smokey butter. This is not a 30-minute meals cookbook, but rather the kind of recipes that you make for a special occasion or slow food Saturday night.
"Perfect for a long weekend if you have time on your hands to slow roast tomatoes/shallots/garlic and then reap the rewards for weeks."
---
Rich Table, by Sarah Rich, Evan Rich, Kate Williams, and Carolyn Alburger and Alanna Hale (photographers)
The Riches believe that eating out should be relaxed and exciting, and that the food should be amazing. They've leveraged their very popular San Francisco restaurant dishes into a cookbook that features 85 meticulously tested recipes. This cookbook was nominated for a James Beard award in 2019. There is a mix of appetizers, pastas, mains, desserts and cocktails with sidebar commentary on why the Riches love the dishes so much. This is not a cooking 101 cookbook, but it's great for a more experienced homecook who loves California cuisine.
---
/center>

Love is Served: Inspired Plant-Based Recipes from Southern California, by Cafe Gratitude and Seizan Dreux Ellis

Cafe Gratitude has 6 locations throughout California. They believe that food is as much about spirit as it is about appetite and they have a very specific ethic around employee empowerment, farm-to-table freshness, food made with love and (of course) gratitude. They've branded the recipes in this book with names like "I Am Powerful", which is the crispy quinoa cashew granola. The I am (super, abundant, fuerte, eclectic, sacred etc) recipes cover the gamut from appetizers like flash fried buffalo cauliflower to mains like lentil-garnet yam meatloaf.

"The section called the pantry sets the foundation for you to thrive as a vegan chef! I've tried the salads and pancakes so far and I can't believe how wonderful everything has turned out."
---
The Grand Central Market Cookbook: Cuisine and Culture from Downtown Los Angeles, by Adele Yellin and Kevin West
The Grand Central Market in downtown LA is a foodie paradise. You could go every day for months and still not run out of options for tasty eats. This cookbook puts the spotlight on unique recipes from a diverse range of the market hall vendors. The book offers some history of the market, plus 85 recipes. In addition to the usual sections like breakfast and meat & fish, they have some hard to resist sub-categories for carbs and happy hour. Try the salted caramel bread pudding, soju bloody Mary, Thai BBQ chicken, banh mi lamb burgers or the cheesy potatoes.
"A world within a world, and a true blend of cultures, cuisines, old favorites, and new beginnings, the Grand Central Market has fed and fascinated the fortunate folks of Los Angeles, California for one hundred years."
---
Tartine: A Classic Revisited, by Elixabeth M. Prueitt, Chad Robertson, and Gentl + Hyers (photographers)
This 2019 cookbook is a fully updated edition of Tartine's classic baking cookbook. Tartine sells some truly amazing baked goods out of their tiny outpost in San Francisco's Mission. They've collected 123 recipes, which includes a mix of their classics and some all-new items. The book is designed for home bakers, but the recipes are exacting and Tartine insists that you use the very best ingredients. For recipes that are flexible (like muffins), the book offers variations. Try out the shaker lemon pie, the rasberry preserves, framage blanc bavarian, coconut macaroons or (my favorite) the famous Tartine morning buns.
More Great California Reads
Share these California cookbooks on Pinterest: