California is America's fruit basket… and vegetable basket, nut basket and also a major dairy grower. We feed fresh to the nation. It's no wonder then that California cuisine and restaurants are on the forefront of so many food movements and multi-cultural cuisines. You can join the foodie party by leveling up your home cooking with a few of these tasty California cookbooks.
We've curated a cool baker's dozen of cookbooks featuring recipes from famous California restaurants, well-known chefs and down home bloggers. You'll find tasty California cookbooks featuring all manner of cuisines, including vegan, Mexican street food, homemade pasta, garden-to-table veggies and baked goods.
I'm already hungry, so let's dig in!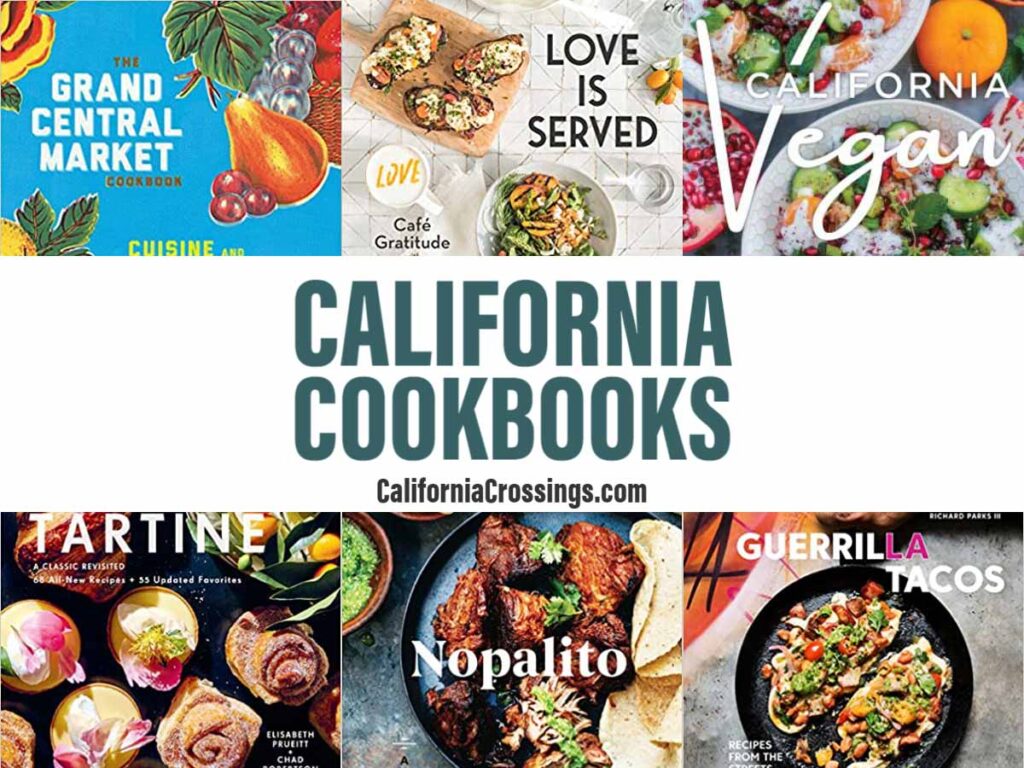 (This article contains affiliate links. This means that if you choose to purchase, I'll make a small commission.)
General California Cookbooks
California cuisine has been influenced by our access to locally grown fresh food, an immigrant melting pot, a health conscious culture and sustainability ethic. The food is driven by fresh ingrediants, simple preparations and a willingness to fuse cultures. The following cookbooks definitely hew to that ethic.
---
---
The Art of Simple Food II: Recipes, Flavor and Inspiration from the New Kitchen Garden, by Alice Waters
Waters is frequently called "The Mother of American Food" and while that sounds a bit hyperbolic, she has certainly been one of the most influential chefs and food activists of modern times. She helped to shepherd the slow food movement within the US, she's been a champion of sustainable agriculture, she celebrates local food and she runs the very successful Chez Panisse restaurants. Her Amazon author page has a host of books, including the popular Chez Panisse Cafe cookbook.
But I've chosen The Art of Simple Food for this list because it does a deep dive into fruits and veggies. It's not a vegetarion cookbook, but it is plant-forward. Waters talks about her own kitchen garden and her favorite herbs, with advice on how to develop your own edible garden. She then shares relevant recipes like lamb kebabs with oregano and garlic, spicy Indian cauliflower, winter squash antipasto and rocket salad with peaches. The book is over 400 pages, so you have a lot of recipes to choose from.
---
Cookbooks from Famous California Restaurants
The following California cookbooks feature foods from some of the most successful restaurants in the state. Some, like the street tacos deliberately aim to make the recipes accessible. But others, are designed for the home cook who wants to stretch their abilities and make elevated foods at home.
Tartine: A Classic Revisited, by Elixabeth M. Prueitt, Chad Robertson, and Gentl + Hyers (photographers)
This 2019 cookbook is a fully updated edition of Tartine's classic baking cookbook. Tartine sells some truly amazing baked goods out of their tiny outpost in San Francisco's Mission. They've collected 123 recipes, which includes a mix of their classics and some all-new items. The book is designed for home bakers, but the recipes are exacting and Tartine insists that you use the very best ingredients. For recipes that are flexible (like muffins), the book offers variations. Try out the shaker lemon pie, the rasberry preserves, framage blanc bavarian, coconut macaroons or (my favorite) the famous Tartine morning buns.
More Great California Reads
Share these California cookbooks on Pinterest: