Here at California Crossings, we are cheerleaders for California. What better way to celebrate the Golden State than with some California gifts! These 20 items are perfect for you to give to a friend or family member who loves California. Or you can share the article with them as a heavy hint for your own wish list.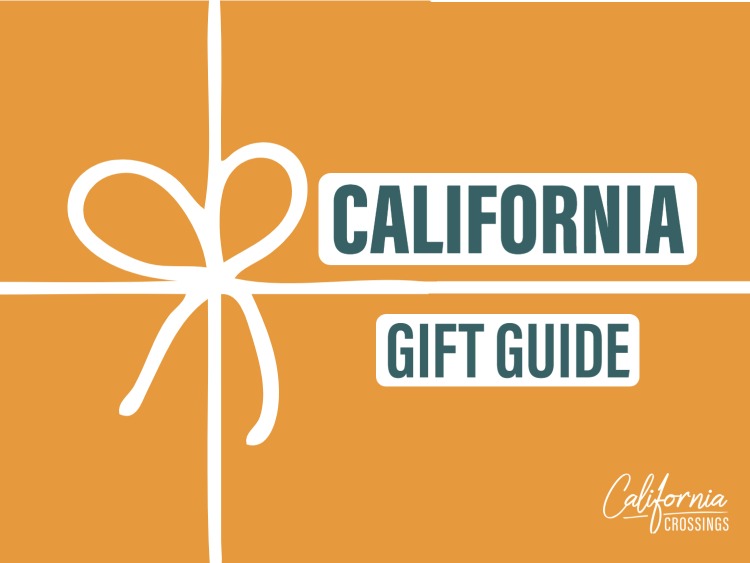 (This article contains affiliate links. This means that if you choose to purchase, I'll make a small commission.)
California Themed Gifts Featuring Maps
The following California gifts celebrate the state with maps, sayings and iconography about our culture and natural resources.
Lowball Glass with Various California Maps
California Map Necklace
California Lakes Coffee Mugs
If you love California lakes, check out this guide for driving around Lake Tahoe.
Cute California Tea Towels (+ Other Stuff)
California-shaped Pewter & Silver Necklace
California Themed Shirts and Bags
One of these t-shirts celebrates California in an in-your-face kind of way and the other is more subtle. But both are fun and could make great California gifts for the casual dresser (and who isn't these days?) There's also an offering from a made-in-California manufacturer.
California Poppy T-Shirt
California Bear T-shirt
Timbuk2 Messenger Bags
Products Celebrating California Nature
California boasts 298 state parks, 33 national parks and historic sites and and 840 miles of coastline. So there is a LOT to love about the nature here. These nature-inspired California gifts will help you show it off.
Customized Sand Necklace
Stickers For California National Parks
Botanical Sage Lotion
California State and National Park Patches
52 Weekend Adventures in Northern California
If you are looking for more weekend getaway ideas, then check out this weekend itinerary for Santa Cruz, this getaway featuring things to do in Guerneville and these two days in Death Valley.
The High Sierra of California
Foodie Gifts Made in California
The Midwest may be America's breadbasket, but California is its everything-else-basket. We produce most of the fruit, vegetables, wine, olive oil and nuts in the US. We also definitely give Wisconsin and Vermont stiff competition when it comes to cheese. So these foodie-friendly California made products are great for showing off our bountiful harvests.
Start with our guide for 13 tasty California cookbooks. It features a wide range of California cuisine from bloggers, recipe makers and restauranteurs.
Aged Balsamic Vinegar from Olivier
High Quality Olive Oil from Pasolivo
Cowgirl Creamery Cheese Gift Pack
IN-N-OUT Burger Merch
St George's Spirits
Mug for Arrested Development Fans
More CA Gift Ideas
Share these California themed gifts with your friends on Pinterest: