California has more national parks than any other state or territory. But of course that's not surprising. Our huge geography and natural beauty showcases a wide variety of terrain, encompassing redwood forest, volcanic hotspots, coastal islands, deep canyons, basalt columns, sand dunes, crazy geology and strange Joshua trees (which bytheway, aren't actually trees). And then there are historic sites dedicated to civil war history, worker's rights, gold rush settlement, internment, poetry and even John Muir (the patron saint of California National Parks).
There are 9 official national parks in California, but a total of 33 national park sites. And this guide will help you learn more about all of them. We've got blurbs describing each park with links out to some relevant trip planning resources. And we've also got a visual compilation of the sites in one handy California national park map.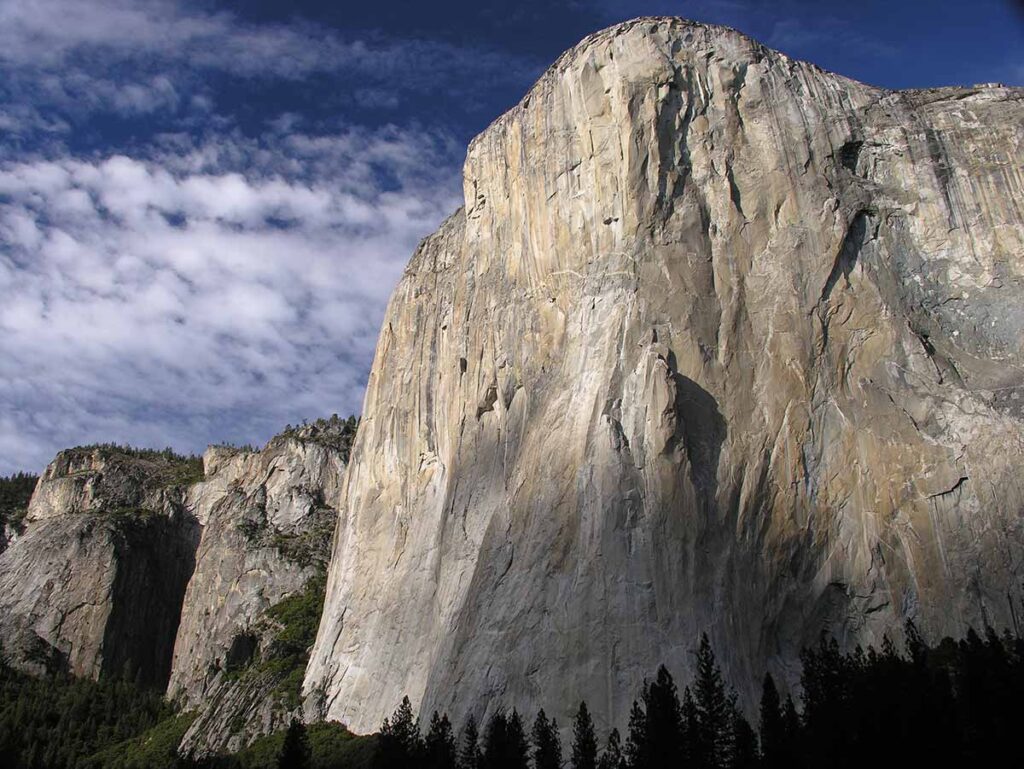 Tips for Visiting California National Parks
If you're planning to visit three or more of the major California parks, you'll save money by getting an annual $80 America the Beautiful Pass. We also have a useful resource for determining whether a CA park pass is right for you.
Book your campgrounds early, because they fill up fast. You can do that at Recreation.gov.
The same goes for any kind of lodging in Yosemite, Kings Canyon/Sequoia and Death Valley National Parks.
Some of the parks are located in/near urban areas, but many are in the boondocks. So, just assume that you'll have rotten mobile service in most of the parks.
Different parks are busier or have more on offer in different seasons. Check out our guide for when to visit California for advice on which locations are best for which season.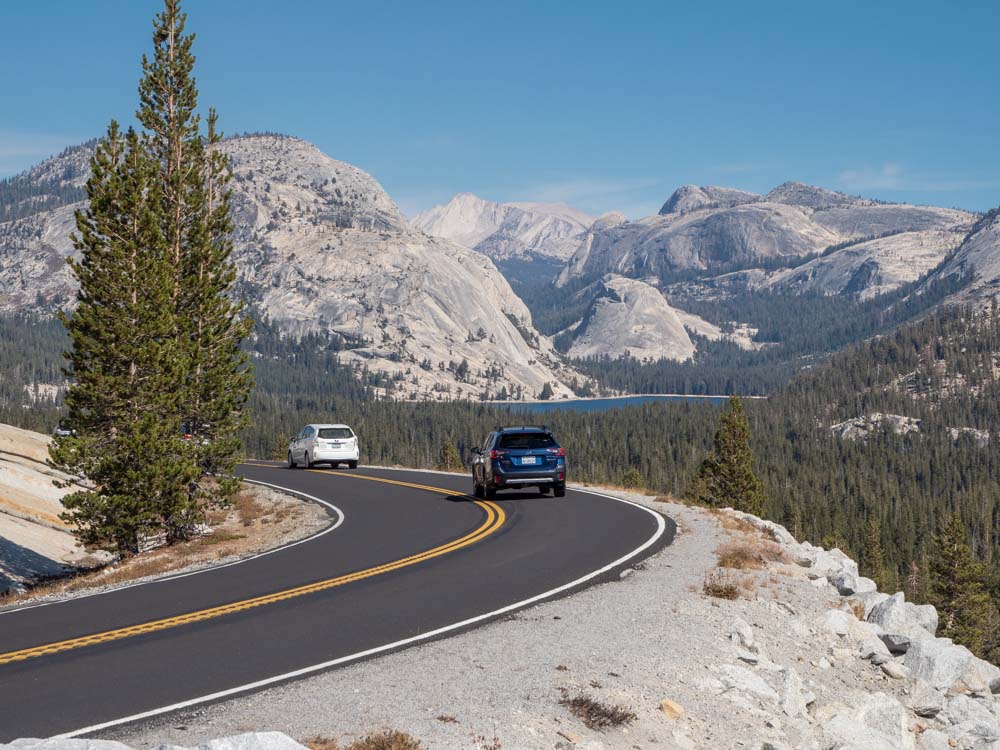 5 Road Trip Itineraries that Feature National Parks in California
If you starting in San Francisco, we have a ton of great road trip resources for you. One itinerary will take you from SF to the North Coast Redwoods. This trip offers kooky roadside attractions and key stops at 11(!) redwood groves.
Or get from San Francisco to Yosemite. This trip has key stops within the park, but also suggests some cool spots outside of the park, like wine tasting and gold country history.
If you want to get to Death Valley from SF, this guide gives you three different routing options, each with unique historic and natural sites. One option on that trip is to go through Yosemite over Tioga pass and then explore Highway 395 before getting to Death Valley.
Or you can just focus on the southern parks and do a routing between Joshua Tree and Death Valley. This one has some quirky art installations, an extra large crater and key spots for sunrises and sunsets.
Or just hang out in the Bay Area and check out some of these National Park sites near SF.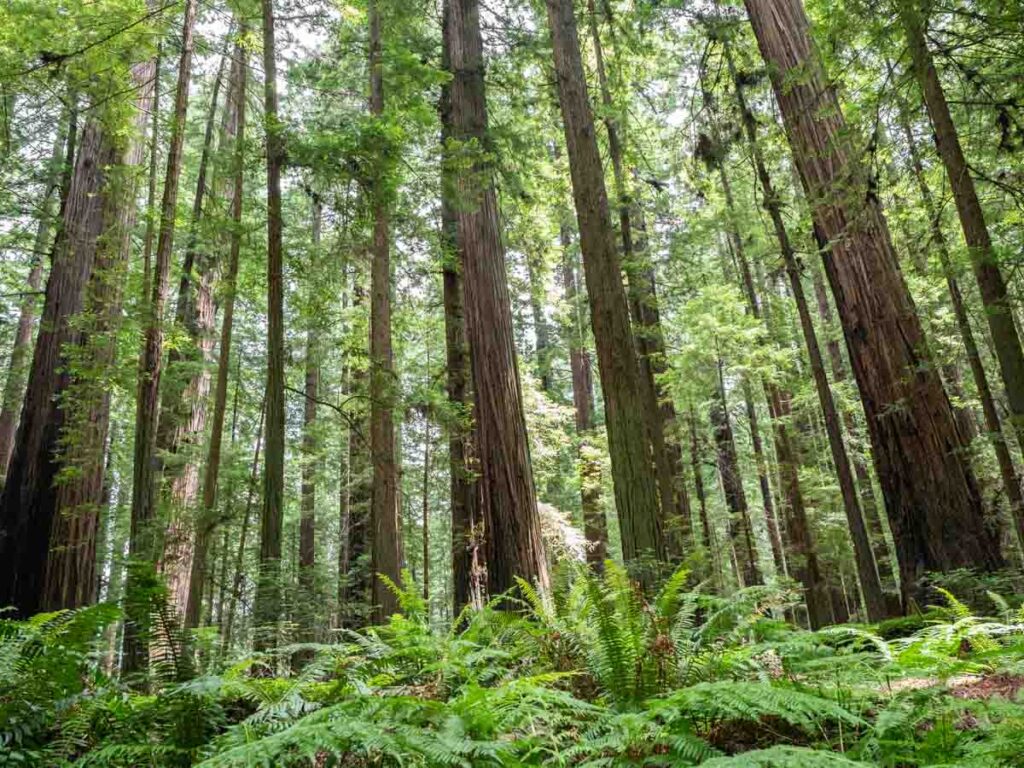 The 8 Primary National Parks
This list of California national parks is very thorough, and we hope you scroll through the whole thing, because there are some surprising finds in our park system. But If you are looking for something in particular, we want to make it easy for you to find it.
Our 33 national park sites are a mix of official "national parks", historic sites, monuments and historic trails. If you are simply interested in visiting the "official" or most famous California national parks, the eight of them are listed below. Just click on the link and it will jump you down for more information on that particular park.
But, we do hope that you'll explore some of the 25 other national park sites in CA. We've divided them up between Northern California, Southern California and the historic trails, which tend to cover a larger region.
California National Park Map
If you are planning a road trip, identify your key stops with this handy map for California national parks.
Full List of National Parks in California
Get ready to add to your bucket, because all of these park sites have something really interesting to offer, and some of them are bucket-list worthy.
National Park Sites in Northern California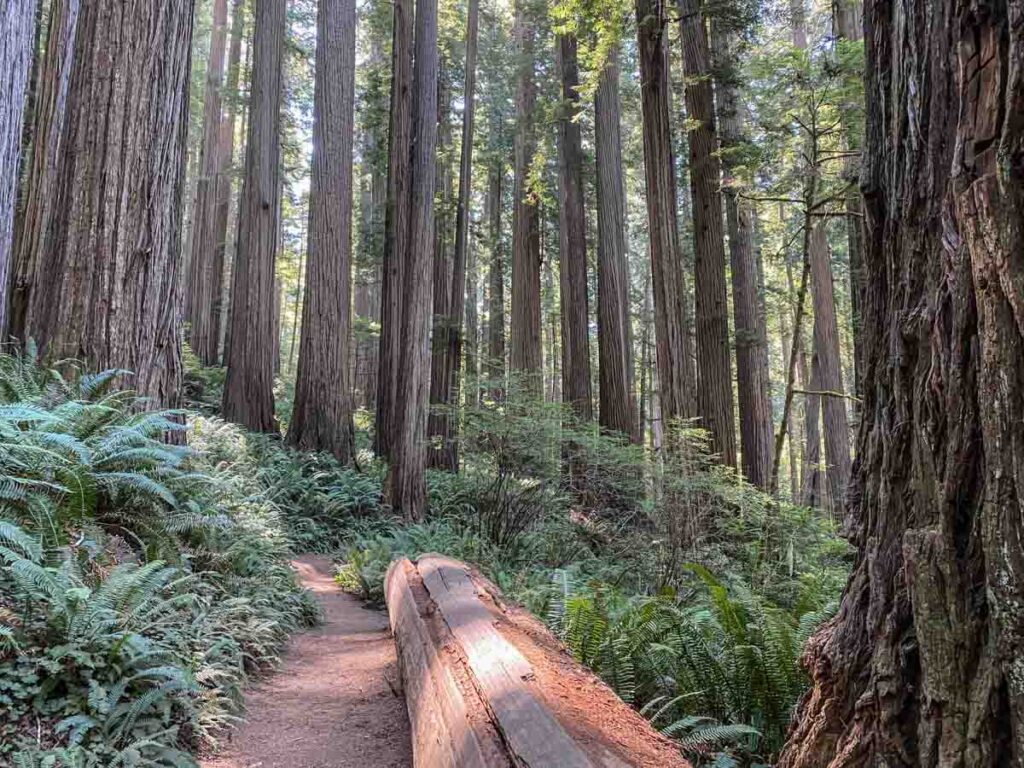 (This article contains affiliate links. This means that if you choose to purchase, I'll make a small commission.)
Redwood National and State Parks
Redwood National & Sate Parks is an unusual multi-jurisdictional reserve that is co-managed by the National Park Service and California State Parks. The area is notable for the unique California Coast Redwoods, which are some of the tallest trees in the world (plus, they smell amazing). The full territory includes The Redwood National Park, Jedediah Smith State Park, Prairie Creek Redwoods State Park and Humboldt Redwoods State Park. Use our Redwoods itinerary to see the best of it.
Key stops on the route include the Avenue of the Giants scenic drive (Humboldt, SP), The Drury Parkway scenic drive and fern canyon (Prairie Creek, SP), the Lady Bird Johnson Grove (Redwoods, NP) and the Boy Scout Trail and Templeton and Stout Memorial Groves (Jedediah Smith).
Tule Lake National Monument
It's important for us to remember that during WWII, our fear of the Japanese threat caused us to incarcerate our own citizens. Both Tule Lake and Manzanar (noted below) are important sites for keeping those historical events from being forgotten. The Tule Lake National Monument includes the Tule Lake Segregation Center, the largest and most controversial sites where Japanese Americans were incarcerated during World War II, and Camp Tulelake, which was first a Civilian Conservation Corps camp, then an additional facility to detain Japanese Americans, and finally a prisoner of war camp.
Ranger led tours are offered on Saturdays and you can always do the self-guided exhibits.
Getting There: It's in far northeastern California on Highway 139, 30 miles south of Klamath Falls, Oregon. It's also located just 12 miles from Lava Beds and you can do both in one trip.
Where to Stay: Holiday Inn Express or Best Western Plus Olympic Inn in Klamath Falls.
Entrance Fee: Free.
More info on Tule Lake.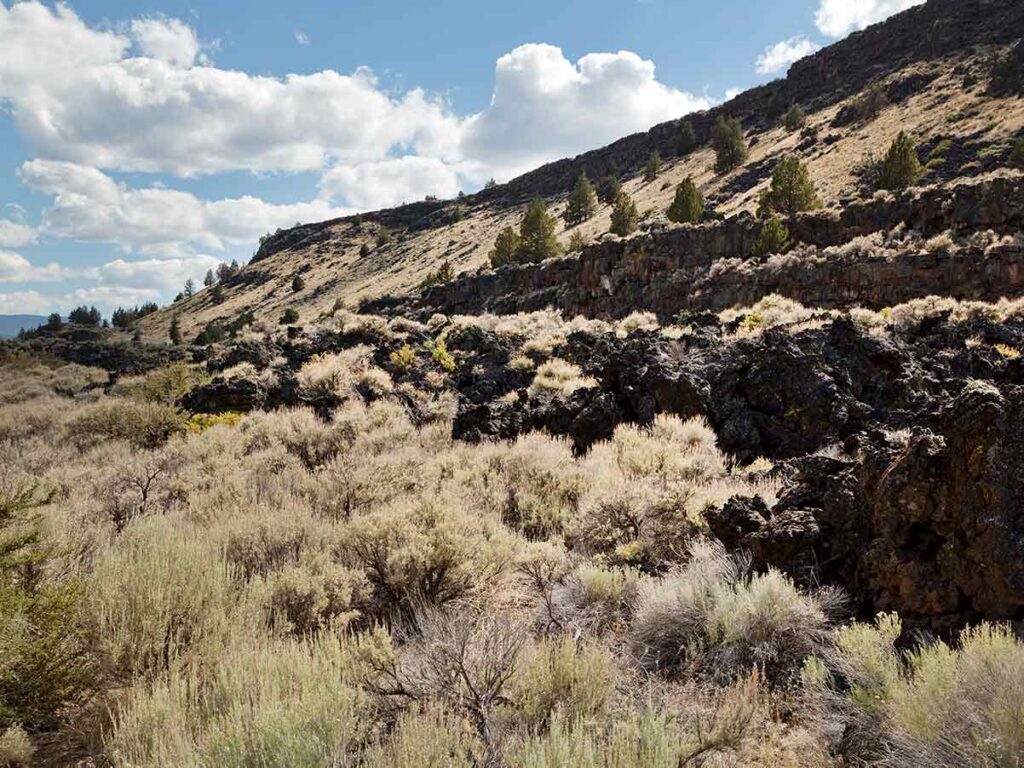 Lava Beds National Monument
Lava Beds has some pretty funky volcanic geology going on, when it was created by the Medicine Lake shield volcano. Medicine Lake had gentle eruptions which coated the area with basaltic flow. The result is a cool system of caves and lava tubes.
There are developed cave sites (with lights), which you can visit along the 2 mile Cave Loop road. During the summer, there are ranger-led guided cave tours on Saturdays (which must be reserved in advance.) The park also has 14 hiking trails of varying distances which feature lava tubes, overlooks of the basin and Native American petroglyph sites.
Getting There: It's in far northeastern California on Highway 139, 45 miles south of Klamath Falls, Oregon and just 12 miles from Tule Lake.
Where to Stay: Holiday Inn Express or Best Western Plus Olympic Inn in Klamath Falls. Or in the on-site campground.
Entrance Fee: $25 per vehicle.
More info on Lava Beds.
Whiskeytown National Recreation Area
Whiskeytown is a cool mix of history and lots and lots of lovely nature.
For the nature, you can visit the Whiskeytown and Crystal Creek water falls. The park has 28 hiking trails that vary from 1-7 miles (including the popular Buck Hollow and James K. Carr trails.) The lake is huge and there is also a ton of water fun at Whiskeytown. You can rent kayaks, boats and hang at the one of several beaches. You can also explore history at nearby Shasta State Park and the Weaverville Joss House.
Getting There: It's located 9 miles west of Redding on Highway 299.
Where to Stay: For fancier digs, try the Hope Inn or stick with the basics at the Comfort Suites. The park also has quite a bit of camping capacity with 4 campgrounds.
Entrance Fee: $25 per vehicle.
More info on Whiskeytown National Recreation Area.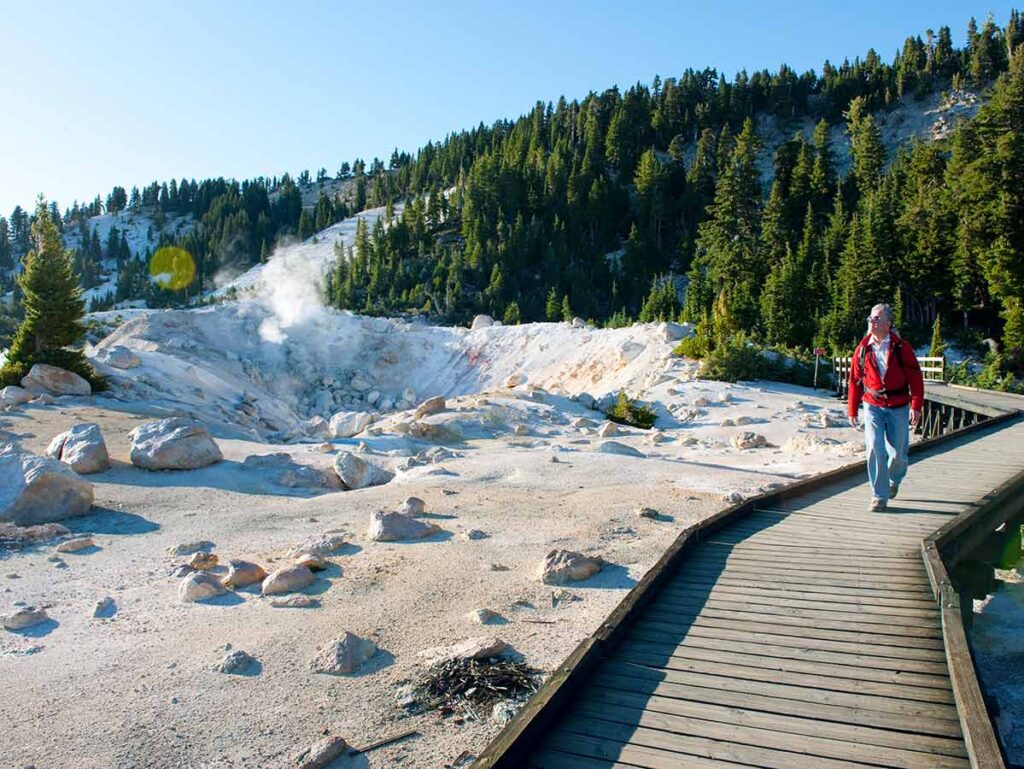 Lassen Volcanic National Park
Lassen is an amazing volcano that last erupted in 1915. And it's still fuming. There is a lot of hissing, burbling landscape in Lassen (noted in the image above). But you can also find alpine lakes, forest hikes and lovely spring flowers.
There is a 30-mile scenic highway that cuts through the park, which is actually part of the longer 500 mile Volcanic Legacy Scenic Byway. The longer byway includes Crater Lake National Park, Lava Beds, Mount Shasta, Burney Falls and Lassen. The park also has 150 miles of hiking trails, including the popular Bumpass Hell trail (to a hydrothermal spot) and the Manzanita Lake Loop.
Please note that Lassen got nailed HARD by the huge Dixie Fire. So be sure to check the NPS current conditions page for what is open for visitors.
Point Reyes National Seashore
How would you like some crashing waves, rocky headlands, lonely lighthouses, a cypress tunnel and some massive Tule Elk? Then be sure to visit Point Reyes National Seashore. This park offers up some of California's most stunning coastal scenery.
For wildlife, one of the top things to do in the park is to visit the Tule Elk preserve at Tomales Point. You can find elephant seals on the beaches at Chimney Rock. And also migratory gray whales from December to May. For hiking, you have your choice of 150 miles of trails, including the popular Bear Valley trail (10 miles), Muddy Hollow/Coast trail (12 miles) and the Mount Whittenberg trail (4 miles).
Getting There: It's located 40 miles north of San Francisco on Highway 1. On the way, you can also stop at Muir Woods (noted below).
Where to Stay: Even if you aren't a fan of Hostels, consider the HI Hostel, it's located in the heart of the park. Also in nearby Olema is the stylish Olema House. Point Reyes has 5 small-ish campgrounds, but there are also spots in nearby Samuel P Taylor State Park.
Entrance Fee: Free.
More info on Point Reyes National Seashore.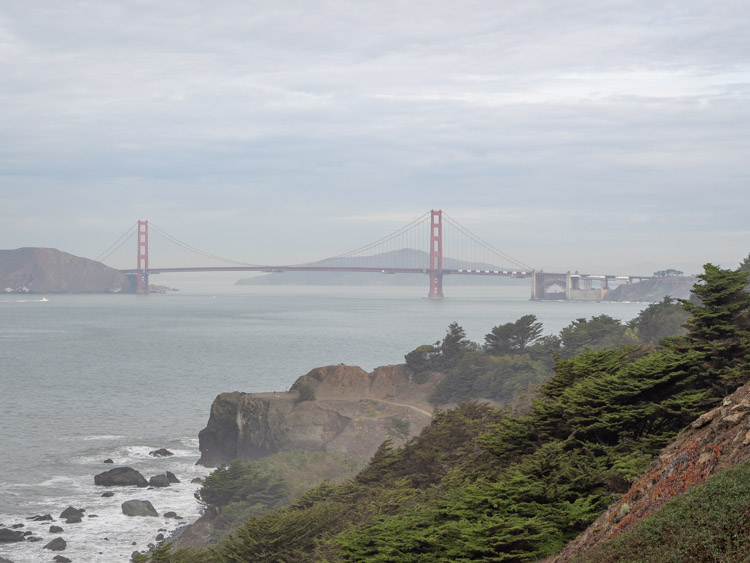 Golden Gate National Recreation Area
The Golden Gate National Recreation Area (GGNRA) isn't an official national park, and yet, it's the most visited "park" in the US, receiving 13 million visits in 2021.
The GGNRA manages a huge recreation area, which includes not only 5 sites that are on the official National Park list, like the Presidio, Maritime Museum, Fort Point, Muir Woods and Alcatraz (all noted below). But the GGNRA also manages nature and historic sites stretching 40 miles north into Marin County and 20 south into San Mateo County. Top spots include: the Marin Headlands, Ocean Beach, Fort Funston, Sweeny Ridge, Phleger Estate, the Fitzgerald Marine Reserve, Fort Mason and Lands End (which is worth hiking).
And the crown jewel is the Golden Gate Bridge, which is one of the most popular tourist spots in San Francisco. We have a whole guide for visiting the Golden Gate bridge which offers practical advice on where to park, how to walk it and some fun facts.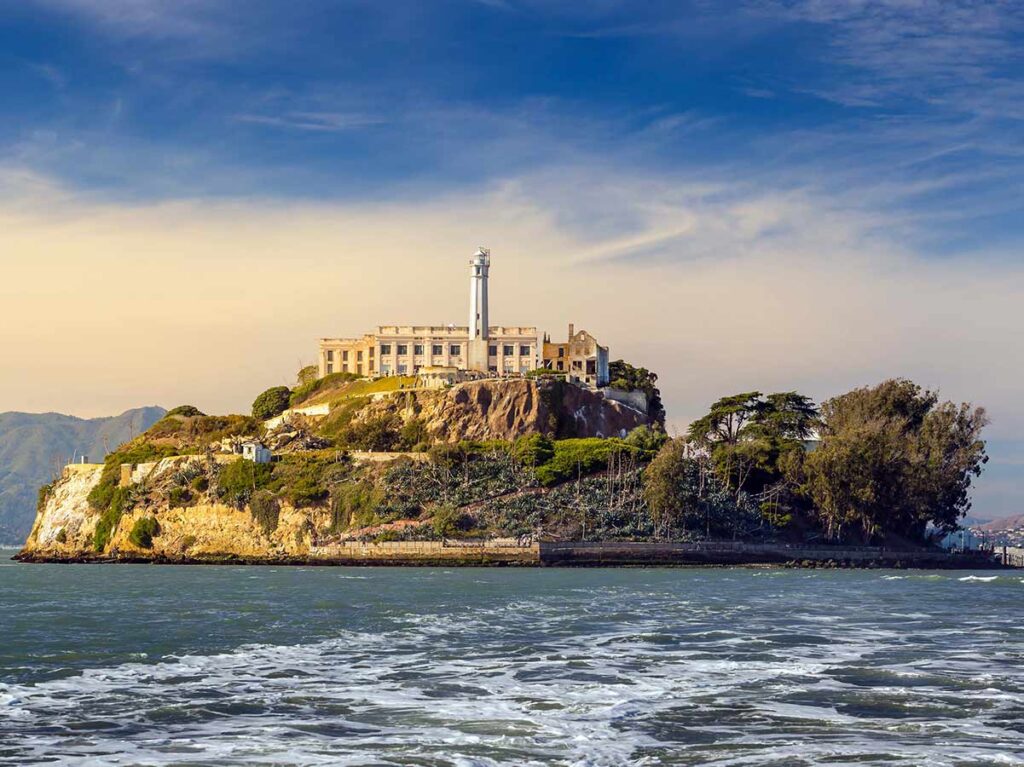 Alcatraz Island Historic Site
Alcatraz Island was at times a fort, military prison and a maximum security federal prison. In 1969, it was also occupied for 19 months by Native American groups who were advocating for civil rights. Touring the island provides a fascinating look into the history of incarceration in the United States.
In addition, the island occupies a lovely patch of the San Francisco bay and the ferry ride to and from the island always provide great views of San Francisco and the Golden Gate Bridge.
They run daily tours to the island. It's very popular, so be sure to book ahead.
Getting There: Located in the San Francisco Bay, a short ferry ride from Pier 39.
Where to Stay: SF accommodation guide to figure out where to stay for all budgets.
Entrance Fee: $41.
More info on Alcatraz.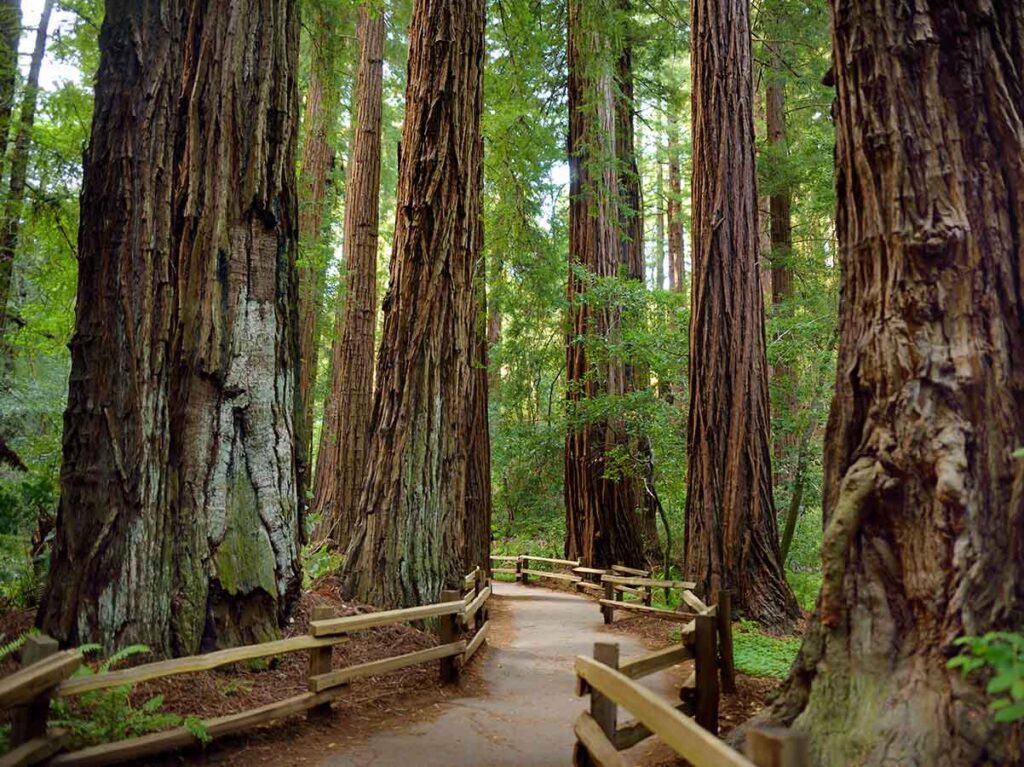 Muir Woods National Monument
As I mentioned above, John Muir was a passionate conservationist and he's California's patron saint of national parks in California (and all other US parks too). After he invited Teddy Roosevelt to go camping in what is now Yosemite, the President was inspired to set aside 230 million acres of public land for our first national parks.
Muir loved a walk in the woods and the coast redwoods in Muir woods are a lovely place to do it. The monument offers a great entry-level way to experience California's coast redwoods. The park has 6 miles of trails that go from a 1/2 hour accessible loop to a 1.5 hour longer loop. The trails also extend out into nearby Mount Tam State Park.
"But in every walk with Nature one receives far more than he seeks."

– John Muir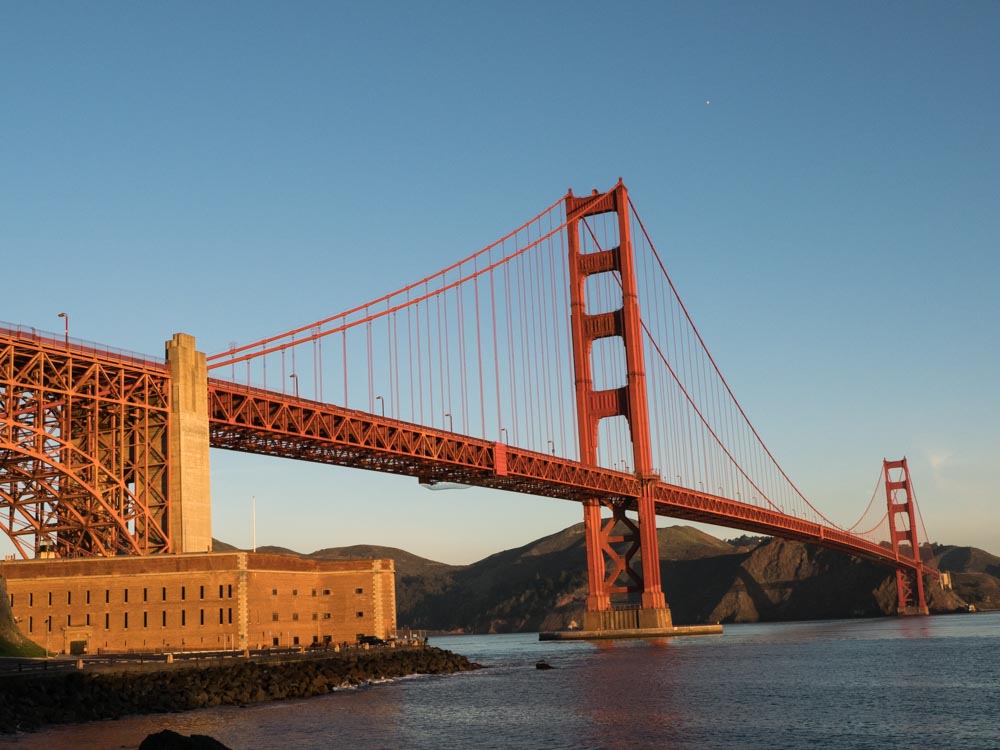 Fort Point National Historic Site
Fort Point has been guarding the entrance through the Golden Gate since the Gold Rush. The building is functional, but also quite lovely with its arched casements and red brick. It really lights up at dawn, which is when the above picture was taken. It's one of our favorite views of the Golden Gate Bridge. The fort was built for the civil war and was used throughout the 20th century as an active defense site and also a barracks.
You can visit the fort as a self-guided tour and then use the nearby stairs to walk up to and over the Golden Gate Bridge.
Getting There: It's located west of Crissy Field, right under the bridge.
Entrance Fee: Free.
More info on Fort Point Historic Site.
San Francisco Maritime National Historic Park
This historic park is perfect fo anyone who's nuts for ships.. The Maritime park is located near San Francisco's Fisherman's Wharf. It offers visitors the sights, sounds, smells and stories of Pacific Coast maritime history. The Park includes a magnificent fleet of historic ships from a 1895 schooner to a 1914 paddlewheel tug.
You can walk on the decks of the ships, take a cell phone tour and also visit the Maritime museum. The museum has exhibits on ship-building, SF maritime history and they have some lovely WPA-era murals inside the art-deco building.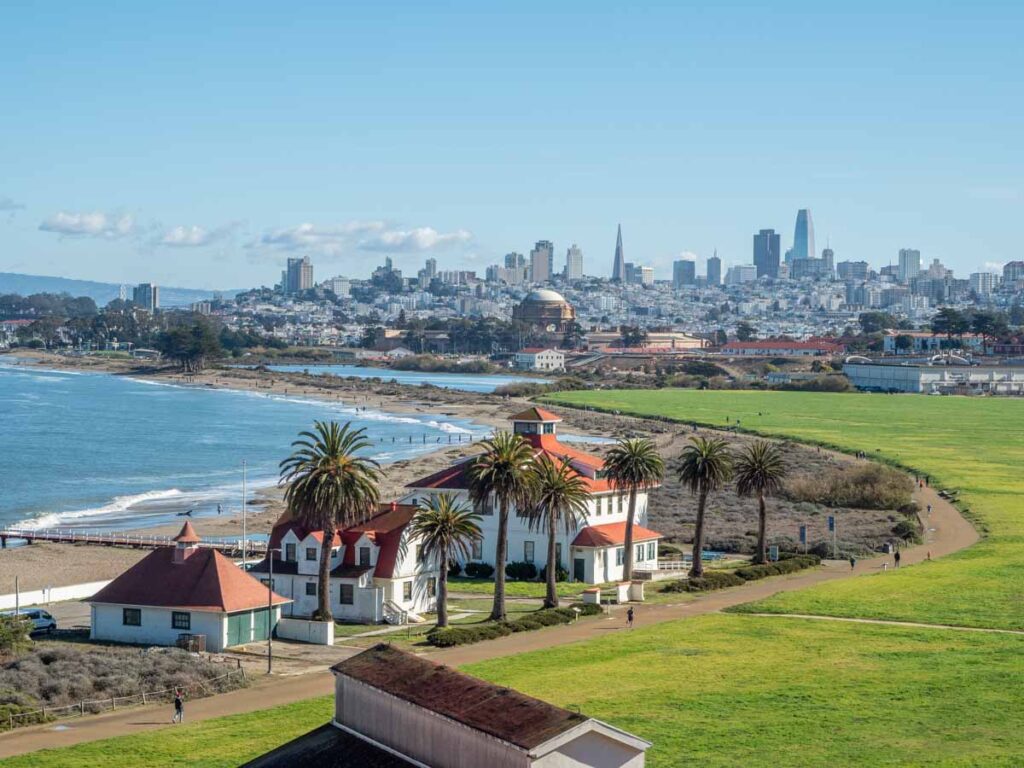 Presidio of San Francisco Historic Site
When the Spanish colonized California, they set up a defense outpost at the entrance to the San Francisco Bay. Over time, the Presidio was expanded by the Mexicans and then the Americans. The military outpost served through the Spanish American War, the Civil War, the Philippine War, both World Wars and the Cold War. In 1989, the federal government decided to de-commission the base and it was transferred to the Parks Service.
But the Presidio is not your typical parks site. Yes, you can find old military batteries and historic buildings. But you'll also get 25 miles of hiking trails, including on the prime Crissy Field waterfront. In addition, there is also a mix of private businesses and housing within the presidio. You can find the Disney Family Museum, art installations, and even Lucas Studios (including a really cool statue of Yoda, which is part of our offbeat San Francisco guide).
Getting There: Located in northwestern San Francisco. If you don't want to drive, you get there using the PresidiGO shuttle.
Entrance Fee: $15 per person.
More info on the Presidio.
Eugene O'Neill National Historic Site
Eugene O'Neill is America's only Nobel Prize winning playwright. He chose to live in Northern California at the height of his writing career, which is where he wrote his most memorable plays like, The Iceman Cometh, Long Day's Journey Into Night, and A Moon for the Misbegotten.
The Tao home is on a 128 acre ranch near Danville, in San Francisco's East Bay. O'Neill and his wife were fans of Oriental art (hence the house's name), but they married that ethic with a traditional Spanish-style architecture.
You can visit the home on a self-guided tour on Saturdays, or you can arrange a reserved tour on weekdays. Either way, you access the property via an NPS shuttle.
Getting There: Located in Danville, CA, 23 miles southeast of Oakland.
Entrance Fee: Free, but reservations required.
More info on the Eugene O'Neill historic home.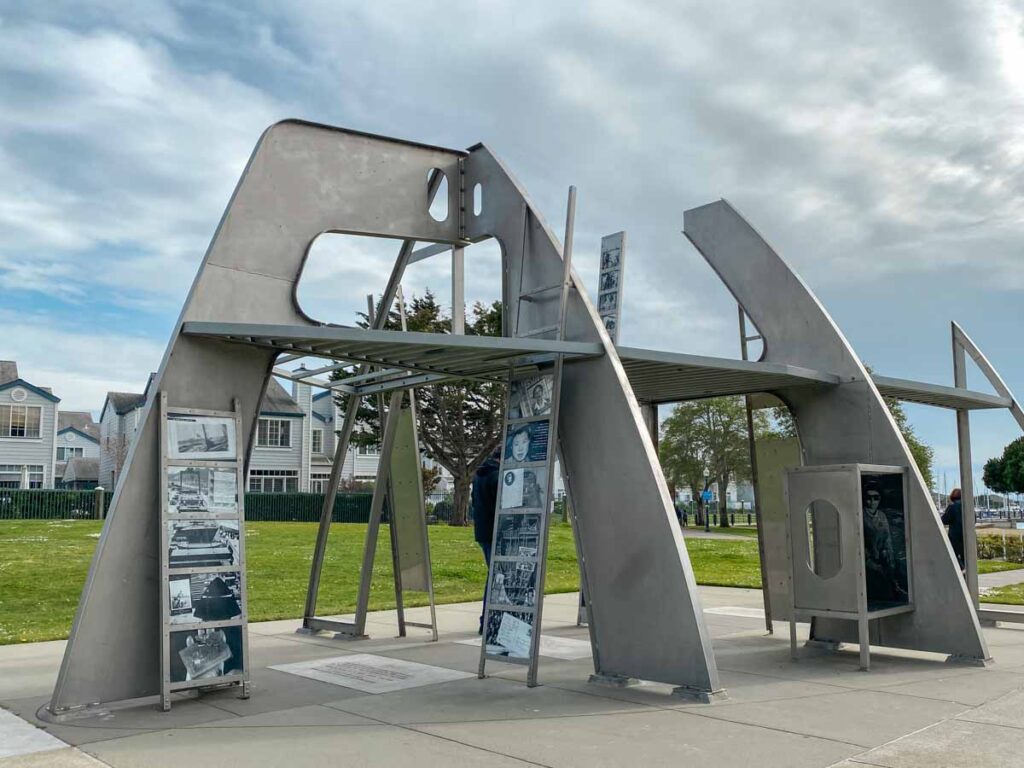 Rosie the Riveter WWII Home Front National Historic Park
The Bay Area's manufacturing capacity really booted up during WWII. Women were given job opportunities that had previously been out of reach. This small monument honors the efforts of the many women who stepped up and helped the US deliver on the war effort. The park includes a welcome center with exhibits and a series of sculpture installations with pictures and storytelling.
Getting There: Located in Point Richmond, which is a few miles north of Berkeley. You could do an East Bay history tour and combine the visit with the John Muir and Eugene O'Neill sites.
Where to Stay: Most people visit as as an excursion from San Francisco. Use our SF accommodation guide to figure out where to stay for all budgets.
Entrance Fee: Free.
More info on Rosie the Riveter.
John Muir National Historic Site
John Muir loved nothing more than to put a few sandwiches into his pockets and take off into the wilderness. But when he wasn't doing that, he was writing and raising his family in Martinez, California.
Muir and his wife Louisa Strentzel lived on her family's 2,600 acre fruit ranch. The historic site includes the ranch grounds, a 10,000 square foot home, Muir's gravesite and a historic adobe building. Self-guided cell phone tours are available.
Port Chicago National Memorial
We experienced our worst WWII homefront disaster at Port Chicago. At Port Chicago Naval Magazine, 320 men were instantly killed when two ships being loaded with ammunition for the Pacific theater troops blew up. The waterfront site acknowledges and memorialized the disaster.
Getting There: Located in Concord, CA, 28 miles southeast of Oakland and not far from the John Muir house.
Entrance Fee: Free.
More info on Port Chicago.
Pinnacles National Park
Pinnacles is another California national park that was formed by volcanic action. The magma fields and subsequent erosion have created a landscape with towering rock spires and caves. The park is home to nesting California condors, peregrine falcons, golden eagles and 13 species of bats.
Pinnacles is the least visited of California's national parks, with only 177,000 visitor per year. More elbow room for you then!
There are 30 miles of hiking trails in the park. Most notable are the 5.3 mile Old Pinnacles to Balcony Cave trail or the more strenuous 6+ mile High Peaks loop trail. Please note that there isn't a road that goes through the park. So you either park at the west entrance for limited day hikes. Or use the east entrance for camping and access to more trails.
Getting There: Located 76 miles south of San Jose.
Where to Stay: The closest motel is the Days Inn 30 miles away in King City. Your better bet is the the Pinnacles campground, which has tent sites, tent cabins and RV spots.
Entrance Fee: $30 per car.
More info on Pinnacles National Park.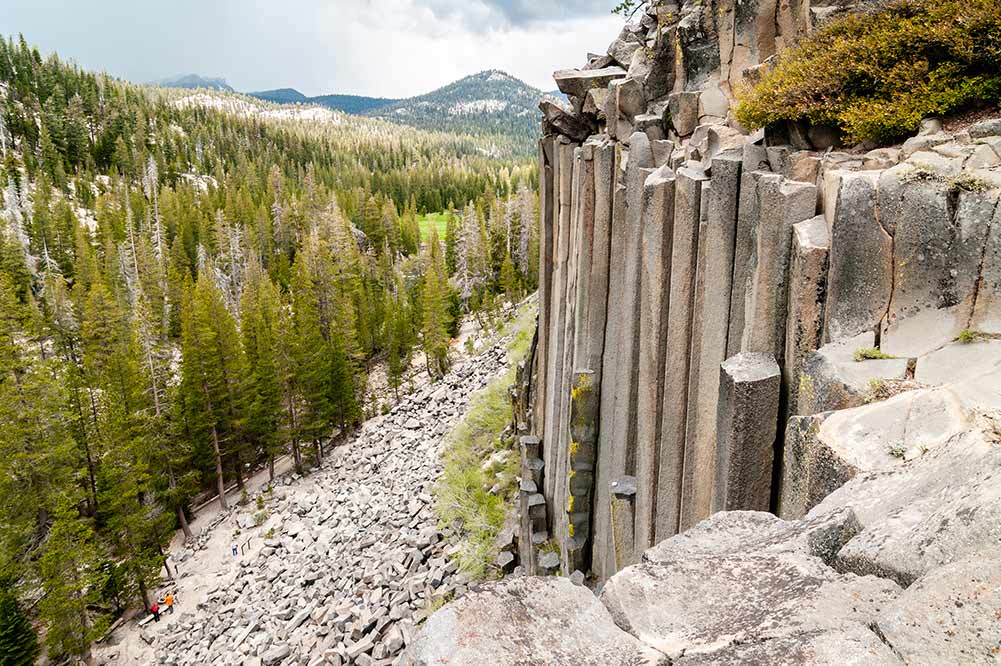 Devil's Postpile National Monument
These funky basalt columns are formed when cooling lava shrinks into uniform(ish) hexagons. Basalt Columns are found around the world (Russia, Iceland, Northern Ireland, the Golan Heights), but they are rare enough to be notable. The columns at the Devil's Postpile are believed to have been formed about 100,000 years ago. You can find them in the Eastern Sierra high alpine setting and they are surrounded by pine forest and waterfalls.
Notable hikes include the 1.3 mile Devils Postpile loop and the 4 mile Rainbow falls trail. The monument is also located very close to Mammoth Lakes and all of the other amazing recreational opportunities available along the Highway 395 corridor. The park is only open in the summer and fall, and during busy times, you'll need to take a shuttle.
Getting There: Located 13 miles west of Mammoth Lakes.
Where to Stay: There is plenty of lodging options in Mammoth Lakes, like the Mammoth Creek Inn and the Village Lodge. The NPS campground at Devil's Postpile is closed, but there are 5 forest service campgrounds in and around Reds Meadow.
Entrance Fee: The shuttle is $15 for adults and $7 for kids.
More info on the Devil's Postpile.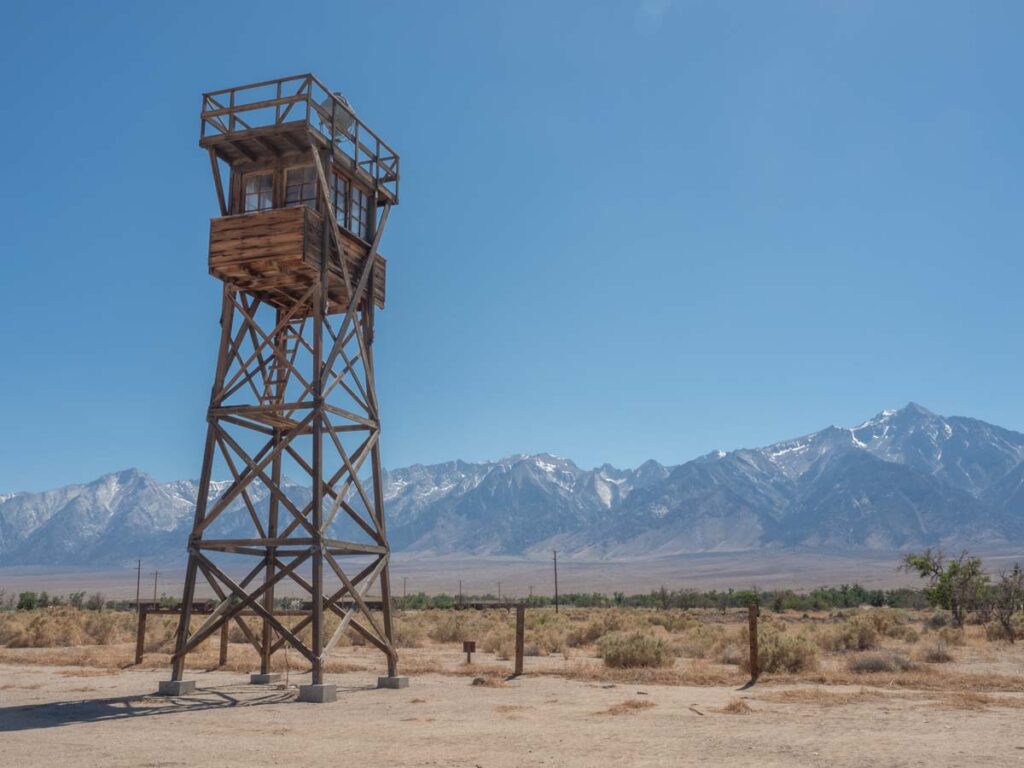 Manzanar National Historic Site
The attack on Pearl Harbor not only definitively drew us into WWII, but it gravely wounded the American psyche and triggered a lot of fear. One of our national responses to that fear included rounding up 110,000 Japanese-Americans citizens, and interring them in military-style prisoner camps. Manazanar was one such camp, housing 10,000 people during the war.
The historic site has a series of reconstructed buildings that show housing conditions, the school room and the mess hall. There is also a touching cemetery and memorial.
We recommend making time for it as one of the top sites to visit near Lone Pine in the Eastern Sierra.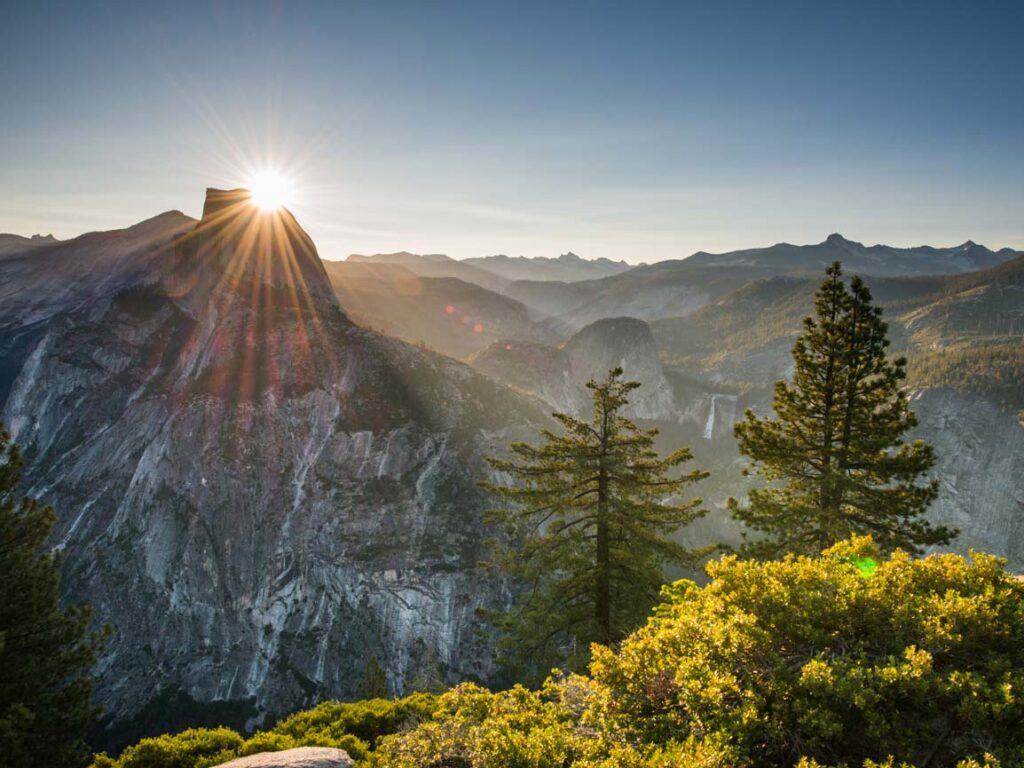 Yosemite National Park
Yosemite was first protected in 1864 and is one of our first national parks. It's best known for its waterfalls, sheer granite cliffs, Giant Sequoia groves and 1,200 square miles of pine forest. After the Golden Gate Recreation Area, Yosemite is our most popular national park in California, with 4.4 million annual visits.
The Pacific Crest Trail and the John Muir trail both transit through Yosemite's wilderness. But the most popular parts of the park are in Yosemite Valley. Popular things to do in the valley include the Yosemite Valley loop trail, the lower Yosemite falls hike, the Mirror Lake loop and the Glacier Point overlook. But there are also some fantastic hikes out of Tuolumne Meadows and the Mariposa Giant Sequoia grove in the south part of the park is also worth it.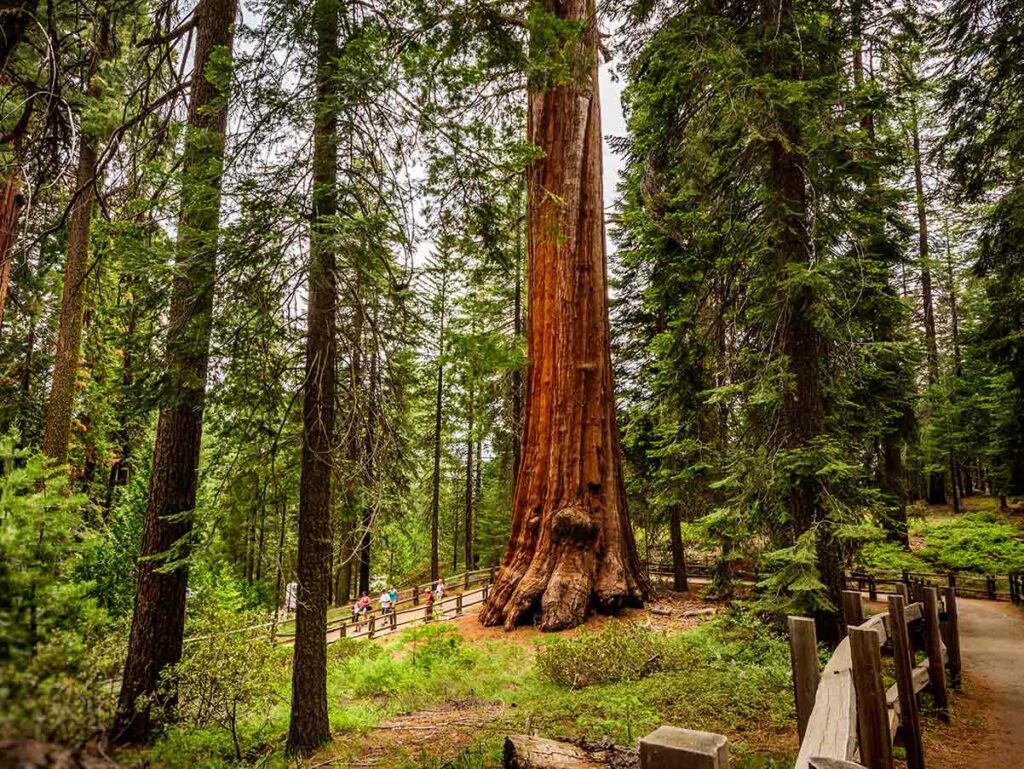 Sequoia and Kings Canyon National Park
Legally speaking, Sequoia and Kings Canyon are actually two separate national parks. But the NPS manages them as one unit, so we have combined them here.
The "Giant Forest" was designated a national park in 1890 and 50 years later, Kings Canyon was added to the mix. Sequoia National Park's primary purpose is conservation of the massive Giant Sequoia redwood tree, which is the largest tree (by density) in the world. Kings Canyon also has sequoias but it is also home to an amazing glacial canyon along the San Joaquin river.
Popular sites in King's Canyon include the General Grant Grove and the Redwood Canyon area. And for Sequoia it's the Giant Forest with the General Sherman tree. Connecting both is the scenic Highway 180, which we have flagged as one of the most scenic drives in California.
Please note that Sequoia NP and the surrounding Sequoia National Monument were damaged in the recent KNP fire and some groves and trails may be inaccessible.
Getting There: Located 240 miles east of SF and 247 miles north of LA.
Where to Stay: Try the Sequoia Resort in Badger or the budget friendly Comfort Inn in Three Rivers. The two parks have 14 campgrounds (some only available seasonally) and there are many other forest service campgrounds in the surrounding area.
Entrance Fee: $35 per car.
More info on Sequoia and Kings Canyon National Parks.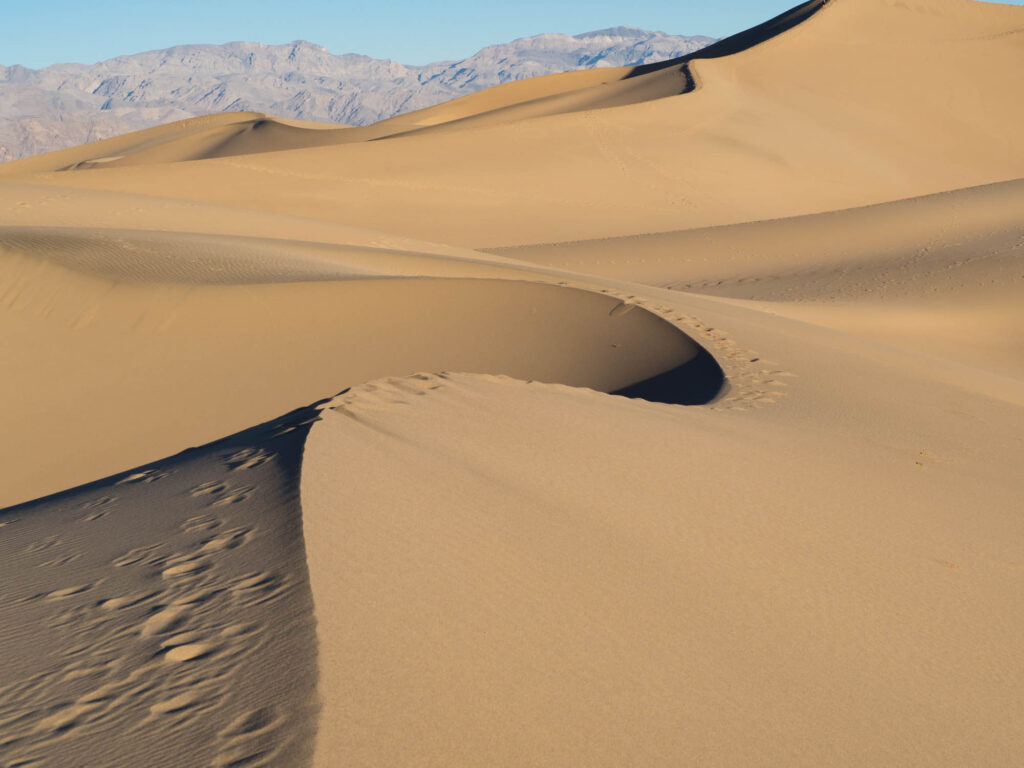 National Park Sites in Southern California
Death Valley National Park
There is something so beautiful about Death Valley's landscape. Death Valley is hot and sandy and rocky and it's most definitely not trying to be your best friend. The park presents a stark, sharp landscape that rewards visitors who are looking for something more edgy. Death Valley features sand dunes, ghost towns, salt flats and towering mountains.
Popular things to do include hiking Golden Canyon or Sidewinder Canyon, the Mesquite Dunes at sunrise (pictured above), the Artist's Palette drive, Badwater Basin and the Zabriskie Point overlook.
César Chávez National Monument
Widely recognized as the most important Latino leader in the United States during the twentieth century, César E. Chávez led farm workers in the establishment of the country's first permanent agricultural union, which helped the workers with higher wages and safer working conditions.
While on-site, you can take advantage of the Visitor Center, see the desert garden and visit the memorial garden where Chávez is buried.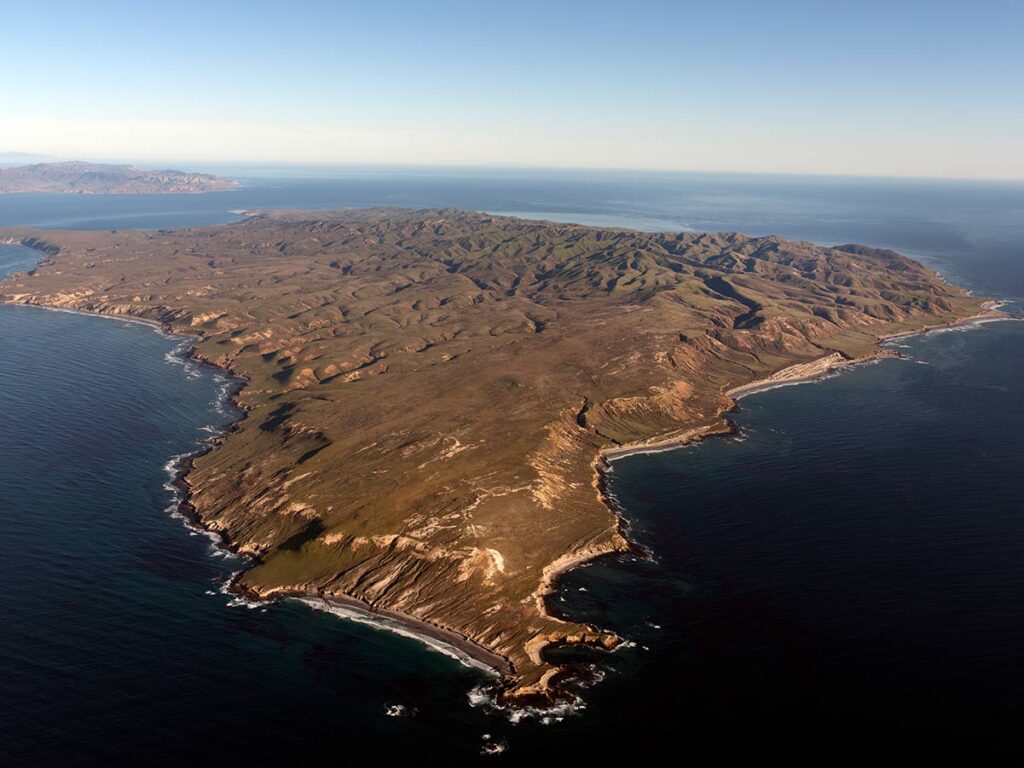 Channel Islands National Park
The Channel Islands are like California's Galapagos. These eight islands are just isolated enough from the California mainland to have evolved some unique plants and animals that you don't see anywhere else (like the island fox). Visiting the islands are a treat for fans of snorkeling, kayaking, hiking and whale watching.
The most popular and accessible island is Santa Cruz. It's just an hour from the port at Ventura and it has nearly 90 miles of hiking trails.
Plan your trip well in advance because the ferry service sells out quickly.
Santa Monica Mountains National Recreation Area
The Santa Monica mountains are LA's backyard playground. This recreation area is 158,000 acres with 500 miles of hiking and mountain trails and 41 miles of coastline. And that doesn't even count the adjacent areas that include the Topanga and Point Mogu state parks and the Malibu and Zuma state beaches.
Popular hikes include the 3 mile Solstice Canyon loop, 6 miles sections of the Backbone trail and the 6 mile Sostomo and Deer Valley loop. Or do a multi-day hike on the more rigorous Backbone trail.
Getting There: Located 45 miles north of downtown Los Angeles.
Where to Stay: For southern access, try the Surfrider in Malibu. Or base yourself the east in Santa Monica and stay at the Channel Road Inn. The NPS hosts one campground in the recreation area but there are also 14 state campgrounds in the area.
Entrance Fee: Free.
More info on how to visit the Santa Monica Mountains.
Castle Mountains National Monument
Castle Mountains is the newest offering in California's national park portfolio. It was dedicated in 2016 and is attached to the Mohave National Preserve (noted below). The monument sits squarely in the Mohave desert. It houses the rare Joshua Tree and is also home for migratory desert bighorn sheep.
Castle Mountains is not a fully developed park. It does not have designated trails, nor a campground. However, you can access it on dirt roads via a 4×4.
Getting There: 68 southeast of Baker or 82 miles southwest of Las Vegas.
Entrance Fee: Free.
More info on how to visit Castle Mountains.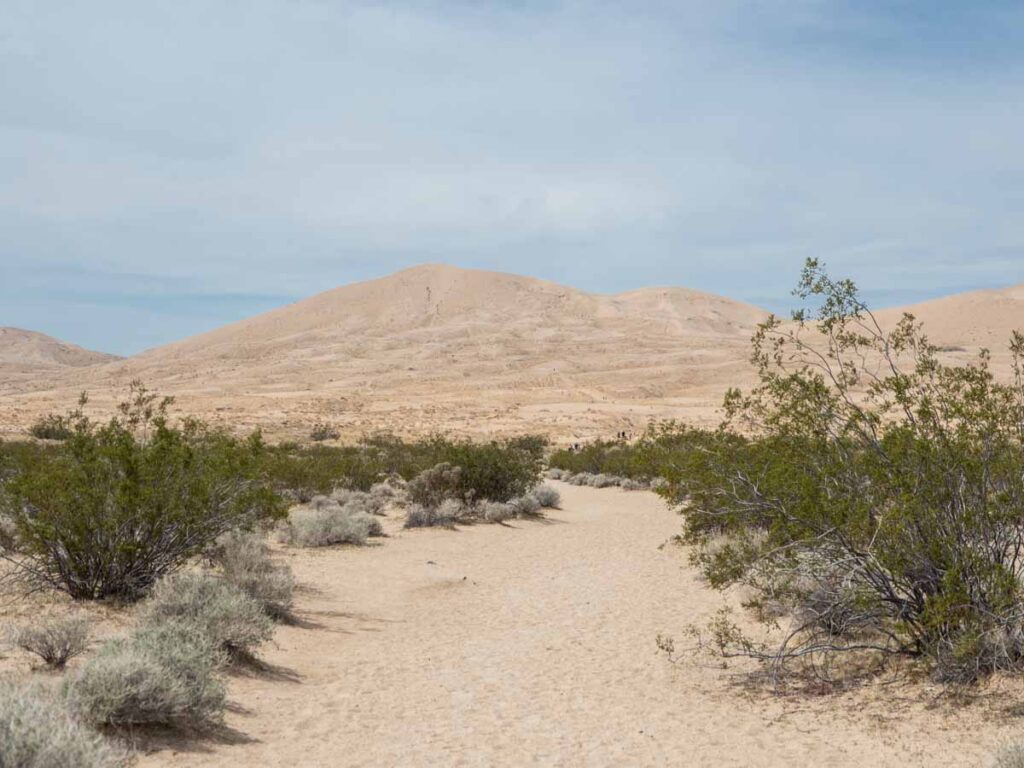 Mojave National Preserve
This 1.6 acre park is larger than Joshua Tree, but way off the radar. However, we do recommending visiting it if you are road tripping between Death Valley and Joshua Tree. The park features sand dunes, cindercone volcanoes, joshua trees, spring wildflowers and mining ruins.
There are 24 miles of established trails and a lot of opportunity for backcountry bushwacking. There are several paved roads that run through the park, but Mohave is really fun for people who like to go offroading. Popular features include the Kelso Dunes, the joshua tree forest and the Rings Loop.
Getting There: 104 miles north of Joshua Tree or 148 miles south of Furnace Creek in Death Valley.
Where to Stay: The park has two developed campsites but they also allow disbursed undeveloped camping, which are usually accessed via 4×4.
Entrance Fee: Free.
More info on how to visit Mojave National Preserve.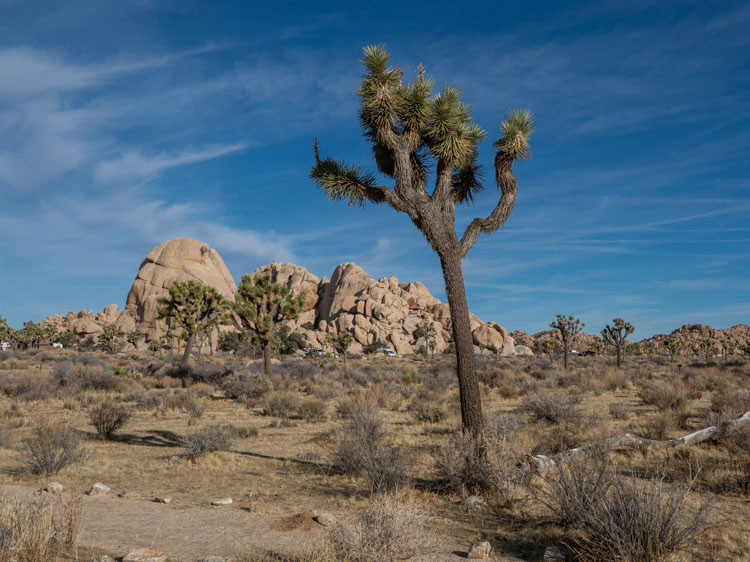 Joshua Tree National Park
After Yosemite, Joshua Tree National park is the most popular formal national park site in California. Of course, it features the iconic joshua tree. But there is also a lot of cool mining sites, day hikes, killer sunset views and clear skies for stargazing. And the nearby town of Joshua Tree also features some funky art installations.
Popular things to do in the park include the Barker Dam trail, the Wall Street Mill trail, the lost horse mine loop, the Cholla cactus garden and Key's View.
Cabrillo National Monument
Cabrillo National Monument commemorates the landing of Juan Rodriguez Cabrillo at Ballast Point in 1542. It was the first European expedition to land in what is now the Western US. It sits on a lovely peninsula of land right in San Diego.
Popular things to do including touring the lighthouse, spotting migratory whales, hiking the bayside trail or tidepooling along the Point Loma trail.
Pan Regional National Historic Trails
These historic trails aren't in any one particular spot. But rather, they show historically significant routes which were critical in the colonization and settlement of California. These trails ultimately became some of our most important highway routes and they represent some of California's most scenic byways. The key to getting the most out of any of these trails is to road trip them, taking the time to stop at historic markers and regional history museums along the way.
Juan Bautista de Anza National Historic Trail
in 1775, Juan Bautista de Anza led 240 intrepid folks on an epic 1,200 mile journey to establish the first non-Native settlement at the San Francisco Bay. They followed the route of the Rio Sonora, transiting through what is now Nogales and worked their way west through Arizona, north through San Bernardino and then up what is now Highway 101 to SF.
Key stops would include Anza-Borrego State Park, Griffith Park, Pismo Beach, Fort Ord, Henry Coe State Park, Crystal Springs trail and Golden Gate Park. Missions of note for this journey include San Diego, San Gabriel, Santa Barbara, San Luis Obisbo, San Juan Bautista and Mission Dolores.
Old Spanish National Historic Trail
This trail represents the old pack mule trail that rode west west between Santa Fe, New Mexico and Los Angeles. A good chunk of it follows what became historic Route 66. Key stops on the California segment include the Mohave Preserve/Kelso and the Route 66 museum in Barstow.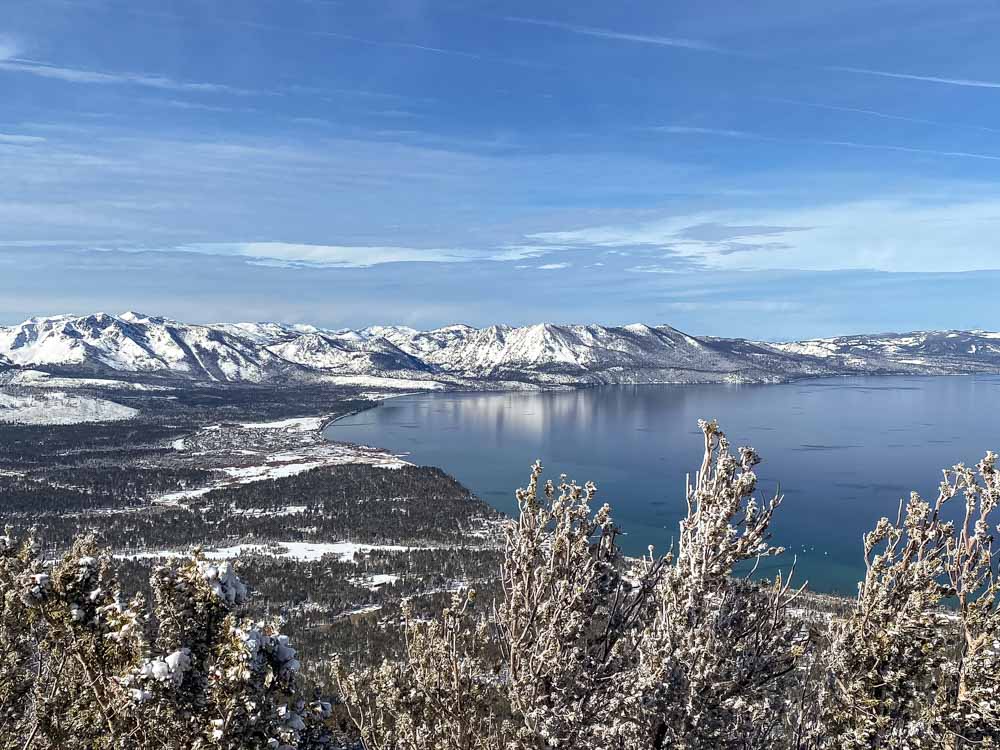 California National Historic Trail
When the California Gold Rush started in 1848, it opened a floodgate of immigration to California. This historic routes are preserved by the California National Historic trail. It's a constellation of routes that led to some of California's key gold mining towns.
These trails came west from Nevada before splintering to Highway 139 (through Lava Beds), Highways 44 and 36 (through Lassen), Highway 70 (to Oroville), Interstate 80 (through North Lake Tahoe), Highway 50 (through South Lake Tahoe) and Highway 108 (over Sonora Pass).
Pony Express National Historic Trail
The Pony Express only ran for 18 months between 1860-61, but it helped to form a strong identity for the American West. This trail runs 1,000 miles from St. Joseph, Missouri to Sacramento, California. The California section of the route starts in Carson City, Nevada and follows what is now Highway 50. Key stops include southern Lake Tahoe, Placerville and old town Sacramento.
Share these CA National Parks on Pinterest: