Roadtripping from Joshua Tree to Death Valley is so worth it. Not only do you get to experience the spare desert landscape of the Sonoran and Mohave deserts, but there is some crazy geology, cool trees that aren't really trees, sand dunes, California's mining history and whacky art installations.
There is a ton to do and see in the two CA National Parks, and you can spend plenty of time in each. But if you are doing a longer California road trip and driving from Joshua Tree to Death Valley (or the reverse of Death Valley to Joshua Tree), don't be in a hurry because you there are some cool sights to see along the way.
This article is organized south to north, starting in Joshua Tree, then road tripping to Death Valley. Of course, you can easily do the reverse. You'll get specific routing ideas, tips for when to visit the area, top things to do in both national parks (and other key stops) and some suggestions for where to go after visiting Death Valley.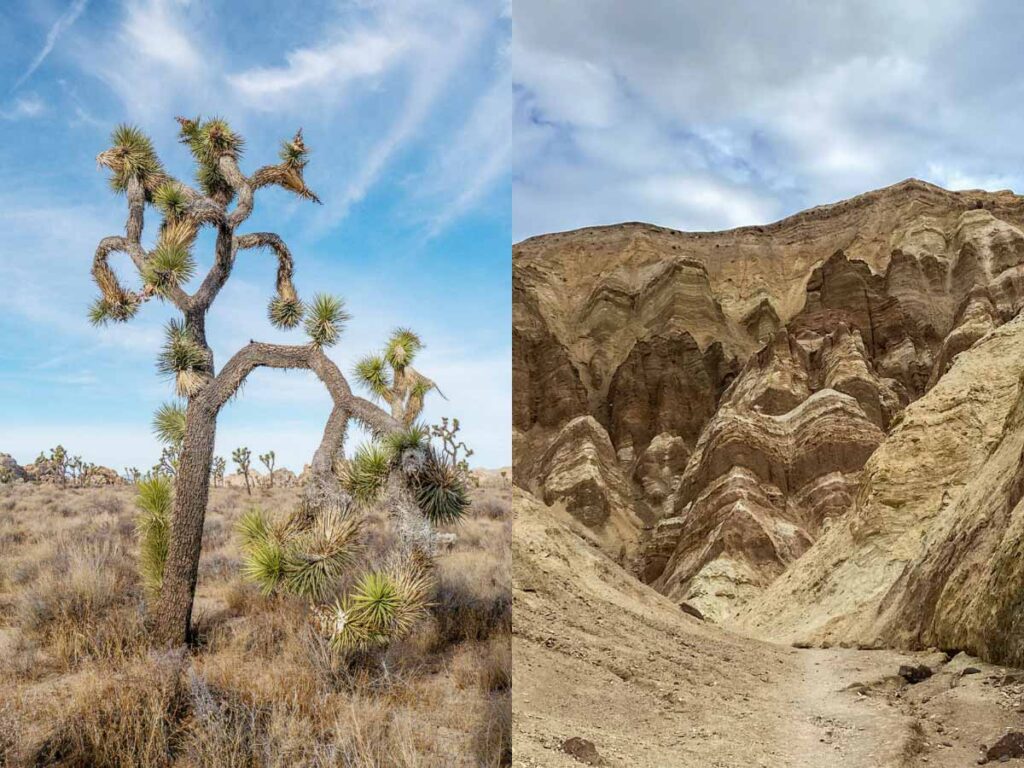 (This article contains affiliate links. This means that if you choose to purchase, I'll make a small commission.)
When to Visit Joshua Tree & Death Valley
For warm days and cool nights: March-April and October-November have great weather for both Death Valley and Joshua Tree. Average highs are are 80-90 and lows are 55-65. April is the best time for wildflower season.
For fewer crowds: If you have a flexible schedule and not a lot of family holiday obligations, the weeks between Thanksgiving and Christmas are very quiet for both parks. January is also a quiet month for visitation, with half of what April gets.
High summer is a bad time to visit because the temperatures often exceed 115′ degrees and it will be too hot to do anything.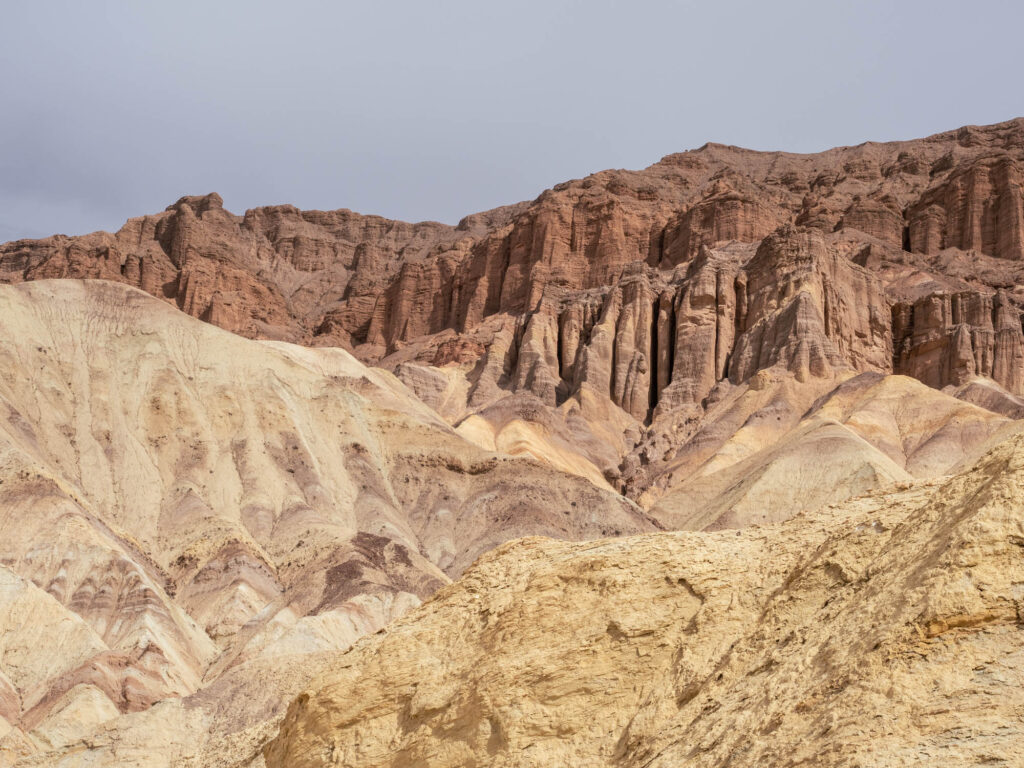 Tips for Visiting Both National Parks
Our general advice for both parks is that you need to be well-prepared and self-sufficient. Drive in with a full tank of gas and bring your own supply of printed maps, food/lunch and lots of water.
Is there Cell Service in Death Valley and Joshua Tree?
Both parks have very poor cell service. Your service provider may tempt you with a bar or two, but don't plan on consistent service– certainly not in the more remote areas in the parks. Print our guides and cache your Google maps before you go.
What Kinds of Services do the Parks Offer?
Joshua Tree National Park has a visitor center, campgrounds, restrooms and picnic areas. But you will not find cafes, water or gas inside the park, so stock up before you head in.
Death Valley covers a huge geographic area. But even then, most of their services are clustered in the center of the park around Furnace Creek and Stovepipe Wells. The main visitor center is in Furnace Creek. There are campgrounds and bathrooms scattered throughout the park. There are hotels, restaurants and gas at Furnace Creek and Stovepipe Wells.
Getting Groceries in Joshua Tree or Death Valley
If you are camping or want to stock your cooler with lunch and drink items, it's best to do it before you leave Joshua Tree. There is a large Vons store in Yucca Valley, which is just west of Joshua Tree town. Otherwise, you'll just find very small markets and gas station food for the rest of the trip. There is a small market in Furnace Creek in Death Valley, but their selection is limited and expensive.
How to Get to Joshua Tree
The closest airport to Joshua Tree is in Palm Springs, which is 40 miles from Joshua Tree town. However, for some people, it's easier to fly into Los Angeles and rent a car. LAX is 143 miles from Joshua Tree.
How to Get to Death Valley
If you are starting in Death Valley and going south, the nearest airport to Death Valley is actually in Las Vegas, which is 120 miles and 2 hours away. If you are driving there from LA (and then heading south), plan for 272 miles and 5.5 hours. If you are road tripping from San Francisco, use our SF to Death Valley guide. This routing has four scenic drive options that are all roughly 450 miles and 8 hours of solid drive time.
Learn Before You Go
Check out our article on fun facts about Joshua Tree, it shares info about how the Joshua Tree isn't really a tree, how it got such a biblical name and how an enterprising but cranky miner got away with murder. Our fun facts about Death Valley will help you learn how how the pioneers were saved by a 1-eyed donky and how Scotty's Castle didn't really belong to Scotty.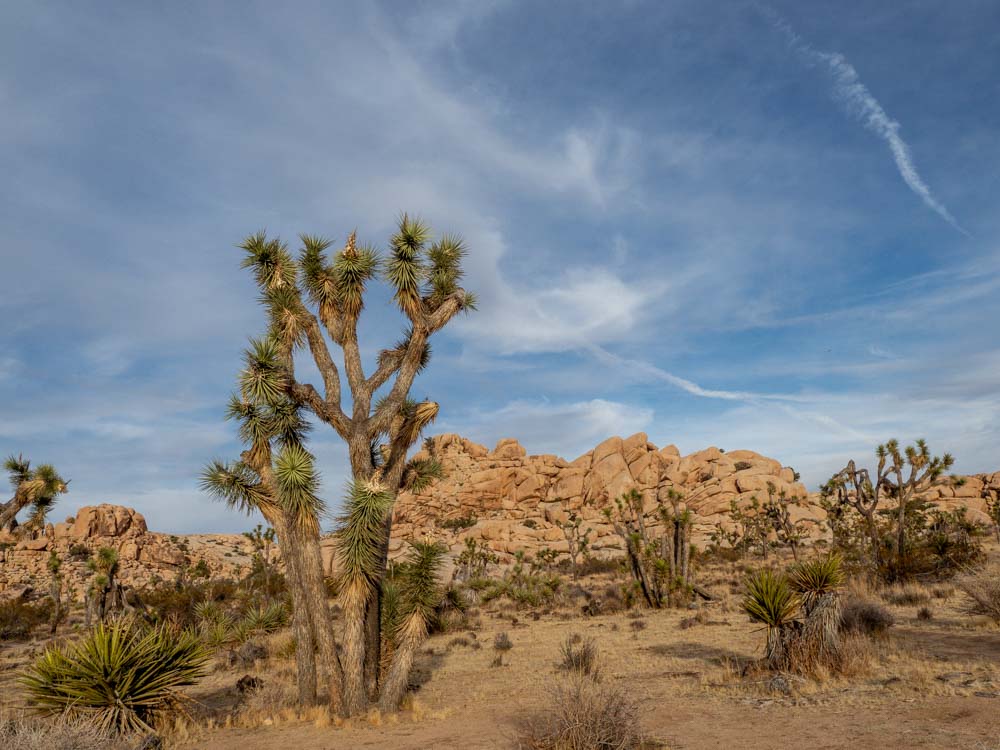 Suggested Routing from Joshua Tree to Death Valley (and Beyond)
We are giving you specific routing instructions here because if you simply Google map the routing, it will take you the fastest way, not the most scenic way. Google even suggests skirting Joshua Tree National park…which is beside the point!
From Palm Springs through Joshua Tree: Start in Palm Springs >> take I-10 east, then north on Cottonwood Springs road into Joshua Tree >> then Park Road through the park to Joshua Tree Town.
From Joshua Tree to Death Valley via Mohave Reserve: From Joshua Tree Town >> Take 29 Palms Highway east >> then Amboy road northeast to Amboy >> then Kelbaker road north through the Mohave Reserve to Baker >> then Highway 127 through Shoshone to Death Valley Junction >> then Highway 190 to Furnace Creek.
Alternatively, just after Shoshone, you can also take Highway 178 west to Badwater Basin road >> north to Furnace Creek. This route is longer but quite scenic.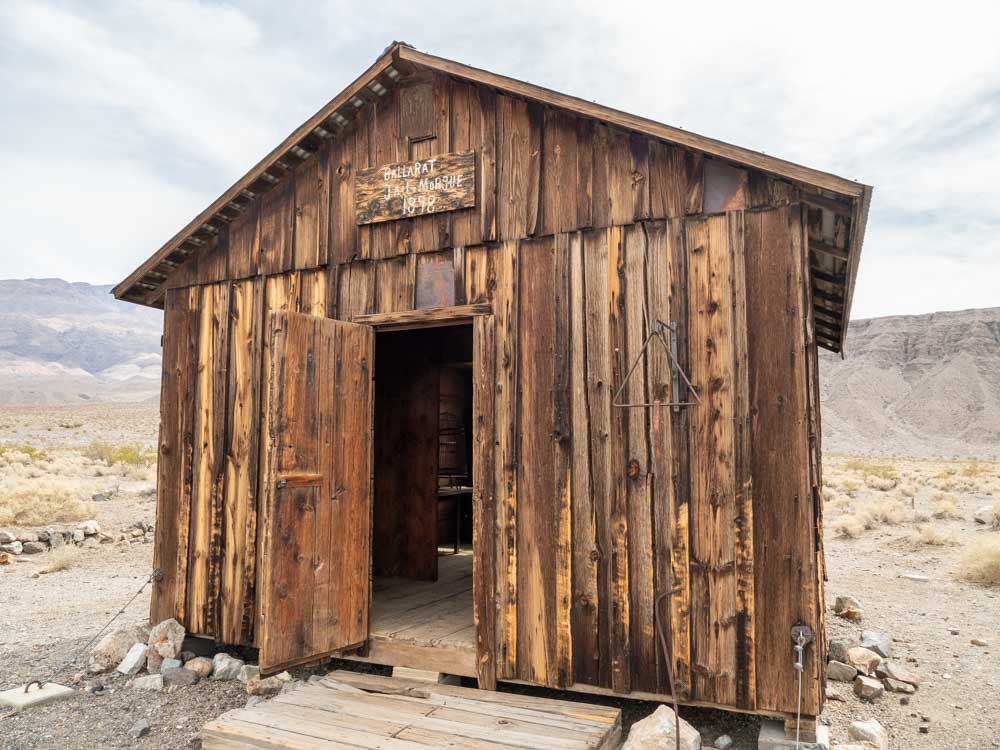 Three ideas for where to go after Death Valley
If this is part of a larger California Road trip, we have 3 ideas for you on where to head next.
If you are going back to LA: Exit Death Valley on west 190 and head south on Trona/Wildrose Road toward Ridgecrest. This will take you past Ballarat Ghost town. If you have a car with some clearance, hit up the Trona Pinnacles. Once on Highway 14 south, you can also stop at Red Rock Canyon Recreation area, which is like a little slice of Southern Utah.
If you are going to Yosemite or Sequioia National Parks: Do the above, but once you are in Ridgecrest, take Highway 178 directly east through the Kern River Canyon. This lovely narrow canyon goes past Lake Isabella and spits out in Bakersfield. From there, head north on Highway 99.
If you are doing the Eastern Sierras and Lake Tahoe: We have a whole extended itinerary for Highway 395, which includes stops in Lone Pine, Bishop, Convict Lake and Bodie Ghost town. It's particularly lovely in the fall. We also have advice on the scenic Lake Tahoe Drive and Tahoe breweries.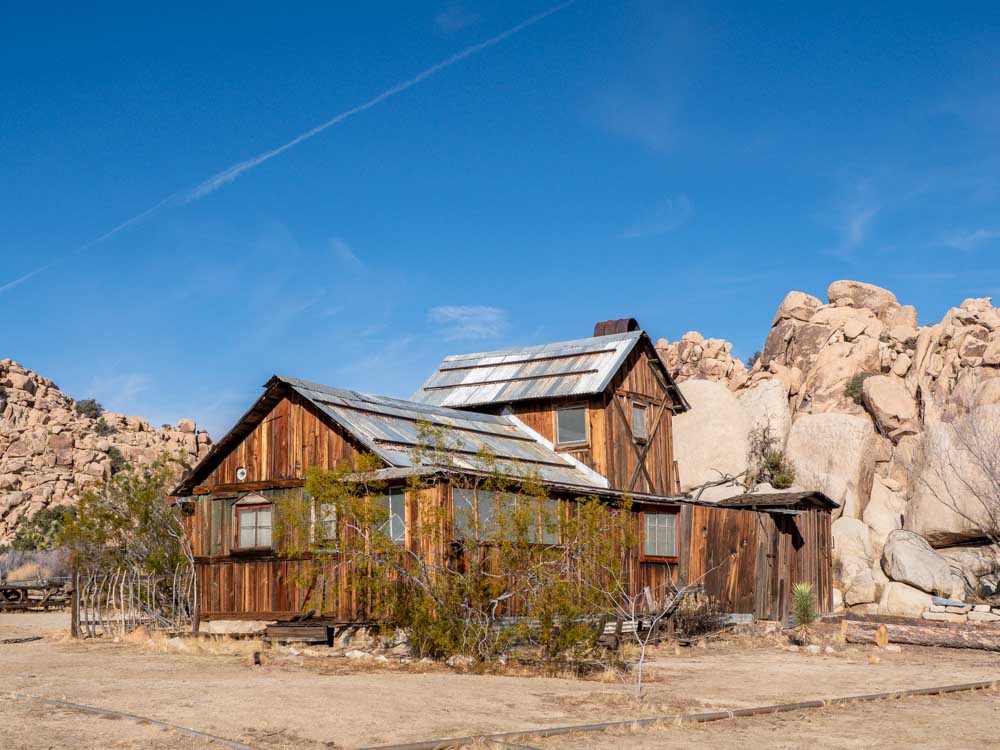 Top Stops in Joshua Tree
Start with our complete guide for JT, how to spend a day in Joshua Tree National Park and a whole article on Joshua Tree hikes. Be sure to leave some time for visiting the quirky art installations and sculpture gardens in Joshua Tree town. Here are the highlights:
Key's Ranch Tour
The Keys Ranch tour is the best kept secret in the park. The Keys family were the only ones to make a sustainable living in this unforgiving landscape.The family was remarkably resourceful, running cattle, designing their own dam and growing crops. They ran their own mine for years and later earned income separating ore for others using a machine of Keys own making.
The tour takes 1.5 hours. You can only get onto the ranch on a ranger-led tour and they only offer 25 tickets per day. So buy the tickets well in advance.
Hidden Valley Loop
Hidden Valley is just down the road from Keys Ranch. It was once part of a cattle rustler's hideout, and is now a popular picnic spot and rock-climbing area. You can walk the 1-mile loop trail and also wander the campground area, watching the rock climbers defy gravity.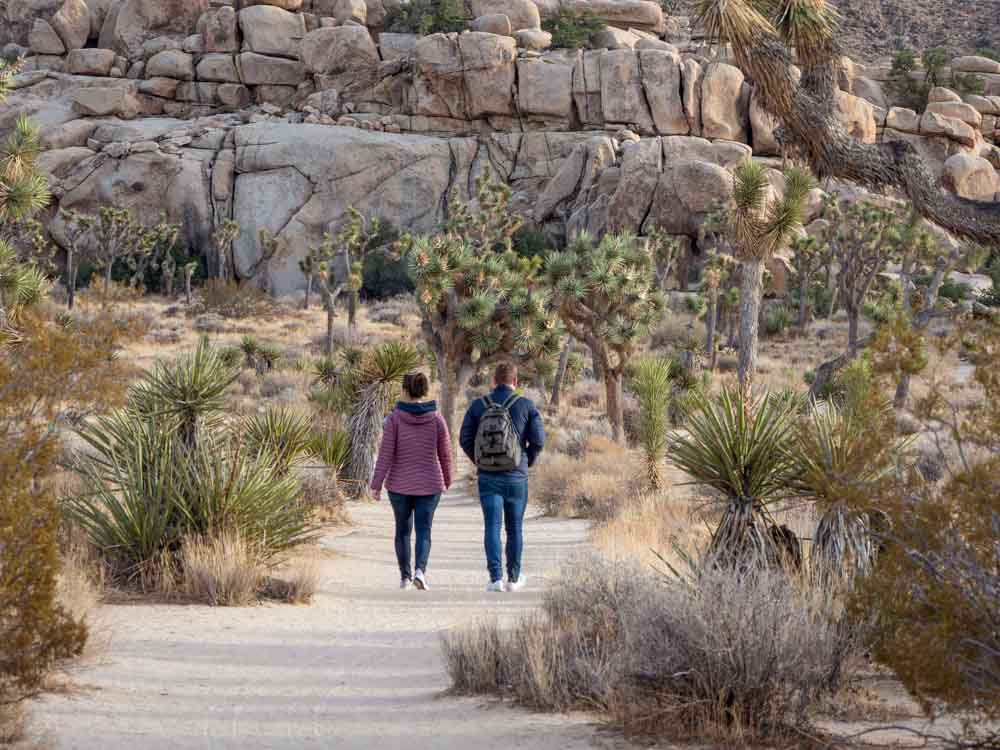 Barker Dam Loop and/or Wall Street Mill
During the late 1800's and early 1900's, cattle ranching was an important part of the region's economic activity. The dam was built to provide year-round water for the cattle. There is a 1.3 mile interpretive loop that has nature markers and a small spur leading to Native American cave paintings.
Right next to Barker Dam is the 2.4 mile Wall Street Mill trial. The mill was originally owned by Bill Keys and the trail has informative signage, old mill equipment and Joshua Tree's lovely landscape along the way.
Lost Horse Mine Hike
During its heyday from 1895-1905, this mine produced an astonishing amount of precious metal, netting 10,000 ounces of gold and 16,000 ounces of silver. This 6.8 mile hike will give you a big dose of Joshua Tree's mining history in addition to the lovely natural landscape views.
Queen Valley Road and Desert Queen Mine Roads
The dirt road skirts the busy section of paved road between Barker Dam and Skull Rock. It's well graded and is fine for a passenger car, although I wouldn't do it if the park has been experiencing one of its infrequent rains.
There are a number of well marked trails and dirt road spurs that lead off the road, so it's a nice spot to get out and stretch your legs without having to fight for space with the other cars. Keep an eye out for the signage for the Desert Queen Mine overlook, which is a short .2 mile trail.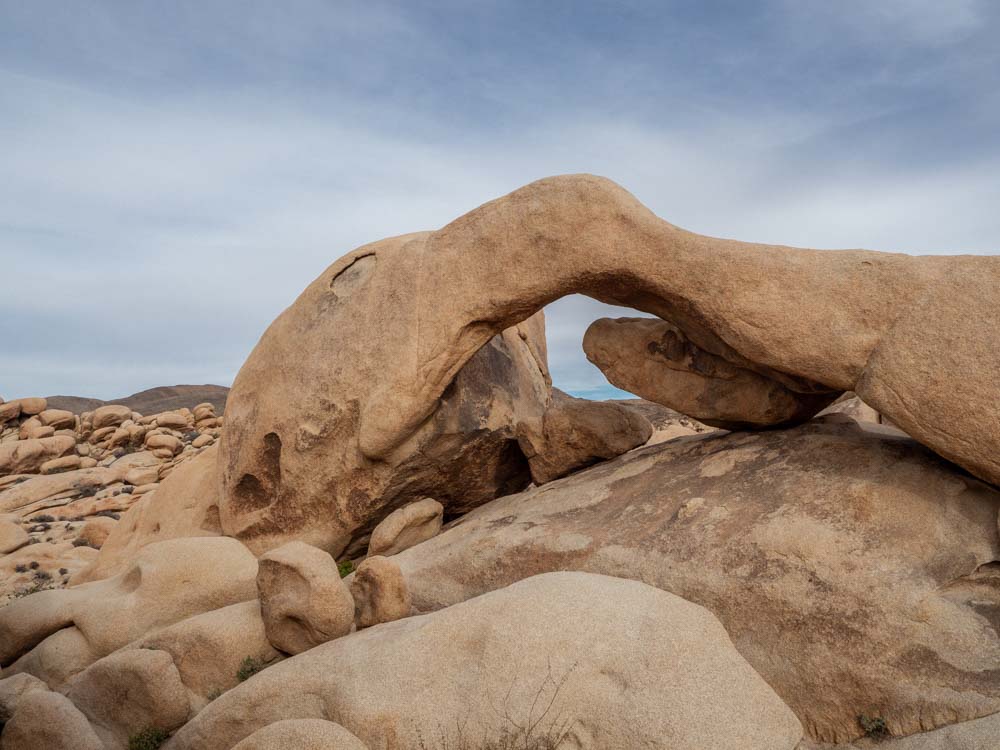 Arch Rock Trail
The Arch Rock loop is an un-mapped, but well sign-posted trail. It does a short circuit around the White Tank campground. To find the trailhead, park at the Twin Tanks parking lot and then follow the signs across the road. Then, take an immediate right (which isn't well marked) and head toward the rock cluster.
Skull Rock
This creepy bit of geology is the result of relentless drips of rain, carving your next Halloween mask into the granite. In addition to scaring your children, there's also a 1.4 mile nature trail.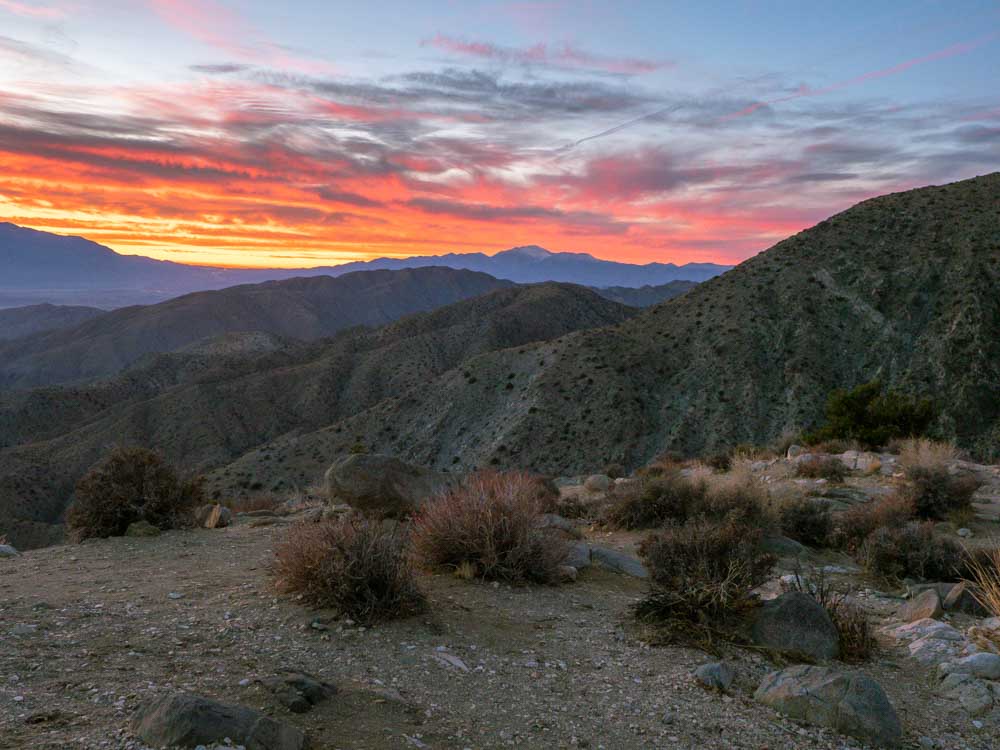 Sunset at Keys View
Actually, this is one of the most popular things to do in Joshua Tree and the views are great all day. The overlook offers a wide-angle view of the Coachella Valley and on a clear day, it feels like you could reach out and touch LA.
But, trust me, you'll want clouds instead. At sunset, the setting sun sparks up the clouds in a flaming light show. To see the best of it, get there about 20 minutes before sunset and stay about 30 minutes after the sun has gone down behind the mountains.
Where to Stay in Joshua Tree
The park itself has 494 camp spots. Most of them require advance reservations so check our JT campground guide for more information.
If you like offbeat lodgings, check out our guides for glamping and cabin rentals near Joshua Tree.
Nearby 29 Palms and Joshua Tree have a range of accommodation from inexpensive motels to nice lodges. If you like kitsch, you can score a cool hotel like the western-themed Joshua Tree Ranch House or Pioneertown Motel.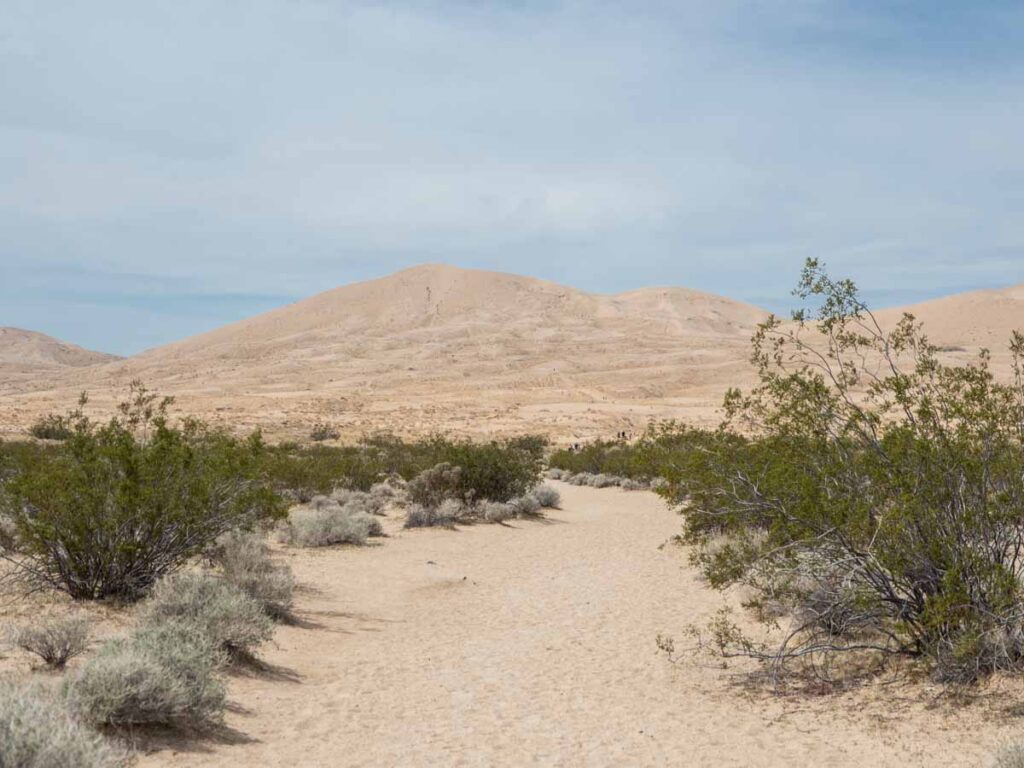 Top Stops Between Joshua Tree & Death Valley
The distance between Joshua Tree and Death Valley is 252 miles. If you haul it, it will take about 4.5 hours to get from Joshua tree to Death Valley. But don't be in too much of a hurry because there are a few cool stops along the way.
The Amboy Crater
This BLM landmark is one of the youngest volcanic fields in the US. It's an ancient cinder cone and it's such a moonscape that NASA used the area to test the Mars Rover. There is a 4 mile out and back hike to the crater and the parking area has explanatory signage and shaded picnic tables.
Kelso Dunes
At over 600 feet tall, the Kelso Dunes are among the tallest in the US. The dunes are home to some rare plant and insect species that aren't found anywhere else. You can take a 3 mile round trip to the top of the dunes, although it's a pretty strenuous hike. Or you can simply hike around bottom of the dunes.
Tecopa's World Tallest Thermometer
Because of course in some of the US's hottest territory, you'd have a 135 foot tall thermometer. This goofy roadside attraction is definately worth a stop. While you are in town, this is a good spot to top up your gas.
China Ranch Date Farm
China Ranch is a small family farm just south of Tecopa. It's worth the slight detour if you are the kind of person who like family farms, farmstands and locally made goods. They are open 9-5 every day.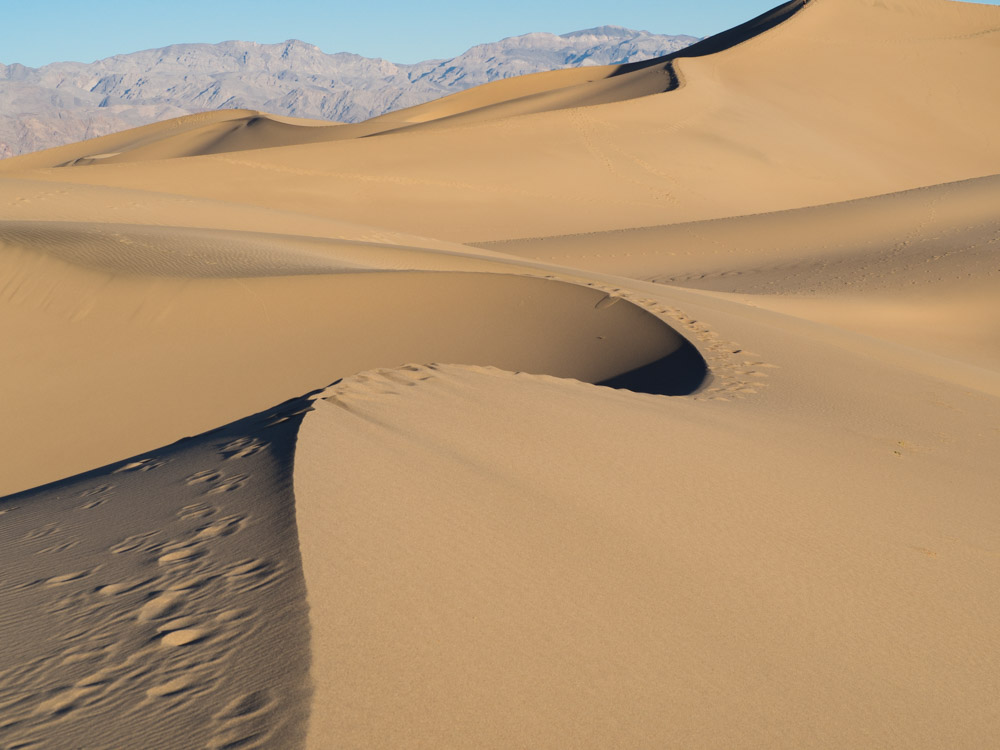 Top Stops in Death Valley
We have a full guide for Death Valley that will help you plan your time there. It includes 1-day and 2-day itineraries, a full campground guide and top things to do. Here are some highlights:
Mesquite Dunes
You can get to the Mesquite dunes with a fairly easy 15 minute drive from Stovepipe Wells. Then hike into the dunes for 20-30 minutes and simply explore at random. It's best to go at sunrise, because the warm light against the orange sand is a beautiful wake-up call.
Badwater Basin
Badwater basin is the vast drainage aquifer for Death Valley, covering nearly 200 square miles of daunting salt flats. At -282 feet, it's the lowest spot in the United States. It's called "badwater" because a surveyor found that his mule wouldn't drink the extremely salty water. You can visit anytime of day, but the valley is particularly beautiful at dusk.
The Golden Canyon Gower Gulch Hike
The Golden Canyon trail in Death Valley is popular…and for good reason. While hiking you enter an ancient portal into Death Valley's unique geology. You leave the flats of Badwater Basin behind and enter the canyon's narrow runway, flanked by yellow and red rock formations and intriguing tentacles along Golden Canyon's side shoots. Here's our full guide for hiking Golden Canyon and Gower Gulch.
If you have extra time, we also recommend hiking the slot canyons in Sidewinder Canyon, which is also off of Badwater Basin road.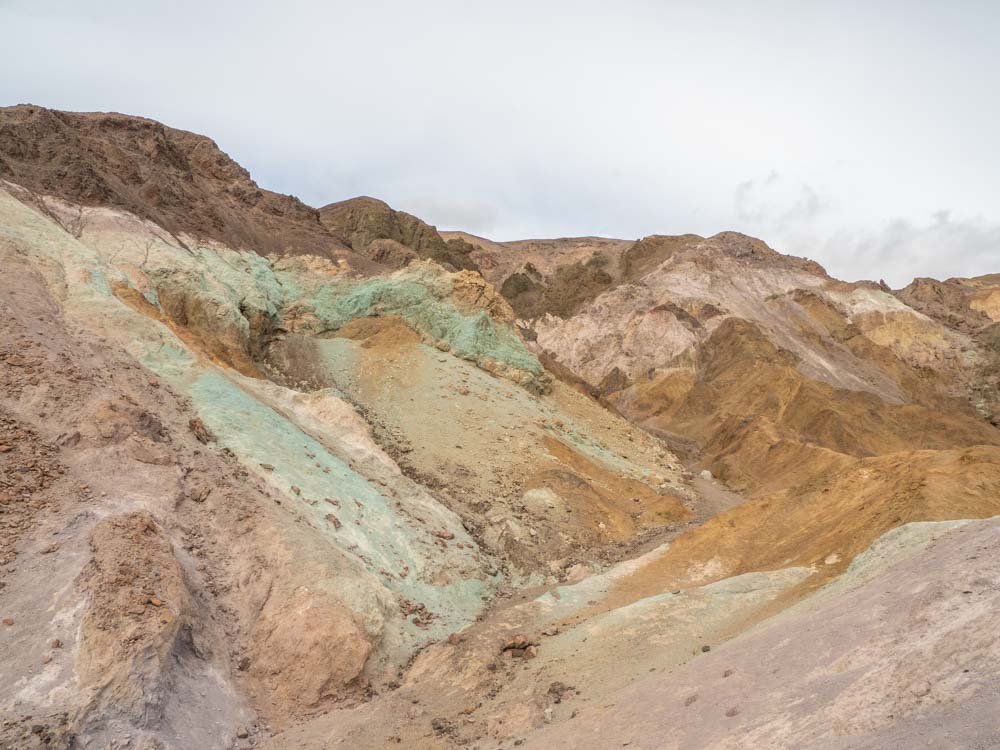 Artist's Palette Drive
This scenic drive is located in the Badwater Basin, so you can add it on before or after doing the Golden Canyon hike or Badwater Basin viewpoint. The Artist's Palette is a one-way, nine mile drive taking you through an amazing geologic rainbow. You'll be rewarded if you get out of the car and hike closer to these multi-hued rock formations.
Zabriskie Point at Dawn
Zabriskie Point is another great spot for the pre-dawn photo shoots. The point has generous folds of sandstone in the foreground with the Panamint Mountains as a backdrop. Dawn is pretty enough with the morning sun lighting up the Panamint mountains in pink, but things get really interesting about 20 minutes later when the sun rises a bit more and starts throwing shadows onto the sandstone canyon below.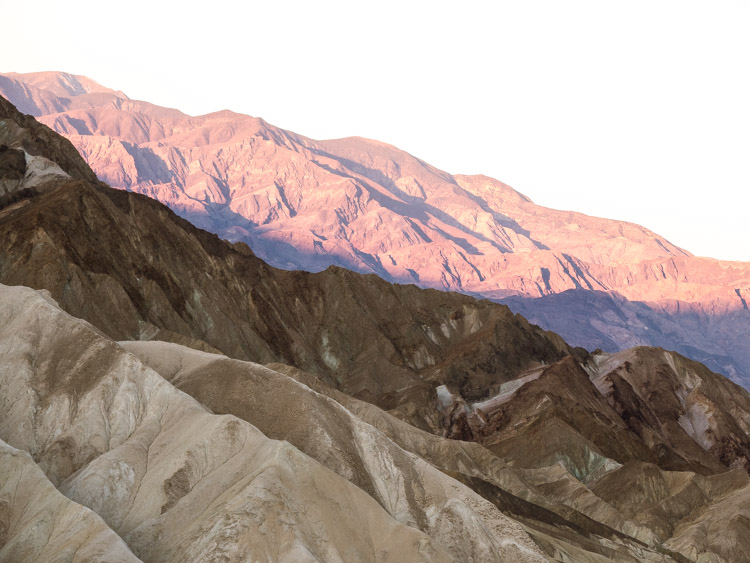 Ryolite Ghost Town
Technically, Rhyolite is just outside of the park boundary. But since mining was such an important part of Death Valley's history, it's worth visiting. Rhyolite's crumbling infrastructure offers a great lesson on California's unpredictable mining history. The town went from boom to bust in just 20 short years. On site, you can poke around the building ruins, old rail cars and a cool building make of soda bottles. You should also visit the nearby Goldwell Sculpture garden. Here's our full guide to Rhyolite.
If you like dusty and abandoned spots, check out this guide to California ghost towns. It includes a few others that are near Death Valley.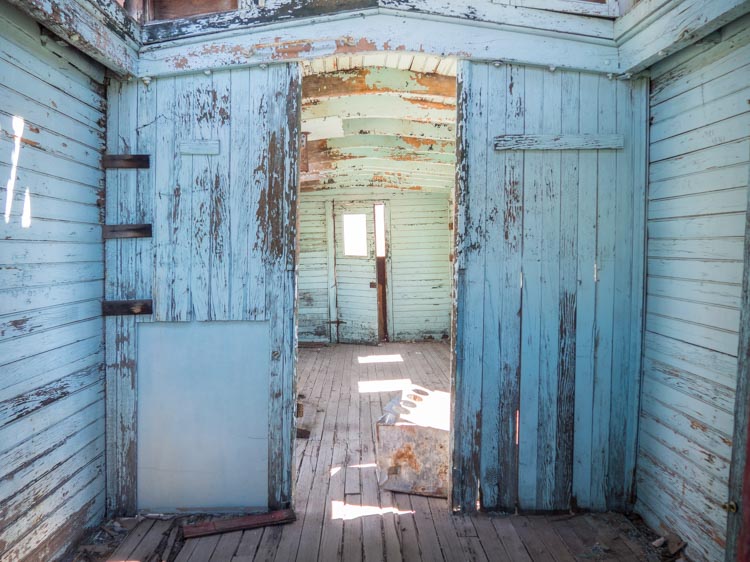 Dante's View
Dante's View is 25 miles southeast of Furnace Creek. At a height of 5,400 feet, you'll get wide angle panoramic views of the Badwater Basin and the Panamint mountain range.
The other cool thing about Dante's View is that it's the same view that Luke, Obi Wan, C3PO and R2D2 had when they were headed into Mos Eisley. And if you are a Star Wars nerd, the Twenty Mule Team Drive, Golden Canyon, Desolation Canyon, Mesquite Dunes and Artist's Drive were also filming locations.
May the force be with you.
Where to Stay in Death Valley
There are 12 private and public campgrounds in Death Valley, dispersed across the 5,200 square miles of the National Park. Use our guide to all Death Valley campgrounds and find the right option for you.
If you prefer a hotel stay, there are three located within the park. They range in quality and, frankly, none are a fabulous deal for the money. But if you aren't camping, it's worth staying at one of these three places because the nearest lodging outside of the park is 60 miles away. However, book early because during high season, these lodgings fill up fast.
Our Death Valley hotel guide also offers some practical and budget-friendly places to stay outside of the park.
The Inn at Death Valley is a fancy historic inn, with lovely grounds and a nice restaurant. Check reviews and book with Booking.com.
The Ranch at Death Valley is a centrally located family-friendly place in Furnace Creek. Check reviews and book with Booking.com.
The Stovepipe Wells Village Hotel is a perfectly serviceable motel. They don't have a lot of amenities, but there is a restaurant and small store onsite. Check reviews on Trip Advisor.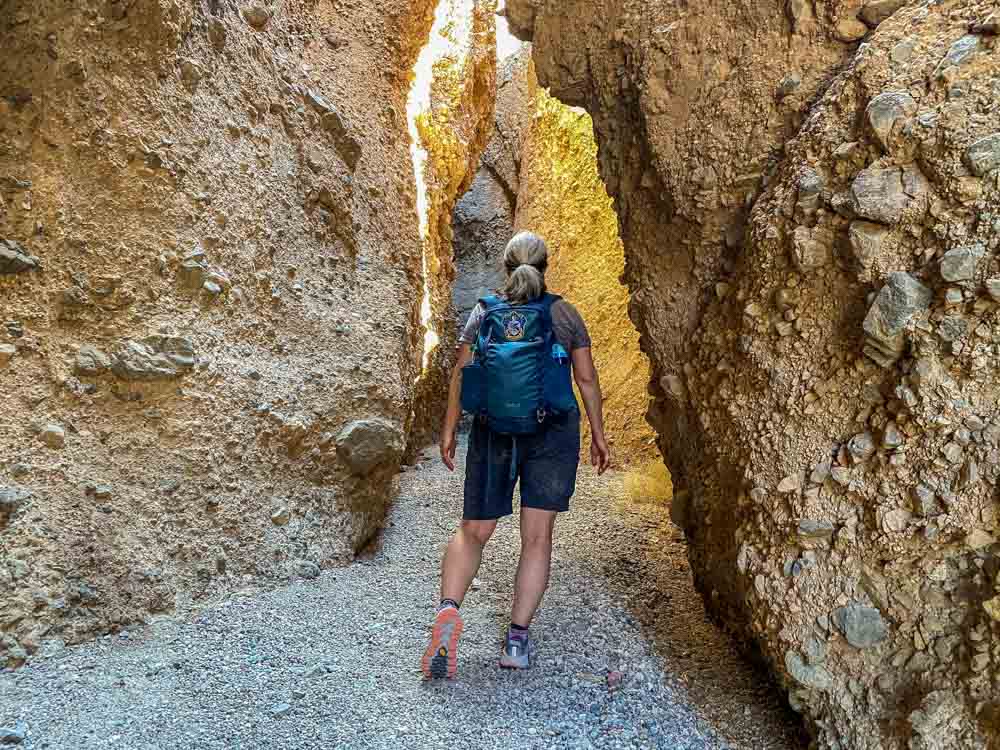 Prepare for your Death Valley, Joshua Tree Drive
As we mentioned above, both parks have rotten cell reception. This is one of those times when an old school map will serve you well. We love the Benchmark California Road Atlas. It has a lot of detail, showing state parks and campsites as well as both paved and dirt roads.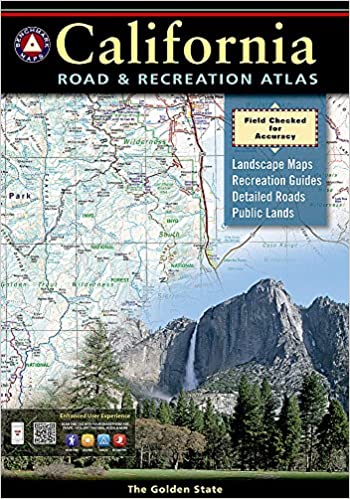 If this is part of a larger road trip, you'll likely be visiting some California state parks. Look into getting the annual California State Parks Poppy Pass (which is $125 and good at almost all CA state parks). But California also has 11 other discounted passes, so use our guide to find a park pass that is right for you.
You should also look into a National Parks annual pass ($80). In addition to the parks, it also works in National Forest fee areas and usually allows you to score a discount on campgrounds. And if you are doing Joshua Tree, Death Valley and one other (like Yosemite), the pass will pay for itself.
If you need a rental car, find your best pricing by comparing all of the different rental car providers on Rentalcars.com.
In addition to topping up your fluids and checking your tires, you may also want to bring a roadside safely kit which includes things like a warning triangle, jumper cables and the like. These kits also make a thoughtful, if tragically practical, Christmas or birthday gift. You should also pack a plug-in cooler, which uses your car's 12 volt plug to keep lunch items and drinks cold.
Share this Joshua Tree to Death Valley drive on Pinterest: