It's spring and California's Central Valley is snowing almond blossoms. California has over 1.5 million acres of almond trees and during February and March, all of those trees explode into spring with fragrant, lovely blossoms. It's totally worth taking a day trip out to the Central Valley to experience the California almond blossoms for yourself.
With the advice of a friend and a little help from Visit Modesto's almond blossom map, we headed out in search of some springtime inspiration. This quick day trip from the Bay Area was so worth it. The drive was lovely, the blossoms smelled amazing and it was a great excuse to get out of the house.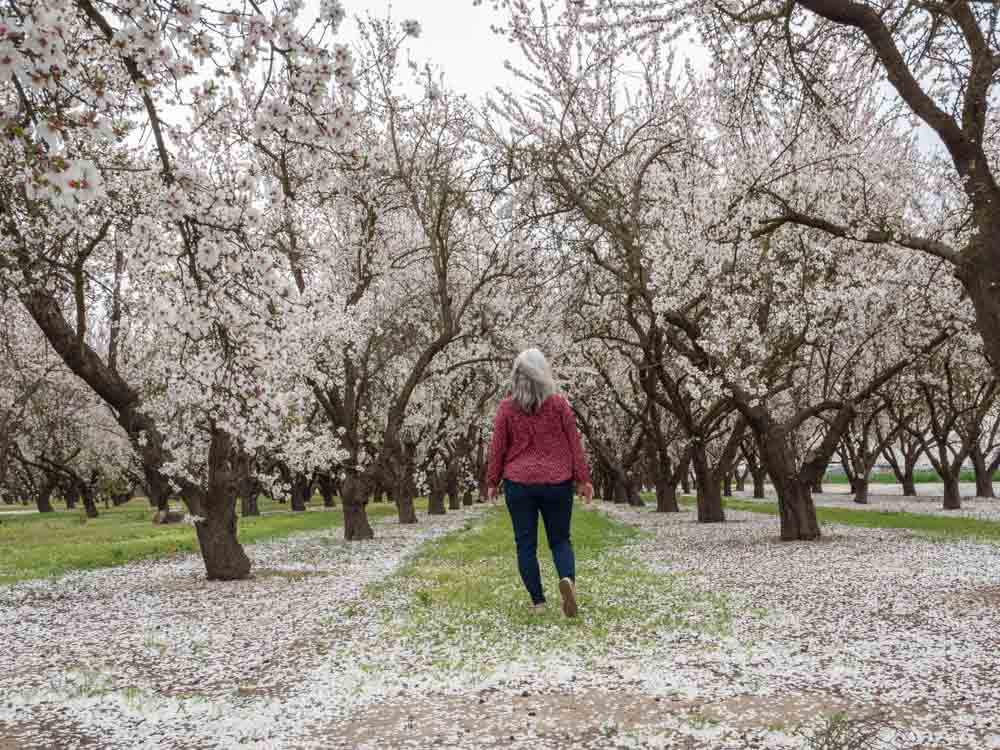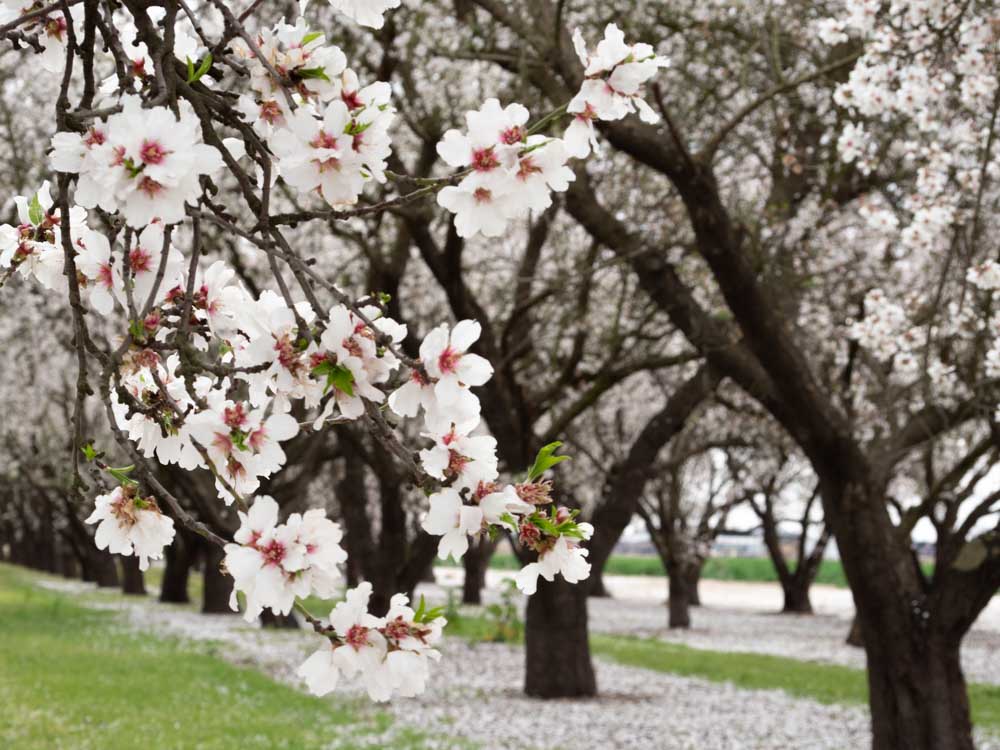 What follows are some practical suggestions for how to see California's almond blooms, including where to find them, etiquette and some fun facts about almonds.
The Modesto Almond Route
Modesto's nut orchards have hundreds of thousands of acres planted in almonds, so it's a great place to see a high concentration of blooms. Here area a few good locations for spotting them:
Along Hwy 132 between I5/590 and Hwy 99. This road is busy, but it has wide pull-outs and lots of side roads that you can wander down.
In a square bordering Hwy 132, Beckwith road to the north, N. Hart Road to the east and N. Dakota Road to the west. This is west of downtown Modesto and Hwy 99.The quadrant is packed full of almond groves. The roads are pretty quiet and there are plenty of wide pullouts.
Along the Hwy 132 and Hwy 120 scenic route. This loop goes west of Modesto to La Grange, then north to Hwy 120, returning west via East Oakdale. There are fewer pullouts on this section, so get your selfies in one of the above locations. However, there are lots of groves and some other amazing pastoral scenery and historic sites along the route.
In addition to the almond orchards, the Modesto area has a lot of other family businesses producing delish food. Make a point of stopping into Sciabica's for olive oil (just west of Modesto), the Robert's Ferry Country Store for nuts, popcorn and milkshakes (in Robert's Ferry), the River's Edge Restaurant for locally grown beef burgers (in Knights Ferry) and the Oakdale cheese shop for local gouda (East Oakdale).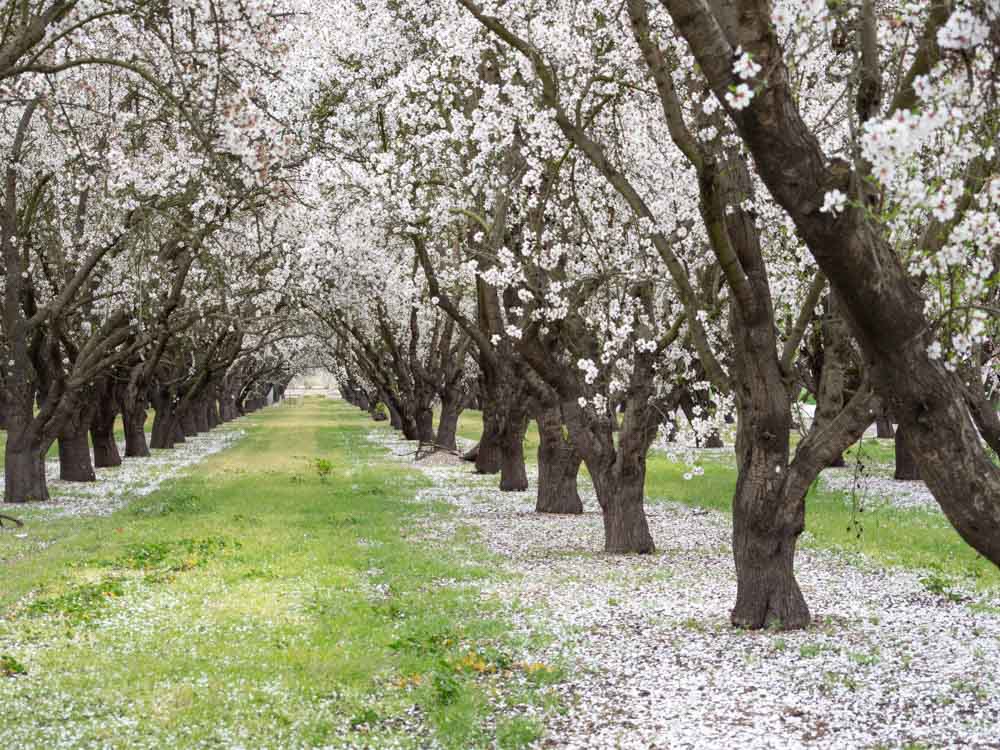 Etiquette for Visiting the California Almond Blossoms
All of the orchards are on private property. It's not cool to just get out of your car and tromp around the interior of the orchard. If you don't see someone to ask permission, then keep to the edges of the orchard.
Be careful to avoid any irrigation equipment.
Be careful not to disturb the white bee boxes. They are often at the end of a row of trees. The bees are critical to keeping the almond blooms healthy, so let them do their work.
Where Else Can You Find Almond Blossoms in California?
1. From Woodland south and west to Dixon.
2. Along the Fresno County Blossom trail, which is southeast of the city. Map here.
3. Northwest of Bakersfield along Hwy 43.
What is the Best Time of Year for Almond Blossoms
The blooms don't live by the clock. But they generally start as early as the second week of February and can go into March.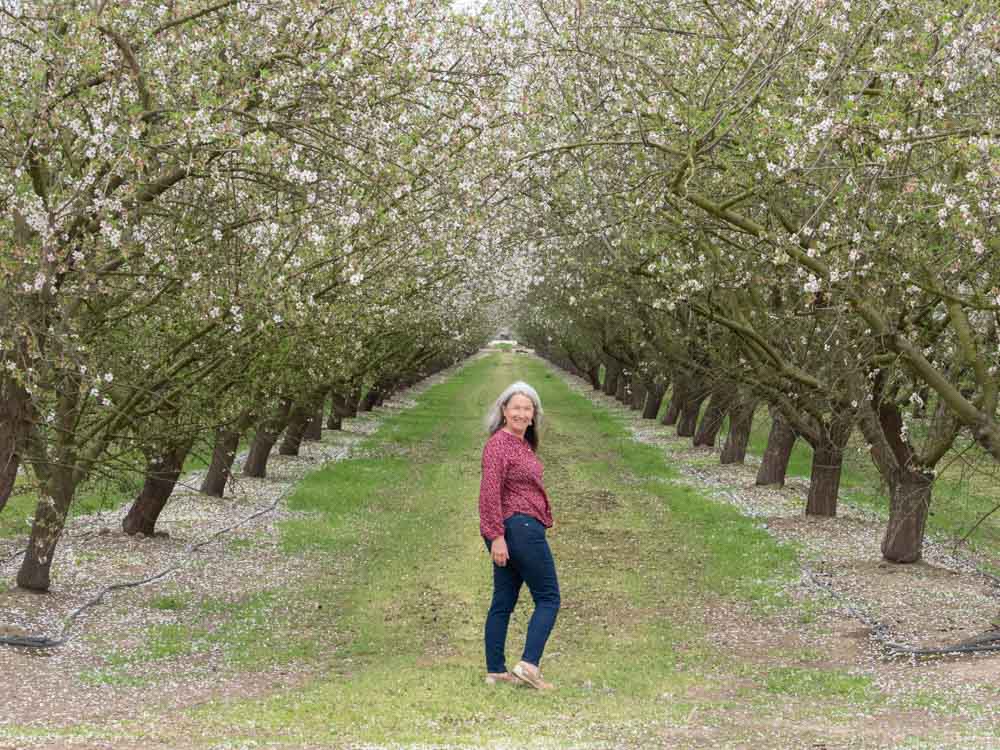 5 Fun Facts About California Almonds
California produces 80% of the world's almonds.
The trees need cool winters and hot summers to grow. Which is why California's Mediterranean climate is so perfect.
An almond tree can take from 5-12 years to start producing nuts. A mature tree can produce almonds for up to 25 years.
We may eat the just the nuts, but the hulls are useful too. They can be used for livestock feed, animal bedding or burned as biomass fuel.
Almond milk isn't some hipster trend. They were using nut milks as early as medieval Europe.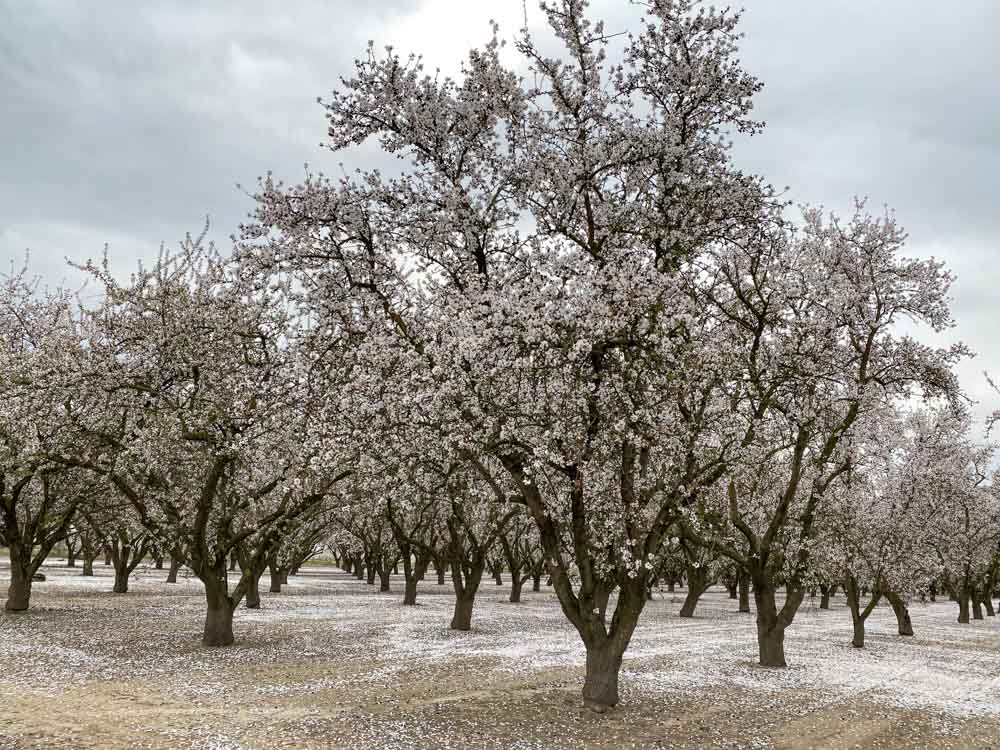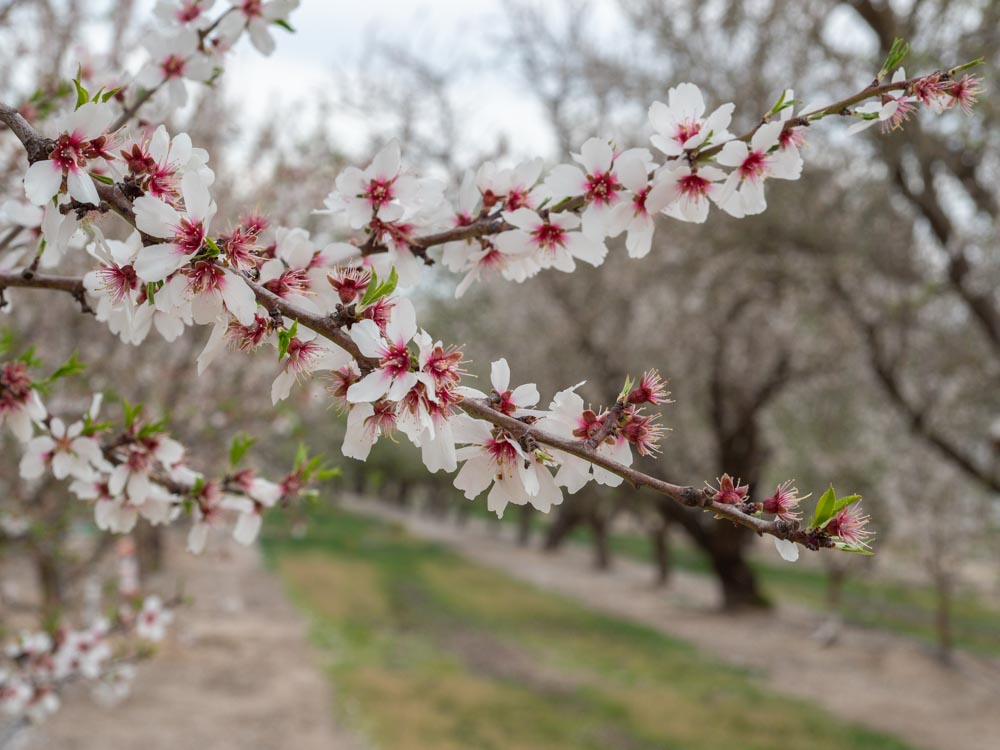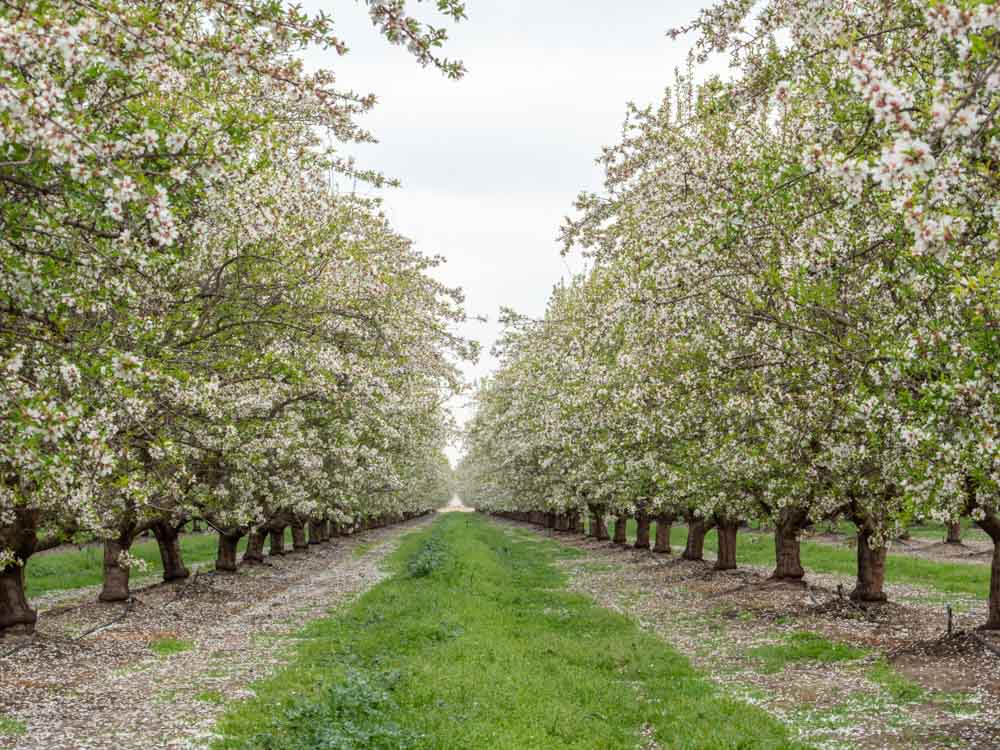 More Seasonal Things to do in California
Share the blooms with your friends on Pinterest:
See our almond blooms web story.