Joshua Tree's basic motels and RV parks are functional and affordable, but they aren't anything to write home about. However, these Joshua Tree cabin rentals are another matter entirely. This article spotlights a baker's dozen of Joshua Tree cabins for rent that are cute and quirky while keeping you close to the area's amazing landscape.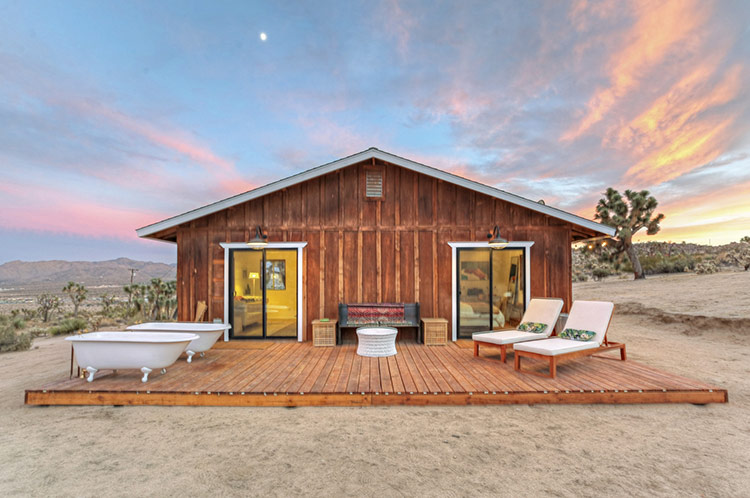 The town of Joshua Tree has a decidedly artsy and edgy vibe. The vibe arrived in the area during the late 1960's. Over the next few decades, galleries and studios spread along the highway 62 corridor, ensuring that the arts culture became firmly planted into the sandy soil of the Basin.
There is some pretty quirky art in this desert. For instance, this article on things to do in Joshua Tree town features a crochet museum, an outdoor sculpture garden that uses materials like broken toilets, and a prisoner of war cabin from an alternative dimension. Please do those things when you visit Joshua Tree, they are all close to town and a feast for your eyeballs.
This artsy vibe has also taken root in the cabins for rent in Joshua Tree. They feature lovely interior design, quirky architecture and cool outdoor spaces. But first, a few tips for how to rent in Joshua Tree.
If you want to search beyond cabins and tiny homes, then also navigate to this listing of 13 retro and romantic Joshua Tree glamping listings.
Check out these guides for how to do Joshua Tree in one day and also our hiking trails guide.
Are There Cabins in Joshua Tree National Park?
No. Joshua Tree National Park has very limited services. They do have 500 campsites in the park, but no cabins, yurts or other structures for rent. So you'll want to book a cabin outside the park in Joshua Tree or Yucca Valley. Both towns are very close to the park's north entrance.
3 Tips for Booking a Joshua Tree Cabin Rental
1. Pay attention to the ratio of suggested guests to beds/bedrooms. Many Airbnb listings (including some in this article) count pull-out couches and blow-up mattresses as a bed. This is fine for your seven year old, but maybe not for grandma.
2. Joshua Tree summer temperatures are volcanic. If you are going during that time, check the listings for air conditioners, swamp coolers and cowboy pools.
3. Many of the listings are on dirt roads. Don't worry, the main dirt roads have road signs and can be navigated with a passenger car. However, Google maps gets confused in this area and will sometimes want to send you down what is really more of a side road with loose sand. So, pay careful attention to the driving directions that your host gives you.
Figure out what to do in Joshua Tree National park and also know before you go with these Joshua Tree fun facts.
If you are flying rather than driving to Joshua Tree, check out our guide for the closest and most convenient airports to Joshua Tree. If you are doing a larger road trip, use our guide to add Death Valley onto your trip.
(This article contains affiliate links. This means that if you choose to purchase, I'll make a small commission.)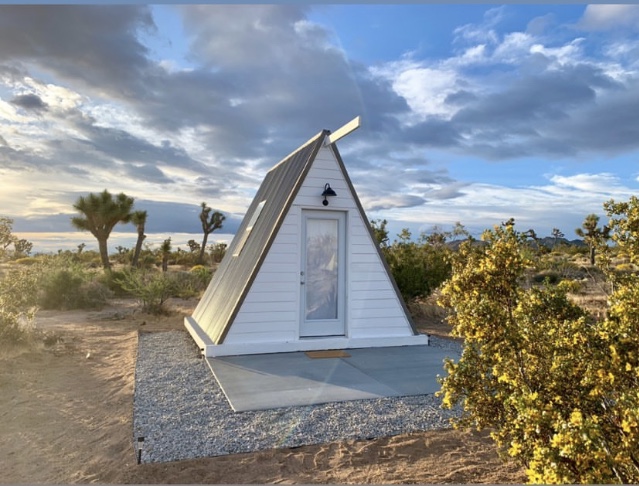 1. A-Frames, Yurts and Little Metal Huts
Sleeps: 2 guests, 1 bed
Cost: $105/night
This compound in Yucca Valley has five tiny home units with a shared bath and kitchen. There's an itty bitty A-frame, three yurts and a "tin can" cabin. The compound also has a pool big enough to accommodate the guests and a hot tub. These cabins would be great for a larger group of friends who want to hang together but who also want privacy at night.
"It was beautiful, well maintained and had everything on site you'd need to have a comfortable stay. The A-frame was so cute and the sunrise was unbeatable. We enjoyed a cool night in the hot tub and a dip in the pool during the day heat"
Book it here:
2. "This is the Place" with a Steel Patina
Sleeps: 2 guests, 1 bed
Cost: $164/ni
This cozy cabin for two has curated modern and vintage elements blended to cultivate a space of rest, reflection & creative flow. It sits adjacent to the main house and has a nice patio area. It's also within walking distance to the Noah Purifoy sculpture garden (which has the toilet sculptures mentioned above).
"Such good design and so many little touches that helped us really relax and enjoy the vibe. It felt like an example of a place which was more than somewhere to stay but a chance to spend a couple days living in a vision which someone else thoughtfully built."
Book it here:
3. Mid-Century Hiking & Camping Cabin in Joshua Tree
Sleeps: 4 guests, 2 beds
Costs: $128/ni
This stylish cabin has a Mid-Century vibe with rustic wood touches, an interior fireplace, and an outside seating area with a fire pit. It's close to town but its five acres makes it feels far away.
"If you are in need of seclusion and a place to reset his home would be the perfect little escape. The stars shine brightly over the house illuminating the entire valley. I would come back anytime especially with the unique decor."
Book it here: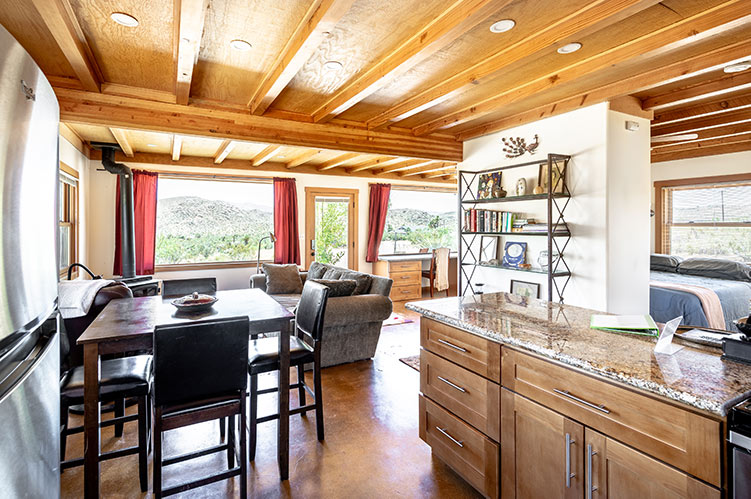 4. Desert Rock Cabin
Sleeps: 5 guests, 2 beds, 1 couch
Cost: $178
This beautiful, small home is full of character with a spectacular high desert setting on a private 5 acre property. There are big picture windows and breathtaking views. The Desert Rock Cabin borders BLM land on one side, for great hiking & exploring. There's some nice patio furniture an outdoor eating area and a XXXXL galvanized tub that serves as a cowboy dunking pool.
"The headline here is location and views– the front windows offer beautiful vistas of the desert and the soaking pool is perfectly set against a lovely hill full of cacti, rock formations, and plenty of wildlife."
Book it here:
5. Nestled Up Against the Rocks
Sleeps: 2 guests, 1 bed, 2 sofa beds
Cost: $175/ni
This modern concrete Joshua Tree Cabin feels like it's been merged into the rocky backdrop. It has a rustic Santa Fe vibe. It's situated on 5 acres that backs up to the National Park, this home is a great romantic retreat for a couple who also want some nearby hiking.
" The property is far off the beaten path and offers amazing views, nice seclusion, and wonderful sunsets and stargazing. The space is absolutely beautiful…"
Book it here:
6. Gemini House
Sleeps: 2 guests, 1 bed
Cost: $131/ni
Gemini House is a classic desert homestead cabin, gently updated with enough amenities to keep you comfortable. They have a nice covered patio (which you will want on hot days) as well as a kitchenette, hot-water outdoor shower and cowboy pool. This place isn't the Four Seasons. But then, the Four Seasons isn't located in a beautiful desert landscape with amazing stargazing. And this cabin is located just enough outside of town to offer up some pretty great stargazing.
"This quaint and remote space had everything we needed after a full days worth of hiking in Joshua Tree. The outdoor amenities were an added bonus including the outdoor shower hammock. Perfect for a night in the desert!"
Book it here: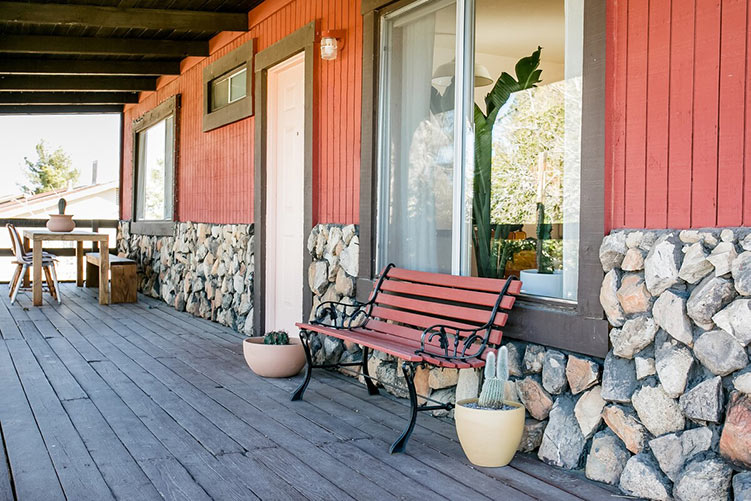 7. Mojave Desert Cabin in Joshua Tree
Sleeps: 4 guests, 2 beds, 2 bedrooms
Cost: $172/ni
This place is clean and light. The front porch is a perfect place to hang out while watching the sun set. The cabin has a full kitchen, rock fireplace, comfy furniture and a fire pit. It's located fairly close to the road that leads into the park.
"We thought it was cute on the listing but somehow was even cuter in person! The style and vibe were perfect- we honestly didn't want to leave."
Book it here:
8. Desert Hideaway
Sleeps: 4 guests, 1 bed, 1 blow up mattress
Cost: $122/ni
This place feels like a cozy family home with leather chairs, a soft couch and eat-in kitchen. It's on a very private 5 acres outside of town. It's a further away from town than most of these Joshua Tree cabins, however it's only 5 miles from Lander's Brewery, 15 minutes to Pappy and Harriet's and it's near several of Joshua Tree's goofy UFO sites (again, reference that article above, because in addition the the toilet sculptures and parallel universe, it also tells you how to find UFOs and a ghost town). This place isn't the fanciest on this list, but it's down home and it's a very good price for a family of four.
"The pictures don't do it justice! It was so cute and very clean. So many nice touches and very comfortable bed. My pup loved it, too!"
Book it here:
9. JT Cottage
Sleeps: 4 guests, 1 bed, 1 couch bed
Costs: $206/mi
This newly renovated beautiful modern chic desert cabin is the perfect place to relax and recoup. It has wood accents, a full kitchen, wood burning fireplace, two covered patios and a dining table with a view. It's close to town with easy access for groceries and eating out.
"We enjoyed such a refreshing and rejuvenating getaway to JT Cottage. The desert chic decor was so beautiful and cozy, we felt right at home straight away."
Book it here: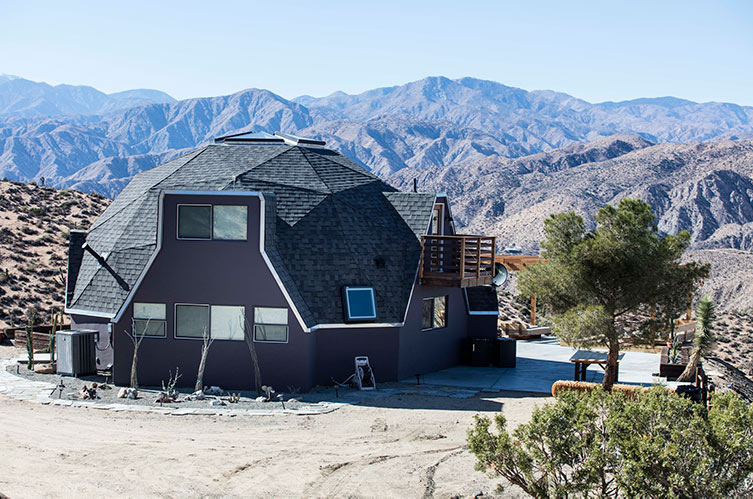 10. Hawkeye Dome
Sleeps: 8 guests, 2 beds, 1 blow up mattress and a 1 bed "nook"
Costs: $443/ni
This geodesic dome is bursting with light and air. It's an off-the-grid wonder that sits on 122 acres in the high desert. If you want to truly have a getaway, this is where you to to get away. There's a chef's kitchen, spacious living and lounging areas, a fireplace, BBQ and lot of nearby hiking.
"The views from the dome were absolutely breathtaking- watching the sunset from the cedar hot tub every night felt like a dream. The inside of the dome is just as appealing due to its beautiful design and decor choices."
Book it here:
11. Peaceful Cabin in North Joshua Tree
Sleeps: 3 guests, 1 bed, 1 couch
Cost: $209/ni
This Joshua Tree cabin rental is quiet, secluded and free of distraction. The cabin is a historical remnant of the early 20th century homesteader act and is a lovingly restored cabin from the '50's. Perfect for star-gazing, unwinding and nature. The cabin is also very dog-friendly.
"Definitely the place to go if you're looking to unplug and find a bit of quiet. We particularly enjoyed the cowboy tub and outdoor fire place, which was perfect for a home cooked meal and some quality star gazing!"
Book it now:
12. Desert Magic Hour Homestead
Sleeps: 3 guests, 1 bed, 1 couch
Cost: $144/ni
This modern 600 sq ft retreat is nestled on 5 acres of desert land. Originally built in the 1970s, the homestead is a newly renovated studio that features a modern kitchen and bathroom, five skylights, a swamp cooler and a heating system. They have a small but fully equipped kitchen and a wood burning hot tub.
"It's the perfect location to stargaze and to enjoy a bonfire but the highlight was the chofu tub!"
Book it here: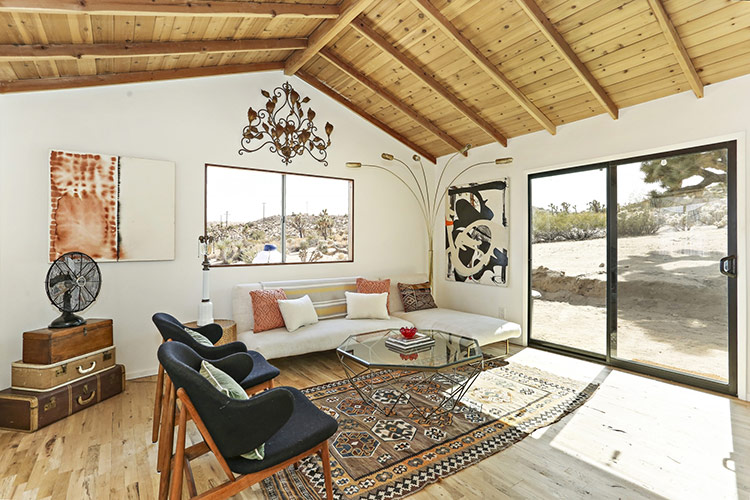 13. La Luna Cabin
Sleeps: 5 guests, 2 beds, 2 bedrooms, 1 couch
Cost: $450/ni
And last, but certainly not least, we have the La Luna Cabin. They totally had me with those bathtubs on the front porch. This cabin in Joshua Tree has it all: private lot, updated "casual chic" interior, full kitchen, shaded front porch, outdoor dining and of course the tubs. All that and it's only a 10 minute drive to Old Town Yucca Valley.
"Close to Joshua Tree national park and any stores you may need. Up on a hill, there are unobstructed views and a lot of privacy. The bathtubs what makes this whole experience great! We used them for middle of the day cool-offs and sunset relaxation."
Book it here:
Full list of Joshua Tree Cabin Rentals w/ Map
Enjoy your stay in Joshua Tree! Check out these other cool things to do in Southeastern California:
Share these cute Joshua Tree cabin rentals with your friends on Pinterest: