Joshua Tree's basic motels and RV parks are functional and affordable, but they aren't anything to write home about. However, these Joshua Tree cabin rentals are another matter entirely. This article spotlights a baker's dozen of Joshua Tree cabins for rent that are cute and quirky while keeping you close to the area's amazing landscape.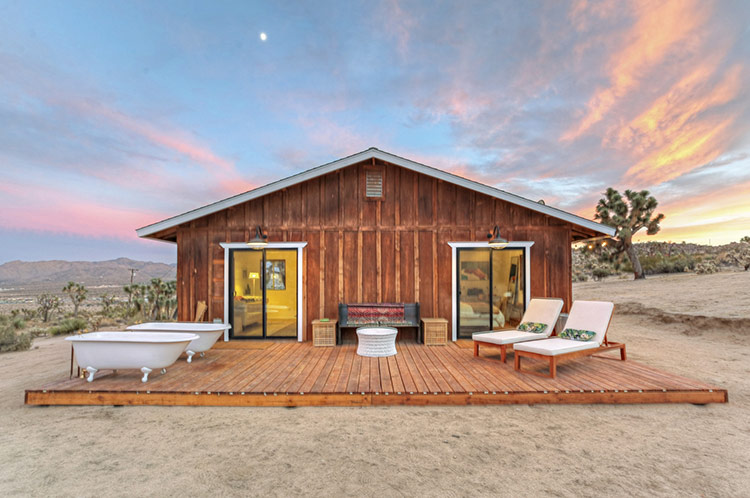 The town of Joshua Tree has a decidedly artsy and edgy vibe. The vibe arrived in the area during the late 1960's. Over the next few decades, galleries and studios spread along the highway 62 corridor, ensuring that the arts culture became firmly planted into the sandy soil of the Basin.
There is some pretty quirky art in this desert. For instance, this article on things to do in Joshua Tree town features a crochet museum, an outdoor sculpture garden that uses materials like broken toilets, and a prisoner of war cabin from an alternative dimension. Please do those things when you visit Joshua Tree, they are all close to town and a feast for your eyeballs.
This artsy vibe has also taken root in the cabins for rent in Joshua Tree. They feature lovely interior design, quirky architecture and cool outdoor spaces. But first, a few tips for how to rent in Joshua Tree.
If you want to search beyond cabins and tiny homes, then also navigate to this listing of 13 retro and romantic Joshua Tree glamping listings. If you decide to rough it, we also have a guide for all of the campgrounds in the national park.
Check out our complete Joshua Tree NP visitor guide, how to do Joshua Tree in one day and also our hiking trails guide.
Are There Cabins in Joshua Tree National Park?
No. Joshua Tree National Park has very limited services. They do have 500 campsites in the park, but no cabins, yurts or other structures for rent. So you'll want to book a cabin outside the park in Joshua Tree or Yucca Valley. Both towns are very close to the park's north entrance.
3 Tips for Booking a Joshua Tree Cabin Rental
1. Pay attention to the ratio of suggested guests to beds/bedrooms. Many Airbnb and other vacation listings (including some in this article) count pull-out couches and blow-up mattresses as a bed. This is fine for your seven year old, but maybe not for grandma.
2. Joshua Tree summer temperatures are volcanic. If you are going during that time, check the listings for air conditioners, swamp coolers and cowboy pools.
3. Many of the listings are on dirt roads. Don't worry, the main dirt roads have road signs and can be navigated with a passenger car. However, Google maps gets confused in this area and will sometimes want to send you down what is really more of a side road with loose sand. So, pay careful attention to the driving directions that your host gives you.
Figure out what to do in Joshua Tree National park and also know before you go with these Joshua Tree fun facts.
If you are flying rather than driving to Joshua Tree, check out our guide for the closest and most convenient airports to Joshua Tree. If you are doing a larger road trip, use our guide to add Death Valley onto your trip.
(This article contains affiliate links. This means that if you choose to purchase, I'll make a small commission.)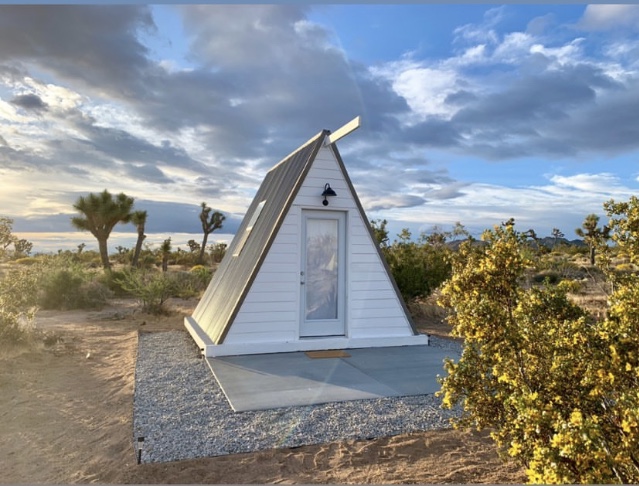 1. A-Frames, Yurts and Little Metal Huts
Sleeps: 2 guests, 1 bed
Cost: ~$105/night
This compound in Yucca Valley has five tiny home units with a shared bath and kitchen. There's an itty bitty A-frame, three yurts and a "tin can" cabin. The compound also has a pool big enough to accommodate the guests and a hot tub. These cabins would be great for a larger group of friends who want to hang together but who also want privacy at night.
"It was beautiful, well maintained and had everything on site you'd need to have a comfortable stay. The A-frame was so cute and the sunrise was unbeatable. We enjoyed a cool night in the hot tub and a dip in the pool during the day heat"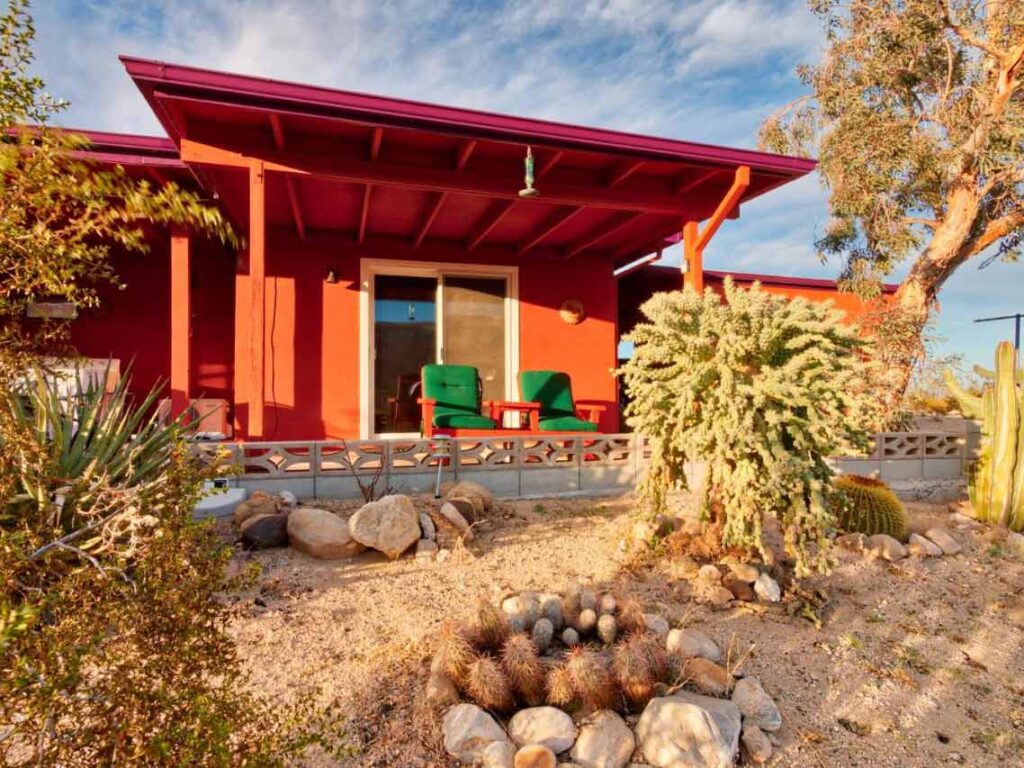 2. Chuck's House
Sleeps: 4 guests, 1 bed, 1 couch bed
Cost: ~$185/ni
This colorful cabin completely pops right off the surrounding desert landscape. It also has fun wall art, a generously sized living with comfy furniture and a nice covered patio. It's located in Yucca Valley, near restaurants and other services.
"Such a vibrant and spacious cabin! The views were so beautiful and the area was perfect for stargazing and relaxing."
3. Cozy Cabin with Western Touches
Sleeps: 6 guests, 3 beds, 1 twin, 1 sofa bed
Costs: ~$250/ni
This cabin has a very strong western vibe with wood paneling, rock accents, log furniture and a wood burning stove inside. The outside has all of the fixins' with a very generous covered porch, hot tub, fire pit, lounge chair and hammocks.
"The backyard and front areas were superb and really made us enjoy the whole experience."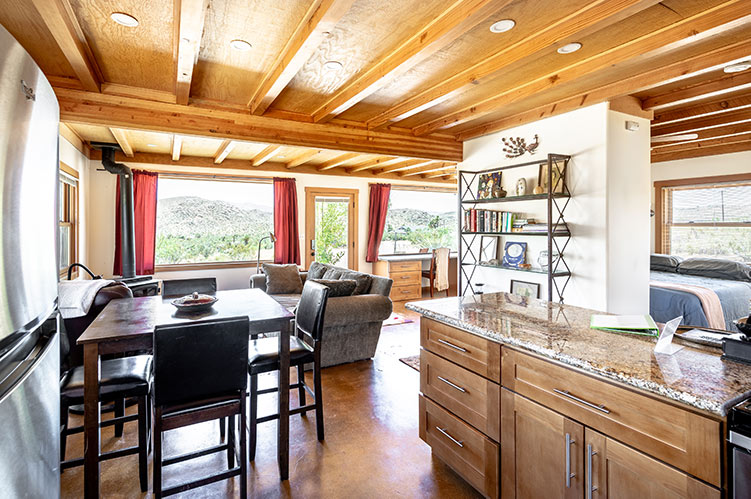 4. Desert Rock Cabin
Sleeps: 5 guests, 2 beds, 1 couch
Cost: ~$175
This beautiful, small home is full of character with a spectacular high desert setting on a private 5 acre property. There are big picture windows and breathtaking views. The Desert Rock Cabin borders BLM land on one side, for great hiking & exploring. There's some nice patio furniture an outdoor eating area and a XXXXL galvanized tub that serves as a cowboy dunking pool.
"The headline here is location and views– the front windows offer beautiful vistas of the desert and the soaking pool is perfectly set against a lovely hill full of cacti, rock formations, and plenty of wildlife."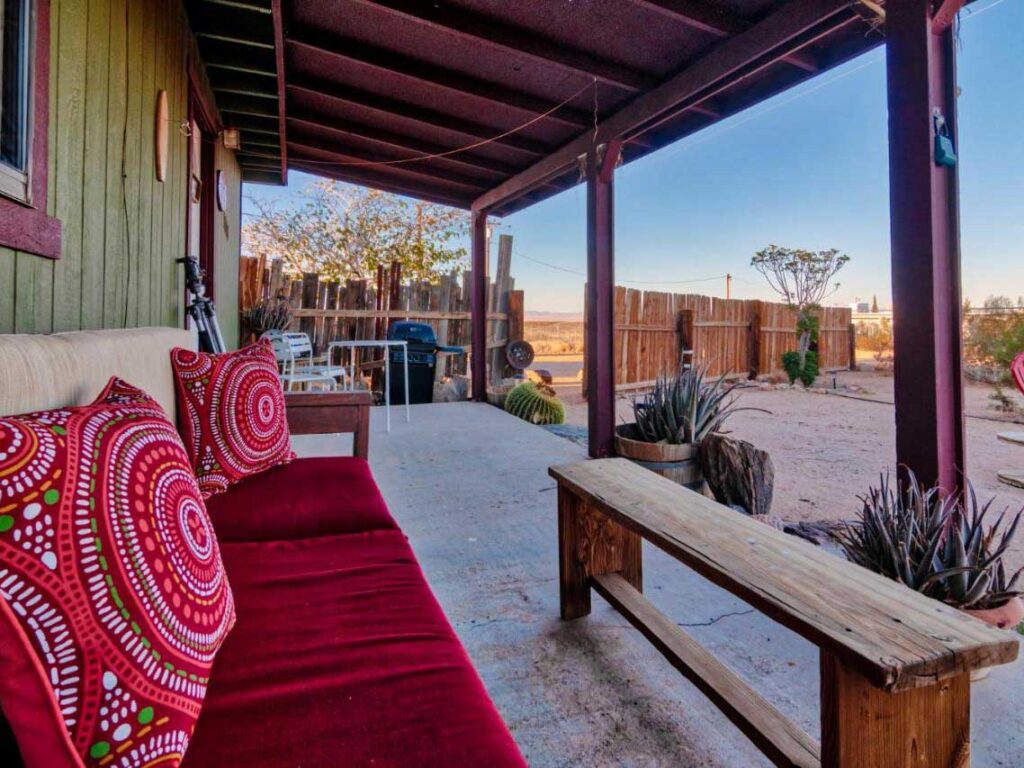 5. Starfire Relaxation Retreat
Sleeps: 4 guests, 2 beds
Cost: ~$180/ni
This retreat is perfect for folks who want a bit of privacy. It's located on a quiet patch of land a few miles north of Joshua Tree. The interior is nice with good sized bedrooms and a generous living and dining area. But it's the outside space that makes this place worthwhile. You can chill on the covered porch while your friends cook you something on the BBQ. There's also a cowboy pool, fire pit, picnic table and miles and miles of views.
"We watched the sunrise every morning from the lovely porch where we enjoyed our breakfast."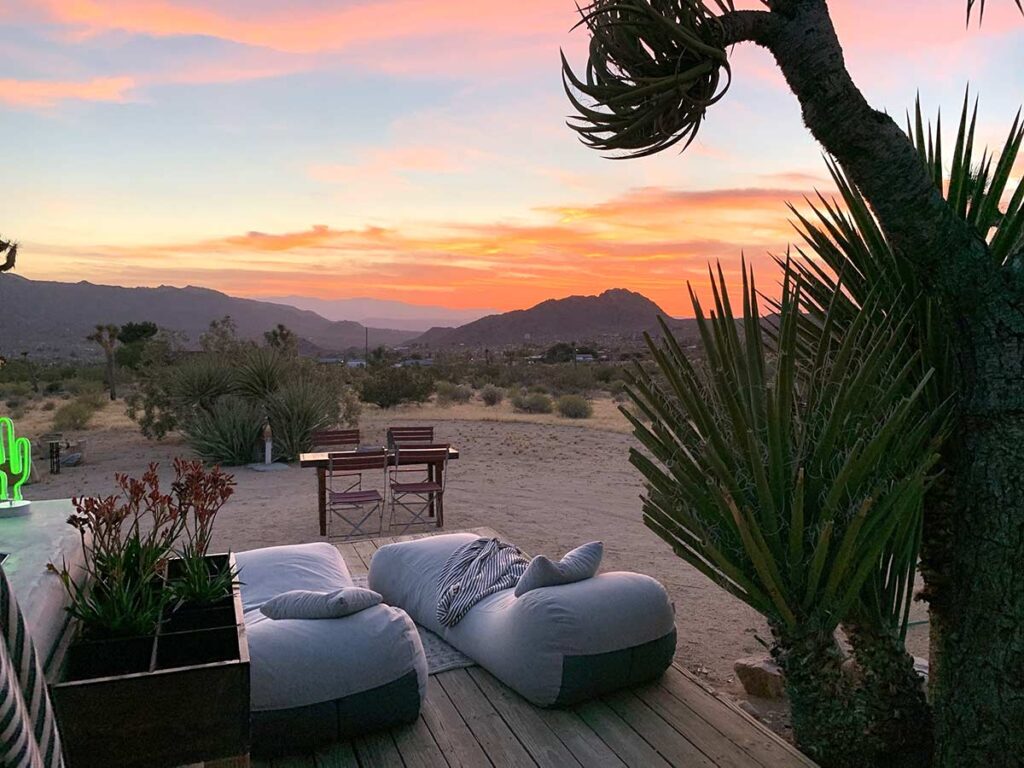 6. Galvanized Studio Cottage
Sleeps: 2 guests, 1 bed
Cost: $255/ni
This cool cottage has industrial chic with a galvanized exterior siding and concrete and wood interior accents. It's perfect for two with a modest kitchen, cool couch and studio bedroom. The exterior space has a wood deck with puffy loungers, an outdoor dining table and a hot tub for cool desert nights. It's conveniently located right near the northern entrance to the Park.
"This cozy home sits on beautiful and spacious desert property. We loved sitting by the fire or in the hot tub – watching the sun set behind the mountains or stargazing. The home is beautifully designed and decorated. It was the perfect retreat and ideal for singles or couples."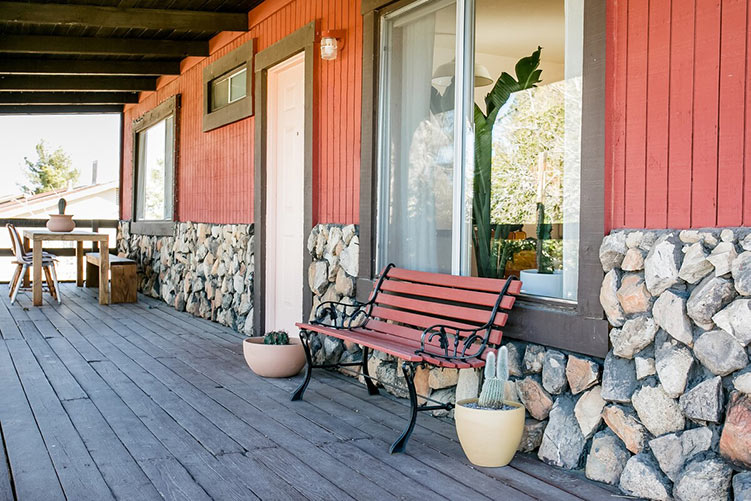 7. Mojave Desert Cabin in Joshua Tree
Sleeps: 4 guests, 2 beds, 2 bedrooms
Cost: ~$175/ni
This place is clean and light. The front porch is a perfect place to hang out while watching the sun set. The cabin has a full kitchen, rock fireplace, comfy furniture and a fire pit. It's located fairly close to the road that leads into the park.
"We thought it was cute on the listing but somehow was even cuter in person! The style and vibe were perfect- we honestly didn't want to leave."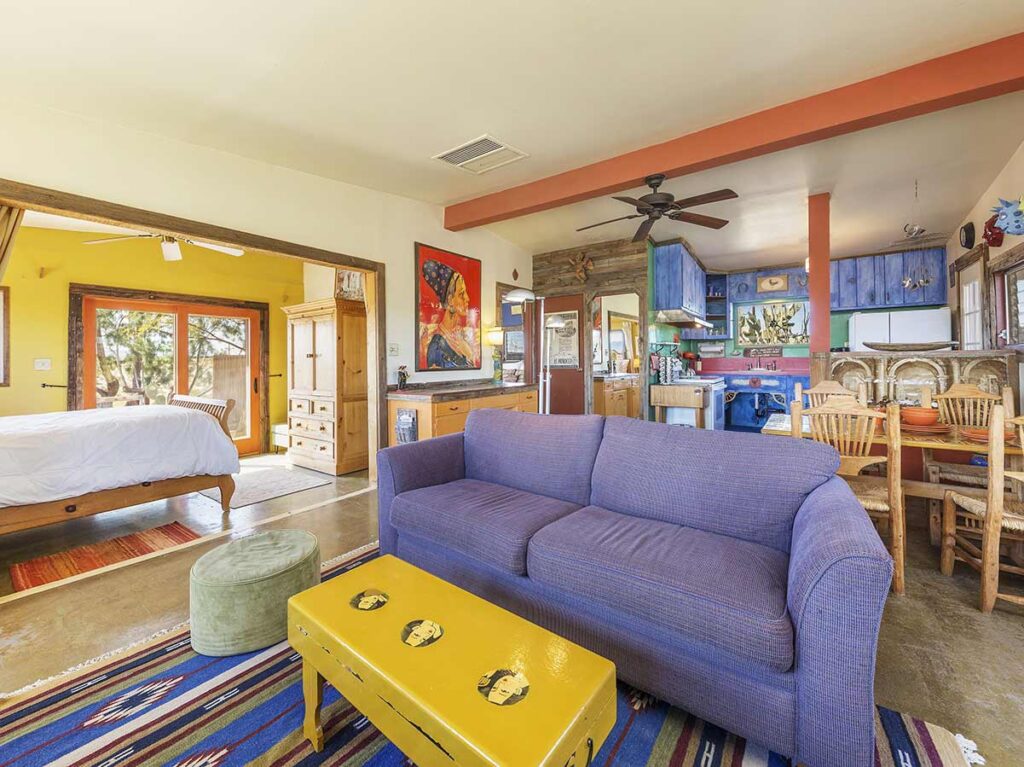 8. Cabin Under the Stars
Sleeps: 4 guests, 2 beds
Cost: ~$264/ni
This place feels like a rustic art gallery. There are fun, colorful paintings, artsy furniture and colorful rugs. There is a nice outside dining room with a covered pergola, a cowboy tub for hot days and a hot tub for cold days. It's located just north of Joshua Tree.
"The little house is done up so thoughtfully. It's an eclectic mix of artifacts and you feel the beautiful intention that was behind putting it together this way"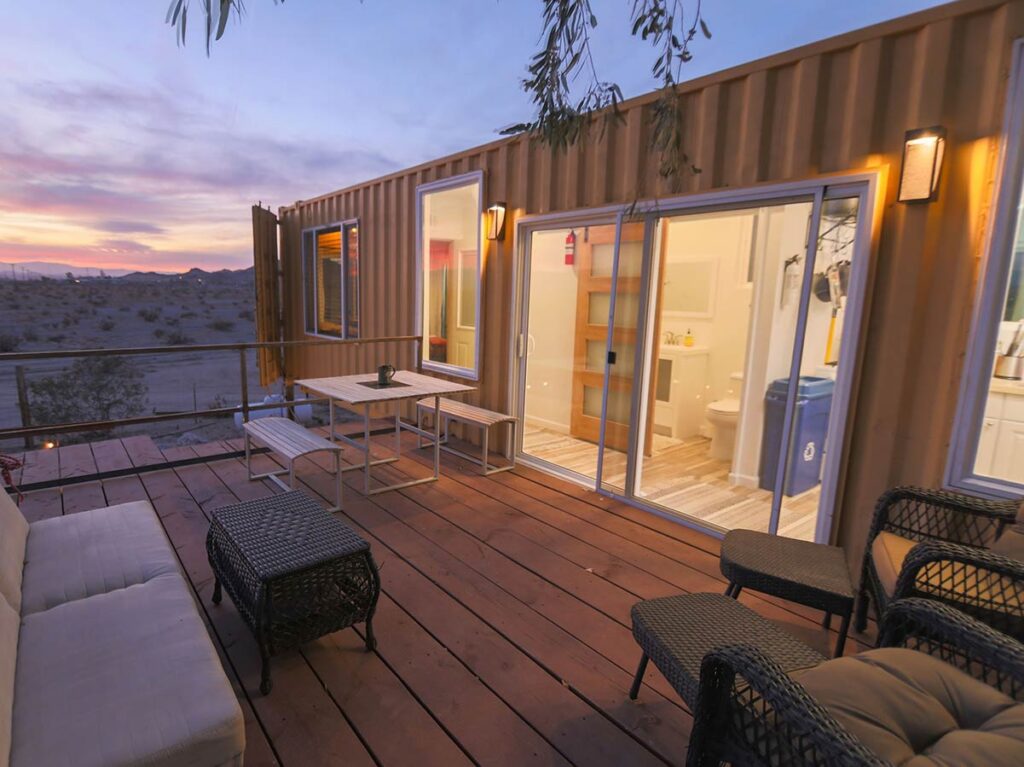 9. Skybox Suite
Sleeps: 2 guests, 1 bed, 1 futon
Costs: ~$145/mi
This vacation rental isn't a cabin per-se. But we thought it worth including because it's such an unusual offering. The Skybox Suite is a series of stacked shipping containers that have been configured into lodgings. Think tiny home living but with epic desert views. Each unit has its own patio and there is a shared space with hammocks and hot tubs.
"I loved watching the sunrise from the bed, breakfast by the little fire place, hanging out with the horses, swinging in the hammocks and resting in a private hot tub after a long day of hiking. Perfect place off the beaten path."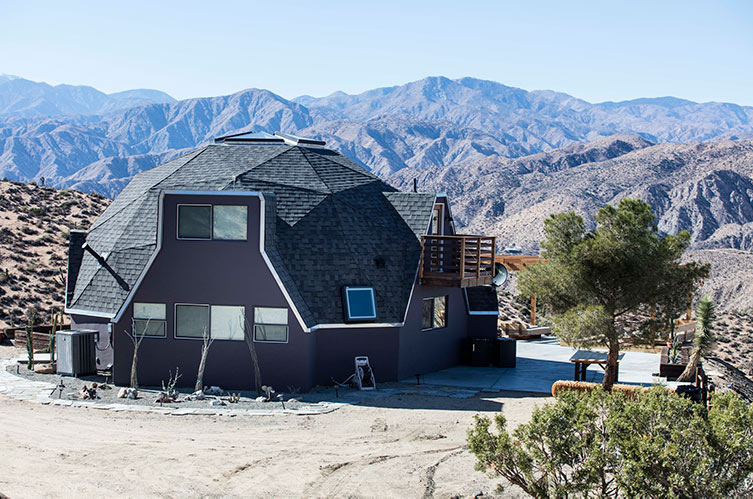 10. Hawkeye Dome
Sleeps: 8 guests, 2 beds, 1 blow up mattress and a 1 bed "nook"
Costs: ~$400/ni
This geodesic dome is bursting with light and air. It's an off-the-grid wonder that sits on 122 acres in the high desert. If you want to truly have a getaway, this is where you to to get away. There's a chef's kitchen, spacious living and lounging areas, a fireplace, BBQ and lot of nearby hiking.
"The views from the dome were absolutely breathtaking- watching the sunset from the cedar hot tub every night felt like a dream. The inside of the dome is just as appealing due to its beautiful design and decor choices."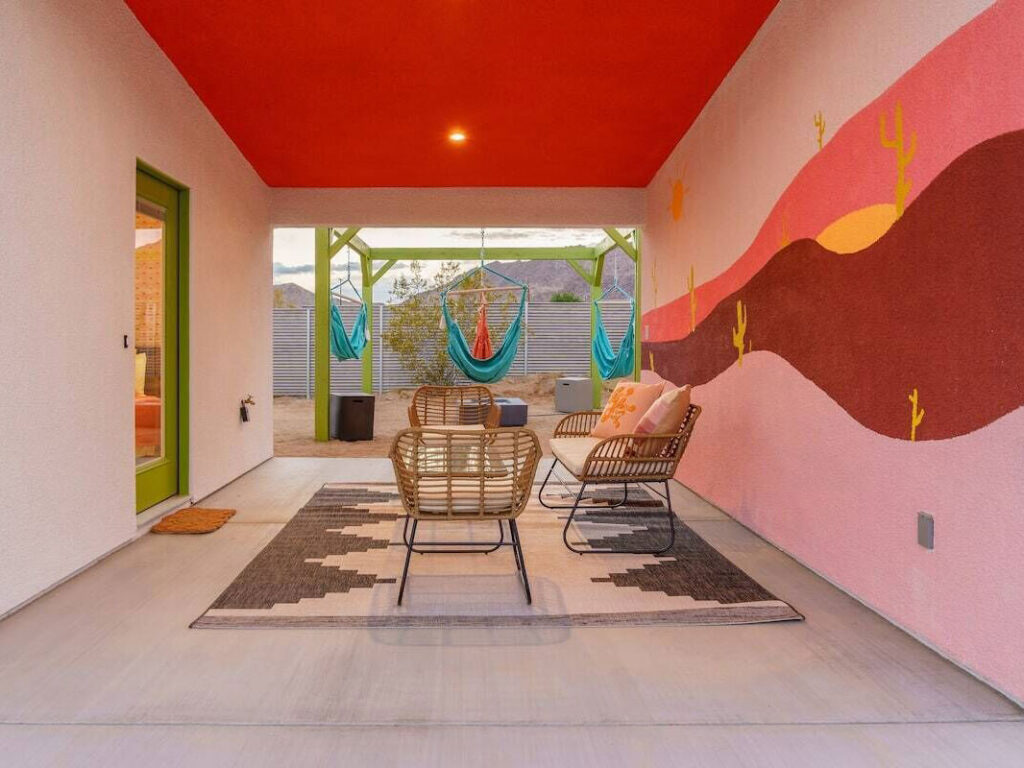 11. Colorful Pergola Home
Sleeps: 4 guests, 1 bed, 1 futon
Cost: ~$261/ni
This tiny little house packs a lot of charm. Even though it's a studio, it has two beds and a full kitchen. The outdoor space really excels with the cover pergola, desert-themed mural and hammocks. The house also sports a fire pit, loungers and Adirondack chairs.
"…very clean and stylish. Everything worked as expected. Overall I really enjoyed it and would stay there again in a heartbeat!"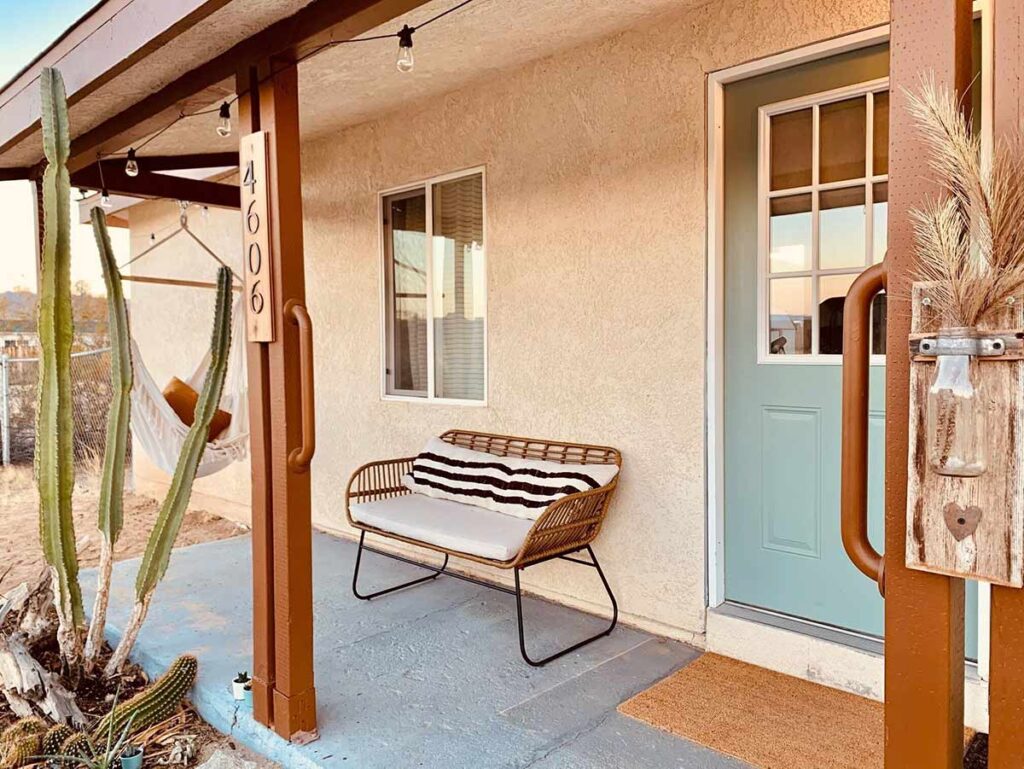 12. Comfy Boho Cottage
Sleeps: 6 guests, 2 beds, 1 futon, 1 queen air mattress
Cost: ~$189/ni
This newly remodeled mid-century cottage sits on a half acre of fenced land, very close to hiking in the nearby Bartlett mountains. The whole interior vibe is light wood and leather with a lot of natural light. The exterior has not only a dining area and covered porch, but there's also a yurt on site that you can use as an extra bedroom or hang-out space.
"My children enjoyed, the yurt, fire-pit for s'mores and the beautiful big tree in the backyard. Hubby enjoyed breaking in the bbq girl. The boho vibes in the decor were amazing!"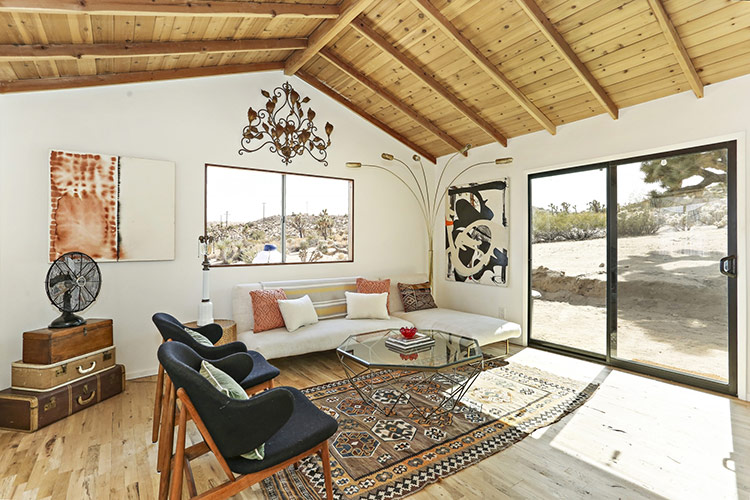 13. La Luna Cabin
Sleeps: 5 guests, 2 beds, 2 bedrooms, 1 couch
Cost: $400/ni
And last, but certainly not least, we have the La Luna Cabin. They totally had me with those bathtubs on the front porch. This cabin in Joshua Tree has it all: private lot, updated "casual chic" interior, full kitchen, shaded front porch, outdoor dining and of course the tubs. All that and it's only a 10 minute drive to Old Town Yucca Valley.
"Close to Joshua Tree national park and any stores you may need. Up on a hill, there are unobstructed views and a lot of privacy. The bathtubs what makes this whole experience great! We used them for middle of the day cool-offs and sunset relaxation."
Enjoy your stay in Joshua Tree! Check out these other cool things to do in Southeastern California:
Share these cute Joshua Tree cabin rentals with your friends on Pinterest: