Oakland Airport (OAK) is located just 29 miles from San Francisco (SFO). But they are located across the bay from one another and there's a whole lotta water in between. There are no flights between these two CA airports so if you need to make a transfer, you'll have to use ground transportation.
There are several ways that you can accomplish this, depending upon how much time and/or money you have to spend. This guide will take you through 4 ways that we recommend getting from Oakland Airport to San Francisco Airport (and one way that we don't recommend).
If you actually need to the reverse transfer, we have an article on how to get from SFO to OAK. The advice is similar but the on-the-ground logistics are very different.
We also have a guide on how to get from OAK to downtown San Francisco and from SFO to downtown San Francisco.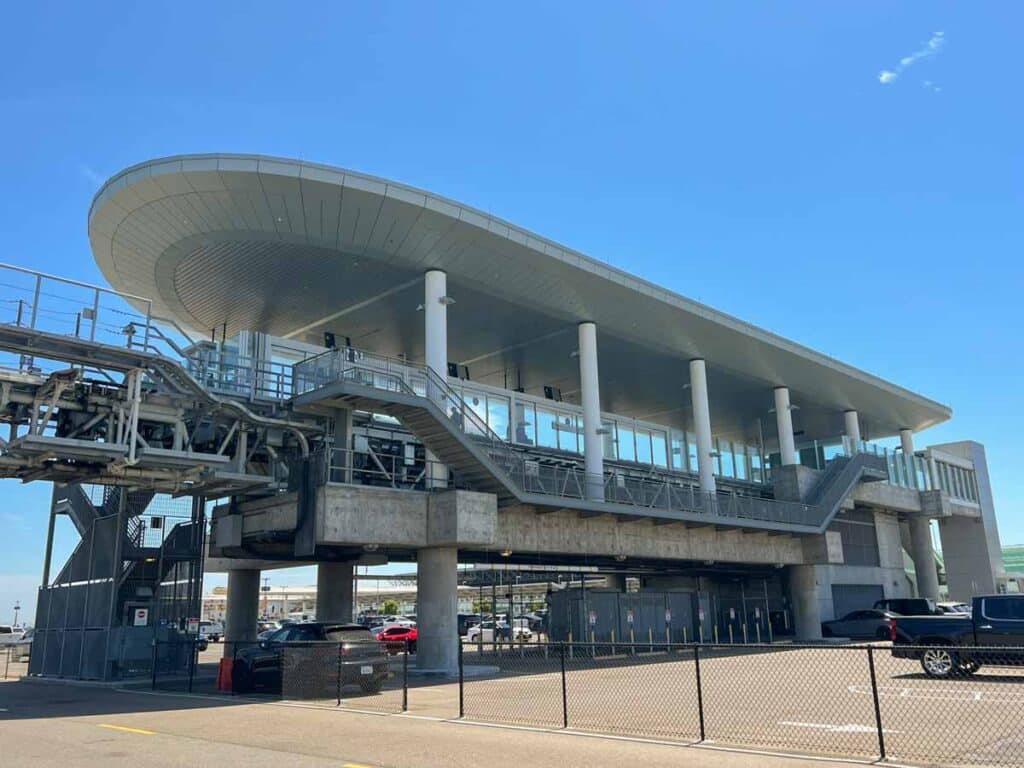 Where to Catch Ground Transportation in OAK
Oakland is a very easy to navigate airport and all of ground transportation (including the Bart station) is conveniently located just outside of baggage claim for both terminals.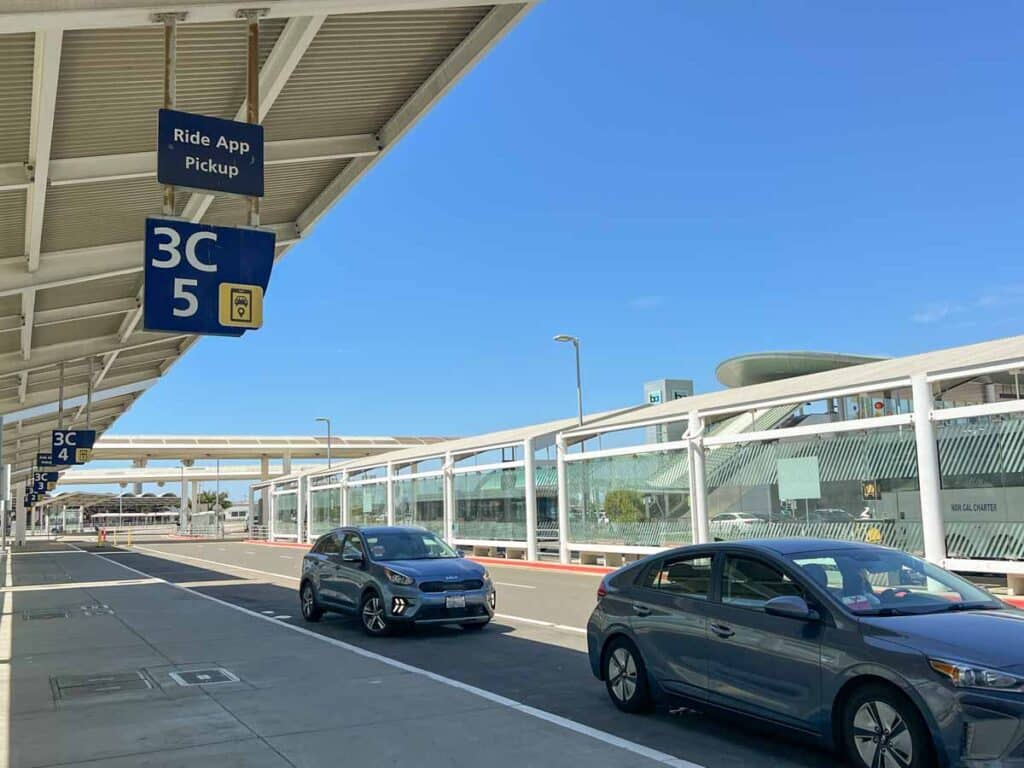 What's the Fastest Way to Get From Oakland Airport to San Francisco Airport?
The fastest way to get from OAK to SFO is a taxi or Uber/Lyft. The route is 29 miles across the bay and will take 35 minutes (or up to 55 during rush hour). This is a good option if you are in a hurry or have a lot of luggage.
Here are the rough costs for each:
OAK to SFO using Uber: $52, using their estimator. But their unpredictable surge pricing will be more.
Using LYFT: $60-70 using their estimator.
To SFO by taxi: ~$100
Even though it's more expensive, don't rule out using a taxi to get to SFO. If you're stressed about a tight connection, minutes matter. The taxi stand is located right outside of the baggage claim and there are nearly always taxis lurking around. For the ride apps, you need to request and then wait for a ride, which takes time during rush hour or if you are getting in very early or late.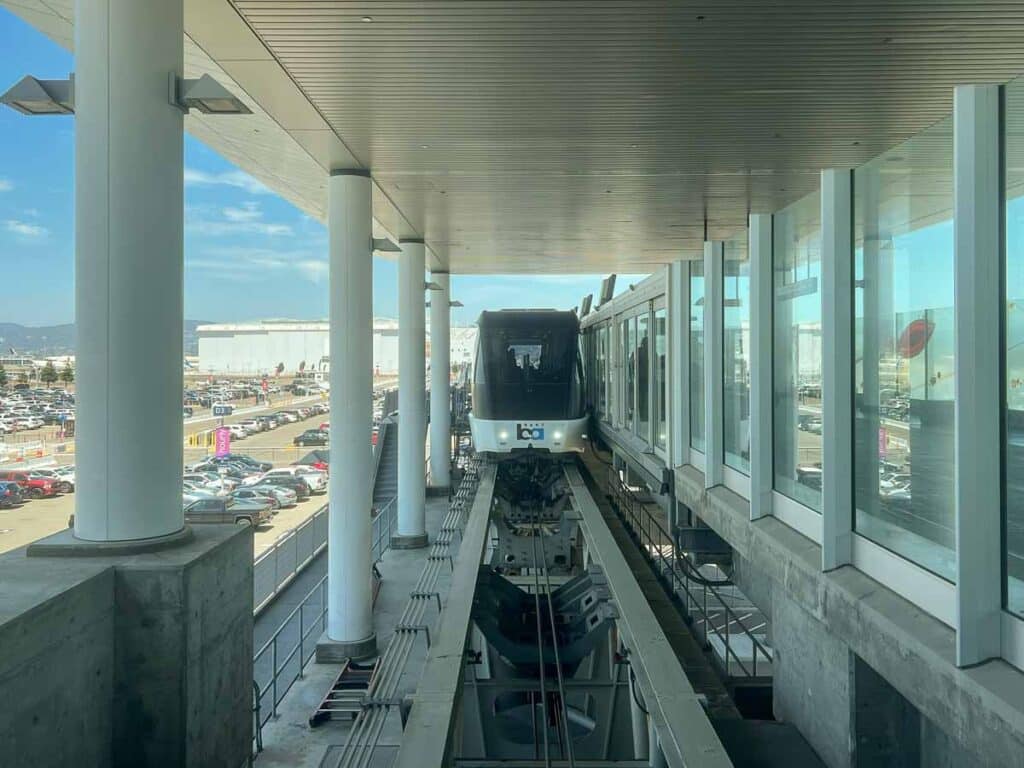 What's the Cheapest Way to Get from OAK to SFO?
The cheapest way to get between the two airport is on the Bart subway, but it will require two transfers. Take the Bart airport train from the to the Coliseum station. Then transfer to the Daly City (Blue or Green) lines. At the downtown SF Embarcadero station, transfer to the SF Airport (Yellow) line.
The ride will take ~1:10, but you should build in an extra :30 of buffer time because the Yellow line runs less frequently than other Bart services. The ride will cost $17.10. You'll need to purchase a Clipper Card for an additional $3. Alternatively, you can save the $3 and load the Clipper card onto your Apple or Google pay accounts, using these instructions.
This is a good solution for someone on a budget who is traveling alone. But if there are two or more people in your party, an Uber/Lyft would be the better option. Bart runs from 5am to midnight (and less frequently after 9pm and on weekends), so if you need to transfer outside of those hours, a taxi/Uber or shuttle would be better.
Is There a Shuttle to SFO?
Yes. You can pre-schedule the ABC Shuttle service or United. They offer a point-to-point service between OAK and SFO. At ~$100, it's certainly not the cheapest option. And while you will likely have the van to yourself, it's possible that you will need to share it with strangers.
One benefit of the shuttle service is that they start as early at 3am, which is well outside of the hours for public transportation. It can also work well if you have a large group.
Can I Take a Public Bus Between OAK and SFO?
In theory- but we don't recommend it. It would require multiple transfers between three different bus services, and it would take forever.
An Out of the Box Way to Get Between the Two Airports
How about renting a car and driving yourself between the two airports?
This can work particularly well if you have a really long layover. Renting a car gives you control over your transfer and you can spend your layover doing something fun (like going over to the beach in Half Moon Bay).
We spot-checked cost and availability and prices ranged from $65-114.
Renting a car does take more time to sort out paperwork at the rental counter. But if you are in a preferred customer program like Budget Fastbreak or Avis Preferred, you can breeze through. The Oakland rental car center is located offsite and you can get to it using the shuttle bus..
Airport Hotels for Overnight Stays
In case you have to do an overnight, here are a few options that are near either OAK or SFO.
SFO Grand Hyatt: Nice lux hotel literally located at the airport with access to the terminals via Airtrain.
SFO Hampton Inn: Well-rated and serviceable 3-star hotel with free breakfast and free shuttle service.
OAK Holiday Inn: Well-rated and serviceable 3-star hotel with a pool and restaurant/bar.
Some Fun Things to do in the Bay Area