California's Central coast has some of the best coastline in the United States (nay the world), and choosing the best beaches can be a difficult task. But we think think that the beaches near Pismo Beach are some of the most accessible and dog-friendly in California. Pismo has a mix of wide-sand beaches (perfect for strolling and dog-walking) along with some hidden coves and small harbor beaches which are perfect for chill time in a beach chair.
So, if all that sounds good to you, then keep reading because we've got a rundown on all of the key Pismo Beaches, along with a completely subjective judgement on what we think are the two best beaches in Pismo.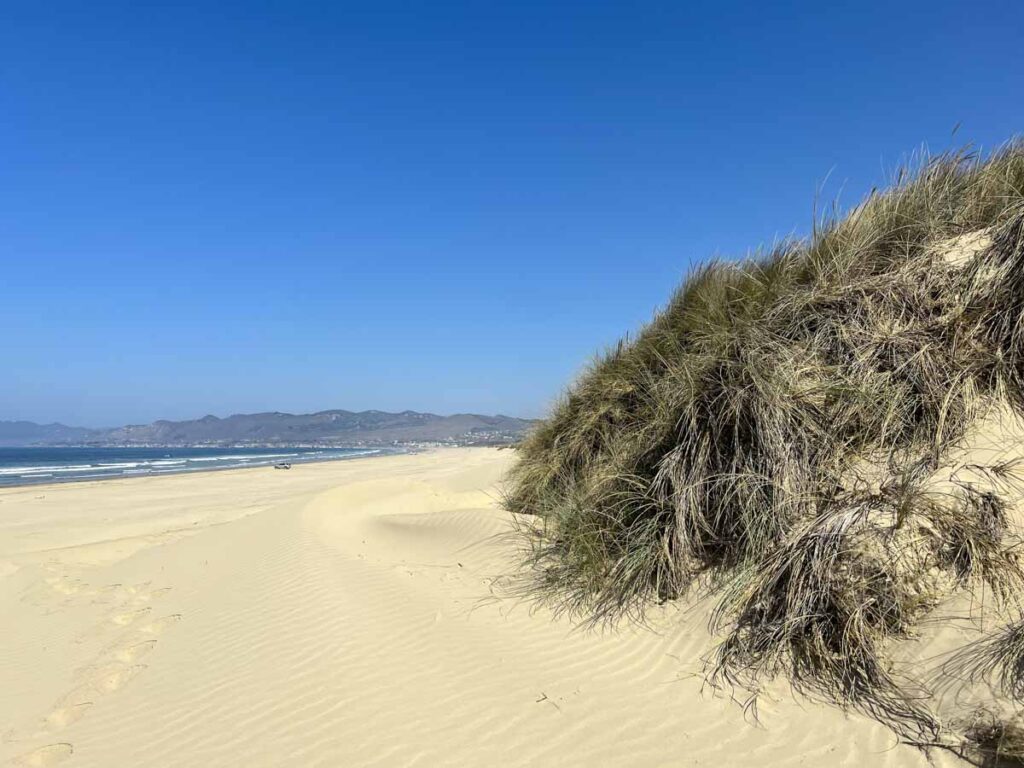 Summer is the most popular time to visit the Pismo beaches, but we've also gone in the spring and fall and found that the ocean still delivers. And in addition to the beaches, there are also tons of other fun things to do in Pismo, including hiking, scenic drives, and shopping.
(This article contains affiliate links. This means that if you choose to purchase, I'll make a small commission.)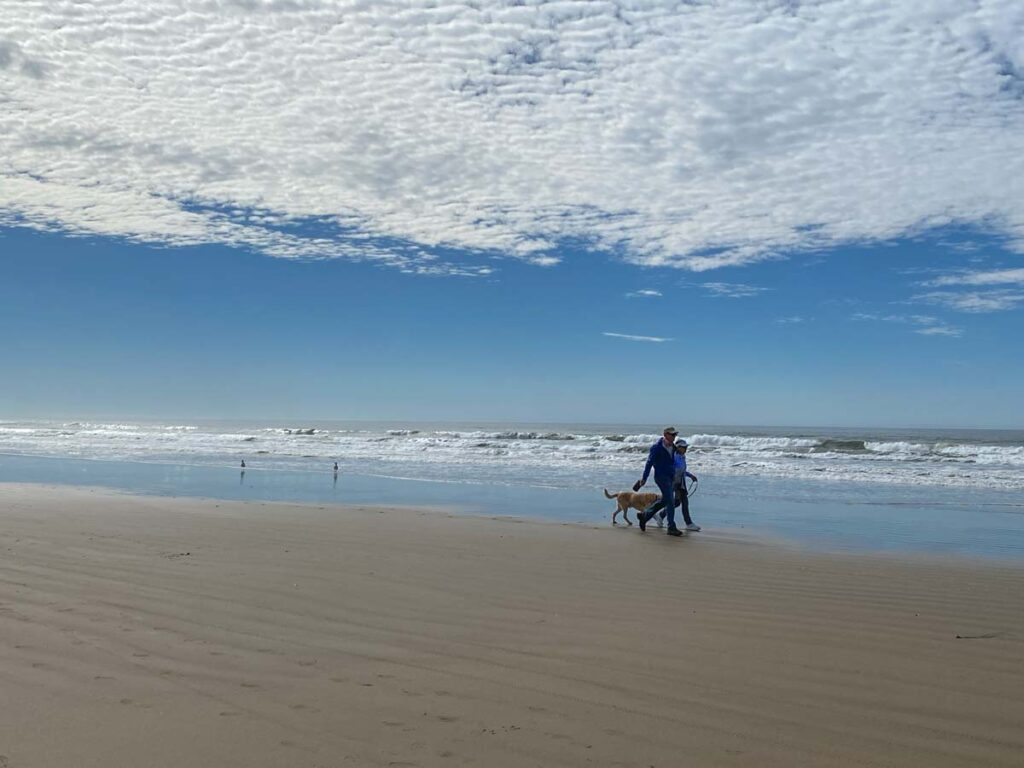 The 2 Best Beaches in Pismo (in our Humble Opinion)
Grover Beach
Broadly defined, "Pismo Beach" is actually three different uninterrupted beaches: Pismo Beach, Grover Beach and Oceano Dunes. The three beaches run together for over four miles and they're quite wide. So there's plenty of room for cars, dogs, runners and slow strollers.
We think that Grover Beach is the best beach in Pismo for several reasons. We love that it's dog- friendly and it's the quietest section of the three beaches. The area closer to town gets busy with sunbathers, surfers and kid's activities. And the section further south gets more 4×4 traffic going into the offroad dunes area.
Grover, which is part of Pismo State Beach, has tons of free parking, easy beach access and a quieter vibe.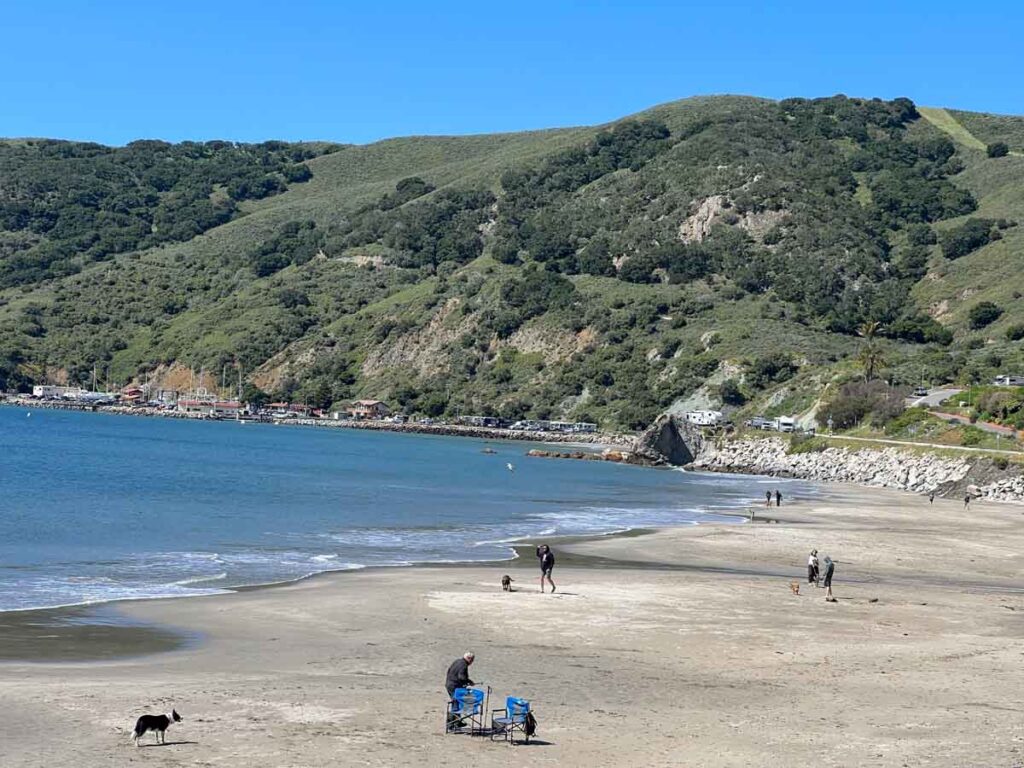 Olde Port Beach
This quiet little beach is just northwest of Avila Beach, near the small Port San Luis harbor. The beach is very dog-friendly and has a nice wide area. Because it's in San Luis Obispo Bay, the water is less rough than the more open beaches.
It's a nice place to chill in a chair accompanied by your pooch.
7 Other Cool Beaches Near Pismo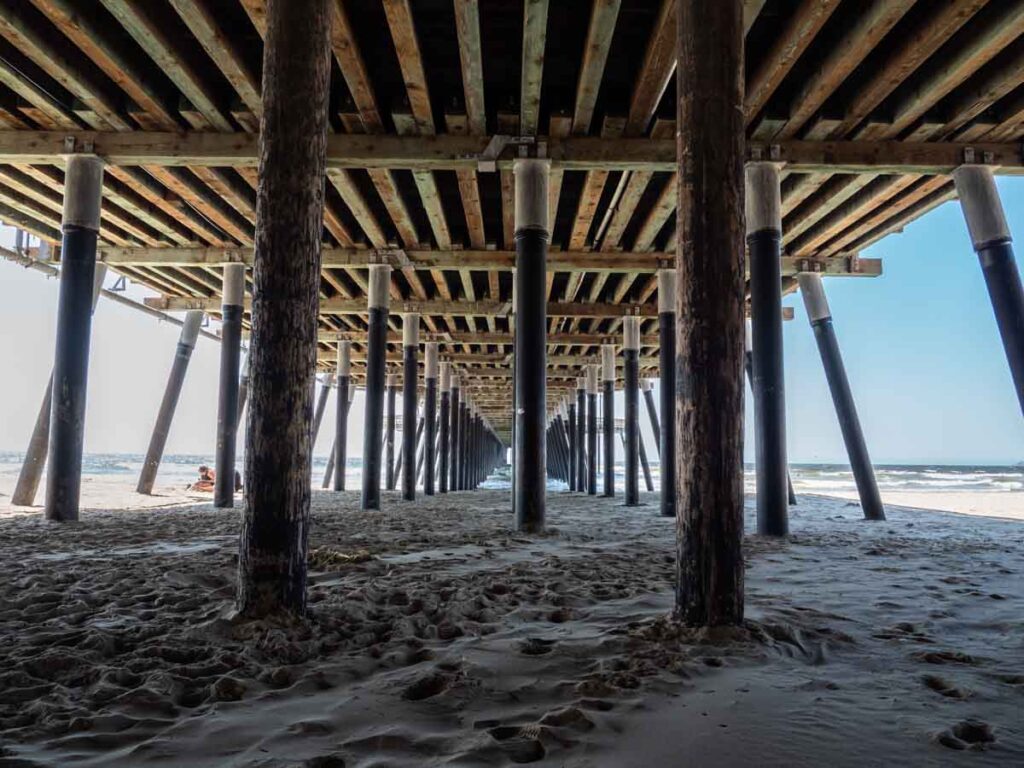 Pismo Beach
Pismo Beach is the northernmost of the "Pismo Beaches" trio. It starts right in town, headed by the iconic Pismo pier. It then flows south and blends into Grover Beach.
There's lots of room for everyone here. The downtown location makes it easy to grab some lunch and there is a nearby play structure for the kids. Both the beach and pier are great at sunset.
You'll probably need to park a few blocks away, so be prepared to haul your stuff.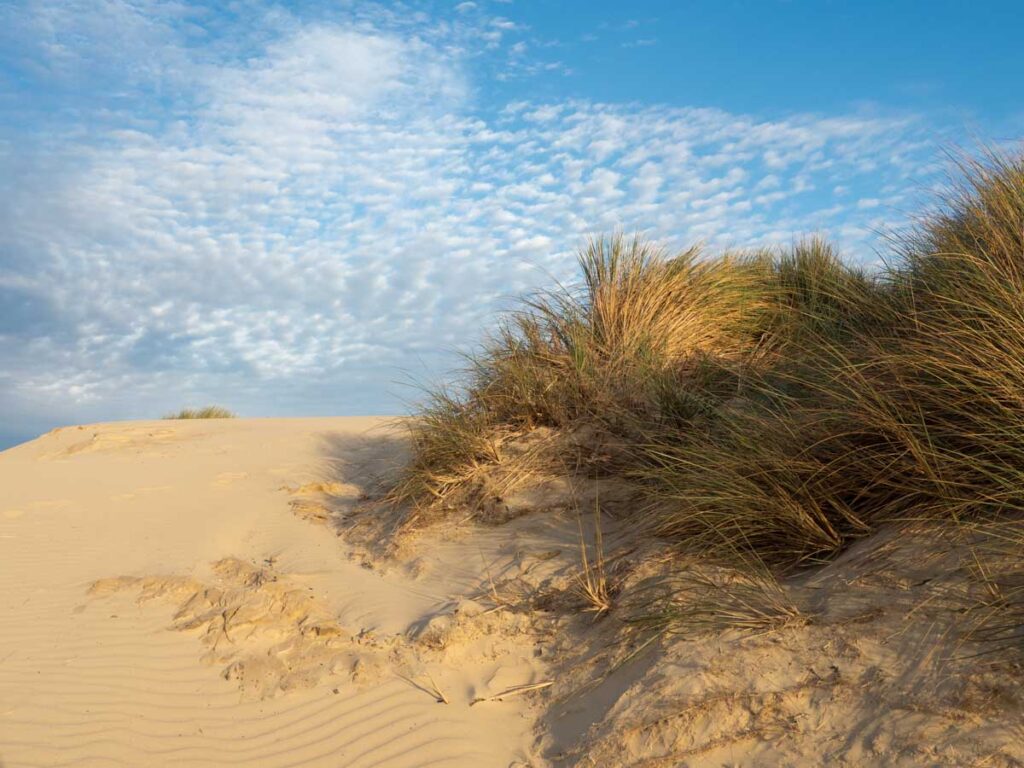 Oceano Dunes
Oceano Dunes is the southernmost beach amongst the "trio". It's very popular as a drive-on location and gets a fair bit of 4×4 traffic. If you want to drive on, just pay the day fee at the gate and make sure you've got the clearance to get yourself out again.
If you are on foot, head north from the walk-in spot for a quieter place to hang. If you are RV'ing, the Oceano Dunes State Park campground has hook-ups and excellent access to the beach across the dunes.
Sit on top of the dunes for not only a nice sunset, but, if you're lucky, you may be able to see spy-hopping humpback whales.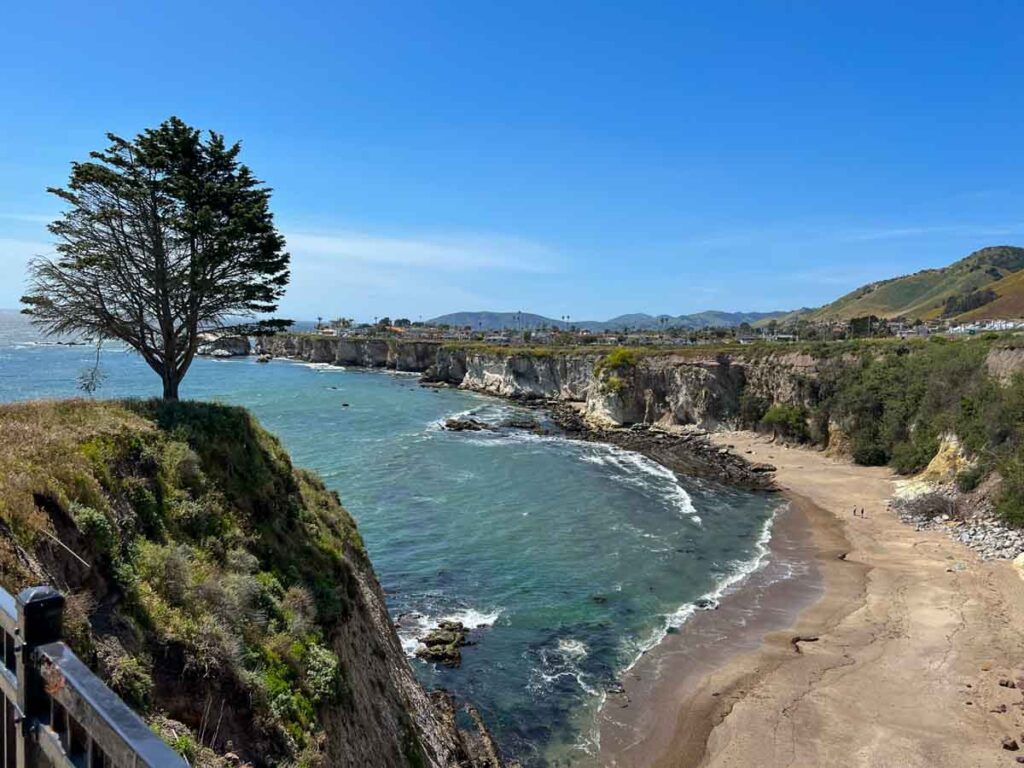 Dinosaur Cave
This beach is not labeled on Google Maps, but you can find it bookended by Dinosaur Cave Park to the north and the Inn at the Cove to the south. The stairs down to the beach are at the hotel. Parking is scarce there, so you can always park at the park, and walk south along the road to the hotel.
This is a quiet little beach, perfect for a bit of naval-gazing. And there's a nice cave arch at the south end.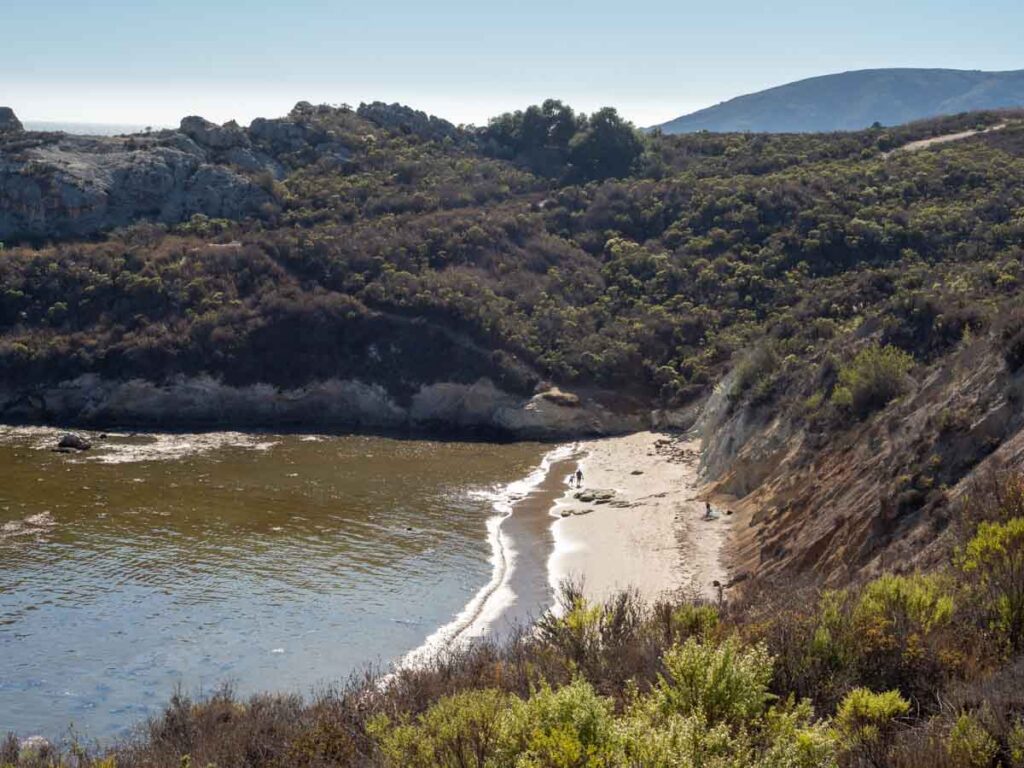 Pirate's Cove Beach
Pirate's Cove is a small beach, sequestered in a protected cove. The beach itself gets a mixed bag of boho visitors along with some nude sunbathers. In addition to the beach itself, you can walk along the top of the bluff to the Smuggler's Cave and along the ridge top on the Shell Beach Bluff trail.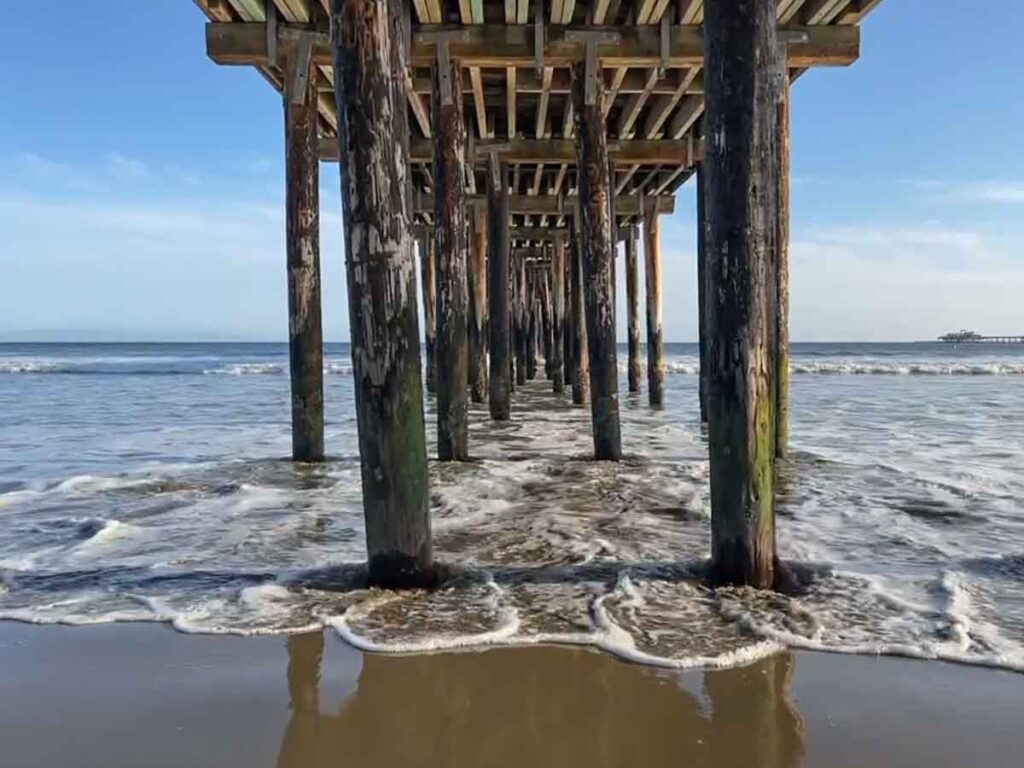 Avila Beach
The following three beaches are near Pismo Beach…but not strictly in the town borders. But each is worth visiting for its own charms.
Avila Beach is like a mini version of Pismo Beach. It also has a wooden pier and a dog-friendly vibe. The sand is a little rougher here and, because the beach is in the bay, it's not super long.
But the town of Avila Beach has a very chill vibe and it's a nice place for some wine tasting at the Avila wineries, and lunch before (or after) hitting the beach.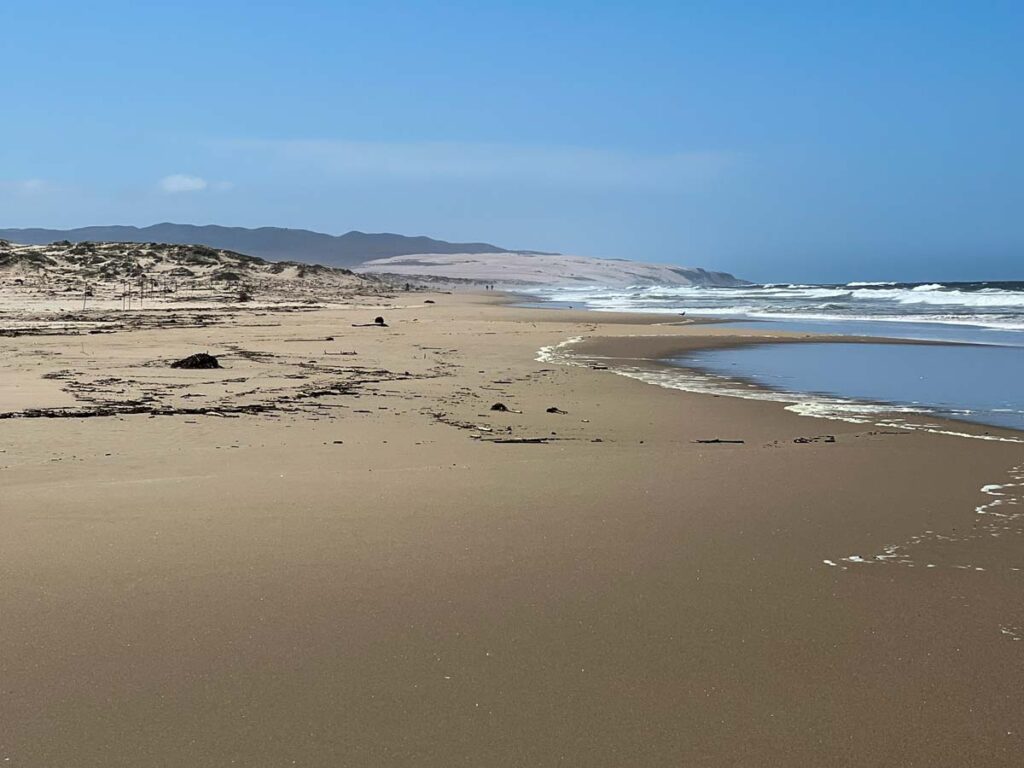 Oso Flaco Beach
Both Oso Flaco and Rancho Guadalupe Dunes are part of a 6,000 acre protected dune area. Within the dunes, you'll find snowy plover and tern habitat and river estuaries. Since they are protected areas, neither allow dogs.
Oso Flaco is part of the Pismo Beach state park properties. It has a very quiet wide, long beach perfect for a solitary stroll. The park is also notable for the Oso Flaco lake, which is nice for bird watching. There's also a boardwalk that goes over the lake and the dunes to the beach.
There is a decent sized parking lot, but it's not huge. The sign says that it's a fee area, but the last time I was there, the fee was waived. But bring some cash, just in case.
Rancho Guadalupe Dunes
Rancho Guadalupe is 20 miles south of Pismo Beach, just over the Santa Barbara County border. This park is managed by Santa Barbara parks system.
This remote moonscape is a perfect place for a quiet beach day. You can do a 4.5 mile out and back down to the Mussel Rock Dunes. The sand is pretty soft, so prepare for a calf workout! And don't expect any services or a large parking lot. Just a long, pretty beach and dunes.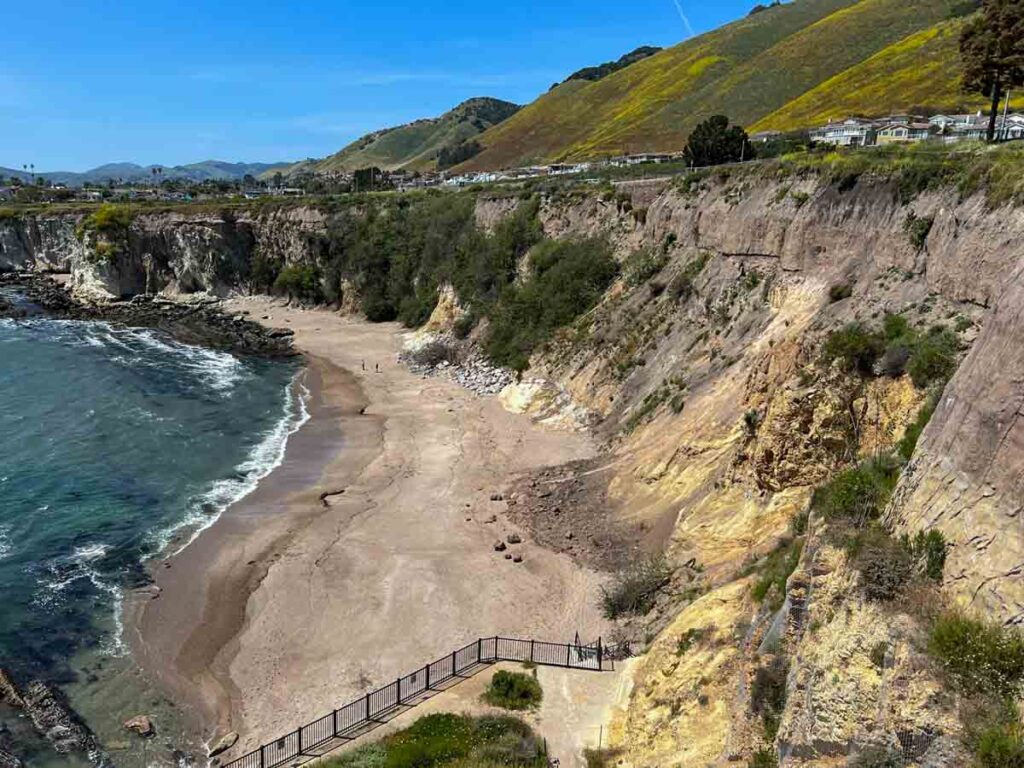 3 Beachfront Hotels in Pismo Beach
Luxury Beachfront: Vespera Resort, Marriot Autograph Collection. This 4-star resort is located right in town. They have large rooms, a pool and a ton of outdoor seating areas with fire pits. Check reviews and book here.
Mid-range Beachfront: The Inn at Avila Beach. This quirky 3-star place has balconies, free breakfast, afternoon pie and ice cream and soaking tubs. Check reviews and book here.
Blufftop Views: The Inn at the Cove. This blufftop hotel sits right above Dinosaur Cave. So, you can either walk down to the cove or enjoy sunset in their gazebo. They also have oceanfront rooms with balconies, a pool and free continental breakfast. Check reviews and book here.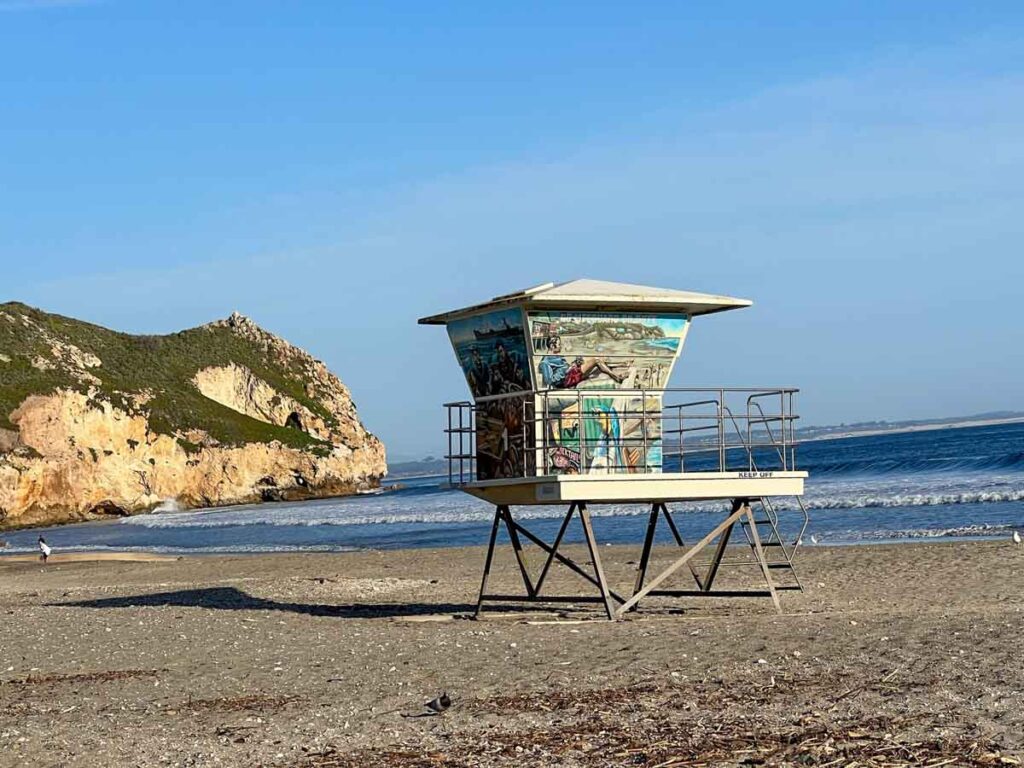 See More of the Central Coast
Share these beaches near Pismo Beach with your friends: