If you're trying to figure out the best time to visit Pismo Beach, there isn't one clear and simple answer to that question. When to go will depend upon what you want to see, whether you can plan ahead and whether you can tolerate crowds.
We've visited Pismo Beach in different seasons and regardless of when you go, it's so worth visiting. The looong wide beaches, the wine country, scenery, hikes and scenic drives are all worth your time. So this guide for when to visit Pismo Beach will give you weather information, tips on how to avoid crowds, the best and worst times to go, and a whole slew of travel tips.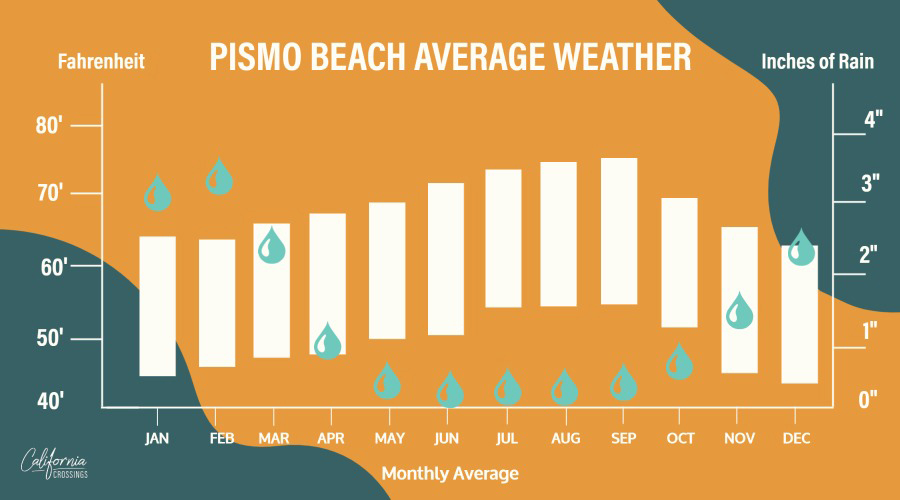 Weather in Pismo Beach
Pismo Beach has classic coastal weather which typifies north/central California. The weather is often cool, although it's warmer than the Big Sur weather just an hour north. There is only a little variation in the temperatures across the months, and layering up is always a must, especially outside of the summer months.
And while the temperatures may not vary much, there's a lot of variation of rainfall during the year. You can expect essentially none in the summer months, but heavier storms from December through February.
When is the Best Time to Visit Pismo Beach
We like visiting all of the Northern California coastal towns in April/May or September/October. And this is also the best time to visit Pismo Beach because the temperatures are moderate, it's less likely to be rainy, and you'll avoid the summer crowds. Better yet, try to do Pismo during the week and you'll avoid even more crowds.
When is the Worst Time to Visit Pismo Beach
The December to February rainy season is the worst time to visit Pismo Beach. You can go, for sure. But you'll need to bundle up for the beach and some hikes/walks may not be accessible if it's been raining.
When is the Busiest Time to Visit Pismo Beach?
It may sound obvious, but summer weekends are the busiest time to visit Pismo. School's out and everyone want to hit the beach. If this is your only (or best) window for visiting, be sure to book your hotel well in advance.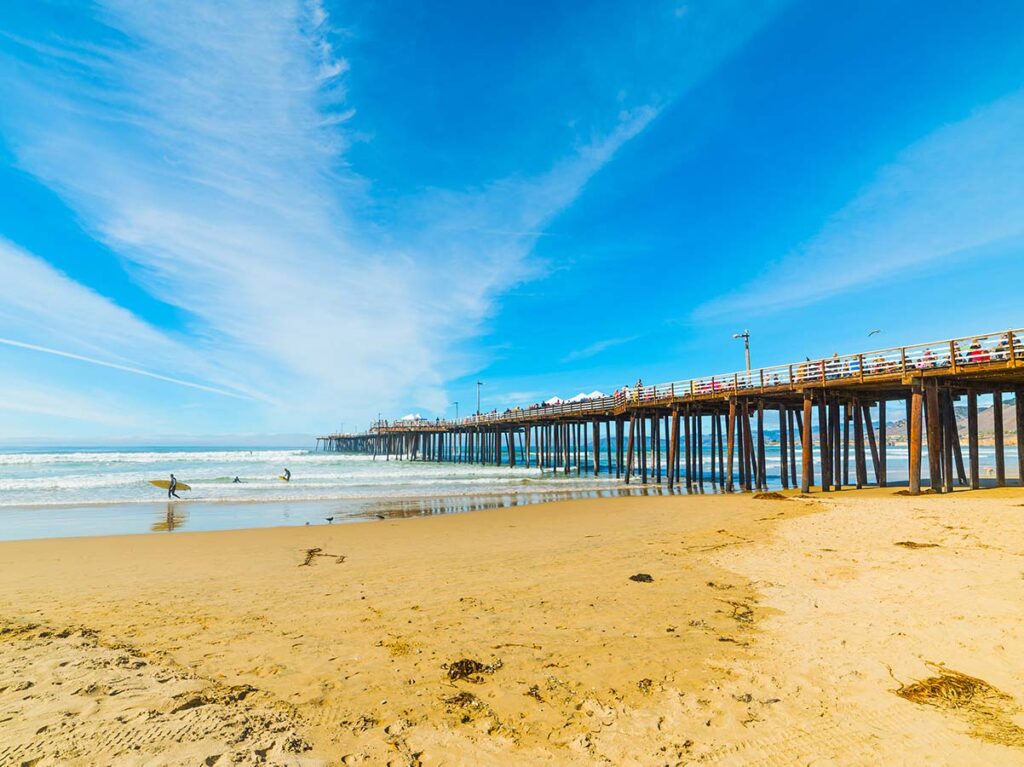 The Best Time to Go to Pismo Beach: Season by Season
December, January and February
If you can time your trip around the rain, the winter months can be quite nice in Pismo. The weather is cool, but not freezing. It will be much less crowded and you'll have more solitude on the beach. You're also more likely to get a good hotel deal, even at the last minute.
In early December, the city hosts the annual Holiday Harmony event. It's a holiday themed, family friendly event on the plaza near the pier. San Luis Obispo hosts a restaurant month in January.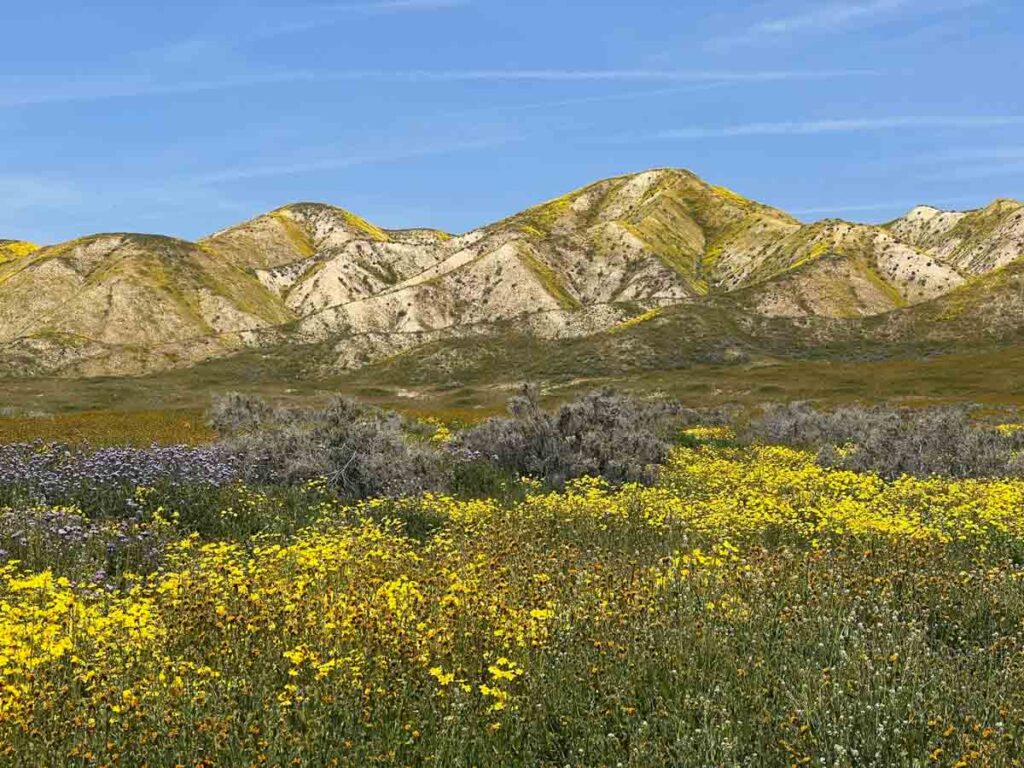 March, April, May
One word: wildflowers.
Keep an eye on the spring wildflower notices, because the flowers usually start popping in early April. You can spot them on the hillsides in the Pismo Reserve, along Highway 166 and in the Carizzo Plain National Monument.
And in addition to that, it's still less crowded, at least until the end of April. The weather starts warming up and the event schedule starts ramping up.
The annual Taste of Pismo usually occurs on the last Saturday of April and it features local wine, beer and tasty food.
The SLO film festival occurs at the end of April and into May. There are over 100 film views, special events, and lounge nights. Most of the festival happens in San Luis Obispo, which is less than :30 minutes from Pismo.
Starting in April and continuing through December, there is an "art in the park" event at Dinosaur Cove, which occurs on the first Sunday of the month.
June, July, August
Summer is the busiest time in Pismo beach…but for good reason. The weather warms up and the beaches are calling. Indulge in outdoor dining, outdoor events and long walks on the beach.
The Roll Out the Barrels wine fair occurs in late June. It features guided tastings, food and wine pairings, live music, food trucks and other fun events. Get your reservations well in advance for this one.
Starting in June and going through October, there's a once a month Live at the Lighthouse concert series at the Point San Luis Lighthouse.
Dig out your sword and doublet, because you can attend the Central Coast Renaissance Fair, which usually occurs in mid-July.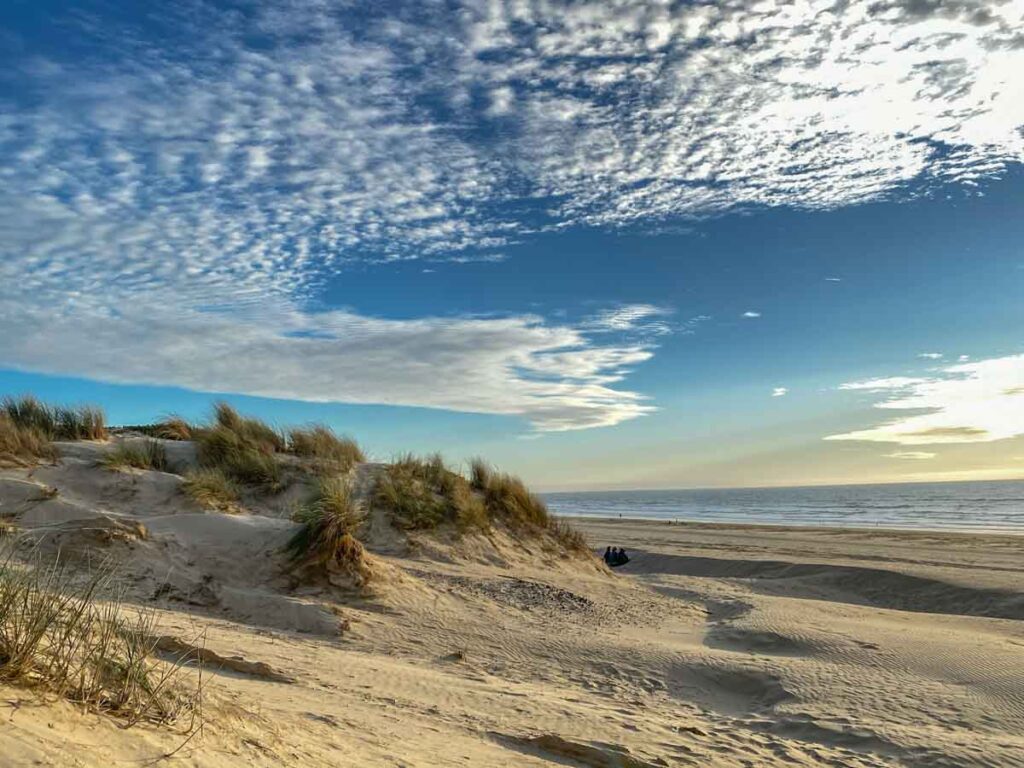 September, October, November
September is great in Pismo. The weather is still pretty warm, and it's going to be a lot less busy after Labor Day.
In late September, Avila hosts the Alta Music festival. Many wineries start harvesting grapes in September and they often host special events during this time.
Pismo is famous for their giant clams and the celebrate them with the Clam Festival. It usually occurs during the third week of October. Early November brings the Harvest on the Coast wine event.
Plan Your Pismo Beach Trip
Regardless of the season, we've got a ton of resources to help you plan a trip to Pismo Beach and the Central Coast.
Start with our guide for what to do in Pismo Beach. It includes suggestions for beaches, wine tasting, hikes, scenic drives and good eats. If you like camping, we've also got a guide for what to do in Pismo State Beach park (and how to snag camp spots). While there, make time to visit some of Pismo's best beaches (we cover 9 of them!)
If you really love wine, we have a guide for all of the wineries near Pismo.
If you are visiting Pismo as part of a larger road trip, use our Pacific Coast Highway itinerary to plan your other sections. We've got a ton more resources for the Central Coast. We have guide for how to spend a day in Big Sur and another for Carmel-by-the-Sea. Find things to do in Carmel Valley as well as Cayucos (which is a short drive north of Pismo and has great cookies).
You could also make a stop in quirky Harmony.
Get advice on when is the best time to visit other parts of California.
Share the best time to visit Pismo Beach with your friends: