California's Central Coast epitomizes our chill, beach-centric culture and the state parks in the region are what makes that magic happen. Pismo State Beach is our favorite beach in Central California and one of the best in the state. This crazy long beach is perfect for dog-friendly strolls, sunsets and checking out the local birds and butterflies.
This activity and camping guide for Pismo State Beach will help you find out how to get there, what to do while there and how to wrangle overnight camping.
We've also got a whole guide for fun things to do in Pismo and the surrounding area, along with a Pismo wine tasting guide.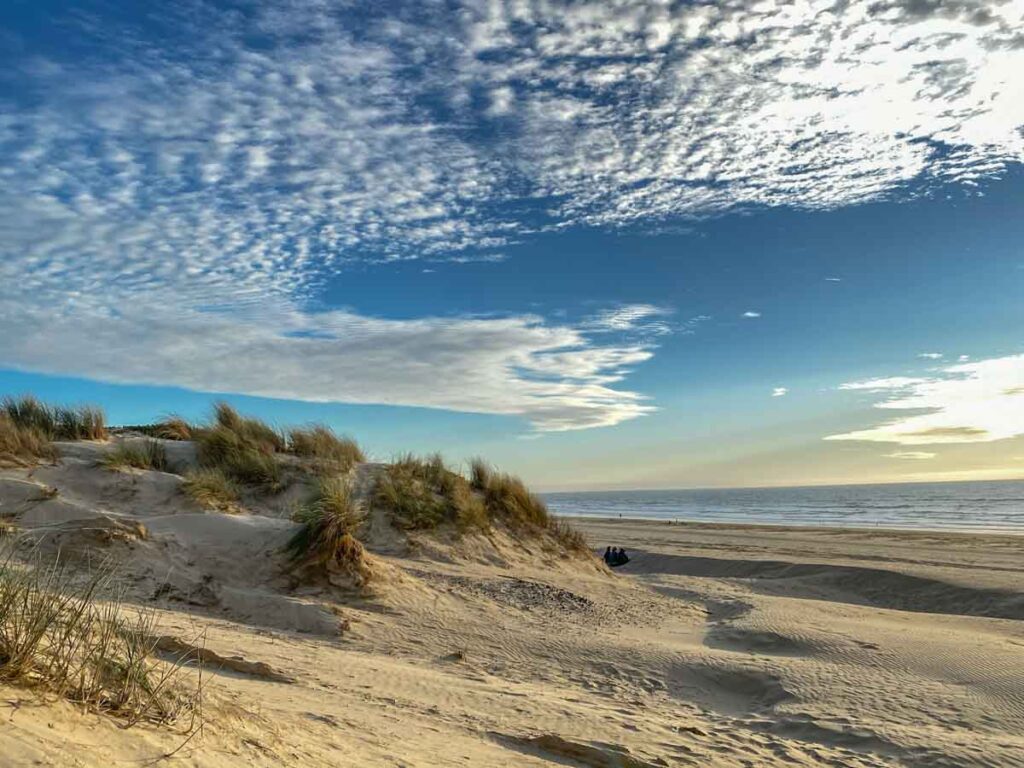 Pismo State Beach Park FAQ
Where is Pismo State Beach
Pismo State Beach is located on the Central Coast, 84 miles north of Santa Barbara, and just 16 miles southwest of San Luis Obispo. The beach and state park campgrounds are easily accessed from the west side of Highway 1.
How Long Does it Take to Get to Pismo Beach?
It's located 250 miles and 4 hours south of San Francisco and 178 miles and 3 miles north of downtown Los Angeles.
What are the Amenities at Pismo Beach?
Pismo Beach State Park has two campgrounds (more on those below). Day use is accessed from either Grand Avenue (at Grover Beach) or Pier Avenue (at Oceano Dunes). Both have free (but limited) day use parking on site, and there is also street parking available. Both access points have flush bathrooms. The Grand Avenue entrance has picnic tables and both day-use areas offer easy access to restaurants and convenience stores.
Is Pismo Beach Dog-Friendly?
YES! Pismo Beach is one of a selected few state beach parks that allow dogs on the beach. They are also welcome on the various trails and boardwalks within the park. And as usual, the dogs are allowed on all sidewalks and paved roads within the park and campground.
What Are the Day Use Fees at Pismo?
Parking and walking onto the beach are free. But if you want to drive on the beach, you'll need to pay a $5 day use fee.
If you visit a lot of state parks, check out our guide for all California state park passes to see if getting an annual pass makes sense for you.
When is the Best Time to Visit Pismo Beach?
June to September has nice warm days in the '70's with a very, very low chance of rain. But even November to May, it's not that cold, with high's ranging in the low 60's. The rainy season is typically November to March. And even when not rainy, expect more cloud cover.
Check out our article on the best time to visit Pismo Beach. It includes more detailed advice and seasonal event information.
Can You Still Drive a Car on Pismo Beach?
As of this writing…yes. There has been talk of closing the beach to cars and also restricting the off-roading. But for now, both are still available. The beach has fairly firm sand as long as you stay in the "lanes" where other cars and trucks have driven. That said, I wouldn't do it in a low-slung car. And I have seen folks being towed out.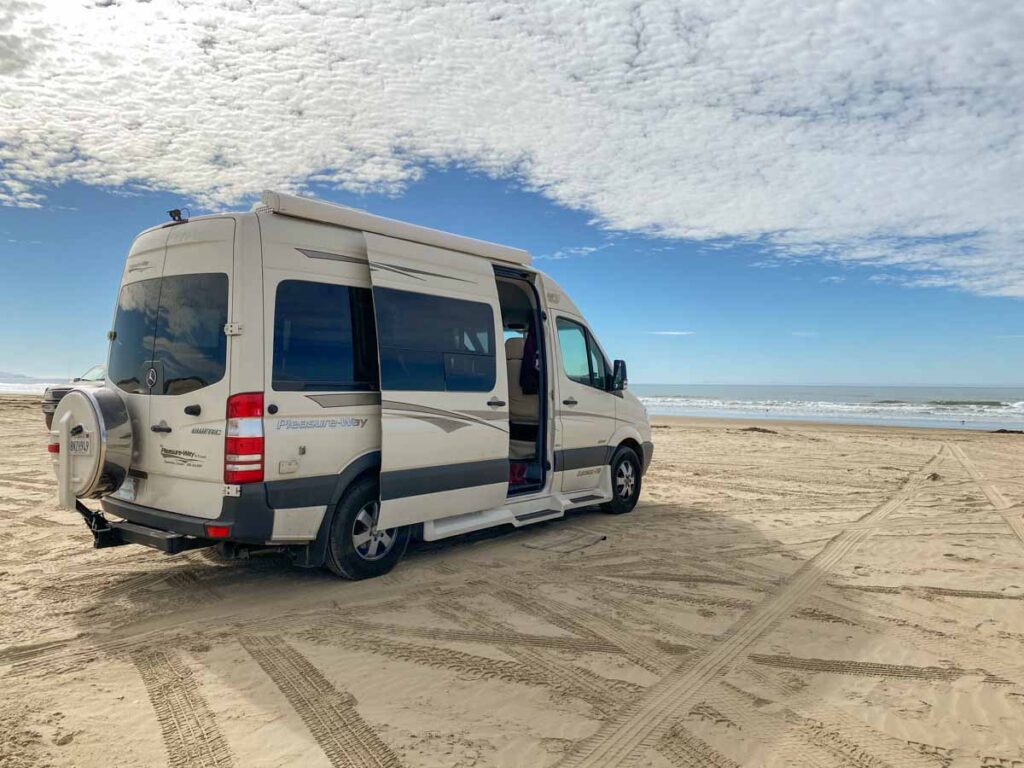 What to Do in Pismo Beach State Park?
There's a ton to do around Pismo Beach and the surrounding Central Coast and this list isn't meant to be exhaustive for the region. But there's also a lot of fun stuff to do even within the State Park. Here are a few of our suggested pics:
Take a Good Long Stroll on the Beach
The beach is the main event in Pismo and it doesn't disappoint. The beach is loooong and wide with plenty of room for cars, dogs, runners and slow strollers. From the Pismo Beach pier to the first dune pole for off-roaders is four miles one way and you can spend a good 1/2 day just wandering on the sand. And the beach is particularly lovely at sunset.
Be sure to pay attention to the whale migration season. The last time I was in Pismo, the Humpbacks were having a feeding orgy, doing that behavior where they fly out of the water with open mouths before crashing back down. It was a spectacular display. The Humpbacks feed in Northern California from April to as late as December but summer and fall are the sweet spot. The Gray Whales migrate south around January and back north around late March. And there are dolphins and porpoises around all the time.
In addition to Grover Beach and Ocean Dunes, which are part of the park, there also a lot of other great beaches in Pismo. So, check out our guide for some additional ideas.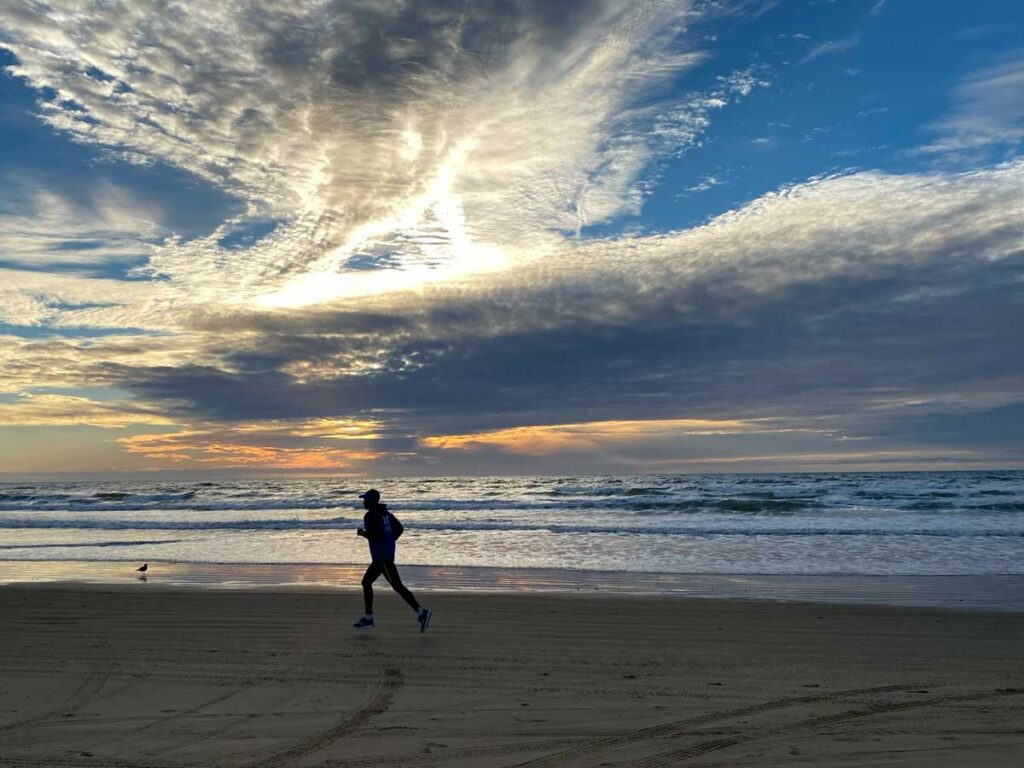 Visit the Monarch Butterfly Grove
Butterfly season is from November to January. They come down from Canada or the Northern Rockies to overwinter in Pismo's relatively warmer climate. The grove is open sunrise to sunset and it's free to visit. If you have kids, you may want to download the Agents of Discovery app, which offers a monarch mission.
The grove is located at 445 South Dolliver st. It's right on Highway 1 and is a very short walk south from the North Beach campground.
Walk Around the Oceano Lagoon
The Lagoon is located just a smidge east of the Oceano Dunes campground. It houses native bird and plant life. The 1.3 mile loop is flat and kid-friendly. When done, stop into the Oceano Dunes Visitor Center for more info on the local flora and fauna.
Walk the Oso Flaco Trail
Oso Flaco is located in a quiet southern section of the park, accessed from Oso Flaco lake road. The 2.2 mile out and back walk features birding, local plants and a boardwalk that goes over the dunes.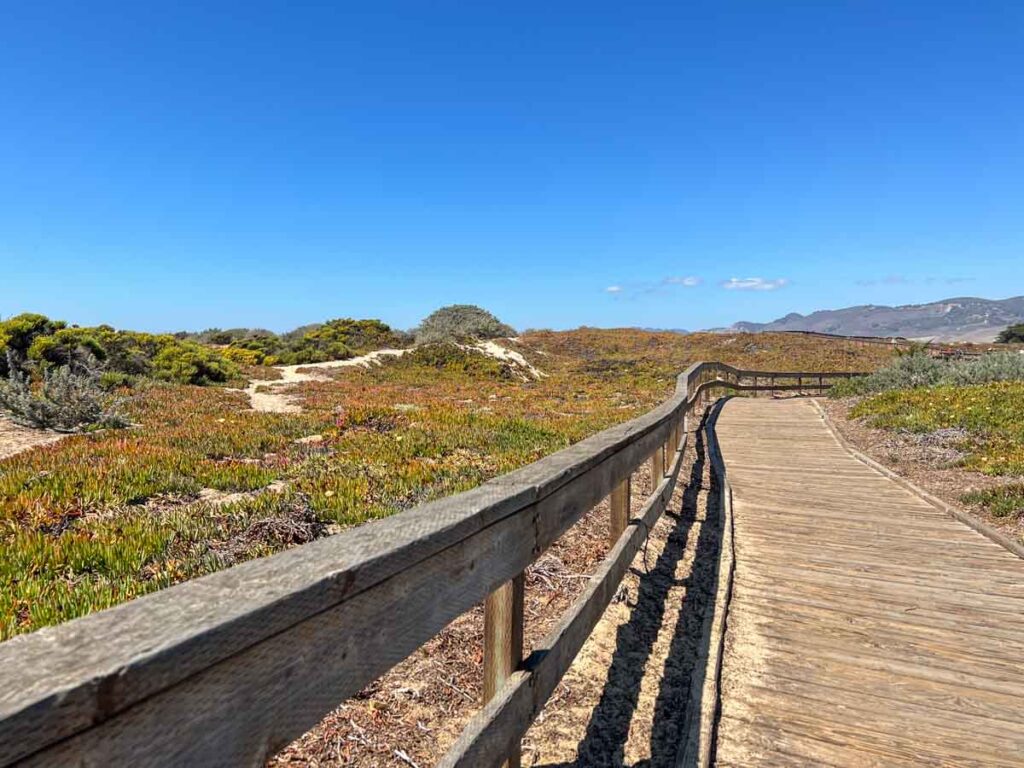 Play a Round of Golf
The Pismo Beach golf course is owned by the state and managed by a concessionaire. It's tucked away behind the Grover Beach dunes and is accessed from Grand Avenue day use area. They have a 9-hole, par-3 course which is available on a first-in basis…so no reservations. The price is a steal at $14.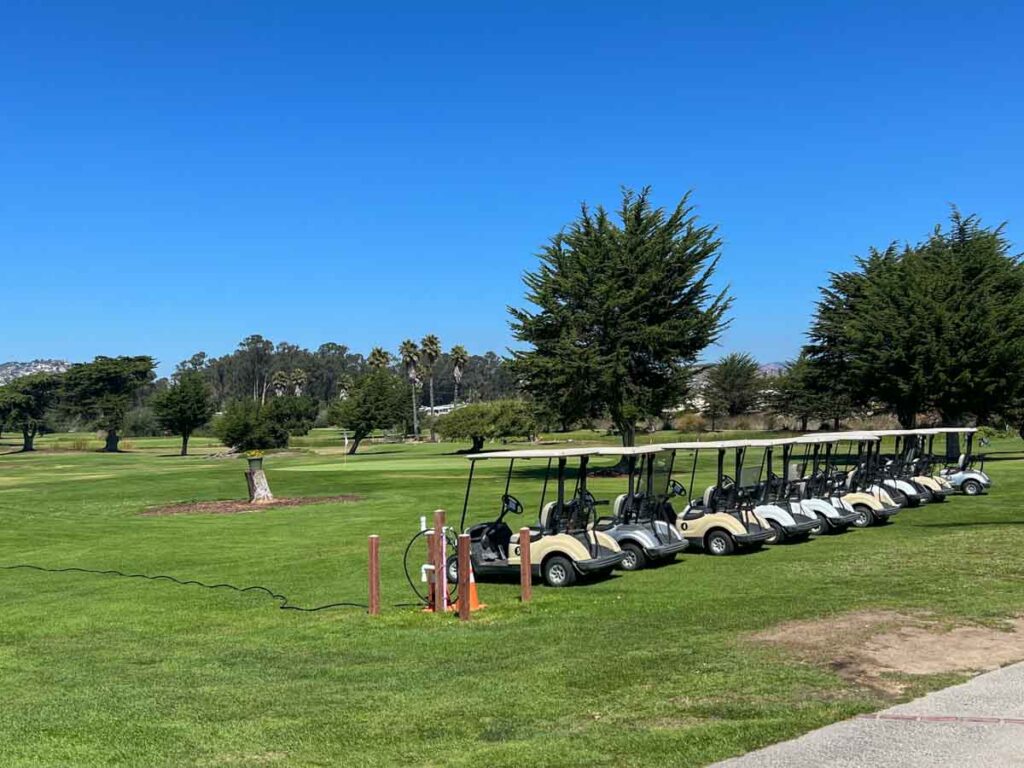 Go Off-Roading
The Oceano Dunes State Vehicular Area has 1,500 acres of off-roading in the dunes. The state issues day-use permits on demand. They issue 1,000 permits per day for street legal vehicles, and 1,000 "green sticker" permits for pure off-road vehicles. Most cars with OK clearance can simply drive up and down the beach, but if you want to drive the dunes, you'll need to have a vehicle with proper off-road cred.
If you don't own an off-road vehicle but want to give it a try, you can rent an ATV starting at $75/hour. Check pricing and pre-book with BJ's, Steve's, Arnie's ATV, or Sun Buggy.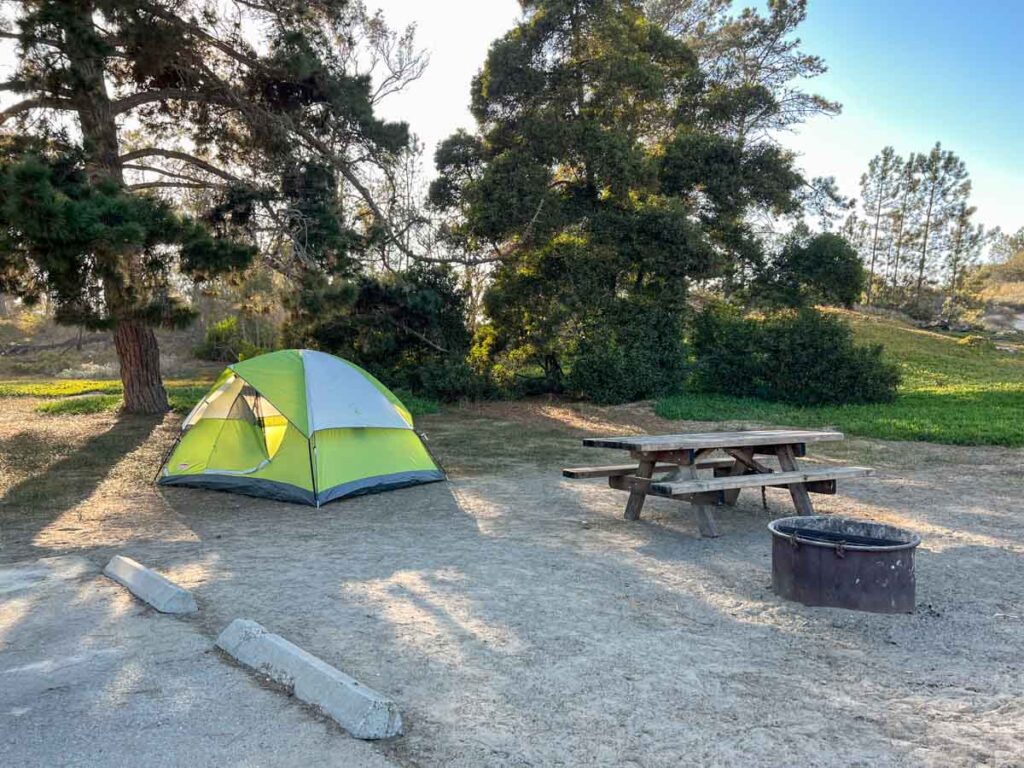 Camping in Pismo State Beach
Pismo is a very popular place to camp, especially on summer weekends and holidays. Reservations are strongly advised anytime, and definitely April through November. That said, there are often last minute cancellations, so keep an eye on the calendar if your schedule is flexible.
Book your Pismo campground reservation at Reserve California.
The park has three different campgrounds featuring 40 RV spots with hook-ups, 120 tent spots and 250 primitive spots in the off-road dunes. RVs up to 36 feet are allowed.
North Beach Campground
This is the most popular campground in Pismo. It has a nice wide-open feel with a large grassy area in the center for the dogs and kids to run around. It's adjacent to the butterfly grove and golf course and it's a short walk over the dunes to the beach. Choose a spot on the outside edges if you want a chance at shade.
# of Spots: 80
Amenities: Flush toilets, shower, picnic tables, fire rings
Hook-ups: No
Dump site: Yes, for a $10 fee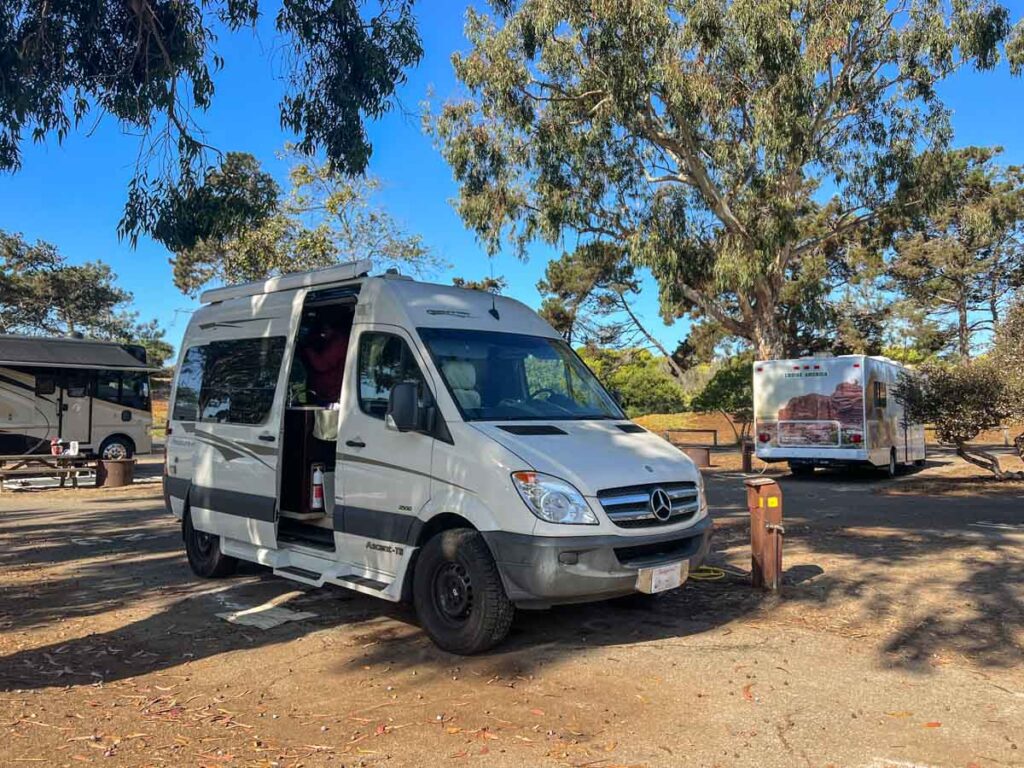 Oceano Dunes Campground
This campground is split between an RV campground with hook-ups and a tent campground (which can also accommodate RVs). The RV spots all have nice shade and the tent spots have shade around the outer edges.
# of Spots: 40 RV spots and 40 tent spots
Amenities: Flush toilets, shower, picnic tables, fire rings
Hook-ups: Yes for 40 sites
Dump site: No. But you can dump at either North Beach Campground or at the dump site on Le Sage drive near the golf course. Both are $10.
Oceano Dunes SVRA Campground
This campground specifically serves off-roaders who are recreating in the dunes. It's very primitive and the only service is pit toilets. There aren't any set spots, just set up camp wherever.
# of Spots: 200
Amenities: Pit toilets
Hook-ups: No
Dump site: No. But you can dump at either North Beach Campground or at the dump site on Le Sage drive near the golf course. Both are $10.
Read More: Get the full downlow on all CA parks with our complete California State Parks list (with map).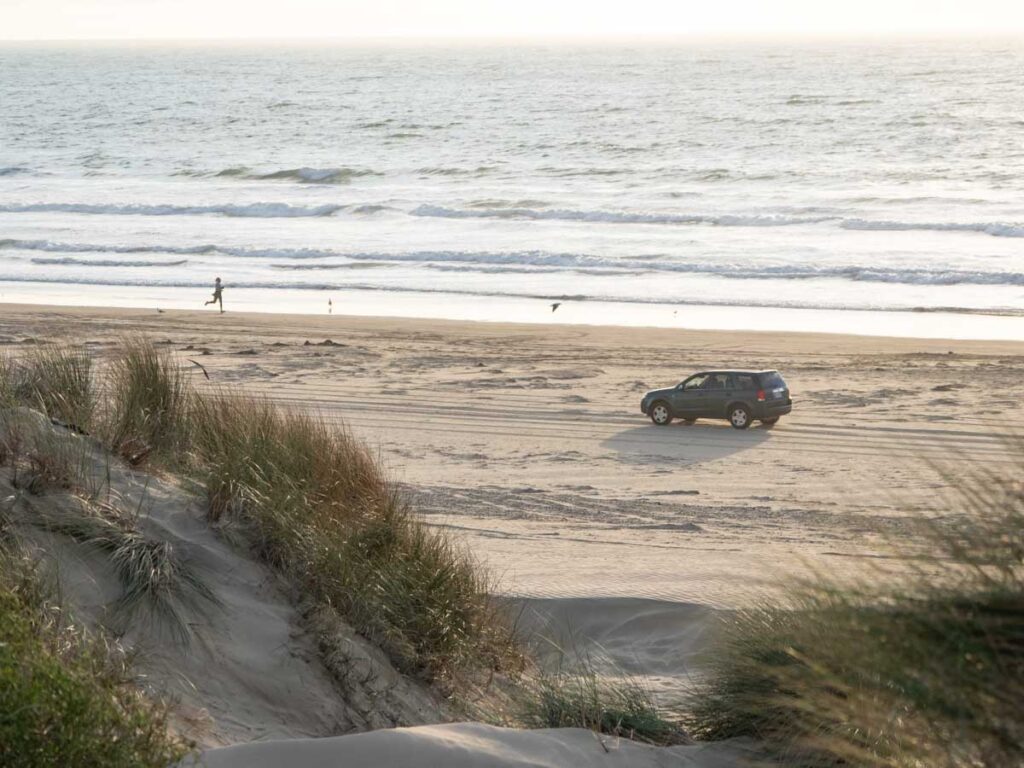 Explore More of Central California
Do More Camping in California
We have a whole bunch of outdoor guides for camping and visiting state parks. Here are a few of our favorites:
Share this Pismo State Park guide with your friends: