Yosemite National Park has nearly 1,200 square miles of towering granite, alpine lakes and ancient sequoia trees. It's understandable if you want to drive straight there from San Francisco so that you can start exploring without delay. But consider taking a beat and doing the San Francisco to Yosemite road trip at a slower pace.
This is one California's most scenic drives and our guide will help you find additional stops along the way from San Francisco to Yosemite which feature California's Native American culture, gold rush history, cool hikes and culinary tourism.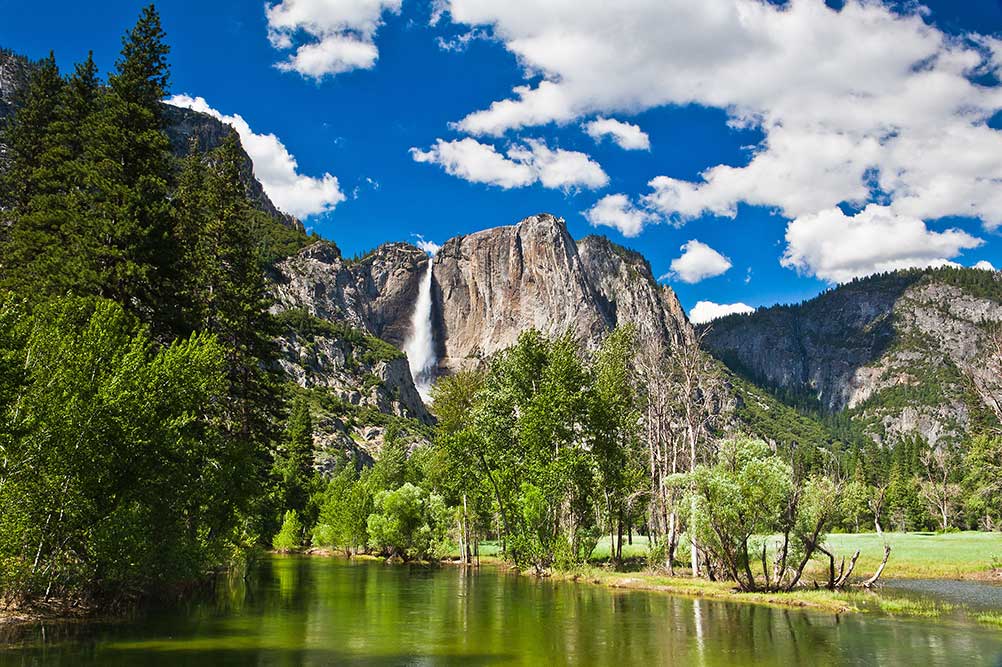 This guide is organized around four major sections of the drive: SF to Yosemite's southern reaches, Yosemite Valley, Northern Yosemite and the return from Yosemite to San Francisco. Each section suggests four things to do.
If you are making this a 6-7 day road trip, you can probably do all of them. But if you are trying to do the drive in 4 days, you'll need to prioritize what's important to you. Better to do fewer things more slowly and savor your experience, than rush around, barely scratching the surface.
If you want to do this drive in the winter, then check out our Yosemite winter guide. It outlines specific things to do in colder weather, including hikes, scenic viewpoints and tours.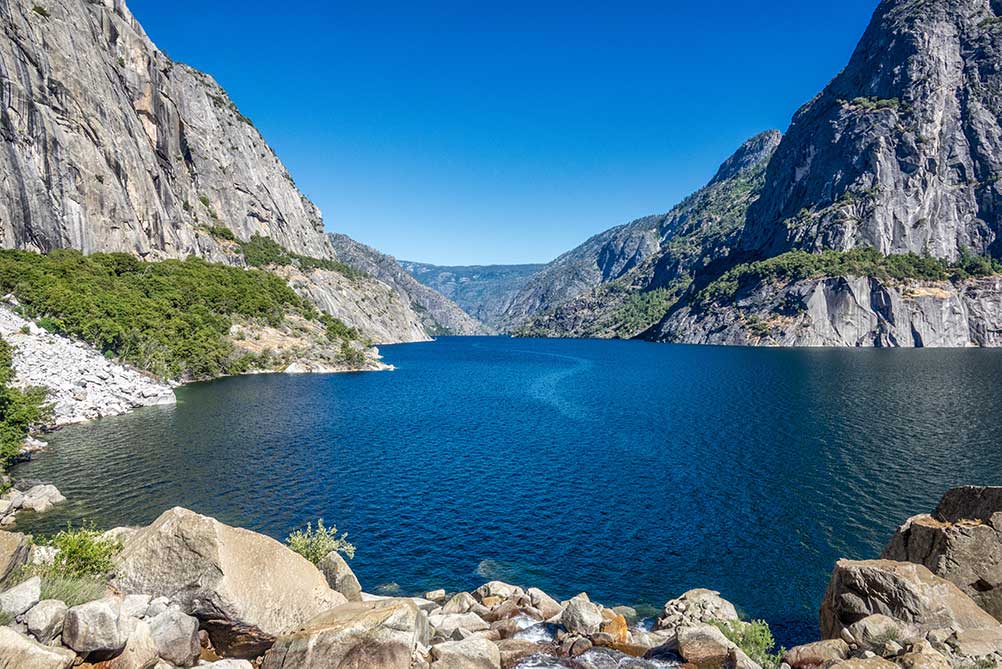 San Francisco to Yosemite Road Trip Map
The fastest way to get from SF to Yosemite is out I580 through Tracy, connecting with Highway 120 in Manteca. The road trip map below recommends a more circuitous routing that only adds about two extra hours of drive time. It hits up some lovely backroads and tackles both the northern and southern areas of Yosemite.
Tips for Visiting Yosemite
Yosemite's natural wonders make it a very popular park, for both Californians and visitors. Consider these tips for making your Yosemite trip from San Francisco as smooth as possible.
You must book lodging ahead of time.
Be aware that the time of year makes a big difference in Yosemite. In the winter, Tioga Pass and other high elevation sites are closed. Spring has the best waterfalls, but will also still have snow on the ground. Summer is awesome, but busy. And fall has lovely color and is quieter, but no waterfalls.
Take advantage of the shuttle buses to get around the valley floor.
Don't assume that you'll have mobile coverage, so cache maps, trail maps and this article. There is mobile service on the valley floor, but it may be spotty elsewhere in the park, like on Tioga Pass.
Figure out what to take to Yosemite with our super-thorough packing list.
Learn before you go by checking out our article on fun facts about Yosemite.
Hot Tip: Do you need a rental car for your San Francisco to Yosemite road trip? If so, do some price comparison shopping at Rentalcars.com. If you are from out of the areas, check out this advice for finding the closest airport to Yosemite.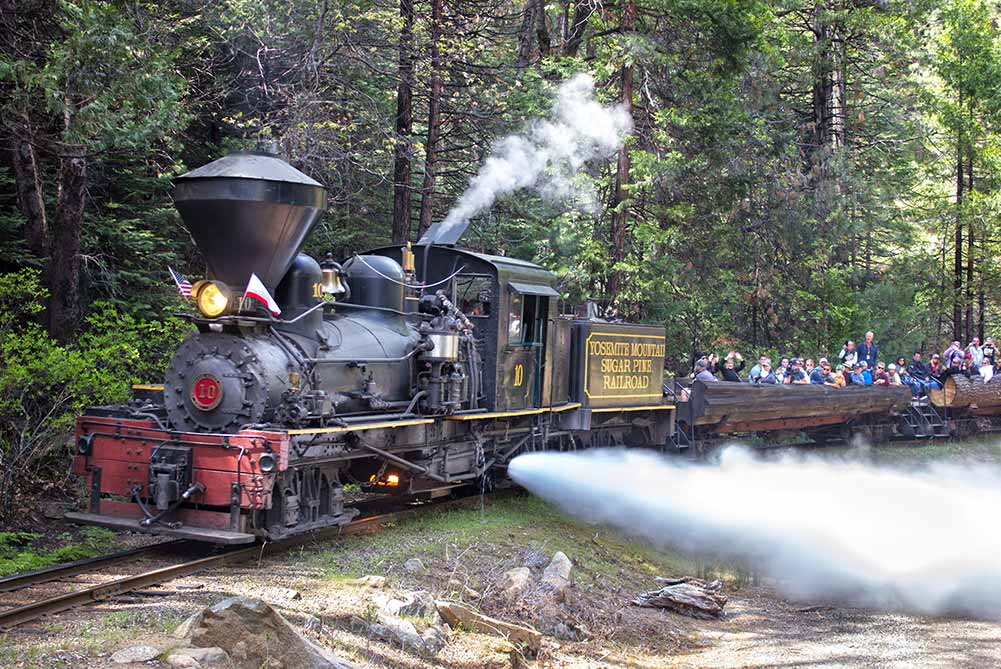 (This article contains affiliate links. This means that if you choose to purchase, I'll make a small commission.)
Where to Stay in Yosemite
If you can snag a camp spot or lodge reservation inside Yosemite Valley, go for it. But you'll want to book these lodgings way in advance.
Fancy: The Ahwahnee is Yosemite's most historic hotel with wood and stone accents and soaring ceilings. It's located right on the valley floor. Check reviews and book it here.
Super Convenient: The Yosemite Valley Lodge is a modern, family friendly hotel located in Yosemite Valley right on the Merced river. Check reviews and book it here.
Budget Glamping: Curry Village is located in the heart of the valley, just 1.1 miles from Vernal Falls. These glamping tents are cheaper than the hotels but still offer the great location. Check reviews or book it here.
You can usually find more choice and less expensive room inventory just outside of the valley. Consider staying in either Fish Camp (which is near the Mariposa sequoia grove) or around Midpine and Mariposa (which is a lovely drive into the valley along the Merced river). From either location, you can avoid summer traffic hassle in Yosemite valley by catching the Yarts bus right from town.
Fish Camp Full Service: The Tenaya Lodge is a full service resort with a great pool and spa. Check reviews and book it here
Midpines Glamping: The Autocamp in Midpines takes glamping to a whole new level. They have adorbs airstream trailers and also BBQ facilities, a terrace, pool and concierge service. Check reviews and book it here.
Budget basic: The Miners Inn in Mariposa ain't fancy, but it gets the job done for people who want to spend more time outside than in. Check reviews and book it here.
For the Gold Country part of the itinerary, we recommend the Historic National Hotel in Jamestown or the Lazy Z Resort in Twain Harte.
Eastbound San Francisco to Yosemite Drive
The first section of the drive starts from wherever you are in the Bay Area and ends in Fish Camp. Get an early start, because it's over four hours of straight up drive time with lots of cool stops along the way.
Here are your 4 key stops:
Hit Up the Madera Wine Trail
They're growing more than almonds and peaches in the Central Valley (although if you do this drive in the spring, be sure to stop for the lovely almond blossoms). The Madera area also grows wine grapes and it's a secret spot that is far less crowded than Napa or Paso. Do a tasting at one or two of the nine wineries on the wine trail map.
There is also an alternative wine trail called the Yosemite Sierra trail. It veers off of Highway 41 onto Route 200 and has an additional three wineries.
Visit Wassama Round House State Historic Park
This California state park shares the ancient customs of the Sierra Miwok people. They lived in this area for 8,000 years and used the site as a meeting place. Even today, there are still cultural ceremonies held there. The park isn't large and you can make a quick cultural stop by visiting the traditional round house.
Take a Ride on the Sugar Pine Railroad
If you are traveling with kids, or you are simply a train nerd, the Sugar Pine Railroad is a fun stop to make on the way from SF to Yosemite. The 1-hour ride travels through logging country in a restored historic train. It's best to book ahead for the train.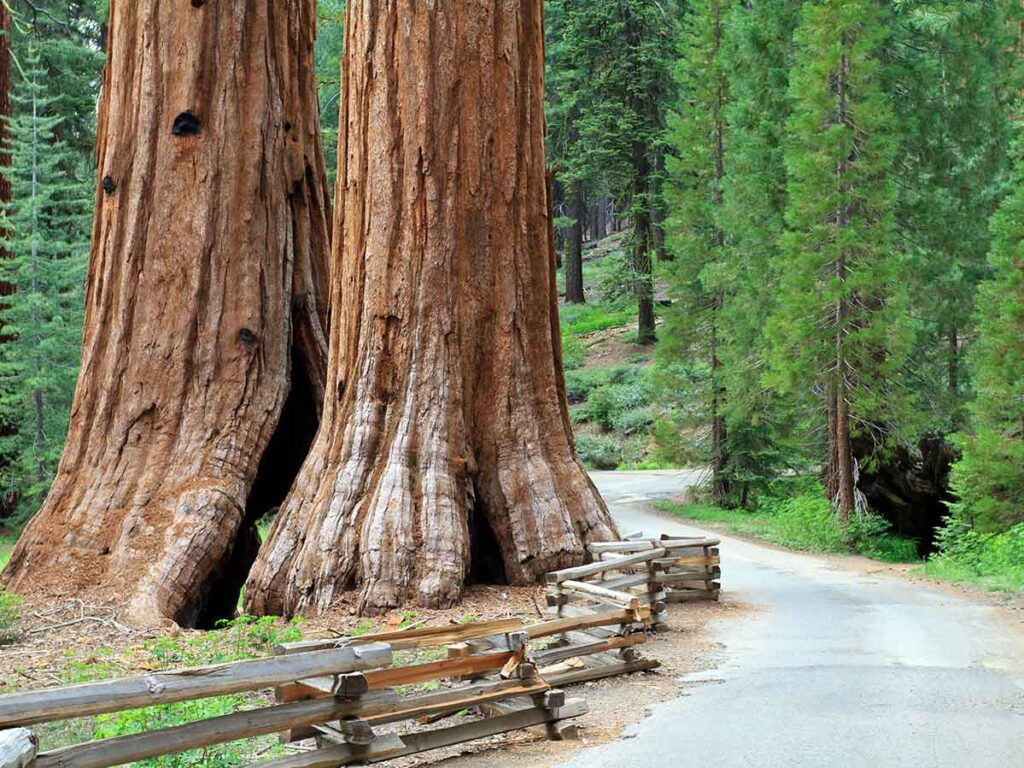 Visit Mariposa Grove
Yosemite has three giant sequoia groves within the park boundaries. The Mariposa grove is the largest in the park and is conveniently located just 10 miles from Fish Camp.
Hikes range from the easy Big Trees accessible loop trail (.3 miles) to the more strenuous Mariposa Grove trail (7 miles), which covers four famous trees, more groves and a panoramic overlook. Check the Forest Service site before you go as there are occasional closures due to weather and downed trees.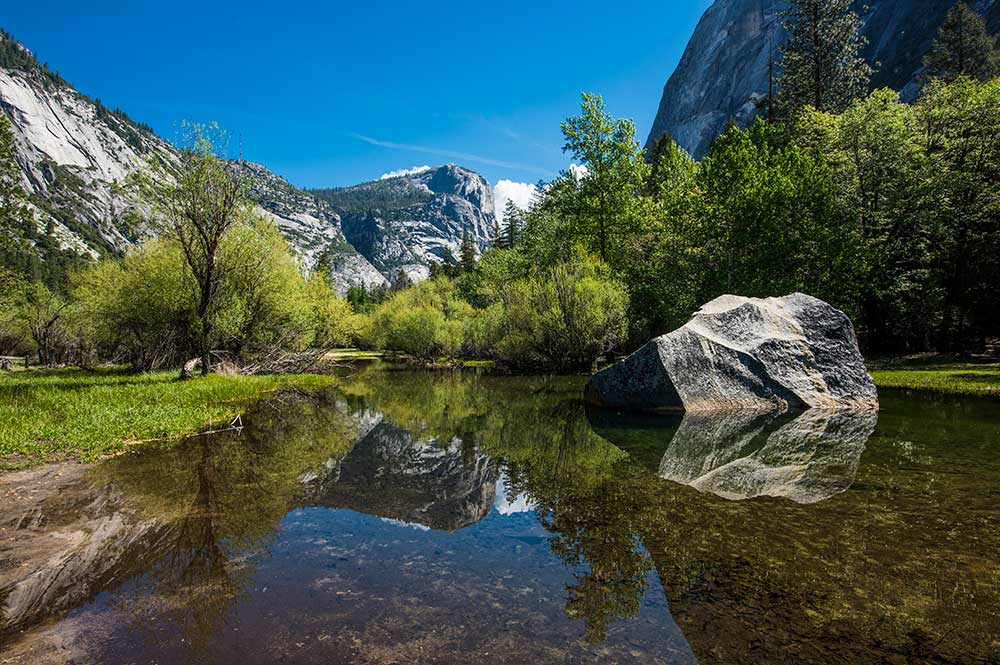 Visiting Yosemite Valley
There is a ton to do in Yosemite valley. There are ten day hikes, swimming, scenic viewpoints and three National Park sponsored tours. Here are four top things for you to add to your must-do list.
See Yosemite Falls
Yosemite Falls is one of the largest waterfalls in North America. When it's running, you can reach the lower falls from a fairly easy loop trail.
Take the Glacier Point Tour
You can drive yourself up to Glacier Point, which is a lovely, popular overlook in the park.. But the Parks Service also offers a guided bus tour to Glacier Point. The tour includes El Capitan, Bridalveil Fall, Half Dome, Yosemite Falls in Yosemite Valley, Tunnel View, and Glacier Point.
If you are a hardy hiker, you can purchase a 1-way ticket and then take your pick of either a 5 or 8 mile hike back down to Yosemite Valley.
(note that the Glacier Point road will be closed for repaving during the 2022 season)
Take a Moderate Day Hike in the Valley
Vernal & Nevada Falls trail: 4-10 miles. The distance depends upon the season and whether or not you want to cover both falls.
Mirror Lake Trail Loop: 5 miles. Goes to Mirror Lake and then continues along a flat-ish loop back into the valley.
Yosemite Valley Loop Trail: 11 miles (full loop), 7 miles (half-loop). This hike starts at Yosemite Falls and takes a nice long stroll along the Merced River.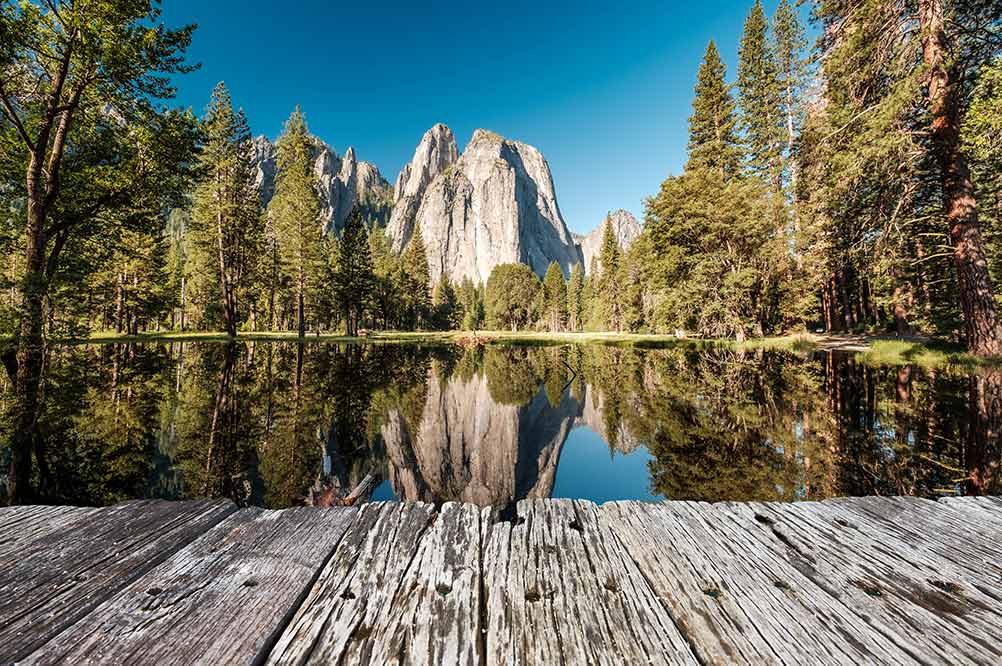 Chill on the Merced River
The road into the Valley meanders along the Merced River. There are many picnic spots, beaches and swimming holes dotting the river. Look for Cathedral Beach, Housekeeping Camp, Swinging Beach, Devil's Elbow and Sentinel Beach.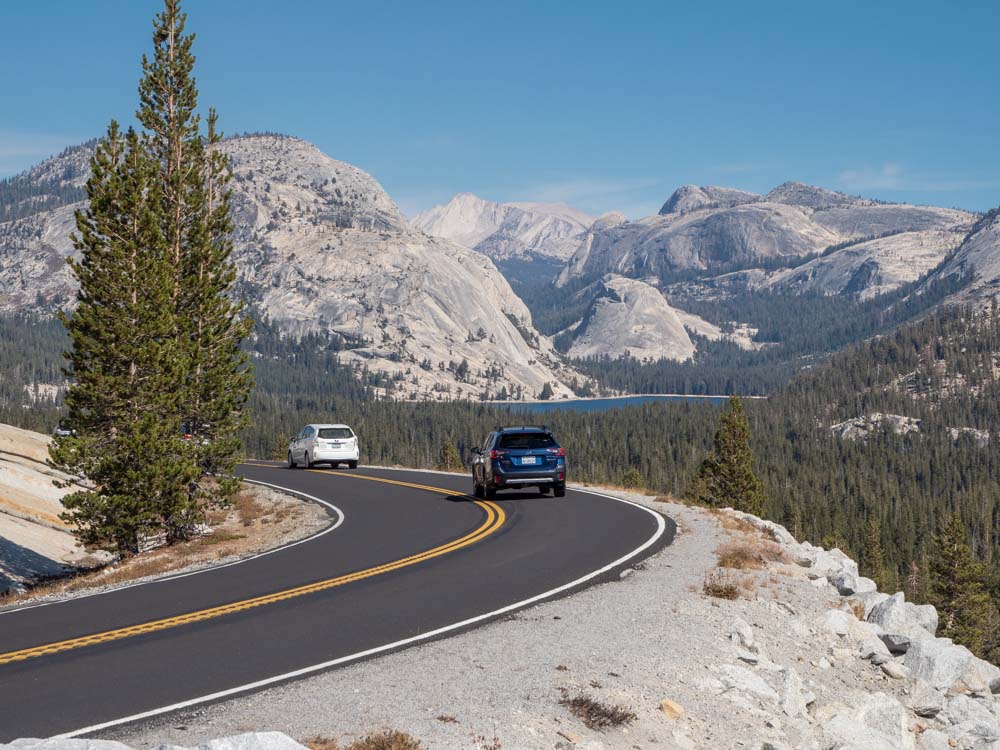 Northern Yosemite & Tioga Pass
Northern Yosemite is the higher elevation portion of the park and there are yet more stunning hikes and views in this part of the park. Please note that the Tioga Pass doesn't get plowed and is closed in the winter.
Here are four things to do there:
Scenic Drive Over Tioga Pass
This is one of the most dramatic scenic drives in California. You climb through pine forest into the craggy granite tippy top of the Sierra Nevada Mountains. There are numerous pull-outs on the southern side of the road. Take advantage of all of them for some sensational views.
If you are lovin' those views, you may want to consider coming back to Tioga Pass as an entryway to our scenic Highway 395 drive down the Eastern Sierras.
Take a Day Hike in Tuolumne Meadows
There are a ton of hiking trails that start in or near Tuolumne Meadows. It's just a matter of picking your distance. Go early to get a parking spot or take the shuttle, which runs four times per day.
Soda Springs & Parsons Lodge: 1.5 miles
Dog Lake: 2.8 miles
Cathedral Lakes: 7 miles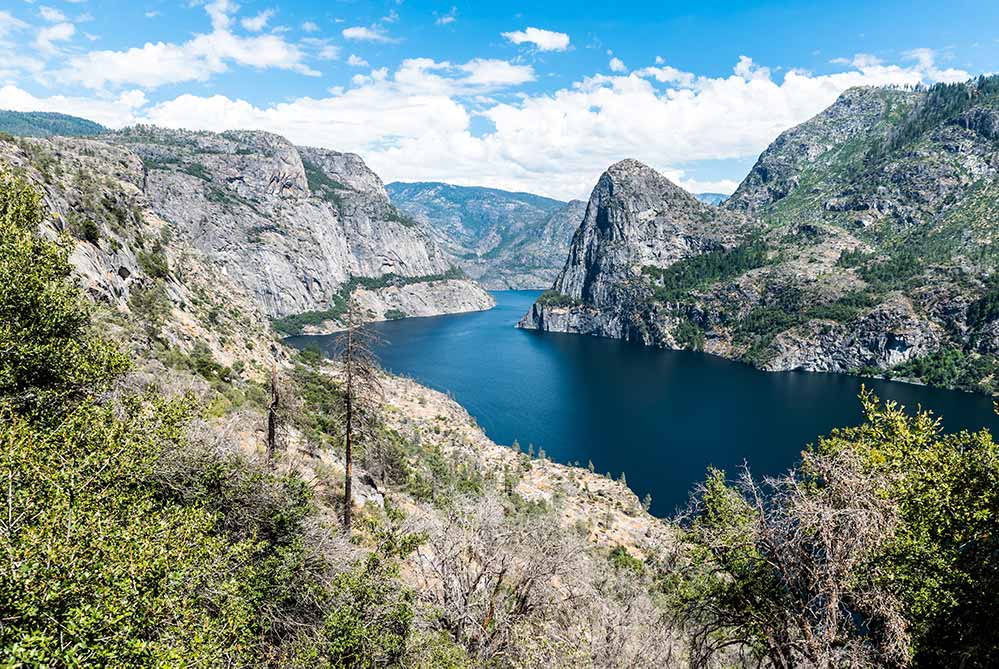 Take a Day Hike in Hetch Hetchy
Hetch Hetchy is in the far northwest corner of the park and it's less popular (and therefore less crowded) than other parts of the park. The region houses one of the most important reservoirs storing and serving drinking water to northern California. The relatively low elevation of Hetch Hetchy means that it offers a long hiking season.
Lookout Point Trail: 2 miles
Wapama Fall: 5 miles
Rancheria Falls: 13 miles
Hike to Merced Grove
Merced is Yosemite's smallest grove of giant sequoia, but it's also the most secluded and it's worth putting in the effort to visit. The trail to the grove is a 3 mile round trip with 520 feet of elevation gain.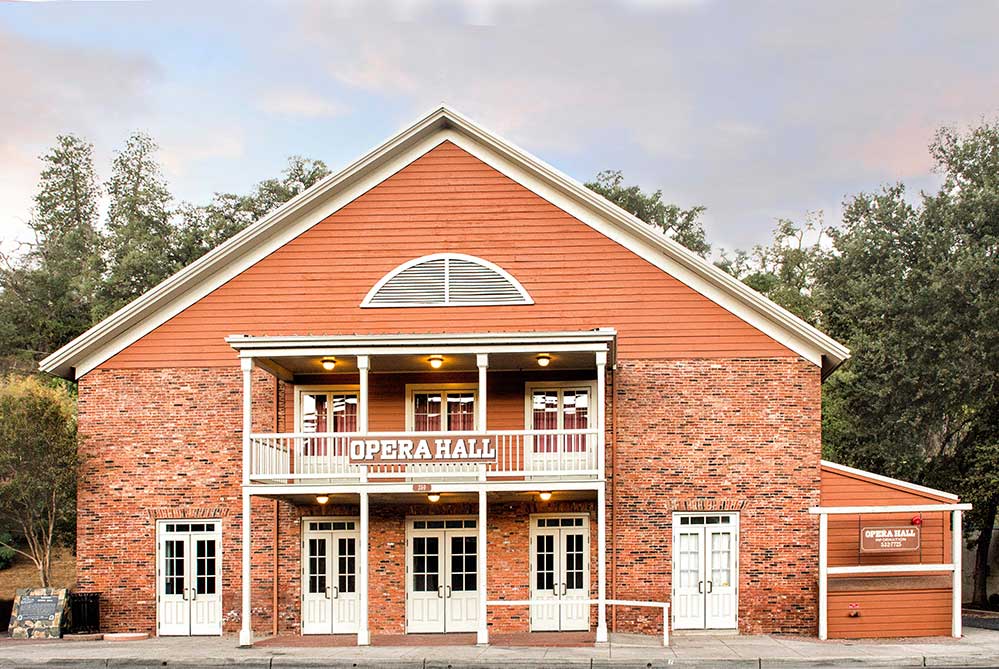 Driving From Yosemite to San Francisco
Don't be in a hurry to drive back from Yosemite to San Francisco, because there are some cool stops to make along the route home. Coming northwest out of Yosemite puts you smack into California gold rush country.
Here are four fun stops to make along the route:
Stroll Downtown Sonora
Historic Sonora is named after the miners from Sonora Mexico who settled the city in 1848. The well-preserved downtown core has a county history museum, tons of cute antique and apparel shops and the Iron Door Saloon, which is the oldest operating saloon in California.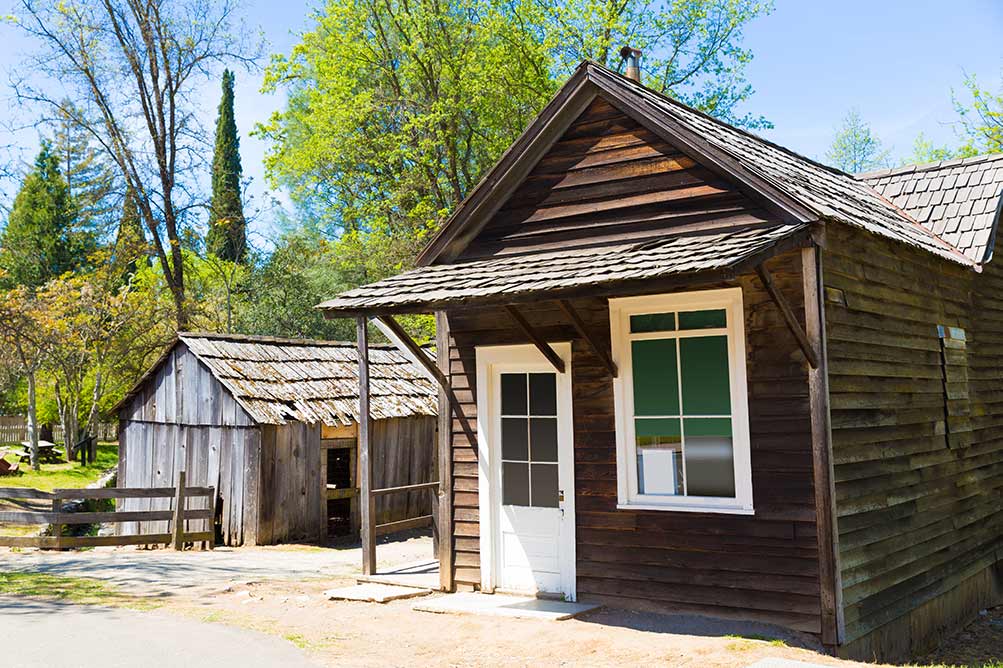 Columbia State Historic Park
Just north of Sonora is the historic Columbia mining town. It was also a thriving gold town during the mid 1800's. By 1853, it was one of the largest cities in California. It never quite became a ghost town, which is why some of the on-site buildings managed to survive.
The state park is really fun for families as they offer docents in period attire, stagecoach rides and panning for gold. There are also working stores selling authentic-ish goods like sarsaparilla soda, gold rush candies, soaps and more.
Read More: If you are keen on mining history, check out this article on California ghost towns.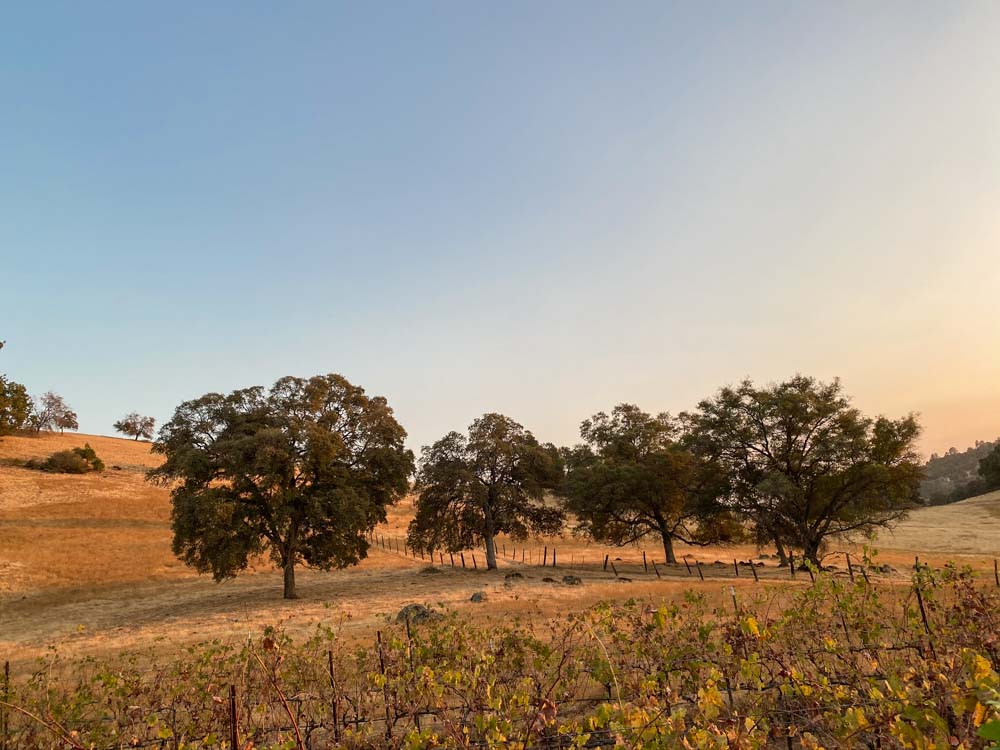 Gianelli Wineyard
This lovely Italian-style vineyard is located up in the hills just west of Sonora. They have a down home friendly vibe, award winning wines and stunning views.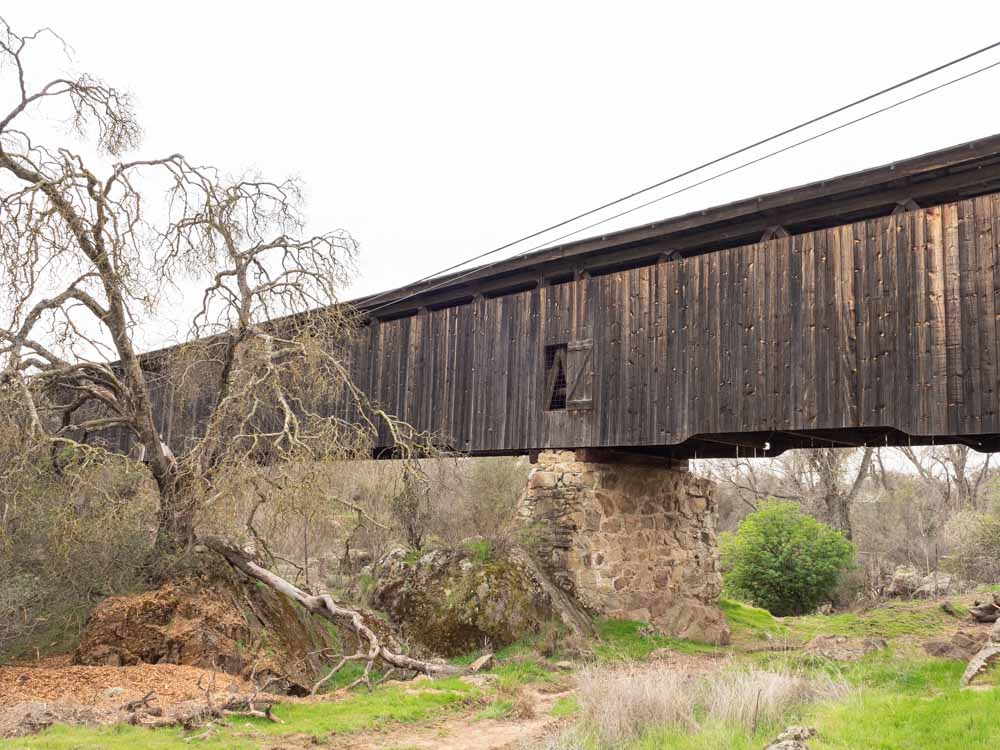 Knights Ferry
Dr Knight realized that this stretch of the Stanislaus river made for a favorable crossing serving gold rush towns like Columbia and Sonora. They operated a ferry until 1852, and then they built the bridge, which is the longest covered bridge west of the Mississippi. It sits over the Stanislaus river and there are some nice hiking trails on the north side and tons of picnic tables on the south side.
In the words of Yosemite's favorite son–
""Thousands of tired, nerve-shaken, over-civilized people are beginning to find out that going to the mountains is going home; that wildness is a necessity" –John Muir (get more Muir quotes here)
True that John. Shed your weary, nerve-shaken bones and let the mountains guide you on your Yosemite road trip. Happy trails!
More Road Trips from SF
Share this San Francisco to Yosemite road trip with your friends: