San Jose airport (SJC) is located 33 miles south of San Francisco Airport (SFO). There are no flights between San Jose Airport and SFO, so you'll need to use ground transportation to make a transfer from one to the other.
There are several ways that you can accomplish this, depending upon how much time and/or money you have to spend. This guide will take you through four ways that we recommend getting from San Jose to SFO (and one way that we don't recommend).
If you are looking to do the reverse scenario, check out our guide for getting from San Francisco Airport to San Jose. It has similar advice, but the on-site airport logistics are very different.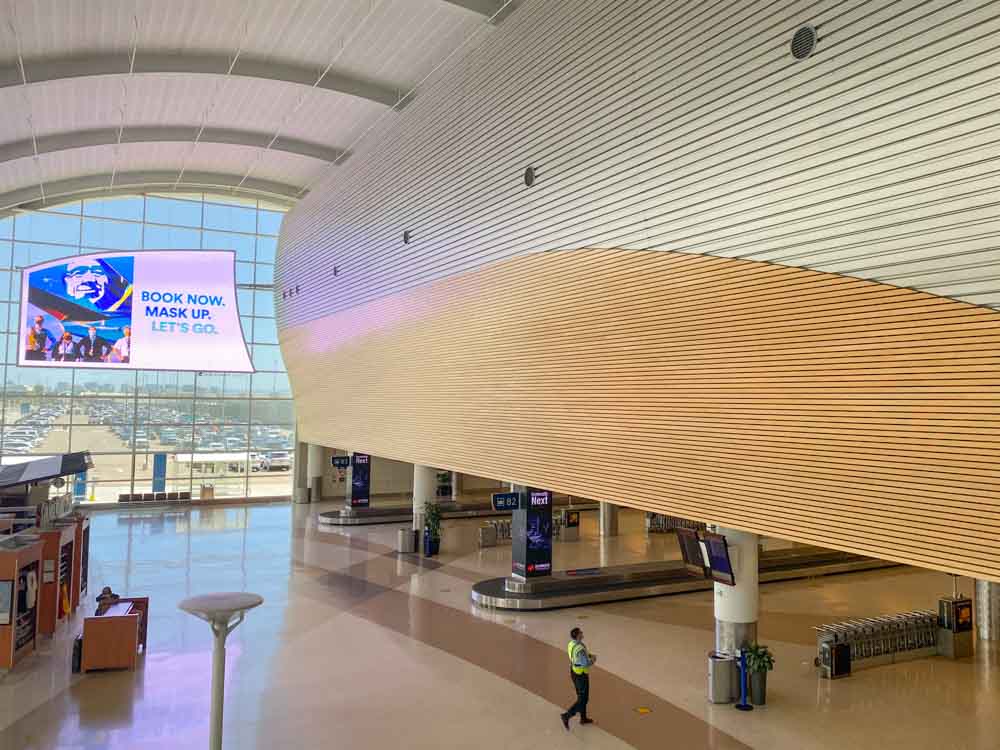 Where to Catch Ground Transportation at SJC
San Jose airport has a very easy to navigate ground transportation system. The signage is quite clear, and unlike SFO, the ride app pick-ups occur in a logical location.
From Terminal A, you cross the street toward the parking lot. Head south (or right as you face the parking lot) and you'll start seeing the covered waiting stations for various ground transportation services. You will be using Terminal A if you fly with: Air Canada, American, Delta, ANA, Frontier, Hawaiian, Jet Blue, United or Volaris.
From Terminal B, you'll be using the center island between the terminal and the parking garage. The taxi stands are closest to the terminal, followed by the buses. Ride apps (Uber and Lyft) pick-up are further away. Terminal B is served by: Southwest, British Airlines, British Airways and Alaska.
Terminal B also houses the rental car center. If you land in Terminal A, you can simply walk down to the rental car center at Terminal B, or take the inter-airport shuttle.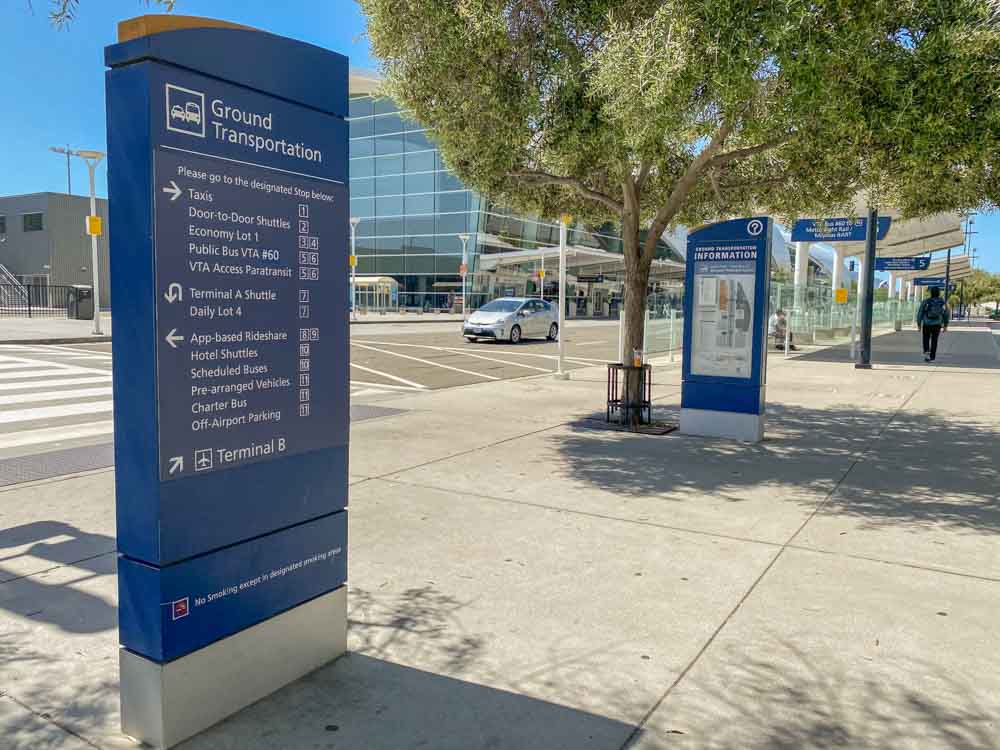 What is the Fastest Way to Get from SJC to SFO?
The fastest way to get from San Jose airport to San Francisco airport is using a taxi, Uber or Lyft. The route runs 33 miles up Highway 101 and takes 35-50 minutes, depending upon the time of day.
Here are the rough costs for each:
To SFO using Uber: $45-58, according to their estimator. However, their pricing is notoriously fickle and you may want to check the pricing before committing, because you don't want to get nailed by surge pricing.
To SFO using Lyft: $74-86. Here's their estimator.
To SFO by taxi: ~$100.
Don't rule out using a taxi to get to SFO. If you're stressed about a tight connection, minutes matter. The taxi stand is located right outside of the baggage claim and there are nearly always taxis lurking around. For the ride apps, you need to request and then wait for a ride, which takes time during rush hour or if you are getting in very early or late.
Pros: Pretty expensive.
Cons: Fastest and best if you have a lot of luggage.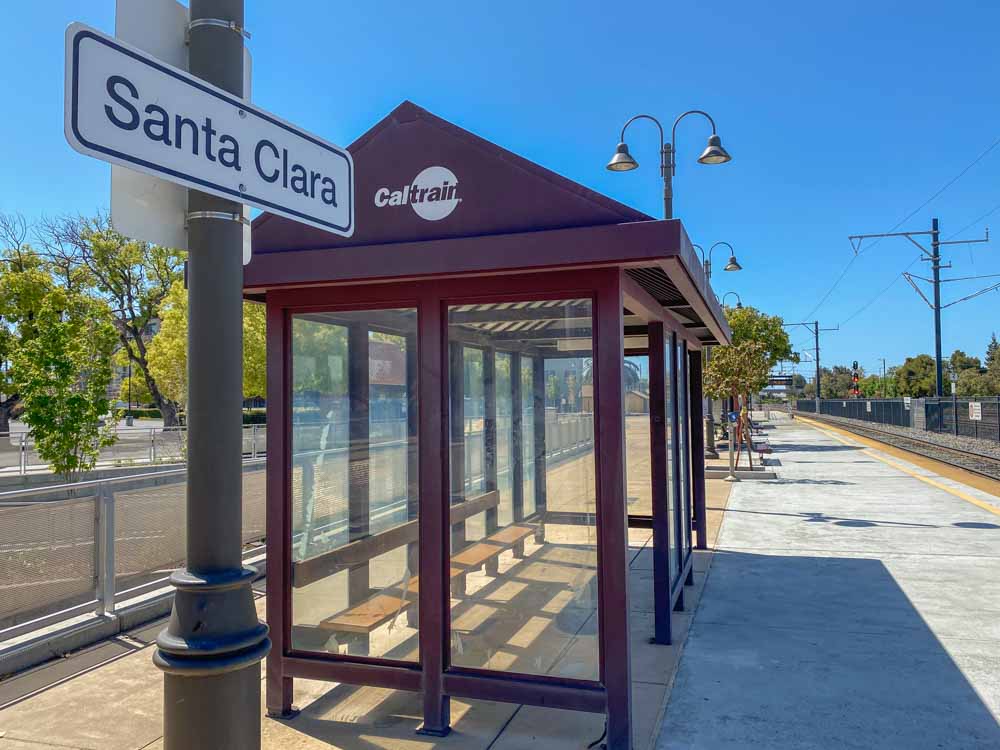 What is the Cheapest Way to get from San Jose Airport to SFO?
The cheapest way to get between SJC and SFO requires a combination of city bus and Caltrain.
Here's how it works:
Find the "VTA" city bus area in the ground transportation area at SJC. Take the #60 bus to the Santa Clara Caltrain station. The bus is free, it runs every 20 minutes from 6am-11:30pm, and it takes 7 minutes.
At the train station, purchase a 1-way ticket to zone 2, Millbrae station. It will cost $8.25. The trains run once an hour from 4:30am to 11:00pm. All of the trains from Santa Clara stop at the Millbrae station and it will take ~50 minutes to get there.
Get off at Millbrae and go out to the bus stop. Take the "Route SFO" Samtrans bus. It costs $2.25 and stops at all of the SFO terminals. The bus runs once an hour from 8:20am-11:45pm.
Alternatively, you can change tracks in Millbrae and take the Millbrae-to-SFO BART subway. It costs $4.40 and runs every half hour. But the ticketing is a bit convoluted and we think that the bus is a simpler option.
Your total cost would be $10.50.
The total time will range from 1:10 (if you are lucky with the timing of the train and buses) to 3.5 hours (if you have no luck at all).
Not to overwhelm you with choices, but you can also take a taxi or Uber to the Diridon Caltrain station. This is the main train station for San Jose and as such, they have more frequent train service on weekdays. The taxi/Uber would cost $11-18.
Pros: Cheapest
Cons: 3 separate transfers. Not great if you have a lot of luggage. Highly dependent upon train schedules.
Can I take a Public Bus from SJC to SFO?
Yes, but we don't recommend it. It requires two separate transfers, via two different bus systems. So it's not any less complicated that the Caltrain option. It costs more at $13 and it's more prone to traffic delays.
Pros: None.
Cons: Time consuming and convoluted.
Is There a San Jose Airport to SFO Shuttle?
Yes. You can pre-schedule the ABC Shuttle service. They offer a point-to-point service between SJC and SFO. At $129, it's certainly not the cheapest option. And while you will likely have the van to yourself, it's possible that you will need to share it with strangers.
One benefit of the shuttle service is that they start as early at 3pm, which is well outside of the hours for public transportation.
Pros: Expanded hours of operation.
Cons: Most expensive option. May not be private.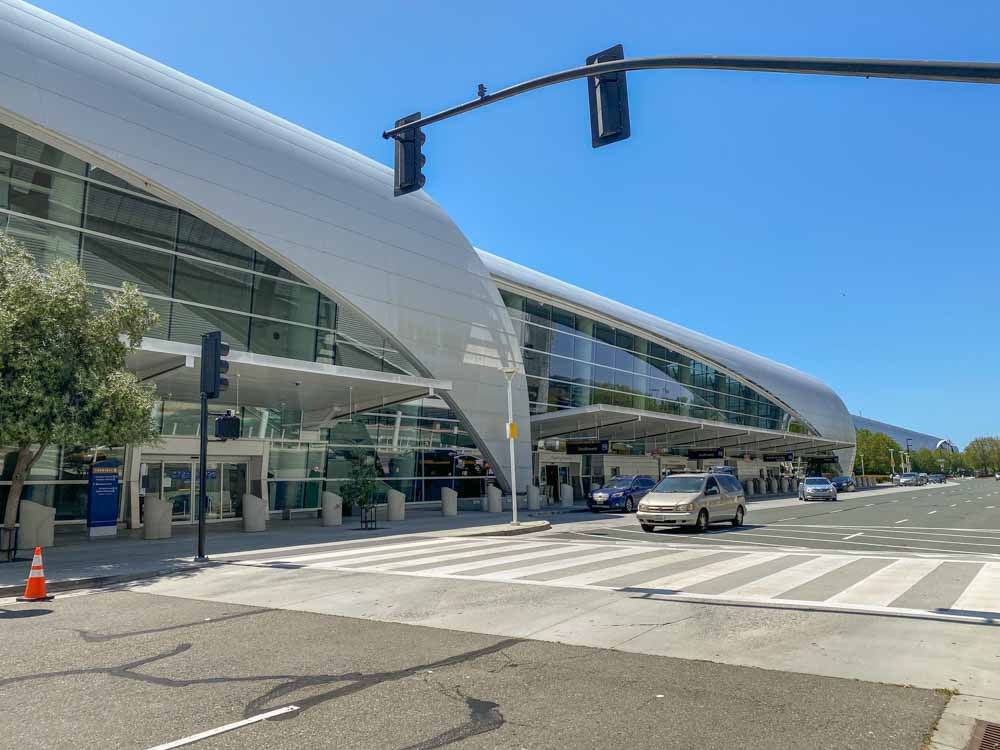 An Out of the Box Way to Get Between the Two Airports
How about renting a car and driving yourself between the two airports? Whacky, right?
This can work particularly well if you have a really long layover. Renting a car gives you control over your transfer and you can spend your layover doing something fun (like going over to the beach in Half Moon Bay).
We spot-checked cost and availability for weekday and weekend rentals in May, August, December and January. Prices ranged from $57-120.
Renting a car does take more time to sort out paperwork at the rental counter. But if you are in a preferred customer program like Budget Fastbreak or Avis Preferred, you can breeze through. The San Jose rental car center is conveniently located across from the Terminal B baggage claim.
Pros: Can be cheaper than the Uber/taxi option. Private option. Ultimate flexibility.
Cons: Requires advance planning. Doesn't work well if you are under 25.
Airport Hotels for Overnight Stays
In case you have to do an overnight, here are a few options that are near either OAK or SFO.
SFO Grand Hyatt: Nice lux hotel literally located at the airport with access to the terminals via Airtrain.
SFO Hampton Inn: Well-rated and serviceable 3-star hotel with free breakfast and free shuttle service.
OAK Holiday Inn: Well-rated and serviceable 3-star hotel with a pool and restaurant/bar.
More Info on Airport Logistics
Some Fun Things to do in the Bay Area
Share these San Jose Airport to SFO transpo tips on Pinterest: